Final Thoughts & Conclusion
Intel's Skylake Core I7 6700K has been a wild ride and at times we would look up and dawn was making its first little crack before we realized it. We benchmarked the i7 6700K so hard the bench hit back and we may well need plastic surgery on our gluteus Maximus (butts) before things return to normal. In these few intensive days the Intel Core I7 6700K awed and amazed us with its 4 core 8 thread capability. In most cases the i7 6700K topped the charts flexing it's MHz muscles turboing up to 4.2 GHz then when we put the 4,8GHz OC to it you could almost imagine a godlike light breaking through the curtains followed by an Angelic "Ahhhhhhhhh". No worries that was just the 18 or so energy drinks causing minor hallucinations but the processor did some pretty amazing computing.
With the 14nm Fab and BCLK freedom not affecting PCI-E and DMI the core generate less heat, less heat means better overclocking. It's a viscous circle less heat better OCing better OCing more voltage more heat and as you say Skylake is more than a capable OCer but you need to select your cooling solution to match your desired speed. We would say 4.3 – 4.4GHz on good quality air cooling running in the 1,34V range and at that range you may want a dual radiator water cooler, If you want to ride on OC Glory road then you need a triple radiator with at least 3 high pressure fans. We would recommend 6 fans in push-pull for serious gotta have every MHz OCers.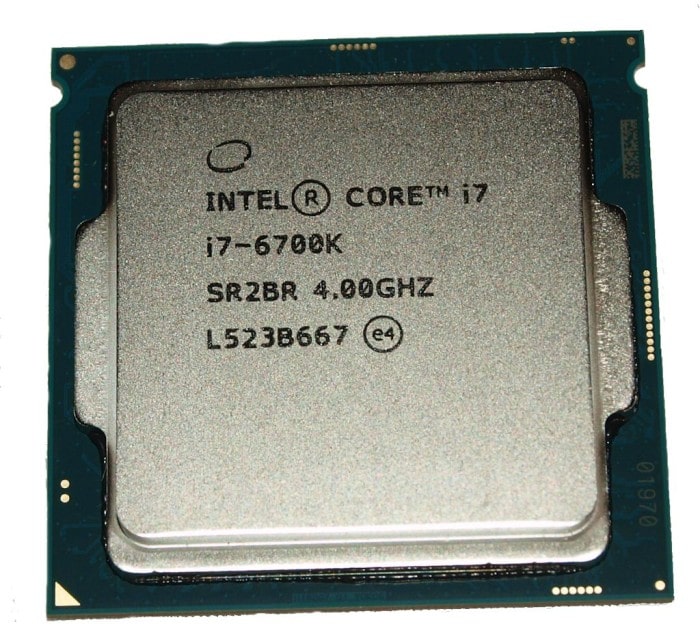 The HD530 will be ok for HD video playback and light gaming but it's not going to be a game all do all integrated solution. It is better than previous IGP solutions but it's

still an IGP. We strapped an XFX R9 380 4G on the Intel Core i7 6700K and it surpassed the 5820K with the hex core at its stock speed. It's fair to say that with a $200 – $250 discrete GPU you'll have plenty on giddy up go for most games. If you re into ultra high-end gaming then you know you need ultra high-end GPUage.
Should you make the leap to the Intel Core i7 6700K? That depends if you are running the 1150 socket with a nice beefy hex core you can probably wait a while. Personally we would say scrap 1150, resell the parts and jump into Skylake as fast as possible. This is the initial enthusiast offering and the design changes in Skylake will just keep coming in the next year. Already the finer tuning of Memory and the BCLK freedom from having DMI and PCI-E involved have paid off in OCing gains and a more stable platform.
If you can't afford the big jump to Intel's HEDP (High End Desktop Platform), and it's $1100 to $460 dollar i7 core processors, then Skylake will probably fit your budget, We like Skylake a lot, the native speed and turbo speed make it perfect for day-to-day non overclocked operation, then crank the 4.8GHz to it for heavy gaming and benches.
Intel Stirred the pot with a golden spoon with the Skylake generation of processors. We do believe an even more interesting time will be on the next Tick of Intel's Tick Tock strategy. Imagine the HEDP with a 14nm Fab and no single large rail going into the processor. The motherboard supporting the various chips reducing the CPU's thermal control demands. It's a very interesting time in CPU history and SkyLake will be seen as the chip that opened the door to that history so you might want to get onboard now it's just going to get better.