Intel Core I7 6700K  Review, Skylake Is Falling!
Intel's first Skylake offering, the I7 6700 with integrated High Definition Graphics HD530, landed squarely on our test bench about 72 hours ago. Based on a 14nm Fab and coming with a new Z170 chipset sliding into a 1151 LGA socket, the quad core has seen some architectural changes to the processor which we'll get into a little later.. The Haswell-E's little brother only sports 4 cores but the 6700K is threaded so you get the advantage of 8 threads and Intel did it at a base frequency of 4GHz and a turbo of 4.2GHz.
The 6700K is a "K" series processor and as such sports an unlocked processor multiplier that makes overclocking a dream. Just bump up a few voltages increase the Vcore, pop the multiplier up to your desired setting and you're overclocking. If you prefer hands off overclocking the folks over at Asus were good enough to hit us with the Maximus Hero VIII and their excellent AI Suite III will put you on the overclocking path before you can grab a sip of that MT Dew Code Red about to spill on your keyboard.
Intel has designed the Skylake series to use DDR4 or DDR3L for mobile applications so expect to see Skylake in a variety of mobile devices. The 6700K processor is pretty tame from a thermal perspective so it should fit the thermal envelope of mobile platforms pretty well in its mobile version. The desktop version ran nice and cool at 4GHz but we had a heads up from both Intel and Asus that if you want all Skylake has to give good to great water cooling was the order of the day. In the information we got it told us 4.5GHz on good air and a good sample would hit 4.7GHz on good water cooling.
We wouldn't recommend 4.5GHz on a tower air cooler though. On a EKWB Triple Radiator setup with the 6700K maxed out we were pushing a triple radiators capacity pretty stiffly. The difference between 4.4 and 4.5GHz was of course rising heat, go above 4,5 and Skylake sets the sky on fire and up around its top end a Triple Radiator was a must and even then fan speeds had to be manually kicked up, She's a hot runner but SkyLake runs sweet, stable and strong. The integrated HD530, well we got some benchmark numbers on the HD530 but it's more suited to Facebook games and HD video playback more than high-end gaming.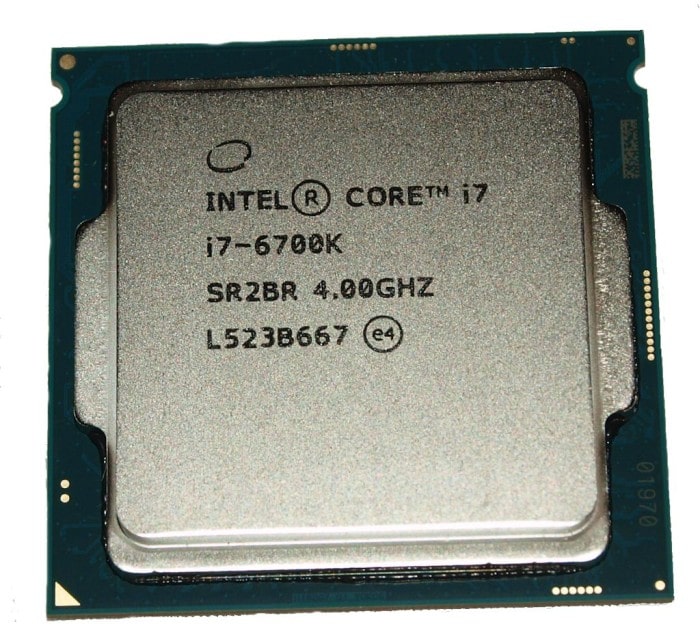 There you go no "Intel Confidential" on this puppy, it plainly states Intel Core i7-6700K and if you get lucky enough to pick one up this one comes from a good batch. Sr2BR 4.00GHz L523B667 (e4).
The I7 6700 is a fully unlocked processor for easy overclocking, it uses Turbo Boost Technology II, features PCI-E 3.0, 8 MB Intel "Smart Cache" and Intel HD530 graphics running at 1150MHz. Intel still has rapid storage technology built-in there for you RAID fans and there's a 16x PCI-E lane built into the processor itself. Just from the processor you can have a 16x PCI-E lane or 8x 8x, or even 4X 4X 1X, it even supports one 8x and two 4x so you're looking at a very flexible CPU internal PCI-E 16x. For our money put the graphics card to good use in that slot. We need to break out the processor schematic to get a gander at this sweet layout.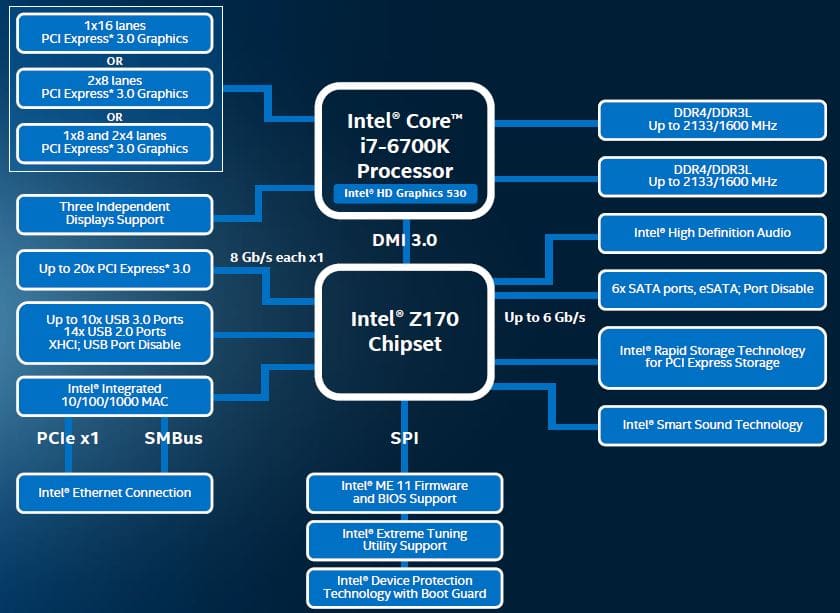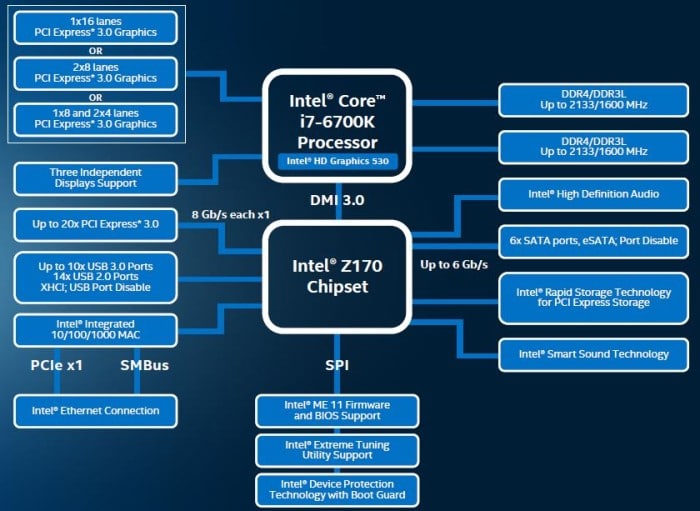 The HD Graphics 530 can support up to 3 independent displays but don't plan on triple monitoring Crysis 3 with the little fellow. It's more aimed at light gaming and HD video playback but we did some triple monitor word processing / Spreadsheet with a 1080P movie on the third screen and the little HD 530 pulled it off without a hitch.
The i7 6700K processor supports up to 1600 / 2133MHz memory in both DDR4 and DDR3L but don't let that worry you that's just the standard JEDEC the processor chip supports. We have it on good authority that the motherboards support memory overclocking and it's just a matter of tweaking chipset voltages and enjoying the new finer granularity of memory adjustments provided by the Z170 chipset.  The chipset also supports Intel High Definition Audio, 6x Sata Ports, ESata Port Disable, Rapid Storage technology, Intel Smart Sound technology,  Packed onto the new chipset you also get the familiar Intel Ethernet controller and Intel integrates 10/100/1000 MAC. You'll be seeing up to 10 USB 2.0 ports, 14 USB 2.0 ports and USB Port Disable.
Coming from the chipset itself you get up to 20x PCI-E lanes and with the Processor hosting a 16x PCI-E lane the platform is obviously aimed at the mainstream. The HEDT, High End DeskTop Platform the 5960K and 5830K on the 2011v3 LGA socket provide a full 40 PCI-E lanes while the 5820K provides 28 lanes. Keep your eyes peeled this isn't the large Skylake release this is just the top end "K" chip release and Intel might have some PCI-E strangling strategy with Skylake like it implemented on the 5820K. Notice on the schematic it says "Up To"  20x PCI-E lanes. With a full 36 lanes Skylake offers more PCI-E acreage than the 5820K on the 2011v3 platform and we are sure to hear some grumbling about that.
What's Changed About OverClocking?
Everyone wants to know what's changed about overclocking, it's one of the first things enthusiasts want to know. Well Intel let the Core I7 6700K have an unlocked multiplier but you can't overclock the darn thing not even 1 MHz.
Just joking once again Intel has embraced the overclocking culture and Skylake overclocks well but not as well as some of the Devils Canyon chips we saw. Getting in on the top-tier Core I7 6700 expect to be able to hit 4.6 – 4.7GHz on a good sample and on a great sample with a great overclocker 4.8 is possible but pushes the voltage limitations of the chip.
Not for the differences, there's no more CPU Strap / BCLK effect on PCI-E and DMI so when you're overclocking, even doing a BCLK overclock it will have no effect on PCI-E or DMI. With PCI-E and DMI out of the picture heat generation from the core should be reduced. BCLK will now run freely in the confines of the CPU core, Cache (Ring), Memory and of course the BCLK Generator.
DRAM Ratios have changed, previous generations of DDR4 had ranges of 100/133 and 200/266. That along with BCLK restrictions removed what we saw on the Maximus Hero board was DRAM increments of 100MHz and a full-scale of them. We are running the RAM at 2400MHz 15 17 17 35 but have the option to go to 2500, 2600, 2700 or go with the OC limit on this kit which is 2666MHz out of the box, It's the first motherboard on a new processor and the 2011v3 test bed runs 2400MHz ram so we decided to get everything as even as possible for testing. Same Ram Speed, same OS, same exact SSD model so we've isolated differences down to motherboard and CPU which is exactly what we wanted, as level a playing field as possible. Well if you are pitting a 4 core processor with a native clock of 4GHz, 4.2 Turbo against a Hex core 3.3GHz – 3.5GHz turbo. In some cases the speed of the Quad core will over rule the larger number of cores on the 5820K, in fact in many cases the topped out speed will overcome the number of cores.
For you BCLK overclockers it's a totally new game, Intels default design will allow for a BCLK of up to 170 BUT the Maximus Hero board we have hands on will allow up to a BCLK of UP TO 400BCLK. These should be some pretty interesting times as Intel moves to its planned SOC (System On Chip) Design. Later models of Skylake are slated to see more SOC innovations but we aren't privy to those yet.
Before moving on to a sneak peek of the Maximus Hero VIII we have another overclocking change for you to feast your eyes on. Unlike Haswell Skylake doesn't have an IVR (Integrated Voltage Regulator) for the core and other major Rails. The voltage regulation of each of these rails is supplied by the motherboard rather than have a single 1.8VDC (VCCIN) rail. The separation of DMI and PCI-E from BCLK and the required voltage being provided by the motherboard will have the conglomerate effect of reducing heat on the CPU Die. This separation will also make the CPU more tolerant to non-sustainable overclockers using LN2 and other exotic frozen gasses. We dabble with LN2 and a few sub-zero fluids on occasion but to us if you can't sustain it 24/7/365 it's not an OC it's a publicity stunt. Some will take exception to those words but face it, supercooling materials to create super conductors allowing for bigger grandstand OC's only lasts long enough to get a suicide run stripped down OS world record. I openly invite any LN2 Overclocker to a 24 hour side by side OC with Hexzilla looping whatever program you choose and while I'm smoozing the models you can watch your one CPU fry while mine runs for years.
Now at worst case power usage, say 4.7GHz on excellent water cooling, you can expect a peak power consumption of around 150W (CPU only), the Power Ramp is about 15ms with worst case ramping coming in at 3A/ms. For those of us who don't speak Ohms, Watts, Volts and Hertz fluently what that means is you shouldn't really need a heavily over engineered VRM to have a good overclocking experience. Put simply lower end motherboards should crank this CPU until it screams but higher end motherboards may make is scream louder.
What kind of gains are we looking for with SkyLake?
Now each build will differ and we are entirely sure the alleged gains from Intels figures are using systems that are so high end it'd make a rich man cry but here they are.

We are told we will see up to 30% performance gains over a 3-year-old PC, 20% over a 2-year-old, and 10% over a year old PC. It goes on to tell us that we will have 40% more high-speed I/O lanes both USB 3.0 and PCI-E 30 than the intel 9 series chipset. If you ask us, and that doesn't happen often, blow some of the R+D money and give us 150 PCI-E 3.0 lanes with 6 full x16 slots, a few M.2 connectors stacked, and some extra slots for killer fast PCI-E HD's. At this point PCI-E is the currency of speed and we want oodles and oodles of PCI-E lanes to plug our toys into. We love the other improvements but even the HEDT platform with 40 PCI-E lanes is strangling us.
What can we reasonably expect with the Intel Core I7 6700K?
According to insider (reliable) information more than 50% of i7 6700K should hit 4.6 to 4.7GHz fully stable. The lucky few will be able to hit 4.8GHz stable. The Best CPU's will be able to support DDR 4 at 3600MHz and almost all i7 6700K can hit and sustain 3200MHz. Higher end boards like the Maximus Hero VIII and Z170 Deluxe should be able to surpass the 3200 MHz limit so if you want world records crank up the wallet to overdrive and make a little Rain for a good board.
What Kind Of Voltages Can We Run Mr Wizard?
You won't see this often so notify the press, oh wait NM we are the press, but you should stay in the 1.4v and under range on Skylake and a good CPU should be able to do 4.7 GHz with 1.4v. There are limitations, you should be using a Tower air cooler about 5 foot tall with 32 fans hanging off of it to hit 4.7GHz on air at 1.4v safely. Now you should be able to benchmark 4.5GHz on good air cooling but from what we've seen we wouldn't 24/7 4.5Ghz on air. With a good dual radiator large-bore hose system (as in not a AIO (All in one out of the box) it should work though.
With a large-bore triple radiator, say 1/2 inch bore lines (3/8″ high quality will work), a 360mm radiator with 3 high pressure fans you can hit 1.42V and shoot for 4.7 or 4.8GHz if you want to be in the glory zone. We are running an EKWB L360 kit with 3/8″ bore lines, 400L/hr pump with 3 extremely high pressure fans in a pull configuration and even then with the CPU maxed out we see temps in excess of 80°C fairly regularly. That should give you some idea of what you need for cooling to run the glorious speed you want. Speed is a factor of money, how fast do you want to spend?