Power Consumption


We take power consumption at the wall using a Kill A Watt Power drain measurement device, I loaded Unigine Heaven and let it idle for 30 minutes recorded the Idle temperature and Power Consumption, shut it down and let it cool for a half hour then repeated the test twice in this sequence, For the load I ran Unigine Heaven looping for 30 minutes, let it cool down to the Idle temps established in the previous test then looped it 30 minutes repeating the process a total of 3 times. Once completed I take the three results from each test and average them giving me an aggregate  average for each result. Killing two birds with one stone and getting Power Consumption and Thermals.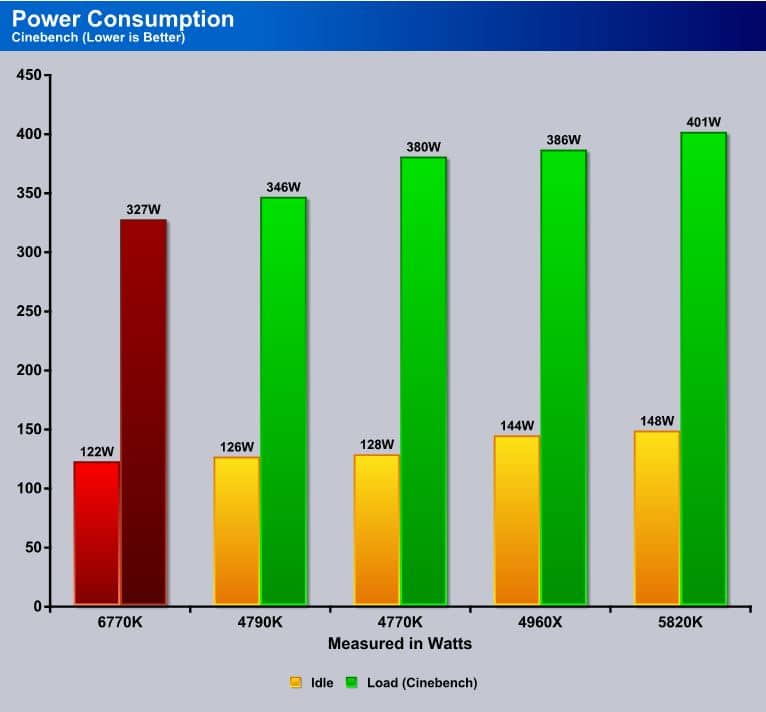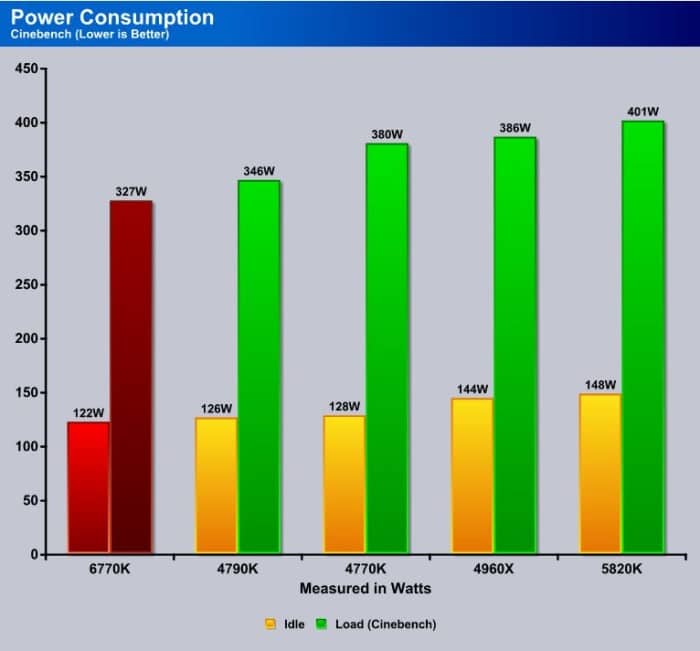 The Intel Core i7 6700 is a 14nm Fab and at top consumption it should pull no more than 150W but we measure at the wall with total system consumption and at an Idle we were pulling 120W, jump to the 4.8 GHz OC and we pulled 327W a pretty meager pull for such a powerful processor.
OverClocking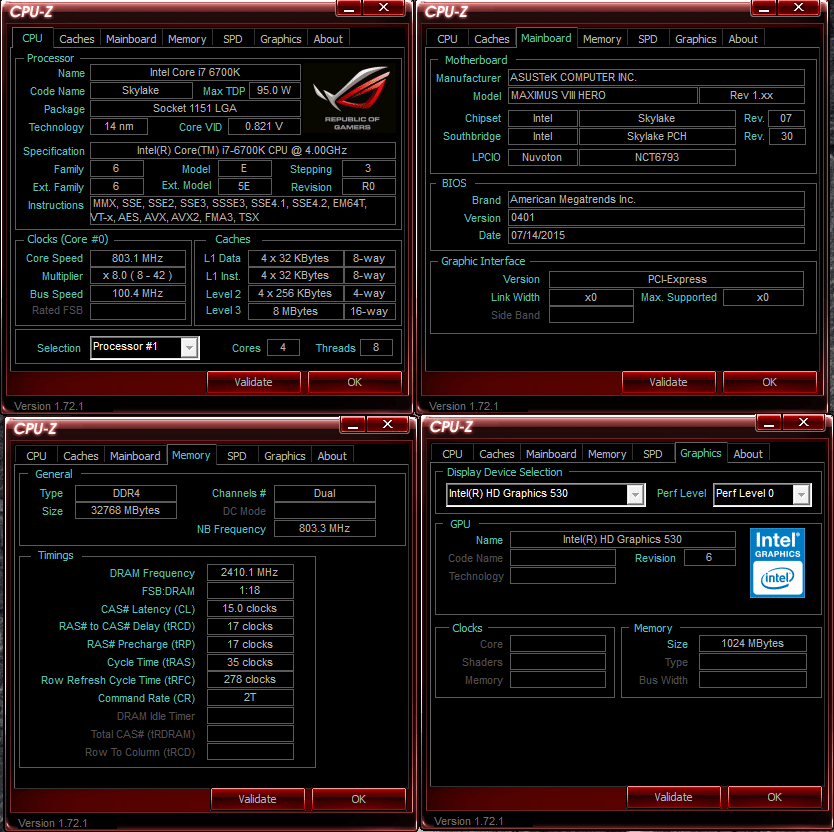 Here's our conglomerate CPU-Z System screenshot it verifies we are working with a Skylake 95W TDP Intel Core I7 6700K processor. This is of course pre-overclock with Speed Step and C-States still enabled so the core speed shows as 800Mhz, the processor multiplier tells the tale it runs from 8 – 42 and our true top end speed here is 4200MHz.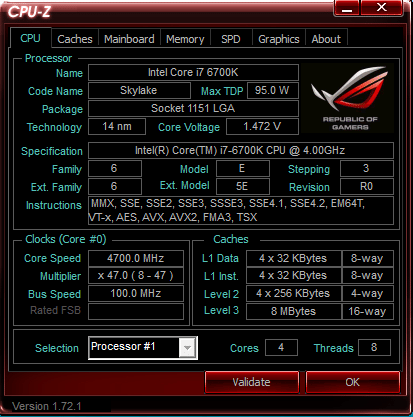 We made 4700MHz easy peasy while CPU-Z is reading 1.472v that is not the core voltage we set in BIOS, we never set BIOS above 1.42v and for the most part we set BIOS to 1.4v and our Intel Core I7 6700 Processor ran fine at that speed and voltage. VCore isn't the only voltage you need to bump. Increase Vcore, VCCIO and System agent and you'll find your sweet OC. If you're pushing the memory then you may need more System Agent voltage and 1.2v should be good for 3200MHz kits while 1.25 VCCIO should be good enough.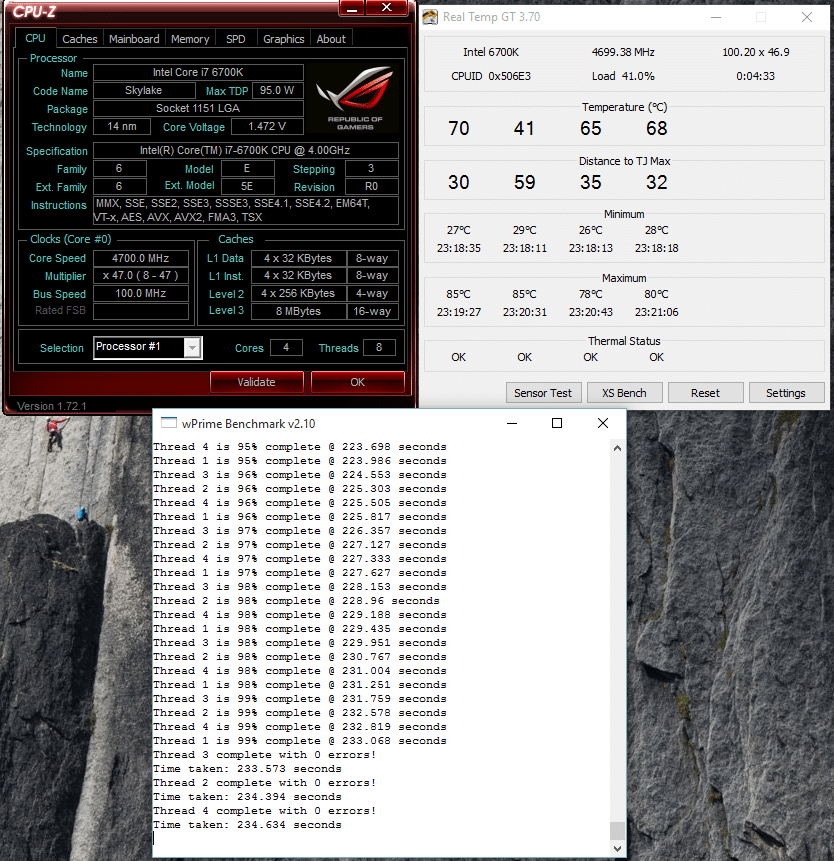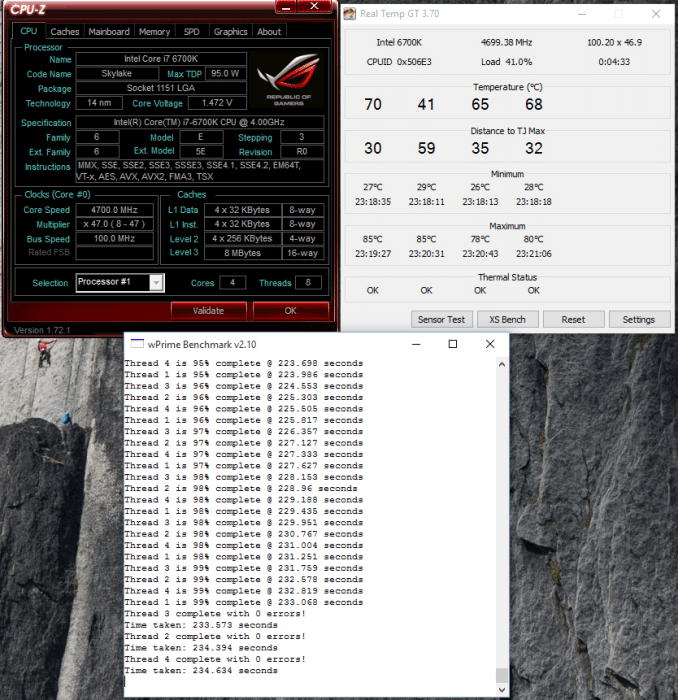 Here we are at 4700MHz WPrime is at 99% and completed successfully and we benchmarked every benchmark in this review at a higher frequency than this.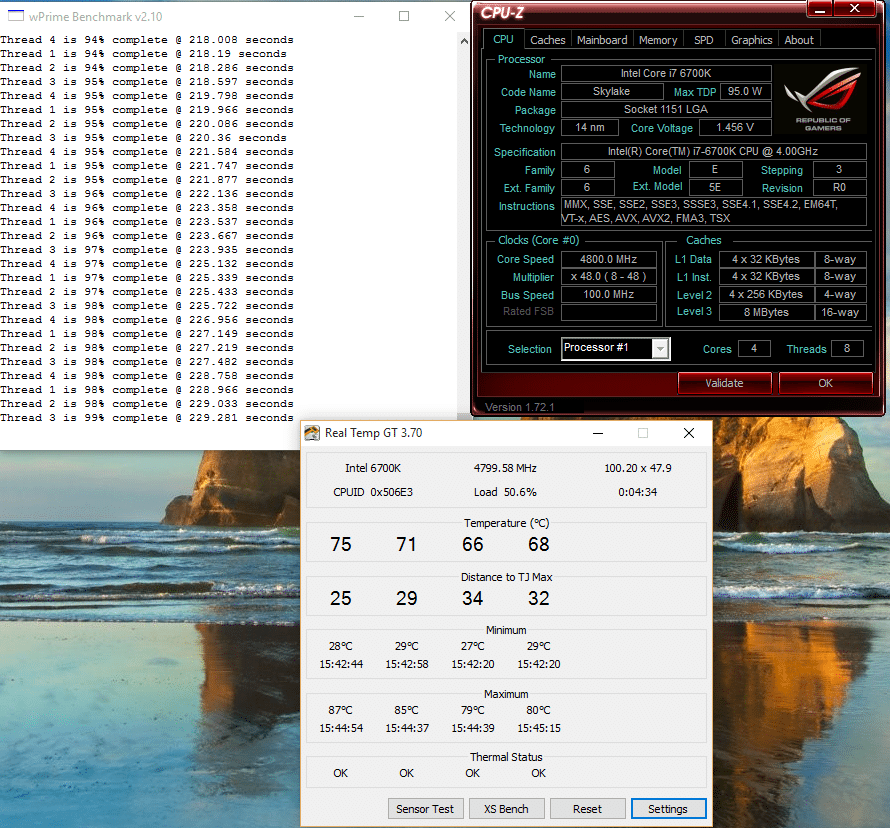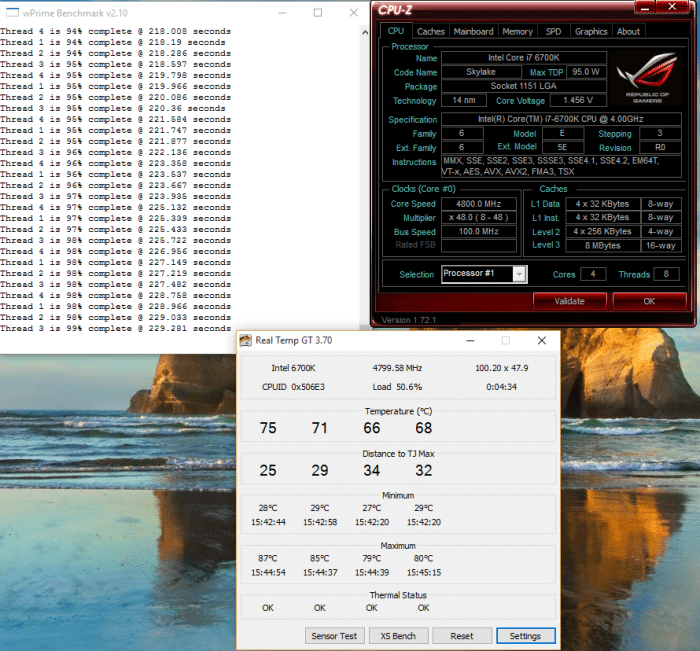 Here we are at 4800GHz with WPrime completing sucessfully and by this time we were at the recommended maximum voltage of 1.42V in BIOS.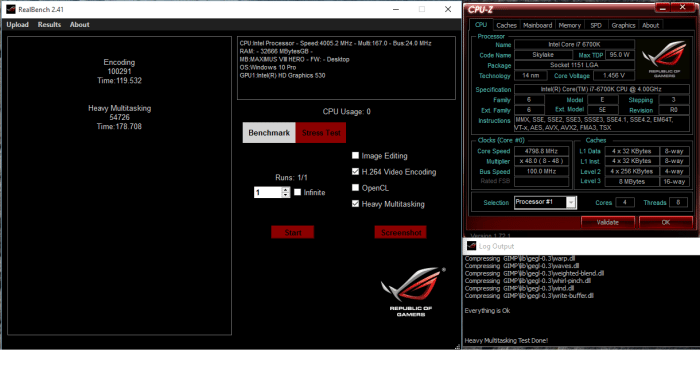 For you doubters here's a 4800MHz with the two CPU intensive sections of RealBench selected and it completed successfully without as much as a glitch.
Temperatures


For Thermal readings I loaded and run WPrime 1024  then read the thermal load, Skylake reaches it's thermal limit pretty quick when highly OC'd. Cool the machine down for 30 minutes at an idle then read the Idle temperatures. I repeat that same process three times then average the three runs and report those scores. An eye is kept out for anomalous runs, if an anomaly occurs I shut the machine down let it cool off, reboot and rerun the test.
We were running a EKWB EK-Kit L360 which is a beginners triple radiator kit with a 3/8″ bore hose and a pump that pushes 400L an hour, it's a pretty effective cooling system and Skylake pushed the Triple Radiator to it's limit.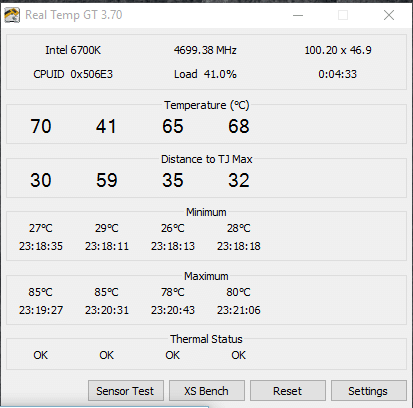 We were at 4700MHz here using 1.4v and cores 1 and 2 hit 85°C slightly higher than we like our processors to run. We like a 80°C cutoff but we didn't want to limit the OC on this new processor so we adjusted our expectation to 90°C for maximum OC purposes,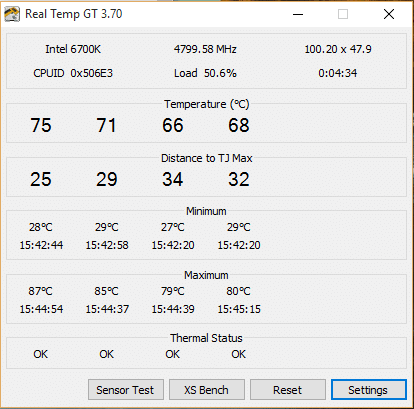 This is at 4800MHz and 1.42v on the core, 1.2 on VCCIO and 1.2 on System agent. We found that leaving Speedstep and Turbo enabled made the processor a lot less cranky and since the ramp is minimal we ran our OC with the best of both worlds. The Intel Core i7 6700K CPU would drop to 800MHz idle then in the blink of an eye shot to 4.8GHz before we could even blink. Go hardcore and disable SpeedStep, C State and Turbo if you like but as responsive as this CPU is gains are minuscule.