Benchmarks
Test Rig
 
Case
Thermaltake Level 10
CPUs
Intel Core i7-3930 @3.2 Ghz
Motherboards
ASUS P79X Deluxe
Ram
32 GB
CPU Cooler
Corsair H100
Monitor
ACER – XB280HK 28″ / 1ms / DP / 4K / G-Sync
GPU
eVGA GTX 980 Ti SC
Zotac GTX 980 AMP! OMEGA Edition
The test-rig is slowly getting a bit old, especially the CPU and will soon be upgraded to a bit faster CPU and newer motherboard. That said it still gives us a good baseline system to test our video cards on. We should not be CPU-bound to often. The big new addition to the system for this review is a new Acer XB280HK monitor, This is a 28″ 4K monitor that supports G-Sync. A perfect companion for the new GTX 980Ti.
The Benchmarks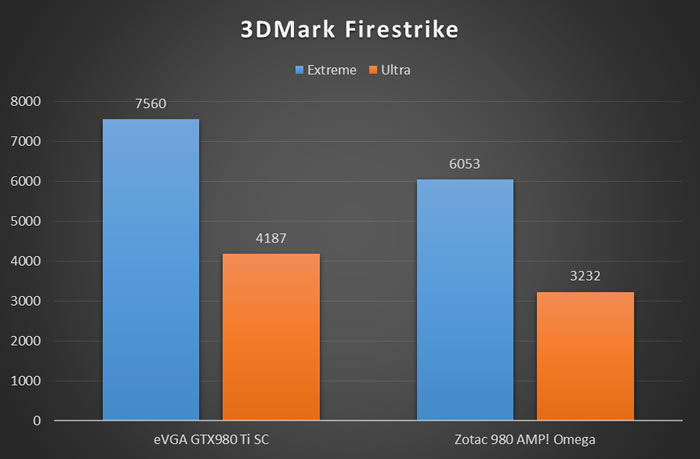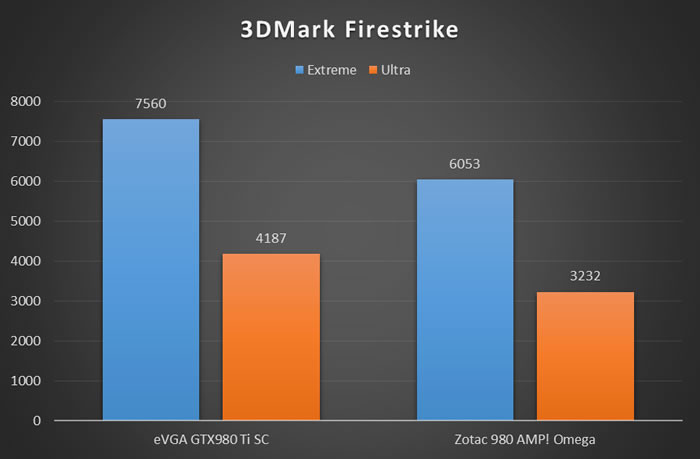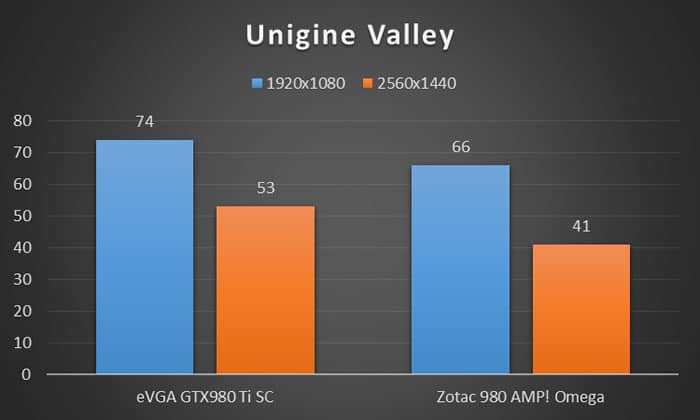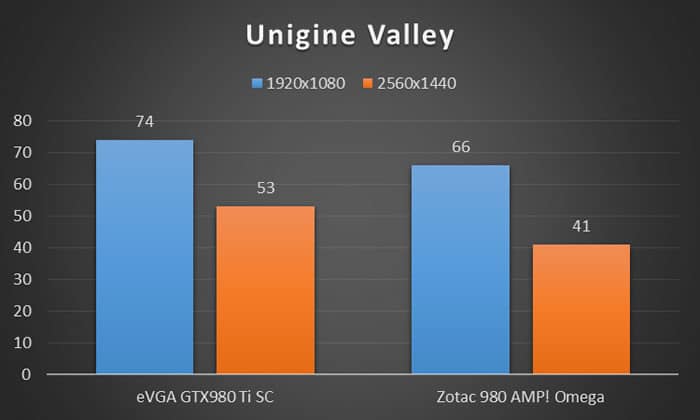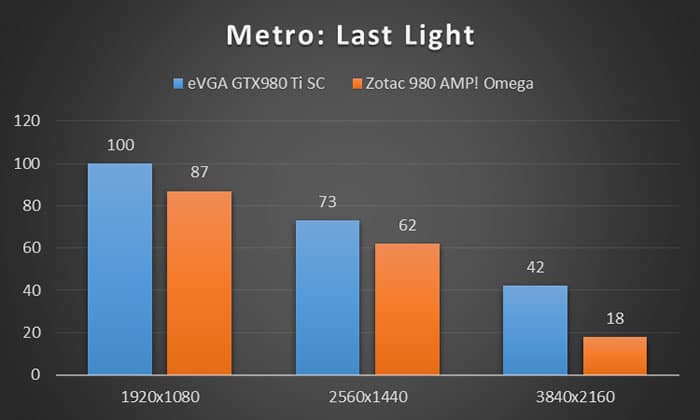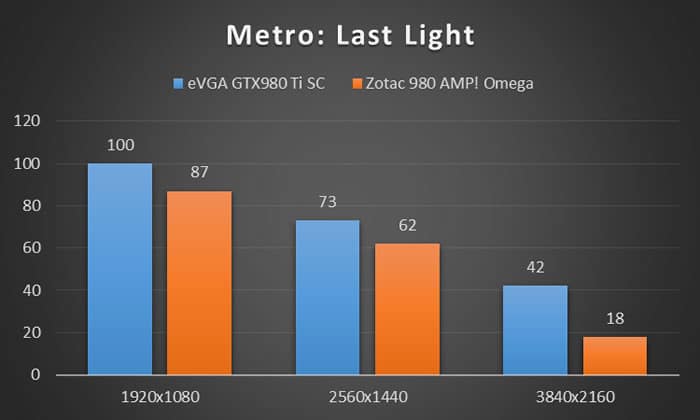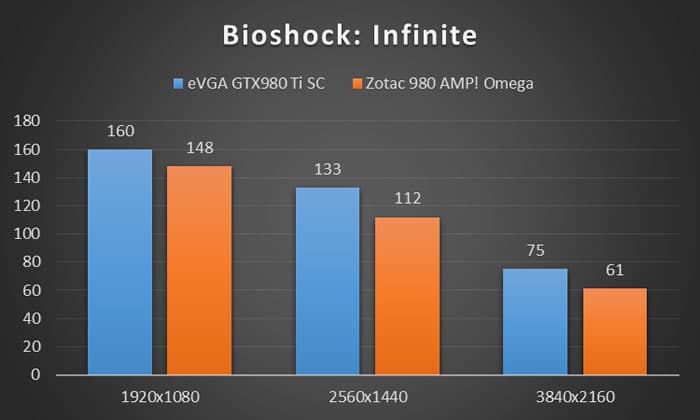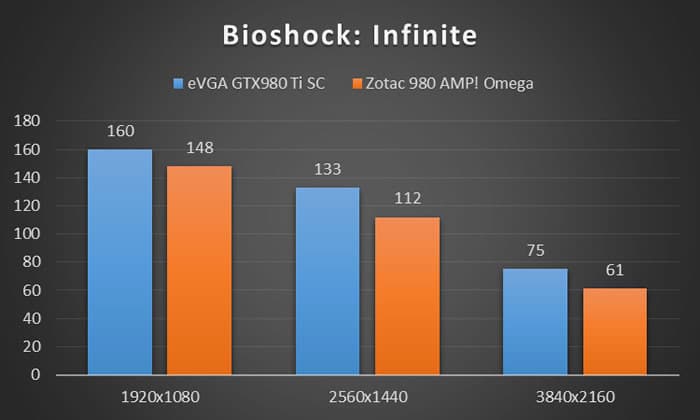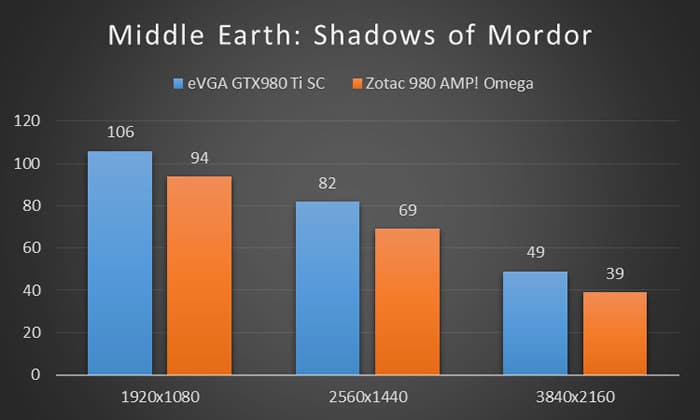 It is obvious that the eVGA GTX 980 Ti SC is a step up even compared to the overclocked Zotac AMP! Omega-edition card. How much? Let's take a look.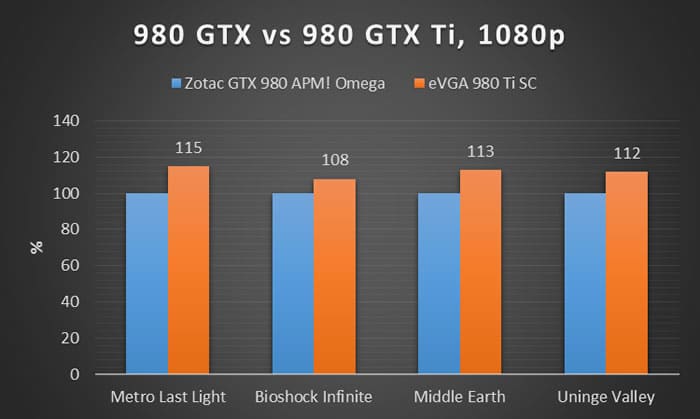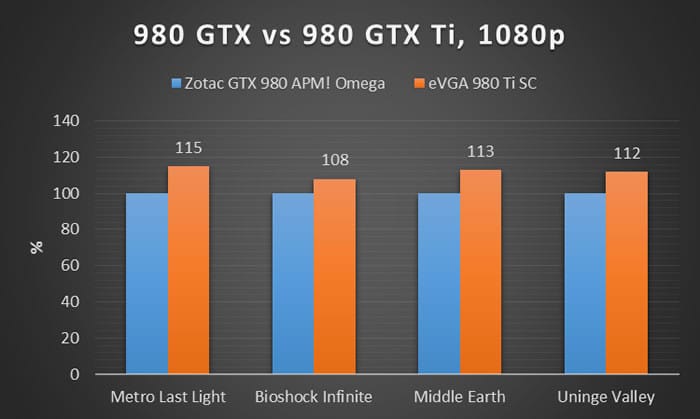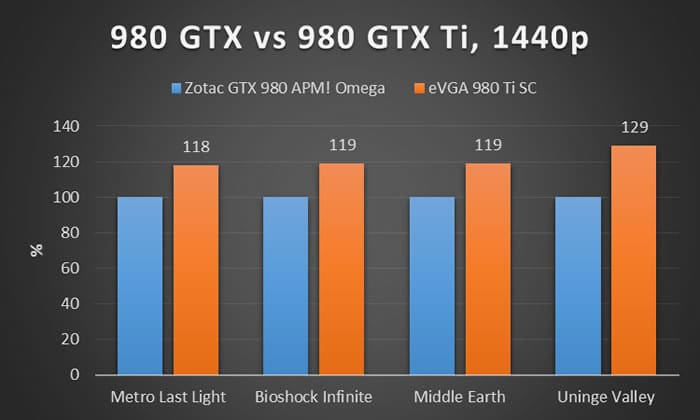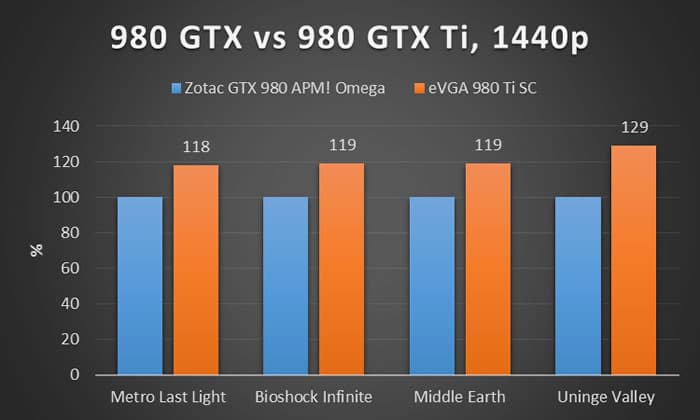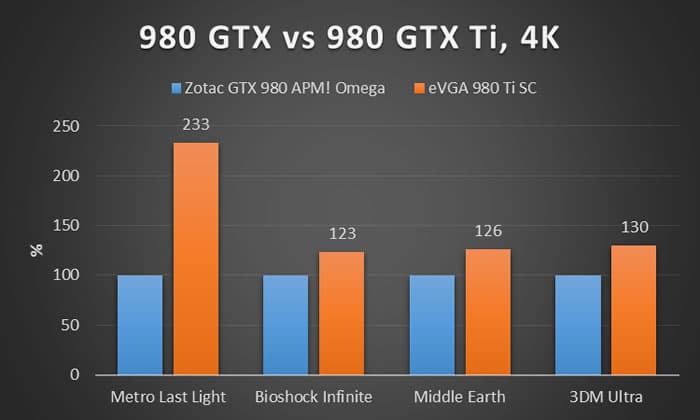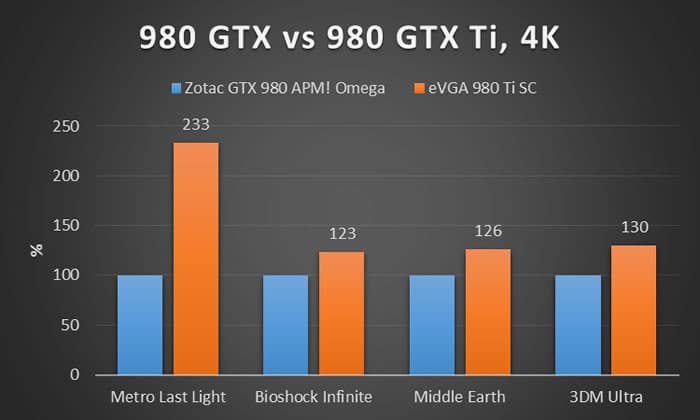 We have taken the result for the Zotac AMP! Omega-edition card and set it to 100% and then plotted the results for the eVGA GTX 980 Ti SC in relation to it. At 1080p the difference is "only" around 10-15%. Since both cards crank out high frame rates it means the only benefit might be if you want to reach 144+ fps for a 144 Hz monitor. At 1440p things start to get interesting. Now we see a 20-30% increase in performance, enough to comfortably move us further away from the average 60 fps we want to achieve for smooth gameplay. Basically we get some nice headroom so that the lower recorded frame rates are higher. At 4K we still see around 25-30% increase in performance, except for Metro:Last Light which see's a whopping 233% increase in performance moving us from an unplayable average frame rate of 18 fps to playable 42 fps.
Remember that we are testing our games at the absolute maximum settings with both AA and AF and features turned up to max. Even with the eVGA GTX 980 Ti SC we do not hit an average frame rate of 60 fps at 4K but with just minor tweaks to the quality settings we can hit that target even with a single card. Imagine what we could do with two cards in SLI …. (hint, that test will come when we review the Zotac GTX 980 Ti and put that card and this card in SLI).