Testing
Testing flash drives is pretty straight forward: turn off any background tasks that might interfere and run some benchmarks on the drive. As long as you're using a modern machine, like our LGA2011-V3 ASUS X99 Deluxe test rig running the Haswell-E 5820 3.3GHz CPU, you aren't going to bottleneck the drive. We are forgoing lengthy charts and presenting images of the actual tests, which we run three times and take the median run and present that here.
DiskMark
DiskMark is a small utility that allows you to benchmark your disk's and hard drive's performance.
It allows you to specify many advanced options to determine how your drives perform best and to determine the typical operating performance.
It has a user-friendly interface and it is simple to use.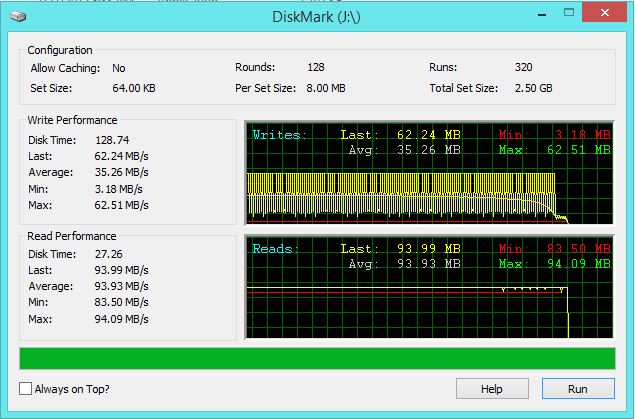 DiskMark pegs the Write Performance average at over double the advertised specification of 15MB/s. Write performance had an average of 35.26MB/s with a minimum of 3.18MB/s and a maximum of 62.51MB/s. The Read Performance average is 93.93MB/s, coming it at 23.93MB/s above the rated speed of 70MB/s. The minimum read speed was 83.50MB/s and maxed out at 94.09MB/s, so early tests indicate decently fast, but not speed demon, USB 3.0 drive performance.
ATTO
As the industry's leading provider of high-performance storage & network connectivity products, ATTO has created a widely-accepted Disk Benchmark freeware utility to help measure storage system performance. As one of the top tools utilized in the industry, Disk Benchmark identifies performance in hard drives, solid state drives, and RAID arrays, as well as connections to storage. Top drive manufacturers like Hitachi build and test every drive using the ATTO Disk Benchmark.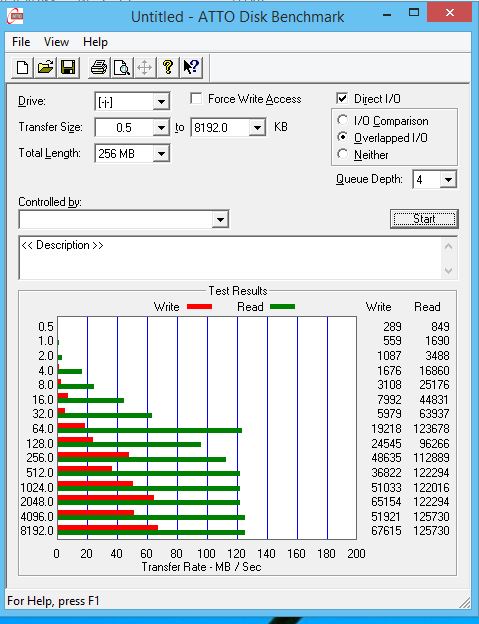 The Write speed on ATTO topped out at 67.6MB/s and good speeds started topping out at 256KB, so it's obvious the drive likes larger writes than a ton of smaller ones. The Read speed maxed at 125.7MB/s and started hitting a good stride on the 64KB test blocks.
HD Tach
HD Tach is a low level hardware benchmark for random access read/write storage devices such as hard drives, removable drives (ZIP/JAZZ), flash devices, and RAID arrays. HD Tach uses custom device drivers and other low level Windows interfaces to bypass as many layers of software as possible and get as close to the physical performance of the device possible.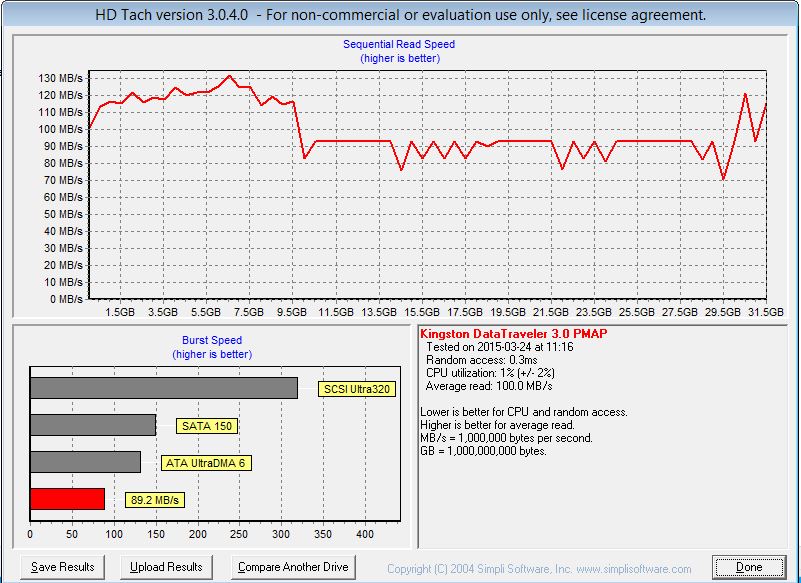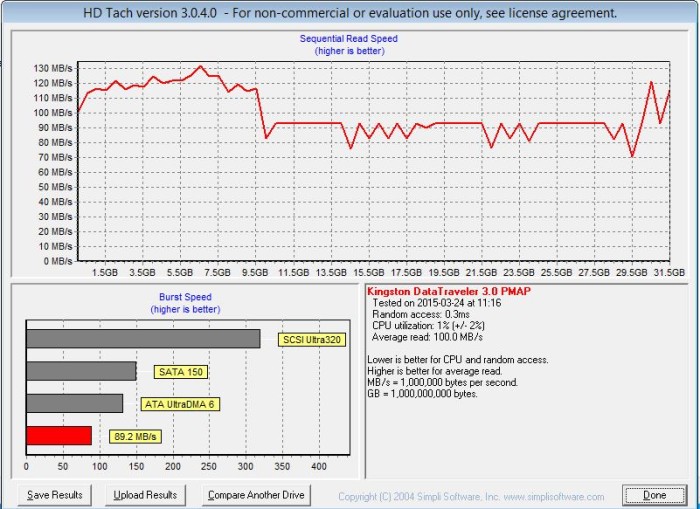 HD Tach sees the average Read speed as 100MB/s, with a random access time of 0.3ms and CPU usage was at 1%. This test shows that the Kingston 32GB USB 3.0 DataTraveler Mini topped out at 130MB/s and dropped to it's lowest speed of 70MB/s. It is likely that Kingston is reporting the lowest expected performance of the drive to ensure they are capable of meeting their advertised specifications.