Final Thoughts
Here we are again, 3 rough days of testing, charting OCing, stressing the core and in those three days we've spent 55 – 60 hours testing charting and coding the EVGA GTX 980 Ti SC. It's not

often we experience love at first benchmark but that's what happened with the EVGA GTX 980 Ti SC ACX 2,0+.
$669.99 may seem a little steep for a GPU but look at the Titan X the Titan X runs $1150 and it's biggest advantage for most end users is the 12 GB of GDDR5. In some select cases you might need more than 6GB of GDDR5 but not for current or near future gaming. You might need it for rendering, ultra large presentation displays, world record seeking but not for current desktop gaming. The 6 GB GDDR5 the EVGA GTX 980 Ti SC ACX 2.0+ is plenty for 99%+ of all gamers and may be considered overkill.
So it's basically $670 for a well laid out EVGA GTX 980 Ti SC ACX 2,0 plus that overclocks better than any GPU we've seen in recent history. Option two spend $1150 on a GTX Titan X which is a wonderful GPU and if you have the scratch for a Titan X we encourage you to itch that scratch and spend the $1150. If $670 is pushing it for upgrade money you won't have buyer's remorse with an EVG GTX 980 TI SC ACX 20+.
Far from buyer's remorse we think you'll be so happy with the EVGA GTX 980 Ti SC ACX 2.0+ that you might bide your time and pick up a second one when the next generation cards drop and you can find a bargain on a second card for SLI.
Even with the Titan X we are looking at sold out shelves and retailers begging for more stock so Nvidia is doing something right with the most powerful GPU on the planet. Likely the quick release of the GTX 980 Ti is due to those empty shelves. Personally we are glad the Titan X is a sellout, it's good for Nvidia and the GTX 980 Ti was released a few months after Titan X.
The EVGA GTX 980 Ti SC ACX 2.0 is the legitimate child of Titan X and any gamer with one in his rig is going to be almost as proud as when their first child was born.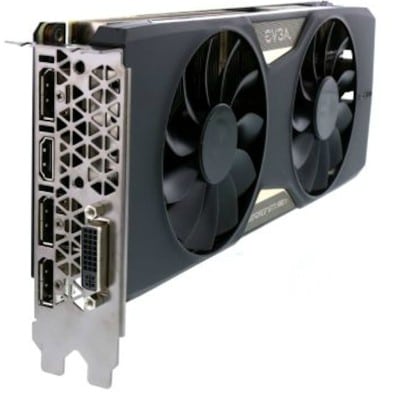 The Bear Facts: The EVGA GTX 980 Ti SC ACX 2,0 is almost a no brainer decision, $150 more than a GTX 980 with 25% better across the board performance that's a no brainer. The $670 price

is $480 less than Titan X so coming or going it's almost a no brainer decision. Nvidia limits the performance difference between Titan X and GTX 980 Ti to a few percentage points so the smart money is on the EVGA GTX 980 Ti SC ACX 2.0+.
We could roll on for a few more paragraphs extolling the virtues of the EVGA GTX 980 Ti SC ACX 2,0 plus but let's leave it at this, know that favorite man toy of yours, dust it off and sell it and go get a EVGA GTX 980 Ti NOW. You won't miss the dusty man toy but the feeling the EVGA GTX 980 Ti SC ACX 2.0 gives you on first benchmark that's priceless.
Pros
Cons

High Quality
True Maxwell
Price
DX11 & 12
ACX 2.0+ Cooling
Performance Per Watt Is Off The Charts
Quiet
Performance Is Off The Hook High
Cheaper Than Serious Dating And Probably Lasts Longer

One Tiny Wire To Close To The 6 Pin PCI-E Power Connector
Fairly Addictive Making You Crave A Second One