Testing results
Power Output Results(V)

Power Consumption (W)
212W
310W
423W
560W
810W
3.3v
3.38
3.36
3.34
3.33
3.32
5v
5.13
5.11
5.10
5.09
5.07
12v
12.32
12.25
12.18
12.10
12.08
The heaviest load we could manage on our bench was 810W and that was with three major league, old school ATI GPU's cranking, which is a good indication of what this PSU can handle. We overclocked the CPU to 4.5 GHz and drove both GPUs and CPU as hard as they can go with Cinebench and PCMark 8. We go with a small GPU to begin with, then switch out for a 4870, then add a second 4870. Next we scrap that configuration and toss in a 4870×2, then finally 4870×2 and a 4870 in CrossFireX. We have modern GPUs at our disposal, however they don't consume power like the 4870 generation unless you get to Titans and I don't see two or three laying on the test bench.
With as much load as we can put on it in a real world environment, we only hit 810 watts from the wall. Overall tolerances ranged from under 3% to close to 1% under heavy loads.


Looking at the efficiency of the PSU on a load tester at low-wattage 182.18 or 10% load, we get an 83% efficiency and by 80 Plus standards there are no requirements for anything below 20%. As we mentioned earlier, this is a work horse of a PSU, and we don't recommend it for casual e-mailers, solitaire players and light duty office machines. The SilverStone 1500W Gold was meant to get out there and deliver watts, and it's not the best at efficiency when it's idling along at 10%, but you don't buy a 1500W Watt Monster to idle along.
At 20% load we see 89.11% efficiency which is well within Gold standards, as are the rest of the percentage loads. Long story short, if the tolerances and efficiency were any tighter this would be a Platinum power supply. Considering this PSU has the smallest in-class depth, those are some good numbers for efficiency.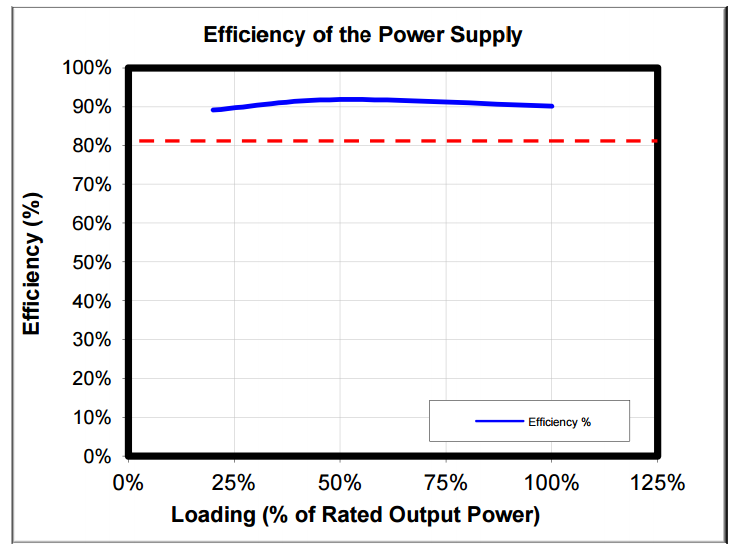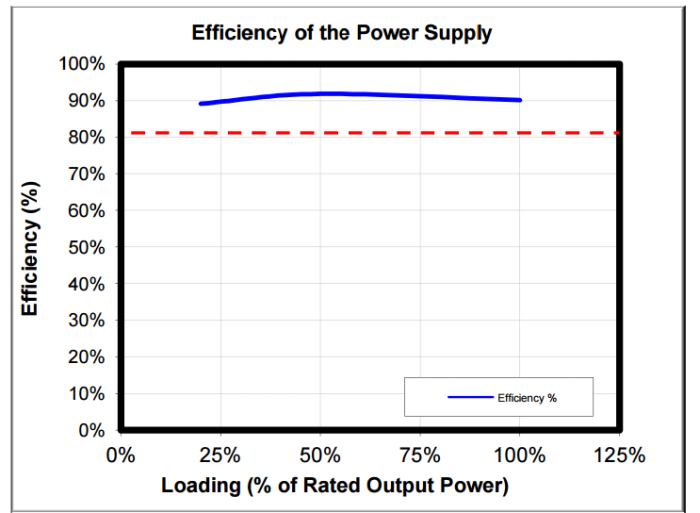 As you can see, the efficiency of the PSU is way closer to Platinum than just Gold. Gold is great and Platinum is close to the stratosphere, and under load the SilverStone 1500W Gold excels, almost reaching the Platinum plateau.
Typical efficiency at a 50% load ran 91.78% and the average ran 90.31%, so overall we are looking at a highly efficient PSU.
Thermally speaking, at the very worst we got a reading of 55°C and that was at the insane load tester range of 1470 PSU watts and 1664 wall watts. At that level of power you do get a little tingle in the back of your neck like "Oh heck. Duck! Incoming grenade!", but SilverStone had the safety-pin firmly planted in the PSU and no explosions were noted during testing.
With an average load in the 800W range we got 41°C and as far as noise level our decibel meter only begins to register at 30 dBA and the power supply never tripped the meters. Running under 30 dBA is excellent for a Watt Monster PSU. Under heavy loads the fan is audible and we hit 46dBA at around 1503 PSU output watts, while at the wall pulling 1668W. As you can see, the PSU had to evacuate around 168W of built up heat so a little noise was welcome. Right about the time the PSU output hit 1503 our throats made an involuntary choking noise and the PSU doctor just chuckled and turned a knob reducing the load a hair.
The load testing unit wasn't capable of charting or displaying ripple except as a constant line running across a green screen, but the ripple control on the unit seldom moved at all and the ripple on the unit is so small it makes the champions league easily. Good voltage control and low ripple make for a winner, especially in this small of a Watt Monster.
Conclusion
The Strider Gold S Series ST1500-GS 1500W Power Supply just really blew us away. Voltage regulation on this Watt Monster

was well within the advertised 3% strict tolerance which by chance is also our cutoff for a shot at a gold award. We could only manage a paltry 800 or so watt load with two 4870s and a 4870 running in an old-school, watt eating, triple CrossFireX configuration, so we took it out of our lab to the PSU doctors house (a professional electrical engineer with toys to make you weep openly, but in a manly weeping kind of way). He ran the load up to 1667 coming out of the wall on a dedicated 20 AMP circuit.
Under the scrutiny of an electrical engineer with more gadgets than we could identify, the SilverStone 1500W Gold ST1500-GS performed like a world-renowned dancer stepping its way through every test. It skipped right past ripple not leaving so much as a wrinkle on the ripple meter and the only trouble we had was prying the unit out of the electrical engineer's hands.
Thermal readings on the 1500W monster were very reasonable, and can be attributed to an energy-efficient design and the over-sized, custom 135mm fan. The fan did trip our decibel meter under extremely heavy loads, once hitting 46 decibel at close to 1507W. We did get one nice fan wind up around 1300W, but at the time we weren't noise isolated and the testing equipment's fans were ringing in our ears, so no testing of the level was possible there.
We did have a couple of wiring beefs however. The main ATX 20 + 4 connector was hard to get installed into the mainboard connector. The logical way seemed to be the 20-pin first then the 4-pin, but the wires were too stiff. We had to line up all 24 pins with stiff wires and stab them in while we still had feeling left in our fingers. The main ATX connector's clip is so far recessed into the chassis we would have to pull on the wires to get it out. That's a big "No No", and pulling on wires ends up in repairing wires or ordering new ones. Then there was only one Berg 4-pin connector on the Molex chains and no additional adapter. We also noticed that at extremely low load levels, efficiency dropped to around 80 percent. There is no 80 Plus certification requirement below 20% load, but we would probably not recommend the Watt Monster for a lackluster life powering a solitaire or office machine. Of course, at the wattages of an office cubicle machine they wouldn't be losing much wattage anyway. 80% efficiency at 170W wall is 136W at the machine itself, a loss of 34 watts. We really don't see that happening, as most office machines use horrible $15 dollar OEM PSUs that belong under the tires of a stomper truck anyway.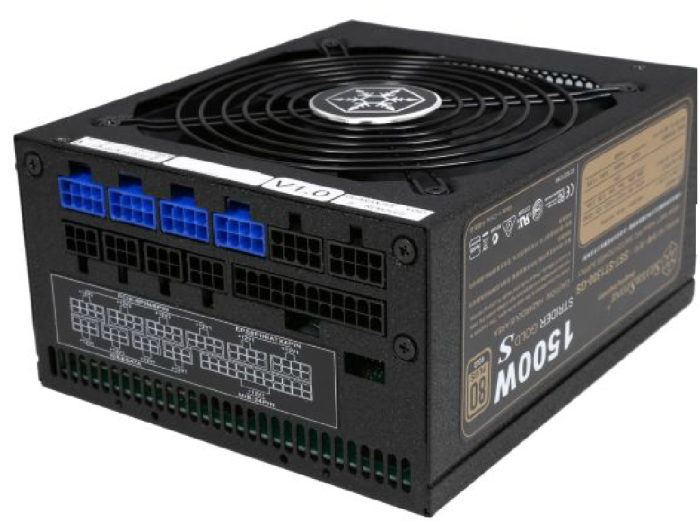 There were some nice extras in the bundle: a magnetic PSU rear cover to keep pesky dust bunnies out of the PSU, rubber plugs for unused PSU sockets, tie downs, that kind of thing. While we appreciate the value those represent and tend to pick well bundled products, they won't get any extra points, as all we grade on is voltage tolerance and ripple. If a product is on the line between awards, the bundle may push it one way or the other, but in this case the SilverStone Strider Gold S Series ST1500-GS 1500W Power Supply is so far into the gold that we petitioned SilverStone to change the name to "The SilverStone Midas ST1500-GS". They probably won't listen, but this Watt Monster from SilverStone is solid gold.
Pros
Cons

Single, Large 12V Rail for 3 PCI-E
80 Plus GOLD Certified
Little To No Ripple
Over-sized 135mm Fan
Compact 180mm Depth
Handled Triple X-Fire (With a dual and single core GPU) Easily
Flat Cables
SilverStone's Technologically Advanced Smaller Design
Up to 8, single connector GPU's

One Berg Connector
ATX Connector To PSU Plus Is Too Recessed
ATX Flat Connectors Can Be Hard To Deal With (To many Wires)