It's been a while since we've seen what we like to call a "Watt Monster" from SilverStone, and we are glad to see that they are back in Watt Monster production mode.  There are a lot of companies producing Watt Monster PSUs, but few have been producing them as long as SilverStone, and even fewer with a ± 3% voltage standard strictly enforced. SilverStone's long dedication to a superior product and dedication to their end users shows in the quality and trust generated by the SilverStone name.
SilverStone Strider 1500W Gold PSU

About SilverStone
"Founded in 2003, SilverStone is an established leader in its field, with an elite team of engineers; we started our quest of providing products that create inspirations.  We have since expanded the lines of products as well as types of products we produce, giving our customers a wide selection of choices.
       With distribution centers in different areas of the globe, SilverStone products can be seen all over the world, not just for computer users but also for home entertainment use.  Providing leisure with integration of advanced technologies that is functional and making them enjoyable to use.
       Here at SilverStone Technology, we continue to pride ourselves in providing the highest level of standards in designing and manufacturing computer enclosures, power supplies, and accessories.  Our pursuit for the first class aesthetic appeal is relentless; our teams of devoted engineers are constantly searching for the best technologies that suit end-users with different needs and will make our products as technologically sound as they are beautiful."
SilverStone's take on the Strider ST1500-GS
"To meet the requirements of current and future desktop computers, SilverStone created the Strider Gold S series power supplies. The Strider Gold S models are all new designs engineered to be the smallest, full-modular ATX power supplies at any wattage levels. The Strider Gold S series includes wattage range from 550W to 1500W for a great variety of applications. With short depth designs, all models in the series are among the world's smallest full-modular ATX PSUs. In addition to 80 PLUS Gold level efficiency, the Strider Gold S PSUs are built to meet very high standards in electrical performance with ±3% voltage regulation, ±3% ripple & noise, and high amperage single +12V rail. Other notable features included are 24/7 40℃ continuous output capability, low-noise fan, and multiple sets of PCI-E cables. For users looking for a power supply with faultless combination of compact size, performance, efficiency, and quality, the Strider Gold S Series is the only choice."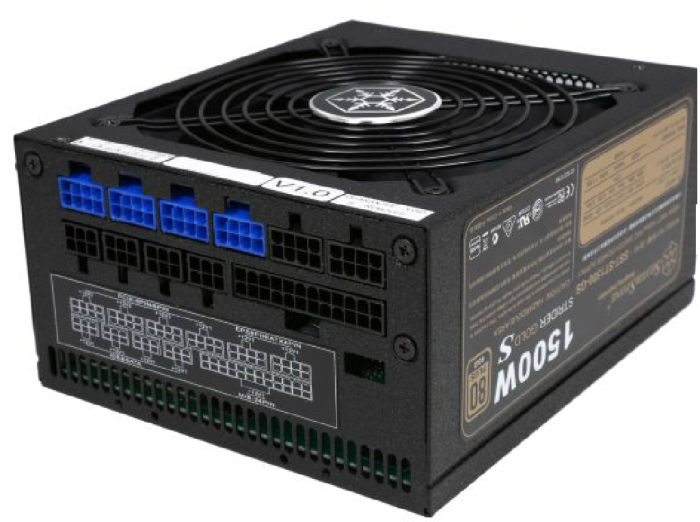 We like the trend SilverStone is setting toward smaller PSUs that provide the strict tolerances we want and need. This trend in smaller footprint power supplies stretches across SilverStone's line and is expanding every quarter. It's especially welcome in the Strider 1500W Gold Series we are looking at today. Watt Monster PSUs tend to be huge due to huge heat sinks. Huge heat sinks are fine, except that sometimes huge heat sinks are compensating for excessive resistance. Excessive electrical resistance creates heat in any electrical appliance including PSUs, and in the case of PSU, at times vendors have used huge heat sinks to compensate for inefficient Watt Monsters. The smaller PSU trend SilverStone is setting is just an indicator that the engineering is spot on and less heat is being generated by the SilverStone power supplies. Less size means less room for heat sinks, and less heat sinks at higher wattage means higher efficiency and less heat to dissipate.
Let's face it, with the trend in enthusiast computer systems, especially from Intel, the price of a decent enthusiast or gaming rig has skyrocketed. Along with those skyrocketing prices comes the concern for care and maintenance of equipment. There is no better care for a machines welfare than a good, solid, trusted power supply and SilverStone excels at that. Being in the business of handling different computer parts on a daily basis for years, we've seen friends and relatives, as well as customers, bring in a machine with a fried power supply. Many of these fried for no good reason other than the PSU popped.
Even consumer computers sold off the shelf at major retail stores contain a cheap power supply. Manufacturers sell the name on the chassis, usually with little regard to the quality of the power supply pumping life into the components. We pull those power supplies out and the weight of the power supply is next to nothing. If your power supply weighs as much as your smart phone get rid of it. That's a bit of an exaggeration, but if you open your chassis to dust the bunnies out and you see a grey metal, dull finish PSU in a retail computer, seriously consider replacing it. Consider replacing it with a quality PSU like one from the SilverStone Strider line-up. We aren't saying you necessarily need a Watt Monster, but you do need a high quality PSU, and few choices are better than SilverStone.
Specifications
Model No.

SST-ST1500-GS

Max. DC Output

1500W (Peak 1600W)

Power density

646W
per liter

Load Range

| | | | | | | |
| --- | --- | --- | --- | --- | --- | --- |
| | +3.3V | +5V | +12V1 | +12V2 | +5VSB | -12V |
| Max.(Amps) | 25A | 25A | 70A | 70A | 3.5A | 0.3A |
| Peak (Amps) | / | / | / | / | / | / |
| Min.(Amps) | 0.2A | 0.2A | 0.2A | 0.2A | 0A | 0A |
| Range (%) | ±3% | ±3% | ±3% | ±3% | ±5% | ±10% |
| Line Reg.(%) | ±1% | ±1% | ±1% | ±1% | ±1% | ±2% |
| Ripple(mVp-p) | 50mV | 50mV | 120mV | 120mV | 50mV | 120mV |

Color

Black (scratch resistant and lead-free paint)

combined
+3.3, +5V

150W

combined +12V

1440W/120A

Input Voltage

90V~264V

Input Frequency Range

47Hz ~ 63Hz

PFC

Active PFC(PF>0.95 at Full Load)

Efficiency

87% ~90%(at 20%~100% loading)

MTBF

100,000 hours

Operating temperature

0°C ~ 40°C

Protection

Over current protection
Over power protection
Over voltage protection
Over Temperature Protection
Under voltage protection
Short circuit protection
No load operation

Connectors

1 x 24 / 20-Pin motherboard connector(550mm)
1 x 8 / 4-Pin EPS / ATX 12V connector(750mm)
1 x 8 / 4-Pin EPS / ATX 12V connector(550mm)
8 x 8 / 6-Pin PCIE connector("550mm / 150mm" x4)
16 x SATA connector("600mm / 150mm / 150mm / 150mm" x4)
6 x 4-Pin Peripheral connector ("600mm / 150mm / 150mm" x 2)
2 x 4-Pin Floppy connector("600mm / 150mm / 150mm / 150mm" x 2)

Cooling System

Silent 135mm fan

Noise Level

18dBA-34dBA

Dimension

150 mm (W) × 86 mm (H) × 180 mm (D)

Weight

3.2Kg

Form factor

ATX PS/2

Certification

80
PLUS Gold