SilverStone Gold S Series ST1500-GS, A Closer Look
One thing we wish PSU companies would do is drop these military-like serial numbers from sight and call their products names like "SilverStone 1500W Gold S Series PSU". It would relieve a lot of confusion over the model designation and from this point on we will refer to this PSU as the SilverStone 1500W Gold PSU, both for your convenience and our sanity.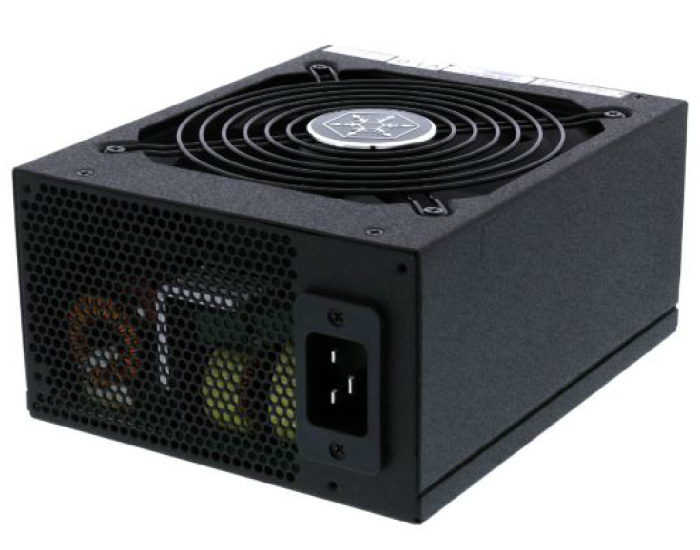 Coming in at 180mm in-depth, the SilverStone 1500W Gold PSU is the smallest footprint 1500W PSU on the market today. A little later we will break out an old school Watt Monster and put it side by side with the SilverStone 1500W Gold PSU so we can physically see the difference,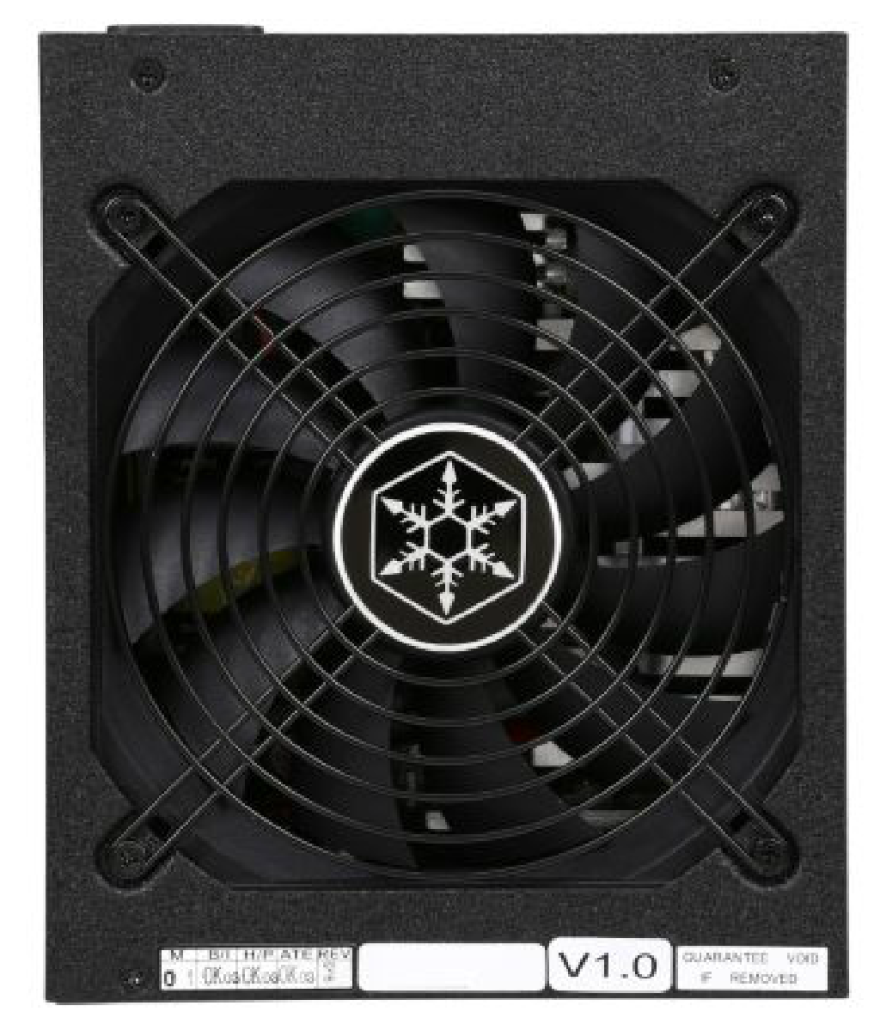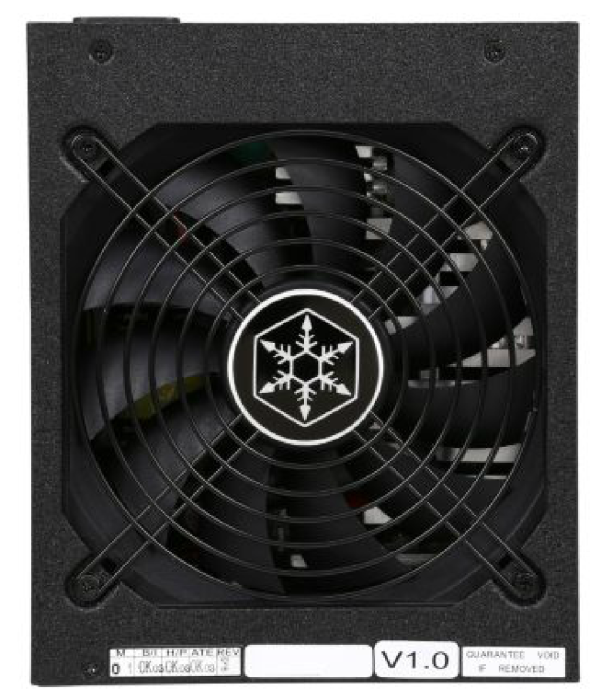 Even though the PSU has shrunk to a 180mm depth, SilverStone has managed to slip in a 135mm fan with a minimum 18dBA. Keep in mind that is a minimum and we will measure the highest decibel reading with as full a load on the PSU as we can achieve. With Watt Monster PSUs, that's a chore, so we may have to hop down to the PSU doctor's house and run some out-of-house tests on this 1500W monster.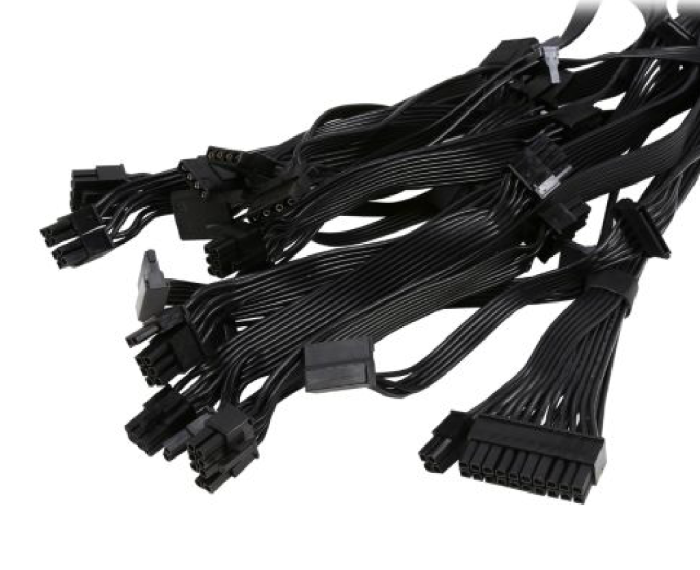 The cables on this PSU are of the flat ribbon type, and we appreciate flat ribbon cables with one exception. The 20 + 4 ATX main power connector has so many wires to work with, and even though this ribbon cable isn't as rigid as a lot we have dealt, with there's just too many wires there for a ribbon-type cable. Trying to get the 20-pin and the 4-pin aligned and inserted is just to much of a chore. We could see including a sleeved adapter that goes 24 to 24 pin and inserting the ribbon cable in that. On lesser PSUs with ribbon cables, sure just leave out the adapter, but on Watt Monsters let's have the adapter. Typically Watt Monsters go in enthusiast machines and cryptography mining (Like Bitcoin) computers. We need that bit of flexibility to make the build look perfect and at times the extension is needed with ginormous cases.
Here's a table giving all of the PSU's cables and lengths in case you skipped over it on the first page.
Cabling – Silverstone
ST1500-GS
Type of Cable
Length
from PSU
12V
Rail
Modular
Cables
20+4
pin ATX connector
540mm
12V1
4+4
pin EPS/ATX12V
560mm
4+4
pin EPS/ATX12V
750mm
5.25″+5.25″+5.25″+5.25″ (Molex)
610+150+150+150mm
5.25″+5.25″+5.25″+3.5″ Molex + Berg
610+150+150+150mm
SATA+SATA+SATA+SATA
600+140+140+140mm
SATA+SATA+SATA+SATA
600+140+140+140mm
SATA+SATA+SATA+SATA
600+140+140+140mm
SATA+SATA+SATA+SATA
600+140+140+140mm
6+2
pin PCI-E, 6+2 pin PCI-E
560+150mm
6+2
pin PCI-E, 6+2 pin PCI-E
560+150mm
12V2
6+2
pin PCI-E, 6+2 pin PCI-E
560+150mm
6+2
pin PCI-E, 6+2 pin PCI-E
560+150mm
Unit
Dimensions (L x W x H)
180mm x 150mm x 86mm
As far as cabling goes, there looks to be plenty, but we only see one 4-pin Berg connector which might be an issue for some people. Okay, I already see some of you hunkering down in your Terran bunkers waiting on the Zerg rush tactic. That's "Berg" connector, not "Zerg". Below is a photo of one so PSU terminology impaired people like me don't confuse them with little, burrowing, alien creatures.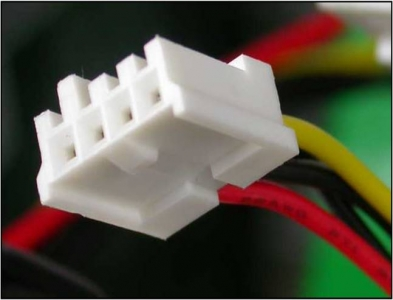 Yes, that's the little 4-pin connector that goes to 3 1/2 inch floppy drives, some front panel aftermarket kits, and on occasion, fan panel headers for expansion cards that allow for fan control. If you have two components needing Berg connectors you will need an adapter with one.
Looking at the Connector/Rail diagram above, three of the PCI-E connectors are on a rail by themselves and the fourth PCI-E connector shares the 12V1 rail with every other connector. Isolating the three PCI-E connectors insures that voltage is as stable as it can be for triple-GPU users. If you use a fourth GPU, it shares the 12V1 rail with every other connector on the PSU and that may or may not cause some fluctuation. On a PSU of this quality, it shouldn't make much if any difference which rail the GPU is on, as the circuitry will maintain a steady voltage.
So far in regards to cabling, we are up to two "gigs" (as in Military gig, like two bad marks against the cabling). The first one is that the ATX connector is about 6000 wires, and second, there is only one Berg connector. The third demerit is where the main ATX connector plugs into the housing of the SilverStone 1500W Gold. The release clip is too far into the housing of the PSU to be easily accessible, and that tends to lead to pulling on the wires to get the ATX connector out. Pulling on wires is about as productive as stepping on Superman's cape or spitting into the wind, both of which usually end up with trouble. Never, ever, pull on wires, period. Pull on the connector at the end of the wires. Unfortunately, in this case the connector is too far recessed to get a good grip on it, so that's three strikes on the cabling and about a half a point on overall scoring for the Watt Monster. Our recommendation is to leave the ATX wire connected once it's in place, which almost negates a totally modular design, but not quite.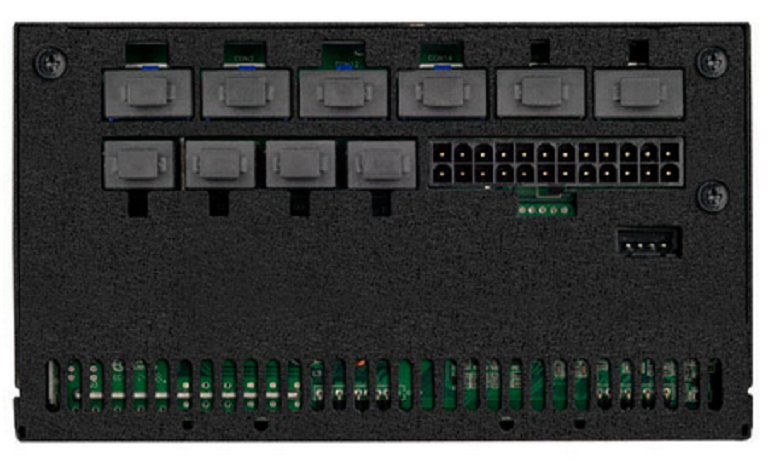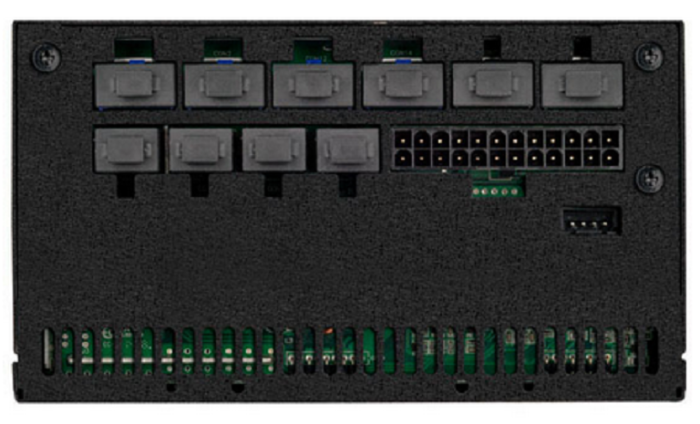 We love that SilverStone is throwing in little extras and you don't often see that with PSUs anymore. Especially in the desert environment of the lab here, we appreciate the rubber stoppers that prevent dust from getting into the connectors. Dust is a problem with electronics, a problem too often overlooked. No power supply is IPX6 standard because of the heat venting requirements, but including rubber stoppers that help to keep cat and dog hair, as well as dust bunnies, out of the PSU connectors is a great feature.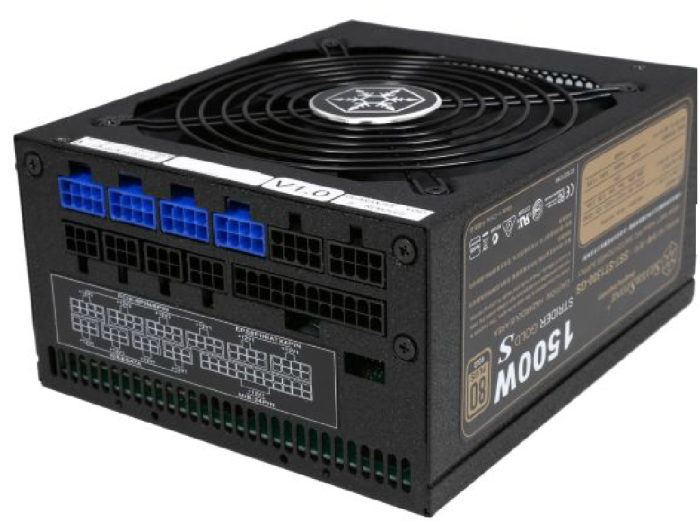 Here's a shot with no rubber stoppers, and we left the wire diagram in place, The wire diagram shows you where each connector needs to go, and if you really need that outside the manual then you probably don't need a Watt Monster like this one. It's handy for those brain-dead moments when you are tired and the desert heat has whittled away at your senses, as well as for Watt Monster beginners, so it's a nice touch.
Our image also shows us that this is a true fully-modular power supply, which is a point earner as opposed to "partially-modular" PSUs that advertise themselves as modular then in some minuscule fine print mention "partially modular". Even worse are the PSUs that market as modular and then have four wires hard-wired to the interior of the PSU and don't mention "partially modular" at all.
We definitely prefer fully modular designs, and the extra expense and expertise it takes to pull off a 180mm depth PSU of this wattage is amazing.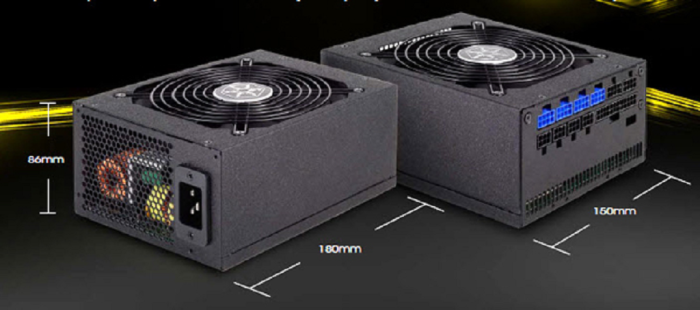 This photo, courtesy of SilverStone, shows what we mean by depth of the PSU, obviously until computer case (chassis) ATX standards change, the 150mm width isn't going to change at all because the PSU has to be mounted in that specific size space. Thee 86mm height isn't going anywhere soon with the millions of computer cases already on the market. All that's left for manufacturers to work with is the depth, or front to back of the PSU, and that's where SilverStone has put this PSU on a diet.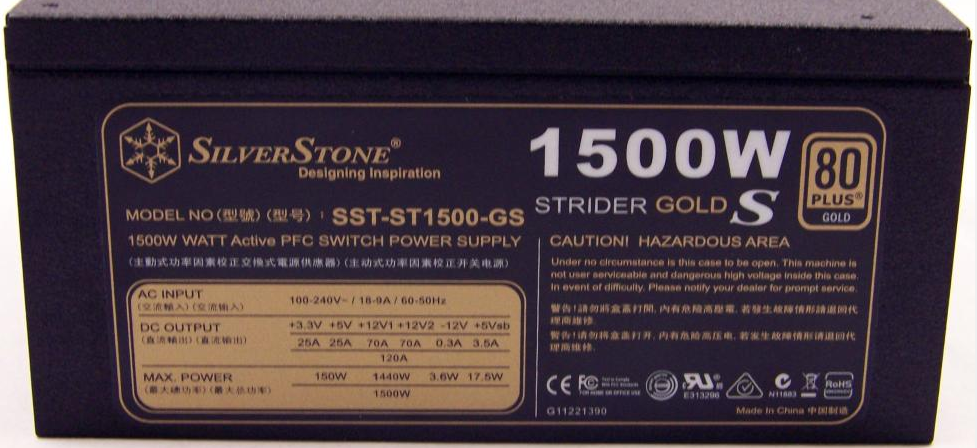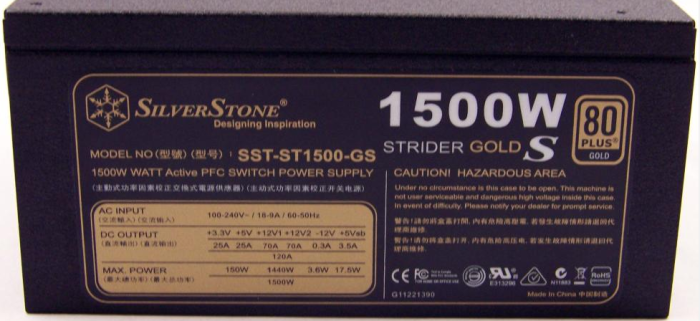 Last, but not least, is the PSU information panel on the side of the SilverStone Strider Gold ST1500-GS which confirms that this is indeed an 80 Plus, Gold Rated PSU.