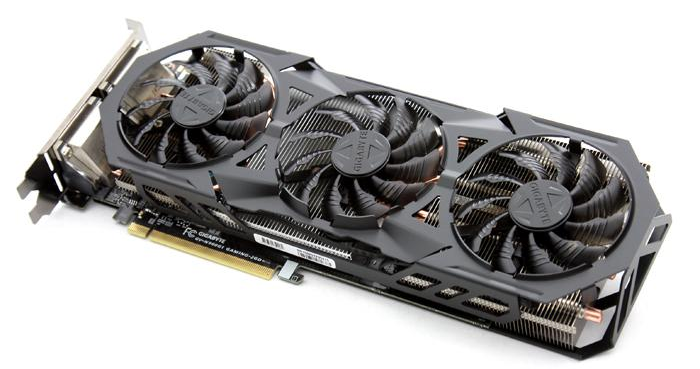 The Gigabyte SOC Gauntlet Sorting process guarantees you a higher overclocking GPU, while the custom shroud, with its extended direct contact copper heat pipes, ensure one of the coolest running GPU's on the market. Any way you look at it, the G1 Gaming GPU provides 1/3 more fan and 1/3 more heat sink. Combine that with pure copper heat pipes and you have one heck of a GPU.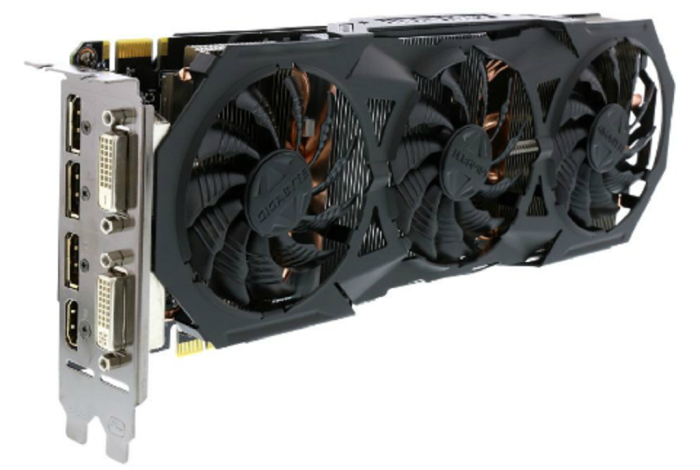 Packed with a load of connector options, Gigabyte's Flex display technology lets you use them in a variety of interesting ways. The days of using one type of connector for multiple displays are long dead. Let's look at this graphic from Gigabyte that elegantly explains Flex Display.

You have the flexibility to connect monitors with different native connectors and still have a great gaming experience in ultra high-definition. Gigabyte is seeking a patent on this technology and it should make future monitor and system upgrades easier.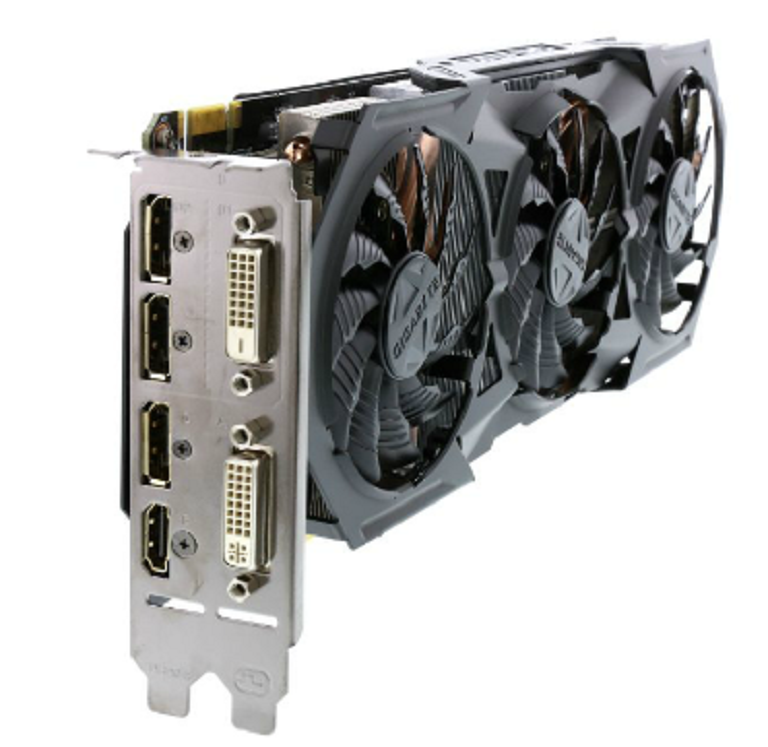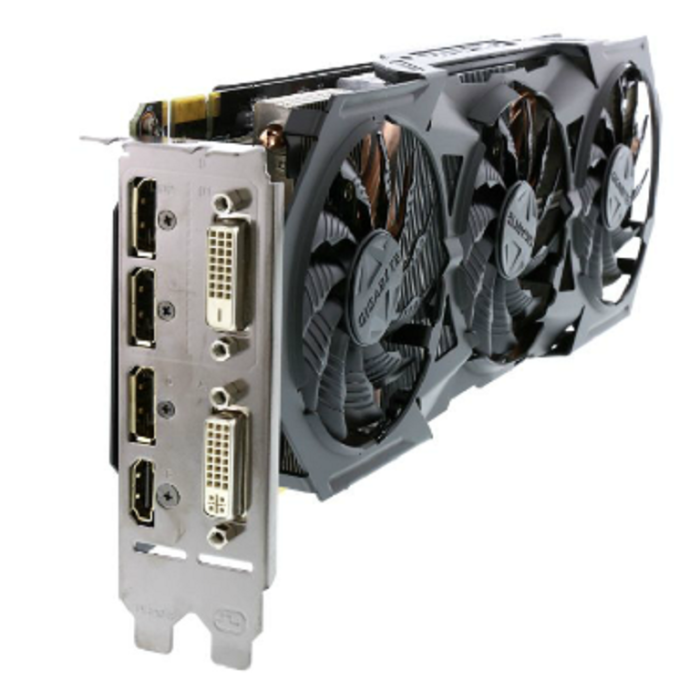 The business end of the Gigabyte GTX 960 G1 Gaming shows one HDMI, two DVI and three Display Port connections. We've said it for years and we are saying it again: monitor manufacturers need to set one standard every couple of years. First the 15 pin D-sub, then the miracle of DVI some years later, then Display Port and HDMI, Mini DP and Mini HDMI. Let's make a decision here and standardize a monitor standard so we can stop the rampant licensing of so many connectors. Ever wondered how much of a GPU's cost is just the other 4 connectors you never use? Who are we kidding? We love having every available connector. It makes it so much easier to connect to any one of the nine monitors on the test bench.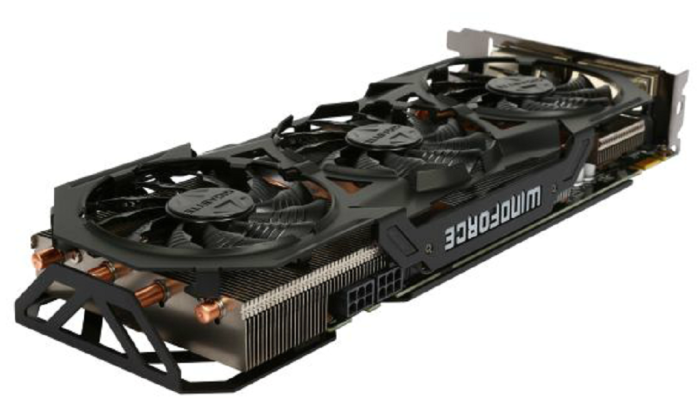 Is it just us, or is that custom cowling just about the prettiest non-flesh and blood object you've ever seen? Hang this beauty next to the Mona Lisa and we wouldn't even see the painting. Not that we'd care. The Mona Lisa doesn't overclock, so more than a passing glance is out of the question.
Notice that Gigabyte gave the Gaming G1 two six-pin power connectors. It gets 225W of juice from those, and up to 75W from the PCI-E Slot for a potential of 300W. That should give us a little juice for OCing.
Since the custom metal cowling curls around the end, the all copper heat pipes are protected.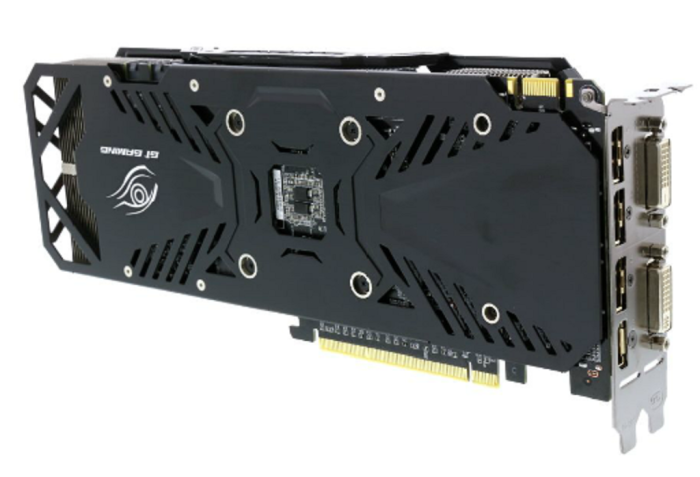 The back side of the GM206 Maxwell core in the Gigabyte GTX 960 is open and it looks as if Gigabyte has left plenty of openings in the all-metal cowling to release heated air, with special attention to air flow on the back of the GM206 core. We've often wondered why plastic, being such a poor thermal conductor, was the material of choice on GPUs. Sure, metal will heat up, but it lets go of the heat while plastic just contains it and contributes little to nothing to heat dissipation.
At times it's the little things that impress, and here's one unexpected but much appreciated feature.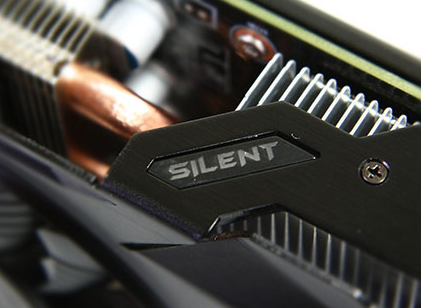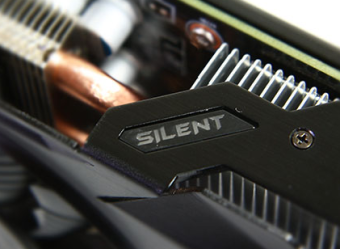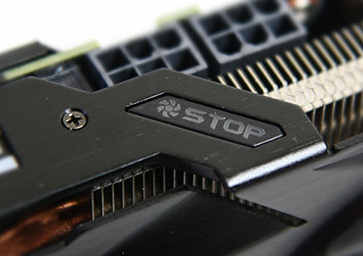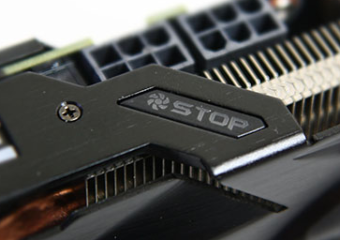 The "Silent" and "Stop" pictured here light up when the fans have come to a stop and turn off when the fans are in use. During low load and low thermal output, the fans can come to a stop, letting the Gigabyte G1 Gaming go into Silent mode. During the Silent mode you get the little, much appreciated, extra of lights saying "Yes my fans stopped and everything is normal. Now close your gaping mouth."