AIDA64 & Anvil
AIDA64
AIDA64 Extreme is a streamlined Windows diagnostic and benchmarking software for home users. The program provides a wide range of features to assist in overclocking, hardware error diagnosis, stress testing, and sensor monitoring. It has unique capabilities to access the performance of the processor, system memory, and disk drives.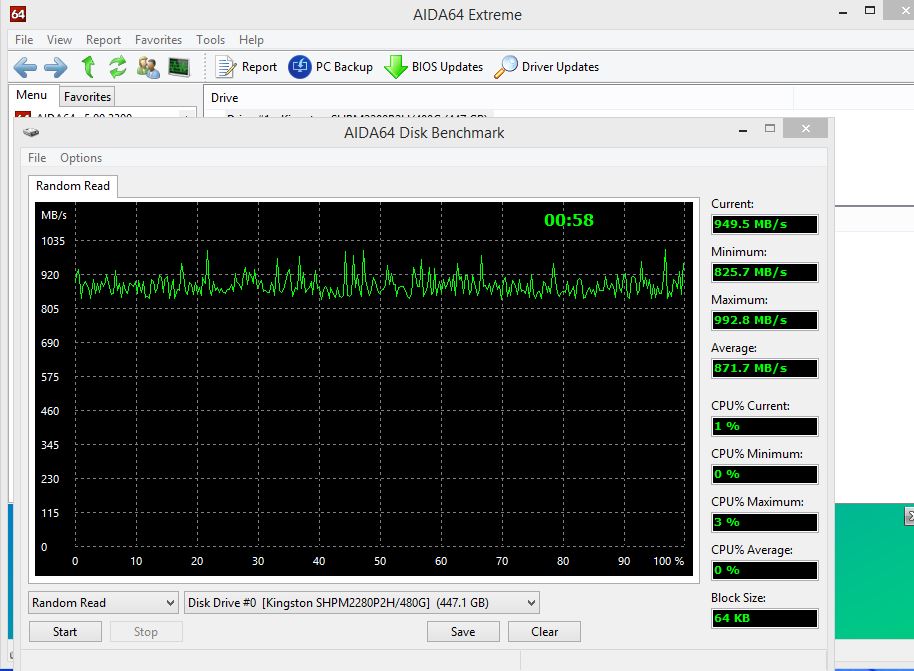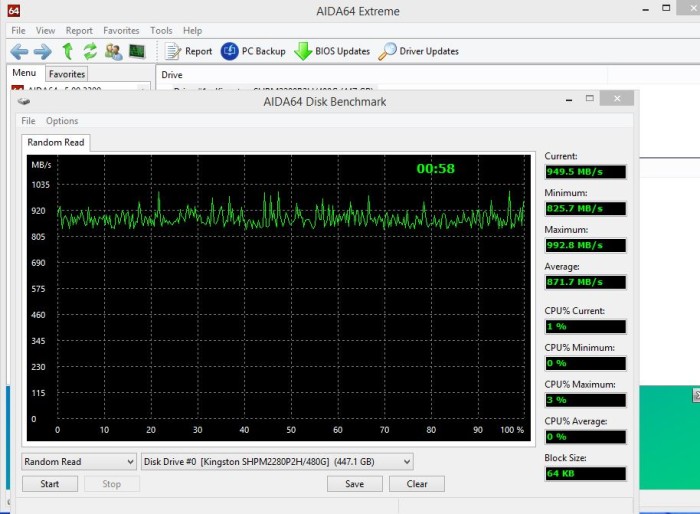 AIDA64 shows an average speed of 871.7MB/s with a minimum of 825.7MB/s and a maximum of 992.8MB/s. CPU usage was low at 1% and the Predator is on the hunt out of the gate.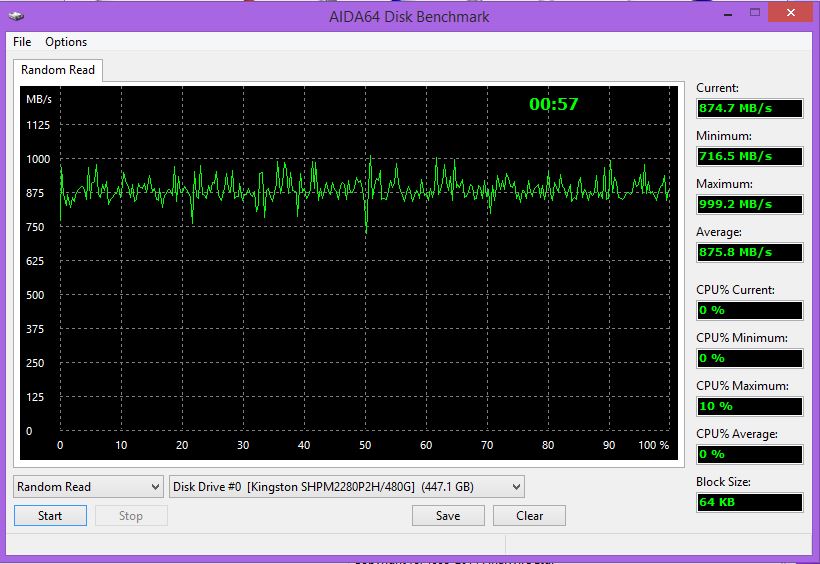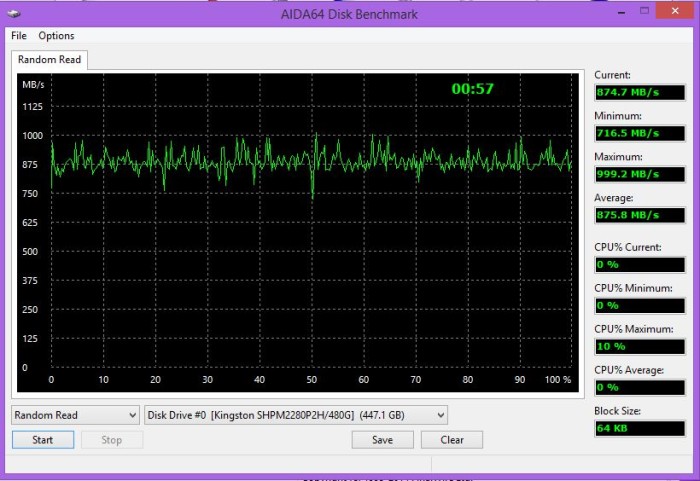 With the OS installed on the Predator, a GPU in the primary PCIe slot, and a virus scanner on the system, we get 875.8MB/s, with a maximum of 999.2MB/s and a minimum of 716.5MB/s. While we got a momentary dip to 716MB/s with the OS installed, the max and average speeds are practically the same as with NO OS installed. So far, the 480GB HyperX Predator M.2 PCIe SSD is looking like it might be on top the SSD food chain.
Anvil
Anvil Pro as it has come to be known, is an 'all inclusive' storage utility that is definitely going to strike gold in the storage community.  Its ability to test transfer speeds, as well as IOPS, is as impressive as are the controls that let the user tweak and adjust to find just the right mix in their testing medium.  Never before have we had a single benchmark that tests transfer speeds as well as IOPS, the IOPS tests being fully configurable with preset testing scenarios for read, write and mixed I/O.  For the manufacturer, a simple 0Fill test will display the common RAW data tests shown in specifications whereas, for the hard-core enthusiast, we can slide the bar over all the way and see how the SSD reacts to completely incompressible data samples.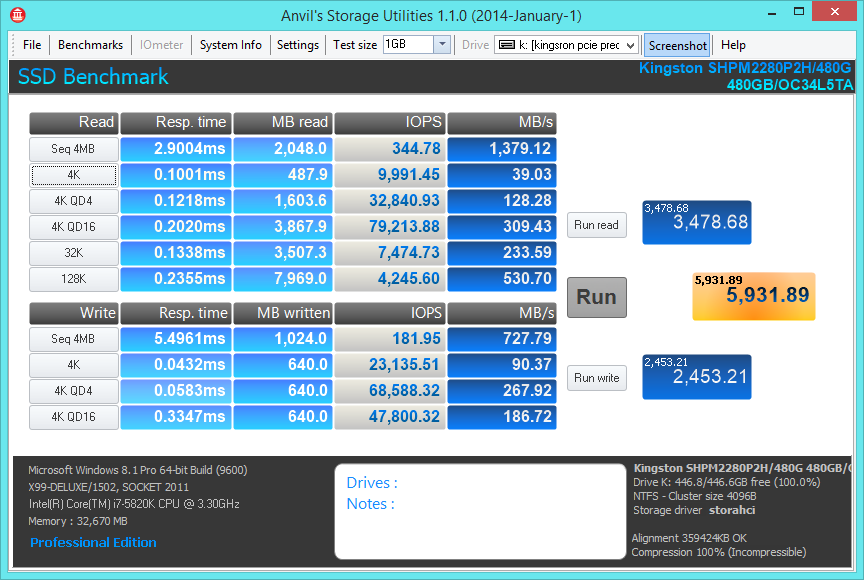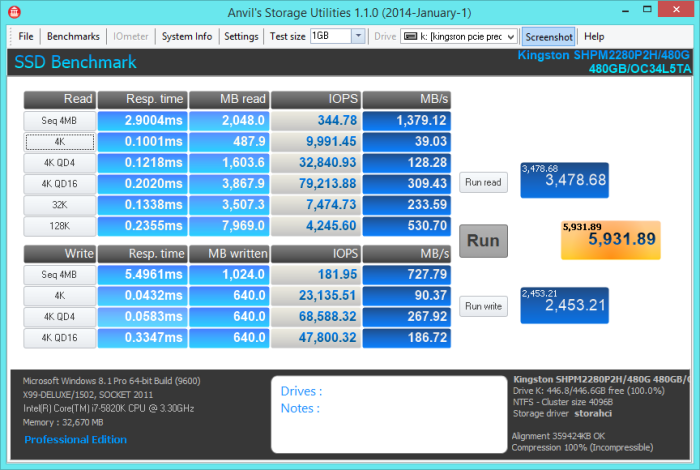 Top-end read speed on Anvil Pro is 1,379.12MB/s at 344.78 IOPS for a sequential 4MB read setup. The highest IOPS came in at 79,213.88 IOPS and 309MB/s on the 4K QD16 test; impressive both in speed and IOPS. Read speed hit 727.79MB/s at 181.95 IOPS, the highest IOPS came in at 68,558.52 and 267.92MB/s.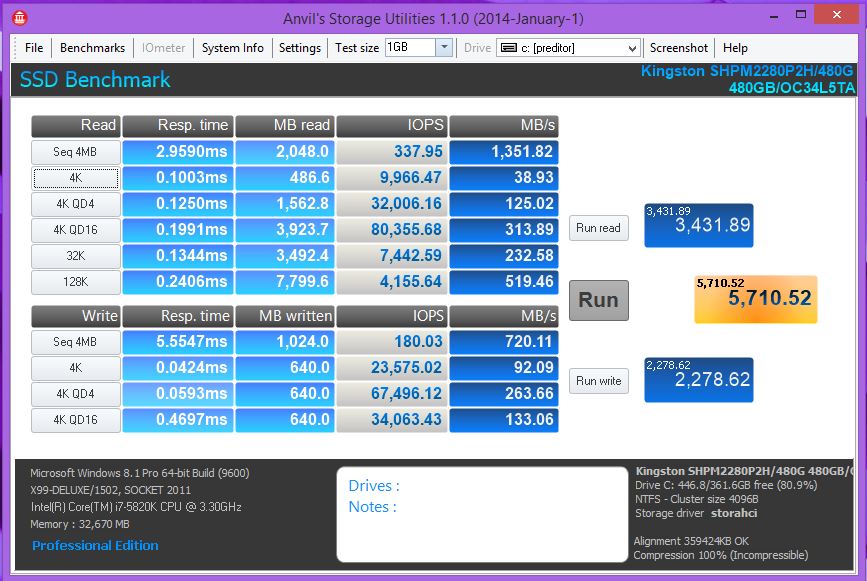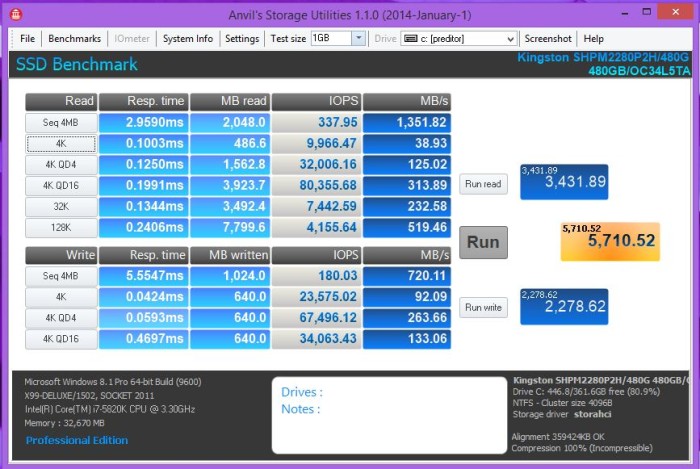 Again, here the highest read speed was on the 4MB sequential test and speeds hit a blistering 1,351.82MB/s at 337.95 IOPS. The highest read IOPS happened at 4k QD16 and hit 80,355.68 running 313.99 MB/s. Switching to writes, the highest speed came in at 720.11MB/s on sequential 4MB with 180.03 IOPS> IOPS topped out on read at 67,496.12 and ran 263,66MB/s on the 4k QD04 test. Early indications are that the Predator is on the prowl, with or without an OS installed.