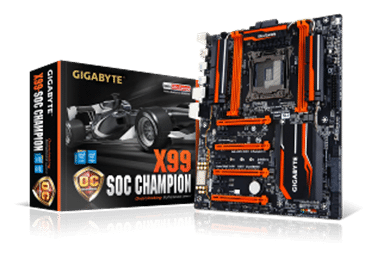 GIGABYTE launches a new X99-SOC Champion motherboard. The board is designed with overclocker in mind. The DIMM features features SMT mount for improved signal quality and located closer to the CPU socket. Also on the board is all digital CPU power design from International Rectifier International Rectifier International Rectifier® which includes both 4th Generation digital PWM Controllers and industry-leading 3rd Generation PowIRstage® controllers.
The board also features a Turbo M.2 port for 20 Gb/s transfer speed and a SATA Express connector for 10Gb/s transfer speed. It also has a unique design where it is capable of utilize all 40 PCI Express lanes from the CPU in a 4-way or 3-way configuration.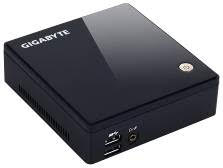 In addition, Gigabyte also showcase their latest BRIX system. GIGABYTE launched two models the BRIX and the BRIX s. The new ultra compact PC now uses Intel 5th gen Core processors. The overall design on the BRIX has not changed much where it is still small and fits in the palm of your hand. Inside is where it gets an upgrade to the new 14nm processors featuring the latest HD 5500 Graphics from Intel. Users can outfit the sysetm with different 5th Gen Intel® Core™ processors ranging from the 2.1GHz dual-core i3-5010U, the 2.2GHz dual-core i5-5200U, or the 2.4GHz dual-core i7-5500U.
The system supports dual display via HDMI and mini DisplayPort (including native 4K display), wireless connectivity via the included Intel® IEEE 802.11ac Dual Band Wi-Fi/Bluetooth 4.0 module, VESA bracket for discreet display and wall mounting, as well as 4 x USB 3.0 ports.
The Core i7 version even pack NFC chip so that you can pair with any NFC devices by just tapping the two. You can also program up to 8 profiles for various commands.