Windows 8 with Bing
Since the Zotac Pico comes with Windows 8 with Bing it might be interesting to know the limitations of this version. There are none really. Windows 8 with Bing is the low cost/free version of Windows 8 that Microsoft has started to offer to OEMs for cheap small tablets and mini-PC's like this. The only requierment there is is that the OEM has to let the default search engine for IE be Bing. They cannot go to Google and offer to change it to Google for money. And since already the regular Windows 8 uses Bing for IE there is really no difference. And yes, you can change it yourself, you can change the default browser, you can turn off system wide Bing search integration and so on. This version is not crippled (anyone remember the Windows 7 Starter edition …. brrrr).
Using the Zotac ZBox Pico
So, how is it to work with the Zbox Pico? First of all forget gaming (or at least games installed on the Xbox Pico), At least if it is anything more complex that Hearths or similar light-weight games. The specifications simply are not there. The CPU is pretty weak, the memory scarce and considering you only got a 32 GB SSD inside which already has Windows on it you won't install much stuff anyway.
For regular use though the Zbox Pico works great. Unless it is huge Word-files or Powerpoints or Excel-files with millions of rows (and even then it actually works ok) the Zbox Pico will chug along and perform as a regular PC. this makes it perfect as a PC for a business man/woman that needs to hook a computer up to a projector and show something or maybe as a kitchen PC together with a little TV or screen. We can also see a lot of regular home-users that do not game and only use the PC for surfing the web and doing light office-work be very happy with the Zbox Pico.
As a media player it also has potential. Together with for example Plex you can easily create a great media player that can stream media from your network. Zotac actually offers XBMC (Xbox Media Center) as a download for some of their mini-PC's (those using AMD or Nvidia ION) but not the Zbox Pico.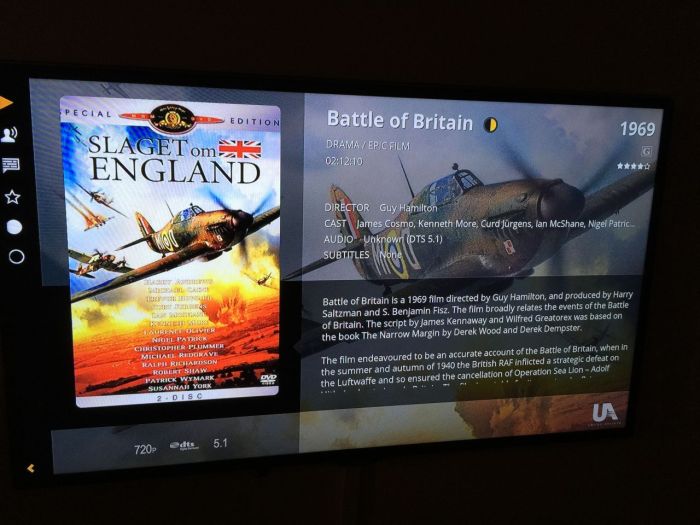 There is one thing that does affect the whole media-player set up a lot: the crappy WiFi-performance. The Zbox Pico comes with 802.11n WiFi but it turns out it only supports 2.4 GHz and that it quite frankly performs really bad.
| | | |
| --- | --- | --- |
| | Downstream | Upstream |
| Zotac Zbox Pico WiFI | 3.69 Mbps | 7.93 Mbps |
| Zotac Zbox Pico Ethernet | 72 Mbps | 98 Mbps |
| iPad Air 2 2.4 GHz | 55 Mbps | 95 Mbps |
| iPad Air 2 5 GHz | 300 Mbps | 122 Mbps |
| iPhone 6 Plus 2.4 GHz | 48 Mbps | 47 Mbps |
| iPhone 6 Plus 5 GHz | 217 Mbps | 130 Mbps |
| Nexus 9 2.4 GHz | 74 Mbps | 75 Mbps |
| Nexus 9 5 GHz | 256 Mbps | 204 Mbps |
The WiFI is more than 10 times slower than any of the other devices we have tested, and these are small tablets and phones which also have small antennas. The problem is not that the Zbox Pico is slower, it is that is is so slow that streaming any media with a decent bitrate will not work. And in fact we did have issues with streaming via Plex as higher bitrate movies stuttered a lot. The Ethernet connection is good though so if you plan on streaming anything you should either buy a separate WiFi-adapter or just use ethernet.
Game Streaming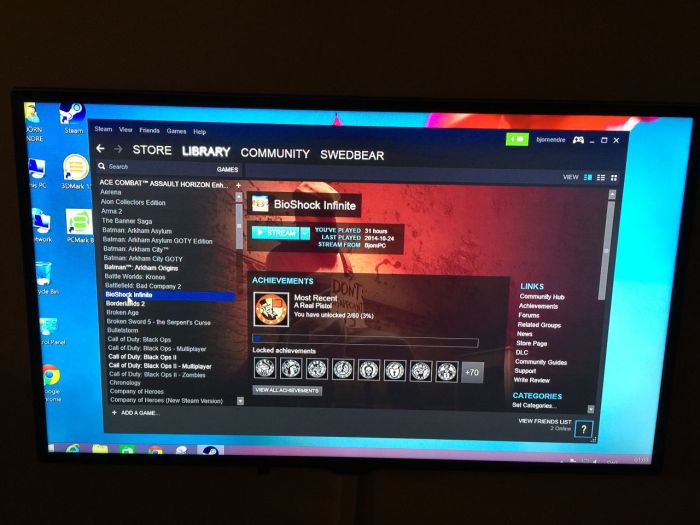 We did say the Zotac Zbox Pico is not suitable for gaming but that is not completely correct. You can actually use it for streaming a game via Steam from another machine. It's not perfect, you need to lower the quality a bit on the games but it works surprisingly well. To some extend it makes the Zotac Zbox Pico a cheap games console. We had no issues playing some Spelunky, Warthunder, Dirt 2 and some other games. You might have to turn down the detail a bit if your network is bad but overall it works great. Just make sure to use a separate WiFi-dongle or ethernet.
Bugs
We did encounter some weird stuff when hooking up the Zbox Pico to our TV (Samsung 46″ LCD) via a HDMI-switch. First of all we did not manage to change the overscan meaning that the picture was slightly larger than the TV. We might just have not found the right place in the Intel control panel although we went through it. We also had some issues where after the Zbox Pico had turned of the display it could not get the picture back on the TV so we had to reboot it to get it back.
One thing that is not a bug but worth mentioning is that the PC also got very hot. Clearly the heat needs to go somewhere as there are no fans so the Zbox Pico should not be placed without proper ventilation.
Conclusion

The Zotac Zbox Pico might not be a PC that fits every one. It lacks performance, it has slow WiFi and it lacks USB3-ports, just to name a few negatives. But if you look past that and start to think about what you could use a tiny PC for then you quickly realize that it actually is not bad at all. Kitchen PC? Slap a Zbox pico to a small monitor and you got a great cheap and much more versatile alternative to a iPad in the kitchen. Or why not give it to your older relative who really only uses the PC to surf the web, pay bills and maybe look at pictures from their grandkids. Media-PC? Set up a Synology NAS with Plex and lots of space and stream to the Zbox Pico. It is much more versatile than for example an AppleTv as you easily can use it for services that do not run in your media-player of choice. Since it does not have a fan in it it also is whisper silent so that itself makes it a perfect candidate for a Media-PC. Even as a games machine it can work as long as you are using Steam gamestreaming. It is not perfect but works pretty well.
The price for the Zotac Zbox Pico costs around 200$ / GBP160 / €220 / 1900SEK and can be found at various vendors including Newegg and Amazon.
Review Overview
Features - 7.5
Quality - 7.9
Performance - 6.5
Value - 8.5
7.6
The Zotac Zbox Pico is basically the hardware from a Windows tablet put into a small form-factor. It lacks some performance but it still is a full PC that fits in your pocket! Who cannot love that?