Overclocking

The new Maxwell architecture requires not as much power as previous cards which I think is great and this sometimes means more OC headroom as well. The boost clock does make it a bit more difficult to figure out final clock as the card dynamically boosts depending upon thermals and power.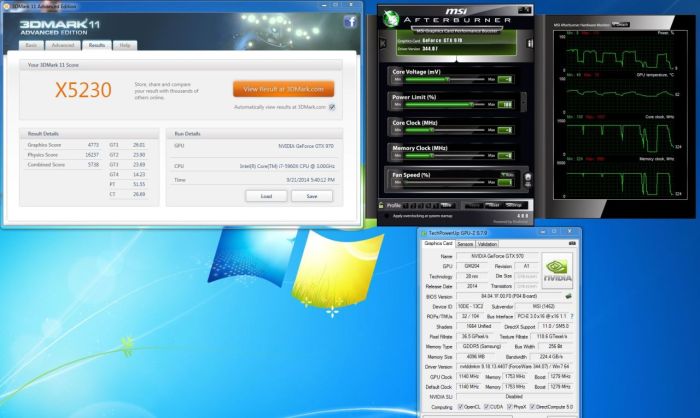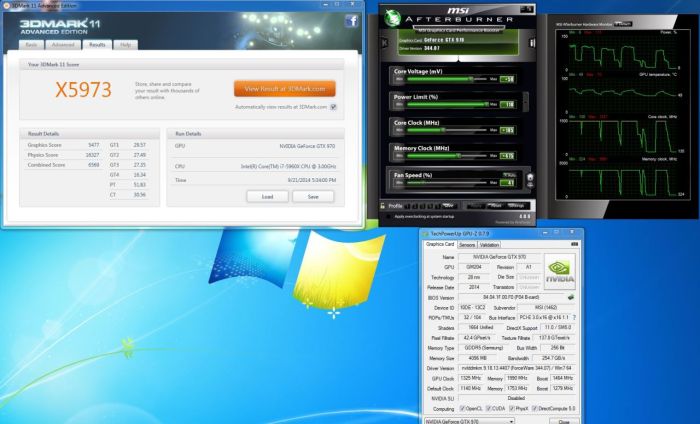 The MSI Gaming 970 4G is actually overclocked out of the box so the true reference clock for the is 1050 Base clock, but the MSI card comes out of the box at 1140 so 90MHz over so we have to take that into consideration.
When overclocking the GPU We were able to get a max base clock of 1325 which is just shy of 200 over the out of box clock but the real impressive part is the fact that over the reference GPU clock its 275MHz or even better the boost clock from reference is 1178 and we reached 1527 so thats a jump of 349 usable MHz.
Memory is about standard with most of the 7GHz stuff I have tried. It gets right up around 8GHz and stops there. Well this card was no different it knocked right at 8GHz doorstep and stopped right outside of it.
TEMPERATURES

To measure the temperature of the video card, we used MSI Afterburner and ran Heaven Benchmark in a loop to find the Load temperatures for the video cards. The highest temperature was recorded. After looping for 10 minutes, Heaven was turned off and we let the computer sit at the desktop for another 10 minutes before we measured the idle temperatures.
| | |
| --- | --- |
| GPU Temperatures | Temperature (Idle/Load) |
| Nvidia GTX 690 | 32C/81C |
| Nvidia GTX TITAN | 31C/67C |
| Nvidia GTX 780 Ti | 31C/72C |
| Nvidia GTX 780 | 30C/65C |
| Nvidia GTX 770 | 34C/79C |
| MSI GTX 780 Ti Gaming | 32C/68C |
| MSI GTX 970 Gaming 4G |  49C/70C |
The Gaming edition 970 fan does not even turn on until reading 62C in my testing, that being said its ability even when max overclocked to keep the card at 70C or lower without hearing it is awesome!
POWER CONSUMPTION

To get our power consumption numbers, we plugged in our Kill A Watt power measurement device and took the Idle reading at the desktop during our temperature readings. We left it at the desktop for about 15 minutes and took the idle reading. Then we ran Heaven Benchmark for a few minutes minutes and recorded the highest power usage.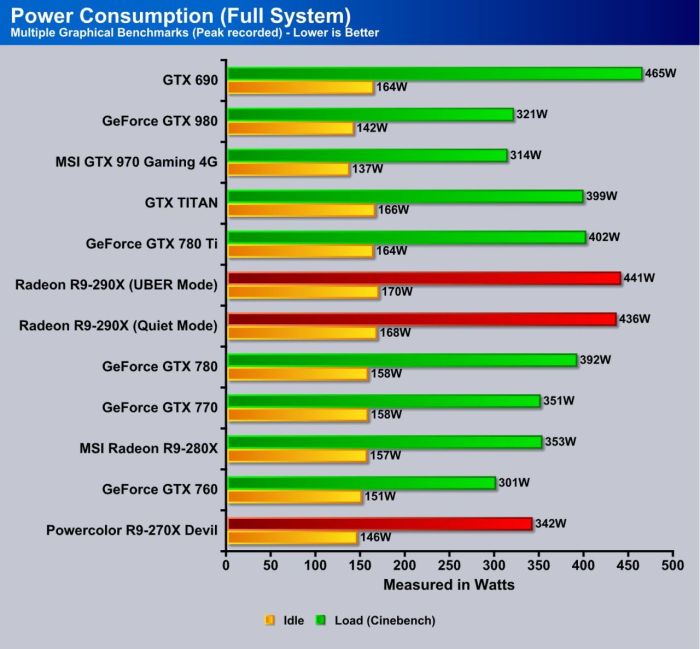 Here the MSI GTX 970 Gaming 4G shows its efficiency while being overclocked pulling much less than most other cards even much lower performing models means its performance/watt is exceptional.
Review Overview
Performance - 9.5
Value - 9.5
Quality - 9
Features - 9
Innovation - 9
9.2
MSI made a solid performer in the GTX 970 Gaming 4G, solid performance super low power and ultra quiet. Its the true recipe of a budget champion!