MSI GeForce GTX 970 Gaming 4G
MSI was right on the ball with the new Maxwell offerings well with the 970 actually. MSI has always been pretty quick to get their own cards out but this time around they were the first to get me a custom model card for a new GPU launch which is very cool as it shows they are being very proactive on getting their cards into hands for not only testing but purchase even faster which of course means more available for all the gamers out there.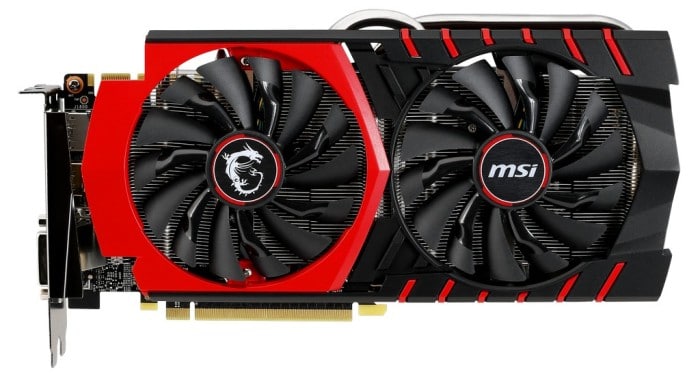 The MSI Gaming card comes to market at $349.99 at Newegg at the time fo this writing which is right inline with the other custom cooled 970 competition. So now lets take a look at what the MSI Gaming card offers to get you on board!
Key Features
Military Class 4 Components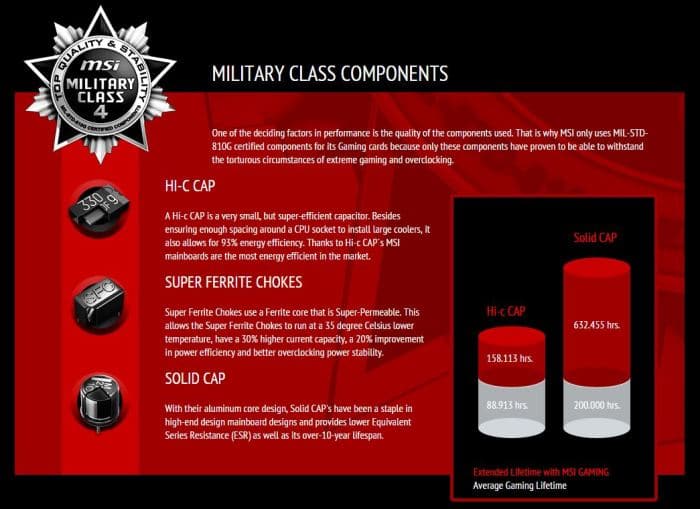 When MSI puts military class components to the fire they are not joking as they come to the table claiming to have passed multiple tests following Mil spec (MIL-STD-810G) tests including:
Temperature Shock testing: Sudden thermal changes which can normally wreak havoc on electrical components are fully tested on these components to ensure they can last through some of the worst conditions like what the extreme enthusiasts community may employ them for.
Humidity Testing: Testing of components in different humidity conditions can make a big difference as to the capabilities of the cards as different areas can have much different environments and not every deployment will be like a sterile lab and knowing they can take that kind of abuse once again is a major plus.
Vibration tests: This one is a little nuts but being in California we suppose in an earthquake, MSI can ensure the shaking won't affect the components.
Low Pressure Testing: This once again is a little extreme as deployment for different elevations especially extreme enough to require low pressure testing will be extremely rare if ever but it will handle it.
High Temperature Testing: This one should be a standard for every component in a high-end PC as thermals are the enemy of every enthusiasts rig so I like to see such attention paid here.
Low Temperature Testing: Once again this is something more targeted at the Lightning model, but the fact that they test these cards to withstand LN2 benchmarking temperatures tells us that under standard gaming stresses this card is gonna run and keep on running.
Shock Testing: This is once again more extreme as these are similar to drop or rough impact testing which wel even if the card survives we're sure other components may not fare so well in this kind of scenario.
Basically this means that this board/components should last the test of time and offer excellent performance pretty much through anything it would ever experience in an extreme gaming PC.
Advanced Twin Frozr V Cooler

MSI introduced the Twin Frozr cooler quite some time ago. The Twin Frozr is MSI's version of the custom cooler to keep the GPU and components cool on the card.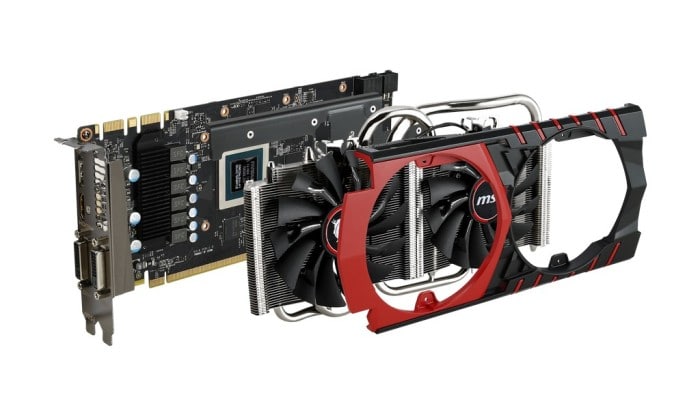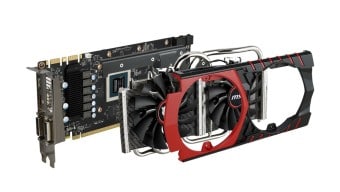 Here you can see the new Twin Frozr V cooler design which in all honesty if you are not familiar with specific components it just loks like another custom dual fan cooler. But there is a lot under the surface and even hiding in plain sight with the new version of the Twin Frozr cooler.
First up is the new fan design which has staggered fan blades where one has a standard blade sweep and the adjacent blades have a more aggressive inner angle. This mix in design is said to increase available airflow while doing it with less noise.
Another feature of the Twin Frozr V cooler is the fact that it uses a plate design to spread the heat to the heatpipes which is necessary due to the relatively small die size of the GTX 970 and the fact that MSI employs not just two 6mm heatpipes but also two more 8MM Superpipe heatpipe assemblies to ensure all of the heat is removed away from the GPU.
Another really cool feature is that the GTX 970 Gaming 4G has dual fan controllers whcih means each fan operates independently based on the cards needs rather than ramping up unnecessarily when not needed.
The most obvious change is the outer shroud of the cooler which has a much more aggressive look and actually matches well to the new board heatsink designs.
Lastly I feel like it worth mentioning that the fan does not even start until the GPU hits around 60C (62C on my measure) and at that point the fan kicks on and is virtually silent when running compared to any other quiet case fans.
MSI Afterburner
MSI offers its own software utility. MSI Afterburner is co-developed with Rivatuner which is very similar to what the other top manufacturers are offering.

There we see it above with multiple options including voltage control and power limit controls to ensure our overclock ceiling is just a little bit higher. Do note that some options may not show up right away and need to be enabled in settings otherwise they will be hidden.
MSI Gaming App
The Gaming app is a cool design as it offers a simple to use interface where users can quickly set a overclock or even Eco setting without having to work with the Afterburner app which for some can be a bit confusing especially for a newer or inexperienced user
Above you can see with a single click the settings will change according to a preset profile, now do keep in mind that the card can be overclocked manually likely to higher levels but for a single button press it offers a nice performance boost.
Review Overview
Performance - 9.5
Value - 9.5
Quality - 9
Features - 9
Innovation - 9
9.2
MSI made a solid performer in the GTX 970 Gaming 4G, solid performance super low power and ultra quiet. Its the true recipe of a budget champion!