Introduction
The Athlon brand holds a very special place in the tech industry, as it was the first processor to reach 1 GHz. Back in its days, the Athlon CPUs give the Intel Pentium processors some serious competitions. AMD has kept the Athlon brand for almost a decade where it has gone through a numerous of architectural changes, double and quadruple the core counts and gained 64-bit support. Eventually, the brand was replaced when AMD launched Phenom platform in 2010.
The old is suddenly new again. Like the Volkswagen brought back the Beetle, the Athlon brand has risen back from retirement with the recent launch of the desktop Kabini. AMD hopes that the success it has enjoyed with the original Athlon can be repeated once again with its latest low power CPU.
Kabini Desktop: Athlon and Sempron
The Kabini appeared last year when AMD launched it for the mobile platform. It is aimed to replace the Brazo platform that AMD launched in 2011. Desktop Kabini is AMD's answer to Intel's low power desktop Celeron and the Atom processors.
Build with 28nm fabrication process, the Kabini is a true SoC from AMD that incorporates CPU, GPU, and the Fusion Control Hub (FC) for the various IO ports. The whole chip is packaged in a rather small footprint compare to your typical desktop CPU with maximum TDP of 25 watts. Kabini combines the Jaguar CPU cores and GCN 1.0 (Sea Island) GPU R3 graphics.
The Jaguar CPU is an out-of-order execution and speculative execution design. It features two-way integer execution with two-way 128-bit wide floating point and packed integer calculation. The Jaguar core does not use the module design like the high performance APUs (Kaveri, Piledriver, etc) where each module features two integer units and one floating-point unit. The Jaguar has its own dedicated floating point and integer per core. It will be available up to four cores with 32 KB instruction and 32 KB data L1 cache per core. One or two MB of unified L2 cache is shared by all cores.
The list of the ISA that Jaguar support includes SSE4.1/4.2, AES, CLMUL, MOVBE, AVX, F16C, BMI1. Furthermore, it also adds support for 40-bit physical addressing. Additionally, the chip also supports AES-NI encryption. Essentially, Kabini matches what AMD offers with the mainstream desktop Kaveri APUs in terms of the ISA and is much improved from the Brazo that it replaces.
The GPU on the Kabini is based on GCN architecture like the rest of the 2014 AMD APU lineup and the desktop Radeon GPU. Though Kabini uses GCN 1.0 as oppose to the GCN 1.1 found on the Kaveri. The GPU carries Radeon R3 banding where it features two compute units for a total of 128 stream processor and it is clocked at 600MHz. As it is based on the latest GPU technology, it inherits all of the latest technology that includes DirectX 11.1, OpenCL, AMD UVD 4, VCE 2.0, and Mantle. Noticeably missing here is the support for the TrueAudio that is found on the GCN 1.1 GPUs.
Memory controller on Kabini is still DDR3 and it supports memory speed up to 1600 MHz although it will only run single channel mode as oppose to dual. This lacking of the memory bandwidth could potentially be a major limitation in the performance.
The Fusion Control Hub (FCB) on the Kabini is rather capable. It supports wide mix of display interface that includes VGA, HDMI 1.4a and DisplayPort 1.2 where two simultaneous displays are supported. In addition, two SATA 2/3 port, Gigabit Ethernet, PS/2 keyboard and mouse, SPI, 8 USB 2.0 port, two USB 3.0 port, SDIO or SD card, TPM, EC/KBC for PS/2 keyboard and mouse and EC for H/W monitor, fan control, and thermal sensor input. There are even four additional PCIE 2.0 lanes available for discreet graphic card.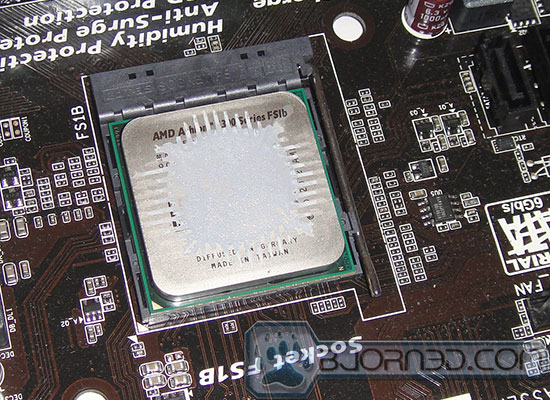 The socketed/desktop Kabini will fit into the AMD FS1B socket. AMD officially launched four models with Athlon and Sempron branding. The most expensive model Athlon 5350 is retailed at $55 with quad-core CPU clocked at 2.05 GHz. All desktop Kabini will have max TDP of 25W regardless if it is dual or quad-core.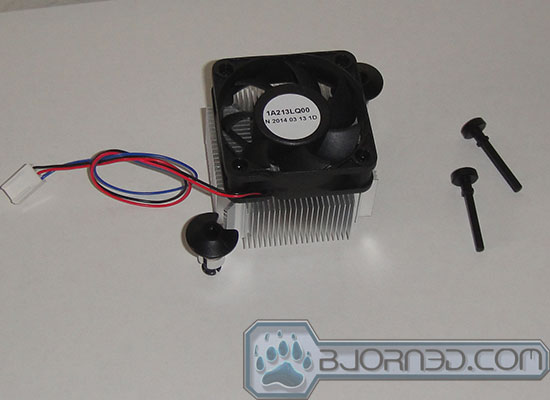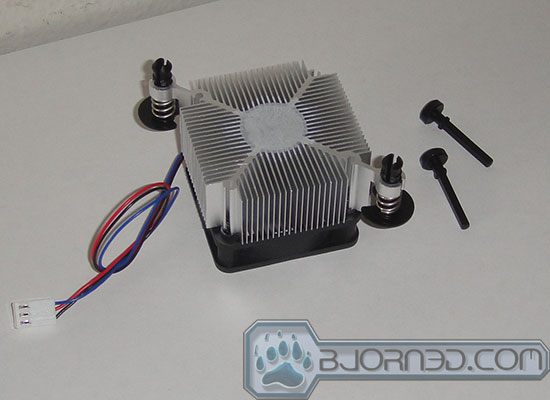 AM1 platform (Kabini APU and the FS1B motherboard) is designed for a low-cost system with low power consumption as the maximum TDP is only 25W. This allows the APU to be cooled by a very small cooler. The cooler that AMD included is only 5.5 cm x 5.5 cm 2.2 cm (LxWxH) in measurement with a 5 cm fan The cooler reminds us a lot like the old chipset cooling solution that we used to find back when the board comes with North and South bridge. Though, we were hoping that maybe the system would come with passive cooling for absolute silent operation but we would have to rely on the OEM makers for that.
Motherboad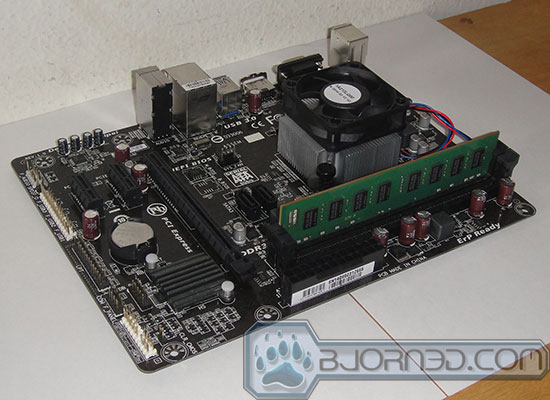 We received the Athlon 5350 processor with Gigabyte GA-AM1M-S2H motherboard. The board is a micro ATX form factor and is retailed at $35. Paired it with the most expensive Kabini, the Athlon 535, a couple sticks of DDR3, a hard drive, and we got a very nice little system for a budget of $150 to $200.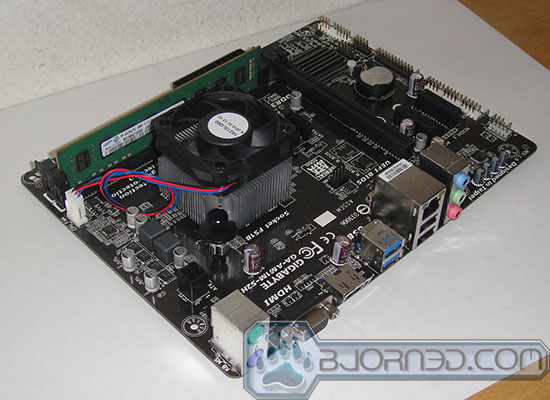 Of course, given to the pricing of the board, we do not expect the board to come with lots of features but all of the essentials are here. The GA-AM1M-S2H comes with two DIMM slots for up to 32GB of 1600/133 MHz DDR3. They supports Intel XMP Profile. The Athlon and Sempron APU only runs on single channel memory, so despite the two slots on the board, there is no need to run two identical sticks.
There is the typical 24 pin ATX power connector but instead of the 8 pin that we often see on more expensive board for the auxiliary CPU power, we get the 4 pin. Despite the fact the APU is only 25W, it still need the additional CPU power.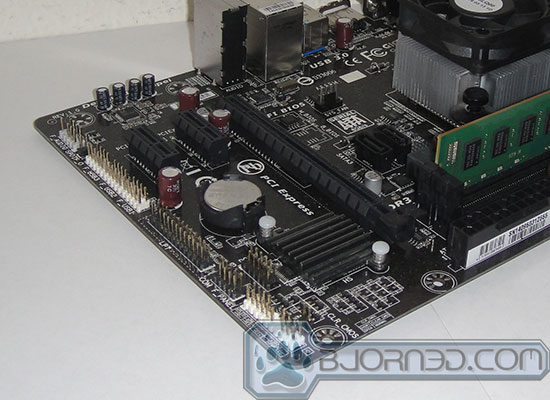 For expansion, the board comes with a PCIE x16 slot and two PCIE x1 slots. Despite the physical x16 PCIE slot, it is only electrically x4 so it would bottleneck high-end GPU like the GTX 780 Ti. Not that we envision anyone who purchase the AM1 platform would even think about putting such card in the system. Though, it is nice to have a PCIE x4 slot for those who may wish to have slightly better graphic performance. Also, having a PCIE x4 slot allows you to install PCIE SSD or other expansion cards that needs higher bandwidth, something that you do not often found on a board at such price. All PCIE are 2.0 generation as currently, only the A88X chipset from AMD supports PCIE 3.0.
Storage option is a tad limited as the board comes with two SATA 6 Gbps ports placed slightly inconveniently in the middle of the board as oppose to the edge. If you need more SATA port, you would need to get an add-on card with one of the available PCIE slot.
Lining along the bottom edge is where we will find the front panel audio header, one S/PDIF out header, three USB 2.0 headers, one LPT header, one COMM port, and a Clear CMOS jumper. There is no internal USB 3.0 header but there is two USB 3.0 port on the rear. Two fan headers is found on the board where one is for the CPU and the other one for the system fan.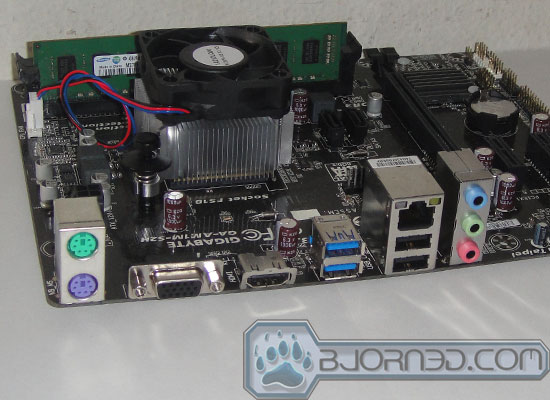 On the rear, we are not looking at a lot of ports but again it is not missing anything essential. Here we get a PS/2 keyboard and a PS/2 mouse port, VGA port, a HDMi port, two USB 3.0 port, two USB 2.0, a Gigabit Ethernet port, and the three audio jack for line in, line out, and mic in. The audio on the board is handled by the Realtek ALC887 and the Ethernet is courtesy of the Realtek as well. While high-end system often forgo the PS/2 keyboard and mouse and VGA port, budget system may still find them useful to have, especially considering what the platform is targeting. The VGA port supports resolution up to 1920×1200 and the HDMI port supports 1.4a at resolution up to 4096×2160, aka, 4K. AMD Kabini supports three displays though with only two video output, you would be limited to just using two with the board. The ALC 887 is a 7.1 channel chip lot like the ALC 892 that is found on a lot of the budget motherboards. It supports S/PDIF out and the audio port on the rear supports Realtek's auto detect feature.
Gigabyte board supports system temperature detection, fan speed detection, APU overheating warning and system fan speed control. The iTE I/O controller is used and the board comes with 32 Mbit flash for the BIOS. IT supports AMI UEFI BIOS with PnP 1.0a, DMI 2.7, WfM 2.0, SM BIOS 2.7, ACPI 5.0.
Given to that this is Gigabyte's board, it also supports Gigabyte's @BIOS, Q-Flash, Xpress Insall EasyTue Smart Recovery 2, and On/Off charge.
Test Setup
Test Rig
Case
Open Air
CPUs

AMD

A10-7850k

A10-6800K
A10-5800K
Athlon 5350

Intel

Core i5 2500K
Core i7 3770K

Motherboards

AMD

MSI A88X-G45 Gaming
Gigabyte GA-AM1M-S2H

INTEL

Ram
Kingston G.Skill RipJawX 2133MHz
CPU Cooler
Thermalright SI-128
Hard Drives
Seagate Barracuda XT 3TB
SSD
1x OCZ Vertex 3 Max IOPS 240GB SATA III 6Gb/s SSD
Benchmarks
Cinebench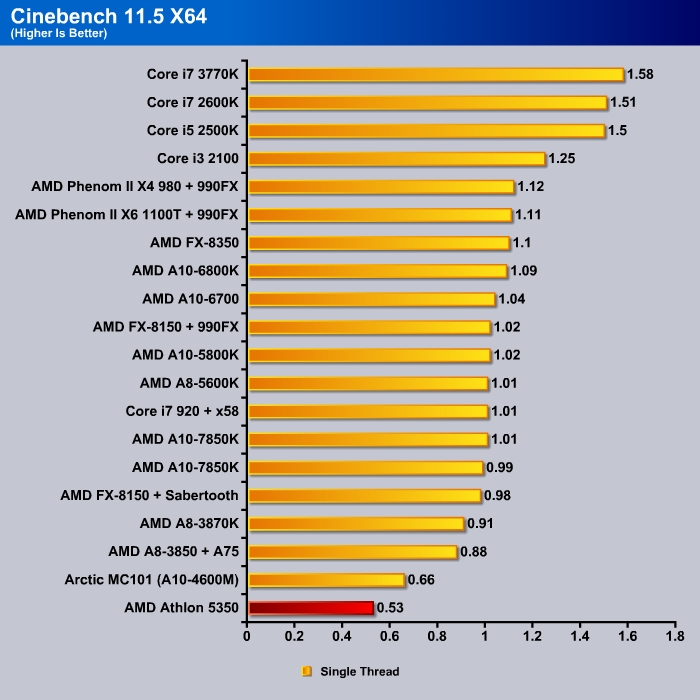 Let's start with Cinebench 11.5. Cinebench loves higher clockspeed without the Turbo, the Athlon 5350 2.05GHz clockspeed has it coming  just a tad behind the mobile chip A10-4600M that features Turbo clock of 3.2GHz.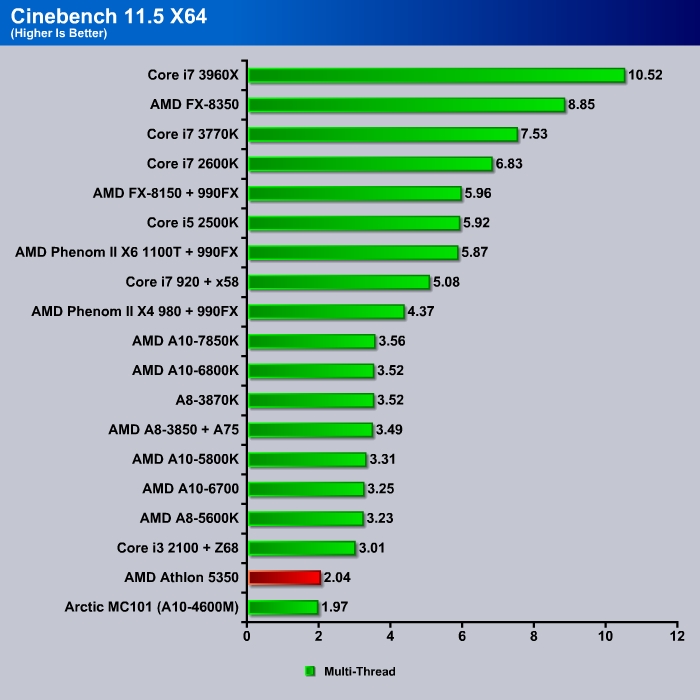 However, with all four cores active, the 2.05GHz Athlon 5350 is able edge out the faster clock A10-4600M despite the fact that it is clocked at higher speed of 2.3 GHz.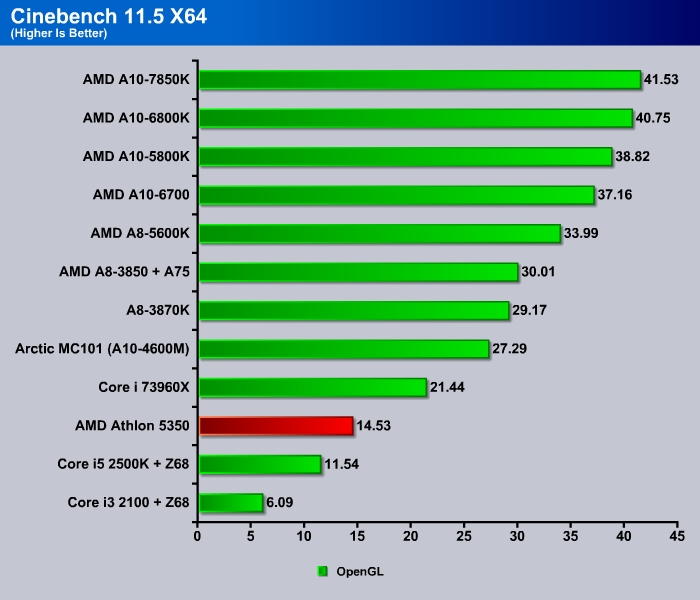 For GPU, we can see that the Athlon 5350 is actually faster than the Intel Sandy Bridge's Intel HD 2000.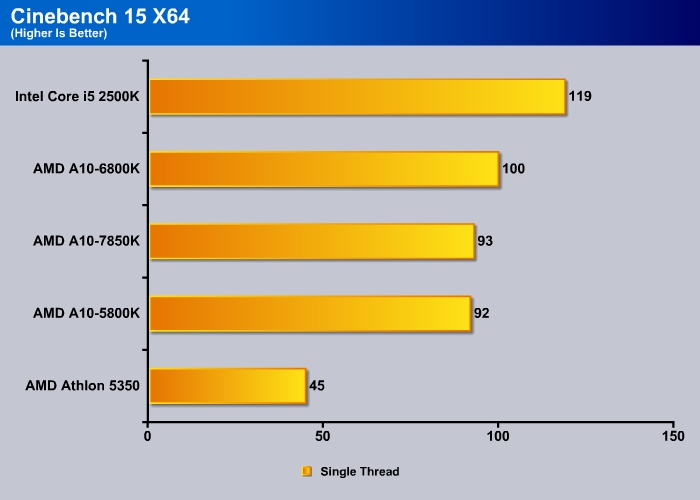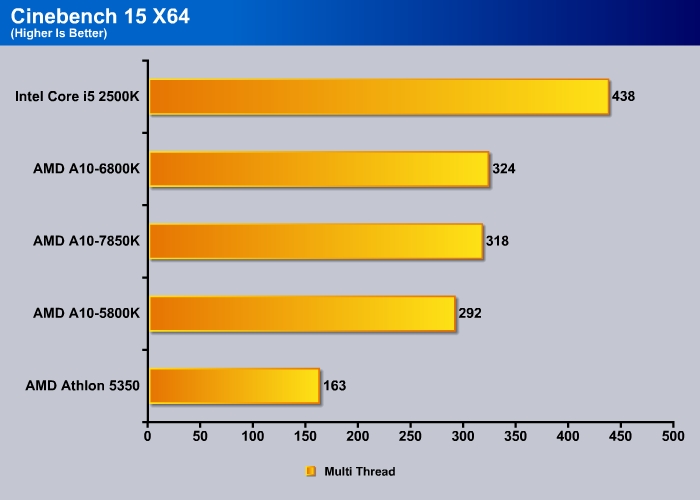 We gathered the a few generation of the AMD APUs to show you just how the Athlon 5350 scales up. Here you can see that despite only has 25W TDP, the Athlon 5350 offers about 50% of the performance in the single thread and 40% of the performance in multi-thread over the 100W A10-5800K that was released two years ago.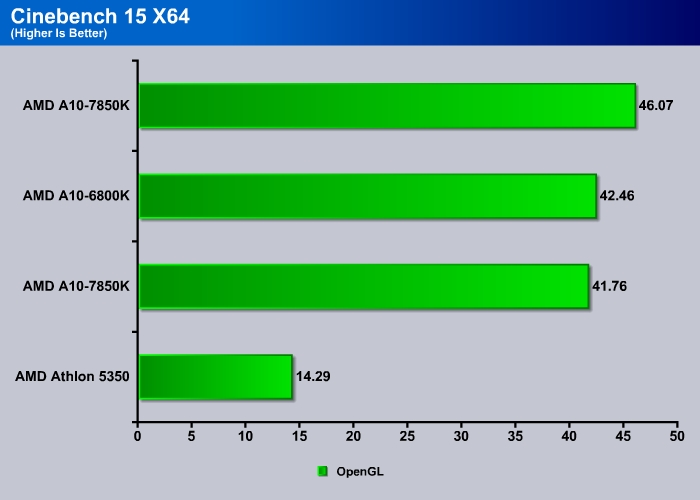 GPU performance on the Athlon 5350 is where limited TDP has the greatest impact but still it is able to output decent performance for 25W of power.
TrueCrypt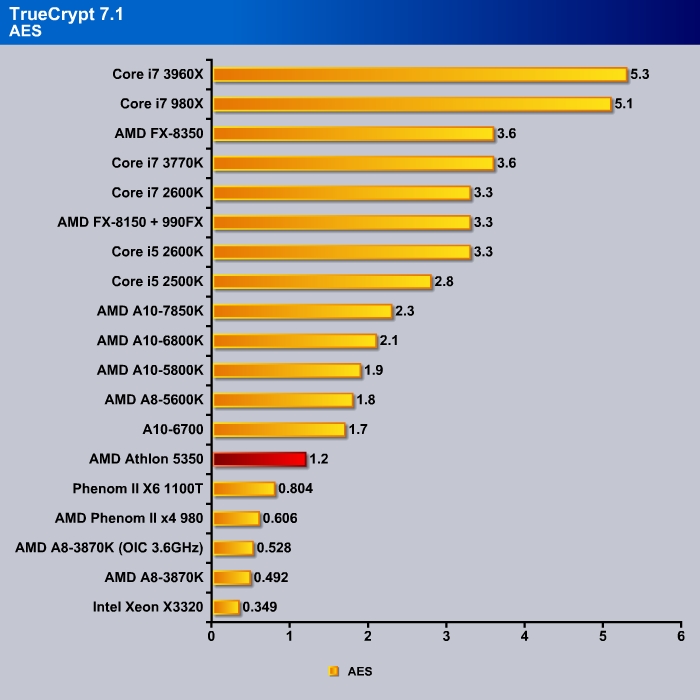 With hardware AES suppport, that the Athlon 5350 performs rather well here, topping even the older six-core Phenom chip which lacks the hardware AES encryption. Unlike Intel where some of the low-end model Core i3, Pentium and Celeron lacks AES support, all of the current AMD APUs feature AES support which makes it easier to shop for. While average users do not care much about AES, it is nonetheless a useful feature to have it included.
x264 v 4.0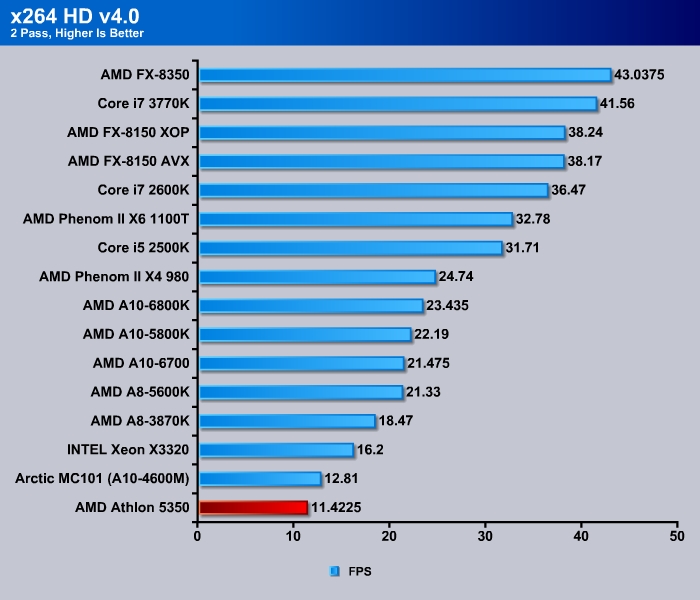 Limited by the clockspeed, the Athlon 5350 performs relatively well in the x264 transcoding. It is almost as fast as the quad-core CPU from five years ago.
PCMark 7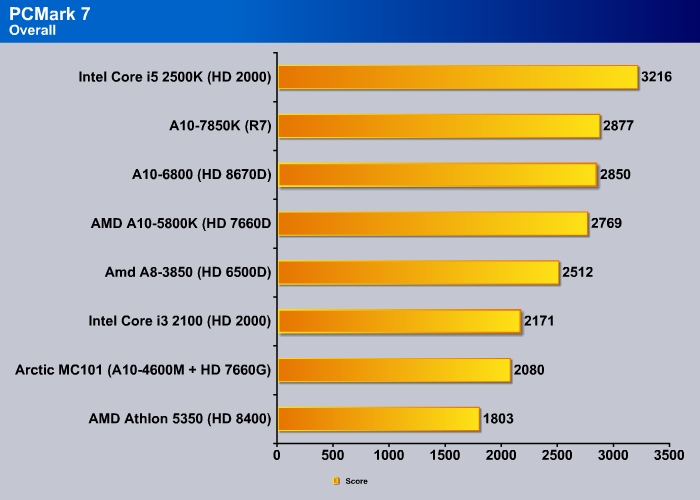 The Athlon 5350 does well in PCMark 7 with a score of 1803. Considering the system cost and the price per performance ratio, the Athlon 5350 certainly performs well here as it is about as fast as the laptop processor from a couple of years ago.
Looking through individual benchmark and we can see that the Athlon 5350 falls behind in the light workloads due to its lower frequency but it does well in heavy threaded tasks and workloads that take advantage of the GPU such as Computation, Entertainment, and Creativity benchmarks.
PCMark 8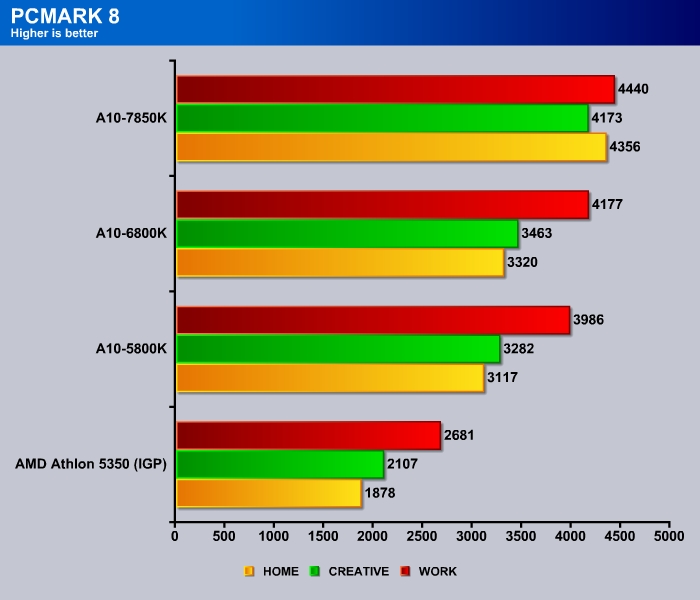 PCMark 7 does not support HSA so it treats the CPU and the GPU as independent processor as oppose to co-processors. PCMark 8 adds HSA support so it gives us a better idea on the overall performance of the chip as we account for both the CPU and GPU simultaneously. Here, the Athlon 5350 scored 1878 point in Home benchmark and 2681 point in Work benchmark. Compare this to the two year old 100W A10-5800K, we can see the chip gives us about 65% of the performance in the Home benchmark or 35% in the Work benchmark.
LuxMark v2.0 and RightMark 1.1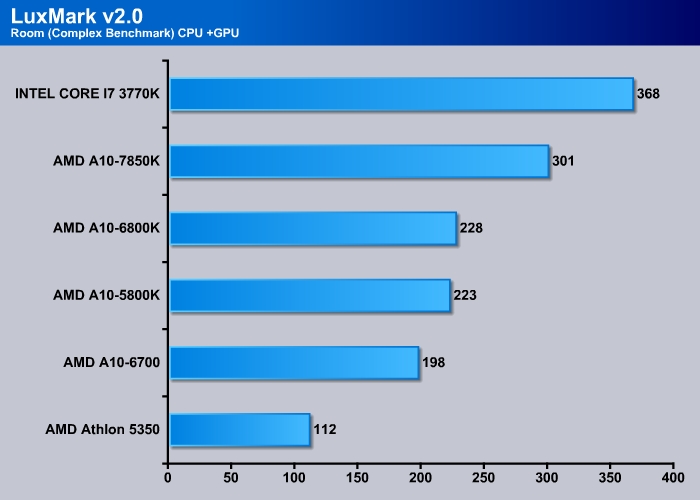 Continuing on with testing the HSA support and we turn to the Luxmark and rightmark. These are currently a few benchmarks that measures the total system compute power that accounts for both the CPU and the GPU of the APU. Here the Athlon 5350 scored 112 points, about a third of the A10-7850K.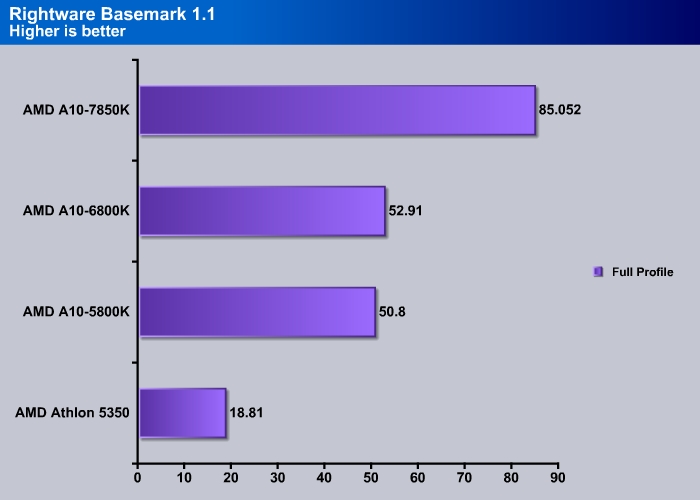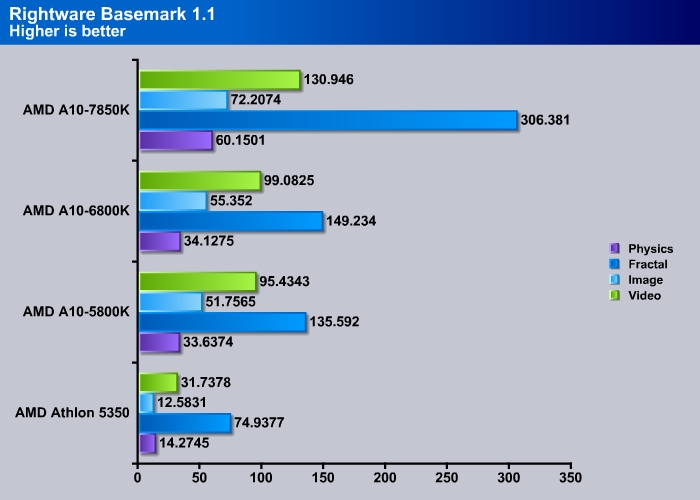 The result from Basemark shows a more dramatic difference between the Athlon 5350 and the A10-7850K.
3DMark 11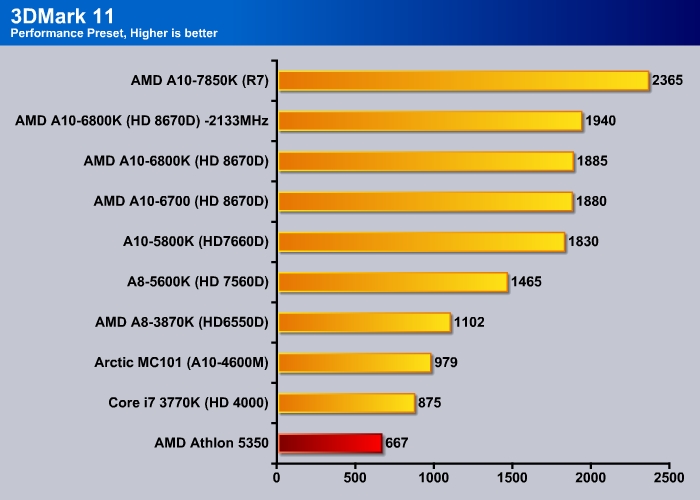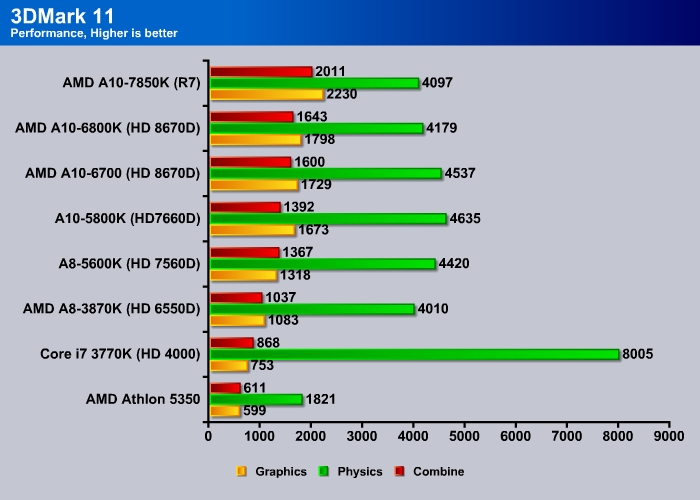 The Athlon 5350 scored 667 points in 3DMarks 11, just a tad behind the Core i7 3770K. When we look at the individual tests, we can see that the GPU is about 60% of the AMD A8-3870K and the CPU is about 50% of the A8-3870K.
Games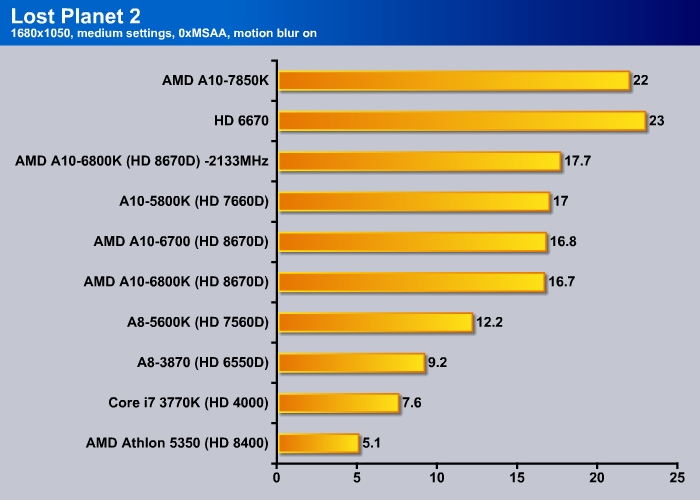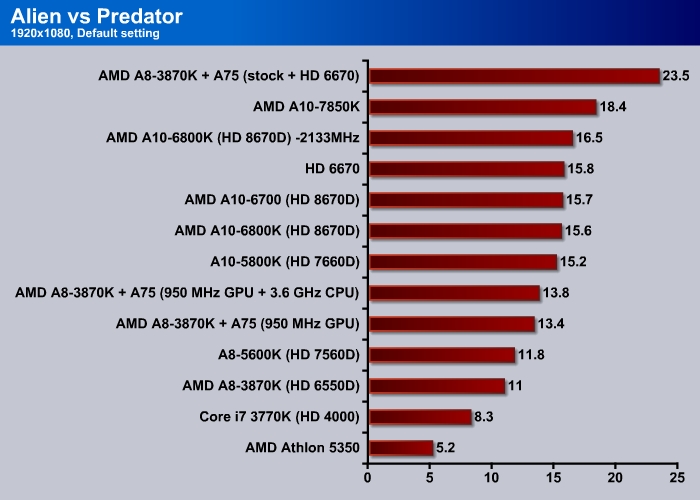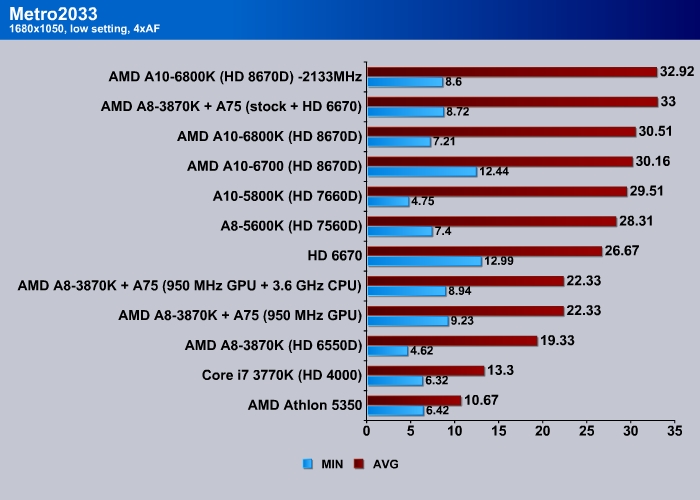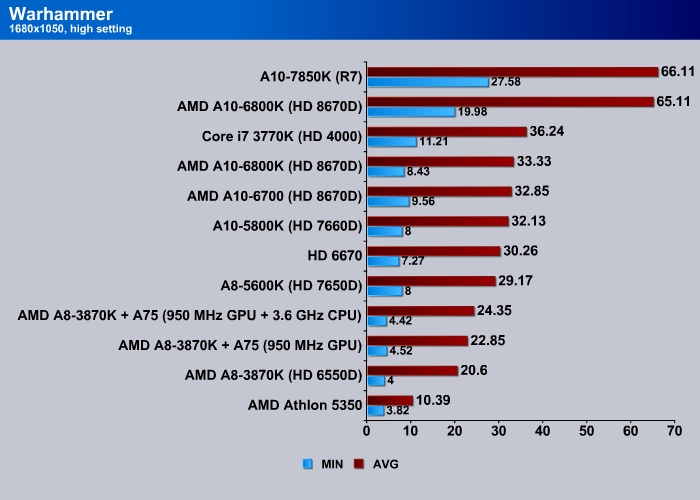 Much like what we have seen with the rest of the AMD APU portfolio, the strength of its APU lies on the graphic power. We can see that despite 25W of TDP, the  Athlon 5350 GPU is almost as fast as what the Intel Ivy Bridge's HD 3000 (Core i7 3770K) is able to deliver. It is more likely that high-end APU like the A10 and A8 users would opt to pair it with a discreet GPU, but it is much less likely for a budget system that uses Athlon 5350. Thus, having a strong GPU is definitely appreciated.
The HD 8400 on the Athlon 5350 is probably fast enough for light gaming at 1024 resolution. We would not recommend pairing the system with a discreet GPU for higher resolution game play as you would be bounded by the CPU performance. If gaming is what you looking for, you definitely want to get an A10 or A8 APU. Though for a causal gamer who play games at low resolution or those who only play Facebook games, the Athlon 5350 should not have any trouble at all with them.
Power Consumption
Idle, the AM1 platform consumes 17 watts of power when we have the memory and the SSD installed. Under load with Prime95 and Furmark, the system consumes 37 watts of power.
Conclusion
While the benchmark scores on the Athlon 5350 is not earth-shattering, we cannot forget that this chip is costing at a third of the price of the
mainstream A10-7850K. During the testing period of using the AM1 system for day-to-day work such as checking email, browsing web, watching YouTube and movies, we do not feel that the system is slow. In fact, when paired the system with an SSD, the system feels just as fast any high-end PC that uses A10-7850K or the Core i7 3770K. The good news is that SSDs are much more affordable where a 128GB costs about $60~$70. So, adding about $50 to the overall system budget and you would end up a system that is enough for some people who do not do much more demanding tasks.
Intel and AMD seem to be targeting the same market at different approach. Intel offers soldered CPU with the Bay-Trail and AMD AM1 offers socketed CPU. With the socketed APU, AMD certainly offers the ability to swap the APU for higher performance. Though, at the moment, it is uncertain if AMD has any long-term plan to offer upgrade APU that is faster than the Athlon 5350.When competing against Intel Atom or the Celeron CPU, the Athlon 5350 should be a competitive chip where it has advantage in the graphic department. Intel does holds an upper hand in the power consumption as it offers chip as low as 10 watts while AMD's chip is 25W.
Gone are the days where there is only 1 PC in the household that everyone has to take turn and share it. Nowadays we are surrounded by a handful of computing devices that includes desktop, laptop, tablet, smartphone, and even SmartTVs. We are living in a world where our daily lives relies on these gadgets and there is no one device that can really do it all. The AM1 platform is by no mean going to replace a mainstream high performance desktop but with entry price of $200 for a complete system, it could very well serves as the secondary PC in your kitchen to check out recipes or emails. It could very well be used for media server or file storage system.
For AMD, the Kabini seems to not only compete against Intel's offering but also against its own Kaveri (FM2+) based APUs. There are similarly priced APU from AMD such as the A4-4000 that is retailed at $40 where it can give you a much better performance. It is fairly easy to build a system with the FM2+ platform that gives you better performance per price ratio than the AM1 and more IO ports and wider expansion options. Though, the A4-4000 is a 65W chip while the Athlon 5350 is 25W chip. Thus, it all boils down to whether or not you need a higher performance system that consumes more power and also need beefier cooling solution. Or you just need a simple machine that can handle day to days task with very small or silent cooling that takes a very small foot print.
We feel that the Athlon 5350 could very well serve in an all-in-one system. Given to its better graphic power performance, it would be a an ideal candidate for media streaming device. We can also see it is being used as a file server as there are quite a few NAS  devices that use Intel Atom processor and it would be interesting to see if AMD is able to offers the same solution to the NAS vendors to incorporate their APU into their system.
Review Overview
Performance - 7
Value - 8
Quality - 8
Features - 7.5
Innovation - 8
7.7
AMD AM1 Platform with Athlon 5350
AMD AM1 platform offers a lot for what is is asking. It delivers a good performance to price ratio, ability to upgrade APU, and low power consumption. While it may not win any performance award, it offers you plenty of power for daily simple tasks that it would be very difficult to notice it against more expensive system.