Gigabyte's G1.Sniper has a long history of targeting toward gamers. The board is designed with features that gamers seek the most: better audio quality, better network performance, and better cooling for overclocking, Dating back to the first G1.Sniper, Gigabyte has released various models of the G1.Sniper series: 3, 5, and M5. What they all have in common is that they are all for Intel processors. The G1.Sniper A88X marks the first motherboard from Gigabyte that carries the G1.Sniper moniker for AMD APU. With Kaveri, AMD not only brings performance enhancement but also PCI Express 3.0 support along with other technologies such as TrueAudio, HSA, and hQ. As such, Gigabyte is betting that there are gamers who are looking to build a gaming PC without spending a lot of cash would be interested in pairing the AMD APU with their latest G1. Sniper A88X motherboard.
Board Layout
Shipped in the typical black cardboard box, the G1.Sniper A88X retail box features plenty of marketing information highlighting what kind of features the board is equipped with.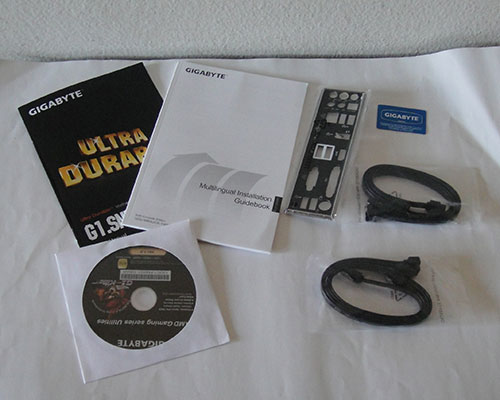 Inside, we find that that board does not come with lots of cables and accessories as what we usually find with high-end board. We get the driver disc, manual, an installation guide, two SATA cables, the backplate, and a case sticker. All the essentials are here to get your system up and running. We do think a couple of extra SATA cable would be nice as many of us probably have more than two drives inside our PC.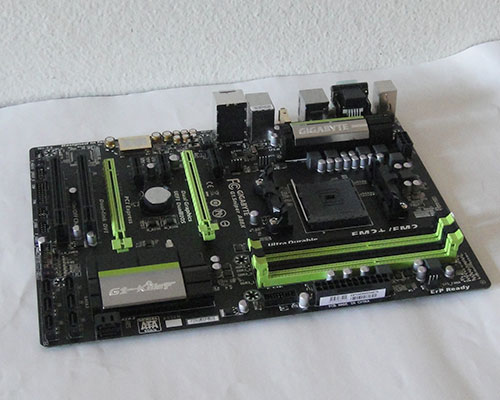 The G1. Sniper A88X is an ATX motherboard that features black PCB board with green accents for the expansion slots. The military camouflage combination black and green color has been a staple of the G1.Sniper boards ever since its inception. Here we can see Gigabyte uses light green to accent the dark background for the various ports on the board.  Overall, the A88X has a very clean layout with spacious area for large CPU heatsink and tall RAM sticks. Interestingly, while the board is an ATX form factor, it is actually a tad narrower compared to your typical ATX motherboard with the dimension of  30.5 cm by 22.5 cm (vs ATX 30.5 cm by 24.4 cm). Having a slightly narrow board actually may be beneficial for cable management for those with tiny cases.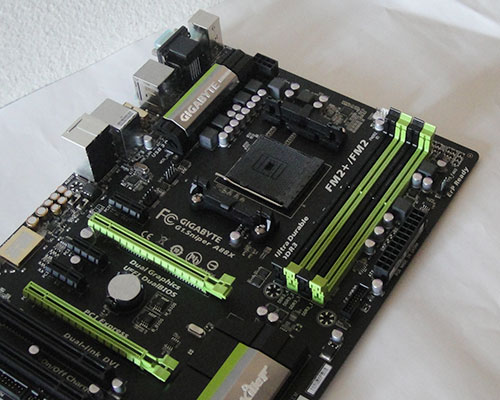 Over at the CPU area, the board uses a newly redesigned heatsink that is supposedly to be more efficient at cooling the PWM. The small footprint of the PWM heatsink leaves us plenty of open space for large cooler. Six power phases system is employed for the CPU and two additional phases power is used the memory. Four DDR3 DIMM slots sit just south of the CPU socket that has no clearance issue. They support memory speed all the way up to 2400 MHZ and supports AMD Memory Profile (AMP) and Intel XMP Profile. Up to 64GB of DDR3 memory can be installed if you install 4 sticks of 16GB.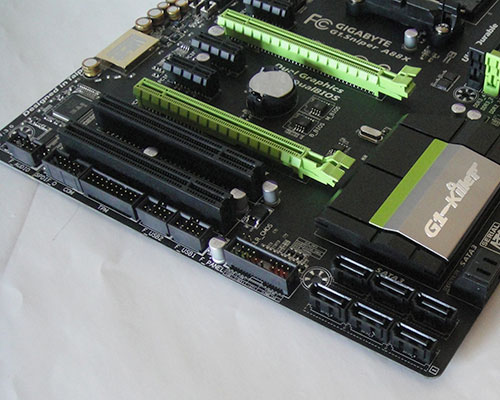 For expansion, the board comes with three PCI Express x1 slots, two PCI Express x16 slots, and two PCI slots. The first PCI Express x16 slot supports PCI Express 3.0 while the rest of the PCI Express slots are 2.0 revisions. Of course, to get the PCI Express 3.0 support, you would need to pair the board with a FM2+ (Kaveri) APU. The two PCIE x16 slot will support AMD CrossFire but only the first slot will operate at x16 while the second slot can only operate at x4.  Not that we envision those who purchase the board would also be use a PCIE X8 or PCIE X16 SSD as they are relatively expensive, the fact that the second PCIE slot only operates at X4 is a bit unfortunate. We are much preferred to see the two PCIE slots operate at x8 configuration like Gigabyte's GA-F2A88X-UP4 for optimal performance and the flexibility for other add-on card that need more bandwidth. Still, given to the target market of the board, we do not think it would pose much of an issue especially you are better off just have a single powerful GPU occupy the first slot to fully take advantage of the PCIE 3.0 bandwidth.
The two PCI Express x16 slots are spaced apart so that they will support graphic cards that take up triple slot expansion space like the ASUS ROG MATRIX R9 280X. If you are using just a single card  that takes up two expansion slot, you are left with two PCIE x1 slot and the secondary PCIE x16 slot that operates at x4 electrically and the two PCI slot for expansion. Plenty of space for a sound card or other add-on cards. If you happen to install two dual-slot GPUs, then you have two PCIE x1 and a PCI for expansion. So, unless you must have three PCI Express x16 slots for expansions, the board should leave you with plenty of expansion slots.
With exception of the USB 3.0 port, all of the internal ports are neatly located on the bottom edge of the board. Here we have two 90 degree SATA ports for better cable management and installation, six more upward facing SATA ports, front panel header, two USB 2.0 headers, a TPM header, a COM header, and the front audio header. The USB 3.0 header is located next to the main 24-pin ATX power connector. All of the SATA ports are capable of 6 Gbps transfer rate courtesy of the AMD A88X chipset. The USB ports (internal and external) are all from A88X chipset as well where we have six internal ports (two USB 3.0 and four USB 2.0) and seven external ports (two USB 3.0 and five USB 2.0).
The G1.Sniper A88X comes with a total of four fan headers: one CPU header and three system fan header. The CPU fan header is located just next to the memory slots. Two four pin fan headers are located next to the PCIE x1 slot and the other header (3-pin) is located next to the main 24-pin ATX power connector.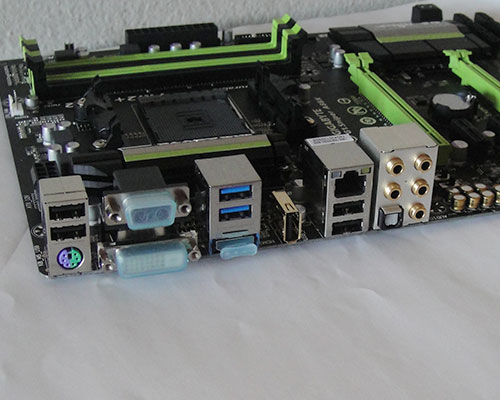 On the rear, we find a PS/2 keyboard and mouse combo port, five USB 2.0 ports, two USB 3.0 port, a dual-link DVI-D port, a VGA port, an HDMI port, audio ports, SDPIF connector, and the Gigabit Ethernet port. Noticeably missing here is the DisplayPort which we would have liked to see to be included for future proofing. AMD Kaveri APU supports up to three displays simultaneously, so you would be able to mix and match the three ports on the rear in any configuration you like.
The LAN and the USB 3.0 ports on the  board also features the dedicated filters to protect against electrostatic discharge. In addition, the USB 3.0 ports also has its own dedicated power fuse so that in the event one port failed, other ports would still be fully functional. Also, it comes with Gigabyte DualBIOS where two BIOS chips are located on the board so that there is a protection against bios failure due to overclocking, power failure, incorrect BIOS flash.
One feature we do wish to see on the board is the LED debug code for easy troubleshooting and a onboard power/reset/clear CMOS button. Unfortunately if these are essential features that you are seeking, you would have to go with the GA-F2A88X-UP4.
Unique features for G1.Sniper
The G1.Sniper traditionally comes with gamer-centric features where it often boosts audio and network improvements. It may also come with other features such as enhanced cooler for oerclockers but its main goal is that gamer can enjoy the better than your average hardware.
While Gigabyte uses Killer NIC for their Intel G1.Sniper boards, the A88X opts for the the Realtek RTL8111F instead for the Gigabit LAN. The Killer NIC does help to reduce latency and ping time for the network that may help with lags in online games. We have seen some slight improvement in the latency and ping time with Killer NIC network card, however, it is most likely that your ISP will contribute most with the network latency. So, the use of Realtek controller is probably not going to be a big deal.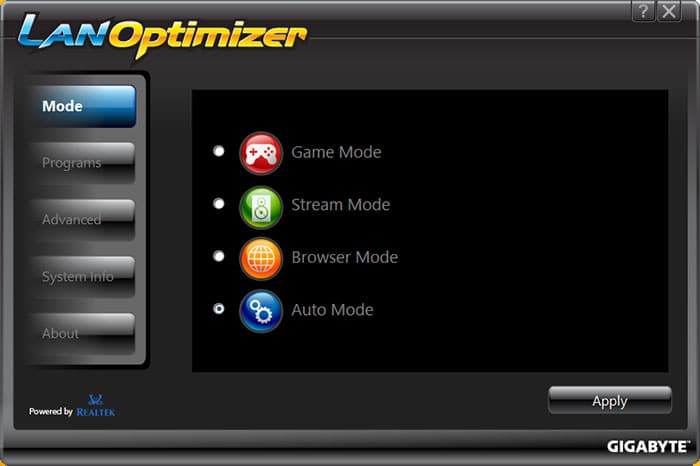 Gigabyte does provide two sets of software to help optimizing the network performance: Lan Optimizer and cFOsSpeed Internet Accelerator software, The cFOsSpeed Internet Accelerator is a third party software where it provides a network traffic data so that you can use it to prioritize network resource for application such as games that need higher bandwidth or low latency. The LAN Optimizer is actually a software from Realtek it has 3 presets and an automatic setting that allows you to adjust what programs to be optimized and its prioritized for the network traffic. It also let you set bandwidth upload and download and delay the sensitivity for each program.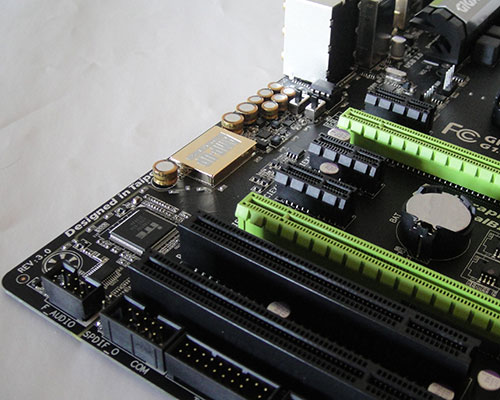 The audio on the A88X, on the other hand, has been improved from your typical motherboard. The audio on the board relies on the Realtek ALC898, that features ten DAC channels with support for multiple streaming for simultaneously 7.1 audio playback plus two channel of stereo sound output. It also features 110dB signal to noise ratio (SNR) DAC playback and 104 SNR recording (ADC) quality. Probably due to manufacturing cost, the A88X does not come with the Creative audio chip that is found on the Intel Z87 model of the G1.Sniper. It also is not the latest Realtek ALC1150 audio chip that features slightly higher SNR.  Still, the Realtek ALC898 on the board is certainly better than most of the board on its price range despite the fact it was using last gen chip. In fact, there are features on the ALC898 that the newer ALC1150 is missing, noticeably the support for 88.2K sample rate on the DAC and ADC and the built-in headphone amplifier support for all of the analog ports whereas the ALC1150 only has three ports supporting it.
To even further improve on the audio quality, Gigabyte uses Nichicon Pro Audio caps and it features technologies such as Audio Noise Guard, Gold Audio Plated hardware, upgradeable onboard OP-Amp, and Gain Boost. The AMP-UP audio technology which helps to deliver a cleaner sound. Basically. the board features user-replaceable onboard operational amplifier (OP-AMP) that we often find on more expensive dedicated sound card. Gigabyte has been the only manufacturer that actually offers such feature across many mainstream boards (G1.Sniper 5, G1.Sniper M5, and GA-H81 Amp-up). If you are looking for a cleaner and punchier audio, you would be able to swap out the included OP-AMP (model: OPA2134PA) with one of the the three OP-AMPs where each is designed for different types of sound characteristic from the  GIGABYTE OP-AMP Premium Upgrade Kit. Unfortunately, the price of these "premium" OP-AMP are relatively expensive at $80, almost the price of the board.
In addition to swappable OP-AMP, the board also features onboard switch through the Gain Boost where you would be able to select between 2.5x and 6x amplification modes depending on speakers or headphones being used. There are two CAP switches on the motherboard just next to the OP-AMP where if you set both of them to 1s, you would have 2.5x amplification (this is the default setting) and switched them to 2s would kick up a notch to 6x amplification. It is slightly inconvenient to have to turn the switches on the motherboard as we would prefer to have them located on the rear panel and ideally use a single switch as oppose to dual switch. The location of these switch also probably means that it will not support on-the-fly changes.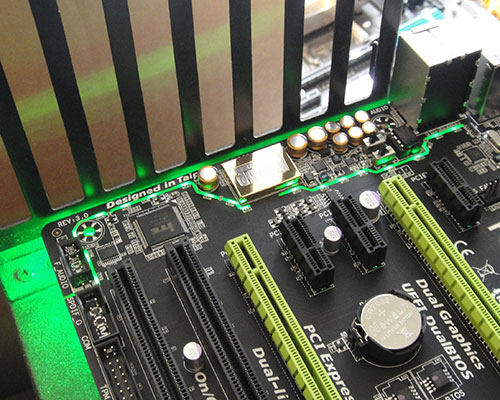 The gold plate shield is used to reduce electrostatic interference. In addition, the dedicated USB DAC-up port and all of the analog output ports are also plated with gold.  For those with USB headsets, the board comes with a  dedicated USB DAC-UP port that reduces power fluctuation to ensure best audio quality through the USB port. This would be the port that you would want to use if you are using an USB headphone for gaming.To further reduce ESD, Gigabyte also implemented audio noise guard that separate the audio portion from other components to reduce potential ESD interference from other components. An LED trace path lightning illuminates to show the  audio path. Pretty neat.
In addition to the audio enhancement, the A88X will feature other proprietary technologies such as Ultra Durable 4 Plus, Ultra Cool, Ultra Performance, Ultra Safe, Humidity Protection, Power Failure Protection, and Electrostatic Protection. Collectively, they translate to higher quality components Collectively, they mean higher quality components with all solid cap design, low RDS MOSFETs, and cleaner power delivery subsystem so that the board operates at lower temperature and the components would have higher lifespan and higher overclocking potential.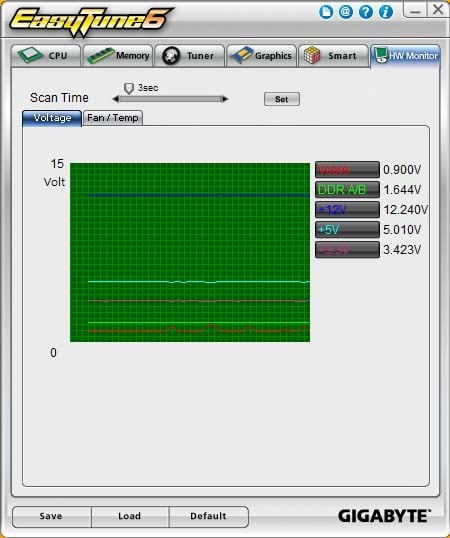 Gigabyte also bundles the board with the typical Gigabyte software bundle such as Easy Tune 6 for system hardware monitor and over-clocking. The software UI has not been updated for awhile and there is no major features added. It provides system information and over clocking. 
In addition, Smart Recovery 2 for file and system backup.  A new addition is the Smart Switch lets you select to boot into Windows 8 desktop or Metro UI and brings a set of power setting to your desktop so that you can access them with a single click. The On/off charge let you charge mobile devices such as iPhone and iPads even when the computer is off or in standby mode. It also provides additional power to the USB port so that devices can be charged faster. The @BIOS helps you to flash the motherboard BIOS in Windows. 
Review Overview
Performance - 8
Value - 8.5
Quality - 9
Features - 8.5
Innovation - 9
8.6
Gigabyte G1.Sniper A88X
Gigabyte G1.Sniper A88X is designed with gamers in mind with the enhanced audio and network performance. The add-on features is welcomed for AMD mainstream FM2+ (Kaveri) platform for any gamer who is looking to build a relatively budget gaming rig.