Today at the APU13, AMD has officially put a date on the availability of the Kaveri APU. The initial availability is set for January 14th, 2014, which is right after CES. AMD is expected to have more detail at CES 2014. The initial launch will be the desktop chip with the notebook and others (servers, embedded, etc) following sometimes in 2014. This is different than what AMD has done in the past with the Trinity and the Richland APU.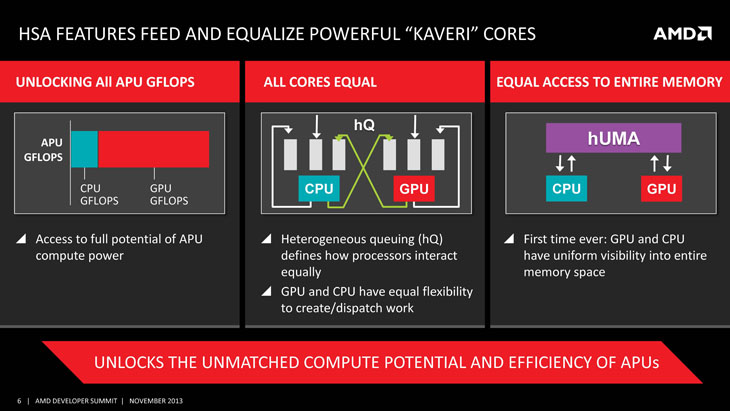 While AMD has not release much information about Kaveri. We know that it will work on FM2+ socket. Kaveri will bring many features such as heterogeneous queuing (hQ) and heterogeneous uniform memory access (hUMA). In addition, since Kaveri will have the GCN based GPU, it will feature many of the latest technology that is also found on the current generation of the AMD R series GPU. The APU will support AMD TrueAudio technology and the new low-level API Mantle.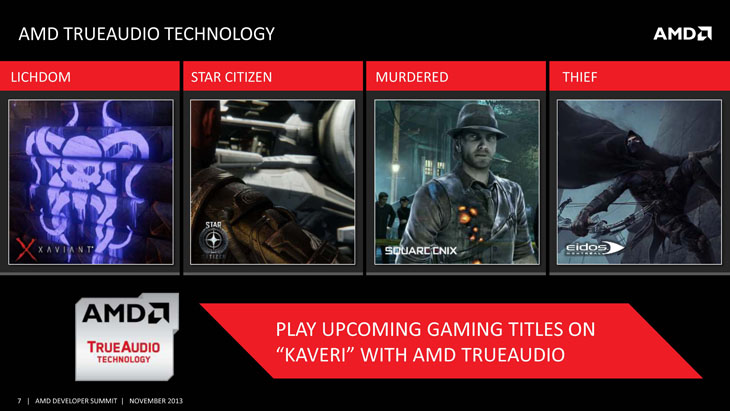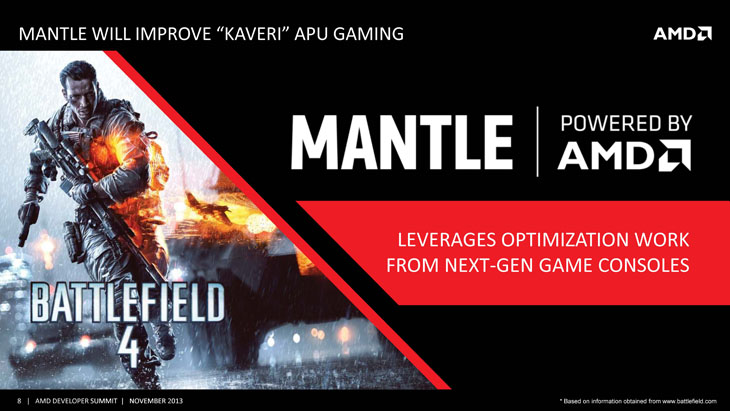 Finally, we get a bit of information regarding from the block diagram that AMD provides. We can see that Kaveri will have up to 4 CPU cores with two "Streamroller" x86 modules where each module contains two integer unit and one floating point unit. Each module will have a dedicated 2MB of L2 cache, same as the Piledriver.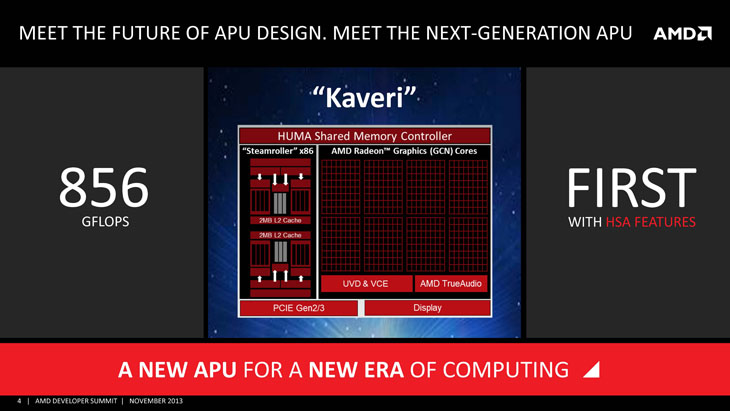 On the GPU front, AMD has upgraded the GPU to the GCN 1.1 architecture. It appears that it will have 8 GNC CUs for a total of 512 Stream processors. Kaveri will have 856 GFLOPS of compute power at your disposal. The calculation is based on the AMD A10-7850K that features Radeon R7 series graphics. The CPU is apparently clocked at 3.7 GHz and the GPU is clocked at 720 MHz. 
Kaveri also finally brings PCI Express gen 3 support to AMD platform as well.
Today, AMD also released an unified SDK and Media SDK where it adds support the latest APU and CPU to take a great advantage of the upcoming product. 
Kaveri is going to be a very exiting product from AMD and for us as well. It tightly integrated CPU, GPU, and memory access. It is probably one of the biggest processor launch from AMD in a long time. Stayed tuned as we cannot wait to finally get our hand at one unit to test.