The upcoming "Kaveri" APU is one of the most anticipated product from AMD as it finally brings exciting new technology such as heterogenous queing (hQ) and heterogenous uniform memory access (hUMA). Today at the AMD developer conference, the APU13, AMD has announced a new unified SDK that is aimed to help developers to take advantage of the upcoming chip's new technology.
Kaveri is going to be a very big thing for AMD and is going to a very exciting product. With Kaveri, AMD is going to bring both the CPU and the GPU to equal footing (and even possibly other processors in the future). In order for it to succeed, software need to be optimize to take advantage of chip, specially the GPU power inside the chip.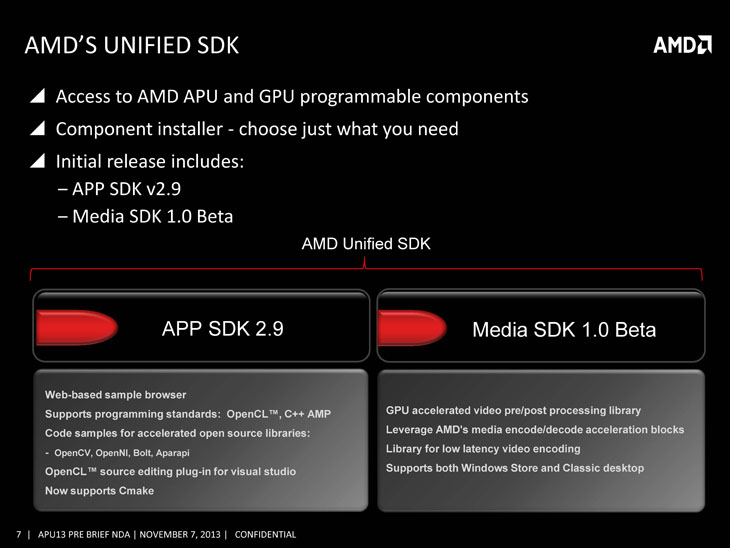 The new APP SDK 2.9 adds support for the latest APU and CPU. It also features improved CodeXL Developer tool Suite. New libraries are added that included OpenCV, Bolt, and clMath. The list of library included will help developers to better utilize the APU, specially the GPU portion for tasks such as gesture recognition and facial recognition. A plug-in for visual studio is added for OpenCL source editing and Cmake is also supported.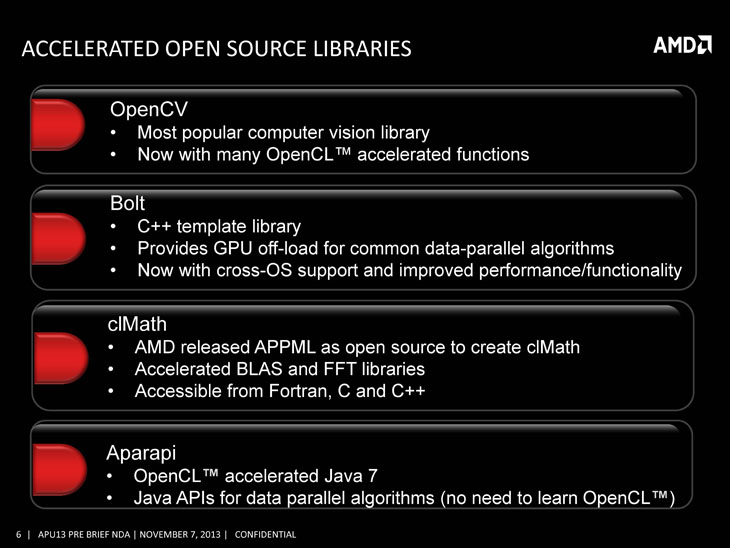 A new Media SDK (version 1.0) is also released but is currently in beta stage. It adds GPU accelerated video pre/post processing library, leverages on AMD's media codec engine for fixed function hardware block via AMD Video Compression Engine (VCE) and Unified Video Decoder (UVD), and provides library for low latency video encoding. It supports Windows Store and Classic desktop. The SDK is available to be downloaded at AMD developer site. It requires Microsoft Windoows 7, 8, or 8.1 (either 32-bit or 64-bit) and requires Catalyst 13.9 driver.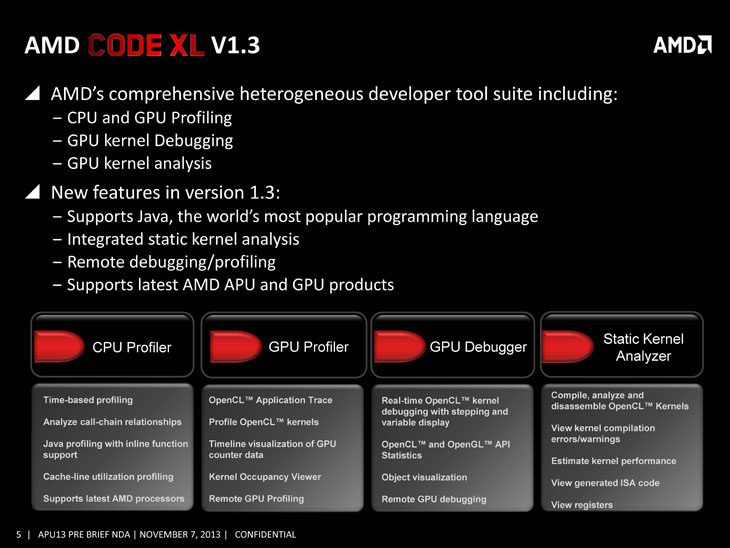 The CodeXL v1.3 includes CPU and GPU profiling, GPU Kernel debugging, and GPU kernell analysis. IN addition, it adds support for Java, integrated static kernal analysis, remote debugging/profiling, and will be supporting the upcoming products (Kaveri). For developers, the debug tool provides line by line debug and will also provides the analysis for both the CPU and GPU cycle so that software can be optimized.