Gigabyte GTX 780 Windforce OC

When thinking graphics so many times names jump into out minds like EVGA, ASUS and whatnot but many times when you think about Gigabyte, graphics cards simply don't jump to the forefront. Gigabyte is best known for their extensive motherboard offering while for some reason their graphics offerings have not always gotten all of the credit I think they deserve.
The reason I say this as I have seen most of their models and while their products are sometimes less mentioned they do make some very good coolers and also some very nice custom PCB models.

Here via the specs you can see that the Gigabyte model comes with a very high out of the box clock which gives it a definitive jump over the competition with over 1GHz boost clock where the ASUS we looked at recently only reached into the 941MHz in boost clock at default.
The Gigabyte GTX 780 Windforce OC graphics card comes to market at a street price of $649.99 directly from Newegg at the time of writing. This is right along side most of the 780 models with varying clock speeds but this card is right up with the best in speeds with just mere few MHz separating it from the top available.
Key Features
Windforce Cooler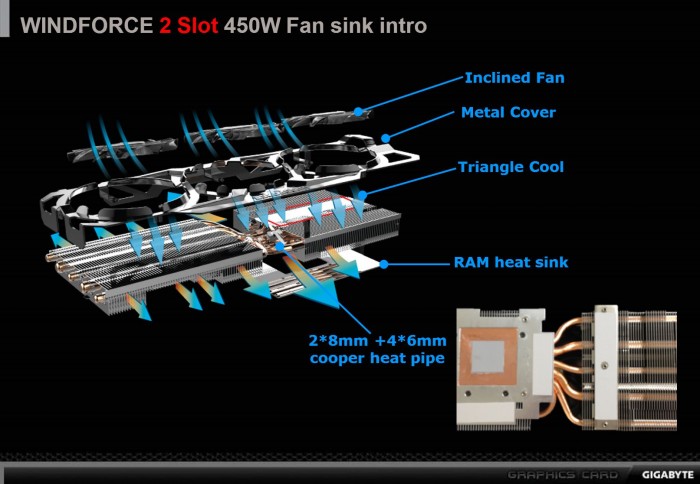 Gigabyte has been working with custom coolers for their cards for some time now, and the Windforce models are multi fan units similar to what we see on some other cards as teh fin array is large and packed over the card with a small shroud surrounding the fans but leaving the sides and lower of the fin array uncovered to ensure air can pass through it quickly. This vents most all of the waste heat back into the chassis so you are going to want to have some airflow through the chassis to evacuate that heat but I think the key here is to simply keep the GPU cool to start with so there is less heat to transfer away or get out of the chassis.
There are many things about the Windforce cooler which make it an awesome solution and lets see if we can break it down here.
Inclined Fans – The fans sit at an angle to give the airflow a set direction of flow which allows the airflow to be pushed out of the card rather than just sitting in a dead spot under the cooler after being blasted through the fin array by the cooling fans. The angle means the airflow is not shooting directly at the board but instead at a slight angle and even at an angle they are positioned in such a way that they will not interfere with another card should they be placed in a close proximity SLI configuration.
Metal Cover – The cooler on GPU's top cover normally is some sort of plastic or composite but in Gigabytes case they want to ensure full rigidity and durability so the cover is a stamped metal plate which is used to surround and protect the fans as they even have a protruding lip around the fan blade edges whcih keep from most any accidental contact with the high speed blades which at that speed can likely break rather easily.
Triangle Cool – This is a small chuck of metal which runs the length of the cooler and is shaped like a triangle with the apex facing the cooling fans. This means when the airflow reaches this area the triangle shaping redirects airflow away out the edges of the cooler to allow efficient cooling airflow and optimal cooling of the GPU and board components which will ensure better overclockability and stability.
Ram Heat sinks – The Gigabyte cooler also integrates cooling blocks in place to allow the massive cooler to keep the card VRAM cool which also should help with long term stability and overclocking capability to some extent but I think the stability would be more what you are looking at on this one.
2x 8mm heatpipes and 4x 6mm heatpipes these combine to give the cooler a total heat handling capability of 450W which is quite alot and means that this card should be able to be pushed quite a bit before you see heat becoming an issue. Unfortunately as most other manufacturers do not give a thermal wattage rating for their coolers I cannot compare so I will simply say that this is ALOT of cooling capacity to work with.
Overall the Windforce cooler is super strong and capable while still keeping a nice look to it to ensure the card not only works awesome but will fit nicely in any windowed custom build.
OC Guru II
 
Gigabyte has gone back to the drawing boards in terms of software and the new software is pretty nice. I'm not used to it completely yet but I will say that overall the feel of the software is much more complete than previous OC Guru overclocking software Gigabyte has offered,
The colors are nice and easy on the eyes and most all of the settings are placed right in front of you and Gigabyte does a pretty good job of making it an easy software to learn and tweak with.
The monitoring for the software I found to be easy to use and the logging worked well and was easy to use, and also the new display overclocking function was as easy to use as simply applying a checkbox to enable it then testing some settings.
Review Overview
Performance - 10
Value - 9.5
Quality - 9
Features - 9
Innovation - 8.5
9.2
The Gigabyte GTX 780 windforce OC is a super capable card with TITAN level performance to destroy any game you can throw at it!