Introduction – Gigabyte Aivia Neon 1200Dpi Presenter Mouse

Gigabyte has been best known for their motherboard solutions at varying levels. Here today we have one of their devices from their growing and maturing peripheral line which is a presentation mouse named the Aivia Neon. This mouse is not just a mouse but many presentation tools in one. Gigabyte has started to make its own name in the gaming mouse market but this is no gaming mouse it is actually very strongly pointed in a singular usage application. This application is so widely used to me it is fairly surprising I have not come into contact with more models like this before. Not to mention the feature set is very interesting as it offers some very interesting productivity or value added features which can really make professional business meetings more productive or even easier to navigate.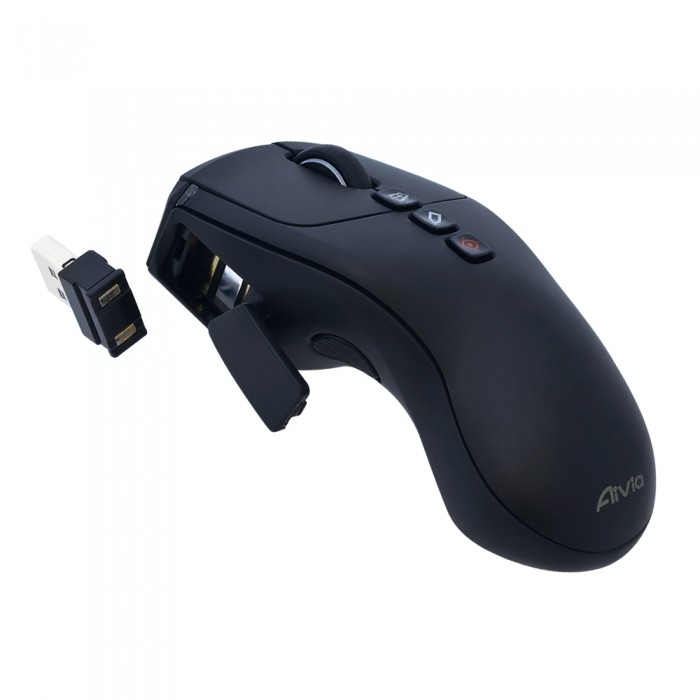 The Gigabyte Aivia Neon comes to market with a street price of $74.99 directly from Newegg at the time of writing. There really is no standard for comparison in this level as the target for the mouse is in such a niche product as normally when a company is setting up a conference or meeting room they use standard desktop wired or wireless parts for their presentation systems. Im sure others exist but this is the first unit i have laid hands on which is specifically made for this usage.
Key Features
Main Features
Dynamic Wireless Presenter Mouse
Aivia Neon brilliantly combines the functionality of a wireless mouse with the versatility of a wireless presenter. It is the ultimate accessory for individuals needing an all-in-one product on the go. Elegant and effective from the classroom to the conference room, Aivia Neon is one product you don't want to miss!
Air-Mouse Presenter
Lifting the Aivia Neon off any surface will automatically activate air-mouse mode. While in air-mouse mode pressing the air-mouse key will allow you to move the mouse cursor intuitively. Alternatively, double click the air-mouse key to keep the cursor active. Placing the mouse back on a surface will de-activate air-mouse mode.
Laser Pointer
We understand how useful laser pointer is when you are in a meeting. It helps you to effortlessly point out a specific item on a big screen. The function is able to use even when you turn on the mouse. You don't even have to plug in dongle at all!
*Never intentionally direct a laser beam towards your eyes or the eyes of others.
Aivia Painter
Pressing the Aivia painter key while in air-mouse mode will activate painter mode, holding the left key will allow you to scribble onto any document or webpages.
*Requires Aivia Neon software installation and air-mouse mode activation.
*With no software installation, pressing the key in Microsoft PowerPoint would activate Ballpoint Pen, pressing again to de-activate. This might result in different software activation in different programs.

GIGABYTE Free-Scrolling Technology
GIGABYTE Free-Scrolling Technology™ facilitates webpage browsing and boosts efficiency. Easily move your webpage or file up and down, left and right by pressing the free-scroll function key.
*Require Aivia Neon software installation.
"Touch and Charge" – Rechargeable Lithium-ion Battery
Aivia Neon is equipped with a high density Li-ion battery for long lasting continued use. Recharging the battery is quick and easy, simply open the battery cover and attach to the USB nano-receiver. An indicator light will start to blink to show that the battery is charging.
GIGABYTE Accurate Laser Tracking System
1200 DPI professional laser sensor equipped for silky smooth mouse tracking to detect fine mouse movement and accurate cursor placement. 2.4GHz wireless transmission technology for maximum wireless distance and reliable connectivity.
Portable Nano Receiver
Not only can the receiver be used for charging, it's also portable without effort! Plug-and-play technology makes it effortless to use the mouse on different devices. Tiny nano receiver ensures great experience of traveling with your notebook all the time!
Ergonomic Design
Supreme ergonomic design to maximize comfort and reduce hand strain. Rubberized Teflon grip for additional comfort and pleasant mouse texture.
Indicator Light
Power On: Blue light blinks for 5 seconds.
Low Battery: Red light blinks for 5 seconds.
Charging: Blue light keeps blinking.
Fully Charged: Solid blue light.
*In low battery mode, every time you wake up the mouse, the red light would blink for 5 seconds again, until the battery is dead.
Hand-Comfort Guide
Review Overview
Performance - 9
Value - 9
Quality - 9.5
Features - 9.5
Innovation - 9.5
9.3
The Aivia Neon is a very interesting and capable solution like one I have not seen before. An excellent solution for not just business but home theatre control.