Introduction – ASUS Z87I-Deluxe

ASUS while best known for the crazy features and designs on ROG boards they also do design some very impressive mainstream level boards much like the ITX offering we are looking at today. The Z87I-Deluxe is a highly featured ITX Z87 model that offers ASUS performance and features but at a much more modest price point than the higher end model Maximus VI Impact.
The Mainstream line from ASUS tends to have very similar performance tuning but many times when it comes to the extreme tweaking options that is reserved for the ROG boards as that is their target market but anyone who has had experience with ASUS knows that ASUS offers similar overclocking capability from the top to bottom of the stack in relation to performance and general overclocking. And well to sum up what im trying to say I will just leave it as normal gaming and performance ASUS has made it so that no matter what level board you buy you should be able to get similar performance within a couple percent and even similar overclockability to a certain level. Now once you start pushing limits that is where the extra features and extreme performance tuning will come into play and make it easier to tune in that performance.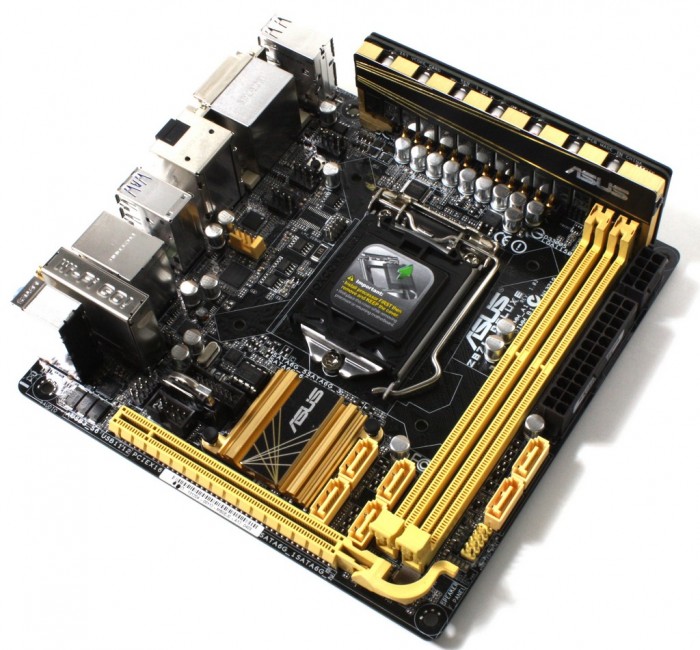 The Z87I-Deluxe comes to market with a street price of $189.99 directly from Newegg at the time of writing. This places it at the top 3 in terms of pricing and just below the EVGA Z87 Stinger but this does give many options as low as $129.99 to contend with but with obviously lower feature set levels. This board comes with an extensive feature set which we will explore next to see what makes it worth the price tag.
Key Features
Main Features
Here you can see a quick overlook of many of the boards main features. This shows everything this board has to offer and also shows many of the supported items as well. especially things such as the WiFi AC inclusion which is a huge plus in the modern wireless culture especially with the offering of the newest AC speeds which is the newest and fastest offering presently in the wireless industry.
DIGI+ Power
ASUS has implemented a vertical VRM PCB on the Deluxe much like we recently saw on the Maximus VI Impact which means you can fit a much larger and more capable VRM on the separate PCB without taking up as much space on the PCB where real estate is at a premium.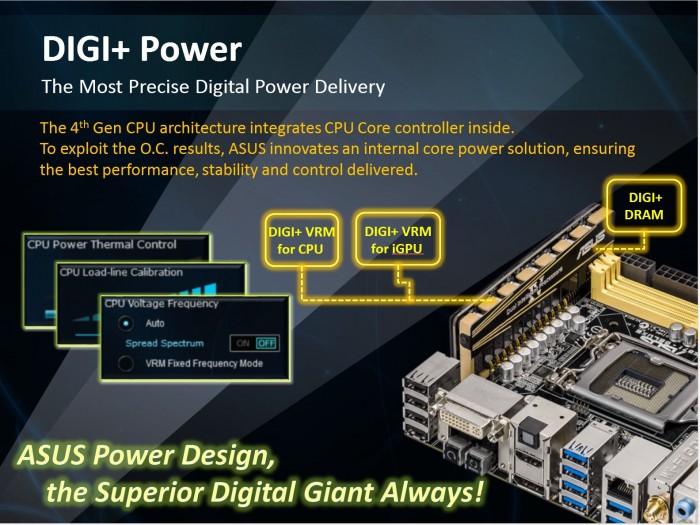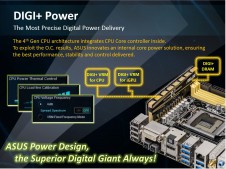 The DIGI+ VRM is implemented for more than just the CPU as Digital control is in place for the iGPU, CPU and DRAM to ensure maximum performance is available when pushing the performance envelope.
ASUS 5X Protection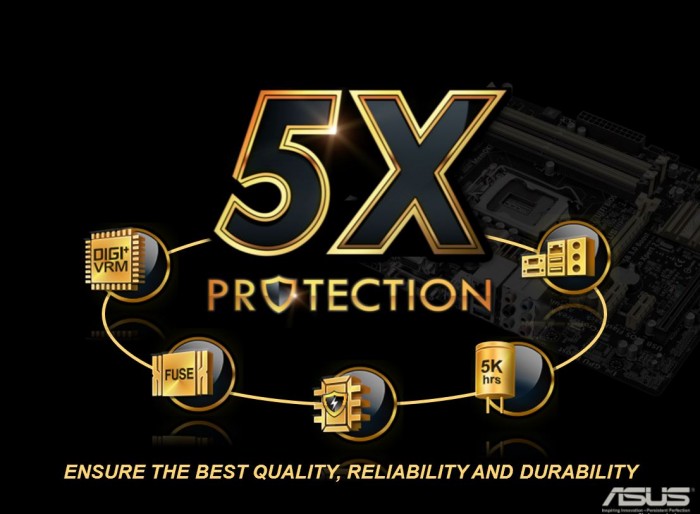 ASUS always adds new and interesting features with each new board/chipset launch. The Z87 is no different and with the Z87 mainstream lineup they include what is referred to as 5x protection.
On the above you can see some of the key features of the 5X protection features.
Dram Overcurrent Protection – This is an inclusion of a fuse inline for the DRAM to allow overcurrent spikes to not reach the DIMMs and cause costly system damage which could otherwise take your system down for an extended time and even have costly replacement results.
ASUS Digital Power Design – This includes the ASUS DIGI+ design which as we have seen before is a very stable and efficient power solution as you will notice it has not changed a whole lot over many generations now except the necessary changes to be better compatible or perform better with specific platform architecture changes.
ASUS ESD Guards – ASUS has included special ESD circuits in the ASUS boards which help ensure that when stray static shocks reach the board they can be absorbed with a lesser chance of damaging critical components.
Stainless Steel Back I/O – The stainless steel back IO is the boxes which hold the rear I/O component ports and employing a corrosion free stainless steel material means that the IO portion will stay corrosion free and in much better working condition for much longer than a standard steel components which when in the harsher climates can definitely be having a bad day very quickly and when rusted or corroded can cause failures of the ports or components.
ASUS 5K Hour Caps – This stands for the uptime you can expect from these specially made caps at 105C, and we all know that your PC will not see 105C very often or ever so with a more realistic but still very extreme temp figure the rating will jump up to an expected 50,000 hours and since most chassis temps see around 30-35C figure that time will even be longer. And that means you can expect the components and board life to be very long, probably longer than you would ever use it.
Network iControl
Here you can see the Network iControl software which is part of the ASUS Suite which allows you to monitor and even allocate bandwidth or even automatically allocate bandwidth with an automatic algorithm designed to give priority to key applications and tasks to ensure your downloads and other tasks are not slowed down by other non essential network traffic.
WiFi GO!
WiFi GO! has been something that ASUS has had for some time and has refined it as time has gone on from just DLNA media streaming among other features to now being a very extensive and capable suite allowing better utilization of your digital home experience. Now with WiFi GO! you can see remote file transfers within your WiFi network, DLNA media hub functionality, cloud based application and data along with Remote desktop control with KB/Mouse controls directly from even smartphone or tablet devices. the cloud storage ability to sync directly with cloud based services such as Google Drive/Docs, Dropbox and even ASUS Webstorage means that integration of your network into the could has never been easier. Even the ability to use the gyro sensor with your phone or tablet as intuitive controls in some gaming environments via the remote desktop control function adds yet another layer to the capability of the WiFi GO! functionality.
ASUS Fan Xpert 2
As you can see the Fan Xpert 2 utility is back and it is still an amazing application with now even a better cleaner interface within the AISuite Utilities. The ability to auto tune (No not like T-Pain) the fans by running through a test ramping each fan to its maximum to find where each fan can go and then it automatically profiles each fan to allow for optimized noise/airflow conditions based on thermals within the case.
USB BIOS Flashback
ASUS offers the BIOS Flashback utility which is actually a multi-facet tool and has many capabilities which some may not be aware of. we have had many times where a motherboard did not support a CPU and a frantic search for a supported CPU just to flash the BIOS (ex. Gulftown CPU support on X58). ASUS has eliminated the worry of these kinds of issues by allowing the BIOS flashback procedure which does not require a CPU or memory or GPU to flash the BIOS. All that is needed in order to flash the BIOS is to have the desired firmware ROM file on a USB thumb drive and insert that into the BIOS Flashback USB port.
then depressing the BIOS Flashback button (At the bottom of the boards edge) for 5 seconds will start a flashing LED which indicates the firmware is being updated and once the update is complete the flashing will stop. It really is that easy and ensures no matter the condition the firmware can be flashed even if the newest CPU is not supported without the previously mentioned hunt for a compatible CPU.
This may seem like an odd feature but many may buy the newest and greatest CPU on the market while the board could have been shipped with the older firmware which in most cases would leave the user stuck without an option. As for our usage we have found this useful in quite a few experiences where running a LN2 cooled system not necessarily in the most stable conditions and a BIOS had gotten corrupt, but with the BIOS flashback it was remedied as quickly as we could copy the Rom file from our laptop to the flash drive and get it flashing.
New UEFI BIOS
The Z87 boards also ushered in some new tweaks to the UEFI which definitely can be seen as a good move with some very neat small improvements in the features front but also some great performance tweaks as well.
Quicknote – Quicknote is used to allow notations within the BIOS that will be saved so that if you had something you were working on while tweaking you can always go back to these digital notes as a reference point.
Last Modified – This is a button you can click on which brings up a box showing all setting changes within the UEFI so that you can retrace steps back to change something should the overclock or performance go awry.
UEFI Shortcuts & My Favorites – This allows you to choose specific settings as shortcuts or favorites and at that point you will have a main screen with just the shortcuts you selected so that you dont have to dig through all of the menus to get to all of the various settings you may use most prominently.
EZ Mode – This is the simple graphical interface which is super easy to navigate yet offers most of the basic tuning and functionality of the main BIOS without all of the separate tabs in the Advanced section.
SATA Port Renaming – This is a pretty neat feature as you can rename SATA ports to whatever you need them to be to make them easier to identify with a quick glance.
NFC Express
The new NFC protocol definitely has been getting some attention as of late due to the easy touchless syncing mainly among audio devices and the sort with mobile phones.
Well ASUS saw some potential in NFC and they made a NFC pod usable to allow easy PC login, file transfer or even RDC with a mobile device by simply tapping a NFC enabled device to the NFC pod which will be connected to the ASUS Motherboard.
The NFC Express accessory pod can be purchased separately to use with any 8 series board but if you happen to pick up the Z87 Deluxe Dual board it will come pre bundled with it.
Review Overview
Performance - 8.5
Value - 9
Quality - 9.5
Features - 9.5
Innovation - 9.5
9.2
The Z87I-Deluxe shows a great performance and feature mix with a decent price as well, it deserves definite consideration for any mini build