Overview of the Gigabyte Z87X-OC
Click Image For a Larger One
The packaging for the 8 series from gigabyte carries pretty much the same flavor as the 7 series which is not a bad thing as it usually carries a nice angle shot of the VRM/Heatsink.
Overall the front is a bit more cluttered than some we have seen as it has quite a lot of Ultra durable 5 detail right on the cover which may or may not catch the eyes of consumers. We still think the X79 boards were probably some of the best packaging Gigabyte has done to date and possibly even better than most competitors as it was super clean and simple but got attention.
The rear of the box is full of spec and detail info so that before you ever even make a purchase you have a really good idea of what you are getting.
Click Image For a Larger One
Here we see all of the accessories we get with the Ggiabyte Z87X-UD4H:
User Manuals
Installation Discs
SATA Cables
SLI Ribbon
Crossfire ribbon
OC Brace and hardware
IO Shield
Voltage Probe Leads
The bundle with the OC board is stout and with the inclusion of the OC Brace is simply cool.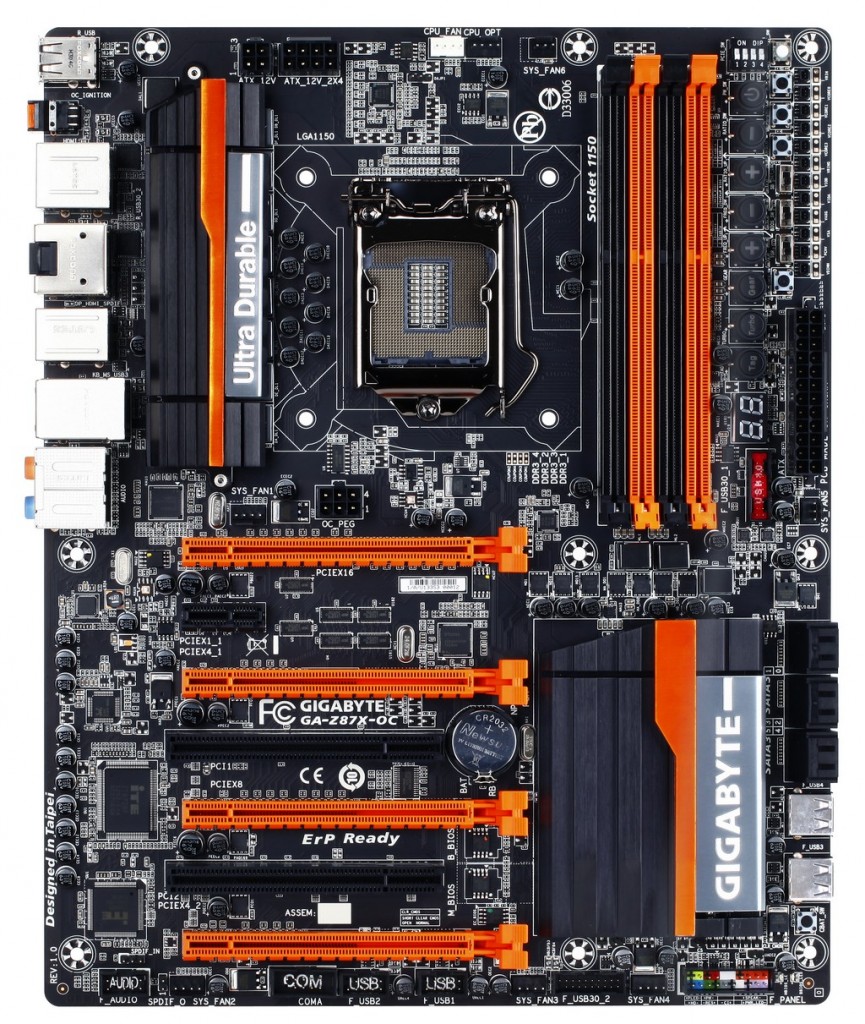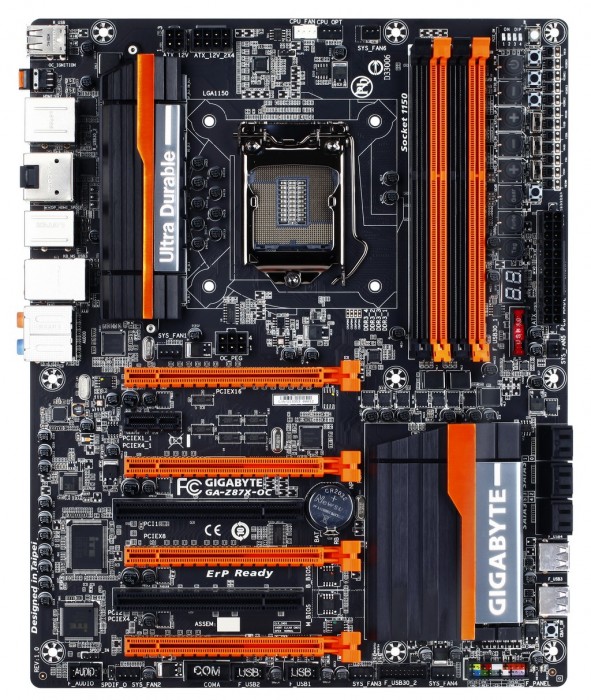 Click Image For a Larger One
Being a true OC board all of the connectors are at boards edge with one area being the 6 Pin PCIe connector to feed supplemental power to the slots which is located mid board. I am not a big fan of running massive cables over the board but being that this board is targeted at the bench enthusiasts who have wires going every which way anyways I really cannot complain too much on this one.
The slot layout is made in such a way that dual card operation has huge spacing between it for plenty of airflow or fitment of large GPU cooling containers. And for 4 way card setups dual slot spacing is there to facilitate the need should you want to run a 4 Way AMD bench rig but honestly I don't see 4 way benchmarkers running this board as the OC Force would give them much more bandwidth for hungry GPUs. This board is more for the 2D bencher and the single/dual card setups.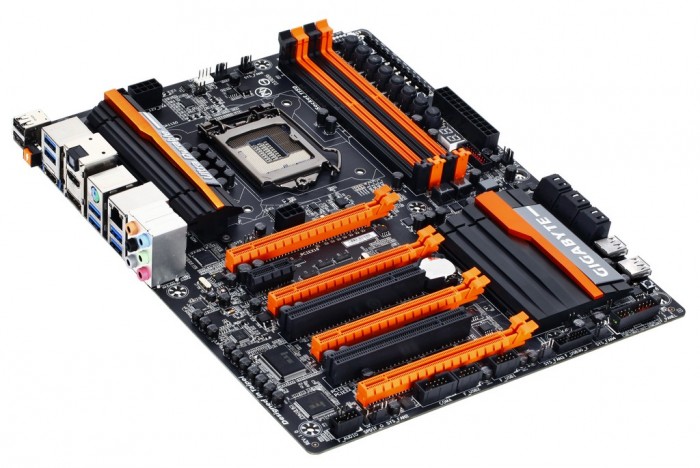 Click Image For a Larger One
The memory section is a dual channel 4 DIMM capable solution of up to a listed 32GB of officially supported capacity and speeds of up to and exceeding 3000MHz or 3GHz DIMM speed. This is very good and is possible via the new super strong Haswell memory controller, though do keep in mind that depending on DIMMs used and also strength of your specific IMC will be the ultimate deciding factor as to whether or not your system can actually run these speeds.
Click Image For a Larger One
The drive connections are plentiful as the Z87 chipset offers up to six drives at SATA 6G Speed capability. The full six are employed here as the Black ports. There are no additional controllers on this board as additional SATA is rightfully never used on a extreme benchmarking board and only adds extra system overhead which can cause some losses in performance and with a board like this you want it to be lean and mean.
Another cool feature we see here is the USB ports down near the SATA ports which I personally liked as I used it not only for flashing the BIOS since the IO panel faces away from me on my test bench but even capturing BIOS screenshots and even loading benchmarks or other programs all were done quickly from these ports without ever reaching around to the rear of the board.
The rear IO is quite stuffed with many connectivity options:
2x USB 2.0 ports
OC Ignition Button
6x USB 3.0 Ports
HDMI Port (x2)
Displayport Connector
Optical SPDIF connectors
PS2 Combo Mouse/Keyboard port
Gigabit LAN port
Up to 7.1 Channel HD audio via Realtek ALC892
The connectivity is plentiful and more than enough for the market this board has in its sights.
Click Image For a Larger One
The CPU fan connection you will notice has a secondary header which is pretty cool. This OPT header is designed for usage with either dual fan air coolers or even AIO units where the pump uses a fan header so that you can have the port run full power for the pump rather than hoping the onboard modulation doesn't slow the pump down and harm performance.
The "Overclockers corner" on the top right has onboard buttons to allow easy bench top usage and as we discussed before there is a plethora of controls here for everything from finite level of adjustments to recovery from a bad overclock. This corner literally has everything I can think of needing during a bench session even quick connector ports for voltage probing..
Click Image For a Larger One
Here you can see the main VRM which is quite nice fed by a single 8 pin and 4 pin supplemental CPU ATX connector and built from all IOR components.
The advantages to this configuration more than anything comes from the switch to digital control which as I said before allows for extreme accuracy and also control over the power circuits including voltage levels and output to the components. Also the efficiency of digital VRM has really been proven over time as it allows for much better power down of power phases to allow for less wasted power and heat generation by non loaded VRM components.
Click Image For a Larger One
Here you see the OC Brace in action once installed you can support 1-4 cards and locking them down with the included screws adds a level of rigidity to the GPU install that previously was left to chance and the possibility of board damage as GPUs with heavy cooling containers mounted were only supported by the PCIe slot.
Lastly you can see the board with 4 Way AMD cards ready to rip through some graphical benchmarks, and honestly I am quite intrigued and wish I had four AMD cards I could test the performance affect of this application versus a board with a bridge in place to see how much a current gen card would actually be bottle necked by the lower lane width available.