Introduction – Gigabyte Z87X-OC

Well we are now many boards deep into the Z87 line and now we got a new fun toy from the team over at Gigabyte. This is one of the OC Series boards, and yes I did say one of them as there are two different OC model boards the Z87X-OC and the Z87X-OC Force. The Z87X-OC Force is a full 4 Way sli and Crossfire model designed for overclocking and using a bridge chip to allow more PCIe lane availability to allow 4 Way SLI function.
The board we have today is the Z87X-OC which omits the bridge chip and Liquid cooled VRM area in favor of a much more affordable cost. The tradeoff however does mean you give up the ability to run more than two way SLI or Quad SLI with two dual GPU cards, but since AMD does not limit crossfire to a specific lane width you can actually still run 4 card crossfire on this board but the lower three cards will be running at x4 PCIe which means there could be a bottleneck there.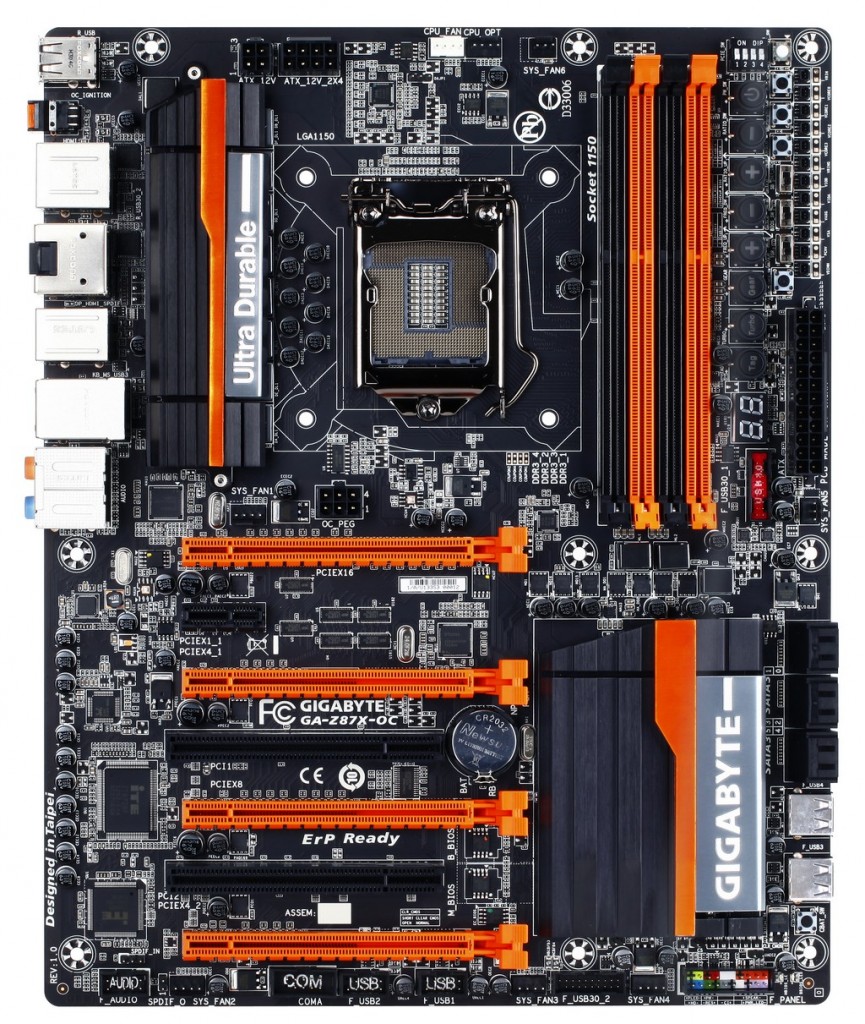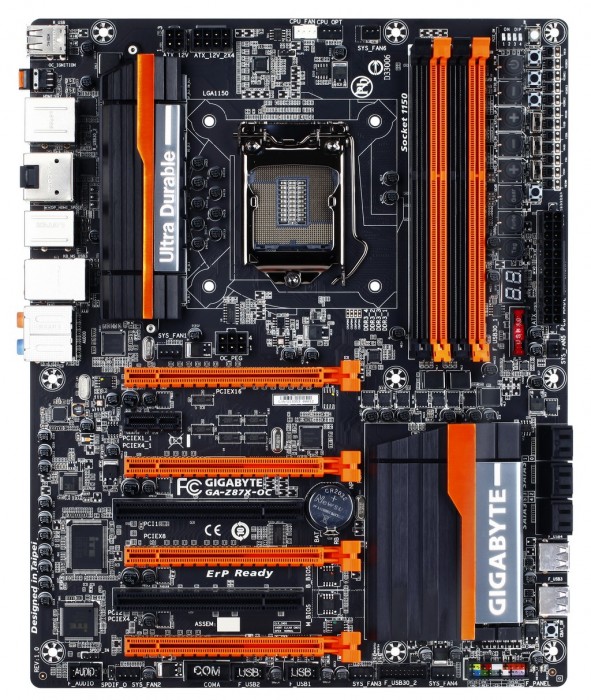 The board comes in at a price of $199.99 on Newegg, This is hugely competitive for a deeply overclocking based board and with some of its overclock features and capabilities I could see this being an amazing steal should you be a benchmarker looking to run mostly 2D benches or 3D on single/Dual card.
Features & Specifications
OC Features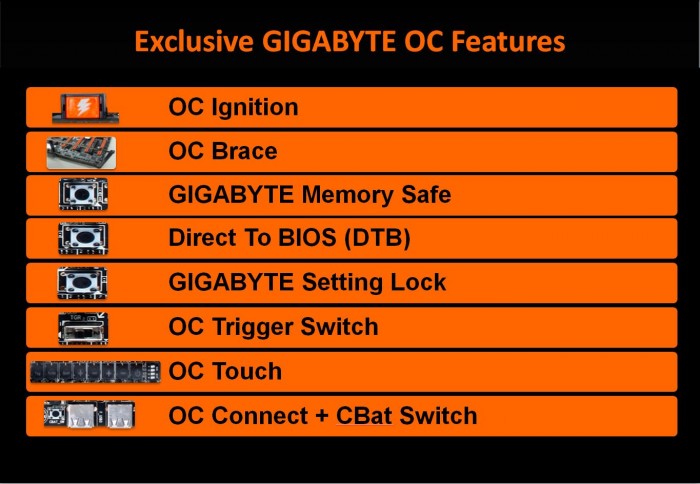 Here you can see even though this board hits under the 200 dollar mark it does not cheap out on features as there are many cool overclocking gadgets built onto the OC board just waiting for you to take advantage of to tweak and tune your way to hall of fame greatness.
OC Ignition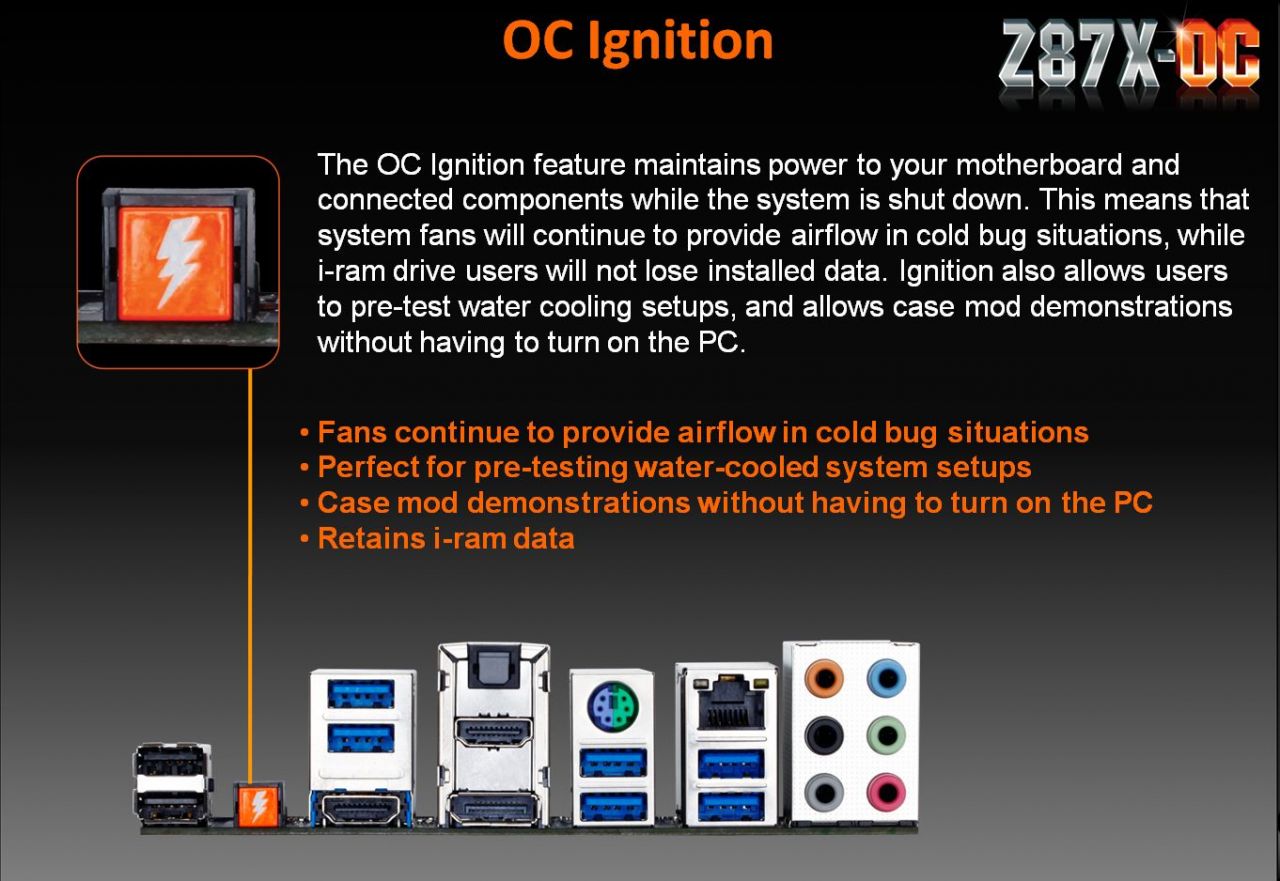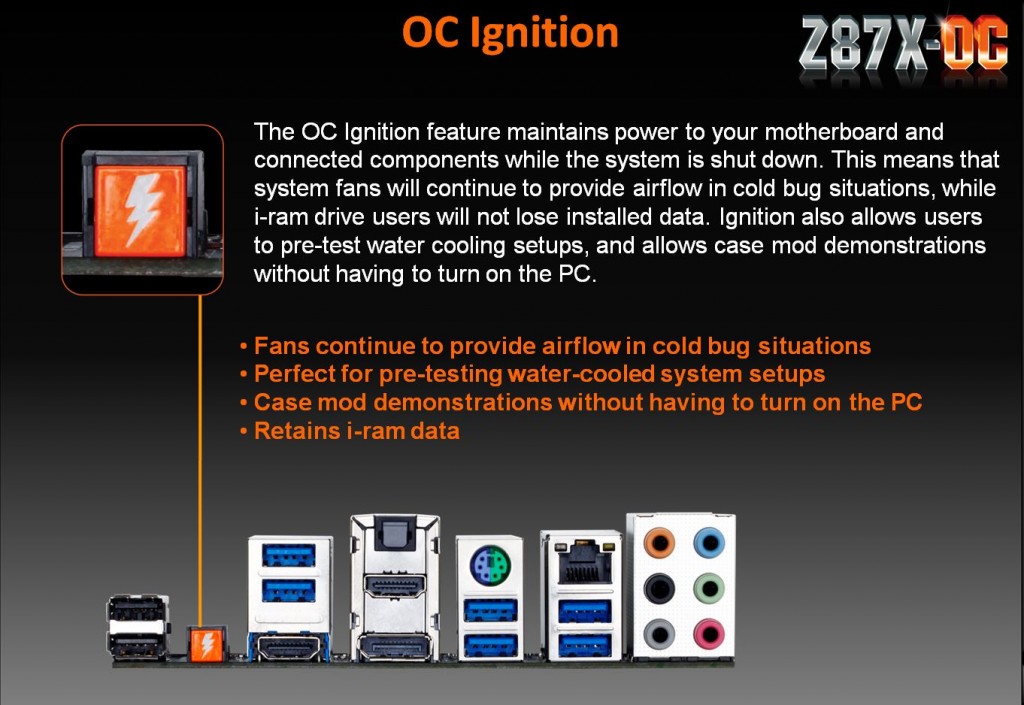 OC Ignition is very interesting as it allows full board power on to all components without the system actually powering on and one area that the Gigabyte documentation mentions which i really agree with is liquid cooling custom loops. Always when building a custom loop you have to hook everything up and jump the PSU to let the liquid cooling run while you leak test before completing the build and buttoning it up. With OC ignition you can press a button and everything is on except the critical components which means you can leak test as long as you need without worrying of an overheated CPU as the system is not actually powered on.
Another area that is huge is keeping the system live for cold but moments when the system may have to be warmed back up, frost will quickly grow on the board but by enabling the OC Ignition the fans will keep airflow moving ans minimize frost and resulting benching issues when pulling long subzero benchmark sessions.
Case modding is something I love and being able to demo your custom system including lighting and other items without the system being powered on is very cool and a nice usage for the OC Ignition function as it simply allows much easier setup without having to ensure the system is running with stability or even data security.
OC Brace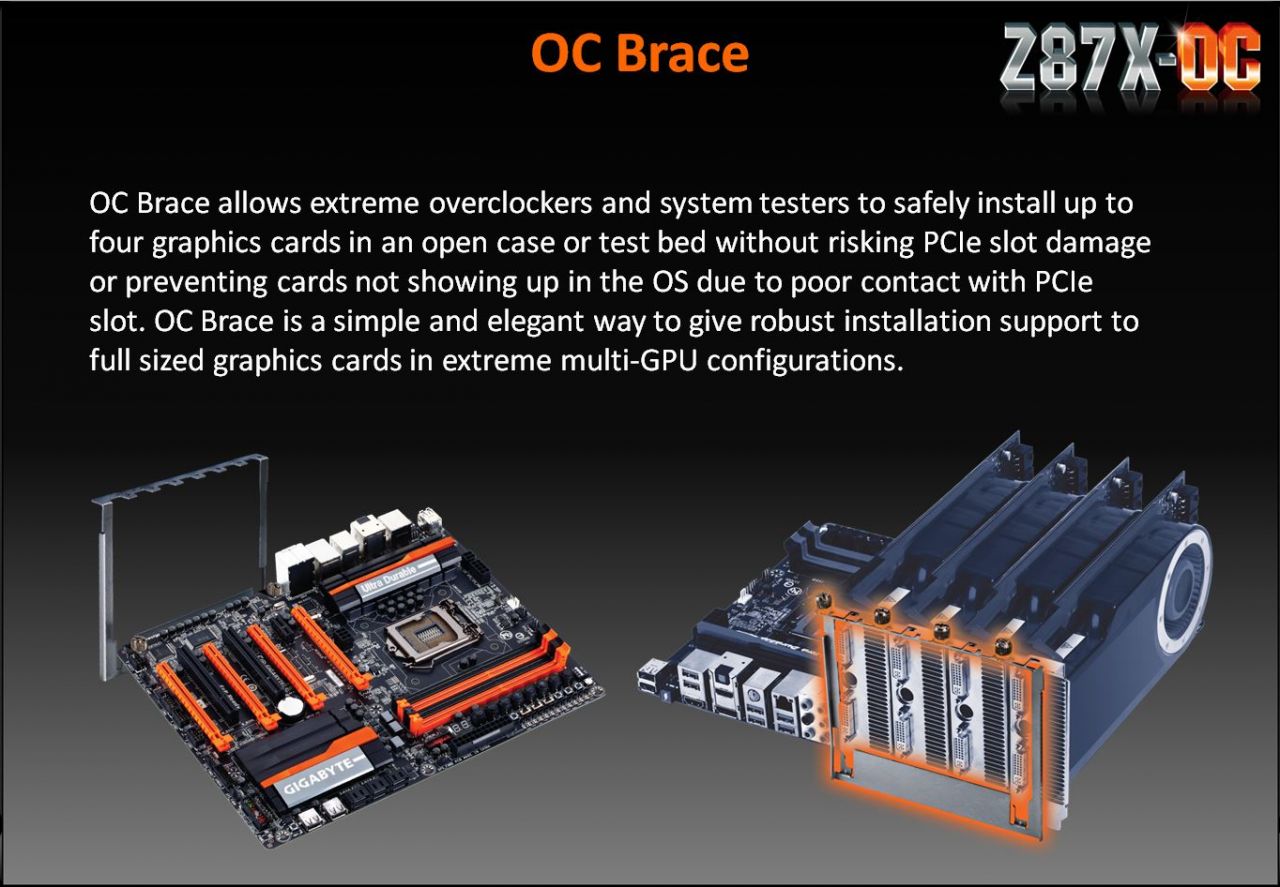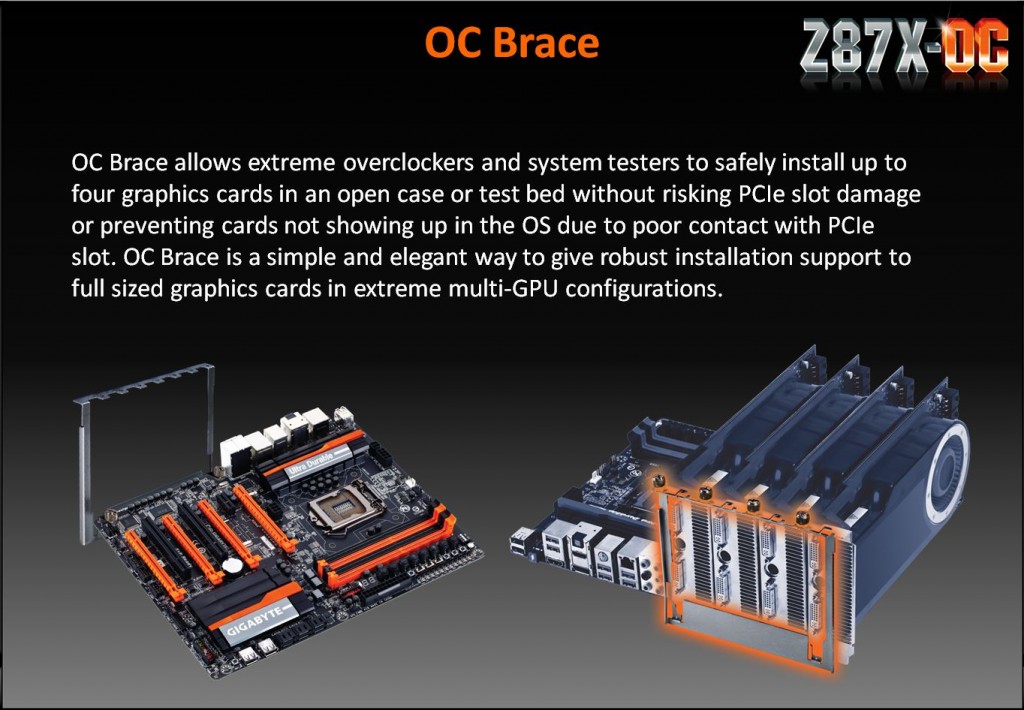 This honestly is something I cannot believe has not been done before. It is a simple idea and since I myself bench on LN2 I know the hassle of rubber banding pots on multiple cards together and just how much stress a card with a copper pot can put on a PCIe slot especially if it leans. Well with this brace it basically mounts to two points on the motherboard and allows graphics cards to now be stabilized by this reinforced brace. I actually could see myself using this on bore than just this board going forward, now I may have to check the rear of any board though since it comes with a brace that goes on the rear of the mounting points to stiffen it up for mounting and I dont want to short a board but at the end of the day this is just a really cool and innovative solution that I am very surprised is just now being met.
OC Touch
The OC Touch feature is the large collection of direct control buttons you see at the top right of the board near the DIMM slots. or "Overclockers Corner" as I have called it for some time now. These buttons are used for hardware level real time control of clocks via both Ratio and BCLK adjustments. There is even a button called "Gear" which scales the BCLK adjustment from 1MHz to .1MHz for even more granularity to your tuning once you start to reach the very edge of your overclocking limit.
Advanced OC Tools
There is so much more up here now as we dig deeper you see that the TAG button which is used after having to hard clear the board you can preload your OC settings from a profile quickly and easily without having to enter BIOS and reset everything.  there are multiple smaller buttons used for resetting, "memory safe mode" which reduces memory settings to allow booting should a memory problem arise or a setting be set just a bit too far to post. There is also a Direct To BIOS button which we have seen on quite a few boards which simply gets you into the UEFI quickly and easily without having to spam the DEL key. The settings lock button will save your settings even on a CMOS clear so that as you enter BIOS you will not have to recover you last bootable settings.
There are also many toggles on the board. firstly there is a pod of four white small dip switches used to quickly disable GPU slots so that diagnosis of GPU issues can be completed quickly and easily with minimal issues especially in the case of cards being liquid cooled or other forms of more extreme cooling where removing a GPU may be very difficult especially just for diagnostic purposes. Also a BIOS switch to allow toggling between Physical BIOS chips which can be used for testing a different BIOS or even having different BIOS with different profiles. Lastly there is an OC Trigger Switch which allow for a very low clock and tuning of the setting you need then you flick the switch and it ramps up to the set frequencies. this has been used for a bit now and some even use it for validations but I'm not sure I'm 100% onboard with validations you can only get for a microsecond, but honestly that's a discussion for another time as it does not in any way affect the function of this board.
Enthusiast Optimized Slot Layout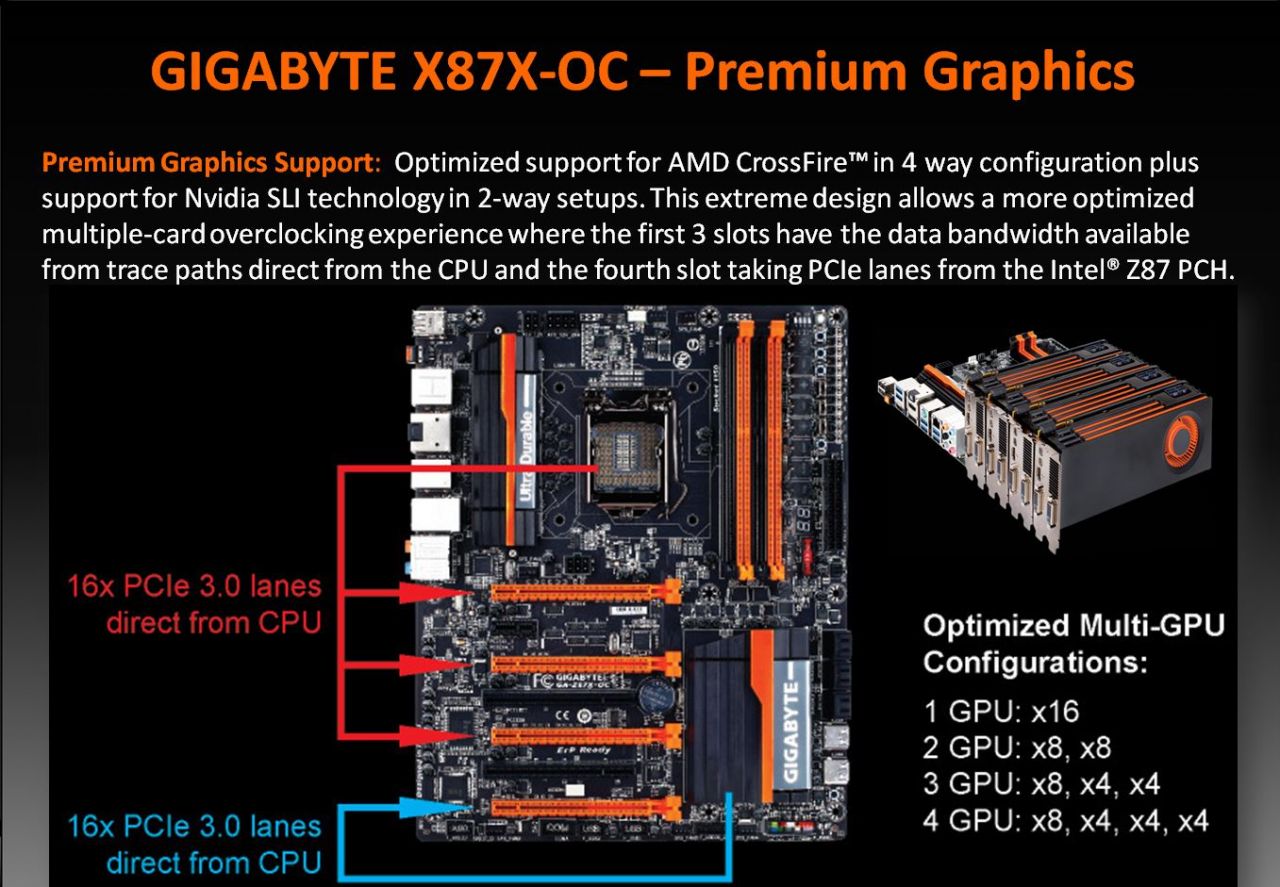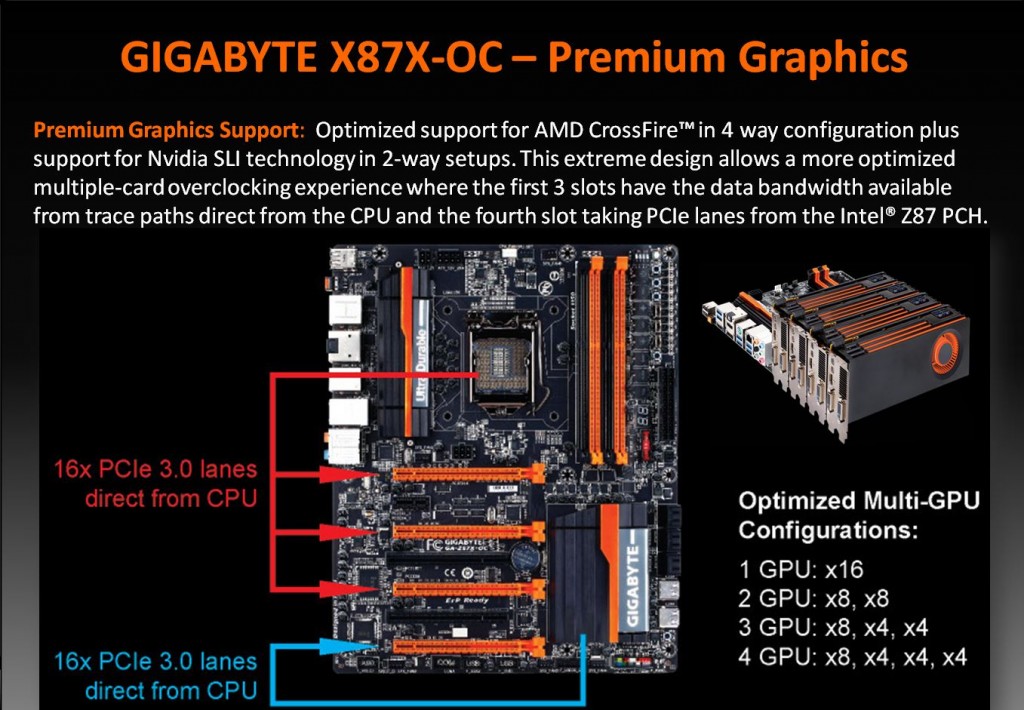 The slot layout is quite interesting since it does not use a bridge chip you have the standard 16 lanes from the CPU. with a single GPU in the primary slot you get a x16 slot, once you install a second you get two X8 slots and anything past that you keep the primary slot at x8 while the other three slots will be x4 width. One thing that I find interesting is that the bottom most slot gets x4 lanes from the PCH and since it communicates with the CPU via the DMI link I was not sure how it would work in relation to linking GPUs between the CPU lanes and the PCH but apparently it works and that has me impressed as this is yet another very cool innovation that I have not seen implemented in this way before which allows a 4 way card setup without the over 300 dollar or much more cost normally associated with such boards.
Ultra Durable 5 Plus
Gigabyte has been marketing the Ultra Durable line for awhile and many things have changed as more solid components and technologies have made their way into the lineup. some of these features are described below.
New Heatsink design
The new heatsink designs are made with a new design which I personally feel are great for aesthetics but also seem to cool the VRM and chipset rather well.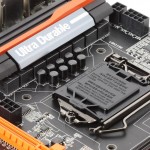 Here you can see the new heatsink design, not only is it functional but its quite clean and sexy looking compared to some heatsink designs we have seen recently. The reason we mention the appearance is that so many users are building high end windowed systems and you have to take motherboard appearance into account for those who want to show off their hardware.
All IOR Digital Power Design
Gigabyte originally was a naysayer of the digital VRM designs but they have come around–this adaptation of the popular IOR components for their digital power solutions has great performance. The Digital solution allows for finite adjustment and regulation of voltages under idle and load conditions, extra-fine granular tuning, and has features such as LLC and great power saving under lower load situations via finer voltage control which can be modulated actively in real time by the controller.
Here you can see the design of the IOR single package designs which allow for the driver, and low/hi side mosfets to all be integrated into a single IC which saves space and allows for a much better structure, layout and even the thermal output from such applications. The IOR PowerIRstage units are rated for up to 60A per unit for a massive power handling capability which in turn means your overclock ability will be far limited by your chip before it will ever find the VRM falling short.
Full black solid cap design
Here we see the Solid state caps which have been a staple of the Ultra Durable config for pretty much as long as we can remember. Now they have an all black design which first of all looks really good. Also, these caps have a 10,000 HR rating which means they have a lifespan rating 5X that of typical consumer product offerings and even 2x that of standard mainstream offerings.
High ESD Protection
Gigabyte wants to ensure that some of the weird customer induced issues such as ESD from unplug and replug of devices is reduced which they accomplish by extra ESD protection built into the rear IO panel ports to make sure the board should have a better chance of surviving small static shocks unscathed.
Ultra Safe Dual BIOS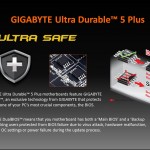 Here you see the safety factor in terms of the dual BIOS implementation and the fact that even if a single BIOS chip is completely hosed you can still boot off the other one and keep running without being dead in the water so to speak.
On/Off Charge 2
Gigabyte has made some improvement to their On/Off charge technology to support the latest and greatest mobile devices including those running iOS or Android, and they will charge even with the PC powered off via the PSU supplied standby voltage supply.
One Fuse per USB Port
We have seen this before from Gigabyte and we always thought it was a great idea as having a single fuse protecting a whole block of USB's means that if one device causes a fault, you could lose all of those ports, resulting in a severe loss of functionality. Gigabyte runs a single fuse per port so that if a device shorts or has an issue you lose only a single port and the malfunction is localized with less change of affecting other components.
Intel Gigabit LAN
Gigabyte includes Intel NIC on the 8 series boards which is a good move as Intel Gigabit NICs are known for their stability, performance and overall durability even under heavily loaded environments.
Software Suite
The Gigabyte Z87 boards this time around have a very well refined software suite with a much smoother and finished feel to them.
App Center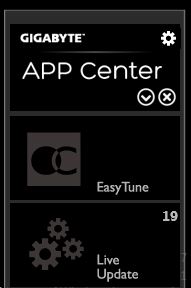 The App Center is where you can do quick updates or start the Easytune app. This is a cleaner looking interface and shows the design styling Gigabyte has chosen for its software. We can imagine being the App center this will be a constantly evolving App Drawer which will be used as a central point to launch new utilities as Gigabyte adds them to the suite.
Gigabyte refined the Easytune software to include all of the previous functionality but needless to say if you look at the screen captures it is majorly better when it comes to layout and appearance. Let's not forget that it is much easier on the eyes as well with a nice soft gray/black combo which adds to the smooth feel.
One thing definitely worth noting here is that the Easytune software can be changed to match different series boards with Orange for the OC series boards, Blue for standard and Green for the Killer/Gaming series boards, we think this is a cool addition as it adds a dose of not just functionality but also customization to the mix which many users will like.
The fan control is really cool now offering auto adjustments and tuning along side the standard manual adjustability to allow system tuning down to a very fine level to allow users to make the board exactly what they need it to be.
The ability to adjust everything down to phase control all within the OS and in this software makes it much easier to make small adjustment especially when overclocking without having to jump out to the BIOS with every little tweak.
Review Overview
Performance - 9
Value - 10
Quality - 9.5
Features - 9.5
Innovation - 9
9.4
The Z87X-OC is an amazing innovation from Gigabyte offering unprecedented value and features earns it the Bjorn3D Golden Bear Award