Back in January 2012 we reviewed the
Seagate GoFlex Satellite
, a 500 GB external hard drive that allowed users to connect to it wirelessly and then stream music, images and video to connected mobile devices. This time we are testing the latest version of the drive, the Seagate Wireless Plus, which not only comes with double the storage but also has a faster internal hard drive and updated software.
Specifications
| | | |
| --- | --- | --- |
| Specifications | Seagate GoFlex Satellite | Seagate Wireless Plus |
| Storage | 500 GB | 1 TB |
| Connections | USB3.0, WiFi (2.4 GHz) | USB3.0, WiFi (2.4 GHz) |
| Size (HxBxL) | 22.9×88.9×119.4 mm | 19.9x89x127 mm |
| Weight | 266 g | 256 g |
It is not easy giving the exact specifications of the Seagate Wireless Plus as Seagate does not tell us what drive they have put inside (and we do not want to crack it open), but as we will notice in the benchmarks there is a difference between this drive and the old GoFlex drive so it is obvious they have put something much faster inside.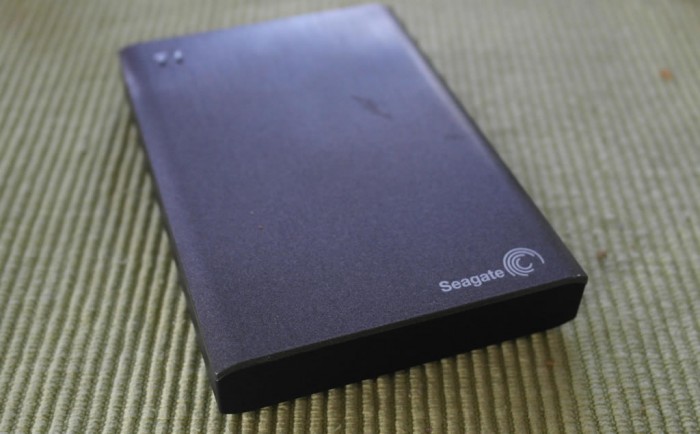 The drive looks like most other external drives from Seagate. The company keeps including a modular USB 3.0-connector which usually can be exchanged for other types of connectors. The older GoFlex Satellite now can be upgraded with a Thunderbolt connector but so far we have not seen any new modular connectors being released for the Wireless Plus yet.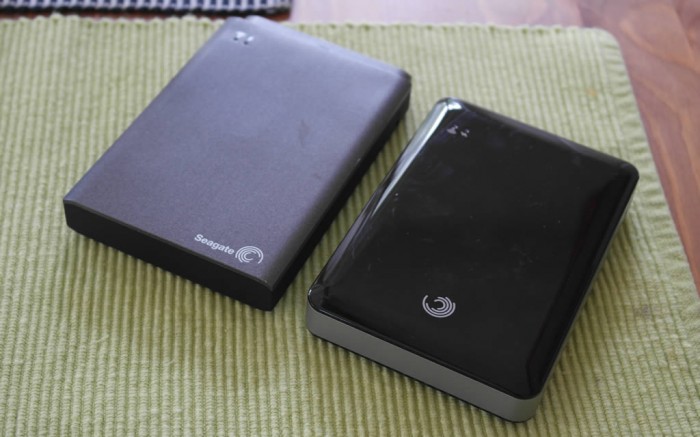 Seagate has reduced the thickness of the drive which makes it feel a bit less bulky even though it actually is a bit longer than its predecessor. The reduction of weight also helps.
The Seagate Wireless Plus only supports 2.4 GHz 802.11n. We definitely would have liked to see support for 5 GHz 802.11n to since that band is preferred when streaming media.
The hard drive can be charged using a regular USB connection to the computer or using the included wall-charger.
Functionality
It is not only the hardware that has been updated. The software has been updated with some new functionality and in many cases Seagate has fixed some of the things we did not like with the GoFlex Satellite.
The drive has the same basic functionality as the older GoFlex Satellite. It is a external hard drive that allows you to connect to to it wirelessly and then stream media from it to a phone or a tablet (Android or IOS). Up to 8 devices can be connected to it at the same time and share media and up to 3 devices can stream HD-video at the same time.
While the GoFlex Satellite could not act as a bridge between your device and a wireless network, Seagate has updated the Wireless Plus so it now can act as a wireless hub. We do however see quite a big drop in performance when doing this.
| | |
| --- | --- |
| | Speed (Mbit/s) |
| Galaxy Note 8.0 connected  through 5 GHz to the network | 58.5 |
| Galaxy Note 8.0 connected through 2.4 GHz to the network | 24.5 |
| Galaxy Note 8.0 connected through Seagate Wireless Plus | 9.8 |
The speed was measured using a service here in Sweden (Bredbandskollen) which allows us to measure the speed to a server close to our position. The connection to the Internet is through a 100 Mbit/s fiber-connection so there is plenty of speed available.
One thing we do not know from these results is where the bottleneck is. Is it between the connected device and the Wireless Plus, or between the Wireless Plus and the router? To test this we uploaded and downloaded files between our Galaxy Note 8.0 and the Wireless Plus. The speed we could measure was around 12-20 Mbit/s. This was not as low as what we measured using Bredbandskollen but still far from what we would expect from a 802.11n network. This speed-measurement is a good indication on what limits we will have when streaming video.
One new function and also a improvement over the older Seagate GoFlex Satellite is the fact that we can now not only download files to our device, but also take files on our device and upload them to the hard drive. This means we can use the Wireless Plus as a proper external storage, and for example use it to store images and other documents and files we want to back up.
One thing we did not like with the GoFlex Satellite was that it could not be used while it was charging, and unfortunately Seagate has not fixed that for the Wireless Plus. It is a bit annoying having to pause and charge if you are using the drive on a long trip.
Software
There is two ways of using the Seagate Wireless Plus. You either connect to the drive using the built-in web server and a web browser or use the native clients that are available for IOS and Android. The interface is pretty similar but the native clients are much quicker.
The web interface allows us to filter on file type as well as search among all files. We can choose to see the files in a list or as thumbnails.
The native apps are quicker and offer similar features as the web interface. The Android-app lacks the ability to create playlists which is present both in the web interface and the iOS app.
The iOS app has support for AirPlay while the Android-app right now lacks any similar support. Seagate has promised on their homepage that we will be able to stream to Samsung TVs soon but have not detailed how that will work. It could either be regular DNLA support which would mean that other TV's and devices also can benefit from it. What we would like to see is support for the new Google Chromecast.
Media Playback
While we are fairly limited on iOS as to what files we can play, Android is much more open and is only limited by what codecs are installed. We can even select to use another player instead of the Seagate app. We can set up so that the media is either just streamed or downloaded and streamed, something that saves battery time as it usually can download the file quicker than when it just streams it.
Before we can stream media we must get it to the Wireless Plus. This is done using USB 3.0. To test the speed of both the drive in the Wireless Plus and the older GoFlex Satellite we hooked both up to a 2012 Retina Mac Book Pro and used Disk Speed Test from BlackMagicDesign to measure the speed.
| | | |
| --- | --- | --- |
| Hard drive | Write speed | Read ppeed |
| Seagate GoFlex Satellite | 64.1 MB/s | 63.6 MB/s |
| Seagate Wireless Plus | 102.5 MB/s | 103.2 MB/s |
The new Seagate Wireless Plus is 60% faster than the older GoFlex Satellite both when measuring read speed and write speed. This is something that we notice when transferring large media files.
To test the streaming capabilities of the Wireless Plus we picked out a few of our own ripped movies:
Despicable Me, 1080p, 2.8 GB, mp4, variable bitrate with an average of 3.9 Mbps and a max bitrate of 25 Mbps. 6-channel AAC
Rise of the Guardians, 720p, 2.3 GB, h.264 i mkv, bitrate: 2.6 Mbps. 6-channel AC3.
The Hobbit, 1080p, 2.7 GB, mp4, variable bitrate with an average of 2 Mbps and a max bitrate around 10 Mbps. 2-channel AAC
Considering that we measured a transfer speed of around 12-20 Mbit/s when we moved files between a Samsung Galaxy Note 8.0 and the drive we can deduct that we might see some choppiness in video files where the bitrate goes over that limit. Seagate however does allows us to buffer and/or download the media file while we stream which helps since the bitrate in movies rarely stays the same unless we encoded it with a fixed bitrate and thus we usually have buffered enough of the movie to help us through parts of the video file with the high bitrate.
We streamed these three movies from a iPad Mini (using the built in player in the Seagate app), a Samsung Galaxy Note 8.0 (using the Archos Video Player) and a HTC One (using the built in player in the Seagate app). The movies were streamed to the devices all at the same time and we let the movies play from start to beginning just to make sure we would not see any audio sync issues later in each movie.
The result was pretty impressive. The movie "Rise of the Guardians" streamed without a hitch and we did not notice any choppiness during the movie at all (yes, we had all three devices lying side by side and followed the three movies at the same time). "Despicable Me" also played very well although we got a short period of choppiness in the beginning during an air battle. In "The Hobbit" we got some choppiness also in the beginning when the dragon attacks the dwarf city but after that that movie also streamed without a hitch.
Just for fun we tried playing a movie that we had ripped from a Blu-Ray without any compression. The movie was "Transformers 3: Dark of the Moon" and the file was 37.7 GB big with an average bitrate of 32.5 Mbit/s. As expected it was hopeless trying to stream this movie.
Bugs
During our extended testing period (~5 months) we encountered few bugs. The drive has been a companion on several trips and worked fine there. A short while ago we did however ran into a pretty serious bug as the built in software kept telling us that the "media process" was busy and that it still was indexing the content. What that meant was that we could not see any media files from either the web interface or the native apps. In the end we had to reformat the drive to get it to work again.
Hack the drive
If you feel that the functions that Seagate offers are not enough it is actually possible to hack the drive and add more functionality like a ftp-server, support for Samba as well as a iTunes-server. The site (http://www.hackseagatesatellite.com) sells ($35) a modified firmware that adds these functions and much more. The site also has videos showing how to open and change the built-in drive.
Why?
Considering that many mobile devices still support external memory cards and/or USB-OTG (of course Android only) you might wonder why you would need a drive like this? It is true that the Seagate Wireless Plus won't replace a memory card or a connected USB-drive. Instead it aims to fill other needs. If you for example are going on a long trip and want to bring all your music and your movies/TV series collections, a external memory card might not have room for it all. And if you on that trip have a bunch of kids with you that want to watch different things on their devices then being able to store everything on one device and let them all stream from it is really nice.
This drive traveled with me to the US earlier this year and was filled with ripped TV-series that we had not had time to watch. By putting everything on this drive we could choose what to use to watch them. In the hotel it was the laptop, on the big flight to the US it was a iPad and on the more cramped plane we used a phone.
Summary

The Seagate Wireless Plus is a good update to the GoFlex Satellite. The drive is much faster than its predecessor and we like the new functionality including the ability to use it as a wireless bridge and that we can upload files to it. We had no problems streaming to it from multiple devices at the same time even when the movies was in HD. It would have been nice with a bit more speed though since the limited bandwith means we need to make sure video files do not have a to high bitrate.
The fact that it is possible to upgrade the drive with a hacked firmware that almost makes this into a small portable NAS is just the icing of the cake.
Pros
Cons

Fast USB 3.0 connection
Can handle multiple HD streams without any problems
Can function as a wireless bridge
Software not allows us to upload files from connected devices
Modular connection adapter making it possible to upgrade to other interfaces (ie Thunderbolt)
Firmware is hackable

Only 2.4 GHz wireless connection
Speed degradation when using it as a wireless bridge
Android-app lacks support for playlists
Has problems with high-bitrate content (>25-30 Mbps)
Review Overview
Performance - 90%
Value - 75%
Features - 80%
The Seagate Wireless Plus is a fast external drive that can stream media to many devices at the same time without breaking a sweat. With the new features and the increased storage it is a great update to the old GoFlex Satellite.