Testing & Methodology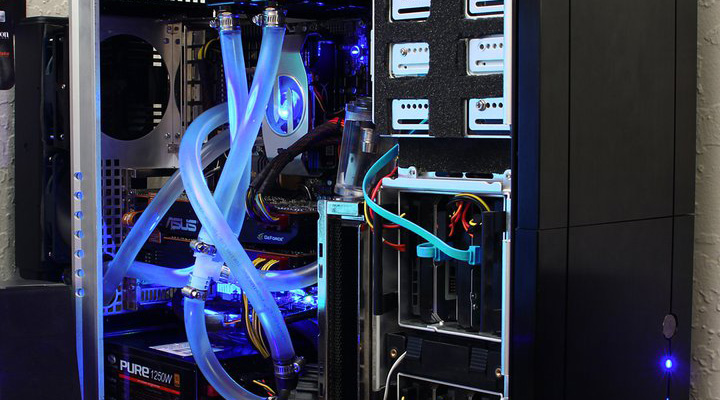 We've expanded our testing suite considerably since the X79 chipset release, and will continue to use the same methods for most of the motherboards and CPU's we test. In the interests of thoroughness and accurate results, we run each test at least three times, and some tests more than that. We average the total of all the tests from each benchmark then report the average here.
The OS we use is Windows 7 Pro 64bit with all patches and updates applied. We also use the latest drivers available for the motherboard and any devices attached to the computer. We do not disable background tasks or tweak the OS or system in any way. We turn off drive indexing and daily defragging. We also turn off Prefetch and Superfetch. This is not an attempt to produce bigger benchmark numbers. Drive indexing and defragging can interfere with testing and produce confusing numbers. If a test were to be run while a drive was being indexed or defragged, and then the same test was later run when these processes were off, the two results would be contradictory and erroneous. As we cannot control when defragging and indexing occur precisely enough to guarantee that they won't interfere with testing, we opt to disable the features entirely.
Prefetch tries to predict what users will load the next time they boot the machine by caching the relevant files and storing them for later use. We want to learn how the program runs without any of the files being cached, and we disable it so that each test run we do not have to clear pre-fetch to get accurate numbers. Lastly we disable Superfetch. Superfetch loads often-used programs into the memory. It is one of the reasons that Windows occupies so much memory. Vista fills the memory in an attempt to predict what users will load. Having one test run with files cached, and another test run with the files un-cached would result in inaccurate numbers. Again, since we can't control its timings so precisely, it we turn it off. Because these four features can potentially interfere with benchmarking, and and are out of our control, we disable them. We do not disable anything else.
One thing to note is that we are revamping our testing method in order to better represent motherboard performance and offering to you guys the consumer. Also we want to make it an easier read for you without miles of endless charts. Please feel free to provide feedback on what you think as many benchmarks will be shuffled or removed completely.
Test Rig
Test Rig
Case
Thermaltake Level 10 GT
CPU
Intel Core i7-4770K
Motherboard
ASUS Maximus VI HERO
Ram
Gskill TridentX 2666MHz
CPU Cooler
Swiftech H20-220 Edge
Hard Drive
Western DIGItal Velociraptor 300GB
SSD
Intel 510 series SATA III 120GB
Optical
ASUS BD-ROM
GPU
ASUS GTX680 Top
Additional Cards
N/A
PSU
Thermaltake Toughpower XT 1275W Platinum
Mouse
Tt eSPORTS Black gaming mouse
Keyboard
Tt eSPORTS Meka G1 mechanical gaming keyboard
Test Suite
We will use the following applications to test the performance of the Motherboard
Benchmarks
SuperPi Mod 1.5
Wprime 1.55
PCMark 7
3DMark 11
Cinebench R11.5
X264HD
Truecrypt 7.1
Unigine Heaven 4.0
Metro 2033
Batman Arkham City
Sniper Elite V2
Overclocking

The Z87 Platform is a totally different animal in terms of overclocking here. The Haswell Processor (4770K in this case) can run very hot when clocking which means you gotta have some good cooling if your pushing the limits. Luckily for us, we have access to everything up to LN2 to test with but in reality as most users reading this will never venture that far past liquid cooling we try to keep it rather pedestrian in comparison with a custom 240mm radiator liquid cooling setup. It has worked very well with SB, SB-E, IVB and so on, but we must say Haswell definitely put it to the test.
Raising the multiplier is your quickest way to overclock the CPU which with some small voltage tweaks we were able to get to my testing speed of 4.6GHz and with not a huge amount of voltage but it should be noted that even at 4.6 which we consider to be a modestly high overclock for 24/7 usage it definitely runs much hotter than Ivy Bridge (3770K) and mind you that is to no fault of the board but more so to the design of the CPU itself in which you get the extra thermal dump.
The Maximus VI HERO had no issue whatsoever getting to our test speeds and even higher but since most users will not be pushing insanely high speeds we stick to our quite high 4.6 clock as that will be found to be a happy spot requiring not much voltage so that most high end air coolers or AIO liquid coolers shoudl be able to keep it running well.
The lack of Memory presets could be problematic to some if your really looking to push memory, but most who will be pushing memory will knwo their settings to begin with so I see it as being a possible annoyance but nothing more.
The ability to hit 4.6GHz in literally less than a minute with just a quick and dirty overclock tells me that most could easily pull it off and a bit of tweaking things down and time tuning you can have this running noice and cool possibly even close to stock if you have a willing chip that is.
The HERO carries the ROG namesake well with good overclocking capability and more settings than you could shake a stick at.
Important note: Overclocking can cause component failure.  Please exercise caution when attempting any level of overclock on system components.
Temperatures

The temperatures were recorded with RealTemp while running wPrime 1024 right before the end of the 5th run. The results were recorded carefully. After the results were recorded, we waited for 30 minutes before taking Idle temperature measurements. The results were as follows:
| | |
| --- | --- |
| CPU Temperatures | Temperature (Idle/Load) |
| ASUS Maximus VI HERO OC (4.6GHz) | 33C/70C |
| ASUS Maximus VI HERO | 30C/60C |
| Chipset Temperatures | Temperature (Idle/Load) |
| ASUS Maximus VI HERO OC (4.6GHz) | 35C/40C |
| ASUS Maximus VI HERO | 29C/35C |
The reason temps may look a little lower than seen elsewhere online is that We are using a custom liquid cooling loop compliments of Swiftech which helps us reach an area of much higher headroom for overclocking and performance testing.
Power Consumption

The power consumption was tested while running Wprime 1024 for a few minutes at stock settings. The results were recorded carefully with a Kill-A-Watt power consumption measuring tool at the wall. After the results were recorded, we waited for yet another few minutes minutes before taking Idle power consumption measurements.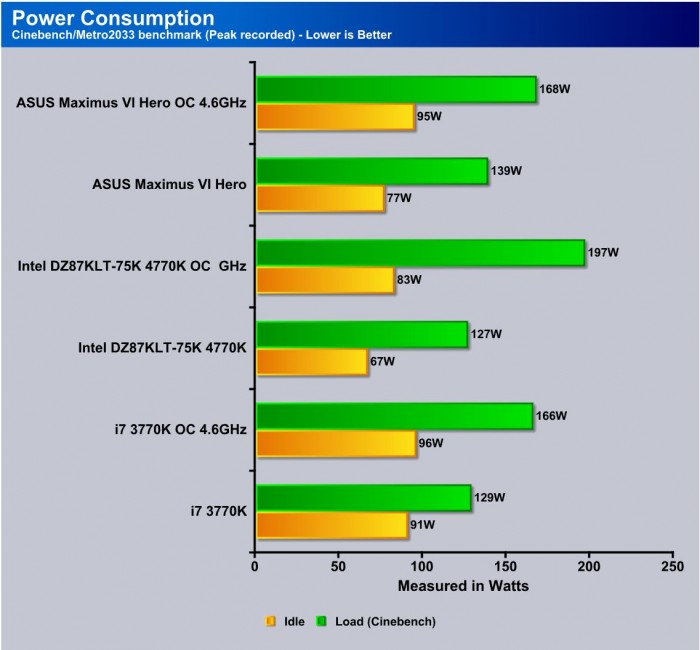 The power consumption is measured without a GPU installed but the iGPU loaded to see what the best representation of peak power consumption you can expect. Do note the HERO pulls a bit more than the Intel stock setup but then again you have alot more going on with this board and therefore it pulls a bit more due to so much being built on to it.
Performance Benchmarks
PCmark 7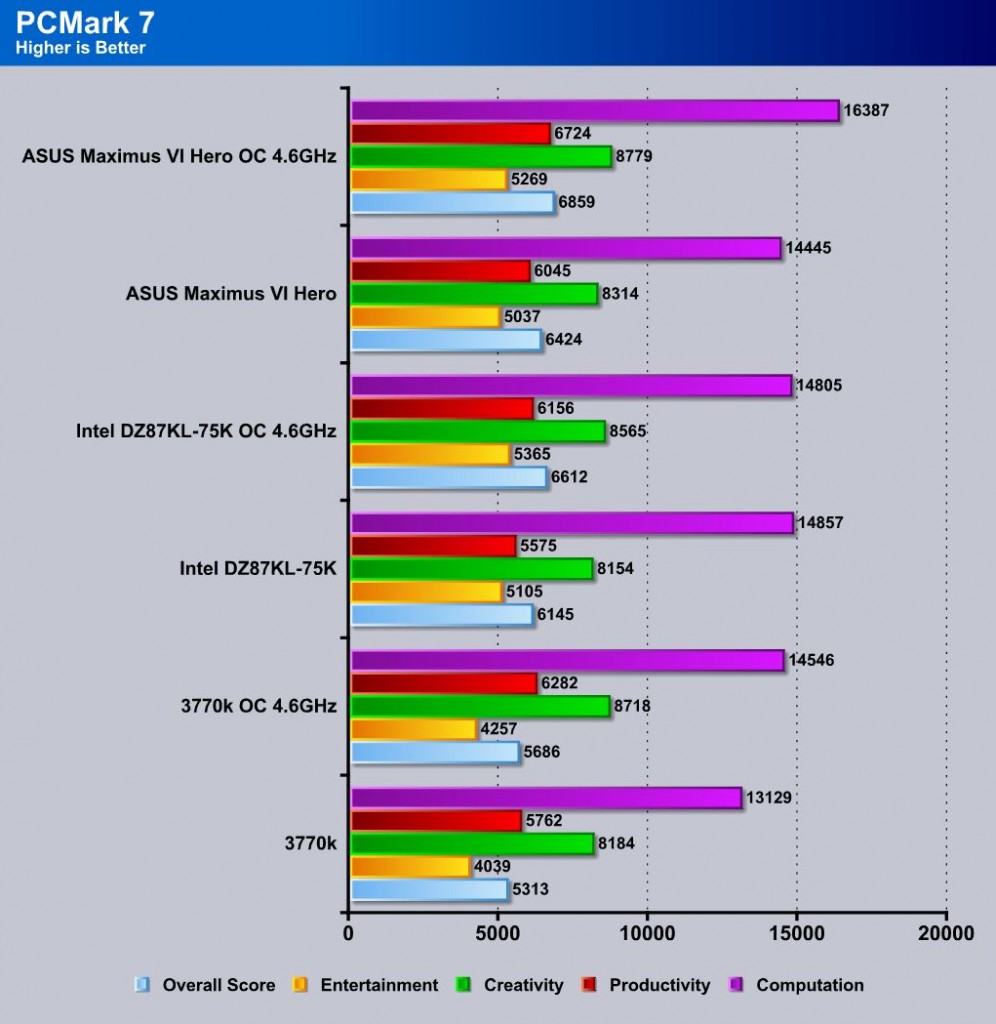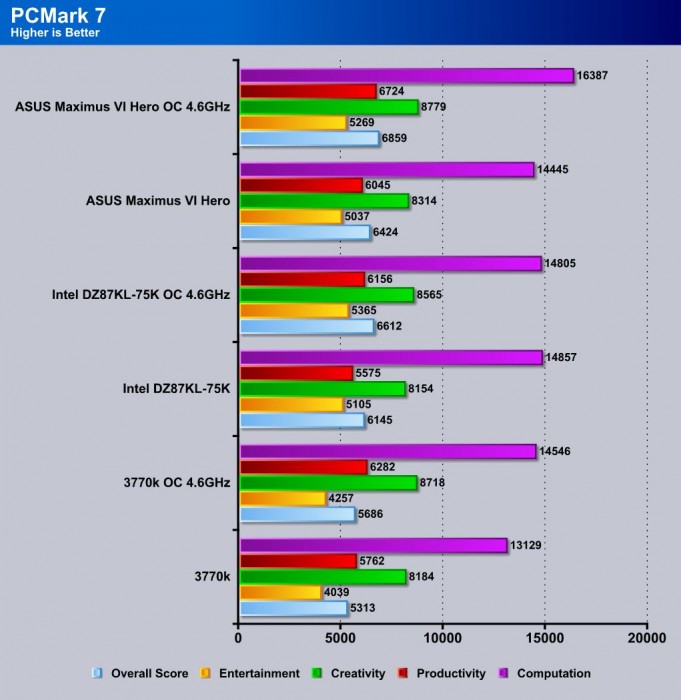 Here with PCMark 7 you can see similar to the extreme board performance tuning is very strong and results easily exceed the Intel stock platform.
3DMark 11

Discrete GPU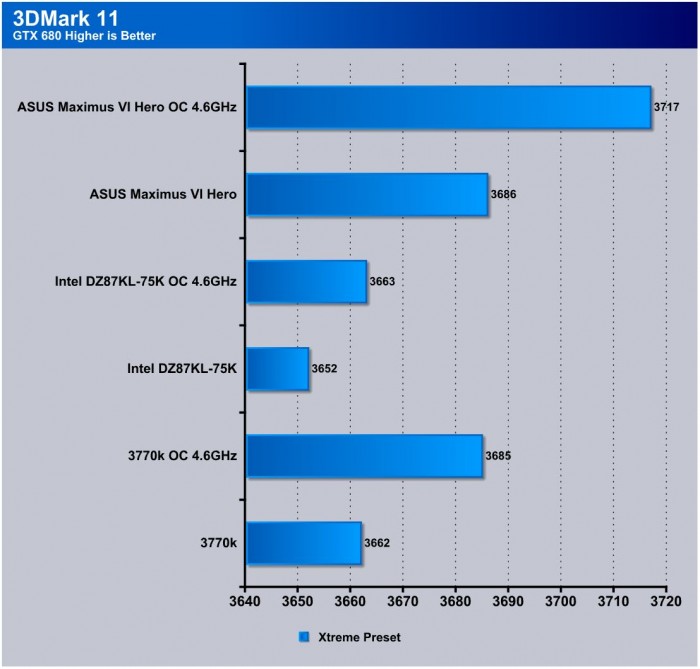 Here you can see that overall the HERO is strong as well and knocks out the previous gen Z77 and Intel Z87 platform.
SuperPi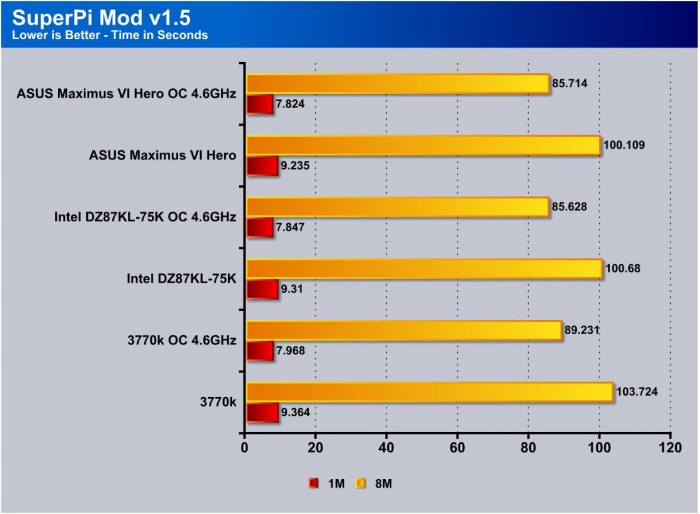 The HERO does very well here as new BIOS updates seem to really be bringing the performance forward. As the Maximus VI Extreme was right at launch time and therefore the BIOS like on every board we saw was not to the level we see now due to last minute MRC changes from Intel so as you can see here things have changed and ASUS picked up some definite efficiency here.
Wprime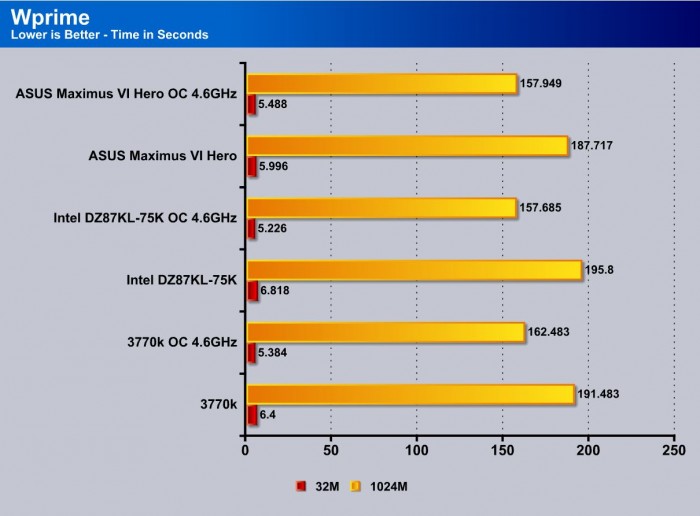 WPrime is similar to Superpi, but is multi core aware and you can set the core count. We used 8 cores to take advantage of the 4770K's HyperThreading ability. Here once again we see the efficiency boding quite well for the maximus board especially at stock default speeds.
Cinebench R11.5
"CINEBENCH is a real-world test suite that assesses your computer's performance capabilities. MAXON CINEBENCH is based on MAXON's award-winning animation software, CINEMA 4D, which is used extensively by studios and production houses worldwide for 3D content creation. MAXON software has been used in blockbuster movies such as Spider-Man, Star Wars, The Chronicles of Narnia and many more. MAXON CINEBENCH runs several tests on your computer to measure the performance of the main processor and the graphics card under real world circumstances. The benchmark application makes use of up to 16 CPUs or CPU cores and is available for Windows (32-bit and 64-Bit) and Macintosh (PPC and Intel-based). The resulting values among different operating systems are 100% comparable and therefore very useful with regard to purchasing decision-making. It can also be used as a marketing tool for hardware vendors or simply to compare hardware among colleagues or friends."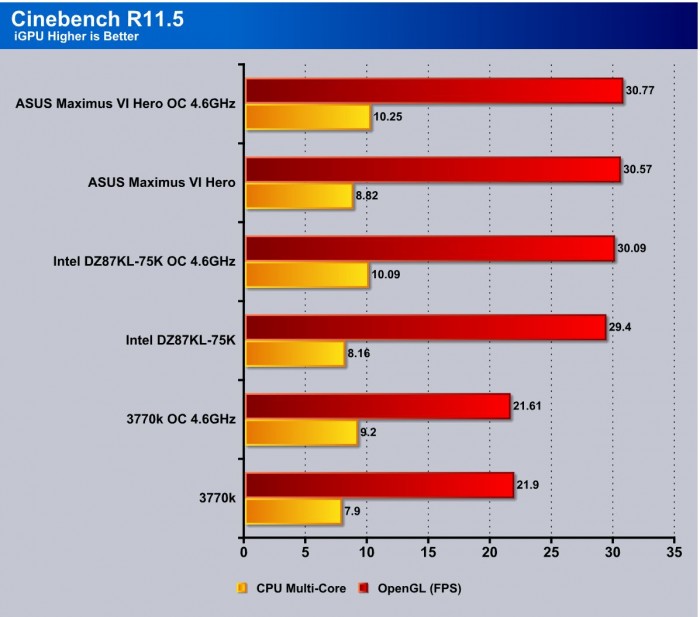 Here you can see where the high-end rendering work can be done. There are some definite improvements on the x86 processing, but when looking at the OpenGL rendering, you see almost a 30% increase, which is very good and speaks highly for what the HD4600 is capable of.
X264HD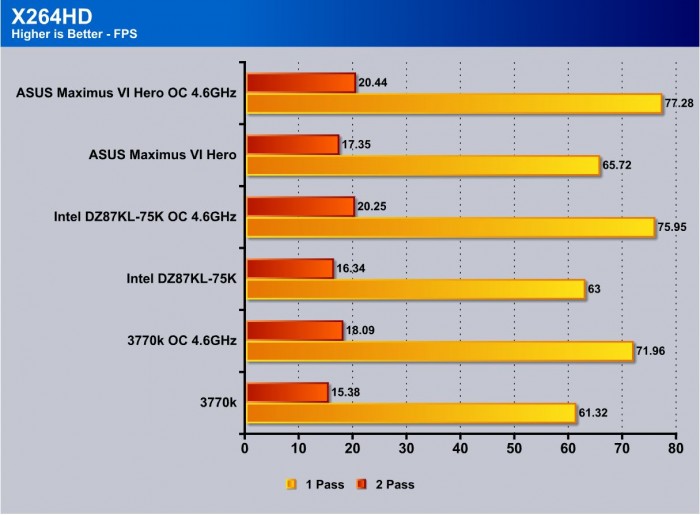 Transcoding has become more popular now and the latest Sandy Bridge processor added support for AVX instruction for faster video transcoding. With that you can see that going from Ivy Bridge to Haswell can net you some very good gains, especially a 2FPS gain on 2 Pass. This tells us that overall optimizations to the new platform are present and working very well.
Truecrypt 7.1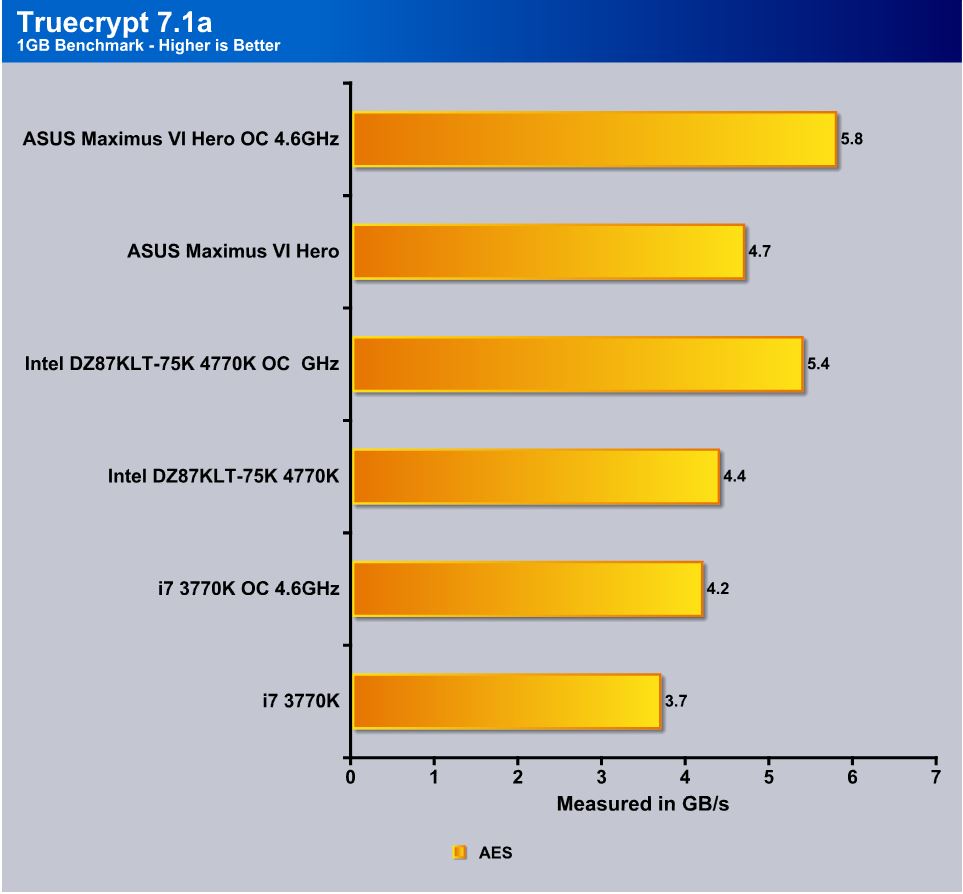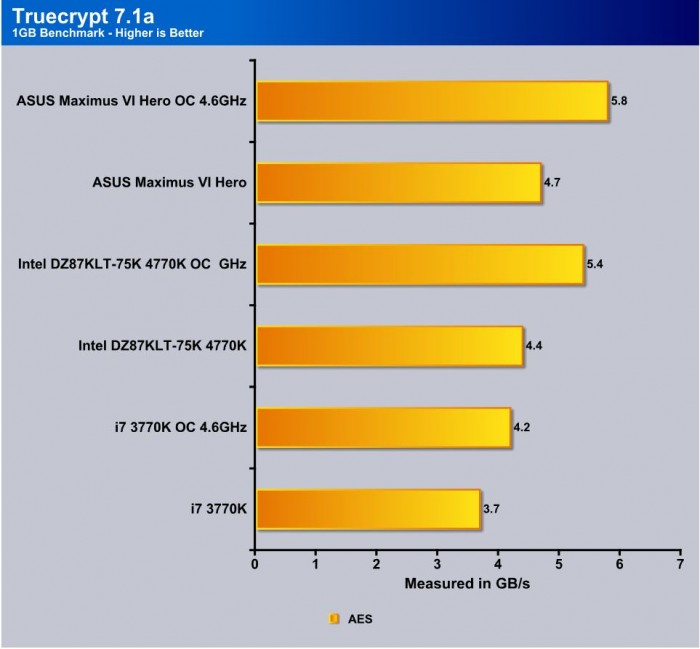 TrueCrypt is a real world application that gives a good indication of the true performance of our latest processor. Here the new Core i7 4770K puts some definite room between itself and the outgoing 3770K with over a 22% performance increase, which means in the same time you can get a lot more work done.
Unigine Heaven 4.0

Unigine Heaven is a benchmark program based on Unigine Corp's latest engine, Unigine. The engine features DirectX 11, Hardware tessellation, DirectCompute, and Shader Model 5.0. All of these new technologies combined with the ability to run each card through the same exact test means this benchmark should be in our arsenal for a long time.
Discrete GPU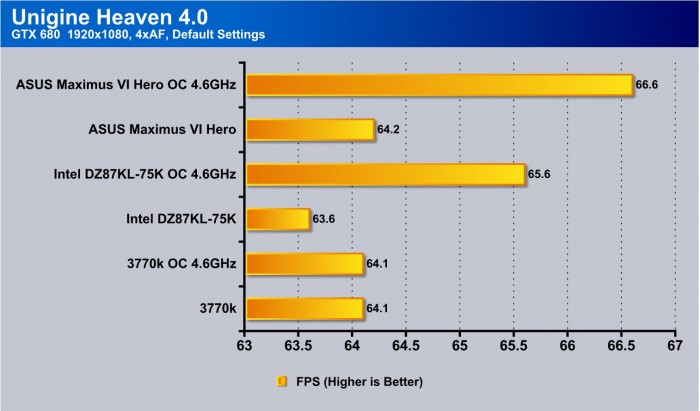 Unigine Heaven on a discrete GTX 680 gains about a single FPS, probably just due to the expanded performance with the overclock. For the most part, however, recent platforms are so efficient that there simply is no bottleneck for current gen card models.
Metro 2033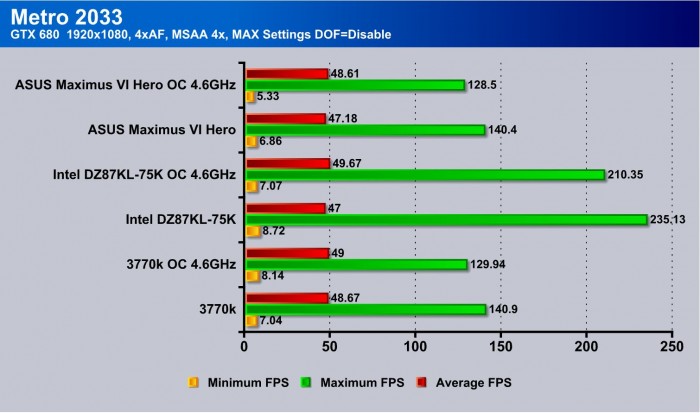 Once again, Metro 2033 shows that discrete GPU performance is relatively unaffected, simply due to the fact that there is already so much unused bandwidth available.
Batman Arkham City
Discrete GPU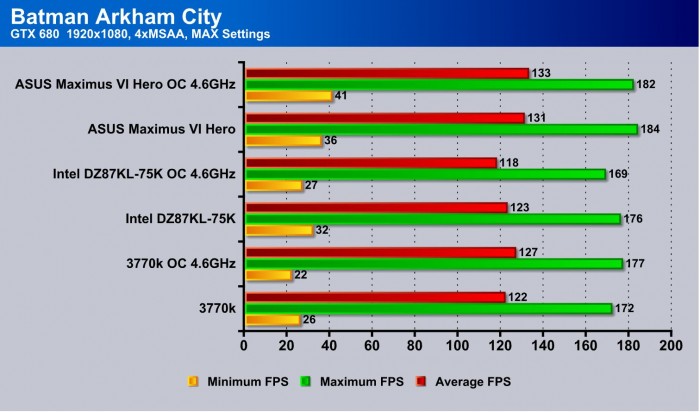 Discrete GPU results once again hover without huge movement as the bandwidth is unsaturated for PCIe 3.0.
Sniper Elite V2
Discrete GPU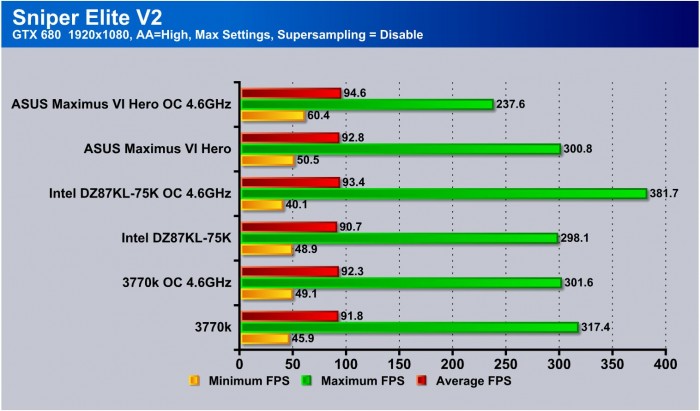 The overall trend here is the same as for the other discrete GPU results, though the addition of the Maximus board yields a bit higher minimum framerate due to the performance optimizations.
Our Final Thoughts

ROG has come to the plate in the Z87 game sporting multiple board models to allow even more granularity to the lineup. The fact that there will no longer be just a few models (Extreme, Formula, Gene) and now has grown to 5 boards.
ROG with its ever growing innovations always impresses with feature sets and this time around the Digi+ VRM gets a nice little shot in the arm with new components and even better performance to match the Z87 architectures ability to run extremely well while saving even more power.
The included ROG RAMDisk and SSD Secure Erase are very cool tools in their own right to give you great performance and the Secure Erase makes sure you keep getting great performance.
The new UEFI options such as the quick notes and even previous change logs I see as cool being a overclocker it is nice to not have to write down or keep finite details on every change since you can see them right in the BIOS.
The HERO while not everything that the Maximus Vi Extreme comes out to be it comes in at a much more reasonable price tag so that gamers looking for some great overclocking and performance along with compatibility up to dual card setups really have no reason not to snatch this board up in a big hurry.
This board for its performance, features and just looking awesome in the process deserves a top pick amongst high end gaming boards especially with a very sweet price.
The Pro's:
Cons

Intel Gigabit LAN
High end SupremeFX audio solution
Super Strong Digi+ III VRM components
Extensive IO connectivity
new clean UEFI with cool feature set
Newly designed software
Black caps work and look awesome
Onboard header for OC Panel
T-Topology V2
SSD Secure Erase
ROG RamDisk
Review Overview
Performance - 95%
Value - 90%
Quality - 100%
Features - 95%
Innovation - 95%
The maximus VI HERO is a collaboration of everything that makes ROG great, and from it comes an insanely capable gaming board. For this it earns the Bjorn3D Golden Bear Award