Overview of the ASUS Maximus VI Hero
Click Image For a Larger One
The packaging is all ROG red is the key here with subtle geometric bacground designs to keep it from being boring. One thing I think ROG has always done well is the minimalists design when it comes to the front panel as it just feels clean and eye catching without feeling cluttered. This is accomplished via a opening front box panel.
Once opened yu have a window to see the board and also on the flap many key feature explanations so you see what makes the ROG boards or this specific HERO model a good choice for your system build choice.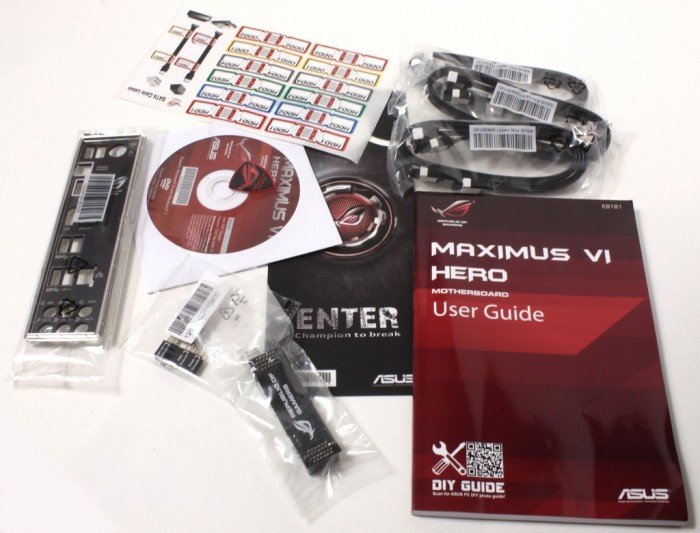 Click Image For a Larger One
Here we see the complete accessories included.
SATA Cables
Qconnect front panel connectors
IO Shield
ROG Door Hanger
SLI Ribbon Cable
Cable labeling Stickers
Installation disc
Owners Manual
The accessories are more than enough to get the board setup and even the cables labeled for easy identification when maintaining.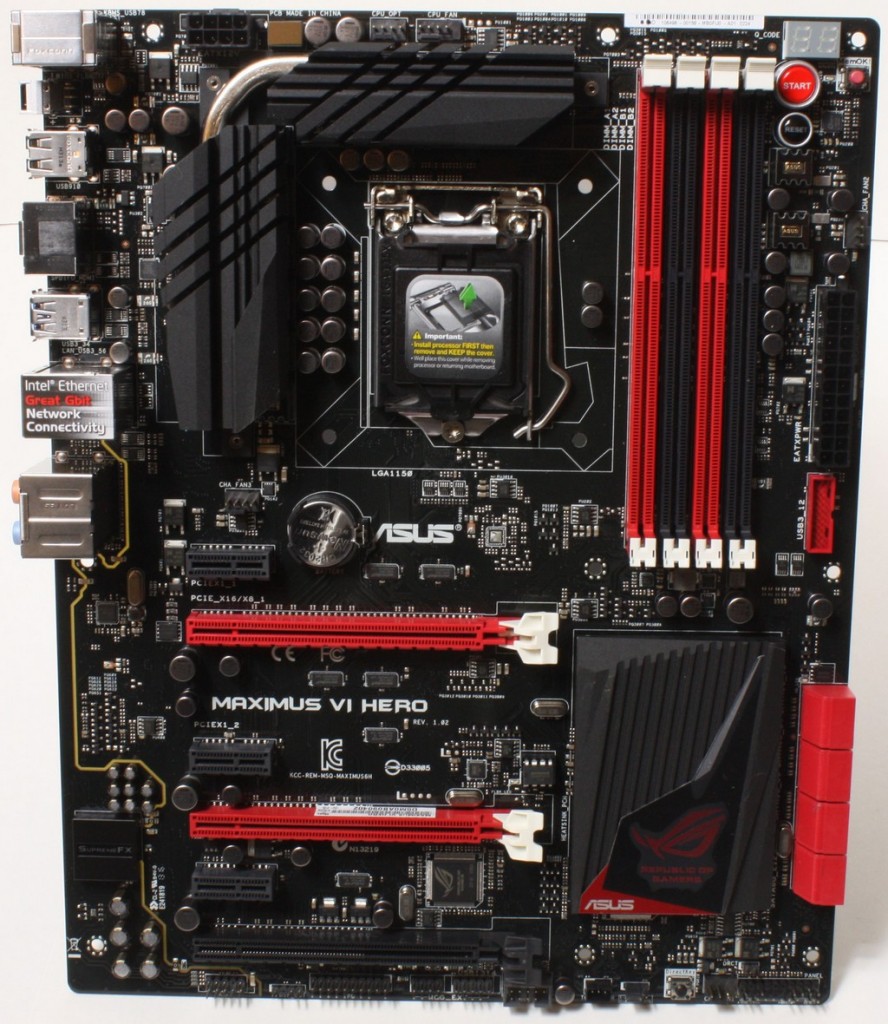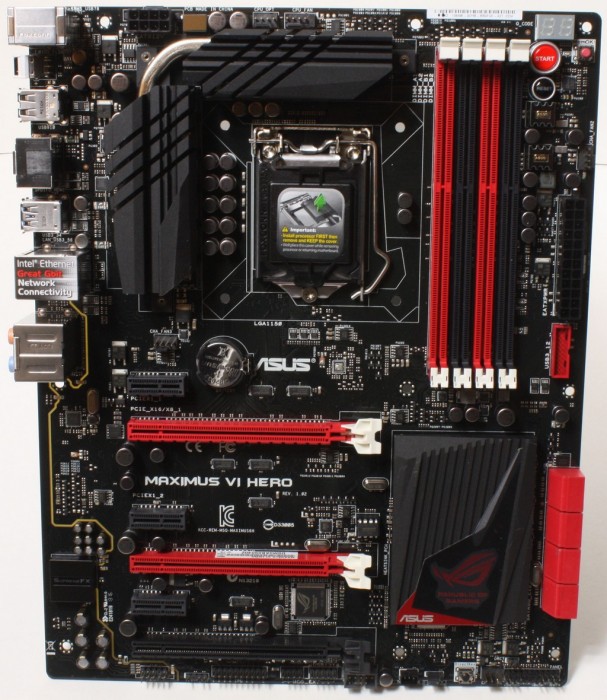 Click Image For a Larger One
Here we see the actual layout of the board. The slot layout is good for dual Triple slot GPU's or even dual slot GPUs with a nice air gap to keep them running even cooler. the connectors in typical ROG fashion are all at boards edge to ensure that no matter what cabling should not be a clutter and everything can be presented nicely to show off the prize board inside. Overall the Red/Black theme while some may say it is worn out I still feel is done well enough in ROG that it simply holds attention and always makes for just a awesome looking board capable of even some of the best case mod designs or just an awesome looking gaming rig.

Click Image For a Larger One
Looking at the IO it as well as the board is stuffed quite well with features.
PS2 Combo KB/Mouse port
USB BIOS Flashback Button
4x USB 2.0 Ports
Intel Gigabit (10/100/1000) LAN Port
4x USB 3.0 ports (4x Intel Z87)
Optical S/PDIF Port
HDMI Connector
8 channel SupremeFX powered audio connections
As you can see here there is plenty of connectivity here but I do wonder why there was only a single HDMI connection and not at least a Displayport on the IO as well.
Click Image For a Larger One
This board supports dual triple slot or dual slot GPUs which means that even with much thicker triple slot cards space was put in place for this. However as more common dual slot cards are used this gives you a sizable air gap to allow for much coooler running cards under heavy gaming loads. Also a 3rd slot running at PCIe Gen 2 speeds from the PCH allows for HBA or other add in cards for  a more complete gaming rig as needed based on your specific needs.
The memory interface uses T-Topology V2 as ASUS was the first to introduce the T-Topology memory trace layout design they improved it further for not only single DIMM but even Multi DIMM performance for up to 5% better performance under fully loaded scenarios. This goes back to what I said during Z77 and the new T-Topology at the time as we all knew Haswell was coming and with it extreme memory capabilities so ASUS simply used the memory performance of the Ivy Bridge components as a test bed to fine tune the trace layout for the upcoming and now here HJaswell lineup which now uses the optimized T-Topology V2. This is a more efficient trace layouyt design which overall help with optimized signaling for the memory and better overall performance from the system.
The SATA interface is 8 ports all capable of up to SATA 6G speeds, the primary being the Intel Z87 PCH supporting 6 full speed ports and also there are two more ports fed by the ASMedia ASM1061 controller which cannot raid or communicate with the Z87 PCH ports so these would be for a standalone storage setup.
Click Image For a Larger One
The VRM uses a 8 pin CPU ATX power connector to feel the hungry Haswell CPU more than enough power for even a high clocked gaming rig.
The VRM employs the new Extreme Engine Digi+ III components which we discussed before but as you can see it utilizes specially selected components to feed your critical components. First up and the most visible change   would be the BlackWing Chokes which have a very unique finned design. Also the black color caps make them much less noticeable when placed on the black PCB and the NexFET MOSFETs which are rated at over 90% efficiency during normal loading which means better power efficiency and less thermal dump.
Click Image For a Larger One
Here is the upper overclocker corner and much like the Maximus VI Extreme it is much cleaner as alot of the extreme overclocking tools has been moved to the accessory OC Panel tool which allows for more focused components on the main board PCB. Up top you find the MemOK button along with lighted power and Reset buttons and lets not forget the two digit LCD poster.
The lower left hand edge houses the audio solution which on the HERO is a SupremeFX solution which is in place to offer very high end audio solution including choice audio capacitors and components to ensure it meets the enthusiasts gamers needs.
The bottom edge of the board is what takes the HERO to the extreme with the ROG EXT header designed to allow the OC Panel to be plugged directly into the board and full OCPanel functionality including SubZero Sense and VGA hotwire functionality from the HERO board. This is a major plus as previously you had to have the extreme board to get such functionality, but now with the introduction of the OC Panel and ROG board on the 8 series can run these features with the separate purchase of the OC Panel.
Software Overview
AISuiteIII

ASUS has completely redesigned the AISuite Software with the AISuite III software. A completely new user interface is now available and with that comes a much smoother function.
Overall the AISuite III software has been completely reworked for a cleaner looking interface. As you can see there is alot more information available in each section as the upper screen gives you the controls of the section you are in and the bottom area can be tabbed through and has a load of different monitoring areas to cycle through and help you see exactly how your board is behaving in real time. Also this is a significant change so it may take you a few minutes to figure out where everything is at but in the end it is quite easy once you get the hang of it as the system has changed from a selector bar or taskbar driven software to a larger screen driven software.
Mem TweakIt
 Mem TweakIt is a great program for extreme overclockers or tweakers as it allows real time adjustment and tweaking of the memory for the system which can make the difference between a high point run and a world record run.
TurboV Core
 Turbo VCore is a super lite program made for quick and easy board tuning within the OS. We have seen many companies starting to realize that their included software is a bit too much or a bit too heavy for users who need a super light easy to load program that also loads quickly as being on the ragged edge overclocking you cannot wait for a huge program to load just to make a quick change.
The Turbo VCore program is just this and it fits the bill nicely as it loads very fast and load or overhead on the system is very small which is exactly what you need when running in such extreme conditions.
BIOS Overview
The BIOS of the ASUS Z87's still carries the same fluidity that the Z77 and Z68's carried as ASUS has done very well on the overall UEFU/I code which means the only think they have really needed to add was updates based on features or tuning of the board. Well all of that aside ASUS did add some very interesting features which we think will help some users especially those who like to tweak their boards and try to squeeze a bit more performance from them. The ability to  take notes within the BIOS is very cool although I am old school and always keep pen and paper near by, we guess you could call this a "Green" alternative as you take notes on adjustments, although I would still keep a paper backup of any notes or at least a screenshot (F12) of the notes before flashing the BIOS as a bios update that goes deep enough could clear those notes and they would be gone forever.
Another neat feature would be the Last modified section which basically just logs any changes you made in the BIOS so that if you run into an issue you can go back and look at what your changes were all dated and with a timestamp so that you can revert changes and test again without starting over. This is a interesting feature and I am not saying everyone will use it but well for the target audience of this board (Extreme enthusiasts and overclockers) we think it could ultimately be very useful.
Another cool addition is the my favorites page which allows you to earmark certain settings within the bios to be placed on this page where you can go to and have access to your most commonly used settings without having to go through all of the other settings as there are quite a lot on this board.
The memory presets which I have grown so used to on ROG boards is not present on the Maximus VI HERO board and that was a bit of a surprise honestly but all in all for the target audience this boards BIOS is super capable and more than enough for those looking for even an extreme clocked gamer.
Review Overview
Performance - 95%
Value - 90%
Quality - 100%
Features - 95%
Innovation - 95%
The maximus VI HERO is a collaboration of everything that makes ROG great, and from it comes an insanely capable gaming board. For this it earns the Bjorn3D Golden Bear Award