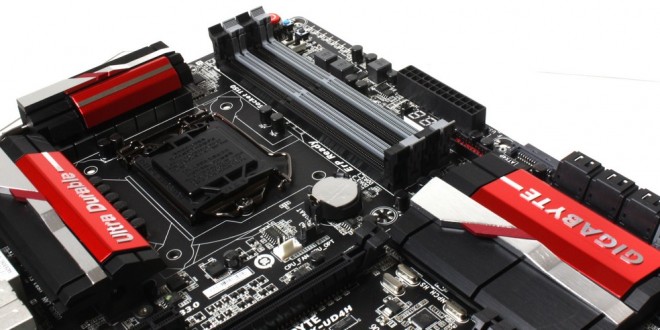 Gigabyte Z87X-UD4H Motherboard
BIOS Overview
Gigabyte UEFI Dual BIOS
Click Image To Enlarge
Gigabyte did not just improve their software offering but also ditched the old 3D BIOS UEFI implementation in favor of something we feel is hugely better. The new UEFI interface is a much smoother feel overall and works very well. The settings all can be adjusted via sliders or manual input. One thing we found very cool is that there is a switch after each setting that you can enable which allows real time adjustment so that you can enter a setting then simply click apply and have that setting directly in the BIOS without rebooting for most.
The new UEFI is nice but it is possible that some users will prefer the old keyboard based method, which you can still switch to with a single button press and go directly to the older menu style (but still clickable) BIOS.
The BIOS does have a small number of memory presets from in house overclocker HiCookie but the selection is rather limited focusing on select GSkill memory sets and Hynix/PSC IC DIMMs.
Another cool feature is to customize your own BIOS tabs with specific settings you use most often which means if your only adjusting a few things for overclocking you can boot right into BIOS on your own custom tab with only those settings showing to make finding settings and adjustments much easier.
Review Overview
Performance - 9.5
Value - 9
Quality - 9
Features - 8.5
Innovation - 9
9
Gigabyte found some excellent performance via internal tweaks and it was enough to best the competition while meeting a very competitive price point. For this it receives the Bjorn3D Golden Bear Award.
Tags 4770k GIGABYTE haswell OC overclock z87 Z87X-UD4H
Check Also
I must admit I did not hear about this before now but Valve today announced …
2020 and 2021 has so far been an absolute disaster when it comes to getting …