Introduction – Gigabyte Z87X-UD4H

Gigabyte has been making boards forever and honestly, it has been up and down along the cycle. It seems like every board manufacturer has its good and bad times, and Gigabyte seems to have been going through a bit of a rough patch.
With that said, we must say that the Z87 Gigabyte has come out swinging and actually impressed us greatly. It has great aesthetics by offering various colors and designs even in their standard channel or mainstream offerings. Some of our previous suggestions seem to have been received, as they have improved upon their UEFI BIOS, as well as a few other things.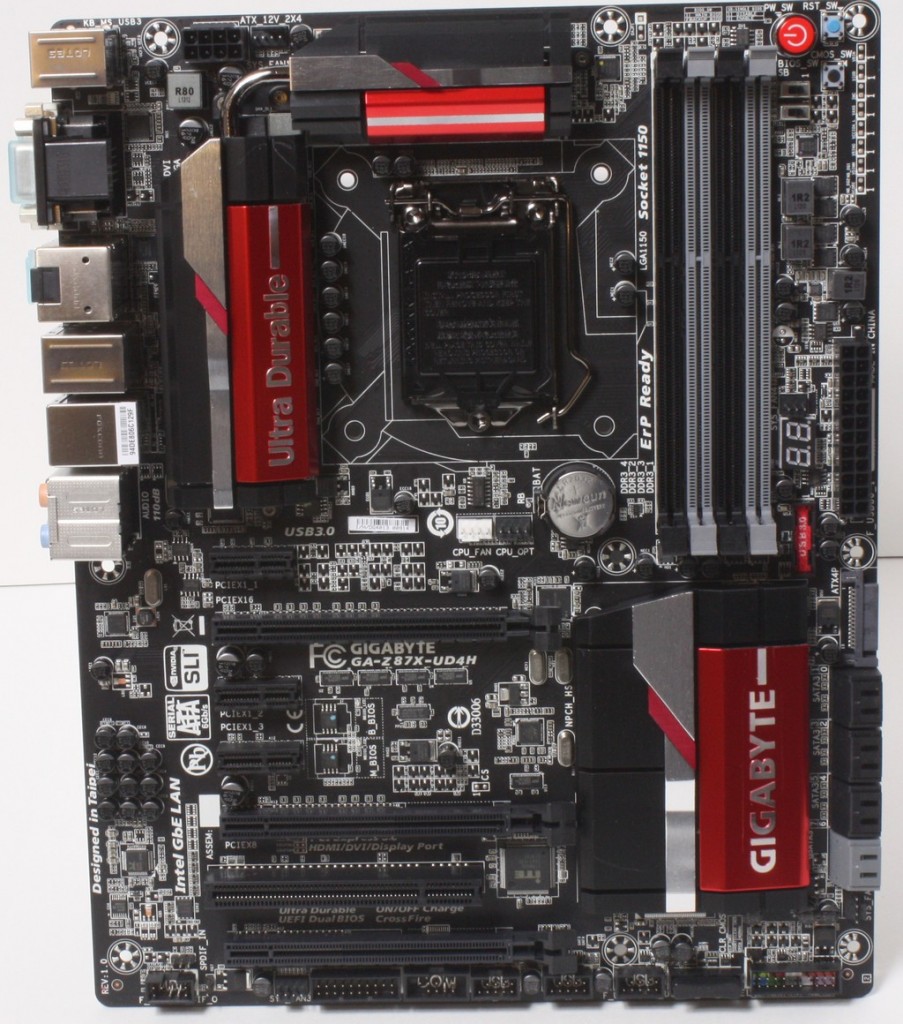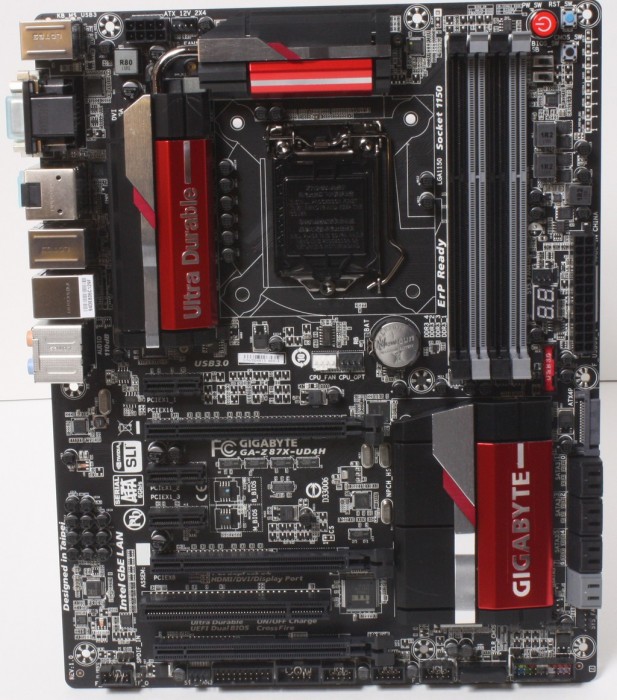 The board comes in at a price of $189.99 on Newegg, which is quite competitive to other boards on the market, but also since its head to head with many other offerings means it really has to be something special to actually pull attention and give users a reason to buy. Now let's see what it offers to draw in users to give it a shot.
Features & Specifications
Ultra Durable 5 Plus
Gigabyte has been marketing the Ultra Durable line for awhile and many things have changed as more solid components and technologies have made their way into the lineup. some of these features are described below.
New Heatsink design
The new heatsink designs are made with a new design which I personally feel are rgeat for aesthetics but also seem to cool the VRM and chipset rather well.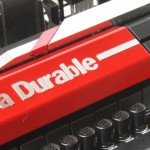 Here you can see the new heatsink design, not only is it functional but its quite clean and sexy looking compared to some heatsink designs Iwe have seen recently. The reason we mention the appearance is that so many users are building high end windowed systems and you have to take motherboard appearance into account for those who want to show off their hardware.
All IR Digital Power Design
Gigabyte originally was a naysayer of the digital VRM designs but they have come around–this adaptation of the popular IOR components for their digital power solutions has great performance. The Digital solution allows for finite adjustment and regulation of voltages under idle and load conditions, extra-fine granular tuning, and has features such as LLC and great power saving under lower load situations via finer voltage control which can be modulated actively in real time by the controller.
Full black solid cap design
Here we see the Solid state caps which have been a staple of the Ultra Durable config for pretty much as long as we can remember. Now they have an all black design which first of all looks really good. Also, these caps have a 10,000 HR rating which means they have a lifespan rating 5X that of typical consumer product offerings and even 2x that of standard mainstream offerings.
High ESD Protection
Gigabyte wants to ensure that some of the weird customer induced issues such as ESD from unplug and replug of devices is reduced which they accomplish by extra ESD protection built into the rear IO panel ports to make sure the board should have a better chance of surviving small static shocks unscathed.
Gaming  grade audio and Headphone amplifier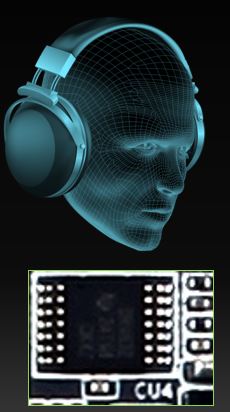 Gigabyte enabled a high end audio amplifier on the new series of board to ensure that they can push some of the new higher end headset solutions which are becoming increasingly popular among gamers as speakers are becoming far less prevalent. This is a sign of a manufacturer seeing where the market is heading and ensuring they are ready.
On/Off Charge 2
Gigabyte has made some improvement to their On/Off charge technology to support the latest and greatest mobile devices including those running iOS or Android, and they will charge even with the PC powered off via the PSU supplied standby voltage supply.
One Fuse per USB Port
We have seen this before from Gigabyte and we always thought it was a great idea as having a single fuse protecting a whole block of USB's means that if one device causes a fault, you could lose all of those ports, resulting in a severe loss of functionality. Gigabyte runs a single fuse per port so that if a device shorts or has an issue you lose only a single port and the malfunction is localized with less change of affecting other components.
Intel Gigabit LAN
Gigabyte includes Intel NIC on the 8 series boards which is a good move as Intel Gigabit NICs are known for their stability, performance and overall durability even under heavily loaded environments.
Software Suite
The Gigabyte Z87 boards this time around have a very well refined software suite with a much smoother and finished feel to them.
App Center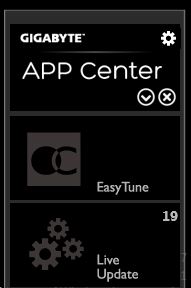 The App Center is where you can do quick updates or start the Easytune app. This is a cleaner looking interface and shows the design styling Gigabyte has chosen for its software. We can imagine being the App center this will be a constantly evolving App Drawer which will be used as a central point to launch new utilities as Gigabyte adds them to the suite.
Gigabyte refined the Easytune software to include all of the previous functionality but needless to say if you look at the screen captures it is majorly better when it comes to layout and appearance. Let's not forget that it is much easier on the eyes as well with a nice soft gray/black combo which adds to the smooth feel.
One thing definitely worth noting here is that the Easytune software can be changed to match different series boards with Orange for the OC series boards, Blue for standard and Green for the Killer/Gaming series boards, we think this is a cool addition as it adds a dose of not just functionality but also customization to the mix which many users will like. 
The fan control is really cool now offering auto adjustments and tuning along side the standard manual adjustability to allow system tuning down to a very fine level to allow users to make the board exactly what they need it to be.
The ability to adjust everything down to phase control all within the OS and in this software makes it much easier to make small adjustment especially when overclocking without having to jump out to the BIOS with every little tweak.
Review Overview
Performance - 9.5
Value - 9
Quality - 9
Features - 8.5
Innovation - 9
9
Gigabyte found some excellent performance via internal tweaks and it was enough to best the competition while meeting a very competitive price point. For this it receives the Bjorn3D Golden Bear Award.