Today we get a chance to look at OCZ's newest refresh of the Vertex series with the Vertex 3.20. The update is actually hidden in plain sight as this update utilizes 20nm NAND. Now let's see what the drive has to offer.

INTRODUCTION
With SSD's always changing we are seeing a constant shift in production and styles along with anything a manufacturer can do to increase performance or value for a SSD model. Here with the Vertex 3.20 OCZ has transitioned to 20nm NAND from Intel which replaces the previous 25nm NAND for the unit. This is an interesting move as this is also when the Vertex 3 is transitioned to the more mainstream or value segment of drives fro OCZ's consumer based products. This does not mean anything bad for the Vertex 3 but with the recent shake up over the past couple years we have observed a shrinkage in OCZ offerings in the consumer segment  so it was interesting to see this model retained while the others such as the Agility have been dumped. Now with the Vector and Vertex 4 in the limelight for the top performance or enthusiasts class SSD's it leaves users to get on excellent value in the Vertex 3 series. This is very much like the recent Kingston V300 model we received.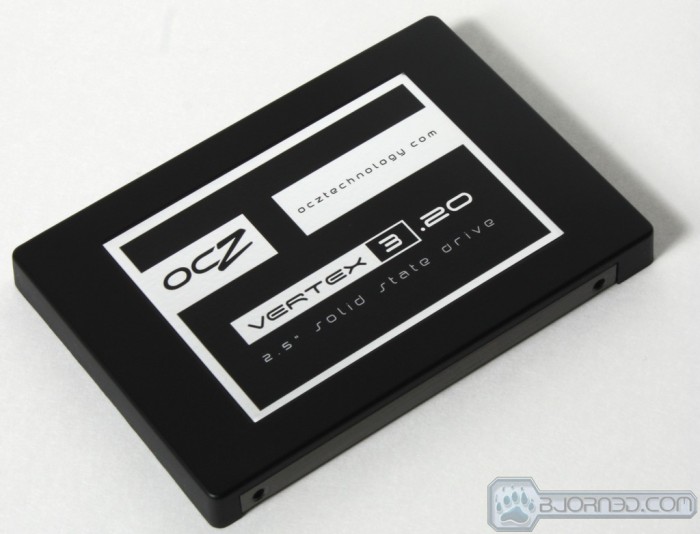 Present market price for this drive is $219.99 directly from Newegg. This places it at well below the $1/GB mark while still holding some definitely aggressive specs on paper.
Specifications
 As you can see even though this is now considered a value model, it is definitely packing some heat capable of 90K max IOPS. Utilizing a LSI/Sandforce 2281 Processor means there is the standard high performance and reliability you can expect from a 2281 based drive, now the only thing left to question is how does the NAND change affect the performance and for this lets take a quick look at the drive then its on to testing.
Pictures & Impressions
Click Image to Enlarge
The Vertex 3.20 comes in a standard plastic clamshell which is interesting considering most SSDs we have received come in a box which adds size and also houses accessories. For this SSD, OCZ decided to keep it simple and to the point so nothing is hidden away here.
The front simply shows product name and capacity with very little else, while the rear shows some basic spec data and a small back story as to what the Vertex 3 series is and why it was made.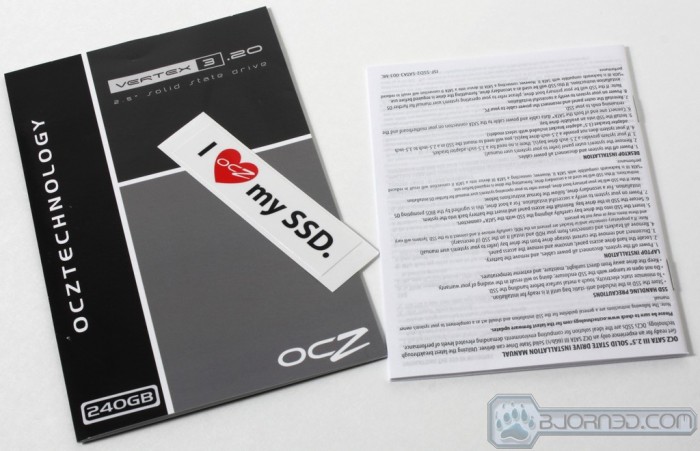 Click Image to Enlarge
Here we see what comes in the package, as it is fairly simple and to the point the previously seen spec info is a folded insert which contains the warranty data sheet and also a "I love my OCZ SSD" Sticker. Nothing to write home about but if it helps reduce cost we don't think anyone will complain. One thing to note is that there is not 2.5 to 3.5″ adapter included which I have seen in some bundles and this could raise issue for some users but where there is a will there is a way so we're sure most can figure out a way to mount it, Especially since many chassis now days have a mounting position specifically for a 2.5″ drive.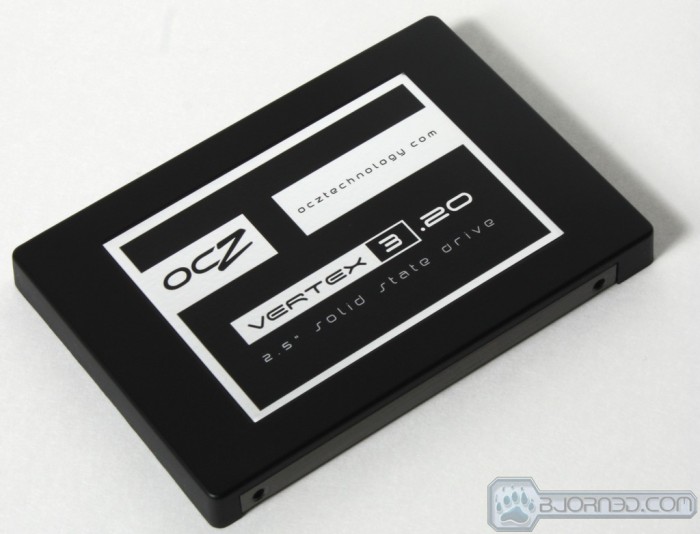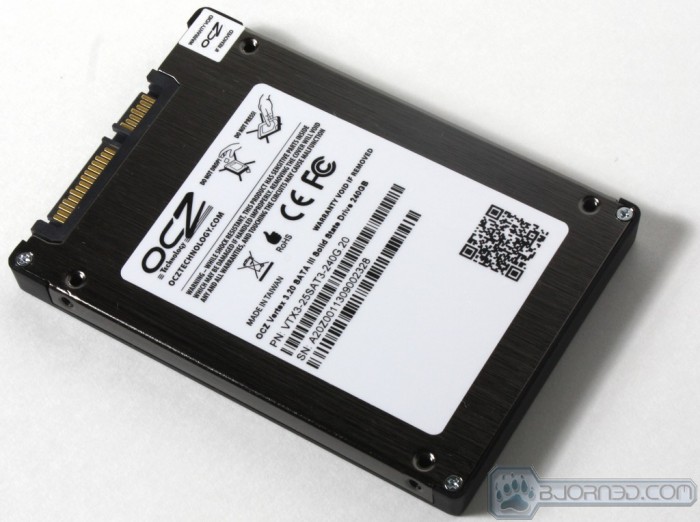 Click Image to Enlarge
Here we see the Vertex 3.20 drive itself and it looks just like your standard Vertex 3 with just a .20 added to the label. The size is standard thickness although it would have been nice to see a 7mm thickness for this drive to allow fitment in some smaller enclosures such as those in ultrabooks as this would have opened the usage model for this drive up to a wider user group as thinner devices are growing in popularity.
Click Image to Enlarge
Here we get a look inside. Straight away there are 16 total NAND chips which one is reserved for provisioning and firmware for the SF2281. The NAND chips are produced by Intel and look to be your standard fare but in new 20nm flavor. soon we will see if this has any affect on function.
The controller is your standard SF2281 which we have come to know and love. Although OCZ has its new Indilinx controllers you simply cannot look past the massive popularity of the SF2281 and the massive popularity of the Vertex 3 line alone which is a good explanation as to why this model was kept around and unchanged to keep from hurting one of its most popular and highest selling models.
Testing & Methodology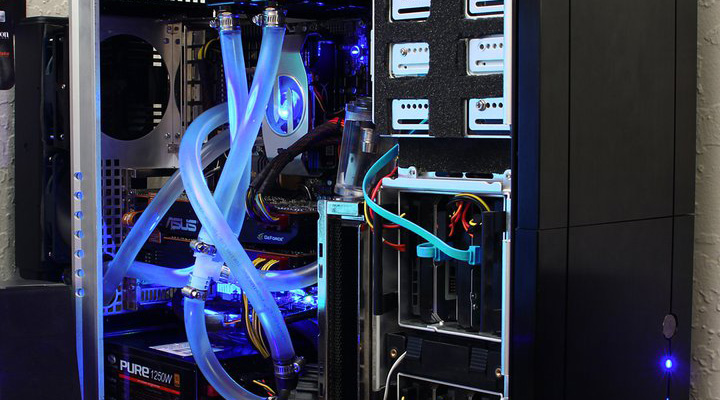 SSD testing can be a bit subjective as a lot of times they are not tested on similar components or at different times. We test our drives as the boot drive with a fresh OS image to ensure all the same drivers updates and OS conditions are observed. Testing with the drive as the boot drive with the OS residing on it will result in a much more realistic experience for the end user as just using it as a secondary drive and running benches on an empty drive will likely skew results and deliver different performance than you will see when using it in your system.
Every effort has been made to ensure that the tests are done on as clean of an OS as possible as a Secure erase was performed before installation.
Test Rig
Test Rig
Case
Thermaltake Level 10 GT
CPU
Intel Core i7-3770K/Intel Core i7-2600K
Motherboard
ASUS Maximus V Formula

Ram
16GbpsB Patriot Viper Xtreme 2400MHz +
CPU Cooler
Swiftech H20-220 Edge
SSD
OCZ Vertex 3.20 240GB
Optical
ASUS BD-ROM
GPU
ASUS GTX 680 DirectCU II TOP
Additional Cards

N/A
PSU
Thermaltake Toughpower XT 1275W Platinum
Mouse
Tt eSPORTS Black gaming mouse
Keyboard
Tt eSPORTS Meka G1 mechanical gaming keyboard
Test Suite
We will use the following applications to test the performance of the SSD. Benchmarks
Benchmarks
IOMeter
AS SSD
CrystalDiskMark
PCMark 7
Startup/Shutdown
IOMETER
Random Read and Write
We start off by looking at the Vertex 3.20's random read and write performance. The Vertex 3.20 shows lower average reads at a very low Queue depth and even at QD3 it is about 33% behind that of the original Vertex 3.
The Vertex 3.20 does very well with the Random write operations at both low QD and QD3 falling only behind the Vertex 4 at QD3 write operations.
While most desktop workloads do not use more than a few queue depth, we always include the higher queue depth to show the drive's potential. Here we can see the Vertex 3.20 still shows a much lower 4K read while the write is very high even eclipsing that of the previous Vertex 3.
Sequential Read and Write
The sequential performance shows quite high performance right in line with the Vertex 3 model and even eclipsing all of teh tested drives at write operations which is very good considering the value level for this consumer part.
AS SSD
Random Read and Write 
 We use AS SSD benchmark to test a drive's performance at handling highly compressed and incompressible data. The random read and write for the Vertex 3.20 shows similar to the results we saw in IOMeter in that the reads fall back quite a bit while the writes are stellar.
 At higher queue depth, the Vertex 3.20 falls inline with the other Sandforce drives although once again reads are a bit behind previous gen 25nm Vertex 3.
Sequential Read and Write
 Just like the Iometer result, the Vertex 3.20's performance is right in line with a very close to top spot here which places it in a nice place above many offerings and in the mix with the best Sandforce drives.
Crystal DiskMark
 Here with CrystalDiskMark it is more of the same as it seems the move to 20nm NAND offers very good performance but at the expense of 4k reads.
PCMark 07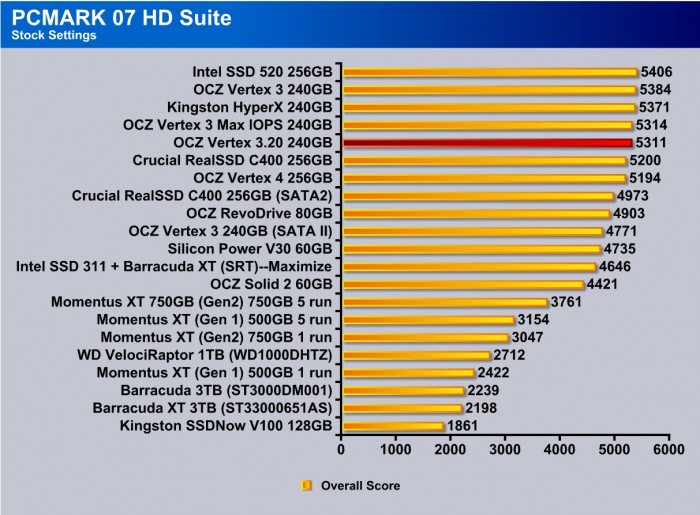 As always, we include the PCMark 07's storage benchmark as a way to gauge how a drive performs in typical workloads. Here, the Vertex 3.20 scores 5311 which is among the top contenders and even surpasses many strong contenders.
The rest of the PCMark testing has the Vertex 3.20 placing in the top 5 of every single test and even in the top three for three of the seven tests. this is something to keep in mind as OCZ may have inadvertently made a contender to its enthusiasts class Vertex 4 in a value drive format without meaning to. This definitely fogs the lines between the models and even adds a little confusion to the mix as we simply don't know what to make of this as the drive is blowing away many competitors.
Startup/Shutdown times 
Startup and shutdown times are probably some of the most noticed differences with a SSD upgrade.  When you start your system getting it to the boot screen as quickly as possible is the goal of most users and overclocking has always increased productivity and even some boot speed for a long time now but there has always been the old platter drive which was the big bottleneck. With SSD's this has all changed as we have seen some systems that can now power up from a resume state in a matter of seconds thanks to a super fast SSD.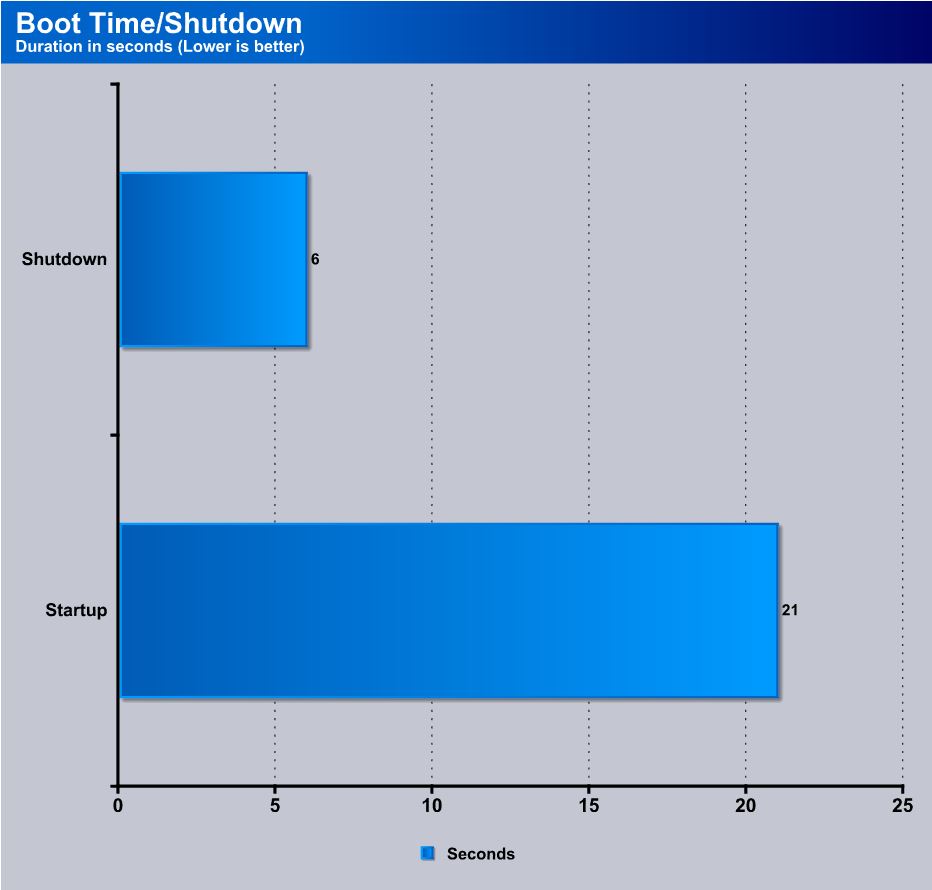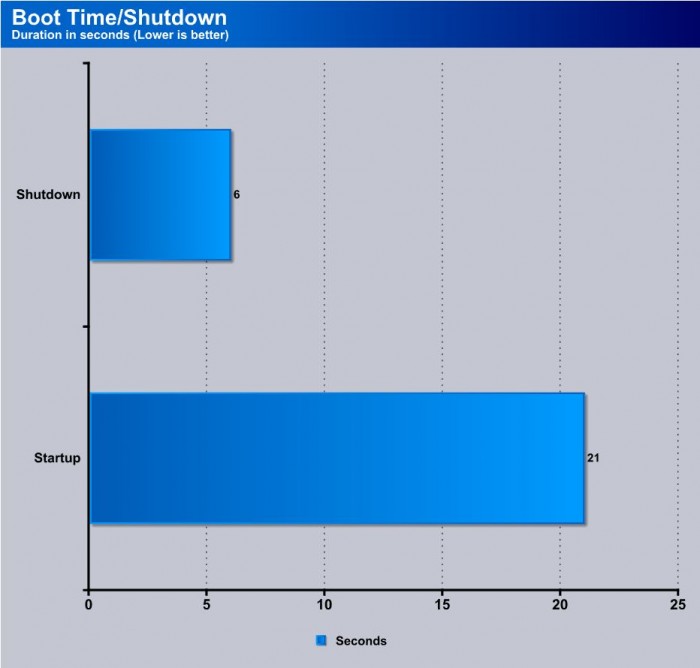 Here you can see that the startup time which was timed with a digital stopwatch app on my phone from the time we pressed the power button to the time it was at the desktop and nothing else was loading. Now mind you this is a fresh OS with no other programs such as steam or anything else loaded, so your results may be slightly longer but we can only imagine that time difference would be marginal and completely dependent on programs you have running at startup. Shut down time is extremely fast as all services are stopped and system, is powered off. We used the same method to test which was starting a timer from the time we pressed the Shutdown icon to the time the system powers off. As you can see this is extremely fast. 
CONCLUSION
The OCZ Vertex 3.20 is a refresh of the previous 25nm version drive and with that we expected decent performance but since it is now the value model we never expected what we received. The performance is great with this drive and in some cases offering performance meeting or beating the top drives out there. 
The one area hurt from this is the 4K reads which we can only take as a property of the NAND being used as we have tested many SF2281 based drives and this one drops off pace in some tests in regards to 4k reads.
The Price point of the drive is quite nice but it does put it in with some tough competition as the Force GT 240GB can be had for 10 dollars cheaper or for the same price the HyperX 3K. It really does come down to which brand do you prefer and what does it offer for your loyalty, some may have higher sequential or 4k.
We look at things as what will you see in the real world and even though the 4k writes take a hit in the benchamarks I have a tough time seeing any issues in real world usage of the drive over the past couple weeks. So we guess if you benchmark all day just to look at numbers it might make a difference but overall this is one fast drive and at a sub $1/GB a nice value as well.
OUR VERDICT: OCZ Vertex 3.20
| | |
| --- | --- |
| Performance | 8 |
| Value | 8.5 |
| Quality | 9 |
| Features | 9 |
| Innovation | 8.5 |

We are using a new addition to our scoring system to provide additional feedback beyond a flat score. Please note that the final score isn't an aggregate average of the new rating system.

Pros
Cons

Excellent sequential performance

Great 4K write performance

Potential for 90K IOPS

Super Fast sequential Read/Write

Under $1/GB

4k reads not up to par
Summary: The Vertex 3.20 is a refresh with smaller 20nm NAND with very nice performance and value for this, it earns the Bjorn3D Silver Bear Award.