Nvidia today launches the new GTX 650 Ti Boost which fills the gap in the mainstream performance price range of $150-160 while in the wake of the recent HD7790 launch. Let's see what this newest GeForce GPU has to offer and what it can do to shake up this crowded market.
Introduction – Nvidia GeForce GTX 650 Ti Boost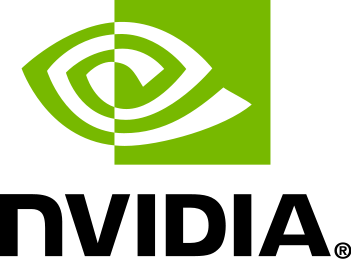 When AMD launched the HD7790 to fill a gap in performance between the HD7700 and HD7800 series we just knew Nvidia had to have similar plans. Here we are not even a week later and here is the answer. The GeForce GTX 650 Ti Boost which is built upon the price/performance killer the GTX 650 Ti. This card will fit in a very similar area as the recent HD7790 which means it could really spell trouble for AMD as this has the potential to blow the midrange segment away and turn the market as a whole on its head in this already quite active segment of the market. This card is slotted to fill the gap between the GTX 650 Ti and the GTX 660 which is a sizable place so having a card fill in there is actually quite a good idea.
Nvidia Knows that the sweet spot for gaming is now 1080p and many gamers do not want to play at low or medium detail settings, so Nvidia introduced the GTX 650 Ti Boost in order to ensure gamers have the best chance possible to have excellent graphics at HD resolution. You may not be able to run at ultra or every bit of eye candy, but at 1080p with high details most games should be easily playable without making huge sacrifices in image quality. The inclusion of GPU boost and SLI technology makes all of this possible at a price point previously thought not possible.

The GeForce GTX 650 Ti Boost comes to market in both 2GB and 1GB flavors with a MSRP of $169 USD for the 2GB and a even more budget friendly $149 USD for the 1GB variants. This places the card dead center in a price war with many mainstream models and depending upon performance can blow away this segment of the market as also recently we have seen prices on the standard 650 Ti models now down to $110-130 USD price points which gives budget gamers something to really get excited about.
Specifications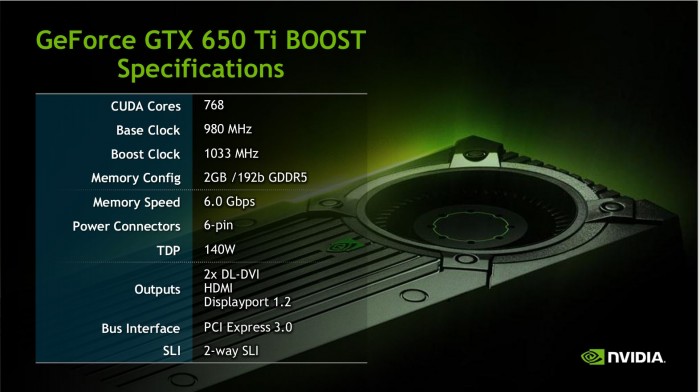 Here you can see the GPU starts at a base GPU clock of 980MHz and boosts up to a target 1033 but depending upon loading conditions can go higher. Also the memory is tied to a 192-bit memory interface which is running at 6GHz for a effective memory bandwidth of 144.2GB/s. this is a 60% jump over the standard 650 Ti card and makes for a very capable upgrade. 
Key Features
The GTX 650 Ti Boost supports all of the main technologies of the GTX 650 Ti  which we had already looked at but now also includes the following.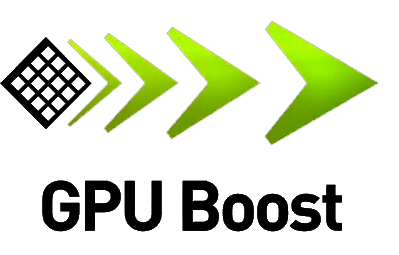 GPU Boost Technology
The GTX 650 Ti when first introduced did not carry the GPU boost feature but as the name states the GTX 650 Ti Boost now employs it. GPU Boost allows for automated overclocking or boosting of the GPU frequency to allow for enhanced performance from the faster clockspeeds. The amount of boost or how high the GPU can clock is based on a few factors including thermals, power target and the power envelope available. This all allows for a better gaming experience as the card can throttle dynamically to give more performance where needed in heavy gameplay.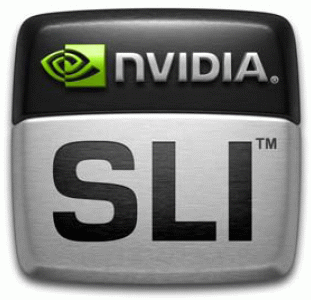 SLI Technology
The GTX 650 Ti Boost also now allows for SLI technology which is Nvidias Multi GPU scaling allowing for up to 100% performance increase via linking a second GTX 650 Ti Boost in the system. This allows for increased performance should the game needs ever exceed the GPU's capability.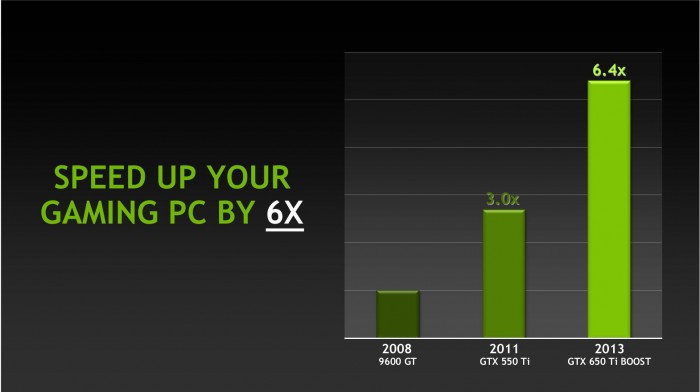 6x Gaming Graphics Speed Increase
The GTX 650 ti Boost is an excellent value for the cost conscious gamer as many 9600 GT models are still in use today and the GTX 650 Ti Boost offers up to 6x the gaming performance compared to this very popular mainstream gaming card. Even recent mainstream cards such as the GTX 550 Ti according to Nvidias provided data can be upped by 3x the performance when upgrading to the GTX 650 Ti Boost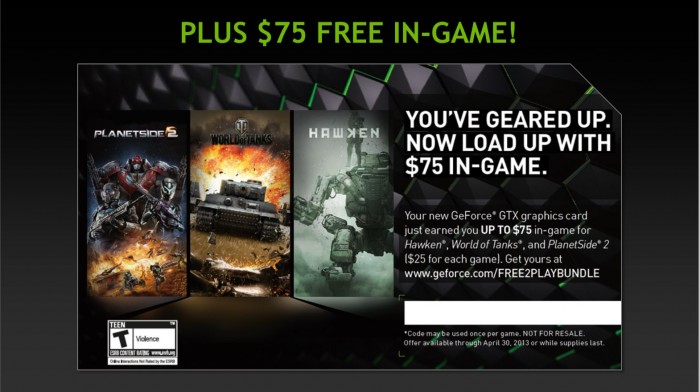 $75.00 In Game Credit
Nvidia has Partnered with many Free to play game devs. With the purchase of a 650 Ti Boost you can be eligible for $75.00 in game credit ($25.00 each) for the games Planetside 2, World of Tanks and Hawken. this adds to an already attractive value card, especially considering these are very popular and fun games.
PCI Express Gen 3 Capable
Like all 6 series Nvidia GPU's the GTX 650 Ti Boost fully supports PCIe 3.0 for higher speed throughput and better overall bandwidth.