"Tt eSPORTS Chao is about culture, and technology advances this culture to create massive individuality. It's about fashion. Whether it's hippies, punk, gothic, or hip-hop, you are Chao. " – Tt eSPORTS. This is a great aggressive catch line from a relativity new company. Let's find out if they hold up to it.  
Introduction
 Tt eSPORTS is a sub-brand of Thermaltake that focuses on gaming keyboards, mice, headsets and other accessories. Their Chao line carry stylishly ambitious products, including t-shirts, jackets, bags and of course, headphones. Their headphones resembles those of a DJ's and while wearing their apparel, you would look ready to spin some discs for a happening party. The Chao Dracco, which comes in three other aggressive colors, retails for $80. This may be confused with another line of headphones called the Dracco Signature, which has more accessories and a slightly fancier design, but has the same specs. 
Features & Specifications
Specifications 
Driver Unit
50 mm Neodymium Magnet Speaker
Frequency Response
10Hz ~ 22K Hz
Sensitivity
98dB at 1K Hz
Cable length
1.5 m
Connector
3.5 mm
Product Overview
Click Images to Enlarge
These headphones come in an attractive box with a wide window for viewing. Unpacking it was a little difficult because of the small thin cardboard box that held the cord in place (which ripped a little on the way out). A minor inconvenience. It comes with a cloth bag and warranty information. The first thing that was noticed was the bright color and the loud dragon symbol! Their slogan rings true with this particular product. The head band has a mesh lining on the inside which makes it breathable and comfortable, not to mention eye catching. The smooth faux leather ear pieces also makes wearing these very comfortable, while also attractive. 
Click Images to Enlarge
The ear pieces rotate and are adjustable in a way where they can be also folded up so you can slip it into the provided cloth bag, making it convenient to carry with you. The connector is a standard gold 3.5 mm with the cord protected in thick rubber-like plastic, giving it a neat aesthetic and also preventing accidental tear.  
Click Images to Enlarge
The adjustments allowed by this head set is about a one and 1/2 inches on each side, which doesn't sound like much, but the head band is already pretty long so it will fit on most people very comfortably.
 Click Images to Enlarge
Testing Methodology 
Test Rig
Case
Windows 7 Home 64 bit
CPUs
Intel i7 2600k @ 3.4Ghz
Motherboard
MSI P67A-G43
Ram
Patriot Gseries DDR3 1600MHz 4GB
GPU
Nvidia GeForce GT 220 1GB GDDR3
Monitor
Asus VK222H 1680 x 1050
This was tested with Guild Wars 2, Pandora and a blu-ray movie.
All the sounds that came from the headset had life behind it; there was a good amount of bass and depth. Different types of music was tried with this set: classical, indie and modern. Indie and modern sounded great, but the classical sounded a little less lively. It's not too much where it would be a deal breaker, but it seems the Chao Dracco performs best at music and sounds that are full toned. 
There were a couple minor issues: the voices in both the blu-ray movie and game had a good amount of echo. Also, when moving the mouse around, there's a very faint electrical scraping like sound. It's very unusual and barely even noticeable (you'd have to have all sounds off and be listening for it), but we felt that it was something to note. In addition to that, it doesn't come with any software, so having any kind of special features is impossible. 
Conclusion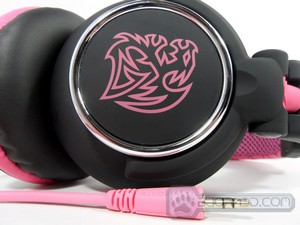 The Chao Dracco is a great at producing sounds that will get you dancing and making you look stylish while doing it. The comfortable padded ear pieces contain excellent little magnet speakers and are great at sealing out environmental babble, even without noise cancelling software, so you will be immersed in what you are listening to. 
These headphones are great for those who are looking for something simple that puts out wonderful sound, but for those looking to be able to tweak their sounds and extra features, you're going to have to look elsewhere.
OUR VERDICT: Thermaltake eSPORTS Chao Dracco
| | |
| --- | --- |
| Performance | 10 |
| Value | 8 |
| Quality | 10 |
| Features | 7 |
| Innovation | 8 |

We are using a new addition to our scoring system to provide additional feedback beyond a flat score. Please note that the final score isn't an aggregate average of the new rating system.

Pros
Cons

Very comfortable

Sound quality is great
Very simple
Portable

 
Summary: The Chao Dracco, although lacking features, is very simple to use, has high quality and is very versatile. Thus earning it the Bjorn3D Silver Award