Testing & Methodology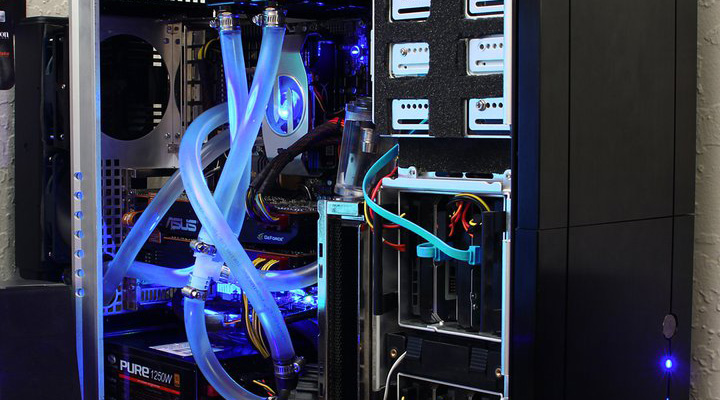 We've expanded our testing suite considerably since the X79 chipset release, and will continue to use the same methods for most of the motherboards and CPU's we test. In the interests of thoroughness and accurate results, we run each test at least three times, and some tests more than that. We average the total of all the tests from each benchmark then report the average here.
The OS we use is Windows 7 Pro 64bit with all patches and updates applied. We also use the latest drivers available for the motherboard and any devices attached to the computer. We do not disable background tasks or tweak the OS or system in any way. We turn off drive indexing and daily defragging. We also turn off Prefetch and Superfetch. This is not an attempt to produce bigger benchmark numbers. Drive indexing and defragging can interfere with testing and produce confusing numbers. If a test were to be run while a drive was being indexed or defragged, and then the same test was later run when these processes were off, the two results would be contradictory and erroneous. As we cannot control when defragging and indexing occur precisely enough to guarantee that they won't interfere with testing, we opt to disable the features entirely.
Prefetch tries to predict what users will load the next time they boot the machine by caching the relevant files and storing them for later use. We want to learn how the program runs without any of the files being cached, and we disable it so that each test run we do not have to clear pre-fetch to get accurate numbers. Lastly we disable Superfetch. Superfetch loads often-used programs into the memory. It is one of the reasons that Windows occupies so much memory. Vista fills the memory in an attempt to predict what users will load. Having one test run with files cached, and another test run with the files un-cached would result in inaccurate numbers. Again, since we can't control its timings so precisely, it we turn it off. Because these four features can potentially interfere with benchmarking, and and are out of our control, we disable them. We do not disable anything else.
One thing to note is that we are revamping our testing method in order to better represent motherboard performance and offering to you guys the consumer. Also we want to make it an easier read for you without miles of endless charts. Please feel free to provide feedback on what you think as many benchmarks will be shuffled or removed completely.
Test Rig
Test Rig
Case
Thermaltake Level 10 GT
CPU
Intel Core i7-3770K/Intel Core i7-2600K
Motherboard
ASUS Maximus V Extreme
Ram
(TBA) 16GB Patriot  Viper Xtreme 2400MHz +
CPU Cooler
Swiftech H20-220 Edge
Hard Drive
Western DIGItal Velociraptor 300GB
SSD
Intel 510 series SATA III 120GB
Optical
ASUS BD-ROM
GPU
ASUS GTX680 Top/GTX 580/Intel HD 4000
Additional Cards
N/A
PSU
Thermaltake Toughpower XT 1275W Platinum
Mouse
Tt eSPORTS Black gaming mouse
Keyboard
Tt eSPORTS Meka G1 mechanical gaming keyboard
Test Suite
We will use the following applications to test the performance of the Motherboard and installed components.
Benchmarks
PCMark 7
Heaven benchmark 3.0
Cinebench R11.5
3DMark 11
SuperPi
Metro 2033
SiSoft Sandra 2011b
X264HD
Overclocking

The Z77 platform is still very new and just like Z68 we had tested before the BCLK increases are quite small. With that being said these chips rely heavily on Multiplier to get the job done. With the new 22nm chips we are facing much higher thermals which is the opposite of what were used to with a process change like this. 
The Maximus V Extreme clocks extremely well and we are not surprised as that is the basis for this board's existence. Pushing the VPU to 5GHz was actually easy and we had it 100% stable in a matter of minutes with our liquid cooling solution installed. The voltage required to hit 5GHz stable has varied slightly from board to board but to my surprise the Maximus V Formula required .02V less VCore to get 5GHz stable and the Maximus V Extreme required .01 less than that which tells me this board really is tweaked in for maximum performance.
Those who are not so familiar with overclocking can select the standard profile and be flying high at 4.8GHz which is more than enough for a gaming rig or even a good starting point you can learn from in how to adjust settings.
When you engage LN2 mode and get the processor to -150 to -190C, things really start to take off. One of our chips hit 6.6-6.7GHz benchable, depending on the bench. This won't break any records, but it is nonetheless a good result. The Maximus line in general tend to clock very well, but subzero cooling is where they really pull away from the pack, as the UEFI is optimized to take advantage of cold running.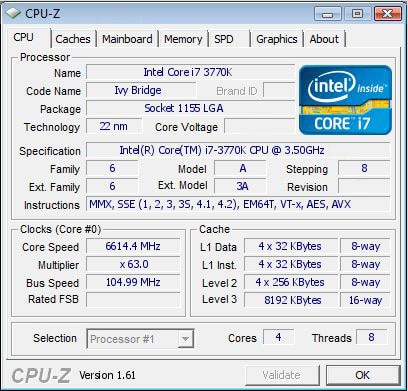 For the Ivy Bridge benchmarks we stuck to a modest 4.6GHz overclock as we found it easily obtainable with acceptable temperatures without too much tuning hassle. This is not an indication of the board's inability to overclock, but more a representation of what any user could expect with a decent air cooler and a few minutes of tinkering. This can also be attributed to the large amount of heat dump from the chip when overclocking which is why we always recommend maximum cooling capability such as a liquid cooling system to ensure thermals are kept under control.
Important note: Overclocking can cause component failure.  Please exercise caution when attempting any level of overclock on system components.
Temperatures

The temperatures were recorded with RealTemp while running wPrime 1024 right before the end of the 5th run. The results were recorded carefully. After the results were recorded, we waited for 30 minutes before taking Idle temperature measurements. The results were as follows:
| | |
| --- | --- |
| CPU Temperatures | Temperature (Idle/Load) |
| ASUS Maximus V Extreme OC (4.6GHz) | 31C/65C |
| ASUS Maximus V Extreme | 23C/50C |
| Chipset Temperatures | Temperature (Idle/Load) |
| ASUS Maximus V Extreme OC (4.6GHz) | 36C/43C |
| ASUS Maximus V Extreme | 32C/39C |
The reason temps may look a little lower than seen elsewhere online is that We are using a custom liquid cooling loop compliments of Swiftech which helps us reach an area of much higher headroom for overclocking and performance testing.
Power Consumption

The power consumption was tested while running Wprime 1024 for a few minutes at stock settings. The results were recorded carefully with a Kill-A-Watt power consumption measuring tool at the wall. After the results were recorded, we waited for yet another few minutes minutes before taking Idle power consumption measurements.
| | |
| --- | --- |
| Configuration | Power Consumption (Idle/Load) |
| ASUS Maximus V Extreme (4.6GHz) | 182W/398W |
| ASUS Maximus V Extreme | 127W/325W |
The power consumption is measured with a GPU installed but is not with GPU load. This is with CPU/system loading but nothing graphically intensive in order to provide the most accurate results by not ramping up the GPU, which will pull significantly more power.
Performance Benchmarks
SiSoft sandra 2011
"SiSoftware Sandra (the System Analyzer, Diagnostic and Reporting Assistant) is an information & diagnostic utility. It should provide most of the information (including undocumented) you need to know about your hardware, software and other devices whether hardware or software. It works along the lines of other Windows utilities, however it tries to go beyond them and show you more of what's really going on. Giving the user the ability to draw comparisons at both a high and low-level. You can get information about the CPU, chipset, video adapter, ports, printers, sound card, memory, network, Windows internals, AGP, PCI, PCI-X, PCI-E (PCI Express), database, USB, USB2, 1394/Firewire, etc."
First up we test with SiSoft Sandra which is a pretty comprehensive benchmark. SiSoft Sandra has many tests that can give you a good gauge of relative performance for your system. The Maximus V Extreme falls pretty much in line with the Rampage V Formula board, which are at the top of the heap in terms of overall efficiency and raw performance. Even between the Formula and the Extreme, there were minor variances but those are within the margin for error.
Superpi
SuperPi is a single threaded benchmark which measures efficiency and is heavily influenced by architectural changes as much as it is by clockspeeds.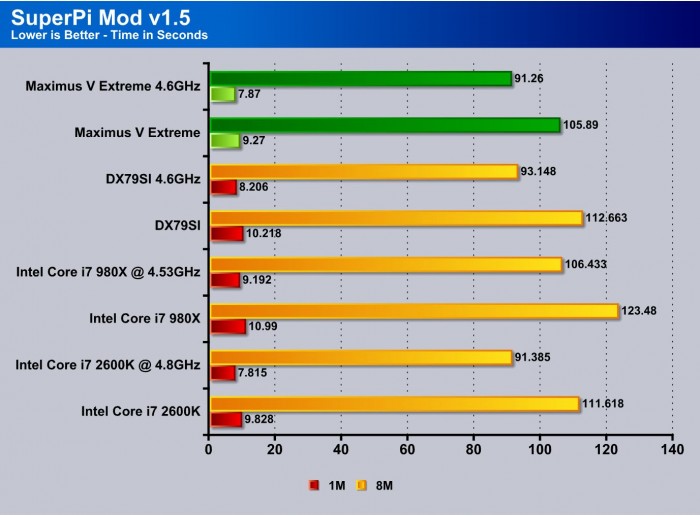 Superpi is a great efficiency benchmark, and one we always use because of its simplicity. The slightly higher clockspeed plays a role in the difference. Here the Maximus V Extreme is a top notch performer, slightly edging out the Rampage V Formula.
X264HD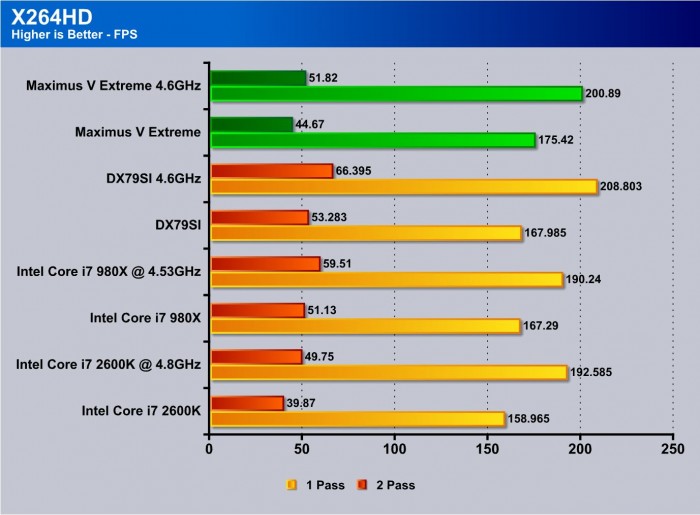 The X264 benchmark is all about encoding. The Extreme board really is just flat out fast, and efficiency is tweaked very well. Even in a render system the Maximus V Extreme should show some extreme promise with its performance optimizations. Even though Ivy is already fast, media content professionals live and die by render times, so any improvement in processing efficiency can mean more productivity which is huge for a business.
3DMARK 11

3DMark 11 is the newest in Futuremark's suite of benchmarking utilities.  Its a fully capable DirectX11 benchmark which also stresses and analyzes the system performance as a whole to simulate a heavy rendering environment such as a high end game or other app the end user may run.  This benchmark was run with Performance settings 5 times and all runs were averaged for the result below.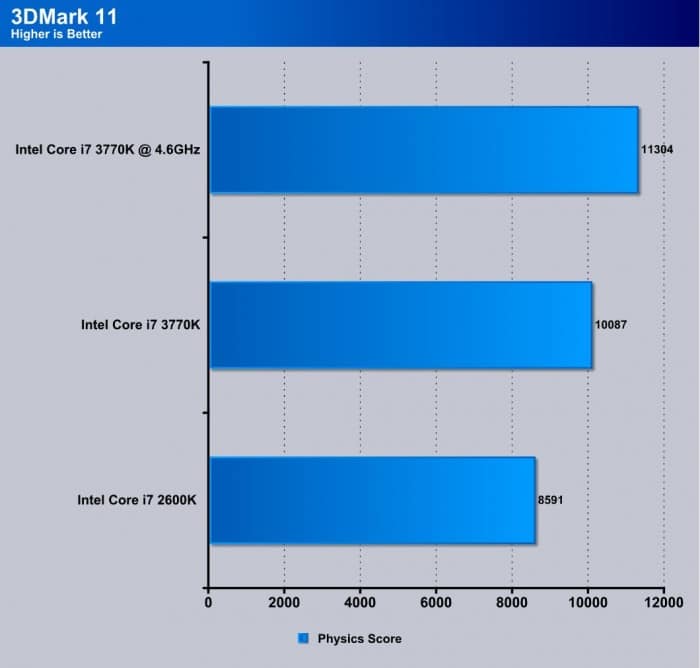 3DMark 11 Physics test shows similar that the 3770K pulls a bit ahead of the 2600K and becomes a rocket as it is overclocked, but clock for clock its not a world changer.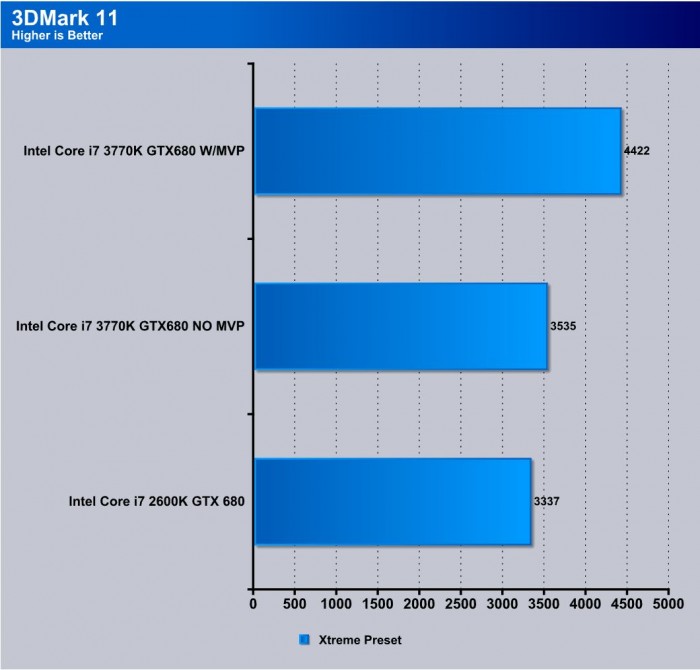 Here we look at how the system scores with a ASUS GTX680 installed in the system. Remember that the 2600K offers PCI-E 2.0 whereas the 3770K is PCI-E 3.0 enabled, leading to a small jump in graphics performance at Xtreme preset,which pushes the benchmark with 1920×1080 resolution and high preset detail levels. We have observed this from 3+ boards tested now so we know the Virtu MVP really does make that big of a difference.
Unigine Heaven 3.0

Unigine Heaven is a benchmark program based on Unigine Corp's latest engine, Unigine. The engine features DirectX 11, Hardware tessellation, DirectCompute, and Shader Model 5.0. All of these new technologies combined with the ability to run each card through the same exact test means this benchmark should be in our arsenal for a long time.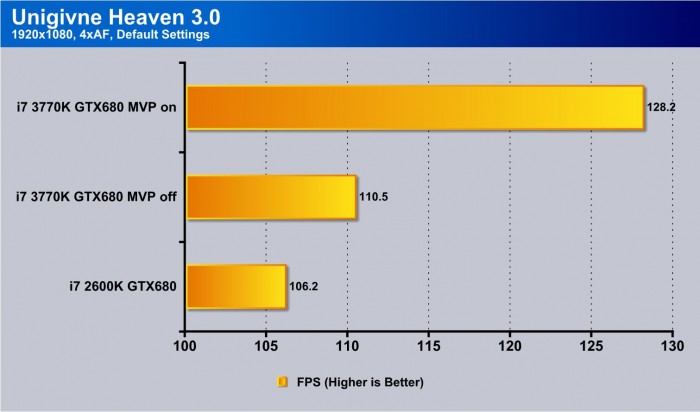 After many times testing this there are minor variances but for the most part, the MVP function works well. The Rampage V Extreme gives a good result.
Metro 2033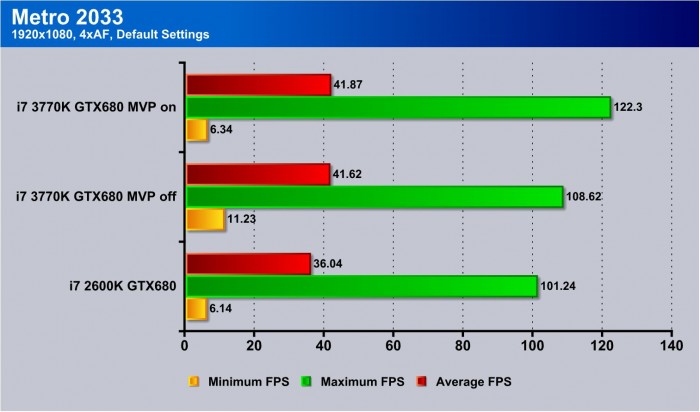 The game tests confirm the synthetics as it also shows gains with Virtu MVP as well. Though the framerates dip a bit, we're not surprised, asMetro 2033is one of the most intense games in our testing suite.
PCMark 7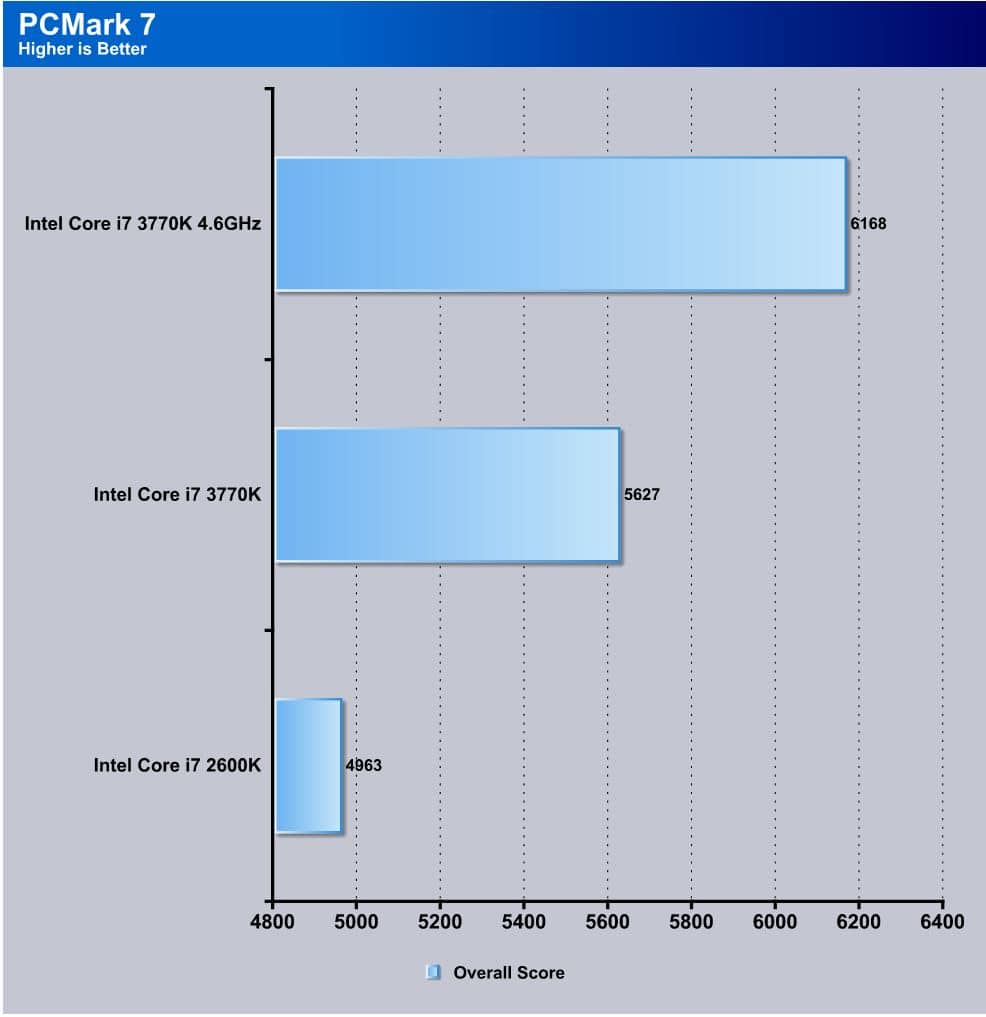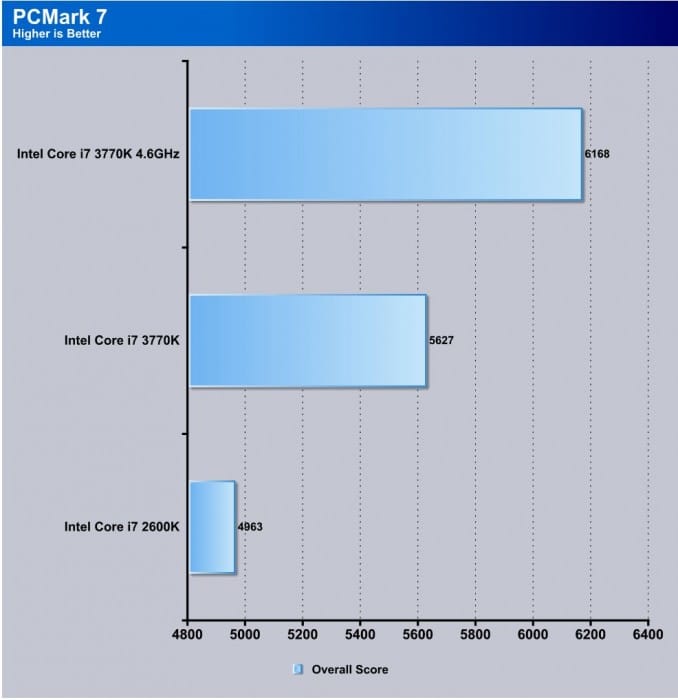 PCMark 7 is a pretty good synthetic benchmark that mixes many everyday tasks to give a good representation of what kind of relative performance to expect from platform to platform. The Maximus V Extreme is very capable as all of the testing has shown, but there is only so much a benchmark can show, and some of the analysis is based on qualitative experience.
CONCLUSION
The Maximus V Extreme is a rock solid board, and the benchmarks show that it can perform excellently. As far as its performance goes, there is no question as to its ability. However, a large part of the board is the user experience, which is rather qualitative. The board itself is built very sturdily, from the basics up: the PCB is very strong, and the components match. The feature set is also amazing. It is capable of running the gauntlet of overclocking and benchmarking, and it can also lend some extra performance to those looking towards this board for an extreme gaming build. Subzero Sense and VGA Hotwire both lend some amazing extreme benchmarking capabilities. The mSATA/Wifi/BT included Card all add to the package, and the capability to further expand the board's abilities. Adding Thunderbolt expands to yet another ultra high speed interface.
The Extreme requires a little bit more room in a chassis, as it is the enthusiast's eATX form factor. Users running a 4-way GPU setup should also note that the lowest GPU will be close to the bottom or PSU in some cases, and might not have room to breathe in cramped conditions.
This board is built much like a tank and it can handle anything you can throw at it. It's also very versatile and can meet the needs of a multi compute card setup, a multi card gaming system, or a high end benchmark rig. The board is targeted for the extreme benchmarker, but that is just the tip of the iceberg as to its capabilities. Looking at the board as a whole, it has so many options on how it can be configured that it can be used for really any application.
When assessing the value of a board many things need to be considered. One of the most important is the target market, and the feature set included. In addition, we also need to consider the added value a feature set such as the Subzero Sense may bring. Though it may not be something everyone uses, the target benchmarkers will definitely appreciate spending less money on thermometers as two ports are on the board. The PLX bridge may add cost, but on the other hand, the extra PCI-E expandability allows for a much more versatile setup and much more powerful system to be built. All of these added value components along with the excellent versatility of the board make it a great value for those looking for the ultimate platform for their Z77 powered rig.
OUR VERDICT: Maximus V Extreme
| | |
| --- | --- |
| Performance | 10 |
| Value | 10 |
| Quality | 10 |
| Features | 9.75 |
| Innovation | 10 |

We are using a new addition to our scoring system to provide additional feedback beyond a flat score. Please note that the final score isn't an aggregate average of the new rating system.

Pros
Cons

4 Way SLI Support

WiFi/BT 4.0 bundled add in card

mSATA Support

Large SATA 6G offering

DIGI+ II Extreme Engine

GameFirst 2 

Just looks awesome

Extensive UEFI overclocking tuning

Subzero Sense

VGA Hotwire

ROG OCKey

Thunderbolt Port

VGA Disable switches

Supplemental PCI-E 6 Pin placement could be better
Summary: The Maximus V Extreme is an absolute performance beast that can be tamed for everyday use with an endless stream of features. For that it earns the Bjorn3D Golden Bear Award.