Overview of the ASUS Maximus V Extreme
Click Image For a Larger One
The packaging is very much like other ROG products we have seen many times before: a full red packaging with a flip open cover showing the board along with many of the key features. The rear shows the IO layout along with small highlights of some key features.
Inside the box there are two black boxes one of which being the mainboard box, and the other being the accessory box which holds the plethora of accessories that come with the board.
 Click Image For a Larger One
Here we see the complete accessories included.
ROG OCKey Device
ROG OCKey Internal Cable
SATA Cables
ROG Connect Cable
USB 3.0 Rear IO Panel plate
mSATA/mPCI-E Combo card (w/pre-installed WiFi/BT4.0 Card)
WiFi/BT 4.0 Antennae
Qconnect front panel connectors
IO Shield
SLI Ribbon Cable
3 Way SLI Bridge
4 Way SLI Bridge
ProveIT Leads
ROG door Hanger
Cable labeling Stickers
Installation disc
Owners Manual
The lot of accessories is huge and rightfully so, to match the capabilities of the Extreme board. The lot includes everything we could imagine, with no exceptions.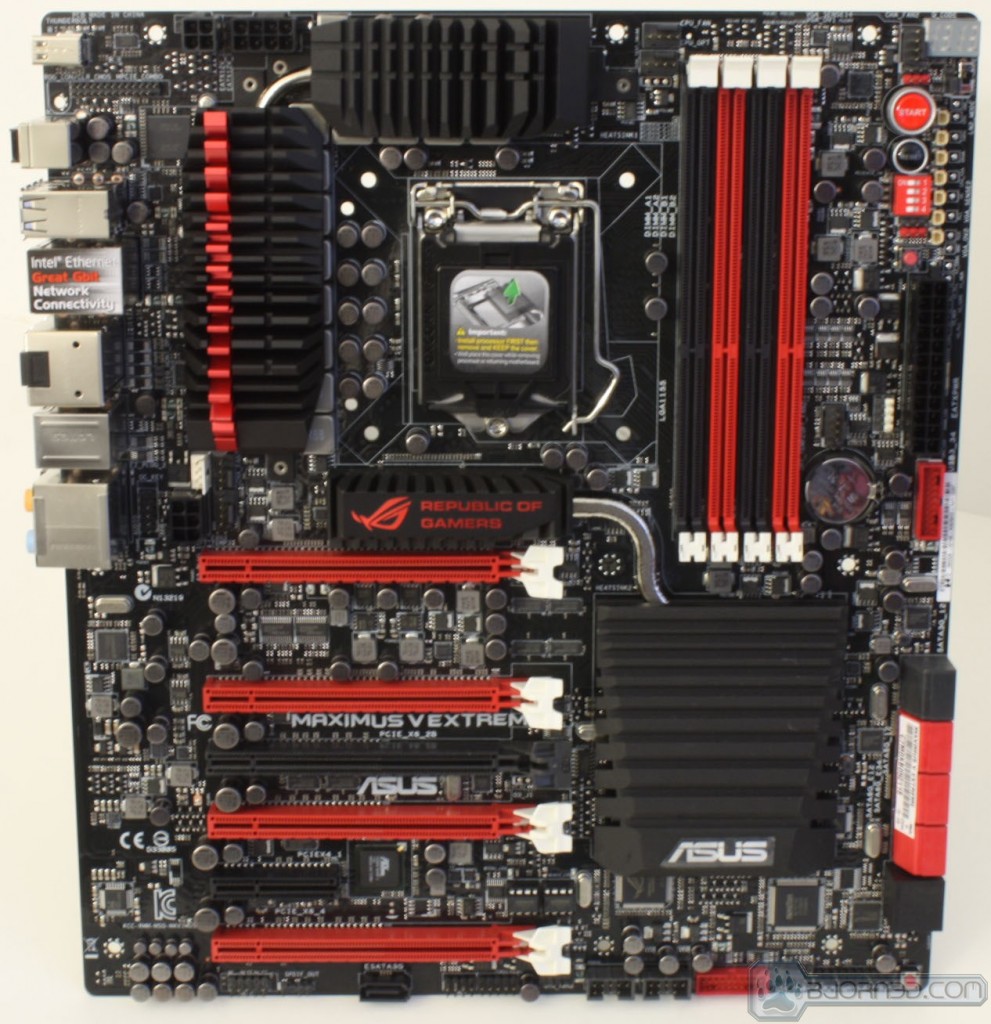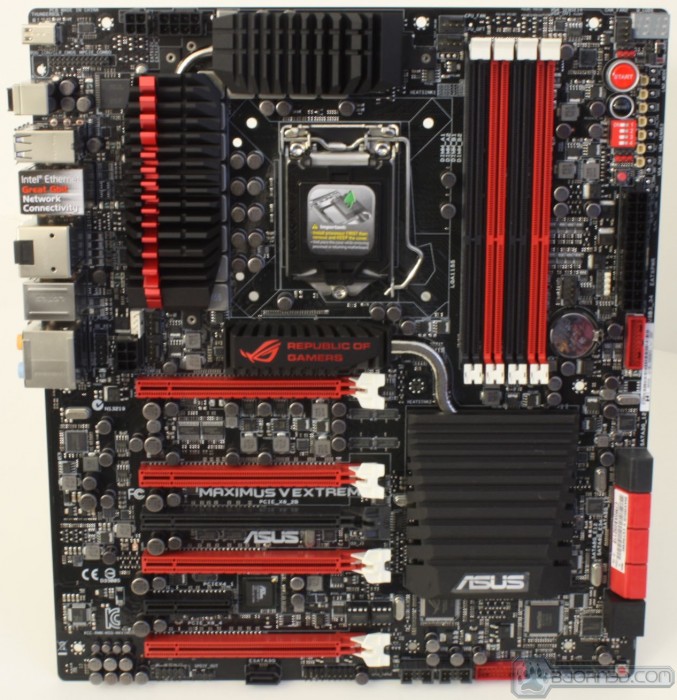 Click Image For a Larger One
Here we see the actual layout of the board. The slot layout it is great as it allows for 4 Way dual slot GPU's or dual triple slot GPUs with an air space between them. The connector placement is mostly at the board's edge which makes for easy cable management. The exception is the supplemental PCI-E power which is a 6-pin design and is located at the left hand side of the board above the PCI-E slots. While this is useful, it can be quite a pain if using the board in a 24/7 gaming rig as the cable will have to be strewn across the board to reach this connector and that can turn unsightly pretty quick. Having the connector at the board's edge near the SATA ports or the 24 Pin connector would be preferable for cable management purposes. One cool feature that we have seen on many ROG boards of the past and still makes an appearance here is the optional temperature probe headers. These 2 pin headers allow connection of thermal probes to help monitor areas you feel are important or even other devices such as hard drives or GPU's which can all be monitored directly from the board. All in all the layout is great and it works well for the job it needs to do.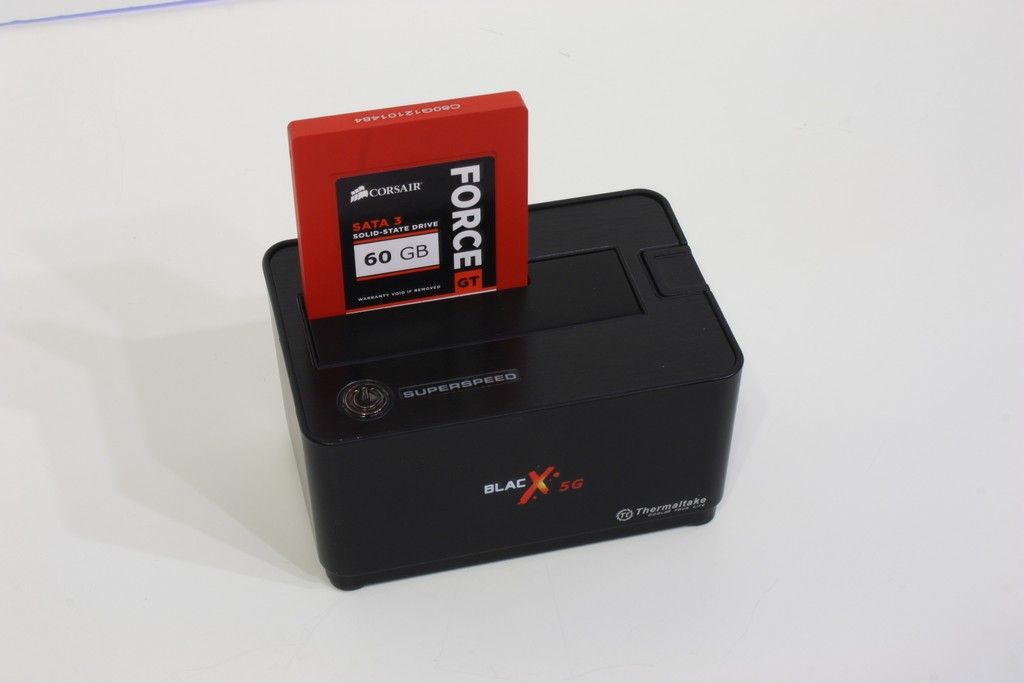 Click Image For a Larger One
Here we have the Thermaltake BlacX 5G Hard Drive Docking station which is a USB 3.0 drive dock which also supports the UASP function on the ASUS boards. This is a huge advantage as we have seen drive bandwidth increases of huge amounts when tested with an SSD which means it really opens up the pipeline on the USB 3.0 interface.
Click Image For a Larger One
Looking at each angle of the board we can see much of what this board has to offer. First up is the lower area near the SATA where you can clearly see the Subzero Sense connectors, which are great for benchmarkers who hate having to tinker with thermometers. There is also the Thunderbolt port on the IO which allows for daisy chaining and extreme transfer speeds up to double the theoretical speed of USB 3.0 at up to 10Gbps. The memory is standard Z77 layout with 4 slots running in dual channel from the CPU's memory controller. The memory can be overclocked to well in excess of 3000MHz as long as the CPU and IMC are up to the task. The Maximus V Extreme, like all of the ASUS Z77 boards, employs the T topology for its memory traces which is a more efficient design than the old standard. This is supposed to greatly improve capabilities of the memory and performance. Since the IMC is the present limit in most cases for frequency and performance, we are betting that this T topology implementation will really begin to show its true capability in the future as IMC's mature.

Click Image For a Larger One
Looking at the IO it as well as the board is stuffed quite well with features.
Thunderbolt port
mSATA/mPCI-E Card Header
Clear CMOS Button
ROG Connect Button
4x USB 2.0 Ports (3 Blk, 1 Wht)
Intel Gigabit (10/100/1000) LAN Port
4x USB 3.0 ports (2x Asmedia, 2x Intel Z77)
2x Optical S/PDIF Port
HDMI Connector
Displayport Connector
PS2 Combo KB/Mouse port
7.1 channel Realtek ALC 898 powered audio connections with Optical SPDIF port
As you can see here there is an enormous array of available connectivity. The board has dual S/PDIF connections and even a PS2 port for those who use that for benching purposes, all add to making a board that is built to be frozen on a test bench but can also be domesticated into any extreme high end gaming rig.
Click Image For a Larger One
This board supports every bit of 4 way GPUs and it was designed from the ground up with this premise. One added benefit is that even in a two way GPU configuration, large triple-slot cards can still have room to breathe when placed in the first and third red slots. However, this would result in about 5% performance loss from the cards, as opposed to using the black slot which is specially assigned for native PCI-E lane performance bypassing the PLX bridge. This is the kind of thing you should consider before setting up your system, especially if this will be used in a daily gaming rig.
The upper IO area houses a Thunderbolt connector which as we covered earlier is a super fast interconnect for bandwidth-hungry devices which also can be daisy chained for multiple devices all coming from a single cable connection on the motherboard. 
The top edge carries the OC corner which as you can see has many goodies designed around the idea of putting this thing on a test bench. The LCD POSTer is of course designed for quick and easy POST diagnosis. The LN2 jumper and "Slow Mode" switch work in conjunction as the LN2 jumper allows LN2 mode enabling. This turns on special LN2 based profiles and setting enhancements specially tailored to sub ambient cooling. The "Slow Mode" switch can be used to automatically throttle down the CPU to avoid crashes or issues especially when riding the razors edge of stability. Also here you will see the ProbeIT connectors for reading the key voltages from the board with a multimeter along with the VGA Hotwire connections for hardware level voltage control and monitoring for your GPU.
Click Image For a Larger One
Here  you can see the storage side of things and for this it is rich as you can see two black ports which are SATA 3G from the PCH, then there are 6 Red ports which are capable of up to SATA 6G spec. Two of these 6G ports are from the Z77 PCH while the other four are from an onboard ASMedia chipset which allows for much more storage expandability. There are two SATA 3G ports missing which come from the PCH and they are found in two places, one of which is a vertical port at the boards lower edge, and the other is wired to the IO section header to be used with a mSATA SSD on the mSATA/mPCI-E card combo. Also blow the standard SATA ports you see the larger black plastic box which is home to the Subzero sense K Probe connectors where you simply plug in the sensor from your subzero cooling container and from there you can monitor temps directly without a thermometer.
The BIOS button at the bottom right of the board really helps in benchtop usage for quick actions, and next to it is find the front panel header at an ideal spot to allow easy connectivity to the chassis front panel without long cable runs.
Click Image For a Larger One
Here is  the Realtek audio chipset used to power the 7.1 channel audio driven form the Extreme board. While it is not a SupremeFX III or IV design it is still a very capable audio solution for some good gaming action. Near the rear IO you can see the Intel chipset for the Thunderbolt port which allows for the super fast interconnect. The third image shows the 6 pin PCI-E supplemental power we mentioned previously. This should supply way more than enough for even the most hungry GPU setups and then some. There is also a supplemental floppy connector here as well to help beef up power across the board rather than relying on the 24 pin on the other side of the board to do all of the heavy lifting.
The dual BIOS chips are perfectly at home right above the bottom-most slot. This is good because they are far away from the CPU socket, so under extreme cold they are less likely to suffer issues from condensation. The benefit of BIOS redundancy is that a corruption or even failure of one BIOS does not matter as there is a spare just waiting to run.
Click Image For a Larger One
Here is a nice overview of the OC section which now you can see the PCI-E disable switch box. These small switches can be used to disable GPU slots individually to help diagnose instability issues related to GPU by simply disabling a card or multiple at a time to help find the culprit. also you can see the onboard switches, which are used to power on or reset the system. The much smaller red button is the "Go Button", an automatic profile loader which can be configured in the BIOS to pre-load a specific testing or overclock setup that you have configured through the menu in the BIOS itself.
Also here you can see the PLX bridge which is in place to provide you with the PCI-E expandability you need for 4 Way SLI or Crossfire with x8 bandwidth on all 4 slots. This chip takes the standard x16 lanes and doubles up that available amount to allow this kind of setup and makes this board much more capable of a performer should you want a 4-Way SLI setup.
Click Image For a Larger One
The VRM on the Maximus V Extreme is the Extreme Engine DIGI+ design which we had discussed just a few pages back. The DIGI+ components are selected for their quality and also for their performance. We feel like recently performance is such a loosely used wording for a component so we will briefly explain. The DIGI+ components are first and foremost selected for their durability, which has to do with their ability to stand up to very high long-term loading and stress without showing signs of failure. The performance side can be equated to the fact that they can put out some serious power which allows for the needed push to get a CPU to extraordinarily higher clockspeeds. The DIGI+ controller is where much of the magic happens as they are really a multi-purpose design. They can offer superior maximum performance, but the controller can also actively balance load between components to allow switching, which enables components to stay cooler, leading to higher long-term efficiency.
The VRM is fed by a standard 8 pin CPU power connector, which is more than enough for a Ivy Bridge CPU and some serious overclocking. Just to make sure you never see the limit, ASUS also installed a supplemental 4 pin CPU power connector for those running sub ambient cooling at over 6+GHz just to ensure that even under the most stringent loads there is backup for the 8 pin to ensure plenty of juice is there and ready to load up.
Software Overview
AISuite

ASUS has not strayed too far from their already successful software design. However we can say that the software has been tweaked and improved while also adding new features to ensure users get the full control they expect from their board.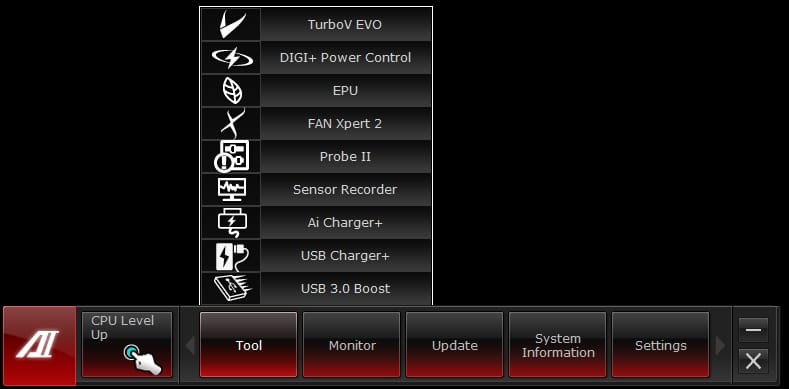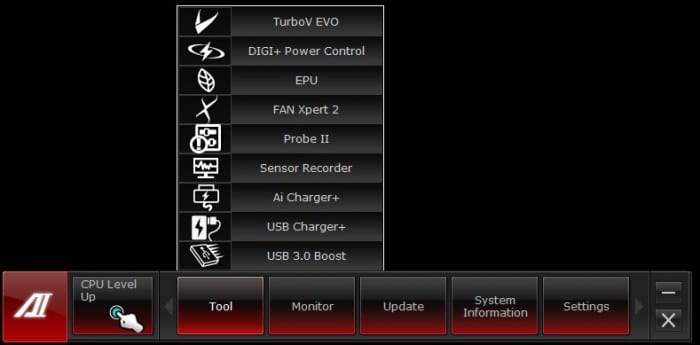 The AISuite bar has many tools and features hidden within just waiting for users to discover. We are now going to walk you through each one with some key pointers as to which does what.
The CPU Level up button allows quick and easy single click overclocking to give a free performance boost for demanding users.
The Manual section is the polar opposite to the CPU Level Up, as it allows manual configuration of an overclock which will easily exceed the CPU Level Up presets. All of the important settings from voltages to frequencies can be adjusted here.
The DIGI+ Power Control Center has separate sections for DRAM, CPU and Smart DIGI+ power sections. DIGI+ has to do with ASUS's implementation of its industry leading DIGItal power controls, which have been proven for excellent efficiency and accuracy which leads to better overclocking potential.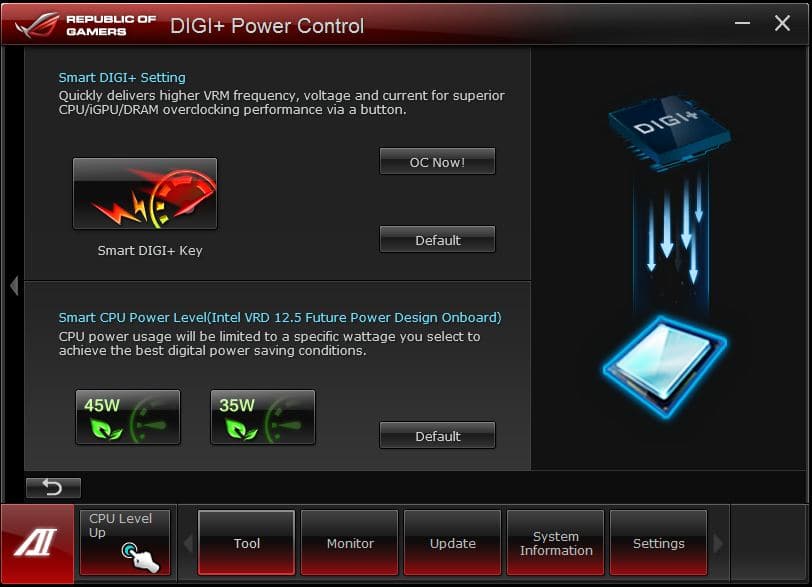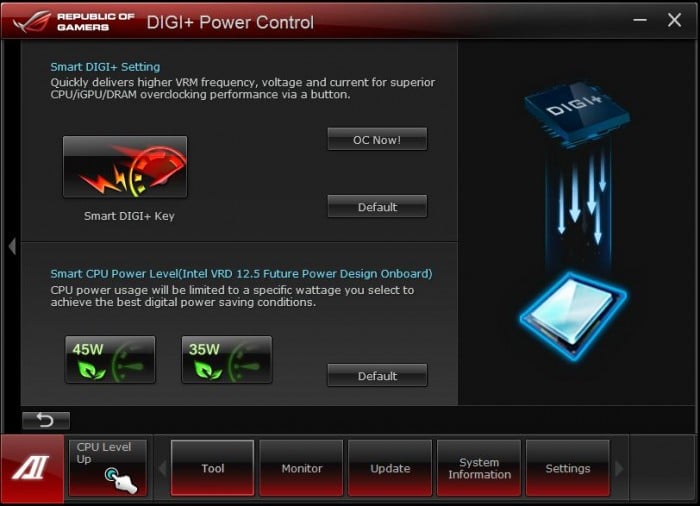 Here is what we see when entering the Smart DIGI+ power screen. For those looking for the ultimate in low power computing there is the Smart CPU Power Level which when enabled there are 2 options 45W and 35W. These settings allow limiting the CPU to these preset wattage settings for power savings and it will be throttled as such. this is especially great in business type environments where full CPU performance is never utilized as this can cut power consumption and wasted energy by quite alot.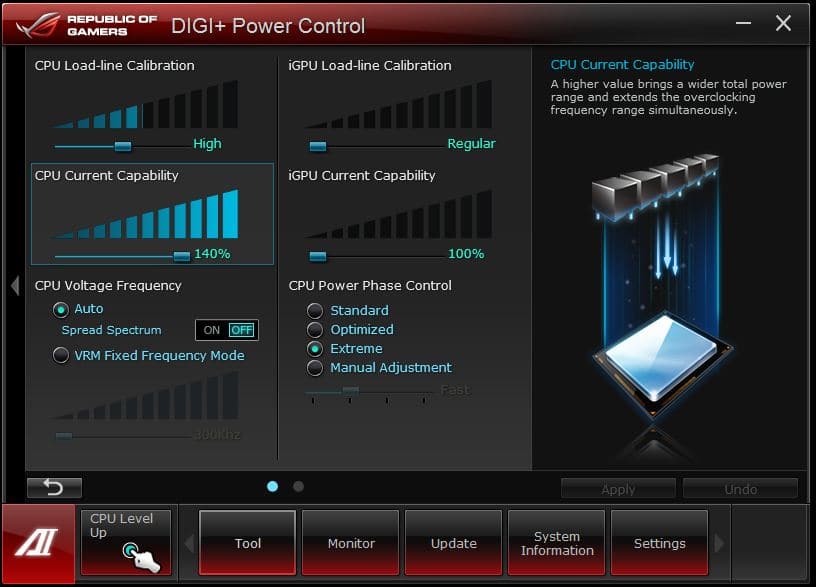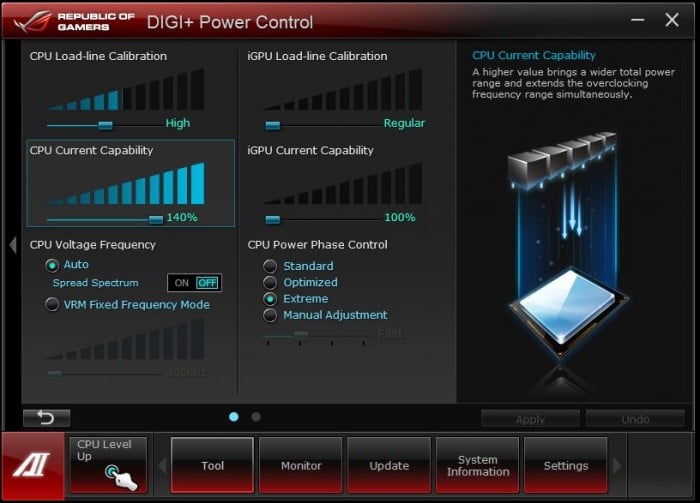 The DIGI+ screen for CPU control is where we can adjust all settings related to CPU and VRM controls. This includes VRM frequencies, thermal protections and even thresholds. These are the settings you will need if pushing the limit on your chip.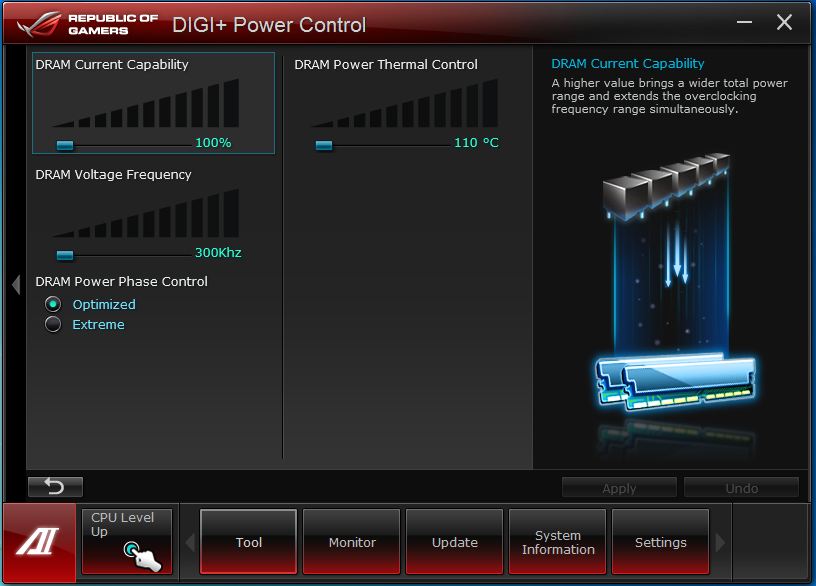 The DRAM settings allow for maximum tweaking of the memory power circuits and how they behave. Much like the CPU counterparts we see this as very useful the more you push your DIMMS.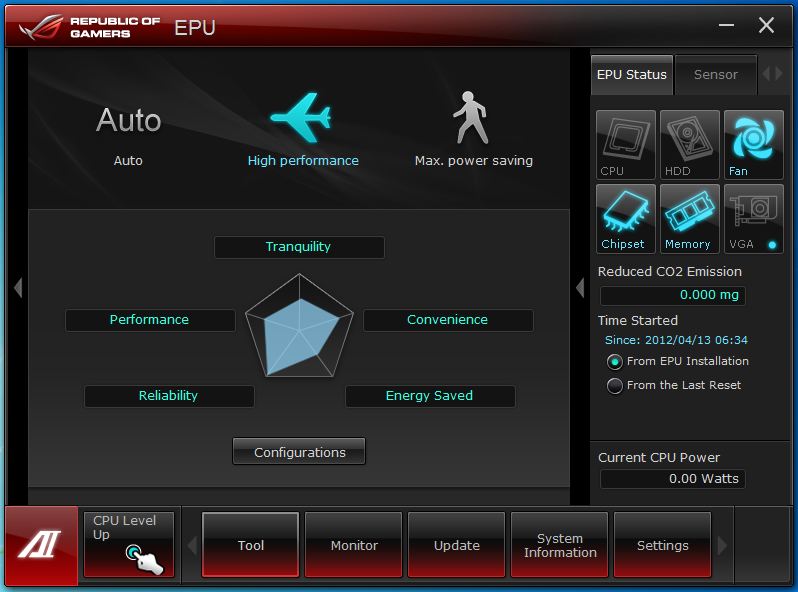 The EPU utility allows for custom tuning of the system to best match the usage model and even graphs out the present setting into whether it is more tuned toward performance and speed, or whether it is tuned toward power savings and tranquility.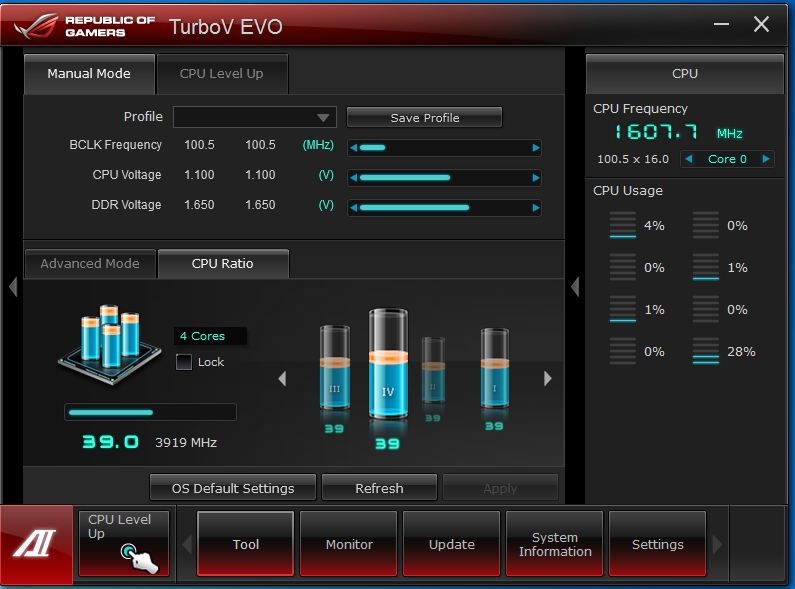 The Manual mode of the Turbo V EVO software allows for very precise fine tuning of the overclock and settings. This includes as pictured above the fact that you can adjust individual cores multiplier to allow for much better tweakability and overclock fine tuning to get the maximum performance from your rig.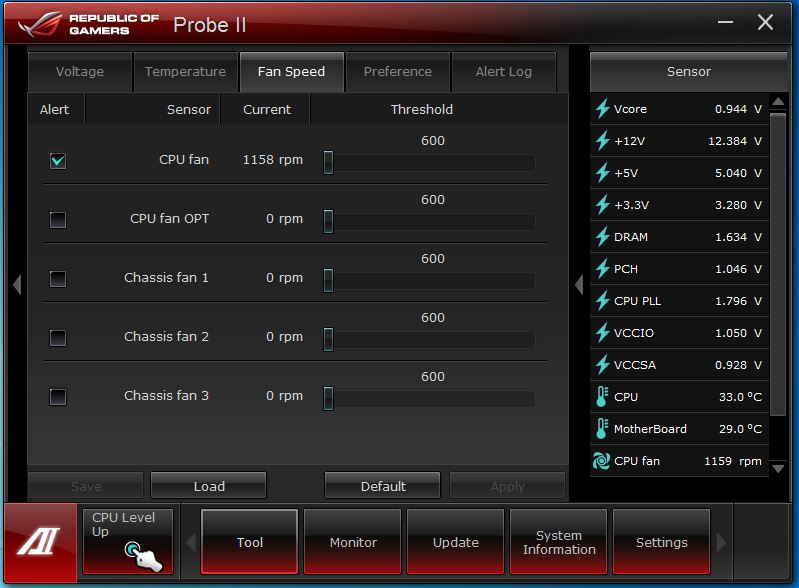 The Probe II software is very similar to what we have seen before which is simply allowing monitoring of temperatures, voltages and fan speeds all to keep a good eye on the system performance. Also here we can set alarms for specific areas we want to keep an eye on such as if a fan drops in speed below an amount we specify. One thing worth noting is that there are the optional thermal probe headers on teh baord which look like standard 2 pin jumper headers and these can be monitored through the software as well to ensure key areas that may not be monitored by default or even external device as needed.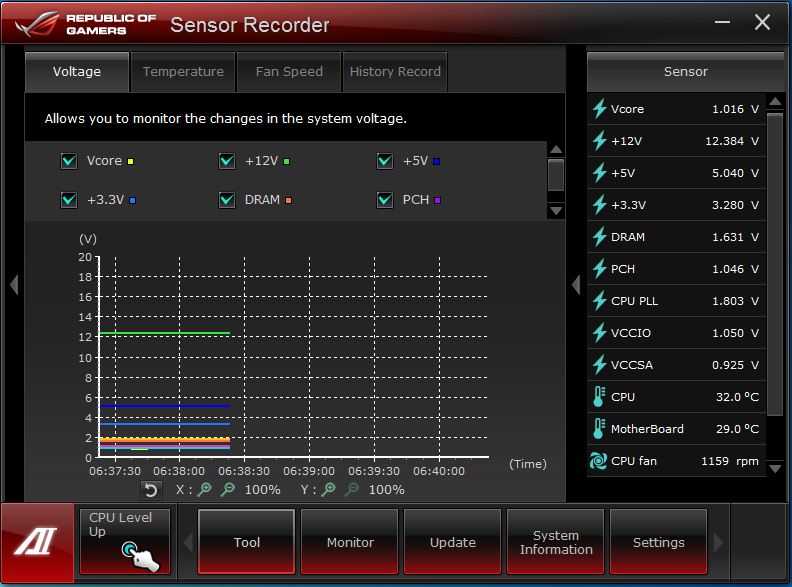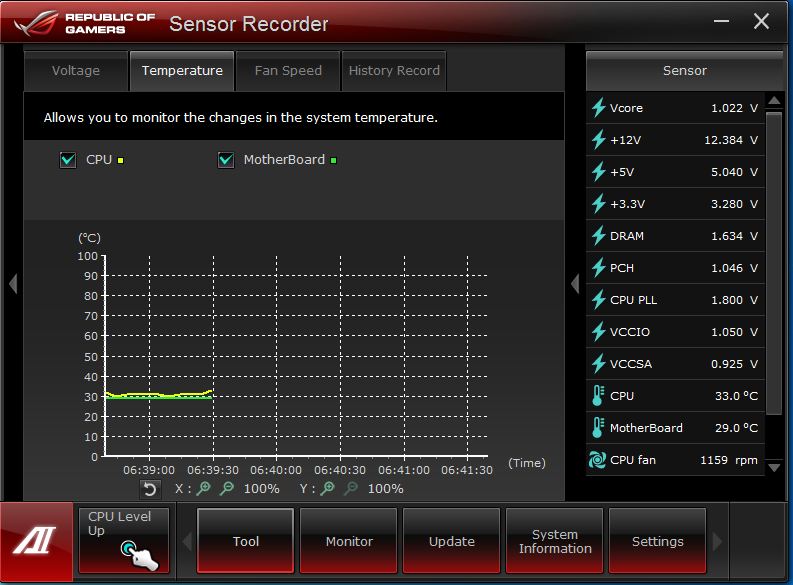 The sensor recorder function is cool because if you hear a fan ramping up during gaming or something seems to be getting to hot you can always engage the sensor recorder to monitor and graph the fan speeds, voltages or temps recorded while in game so you can better diagnose possible issues before they become bigger ones.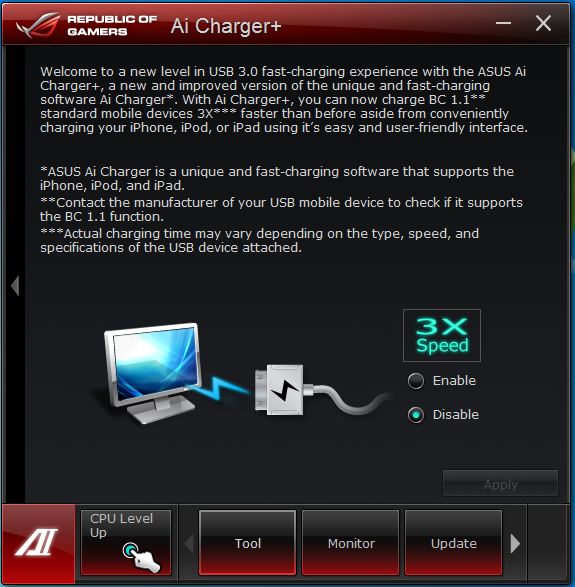 AI Charger + allows for charging of high draw APPLE i-devices at a much higher rate than before. This feature supports BC 1.1 function although as listed you will need to confirm that your device supports this spec. The AI Charger feature is supported via all states from power off, all sleep states and even hibernation.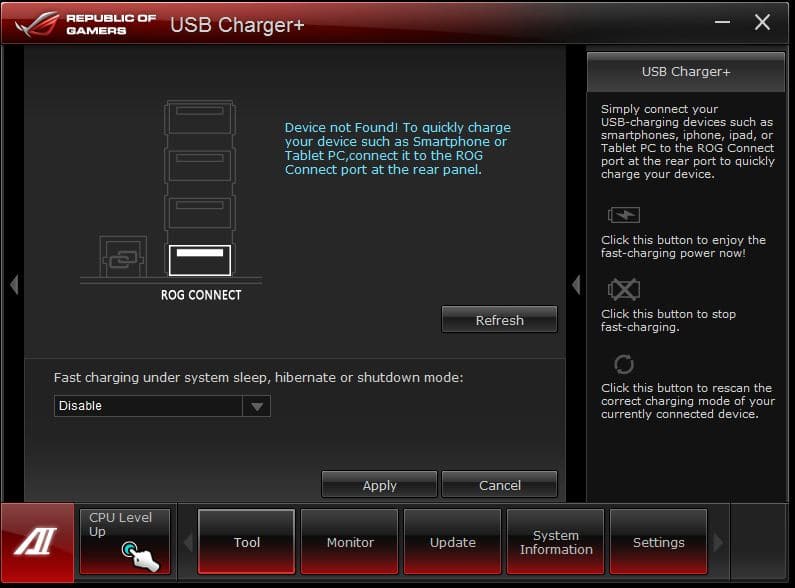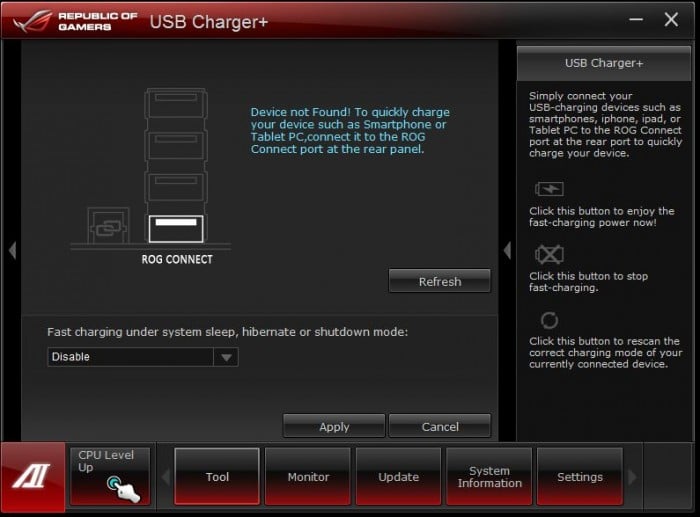 USB Charger+ is much like the AI Charger but for non i-devices or Android phones, tablets or high draw USB charged devices. USB Charger is also supported in all states from full power off, to sleep states and even hibernation for charging no matter the PC usage.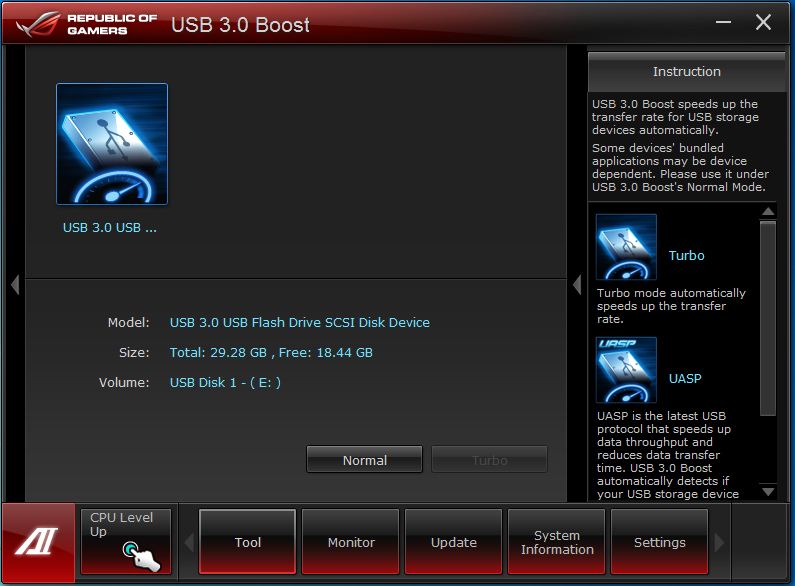 Here is the USB 3.0 boost which was covered briefly before as it allows a speed boost to many USB 2.0 storage devices and even some supported USB 3.0 storage devices by changing the communication protocol being used.
A full list of supported protocols and presently supported devices can be found here
ROG Connect
ASUS includes the ROG Connect utility with all their ROG boards. This allows connection of a remote computer via USB (with an included USB cable), which allows not only remote monitoring, but remote control of ROG boards from the separate connected system. as we see the ROG connect is the same between all of the ROG boards which is great for familiarities sake and ability to switch platforms.
Here we have the main screen. This is RC TweakIt, which allows adjustment of all of the main voltages along with monitoring of voltages, temperatures, frequencies, and fan speeds on the remote system. This is our home screen and all menus we see from here will be accessed via this main screen to start.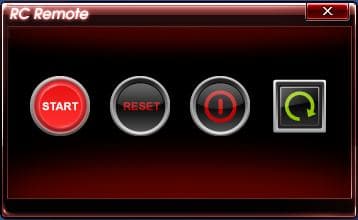 Here we have the RC Remote which allows a few key functions such as:
Power on
System reset
Power Off
Clear CMOS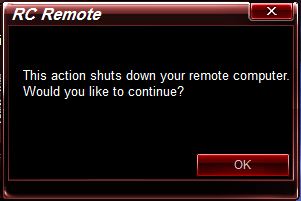 This kind of message will be displayed to ensure no unintended operations or shutdowns occur because of an accidental click.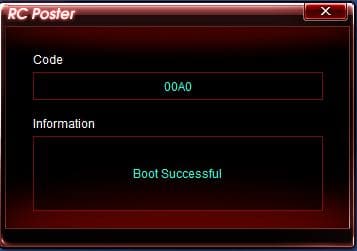 During POST, with a system connected, we see this display which tells us which point in the POST process we are at presently. This will help greatly when overclocking, in the event we suddenly run into a POST issue.
Here we have the RC diagram tool which allows remote monitoring of many sensors for fan speed, voltage/amperage, or temps to ensure our system is running well. We were very interested in the amperage of the CPU, which gives us a very good indication of the low power cycles were able to achieve during periods of idle usage.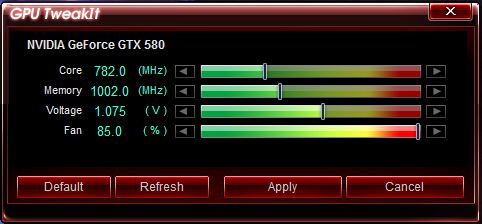 Here we see the GPU TweakIt option, which allows remote control of our graphics card with gpu and memory clock adjustments along with some minor voltage adjustments.  This could be helpful while benchmarking.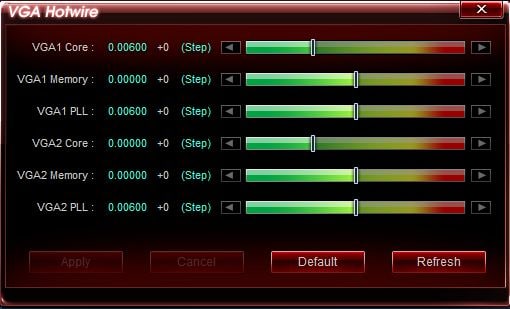 Here we have the VGA hotwire feature which with a VGA hotwire enabled card you can connect the wires directly form the mod points to the card and have very good control over the cards voltage and monitoring directly from the connected system or notebook.
GameFirst II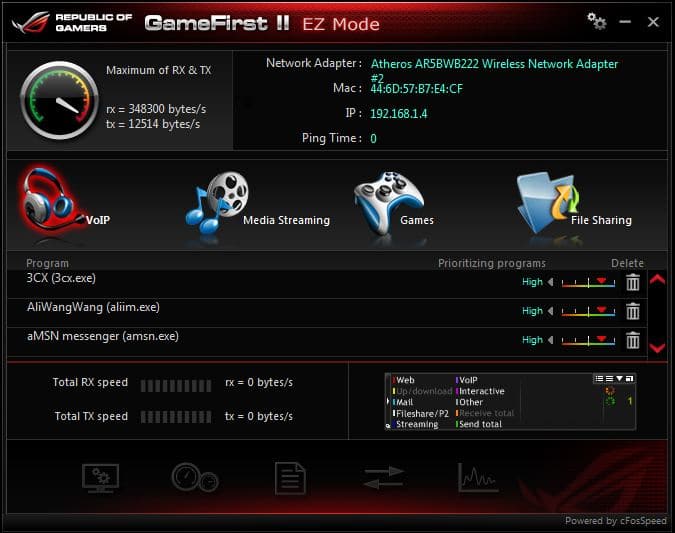 GameFirst II is yet a further improvement on the packet priority and traffic shaping controls to give you better control over your online experience. Individual programs can be tweaked for network priority to allow for full control over which programs get top spot on network access which means that downloading while gaming online is not really an issue any longer as your important game packets will get better ping and priority while the download packets can still be transferred as well.
WiFi GO!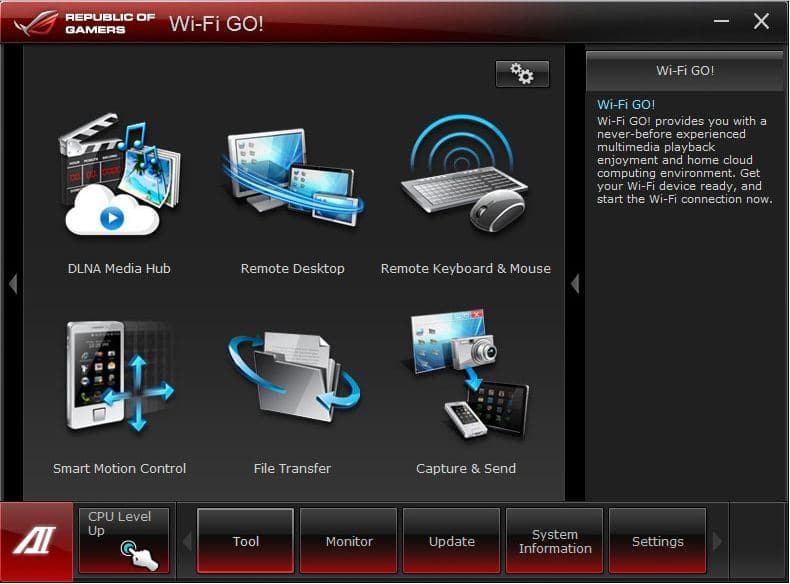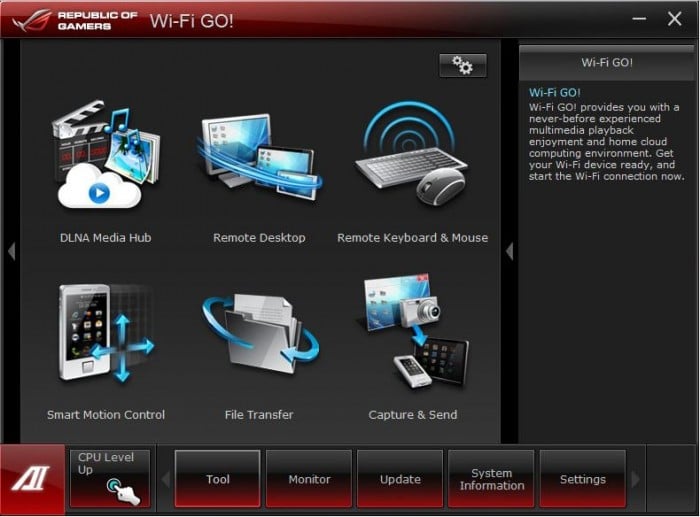 WiFi GO! is something we have looked at before but is something worth talking about. The WiFi GO! function allows for multiple different configurations to be made quickly and easily using this utility to configure multiple different usage models for the network. Things such as DLNA media streaming, remote control via tablet or other device, remote file transfers, motion control via motion enabled devices, remote desktop to compatible devices and even remote screen capture is just the tip of the iceberg as to what you can do with this.
Mem TweakIt
 Mem TweakIt is a great program for extreme overclockers or tweakers as it allows real time adjustment and tweaking of the memory for the system which can make the difference between a high point run and a world record run.
BIOS Overview
Extreme Tweaker
Click Image To Enlarge
Here we see the Extreme tweaker main page. This is the base station or starting point for tweaking and overclocking the board. You will notice there are many settings just waiting to unlock all kinds of fun with the right cooling. One thing to note which is missing are the "Extreme" profiles but for all of the extreme benchmarkers out there, the board has a pin header at the upper right hand edge of the board to enable "LN2 Mode" and once the correct pins are closed the LN2 Extreme profiles magically show up when entering the BIOS. As always, exercise caution when pushing the limits or enabling this as you would likely not want to do it with standard cooling due to the fact that many protections and voltage points are changed to be more aligned with subzero cooling.
Click Image To Enlarge
This board has some of the most in depth memory clocking portions including a completely insane amount of presets depending upon the IC your memory modules use. As seen recently Ivy Bridge IMC's tend to scale very well with PSC or older BBSE modules, so if you have some of those, there's a good chance you will see 2200-2600 C8 or better.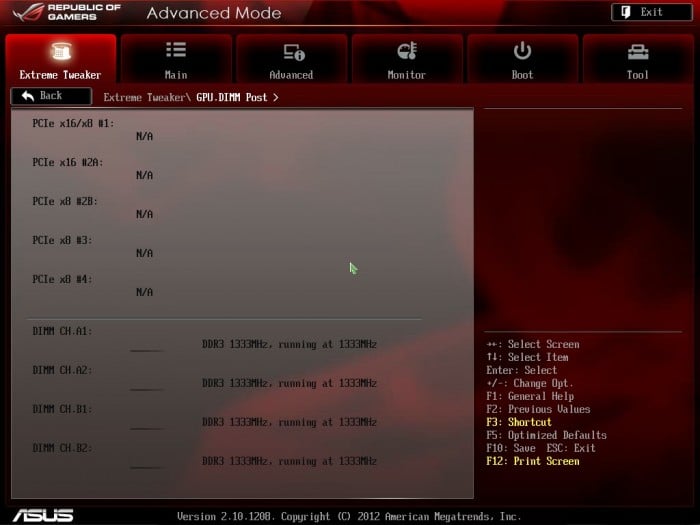 Click Image To Enlarge
Here we have the GPU/DIMM POST screen which we have talked about endlessly as to how helpful it has been previously.  We had memory not showing up in the OS, this tool was extremely useful in diagnostics. None of our other methods worked, but when we entered this screen, we instantly we saw that all DIMMs were detected but one was reading as "Abnormal", at which point we powered off and reseated that stick and all was well. This also definitely helps when running subzero and losing a memory stick detection (turned out a little too much vaseline in the DIMM slot caused it not to make adequate contact)
Click Image To Enlarge
Here we have the CPU power management screen which deals with a few key processor technologies. This area allows for enable/disable of speedstep, turbo and of course adjustment of the CPU ratio and the turbo power limit control.
Also the DIGI+ screen is another important one as it can really open up the throttle on your overclocking efforts by extending power limits well beyond stock values where otherwise the limits would stop you from seeing the platforms full potential. This is also where you can adjust the performance of each of the DIGItal PWM components that are found in the DIGI+ implementation. Once again  here setting extreme values while it may allow more overclocking headroom do keep in mind that you are opening the door to more thermal dump and higher temps so be sure not to just crank everything up for no reason unless your going cold.
Also there is the VGA Tweakers paradise which allows for full control over VGA related tweaking. If using the VGA hotwire function monitoring and tweaking can be done here as well. One thing to note here is the VGA +3.3V Aux voltage adjustment which can help quite a bit when pushing GPUs to the max as this is one of the only board I have seen with separate adjustment to this voltage which can really affect GPU stability and performance.
NOTE: VGA Hotwire is not needed to utilize the VGA +3.3V AUX adjustment.
Click Image To Enlarge
Here we have some of the advanced board features including many settings such as CPU feature settings. Also seen in this area will be SATA settings and many others to adjust how the components operate on the board. This is all fairly standard stuff you will see on most boards so we put up a few shots just to show the general more important options and their layout.
Click Image To Enlarge
The monitoring area allows for multiple options from monitoring voltage, to temperatures and even fan speeds. With the inclusion of the Fan Xpert II Software the cooling fan performance is now at a whole new level so adjusting in the BIOS will be a thing of the past.
Click Image To Enlarge
The rest of the settings are just basic boot setup and BIOS flashing tools which all are standard fare for motherboards. Lastly we have the tools which of course include the EZ Flash 2 utility, memory SPD reader and even clock profiles to allow you to save your favorite overclock settings. And lastly the EZmode BIOS which is a primarily GUI interface where a few clicks easily can do some basic setup in the UEFI.