What is Thunderbolt?
Thunderbolt is a very new interface to the PC world but has been around Mac for awhile. Very simply, Thunderbolt is a super high speed interface with up to 10Gbps throughput. In reality, however, there is much more below the surface so let's dig in and see what Thunderbolt is all about.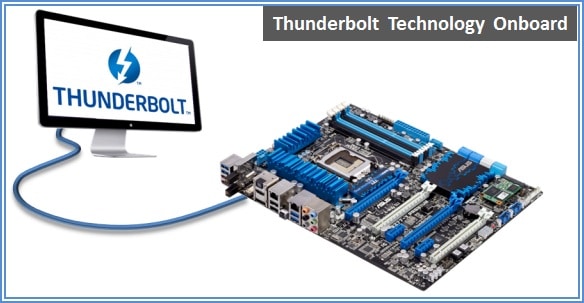 ASUS is the first to carry full Intel Certification for Thunderbolt integrated into a motherboard.  This speaks highly to the close working relationship ASUS shares with Intel.

Thunderbolt interface is a 10Gbps interconnect which also carries DisplayPort signal so that a single port on the board can easily be daisy chained out for multiple devices and terminated at a DisplayPort display.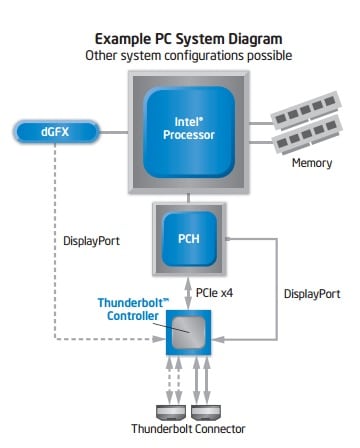 Here we have the block diagram layout similar to what we had with the P8Z77-V Premium board. As we see it pulls a full 4x PCI-E link to ensure there is no starvation of bandwidth to the high speed Thunderbolt interface.  For many boards that have been newly announced, we are unsure if the manufacturers used a full 4x link or if the links are switchable between 2x and 4x depending upon device population. However, the Maximus V Extreme has PLX controllers in place to allow plenty of available PCI-E lanes for component usage.  For those boards that do not carry auxiliary PCI-E multiplexers the board may need to disable certain devices or lower the Thunderbolt link speed in order to allow full usage. For the Thunderbolt enabled boards ASUS chose the no compromise route to ensure everything is available when needed.

Here we see as previously mentioned that the Thunderbolt carries 2 signals concurrently (both a Thunderbolt DATA signal and a DisplayPort signal). This allows for the aforementioned connection of a DisplayPort monitor at the end of the line of data devices which makes for a single cable output from the board to devices and display.

Here we see the 7 device connection.  This is 6 devices through data and a display at the end.  Even if using no display inline, the limit for data devices such as external storage is still at 6 total for the data stream which is pretty awesome from a single connector on the board.
For testing the Display function we used an ASUS PA238 IPS panel hooked up via the thunderbolt interface (DisplayPort) daisy Chained from a LaCie 240GB external Thunderbolt SSD setup. 
USB3.0 vs. Thunderbolt trace comparison
 Thunderbolt
 USB3.0
Here we see a few things for those who are familiar with trace layouts and how they work.  The traces for the Thunderbolt port are very short which decreases latency and also chances for EMI amongst other issues.  With a really high speed interface such as Thunderbolt this is an absolute necessity as they can be easily susceptible to interference on larger trace runs.
Another area we see is the arced or curved trace routing as it makes turns whereas the USB 3.0 utilizes angle style runs which means it takes 45 degree sharp angles when making a turn on the PCB and changing PCB layers. This will help reduce both electrical impedance and signal reflection.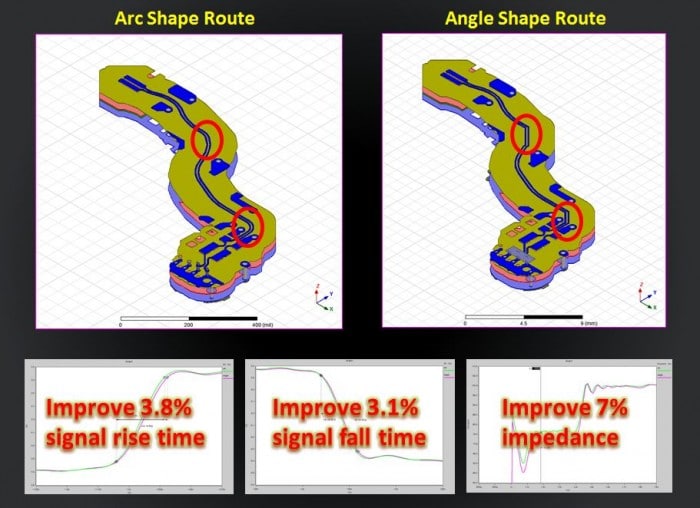 As seen above the arced route improves the signal in multiple areas and appears to be a more efficient design for the high speed Thunderbolt interface.
Thunderbolt Performance Comparison
USB 3.0 Throughput
 The USB3.0 performance is good for the single 1 to 1 interface and it does its job just fine and with the ASUS USB 3.0 boost even gets some very respectable speeds on its own but it really is limited when it comes to total bandwidth as it only carries a native link of 5Gbps which means if using a USB3.0 hub you can quickly hit the limit of the bus.
Thunderbolt Max Throughput Test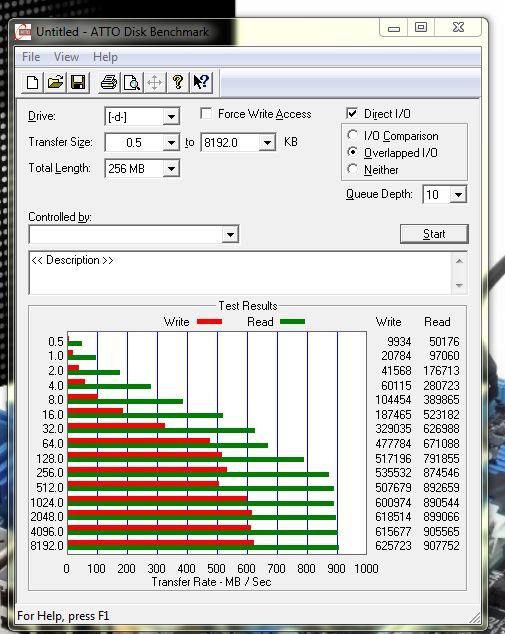 With a multiple SSD daisy chain configuration we can see the thunderbolt interface can quickly reach speeds in excess of 900MB/s read which is extremely fast and can be very usable for media professionals who need extreme bandwidth capability for high definition content.
Identifying a Thunderbolt cable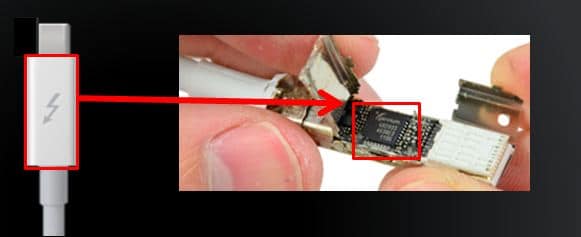 Thunderbolt cables and mini DisplayPort cables share the same connection type but unfortunately are NOT interchangeable.  A DisplayPort cable can plug into a Thunderbolt port, but cannot be used for a data device. A Thunderbolt cable can be easily identified like above as it has the Thunderbolt logo and is also an active cable with an IC in the cable head.
All in all Thunderbolt is a super high speed interface that is capable of completely insane speeds simply not possible on USB 3.0 as it only has half the available bandwidth that Thunderbolt can use.