Today we look at the new ADATA SX 900 128GB SSD. It is a Sandforce powered drive like many others but with a specially designed and optimized firmware which opens up even more NAND capacity for use.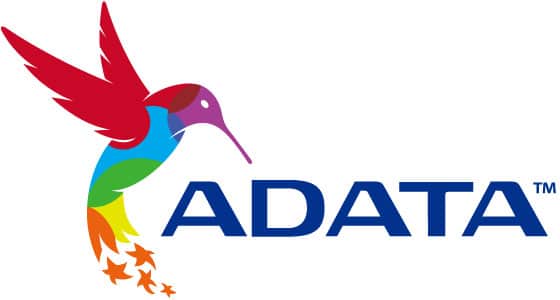 INTRODUCTION
The advancements in SSD technology have been ridiculous breaking the 500MB/s barrier and then some. Many drives today are using the Sandforce 2281 chipset and this drive is included in that number. This drive has some special features that help make it even better in the fact that the firmware is a specially designed model that allows utilizing of even more NAND than other models which means much less is wasted. This is a big deal to ADATA as every ounce of storage capacity is a huge deal to the end user so to be able to offer even a few percent more is of utmost performance.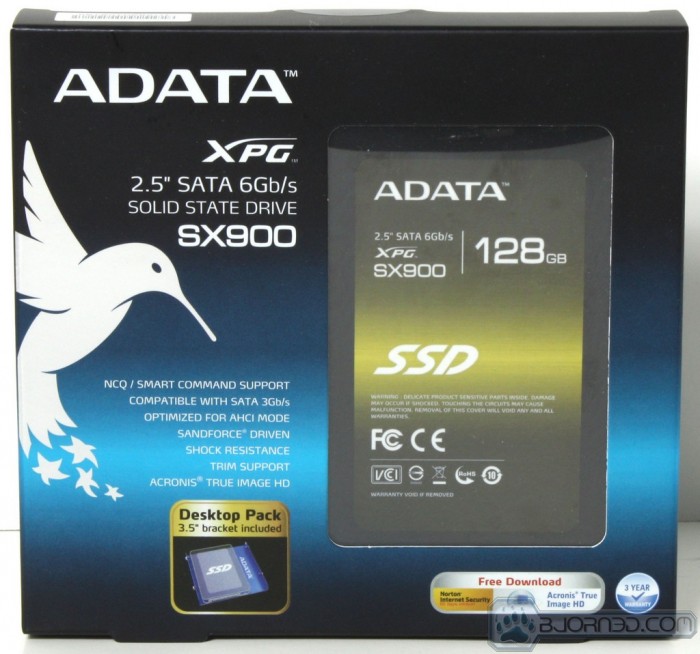 Present market price for this drive is $119.99 directly from Newegg. This places it right in line with most other drives if not a little over depending, but with SSD prices dropping like they have been it could be even lower or higher at a future time.
Specifications
Capacity
64GB /128GB /256GB /512GB
NAND Flash
MLC (Mulit-level cell) Flash
Interface
SATA 6Gb/s
Form Factor
2.5 inch
Dimensions
100 x 69.85 x 9.5mm (L x W x T)
Weight
76g
Feature
TRIM COMMAND SUPPORT
MAX 4K WRITE IOPS
RAID SUPPORT
Performance

64GB Performance (ATTO) :
Read: Up to 550MB/S
Write: Up to 510MB/S
Multimedia Data Transfer (AS-SSD)
Read : Up to 380MB/S 
Write : Up to 88MB/S
MAX 4K write IOPS up to 85K

128GB Performance (ATTO) :
Read: Up to 550MB/S
Write: Up to 520MB/S
Multimedia Data Transfer (AS-SSD)
Read : Up to 486MB/S 
Write : Up to 182MB/S
MAX 4K write IOPS up to 85K

256GB Performance (ATTO) :
Read: Up to 550MB/S
Write: Up to 530MB/S
Multimedia Data Transfer (AS-SSD)
Read : Up to 510MB/S 
Write : Up to 320MB/S
MAX 4K write IOPS up to 90K

512GB Performance (ATTO) :
Read: Up to 540MB/S
Write: Up to 465MB/S
Multimedia Data Transfer (AS-SSD)
Read : Up to 490MB/S 
Write : Up to 240MB/S
MAX 4K write IOPS up to 45K
 

Operating Temp
0°C ~ 70°C
Storage Temp
-40°C ~ 85°C 
Shock Resistance
1500G
Power Consumption
1.2W Active; 0.5W Idle
MTBF
1,000,000hrs
Warranty
3 years
Accessories

2.5″ to 3.5″ Bracket

Acronis True image HD,disk Mirgration Utility

Remark

Actual usable space may be less than the total storage capacity listed due to Decimal measurement

 used to represent usable capacity of the SSD
              
PIctures & Impressions
Click Image to Enlarge
The ADATA SX900 comes in a standard stiff paper box with a viewing window. The front has the ADATA logo hummingbird and some key product information on the front. The rear of the package shows key product info in multiple languages along with key performance info and notes depending upon application.
Click Image to Enlarge
Here we see what comes in the box. First of course we have the SSD itself which is a black metallic casing along with a metallic lower plate that houses the SSD PCB and internals. Accessories include mounting screws, 3.5″ SSD mounting plate, and instructions for hookup and installation.
Click Image to Enlarge
Here we get a look inside. We can see right off the bat the 16 total (8 front/8 rear) mysterious NAND chips. These NAND chips had no discernible markings that I have seen before as they simply have a alphanumeric combination that I have yet to figure out as there are no actual logos or indicator of who produced these NAND ICs. Also there is the SF2281 chipset which is found on many drives I have used to date.
Testing & Methodology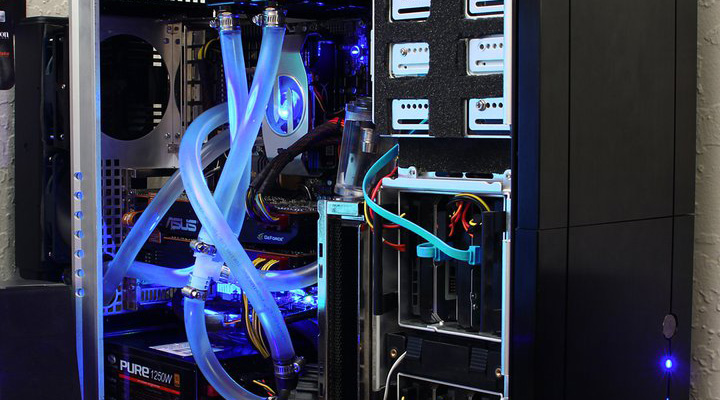 SSD testing can be a bit subjective as a lot of times they are not tested on similar components or at different times. We test our drives as the boot drive with a fresh OS image to ensure all the same drivers updates and OS conditions are observed. Testing with the drive as the boot drive with the os residing on it will result in a much more realistic experience for the end user as just using it as a secondary drive and running benches on an empty drive will likely skew results and deliver different performance than you will see when using it in your system.
Every effort has been made to ensure tah the tests are done on as clean of an OS as possible as a Secure erase was performed before installation.
Test Rig
Test Rig
Case
Thermaltake Level 10 GT
CPU
Intel Core i7-3770K/Intel Core i7-2600K
Motherboard
ASUS Maximus V Formula

Ram
16GbpsB Patriot Viper Xtreme 2400MHz +
CPU Cooler
Swiftech H20-220 Edge
SSD
ADATA SX900 128GB SSD
Optical
ASUS BD-ROM
GPU
ASUS GTX 680 DirectCU II TOP
Additional Cards

N/A
PSU
Thermaltake Toughpower XT 1275W Platinum
Mouse
Tt eSPORTS Black gaming mouse
Keyboard
Tt eSPORTS Meka G1 mechanical gaming keyboard
Test Suite
We will use the following applications to test the performance of the SSD. Benchmarks
Benchmarks
PCMark 7
ATTO
Crystaldiskmark
Startup/Shutdown
PCMark 7

PCMark 7 is the newest benchmark in the Futuremark stable for complete system benchmarking. We did not need the whole suite as we were strictly looking for performance differences in storage so we omitted the normal tests in favor of the storage tests.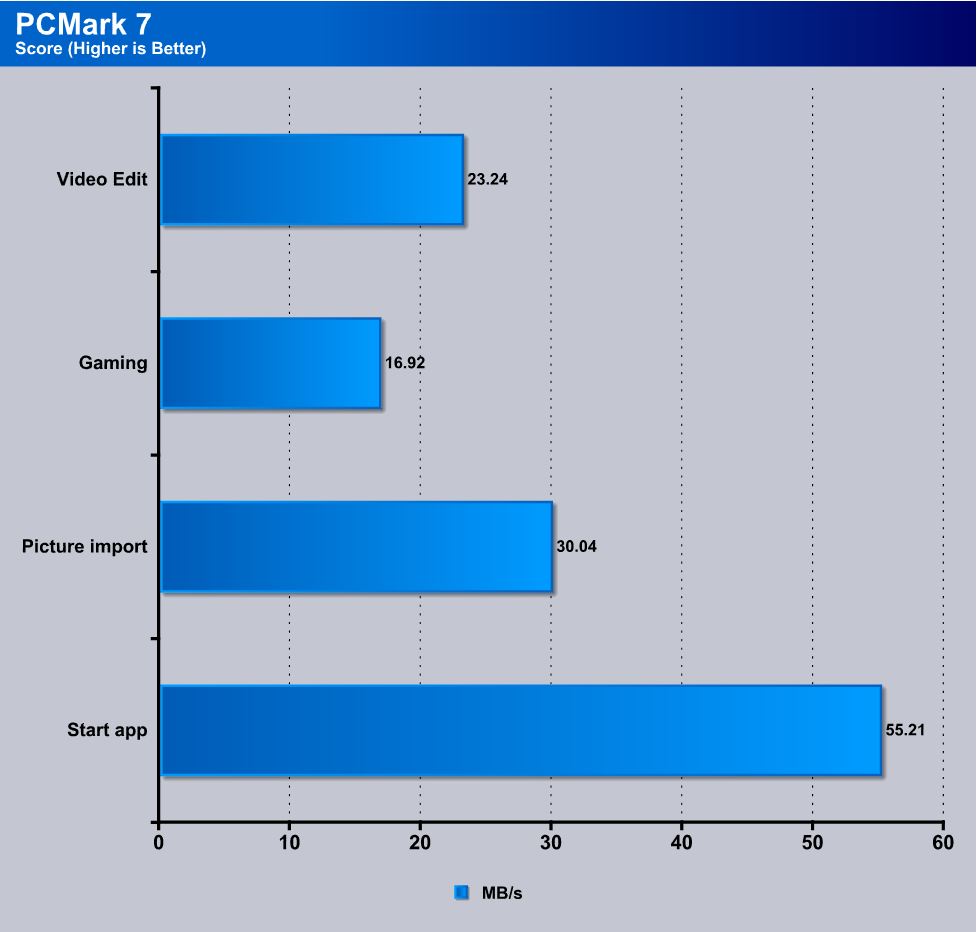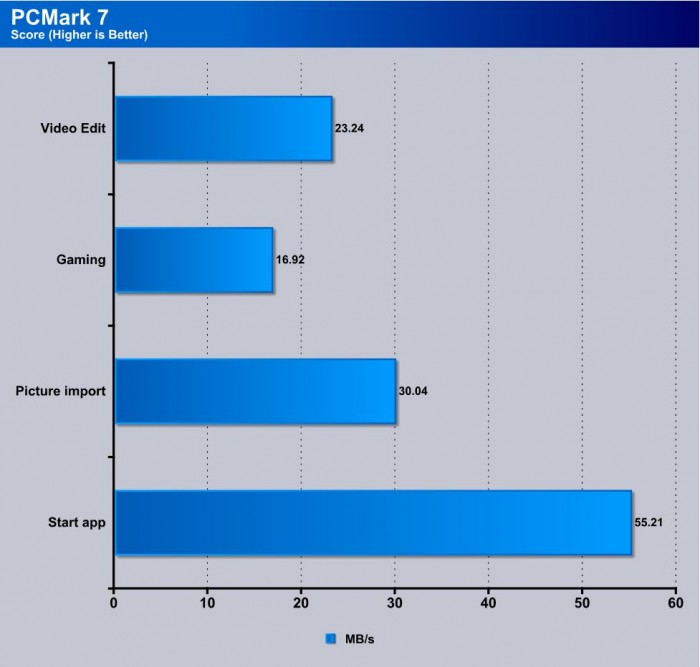 Here I have broken down the PCMark 7 score into individual results. This shows how the PCMark 7 sees its operation per each usage type it can test for. This is actually very good numbers and close to the highest I have seen.
Crystal Disk Mark benchmark
Crystal Disk Mark is a good performance gauge used commonly to check I/O performance for storage drives by testing multiple sizes from 4k and up along with pure sequential speeds as well.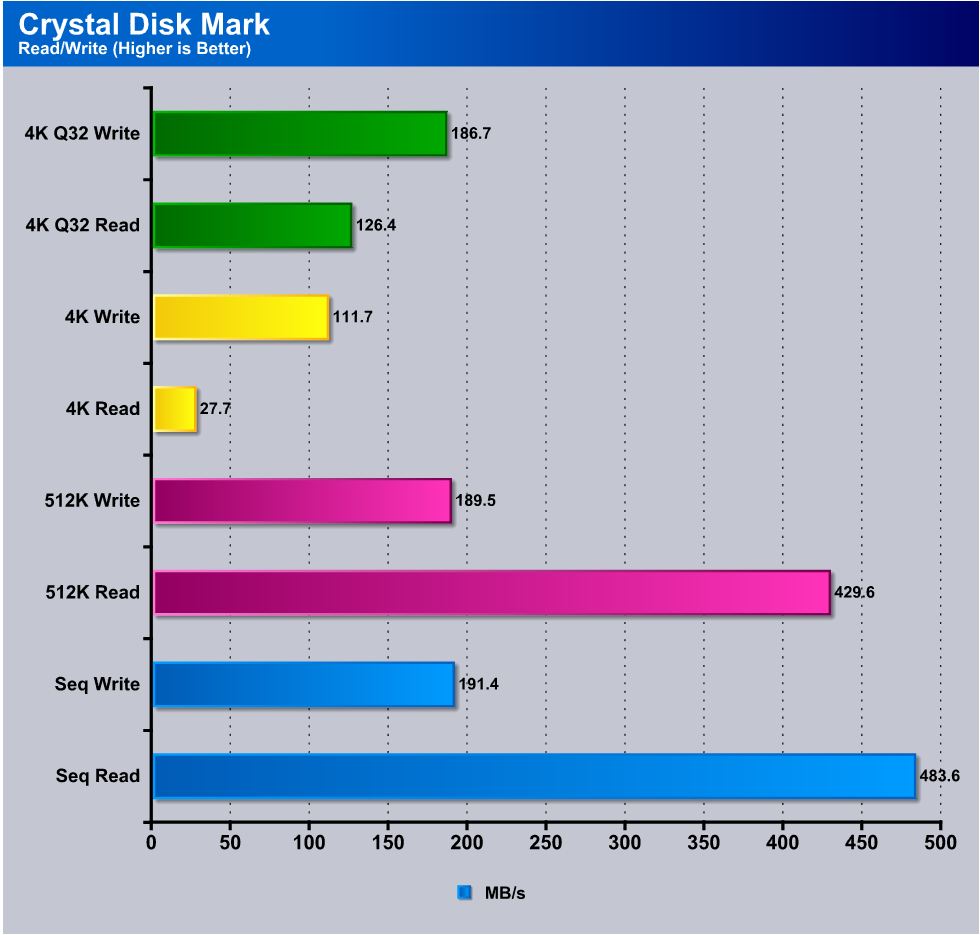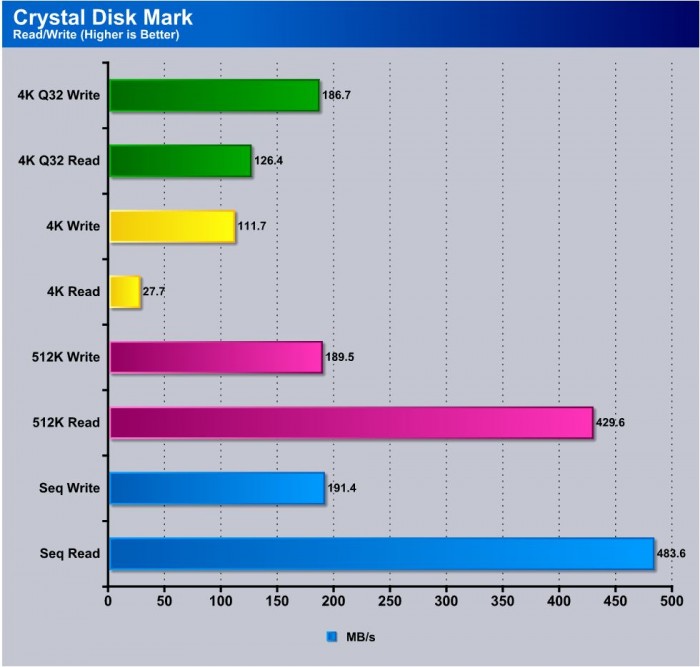 Here Crystal Disk Mark shows some very high numbers with even 4k's pulling a decent result compared to many I have seen previously.
One thing to note is that Crystal Disk Mark uses incompressible data which is handled differently at the controller level as it is a larger file size that would have to be written whereas compressible data is compressed at the controller which means a smaller file size has to be written and is therefore faster.
ATTO drive benchmark
The ATTO Benchmark will show the raw numbers and for this we ran the drives in a secondary state with a 600GB Velociraptor as the boot drive so that the drives could be tested with the full available capacity.

ATTO is one of those tools that most SSD manufacturers use to show the maximum throughput which may not necessarily be obtainable in real world usage but it does show the drives capabilities and possible bottlenecks as well.
Here you can see the drive simply flies even hitting up to the advertised spec which is awesome as sometimes drives get close but do not achieve such speeds.
Startup/Shutdown times 
Startup and shutdown times are probably some of the most noticed differences with a SSD upgrade.  When you start your system getting it to the boot screen as quickly as possible is the goal of most users and overclocking has always increased productivity and even some boot speed for a long time now but there has always been the old platter drive which was the big bottleneck. With SSD's this has all changed as we have seen some systems that can now power up from a resume state in a matter of seconds thanks to a super fast SSD.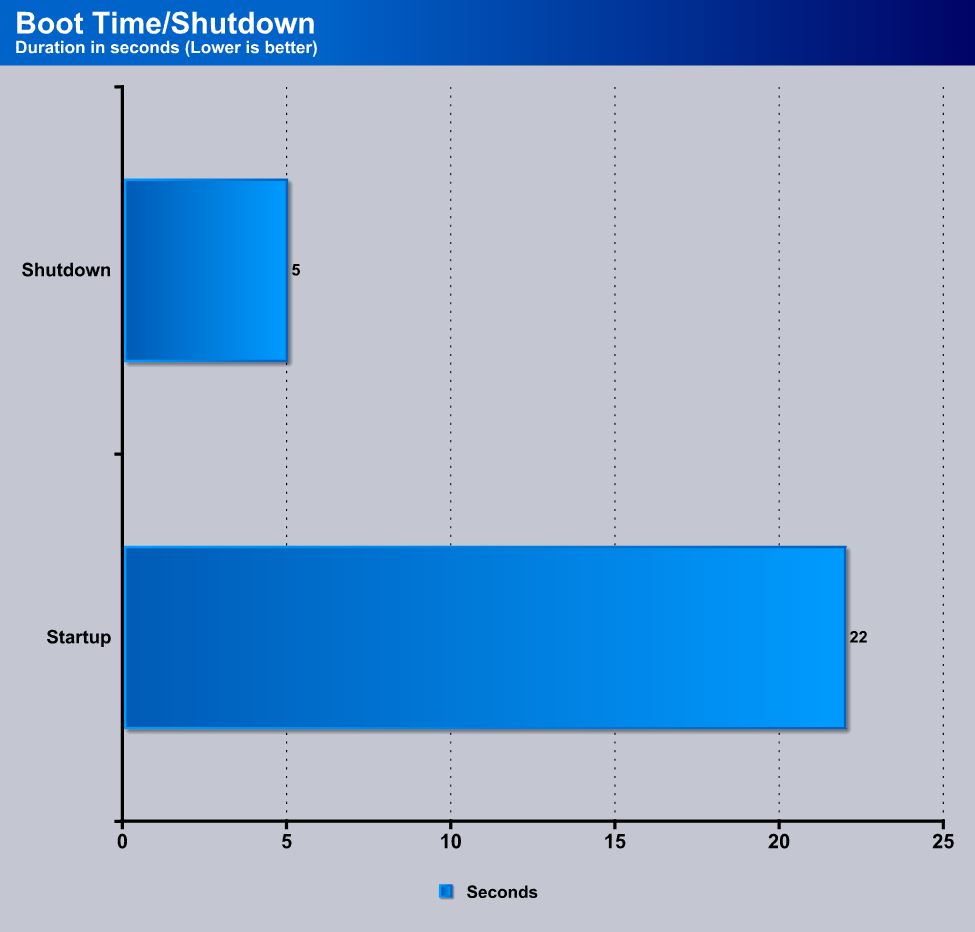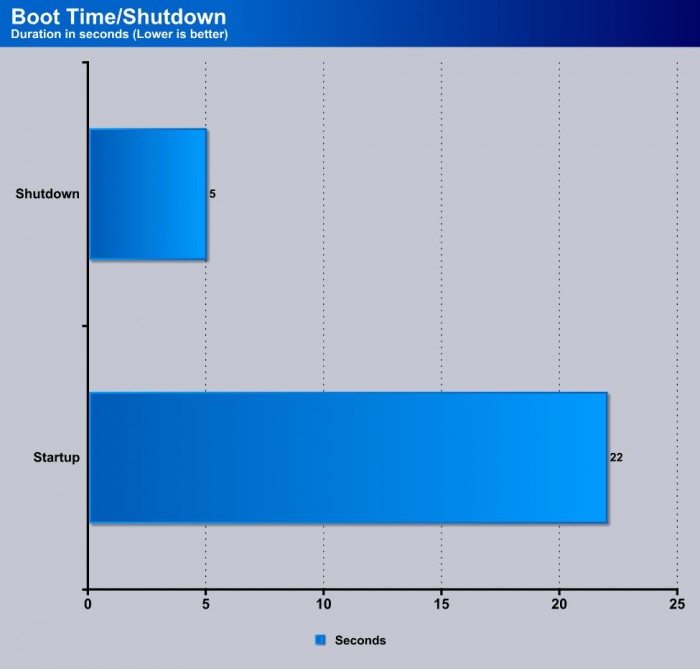 Here you can see that the startup time which was timed with a digital stopwatch app on my phone from the time I pressed the power button to the time it was at teh desktop and nothing else was loading. Now mind you this is a fresh OS with no other programs such as steam or anything else loaded, so your results may be slightly longer but I can only imagine that time difference would be marginal and completely dependent on programs you have running at startup. Shut down time is extremely fast as all services are stopped and system, is powered off. I used the same method to test which was starting a timer from the time I pressed the Shutdown icon to the time the system powers off. as you can see this is extremely fast. 
CONCLUSION
The ADATA SX900 128GB SSD is a very fast monster delivering well over 500MB/s performance at it highest and also some great small file performance as well. And well lets face it when it comes to small files that is what you deal with alot with the OS in everyday tasks is small file transactions so I think this is a major plus.
Also the ability to use more of your valuable NAND via the special firmware employed by ADATA is also a major plus as SSD's are still a bit expensive so smaller ones like this are at somewhat affordable levels and any little bit of extra space you can squeeze out of it is gonna be a huge benefit to you.
The ability to run trim means even under heavier file loads or a jam packed drive it should still help maintain performance by working its magic to keep cells available and not having to actively erase or rewrite cells while working with data transactions as well. Just be sure to leave the system idle at times so that the Trim can do its work and keep the SSD nice and tidy.
The value is tough to say because SATA 6G SSD's are ranging from as high as $149.99 to as low as $89.99 but there are definite speed variances between these prices as well and I think the price for the SX900 on hand is fair but would be amazing at $109.99
Overall the SX900 is a great performing drive with the extra benefit of squeezing just a little bit more capacity out for your buck (up to 7% capacity increase) and for anyone looking to jump into the SSD market and get a lightning fast boot drive and even load up a few games, the SX900 is tough to beat.
OUR VERDICT: ADATA SX900 128GB SSD
| | |
| --- | --- |
| Performance | 9.5 |
| Value | 9 |
| Quality | 9 |
| Features | 9 |
| Innovation | 9 |

We are using a new addition to our scoring system to provide additional feedback beyond a flat score. Please note that the final score isn't an aggregate average of the new rating system.

Pros
Cons

Excellent sequential performance

Great 4K performance

Potential for 85K IOPS

Special firmware increases usable capacity

Super Fast Read/Write

Class-leading performance

Price would be amazing slightly lower

Out of stock on all etailers I could find.
Summary: The ADATA SX900 128GB SSD is a great performer and at a very reasonable price point, for its outstanding performance, it earns the Bjorn3D Golden Bear Award.