Nvidia's latest mid-range budget Kepler video card might be a new great opportunity for gamers running older DX10 based cards to upgrade to a very reasonably priced DX11 GPU. EVGA's latest GeForce GTX 660 SC video card comes factory overclocked with even more performance down its sleeves, while also maintaining a very low TDP. Check out what the new Nvidia GeForce GTX 660 can do compared to its red competition.

Introduction
A renaissance just started in the gaming industry, "An explosion of innovation and content that's occurring in multiple aspects of PC gaming", Nvidia claimed in their latest press conference. Game developers are highly relying on latest technologies, including DX11 on almost every single new game currently in development, including World of Warcraft: Mist of Pandaria, Call of Duty Black Ops 2, and Assassin's Creed III. These big titles will push the gaming market to another level, with more visual beauty for the eyes, along with a better gaming experience.  Some of the new free to play games will also take advantage of DirectX 11 and PhysX technology developed by Nvidia, including Hawken, Planetside 2, and Mechwarrior Online. But recent polls from Steam hardware survey has shown that 53% of the gamers are still relying on DirectX 10 hardware in their everyday gaming. These older GPUs simply won't provide enough performance for users to enjoy these latest titles even under DX10 settings at higher High-Definition resolutions. Today Nvidia is launching their latest mid-range and budget 'Kepler' GK106 GPU, the GeForce GTX 660. The Nvidia GeForce GTX 660 comes in roughly around $230, in local retail stores and e-tailers with the same features that Nvidia's flagship GeForce GTX 680 graphics card came with: Nvidia's SMX architecture and GPU Boost. The Nvidia GeForce GTX 660 is designed to provide the performance needed for high-resolution (1920×1080) gaming in the latest DirectX 11 compatible games.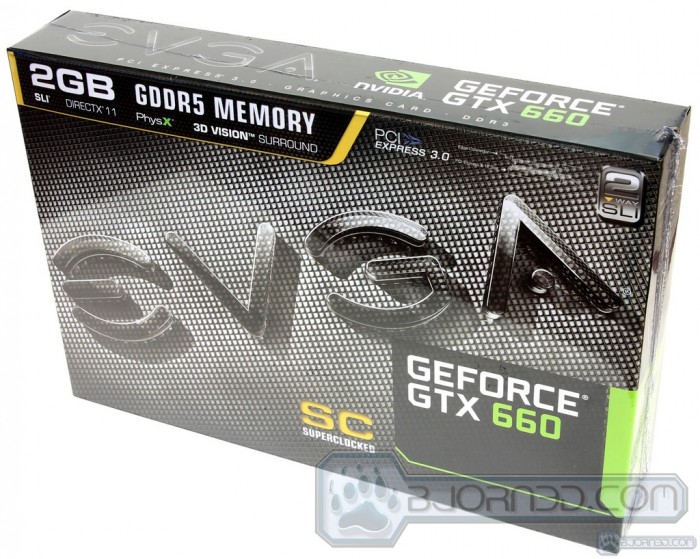 Today we are taking a look at EVGA's factory overclocked version of the GTX 660, the EVGA GeForce GTX 660 SuperClocked (SC) 2GB video card. Unlike the reference GeForce GTX 660, which comes with a 980 MHz Core Clock speed, and a boost clock of 1033 MHz, the EVGA GTX 660 SC is factory overclocked to 1046 MHz Core Clock speed, and 1111 MHz with Boost Clock settings. However the reference card and the EVGA factory overclocked card does come with the same amount of CUDA Cores (960), 5 SMX Units and 24 ROPs. The Memory Bus Width has been downgraded from a 256-bit interface from the previous generation Fermi GTX 560 to a 192-bit interface, however, this does not mean that the new Kepler GTX 660 will perform slower in overall memory bandwidth than the GTX 560. As a matter a fact, with the current  192-bit memory interface, Nvidia is able to provide a much larger frame buffer of 2GB (VRAM) for current DX11 games, that might require the extra frame buffer to load valuable information for smooth gameplay. We'll take a closer look at the details in this review. 
Features & Specifications
Here we have the specification breakdown of the EVGA GTX 660 and the reference GTX 660 graphics card. We have also included the specifications for the last two generation cards as well. According to Nvidia, gamers coming from the GTX 460 should see roughly about 2.5X the performance increase, while users coming from the older DX10 generation cards, like the 9800GT, should see a 4.3X the performance increase. If you are unfamiliar with the new Kepler architecture, we highly recommend reading over our main GTX 680 launch article HERE.
| | | | | |
| --- | --- | --- | --- | --- |
| Specifications | EVGA GTX 660 SuperClocked | Nvidia GTX 660 (Reference) | Nvidia GTX 560 (Reference) | Nvidia GTX 460 (Reference) |
| CUDA Cores (Stream Processors) | 960 | 960 | 336 | 336 |
| Bus Interface | PCI-Express 3.0 | PCI-Express 3.0 | PCI-Express 2.0 | PCI-Express 2.0 |
| Texture Units | 80 | 80 | 56 | 56 |
| ROPs | 24 | 24 | 32 | 32 |
| SMXs | 5 | 5 | N/A | N/A |
| Core Clock | 1046 MHz | 980 MHz | 810 MHz | 675 MHz |
| Boost Clock | 1111 MHz | 1033 MHz | N/A | N/A |
| Memory Clock | 6008 MHz Effective | 6008 MHz Effective | 4004 MHz Effective | 3600 MHz Effective |
| L2 Cache Size | 384 KB | 384 KB | – | – |
| Memory Bus Width | 192 Bit | 192 Bit | 256 Bit | 256 Bit |
| Total Memory Bandwidth | 144.19 GB/s | 144.19 GB/s | 128 GB/s | 115.2 GB/s |
| Texture Fill Rate (Bilinear) | 83.68 GT/s | 78.4 GT/s | 45.4 GT/s | 37.8 GT/s |
| VRAM | 2GB (GDDR5) | 2GB (GDDR5) | 1GB (GDDR5) | 1GB (GDDR5) |
| SLI Ready | 2-Way | 2-Way | 2-Way | 2-Way |
| TDP | 140W | 140W | 150W | 160W |
| Recommended Power Supply | 450W+ | 450W+ | 450W+ | 450W+ |
| Power connectors | 6-Pin | 6-Pin | 2x 6-Pin | 2x 6-Pin |
| Outputs | 2x DL-DVI, HDMI, DisplayPort 1.2 | 2x DL-DVI, HDMI, DisplayPort 1.2 | 2x DL-DVI, Mini HDMI | 2x DL-DVI, Mini HDMI |
| Manufacturing Process | TSMC 28nm | TSMC 28nm | TSMC 40nm | TSMC 40nm |
| Thermal Threshold | 98C | 98C | 99C | 104C |
| Launch Price | $229.99 | $239.99 (MSRP) | $199 (MSRP) | $229 (MSRP) |
Product Overview
Click Images to Enlarge
Let's take a look at what we get with the EVGA GTX 660 SC 2GB video card. The EVGA GTX 660 SC comes in a standard thin cardboard box. It comes shrink wrapped in transparent plastic wrap, to protect the visually simple but striking design on the box. The front of the box reveals that this graphics card is factory overclocked and that it comes with 2GB of GDDR5 video memory. The EVGA GTX 660 SC comes with the latest PCI-Express 3.0 interface, and supports all of Nvidia's latest technologies, including Nvidia 3D Vision, and Surround. The back of the box goes into more detail about the specification and features of the card, along with the output display connectors available on this particular graphics card. We'll go into more detail about the display outputs below.
Click Images to Enlarge
Taking out the video card from the box can only be done from one side, unless the box is ripped apart partially to allow access to the video card. In the image we have opened up the box on the opposite side. We can see that we are unable to remove the video card from the box due to the card board in the middle of the box. Opening the box from the other side makes it much easier to remove all the accessories and the video card itself.
The EVGA GTX 660 SC 2GB video card comes packaged in a bubble wrap cover, and also in an additional anti-static bag to prevent any damage being done to the card. The video card is also covered with a thin layer of transparent plastic sheet to prevent scratches to the chassis of the card. This keeps the card nice and clean looking without finger prints till you put it in your system. Other accessories that are included in the package include a DVI to VGA adapter, a 2 x Molex to a single 6-pin PCI-E power cable, user's manual and installation guide, along with warning fliers, EVGA Warranty information, DVD including the graphics card drivers, and an EVGA metal badge that can be put on your chassis.
Click Images to Enlarge
When we took the card out of it's bubble warp, and anti-static bag, we have right away noticed the quality improvement of the chassis compared to previous reference cooler designs, like on the GTX 670. It could be that we are already used to the feel of the lower-quality chassis that we've seen on some of the Kepler cards, but nonetheless, the EVGA GTX 660 SC felt somewhat higher quality. Looking at the card, the EVGA GTX 660 SC has a simple but beautiful carbon fiber and aluminum like cover, however, the cover is made out of plastic, and the card comes in at a length of 9.5in (241mm) a height of 4.367in (111.15mm) and a width of two PCI slots. The card weights roughly 3 pounds.
Click Images to Enlarge
The back of the card comes with the same general design as the GeForce GTX 670, and the GTX 660 Ti. The actual PCB is much shorter, but the cooler's fan is located right next to the PCB to be able not only cool down the GPU, but also the surrounding components on the PCB. This particular cooler uses a push fan design, which pushes the cool air through the card, and exhaust the hot air at the back of the chassis. While this type of cooling is more efficient at keeping lower system temperatures, a double fan design which relies on cooling the card with the available re-circulated air inside the chassis usually performs better on the GPU side, but can also heat up the system by several degrees.
Towards the top left corner of the EVGA GTX 660 SC video card, we can see the SLI connector. The EVGA GTX 660 SC is capable of up to 2-Way SLI. Getting two GTX 660s would not be a bad option for a 2-Way SLI system, considering that the card comes with a 2GB GDDR5 memory. This means that games even on HD resolutions with high AA will have a very slow chance of actually using up all of the 2GB of VRAM. Do keep in mind that this depends on the type of game you play, and some games that can be heavily modded, like The Elder Scrolls V: Skyrim, can easily exceed 2GB of VRAM with the extra-high resolution texture packs that the Nexus community has come up with. In this case, EVGA also sells another GeForce GTX 660 model, which comes with 3GBs of GDDR5 memory. That card however costs about $40 more at $269.99.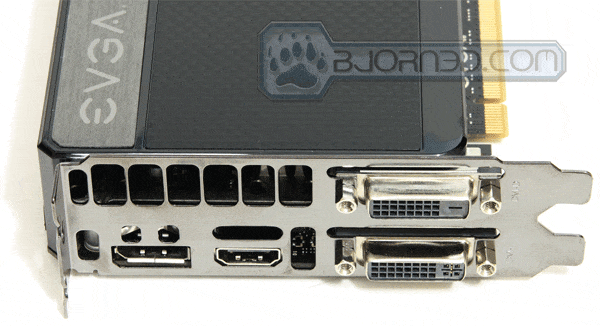 Click Images to Enlarge
The rear of the card has 4 display output connectors. Starting from the right going left, we can see two Dual-Link DVI ports. Do keep in mind that the top port is DVI-D while the bottom port is DVI-I. Next we can also see a Mini-HDMI port, and a DisplayPort.
Click Images to Enlarge
Finally, right by the fan of the video card, we can see a single 6-pin PCI-E power connector. This card is designed to run at a maximum of 150W TDP, which is 75W of power from the PCI-E slot and 75W from the 6-pin PCI-E power connector. Technically the card will use roughly around 120-130W TDP during normal use, but that extra headroom is provided for overclocking. The EVGA Precision X overclocking tool allows gamers to easily increase the power target up to 110%. This should give a bit more headroom for the GPU Boost and Core Clock overclocking.
Testing Methodology
The OS we use is Windows 8 Pro 64bit (Retail) with all patches and updates applied. We also use the latest drivers available for the motherboard and any devices attached to the computer. We do not disable background tasks or tweak the OS or system in any way. We turn off drive indexing and daily defragging. We also turn off Prefetch and Superfetch. This is not an attempt to produce bigger benchmark numbers. Drive indexing and defragging can interfere with testing and produce confusing numbers. If a test were to be run while a drive was being indexed or defragged, and then the same test was later run when these processes were off, the two results would be contradictory and erroneous. As we cannot control when defragging and indexing occur precisely enough to guarantee that they won't interfere with testing, we opt to disable the features entirely.
Prefetch tries to predict what users will load the next time they boot the machine by caching the relevant files and storing them for later use. We want to learn how the program runs without any of the files being cached, and we disable it so that each test run we do not have to clear pre-fetch to get accurate numbers. Lastly we disable Superfetch. Superfetch loads often-used programs into the memory. It is one of the reasons that Windows Vista occupies so much memory. Vista fills the memory in an attempt to predict what users will load. Having one test run with files cached, and another test run with the files un-cached would result in inaccurate numbers. Again, since we can't control its timings so precisely, it we turn it off. Because these four features can potentially interfere with benchmarking, and and are out of our control, we disable them. We do not disable anything else.
We ran each test a total of 3 times, and reported the average score from all three scores. Benchmark screenshots are of the median result. Anomalous results were discounted and the benchmarks were rerun.
Please note that due to new driver releases with performance improvements, we rebenched every card shown in the results section. The results here will be different than previous reviews due to the performance increases in drivers.
Test Rig
Test Rig
Case
Cooler Master Storm Trooper
CPUs
Intel Core i7 3960X (Sandy Bridge-E) @ 4.6GHz
Motherboards
ASUS P9X79 WS X79 Chipset Motherboard
Ram
Kingston HyperX Genesis 32GB (8x4GB) 1600Mhz 9-9-11-27 Quad-Channel Kit
CPU Cooler
Noctua NH-D14 Air Cooler
Hard Drives
2x Western Digital RE3 1TB 7200RPM 3Gb/s Hard Drives in RAID 0
SSD

2x Kingston HyperX 240GB SATA III 6Gb/s SSD in RAID 0 (Main)
1x Kingston HyperX 240GB SATA III 6Gb/s SSD (Storage)

Optical
ASUS DVD-Burner
GPU

Nvidia GeForce GTX 680 2GB
Nvidia GeForce GTX 670 2GB
Nvidia GeForce GTX 660 Ti 2GB
EVGA GTX 660 SuperClocked 2GB
Nvidia GeForce GTX 660 2GB
Nvida GeForce GTX 580 1.5GB
Palit GTX 560 Ti Sonic 1GB
EVGA GTX 560 SuperClocked 1GB
AMD HD 7970 3GB
AMD HD 7870 2GB
AMD HD 7770 1GB
AMD HD 7750 1GB

PSU
Cooler Master Silent Pro Gold 1200W PSU
Mouse
Razer Imperator Battlefield 3 Edition
Keyboard
Razer Blackwidow Ultimate Battlefield 3 Edition
Synthetic Benchmarks & Games
Benchmarks
3DMark Vantage
3DMark 11
Crysis 2
Just Cause 2
Lost Planet 2
Metro 2033
Battlefield 3
Unigine Heaven 3.0
Batman Arkham City
Dirt 3
Synthetic Benchmarks
3DMark 11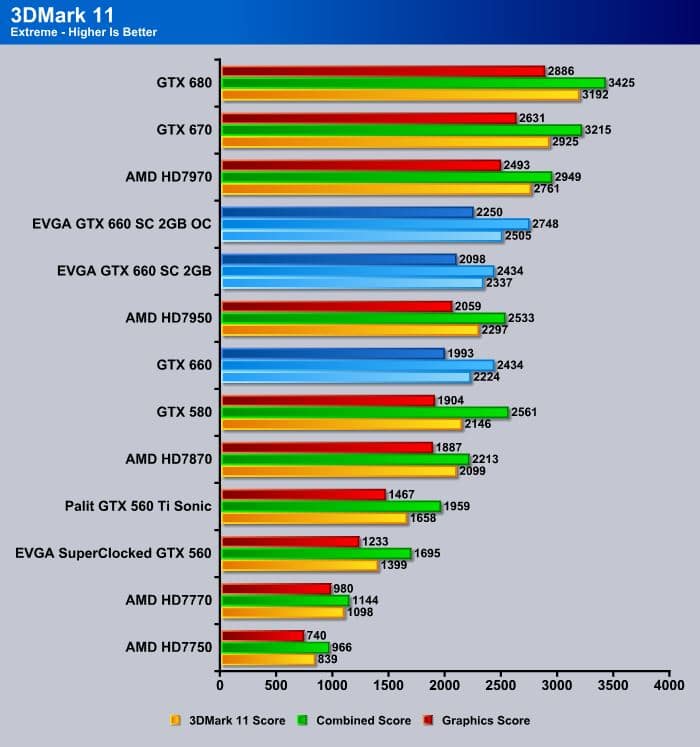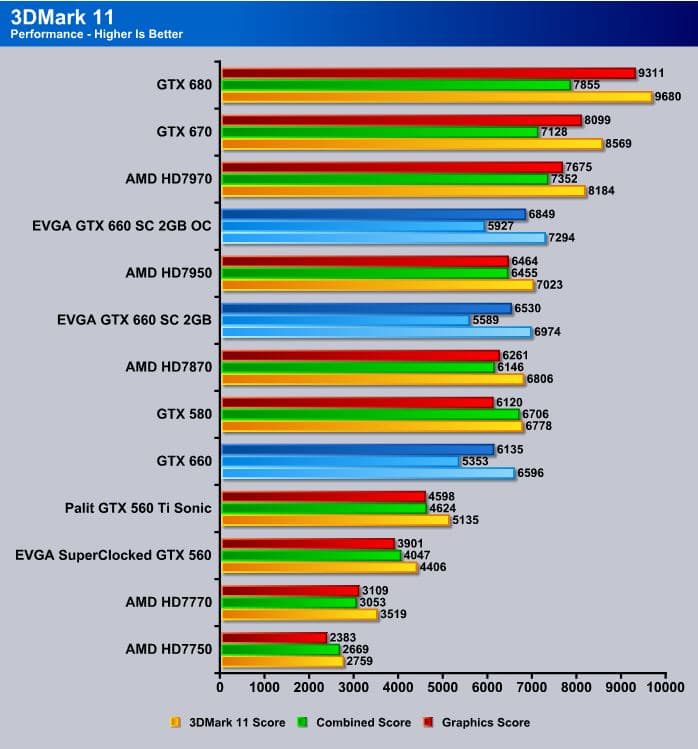 3DMark 11 is one of the latest DirectX11 3D benchmark tools available to really test the performance of current graphics cards. With many video cards in our list, we can quickly draw some interesting conclusions. Right off the bat, the performance between the GTX 560 SC and the GTX 660 SC are almost double. The reference GTX 660 does come very close to the performance of a GTX 580, while the EVGA GTX 660 SC outperforms last generations flagship video card without a drop of sweat in both preset tests
3DMark Vantage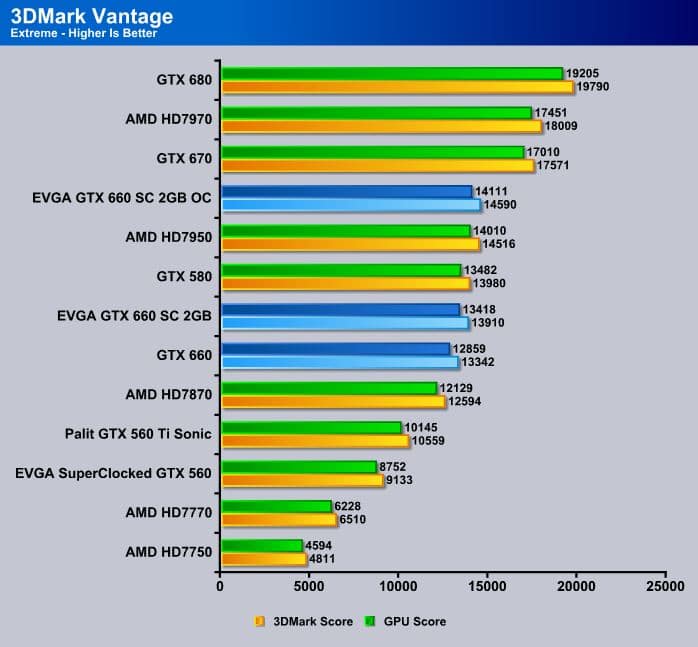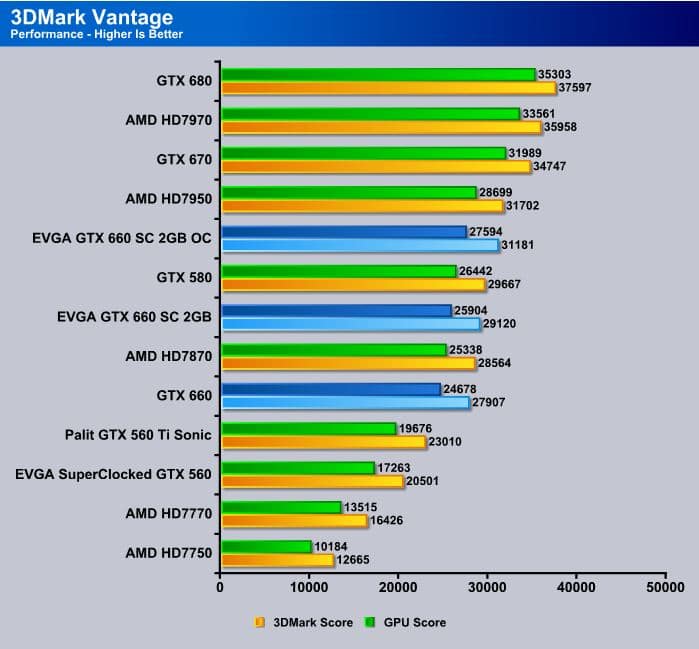 Taking a look at the older DX10 based 3DMark Vantage benchmark tool, we get similar performance than in 3DMark 11, however, we can see that the EVGA GTX 660 SC actually performs faster in DX11 based applications rather than DX10 based applications. This is because the Kepler architecture used on the GTX 660 is well optimized for the latest DX11 features. Nonetheless, the EVGA GTX 660 SC still showed a major performance improvement over the last generations GTX 560. Our overclocked EVGA GTX 660 SC outperformed the GTX 580. More information about actual specifications for the overclocked card can be found in our overclocking section of this review.  
Unigine Heaven 3.0

Unigine Heaven is a benchmark program based on Unigine Corp's latest engine, Unigine. The engine features DirectX 11, Hardware tessellation, DirectCompute, and Shader Model 5.0. All of these new technologies combined with the ability to run each card through the same exact test means this benchmark should be in our arsenal for a long time.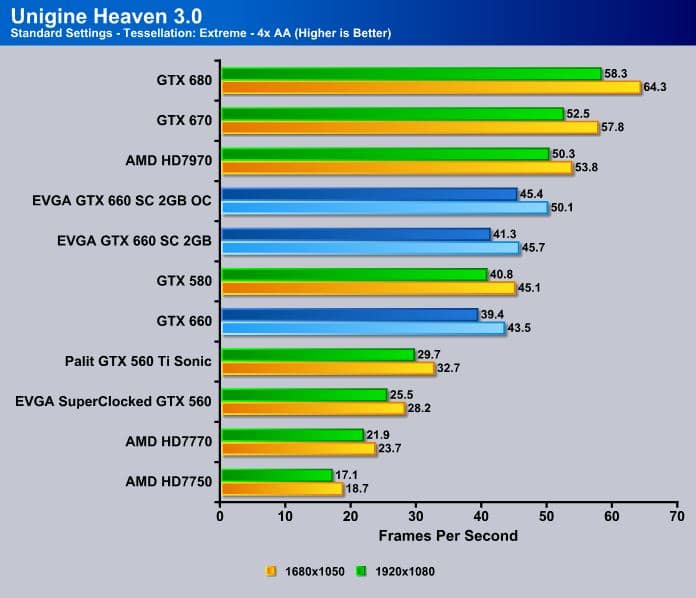 Unigine Heaven 3.0 is another DX11 based synthetic benchmark. It is one of our most reliable benchmarks to date. We can see exactly what we have expected for the GTX 660. In DX11 applications, the EVGA GTX 660 SC has no problem to dominate last generation's Fermi architecture. While the AMD HD7970 still is faster than the EVGA GTX 660 SC, we have to keep in mind that the HD7970 is almost double the price of the GTX 660.
Game Benchmarks
Battlefield 3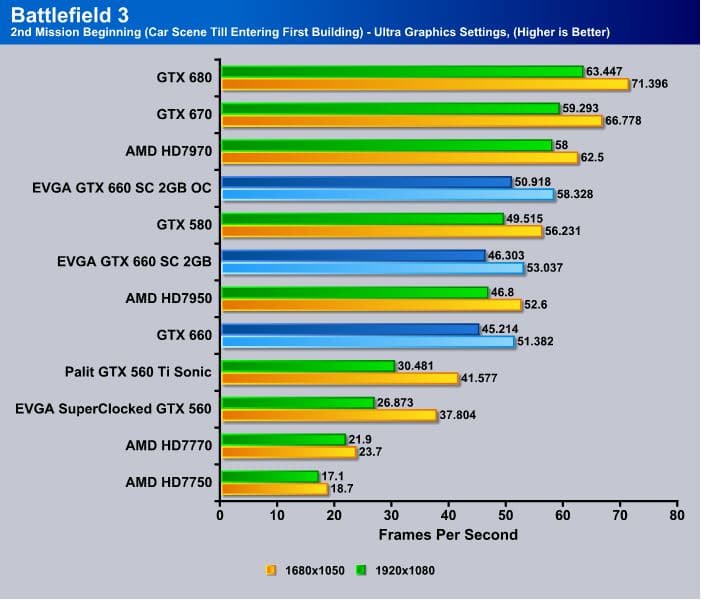 Battlefield 3, still one of the most played first person shooter war action game pushes the limits of even some of the latest mid-range systems. When we're looking at these results, we're looking for performance above 40FPS. This will make sure gameplay is very smooth even during heavy action scenes. The EVGA GTX 660 SC video card manages to get a 46.303FPS at a Full HD 1920×1080 resolution. This is fantastic news for those that want to play Battlefield 3, but were unable to play at high resolutions due to their out of date graphics card. The previous generation EVGA SuperClocked GTX 560 showed that the game would only be somewhat playable at 1680×1050, and by knowing this information, we're assuming that with a GTX 460, the gamer would only be able to play Battlefiled 3 on Ultra settings at lower resolutions of 1280×800.
Metro 2033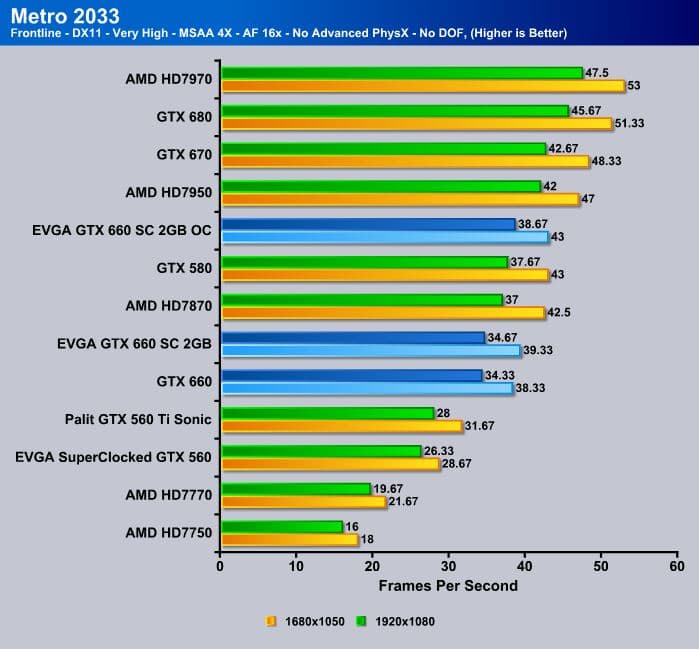 Wow, it's been a long time since Metro 2033 came out, yet it still drags most of the gaming systems to its knees. If we are looking for a playable framerate in Metro 2033, the AA and AF settings might have to be turned down a tad bit. While we played the game at a resolutions of 1920×1080 with Very High Settings on DX11, the game became somewhat choppy during action scenes. We recommend switching over to DX10 mode or set graphics settings to High in order to get a much playable framerate. Needless to say, our manually overclocked EVGA GTX 660 SC managed to once again outperform our Nvidia GTX 580 graphics card.
Batman Arkham City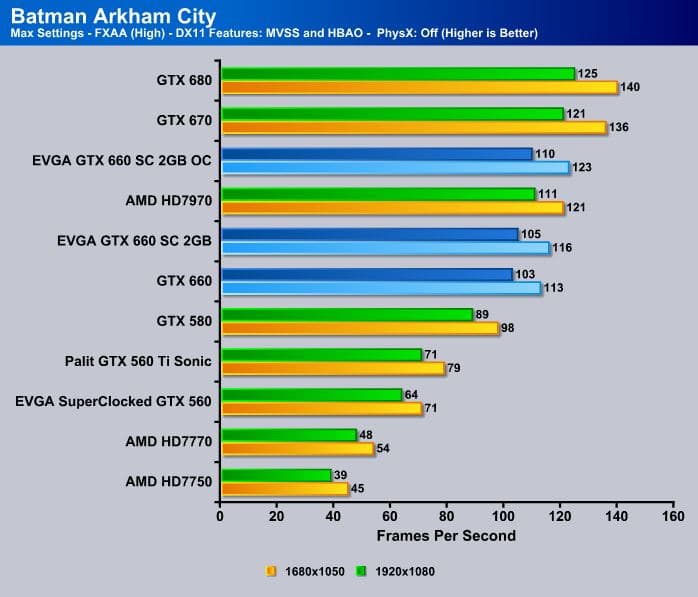 Batman Arkham City showed some very interesting results. The EVGA GTX 660 SC managed to get very close to the performance of the AMD HD7970, but easily blew the GTX 580 out of the water. With some overclocking, we manged to beat the AMD HD7970 with just 1-2 FPS. 
Crysis 2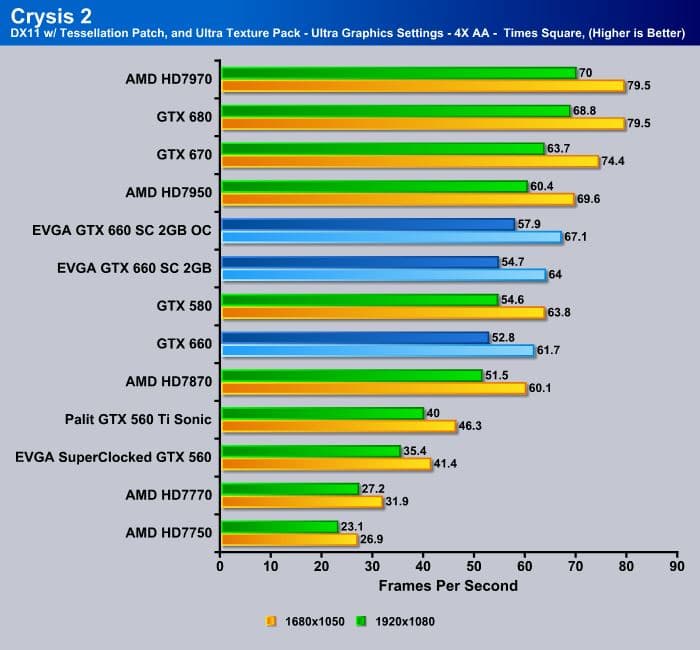 Crysis 2, Crytek's latest franchise to bring DX11 within the game. Gameplay performance is excellent, reaching roughly 54.7 FPS at 1920×1080 resolution. Crysis 2 with the latest DX11 Patch, Ultra Texture Pack and Ultra Graphics settings should have no problem performing optimally on an EVGA GTX 660 SC.
Just Cause 2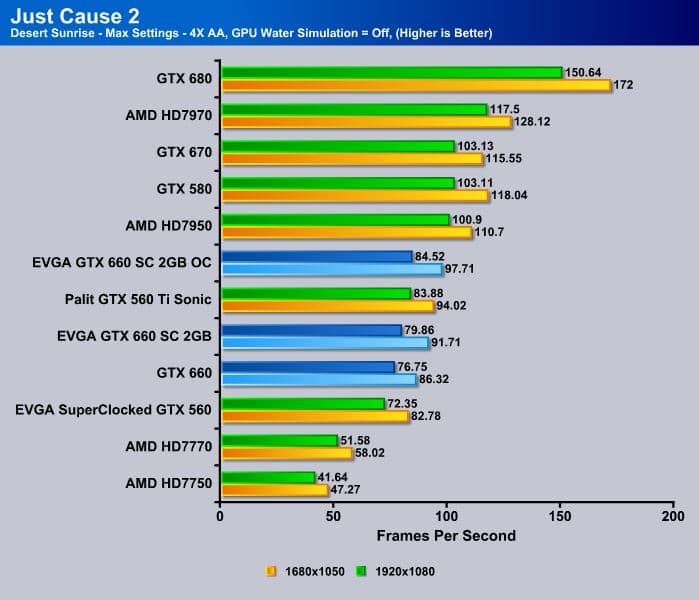 Here comes an interesting benchmark. Just Cause 2. As we have seen earlier, even a GTX 670 had a difficult time keeping up with just the GTX 580. This time around, we can see that this was not an exception, and the Kepler GPUs seem to perform poorer in Just Cause 2. The EVGA GTX 660 even fully overclocked only managed to outperform a factory overclocked Palit GTX 560 Ti Sonic. This is definitely now what we have expected.
Lost Planet 2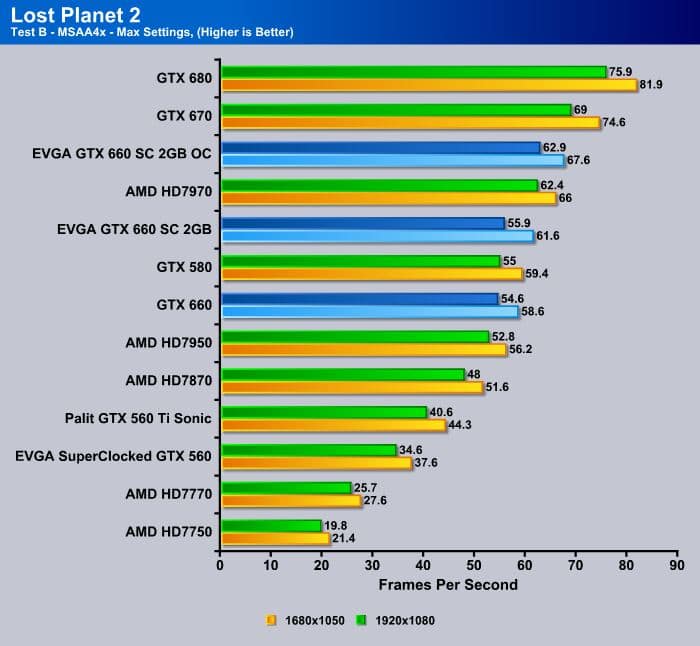 Lost Planet 2 showed very similar results to Crysis 2, which is why we won't go into too much detail here. The key takeaway here is that the GTX 660 should have no problem playing Lost Planet 2 maxed out.
Dirt 3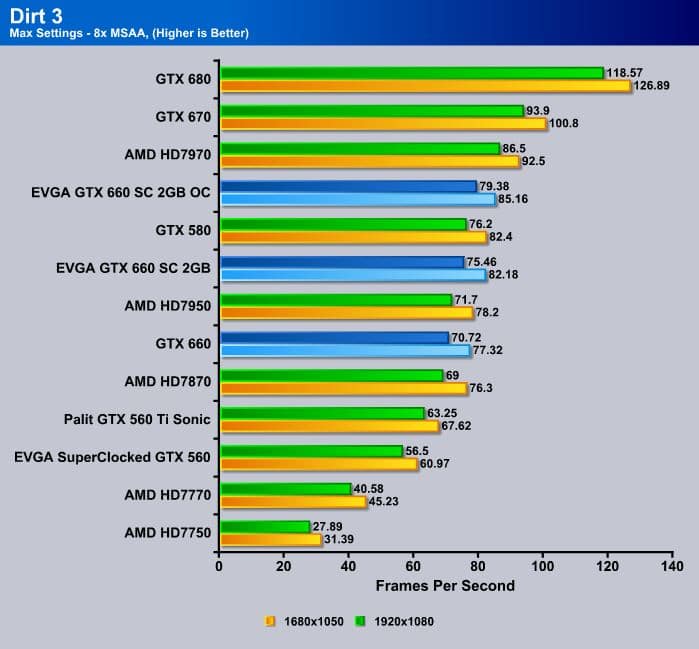 For the car racing lovers, the EVGA GTX 660 SC showed excellent performance in Dirt 3. We see a big 5FPS improvement of the factory overclocked EVGA GTX 660 SC card over the reference design card from Nvidia. Also we can see a very nice 19-20FPS difference between a EVGA SuperClocked GTX 560 and a EVGA GTX 660 SC.
Other Stability Tests
TEMPERATURES

To measure the temperature of the video card, we used EVGA's Precision X and ran the Metro 2033 benchmark in a loop to find the Load temperatures for the video cards. The highest temperature was recorded. After looping for 10 minutes, Metro 2033 was turned off and we let the computer sit at the desktop for another 10 minutes before we measured the idle temperatures.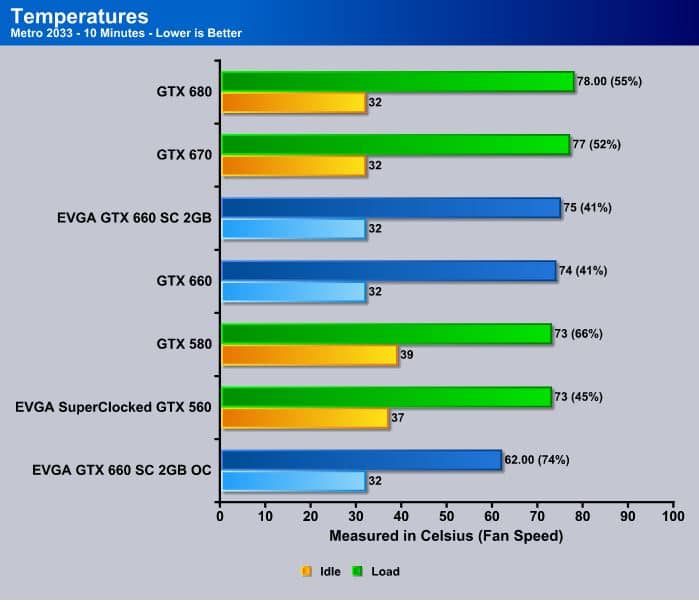 While temperatures on the EVGA GTX 660 SC are slightly higher than on the previous generation GTX 560, the fan on the 660 looks to be spinning at a lower RPM. We are not 100% sure weather the fan on the card is actually spinning at a lower RPM, or weather the fan percentage numbers are skewed, but it would make sense that at a lower RPM, the temperatures would be slightly higher than on a faster RPM. Compared to other cards in the list, the EVGA GTX 660 did not do too shabby considering it was running on a reference cooler design.
POWER CONSUMPTION

To get our power consumption numbers, we plugged in our Kill A Watt power measurement device and took the Idle reading at the desktop during our temperature readings. We left it at the desktop for about 15 minutes and took the idle reading. Then we ran Metro 2033 for a few minutes minutes and recorded the highest power usage.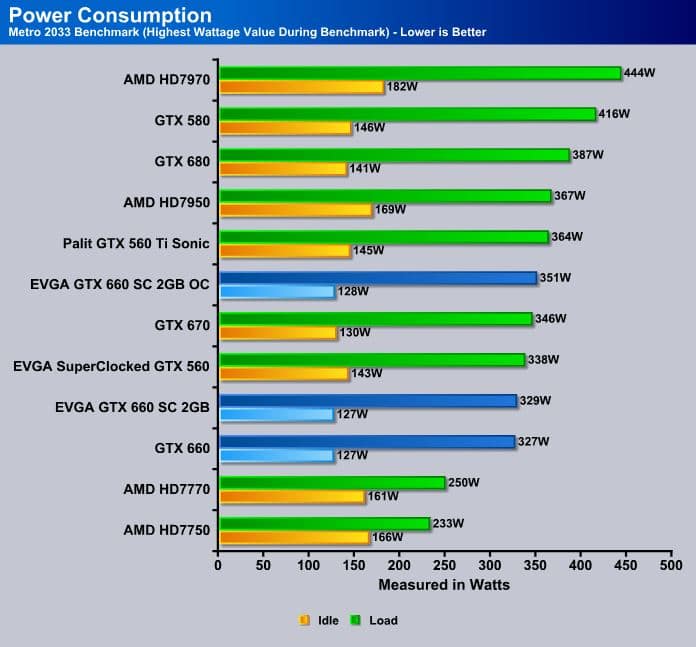 One of the fantastic features of the latest Kepler cards include lower power consumption compared to previous generation cards. The EVGA GTX 660 shows this very nicely. At full load it uses 329W of power, while a GTX 580, which competed very closely with the GTX 660 uses almost 100W more at 416W. Idle power consumption has dropped to 127W, the lowest we have measured from all the cards in the bar graph.
Overclocking

Overclocking is one of our interests here at Bjorn3D when it comes to testing GPUs. Since the beginning of this year, we've put a lot of time into making sure that all the video cards and other hardware we have tested have the best possible overclocking. We go ahead and test our highest stable overclock in all of our benchmarks. Do check out our other reviews which will have the specific card tested fully overclocked for more information. For our overclocking, no matter what manufacturer makes the cards, we've always used EVGA's Precision X Overclocking Utility. The EVGA Precision X provides overclockers an easy GUI for setting voltages, creating fan profiles, overclocking GPU core clock, shader clock, memory frequency and much. Adjusting power target  on certain cards can also make overclocking easier, especially with the real-time monitoring built into the utility. Finally it also has some great features for gamers, which include frame per second limiter to prevent the card from rendering unnecessary frames. This provides for a cooler graphics card, lower power consumption, and quieter operation in instances where additional frames would only create tearing and unnoticeable differences due to limited monitor refresh rates.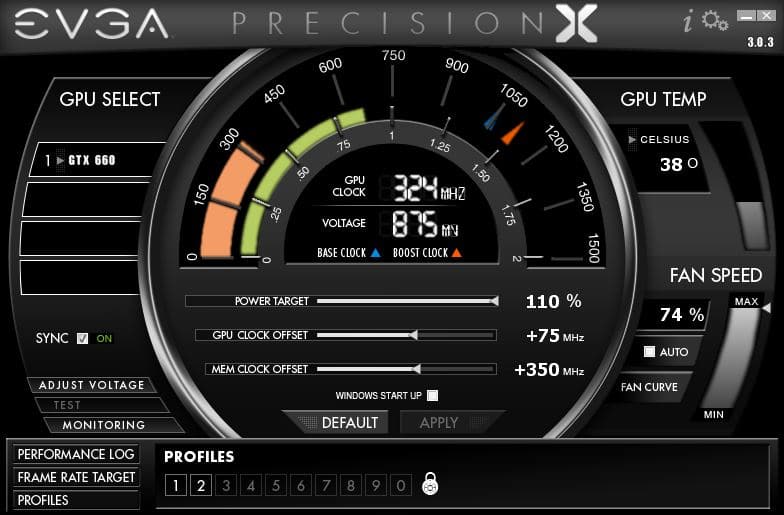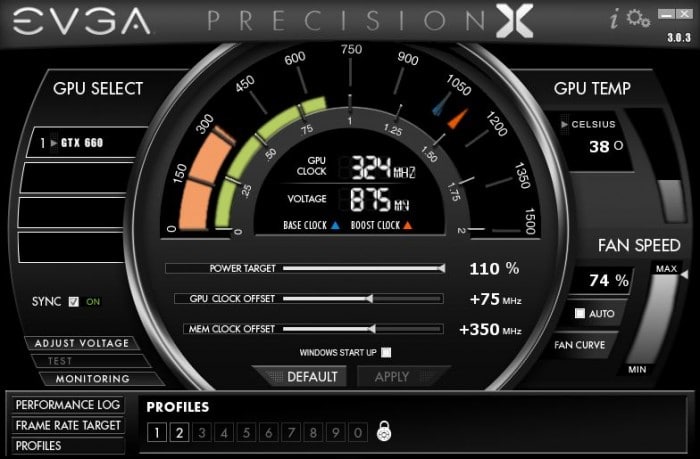 While in our previous "Kepler" line of GPUs, we were able to overclock our GPU to really high frequencies, even 300+ MHz on the core clock speed and 400+ MHz on the memory frequency, the EVGA GTX 660 struggled to even get up to 75 MHz higher from the standard factory overclock. With the factory overclock only being roughly 66MHz higher than the reference card, we should have been able to see at least 150 MHz overclock on the GPU. Sadly even with maximum voltage settings, and the power target set to 110%, we were only able to reach 75 MHz higher from the factory overclocked settings. On the other hand the memory overclocked just as good as we have expected. We settled at a very stable 350 MHz overclock from the standard 6008Mhz effective frequencies.
Conclusion
So did the EVGA GeForce GTX 660 SuperClocked 2GB video card meet our expectations? Heck yeah it did, with far more than what we have expected. Initially we thought we will be taking a look at a fairly decent card, a tad bit faster than the last generation Fermi GeForce GTX 560, but we actually got a card on our hands that was able to blow the Nvidia GeForce GTX 580 out of the water in some of our benchmarks, along with a much lower power consumption, and much lower heat output at a very quiet full load operation. At a price of $229, this video card is a steal. Get two of these and throw them in SLI, and you got yourself a beast  of a system that will power your gaming system for years to come.
But the best part is, that with the release of the GeForce GTX 660 graphics cards, gamers on a budget can finally afford a card that will nicely replace their previous DX10 based cards, or upgrade their current lower-end DX11 compatible cards. While the EVGA GTX 660 SC did not satisfy us in the overclocking, the card can still be considered as one of the best bang for the buck video cards currently on the market. Knowing that some AMD Radeon HD 7850 cards come with 1GB VRAM, makes this, and even the 3GB version of the GTX 660 look even better for any gamer that is planning on gaming at HD resolutions. Finally we'd like to add that while the factory overclock on the EVGA GTX 660 SC is not too crazy, it is still a very nice improvement in performance in some of the games we have tested. With this said, we'd highly recommend the card to any gamer upgrading from a previously custom build system, or for those currently building a budget gaming system.
OUR VERDICT: EVGA GeForce GTX 660 SuperClocked 2GB Video Card
| | |
| --- | --- |
| Performance | 9 |
| Value | 9.5 |
| Quality | 8.5 |
| Features | 8 |
| Innovation | 7.5 |

We are using a new addition to our scoring system to provide additional feedback beyond a flat score. Please note that the final score isn't an aggregate average of the new rating system.

Pros
Cons

Fantastic performance, in some cases outperforms the GTX 580.
Low Power Consumption, along with lower heat output.
Low noise operation at factory overclocked settings.
3 Year Warranty by default, but can be upgradable to 5 or 10 years upon registration
EVGA Precision X Overclocking Utility

Overclocking of the EVGA GTX 660 SC fell short of our expectations on the Core Clock Speed.
Summary: While performance on the EVGA GTX 660 SC 2GB video card was exceptional in most of the video games and benchmarks we have ran, our expectations fell short during overclocking. However, we'd still like to acknowledge that the EVGA GTX 660 SC is an excellent card, and any gamer running on older hardware should upgrade to at least this graphics card to enjoy the latest games that will be coming out this year. The EVGA GTX 660 SC 2GB video card receives Bjorn3D's Silver Bear Award with a score of 8.5 out of 10.