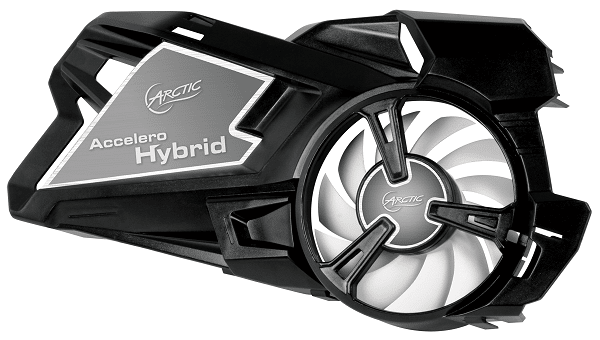 There is an abundance of cooling out on the market today, much of it for graphics cards. With the Accelero Hybrid, Arctic has combined the best of both worlds, combining liquid cooling and air cooling into one solid product. The Accelero Hybrid talks the talk. Let's see if it can walk the walk.
Introduction
The Arctic Accelero Hybrid comes into an already chock-full market of GPU coolers. The most common form of "aftermarket" GPU cooler isn't really aftermarket at all, but the non-reference design cooler that a manufacturer mounts on their graphics card. Beyond that, air coolers and full liquid-cooling systems are the most common form of GPU cooling we see on the market. The Accelero Hybrid is something different, however. As a liquid cooler, it promises to deliver some powerful performance; but with the addition of a fan on the card shroud, it also promises to deliver good airflow, something most liquid cooling systems don't bother with. It also looks easy to install due to the closed-loop system, meaning we don't have to fumble around with fitting the tubes correctly and such.
The Accelero Hybrid appears to be extremely GPU friendly, in the sense that it fits a wide variety of graphics card models, including the new NVIDIA GTX 660 Ti. Arctic makes some bold claims, stating that it guarantees "200% cooling performance" that performs "9 times quieter" than stock coolers.
Compatibility
AMD Radeon

Series
Chip
7000

7870,

7850

6000

6970,

6950,

6870,

6850,

6790,

6770

5000

5870,

5850,

5830

4000

4890,

4870,

4850

NVIDIA

Series
Chip
GTX

680* (w/o stacked power socket),

680 (stacked power socket),

670* (w/o stacked power socket),

670 (stacked power socket),

660Ti,

580,

570,

560Ti,

560 SE,

560,

480,

470,

465,

460 SE,

460

GT

520
Features
Unmatched Cooling Performance

It features the F12 (a 120 mm PWM fan), a powerful heat exchanger, and the MX-4 thermal compound to transfer heat efficiently away from the GPU – with 200% cooling performance of the stock cooler.

Cooling Performance on NVIDIA GeForce GTX 680

Accelero Hybrid (at 2,000 RPM)  44oC

Stock cooler (at 2,000 RPM)

 69.9

o

C

 Better

Ambient temperature: 25

o

C

 

Enhanced RAM and VR Cooling

It also comes with an Active Cooling Unit and thermal adhesive specifically designed to enhance the cooling of RAM and VR. Its aerodynamic design further maximizes the airflow efficiency on all surrounding components.

RAM and VR Cooling Performance with Thermal Adhesive

Thermal Adhesive (included)  0.86 oC/W

Generic Thermal Tape (thickness: 0.15 mm)

 2.56

o

C/W

 Better

Ambienbt temperature: 25

o

C

Tested with Accelero L2 PRO at 2,000 RPM

 

Virtually-Silent

The PWM fans are both controlled by the graphics card and work according to the GPU load which minimizes the noise level. The PWM setting can be modified according to the different performance and noise priorities. Click here to see how PWM settings work.

Noise Level on NVIDIA GeForce GTX 680

Accelero Hybrid (at 2,000 RPM + water pump)  0.4 Sone

Stock cooler (at 2,000 RPM)

 3.7 Sone

 Better

 

Multi-Compatible

Unlike existing VGA LCS, this cooler is compatible to a vast range of NVIDIA and AMD graphics cards.

 

Structural Diagram:

Airflow Direction on RAM and VR:

4 Flexible Airflow Directions:
Specifications
| | |
| --- | --- |
| Specifications (Graphic Card Module) |   |
| Max. Cooling Capacity | 320 Watts |
| Fan (mm) | 80 mm, 900 – 2,000 RPM (controlled by PWM) |
| Bearing | Fluid Dynamic Bearing |
| Air Flow | 13.1 CFM / 22.3 m3/h |
| Noise Level | 0.3 Sone |
| Fan Current / Voltage | 0.13A / 12V |
| Pump Current / Voltage | 0.26A / 12V |
| Fan Power Consumption | 1.56W |
| Pump Power Consumption | 3.12W |
| Cold Plate Material | Copper |
| Dimensions (Product) | 243 (L) x 112 (W) x 44.2 (H) mm |
| Net Weight | 363 g |
|   |   |
| Specifications (Heat Exchanger Module) |   |
| Fan | 120 mm, 400 – 1,350 RPM (controlled by PWM) |
| Bearing | Fluid Dynamic Bearing |
| Heat Exchanger Type | Aluminum 1.0 |
| Air Flow | 74 CFM / 125.7 m3/h |
| Noise Level | 0.3 Sone (F12 PWM Fan Only) |
| F12 PWM Fan Current / Voltage | 0.22A / 12V |
| F12 PWM Fan Power Consumption | 2.64W |
| Tube Length | 416 mm |
| Dimensions (Product) | 150 (L) x 120 (W) x 52.8 (H) mm |
| Net Weight | 503 g |
|   |   |
| Accessories |   |
| Heatsink | 31 pcs |
| Screws | 22 pcs |
| Metallic Washers | 6 pcs |
| Fiber Washers | 1 pc |
| Spacer (1.5mm) | 4 pcs |
| Spacer (3.5 mm) | 4 pcs |
| Spacer (4.0 mm) | 4 pcs |
| Adhesive Tape | 2 pcs |
| Insulation Tape | 5 pcs |
| Rubber Pads | 3 pcs |
| Thermal Pads | 3 pcs |
| EVA Foam | 1 pc |
| GPU Back Plate | 1 pc |
| Thermal Adhesive | 1 pc |
| MX-4 (0.5g, syringe) | 1 pc |
| VGA Bracket | 1 pc |
| 4-Pin Fan Power Adapter | 1 pc |
| Mounting Mask | 1 pc |
|   |   |
| Limited Warranty | 2 years |
| Dimensions (Packaging) | 330 (L) x 188 (W) x 260 (H) mm |
| itemnumber | DCACO-V750001-GB |
| UPC | 0872767005808 |
| Gross Weight | 4.5 kg |
The Arctic Accelero Hybrid
The cooler comes in a standard white box with images of the product and lists of specifications. Since the images on the box can be found in the Features section on the previous page, we didn't feel the need to include an image of the box. However, we can say that the cooler is very securely packaged inside, so there is no chance of it becoming damaged during shipping.
Here we see the cooler itself, which comes in 3 parts: the shroud, the closed-loop liquid cooling system (LCS), and the heatsinks. The first picture shows the card shroud and heatsinks. The shroud, which sits on top of the PCB, has a fan that blows air across the heatsinks, which are installed on the card's VRM and other electronic components. Keep in mind that despite the extensive compatibility tables listed, the cooler only carries instructions for cards with the reference design. Non-reference cards can still utilize the cooler, but you have to fit the heatsinks to the best of your ability, as we did on our MSI GeForce GTX 660 Ti. However, this should not be a problem, as there are more than enough heatsinks provided, and they come in many different sizes and shapes.
We can also see the closed-loop liquid cooling system, which takes the form of a sealed radiator, pump, water block, and tubing. As with any closed-loop system, since the coolant never leaves the loop, no tank is needed. The water block has a pump on top, and a smooth copper-plate base. The copper is not mirror-finish, but it should still do a good job of transferring heat to the liquid. The radiator can be installed in several places in your case, along with the included 120mm fan. When installing the radiator, care should be taken not to twist the cooling tubes out of their sealed position, and to use the proper (included) screws. Using longer screws than specified can cause a puncture in the radiator, and can lead to coolant leakage.
These are the materials the Accelero Hybrid comes with. Inside are a series of screws and spacers, a tube of adhesive for the heatsinks, power cables, a backplate, the foam block, the spacing plate, and more. Also included is possibly the most important accessory: the instruction manual. The installation of this cooler is very long and can be complicated, so we highly recommend following the manual for inexperienced customers.
The manual does an amazing job detailing the installation for all types of GPU's. It gives step-by-step instructions with illustrations that we believe users will find helpful. For us, the installation was fairly painless. The only complicated part was figuring out the placement of the component heatsinks, since our card is not of reference design. Be sure to let the heatsinks affix properly to your electronic components–the curing time is about one hour. Unfortunately, the one thing Arctic has not yet done is update the installation guide for compatibility with the GTX 660 Ti. However, the screw-in locations for the water block are the same that are detailed for the GTX 680 and GTX 670. We hope Arctic will update their documentation on this soon, especially since their site boasts the added compatibility.
Testing & Results
Test Rig
We compared the Arctic Accelero Hybrid with the MSI card's own Twin Frozr II cooler. The idle temperatures were taken after about 10 minutes of running Windows 7 OS, and the load temperatures after about 10 minutes of Furmark burn-in test. Temperatures were monitored with MSI Afterburner and GPU-Z.
Test Rig
Case
BitFenix Shinobi Window XL
CPUs
Intel Core i5-2500K @ 4.2GHz
Motherboards
ASUS P8P67 Deluxe Motherboard
Ram
Kingston HyperX H2O 8GB 1921MHz Kit
CPU Cooler
Arctic Freezer i30 CPU Cooler
Hard Drives
WD 1TB Caviar Black
SSD
1x OCZ Synapse Cache
1x Mushkin Catalyst Cache
Optical
ASUS DVD-Burner
GPU
MSI GeForce GTX 660 Ti + Arctic Accelero Hybrid
PSU
Sapphire PURE 1250W
Mouse
Razer Lachesis
Keyboard
ROCCAT Isku
Results
Here are the results: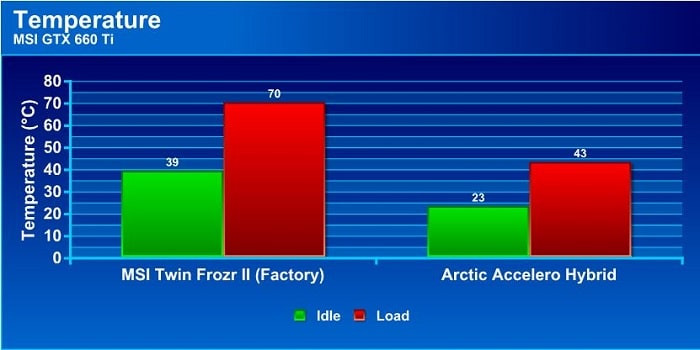 As you can see from the results of our testing, the Arctic Accelero Hybrid really did bring a huge decrease in temperatures to our card. The idle temperature almost halved, and the load temperature also decreased significantly. Keep in mind that this card comes with its own specially designed cooler, so those running a card with a reference cooler will show an even greater decrease in temperatures. Additionally, the cooler is extraordinarily quiet, and we cannot hear it over the rest of our system noise.
Conclusion
The Arctic Accelero Hybrid brings a tried-and-tested formula to the GPU cooling arena. Previously, GPU coolers had been either totally open-loop liquid-based, or air-based. However, the Accelero Hybrid combines the ease of use of an air cooler with the cooling potential of circulating liquid. The cooler is easy to install provided you follow the instructions, and the most time consuming part is the curing time. It is a highly versatile product, working with multiple cards with both AMD and NVIDIA GPU's. It is also an excellent product. It allows a huge decrease in the temperature for our GTX 660 Ti, almost halving the idle temperatures. The difference between temperatures was great, and we are very happy with it.
The only two negative points we could find is that there is no guideline for non-reference cards. We recognize that it is unfeasible to provide a guideline for every non-reference GPU, but we would have liked to at least see some general tips on heatsink placement. We also hope that Arctic updates their product site soon and includes an installation guideline for the GTX 660 Ti, as this cooler is compatible with the 660 Ti.
The Accelero Hybrid comes with a rather steep price tag for a GPU cooler, but we feel that the performance balances it out. We definitely recommend this cooler for anyone who can afford it.
OUR VERDICT: Arctic Accelero Hybrid GPU Cooler
| | |
| --- | --- |
| Performance | 10 |
| Value | 8.5 |
| Quality | 9 |
| Features | 9 |
| Innovation | 9.5 |

We are using a new addition to our scoring system to provide additional feedback beyond a flat score. Please note that the final score isn't an aggregate average of the new rating system.

Pros
Cons

Excellent performance

Easy to install with included instructions

Multi-GPU compatibility

Works for AMD and NVIDIA GPU's

All necessary parts are included

More than enough heatsinks included for multiple installations

No official guideline for non-reference products

No guideline yet for GTX 660 Ti
Summary: The Arctic Accelero Hybrid brings a new take to the area of GPU cooling. With a closed-loop cooling system, it combines ease of use with excellent performance. For the total absence of hassle during installation and great performance, the Accelero Hybrid earns the Bjorn3D Golden Bear Award.