Overview of the ASUS GeForce GTX680 DC II TOP
The packaging is the standard powerful looking figure mounted on horseback which we have seen on many GPU boxes to date. It also lists a few key feature titles but most of the box front is simply the figure with a large 900MHz ensuring you know this card is pumped.
Here is a list of all items included in the accessory pack:
Installation Disc

Dual molex to 6pin PCIe power Adapter

Mini HDMI to HDMI Adapter

DVI to VGA Adapter
The accessory package is adequate to get you running and even includes a nice quality mHDMI to HDMI adapter.
Click Images to Enlarge
Here we get some nice peek at the card and you can see the detail on the metal fan shroud which makes the card feel much more beefy than some we have used from the 560 Ti lineup utilizing the stock plastic shrouding.
Looking under the edge, you can see the large ALU base of the heatsink where all the heatpipes meet the GPU. For a low thermal output card like a 560 Ti, ASUS sure took cooling seriously.
Click Images to Enlarge
The rear of the card is rather standard with no backplate used to cover components as those seem to be reserved for the more enthusiasts marketed models. Across the top of the PCB we see a stiffener which makes sure there is little to no flex with the PCB, and it truly does help as we took the stiffener off to test and the PCB feels more pliable without it.
The card supports up to 2 Way SLI which is standard for the 560 Ti models.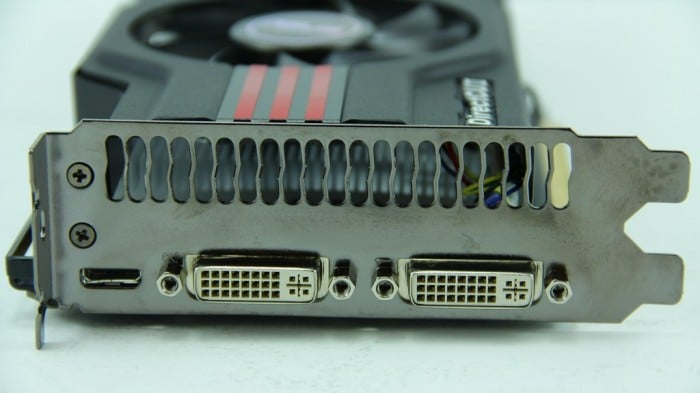 Click Images to Enlarge
The outputs are standard with:
This is plenty of connectivity as Fermi cards only support up to 2 displays from a single card so you can hook up dual DVI or even adapt them to whatever output deemed necessary. 
Click Images to Enlarge
The cooler is beefy and very well built. It has a very dense fin array with a large ALU heatsink at the base which the heatpipes are flattened into. These pipes rest against the GPU.
Click Images to Enlarge
Here we just see a few detail shots of the card/cooler and getting an idea of the fan blade shaping which helps for the quiet yet powerful fans on the DirectCU II cooler.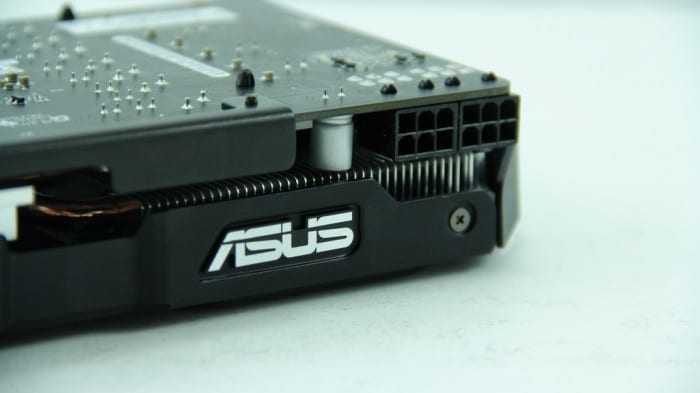 Click Images to Enlarge
The power for the card is also standard with dual 6 pin input which as we have seen with 560 Ti as a whole is more than enough in most situations for some really good clocks.