ASUS has passed us yet another card from their DirectCU II lineup with the GTX 560 Ti 2GB TOP edition. This is a bit of an older model but it is a refresh of the 560 with the addition of double the frambuffer and a higher clockspeed. Lets take a look at what it had to offer and what you can expect from this value oriented addition to the ASUS family.
Introduction – ASUS GeForce GTX560 Ti DirectCU II TOP

The ASUS GTX 500 series seems like a distant memory, but we were surprised when a short time back they shipped us this 560 Ti model refresh to check out. The GTX 560 Ti was originally released with a 1GB framebuffer. This card has the framebuffer doubled with a full 2048MB for what can only be some high res mainstream gaming action. 

This card comes in around the same time as the Nvidia 680, and honestly a 2GB framebuffer can be quite a potential performer. The price as of writing was $269.99 which is about middle of the road and a bit cheaper than the EVGA variant which also offers 2GB framebuffer. One major advantage here is that this card offers the DirectCU II cooler whereas the EVGA card which is $10 more uses a reference cooler.
Key Features
SAP (Super Allow Power)
ASUS has great pride in the components they infuse into their graphics offerings very much like the motherboards we have covered previously. ASUS has what's called SAP or Super Alloy Power which covers the components in the very VRM we are discussing. The components are hand picked for quality and performance based around not only power delivery but efficiency as well. The components in the SAP solution are super durable for a rated lifespan of up to 2.5X what reference cards would offer and also with the DIGI+ controller you're talking ultimate precision which means better voltage stability, better overclcoking potential and overall better power efficiency clock for clock.
Here we see the VRM Chokes, Mosfet/driver Assemblies and the solid state caps which make up the SAP components or to simplify the super strong and efficient VRM.
DCII (Direct CU II)
ASUS DirectCU II coolers are the ASUS way of saying maximum cooling and plenty of quiet with one naming scheme. DirectCU II coolers are direct touch heatpipes to the GPU surface ensuring the heat is wicked away from the GPU and up into the cooling fin array as quickly as possible. From there the custom shrouded dual fans push air through the fins effectively but most important quietly to keep the GPU as cool as possible so hopefully it will never hit a temp to need a higher or noisier fan speed. The air pushing through the fin array also helps cool board components and the VRM cooler as well which is a nice little added bonus to this style cooler since we all know cooler components tend to run stronger, longer and with better efficiency.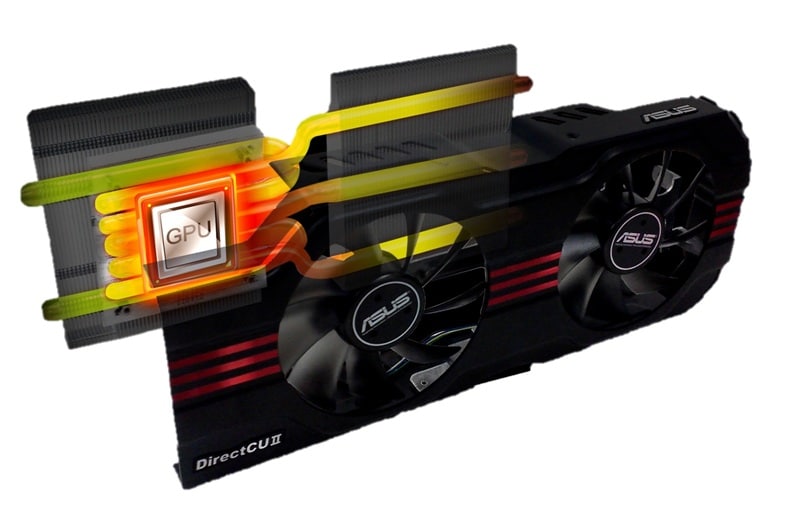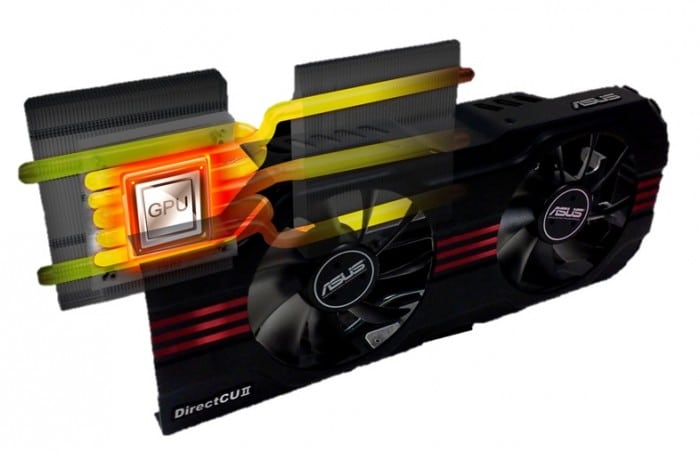 GPU Tweak
ASUS offers its own software utility and its functionality has grown with generations just like the cards it supports. Of course the card can be overclocked but also voltages can be tweaked and within the GPU Tweak app we can even launch the GPU info utility which is a full custom version of GPUz. This is a really cool feature and a benefit especially to benchmarkers who we can definitely see using this card with some of the awesome tweaks we will discuss in the card overview.

There are many tools within the GPU Tweak menus some a little more hidden than others. First off directly form the GPU Tweak utility itself you can check for BIOS updates and even update from within the program. For anyone whos ever updated a vBIOS before knows that having a tool that can do this in a mere few clicks is really handy.
The charts besides offering real time monitoring can also be setup to log thermals, voltages and clocks so that after benchmark or gaming runs you can see if there was any thermal issues or throttling that may have affected performance.
And another neat feature that many never delve into but its worth visiting is the custom fan profiling. This allos a specialized ramping of the fan according to a graph you set custom for your thermal/acoustic needs. Honestly after using this card awhile I would say the fan profile is damn near perfect as it keeps the card cool when under load and also super quiet when just messing around on the web.
The utility does come on the disk but its always advised to get the latest version HERE and search GPU Tweak in the ASUS page linked.