Just after thinking we might have seen the most well-rounded AMD graphics card from our vendors, we came to check out the MSI R7850 Power Edition 2GB factory overclocked graphics card. This card has completely blown us away with its quiet operation, low temperatures, and great performance for its class. Read on to find out how MSI achieved all of this!

Introduction
We recently covered the launch of Nvidia's latest mid-range budget reference design GeForce GTX 660 graphics card, which turned out to be one of the best bang for the buck graphics cards available on the market as of Fall 2012. But of course, we were not quite satisfied with its overclocking potential and it's cooler design. While the card was quiet, and did not exceed 74C at full load, it still could have a bit of improvement on the cooling and overclocking side. We're sure manufacturers that decided to go with a non-reference designs will provide better cards for enthusiast gaming members and overclockers, but that will also come with a higher price tag of $239+.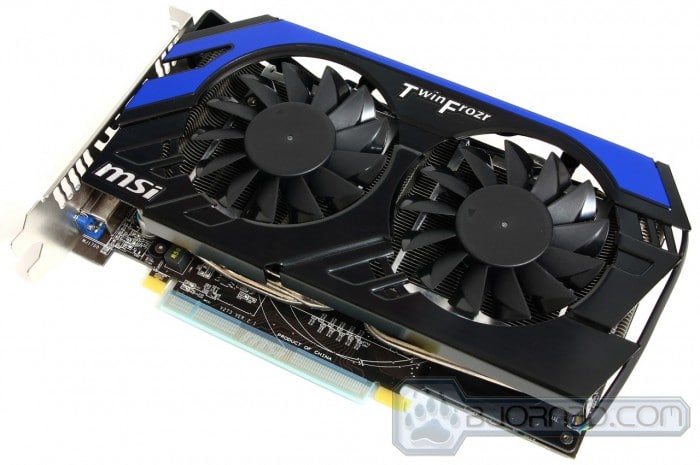 Today we're taking a look at MSI's AMD offering, the MSI R7850 Power Edition 2GB factory overclocked card. This card currently goes for $199 on Newegg.com, and offers a new cooler design, better performance, and lower acoustic levels over its HD 7850 reference design. Much like MSI's original Twin Frozr series graphics cards that come with a dual fan and heatpipe design cooler, the Power Edition Twin Frozr graphics cards tend to come with higher core clock speeds, better VRM and more overclocking potential. This higher clock speed is observable on the MSI R7850 Power Edition graphics card, which costs just as much as the Twin Frozr version of the R7850, but comes with an additional 50Mhz, bringing the card to 950 MHz. Let's take a closer look at the card and how well it performs compared to the competition.
Features & Specifications
Here we have a closer look at the specifications of the previous generation HD6850 and the reference design HD 7850 compared to the MSI R7850 Power Edition video card. We can see right away that the AMD Radeon HD 7850 graphics card is a big improvement over the last generation HD 6850. It's manufacturing process decreased to 28nm, containing more stream processors in a smaller die, more texture units and overall faster GPU clock and memory frequencies. Not to mention a 2GB VRAM which provides a much higher frame buffer for those texture hungry games and the large HD resolutions with Anti-Aliasing.
| | | | |
| --- | --- | --- | --- |
| Specifications | AMD HD6850 | AMD HD7850 | MSI R7850 Power Edition |
| Chipset Version | ATI Radeon HD 6850 | ATI Radeon HD 7850 | ATI Radeon HD 7850 |
| Process | 40nm | 28nm | 28nm |
| Stream Processors | 960 | 1024 | 1024 |
| Texture Units | 48 | 64 | 64 |
| ROPs | 32 | 32 | 32 |
| GPU Clock | 775 MHz | 860 MHz | 950 MHz |
| Memory Bus | 256 bit | 256 bit | 256 bit |
| Memory Clock | 4 GHz (1000 MHz) | 4.8 GHz (1200 MHz) | 4.8 GHz (1200 MHz) |
| Memory Size | 1 GB | 2 GB | 2GB |
| Memory Type | GDDR5 | GDDR5 | GDDR5 |
| Minimum Power Supply Requirement |  500 Watt | 500 Watt | 500 Watt |
The MSI R7850 Power Edition comes with a faster GPU Clock frequency over the reference design HD 7850. This is a 90 MHz speed improvement, which translates to better gaming performance by a few frames per second.
Product Overview
Click Images to Enlarge
The MSI R7850 Power Edition video card comes in a very nice and eye catching box. The box lists some of the features and benefits that the card comes with, including a triple overvoltage enhanced PWM design, and a 3 Year Warranty. The back of the box goes into a bit more detail about the specifications of the card that we have listed above.
Click Images to Enlarge
Inside the box, you'll find another hard cardboard box that has additional black foam padding to protect the graphics card from any damage during shipment. A transparent plastic cover holds the video card and the accessories in place until the user takes it out of the box.
The included accessories consist of a owner's manual, a installation guide, a Mini-DisplayPort to DisplayPort adapter cable, a DVI to VGA adapter, a Molex to 6-Pin power connector, and a Driver CD.
Click Images to Enlarge
And here we have the MSI R7850 Power Edition graphics card. Our first impressions of the card are quite positive. The card itself feels extremely sturdy, with a solid cooler design. Sometimes one of the biggest disappointments for us when purchasing new gear for our system is the cheap quality of the components used on the hardware we just recently purchased. This seems to be the case with the stock reference cards, however, the MSI R7850 Power Edition is definitely a great example of what a quality product should be all about. The cooler follows the same Twin Frozr design with a hint of black and blue as a color scheem compared to the gray and red scheme we see on the original Twin Frozr edition of the R7850.
Click Images to Enlarge
The card dimensions of the R7850 Power Edition are 8.27″ width, 4.65″ height, and 1.54″ depth. This means that the video card will take up two PCI slots inside your system. The card is compatible with the new PCI-Express 3.0 x16 interface, providing extra bandwidth for systems that support PCI-Express 3.0.  The fans on the video card should be 11dB quieter than that of the reference design, and the cooler is said to bring down the temperatures by up to 22 degrees. We'll take a look at that later in our review in our temperature section. Also, the fans have a Dust Removal technology, which spins the fans in reverse direction to remove the dust from the heatsink that might have accumulated since the system was last used. This feature only works during system restart.


Click Images to Enlarge
Unfortunately, here is one of our only cons about the MSI R7850 Power Edition video card: no dual DVI support. Only way to get additional DVI ports on the card would be by getting appropriate HDMI to DVI or Mini-DP to DVI adapters, which means more expense for the end-user. The card comes with two Mini-DP display connectors, one HDMI connector and one DVI connector. The included VGA to DVI adapter allows users to use old monitors that only come with VGA connectors. The included Mini-DP to DP adapter cable allows the user to use a DisplayPort based monitor. Thankfully the video card's display output connectors all work at boot, which means that you do not have to use a specific display output port to be able to configure your system in the BIOS.
Now lets get to checking out the cooler design of the card. Under the Twin Frozer cover, we can see another black heatsink. This is a all-in-one heatsink that takes care of cooling down the memory modules and the VRM of the video card. With a single heatsink design, the fans on the card are able to better cool down the video card, since the heat can evenly spread across the heatsink.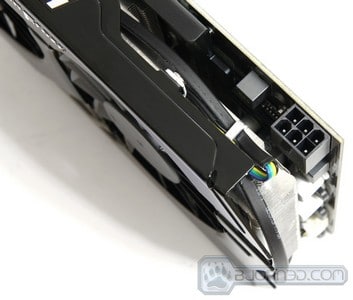 Click Images to Enlarge
Furthermore, MSI is using a nickel-plated copper heatsink, with that dissipates heat from the GPU with the help of three heatpipes. Under the cooler we can find MSI's latest Military Class III components, including their Hi-c CAP (Highly-Conductive Capacitor). This specific capacitor is used has 15x less leakage and is stable with the help of a titanium core.  What does this mean for the end-user? This should provide for a much cleaner and stable voltage for overclockers which might lead to higher overclocks. The SFC (Super Ferrite Choke) is another component widely used on the Twin Frozr series cards, along with this Power Edition video card. This type of Choke allows for up to 130% more current to be driven to the core parts of the card for better overclocking stability. And finally, MSI also includes Solid capacitors instead of the traditional capacitors used on most of the cheaper hardware available from OEM manufacturers.
The MSI R7850 Power Edition video card uses a single 6-Pin Power Connector, which means it will use less power than some of the higher-end graphics cards that require two 6-pin or one 6-pin and one 8-pin PCI-E power connectors.
Click Images to Enlarge
Taking a closer look at the card doesn't reveal anything interesting in particular, but it does show us that the card is capable of running in a CrossFireX configuration.
Testing Methodology
The OS we use is Windows 8 Pro 64bit with all patches and updates applied. We also use the latest drivers available for the motherboard and any devices attached to the computer. We do not disable background tasks or tweak the OS or system in any way. We turn off drive indexing and daily defragging. We also turn off Prefetch and Superfetch. This is not an attempt to produce bigger benchmark numbers. Drive indexing and defragging can interfere with testing and produce confusing numbers. If a test were to be run while a drive was being indexed or defragged, and then the same test was later run when these processes were off, the two results would be contradictory and erroneous. As we cannot control when defragging and indexing occur precisely enough to guarantee that they won't interfere with testing, we opt to disable the features entirely.
Prefetch tries to predict what users will load the next time they boot the machine by caching the relevant files and storing them for later use. We want to learn how the program runs without any of the files being cached, and we disable it so that each test run we do not have to clear pre-fetch to get accurate numbers. Lastly we disable Superfetch. Superfetch loads often-used programs into the memory. It is one of the reasons that Windows Vista occupies so much memory. Vista fills the memory in an attempt to predict what users will load. Having one test run with files cached, and another test run with the files un-cached would result in inaccurate numbers. Again, since we can't control its timings so precisely, it we turn it off. Because these four features can potentially interfere with benchmarking, and and are out of our control, we disable them. We do not disable anything else.
We ran each test a total of 3 times, and reported the average score from all three scores. Benchmark screenshots are of the median result. Anomalous results were discounted and the benchmarks were rerun.
Please note that due to new driver releases with performance improvements, we rebenched every card shown in the results section. The results here will be different than previous reviews due to the performance increases in drivers.
Test Rig
Test Rig
Case
Cooler Master Storm Trooper
CPUs
Intel Core i7 3960X (Sandy Bridge-E) @ 4.6GHz
Motherboards
ASUS P9X79 WS X79 Chipset Motherboard
Ram
Kingston HyperX Genesis 32GB (8x4GB) 1600Mhz 9-9-11-27 Quad-Channel Kit
CPU Cooler
Noctua NH-D14 Air Cooler
Hard Drives
2x Western Digital RE3 1TB 7200RPM 3Gb/s Hard Drives in RAID 0
SSD

2x Kingston HyperX 240GB SATA III 6Gb/s SSD in RAID 0 (Main)
1x Kingston HyperX 240GB SATA III 6Gb/s SSD (Storage)

Optical
ASUS DVD-Burner
GPU

Nvidia GeForce GTX 680 2GB
Nvidia GeForce GTX 670 2GB
Nvidia GeForce GTX 660 Ti 2GB
EVGA GTX 660 SuperClocked 2GB
Nvidia GeForce GTX 660 2GB
Nvida GeForce GTX 580 1.5GB
Palit GTX 560 Ti Sonic 1GB
EVGA GTX 560 SuperClocked 1GB
AMD HD 7970 3GB
AMD HD 7870 2GB
MSI R7850 Power Edition 2GB
AMD HD 7850 2GB
AMD HD 7770 1GB
AMD HD 7750 1GB

PSU
Cooler Master Silent Pro Gold 1200W PSU
Mouse
Razer Imperator Battlefield 3 Edition
Keyboard
Razer Blackwidow Ultimate Battlefield 3 Edition
Synthetic Benchmarks
3DMark 11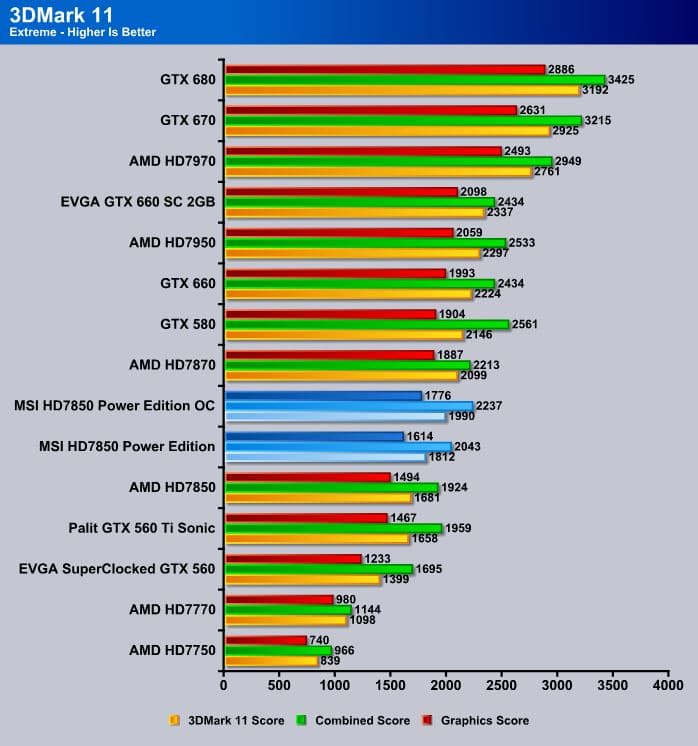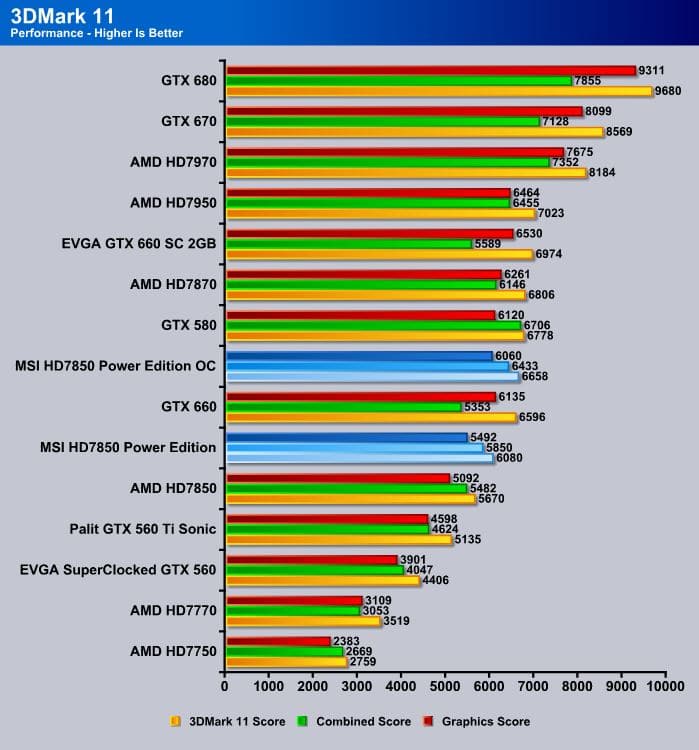 Now this is the part most of us have waited for, the benchmarks. 3DMark 11 is our latest DX11 synthetic benchmark which gives us  a great idea on where this card stands compared to the competition. It looks like the MSI R7850 Power Edition gets better scores compared to its Nvidia competition in Performance mode, while in Extreme mode, the GTX 660 and other graphics cards in the range seem to have the edge over the R7850 Power Edition. Either way, with some overclocking, and pushing up the performance of the MSI R7850 Power Edition to 1050 MHz on Core Clock and 1450 MHz Memory Frequency, we are able to see that we were able to get slightly ahead of the GTX 660, which costs about $40 more. This is not the case in the Extreme preset, so it looks like the R7850 Power Edition gets better performance at lower resolutions. Lets see if this pattern continues on our other tests as well.
3DMark Vantage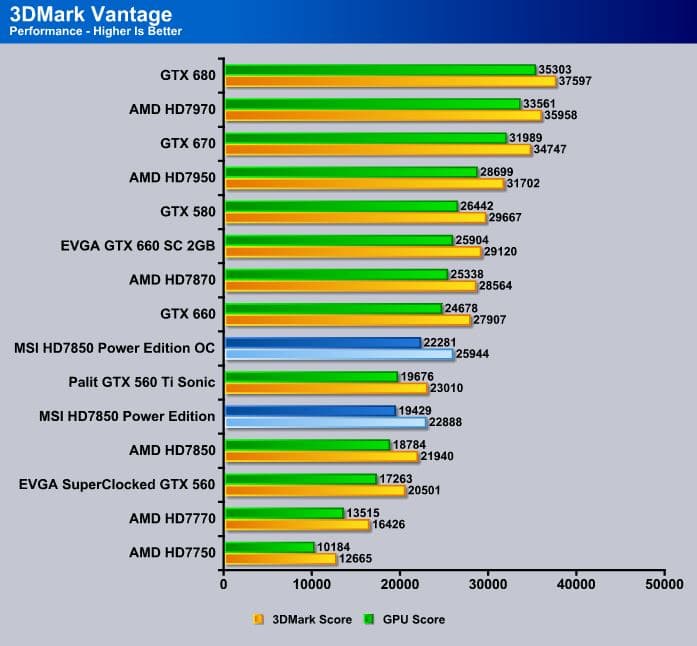 Not quite! The previous 3DMark 11 scores showed us that at lower resolutions and graphics detail we were able to surpass the GTX 660 in performance with some overclocking on the MSI R7850 Power Edition. This is not the case on 3DMark Vantage. Though if we take a look at the performance between the stock AMD HD7850 reference card, and the MSI R7850 Power Edition, we can right away see a slight score increase. With some overclocking, we jumped roughly by an additional of 3000 points ahead. This is a big improvement!
Unigine Heaven 3.0

Unigine Heaven is a benchmark program based on Unigine Corp's latest engine, Unigine. The engine features DirectX 11, Hardware tessellation, DirectCompute, and Shader Model 5.0. All of these new technologies combined with the ability to run each card through the same exact test means this benchmark should be in our arsenal for a long time.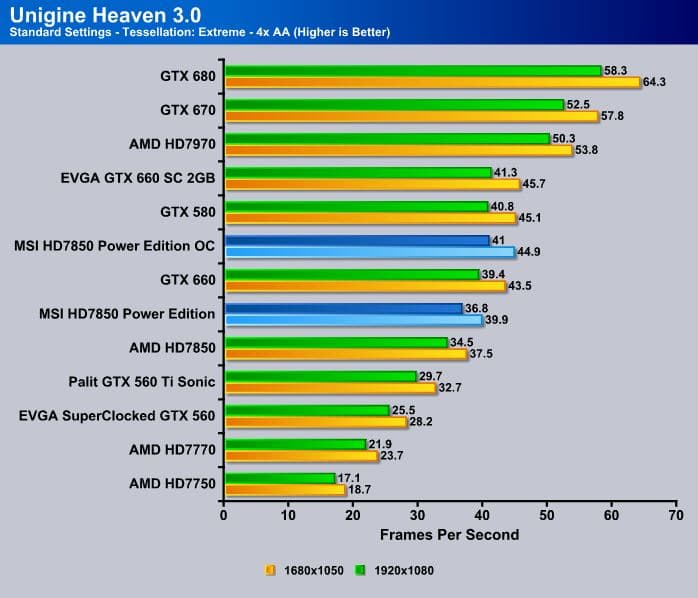 Unigine Heaven 3.0 is yet another DirectX 11 based synthetic benchmark, which allows us to enable Tessellation and other DX11 based settings like 3DMark 11 allowed us to do. Once again we see a similar performance to what we have seen in 3DMark 11's Performance preset. The MSI R7850 Power Edition is roughly 1.4FPS faster than the reference AMD HD 7850, but we also see a 5FPS increase when we overclocked the card, and a 1.4FPS increase in performance compared to the Nvidia GeForce GTX 660. Let's keep in mind though that EVGA's GTX 660 SC 2GB graphics card costs the same amount as Nvidia's reference design card, yet it is factory overclocked, and this card is still faster in performance without having to deal with manual overclocking.
Game Benchmarks
Battlefield 3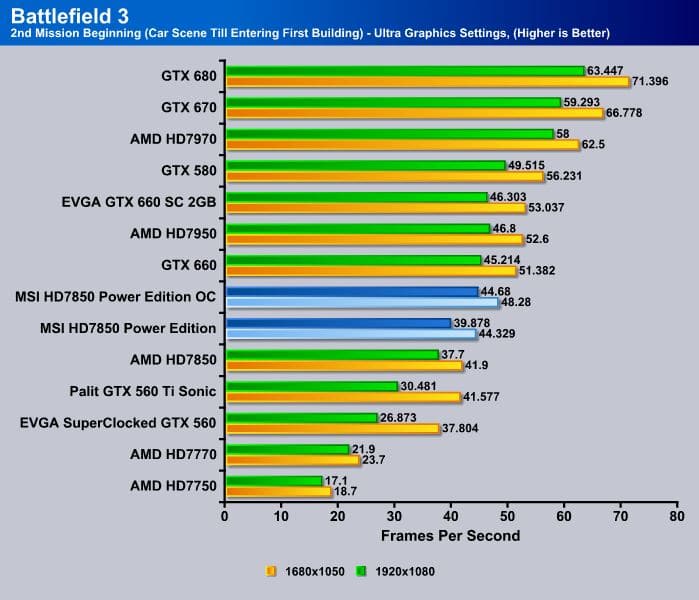 But when it comes to actual gaming, especially one of the most played FPS games currently, Battlefield 3, those are the scores we're really interested in. While a stock AMD HD 7850 can get roughly the same performance as a Palit GTX 560 Ti Sonic, with the exception of better performance at HD resolutions of 1920×1080, the MSI R7850 Power Edition really jumps ahead in performance by up to 2-3 FPS. With some overclocking, we reach about a 7.3FPS increase in performance, but still not enough to beat the Nvidia GeForce GTX 660.
Metro 2033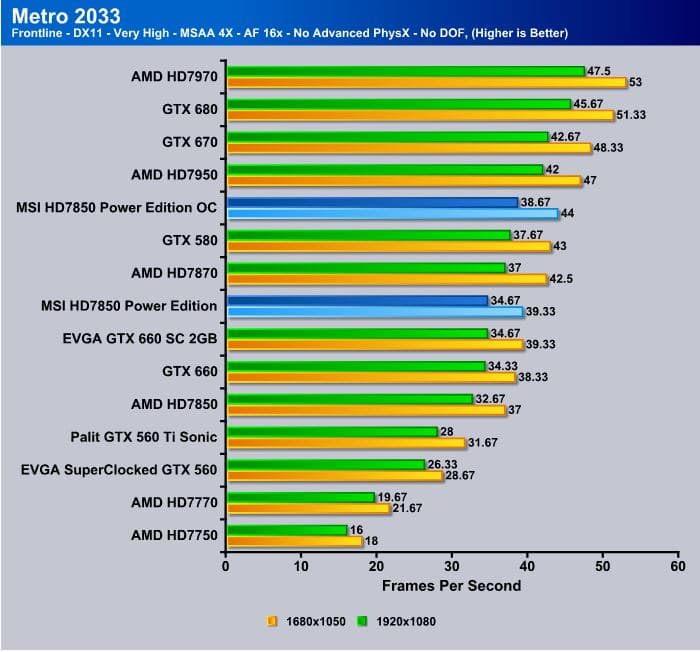 Metro 2033 is probably one of the only games were we'd recommend at least 45+ FPS. This is because in DX11 settings, the game has its moments when it can really get bottlenecked by a video card, so a serious graphics card is needed to keep the game running smooth at all times. While the game might be playable at 1920×1080 in DX11 mode, the AA and AF settings might have to be lowered. However, at 1680×1050, the game should be playable without any major glitches. However, lets keep in mind that The MSI R7850 Power Edition did manage to get the same performance as EVGA's factory overclocked GTX 660 SC graphics card. Metro 2033 does play better on AMD graphics though.
Batman Arkham City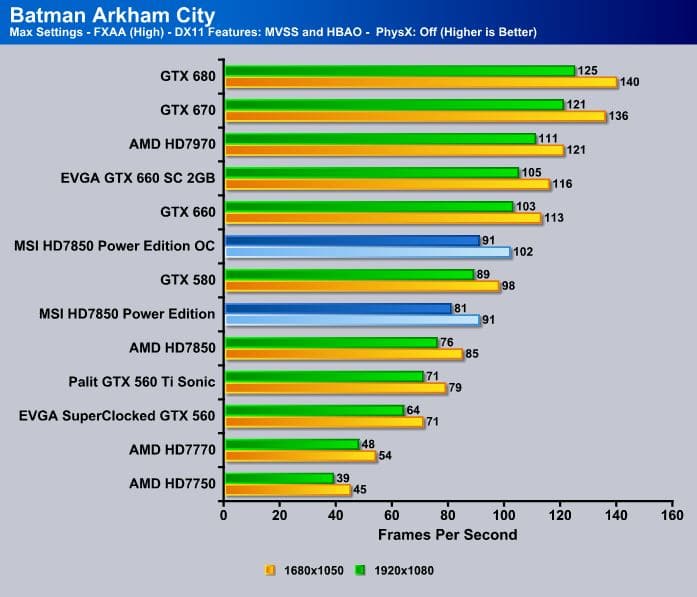 Batman Arkham City is a Nvidia optimized game, so we wouldn't expect any miracles to happen here. As we can see, and as we expected, the MSI R7850 Power Edition would have a tough time competing with Nvidia's Kepler line-up. This is what we should be expecting on all Nvidia optimized games, however AMD optimized games seem to show better performance on the AMD side.
Crysis 2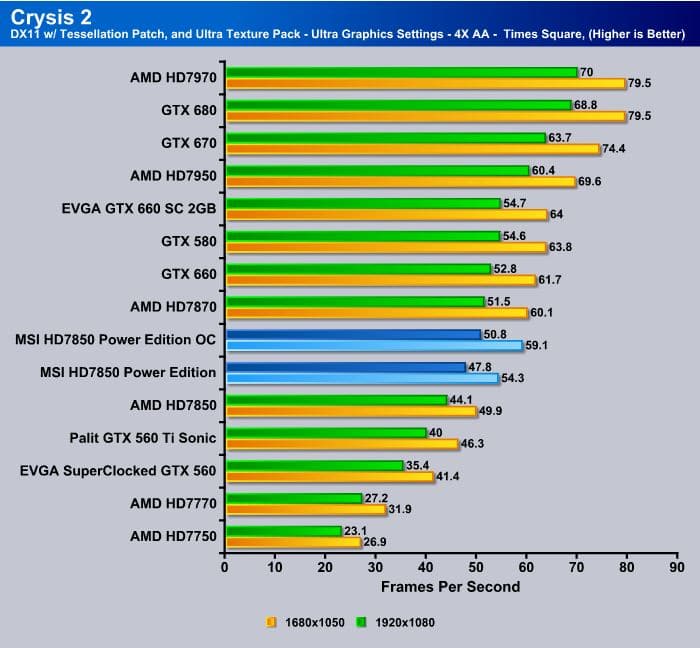 Crysis 2 shows the same performance numbers as Batman Arkham City did. The MSI R7850 Power Edition falls just righ in betwen the performance of a Palit GTX 560 Ti Sonic and an EVGA GTX 660 SC 2GB video card. Though gameplay should be totally smooth and playable as we can see from the framerates we were getting. 47.8FPS should be far enough to have a smooth gameplay at 1920×0180 resolutions with the latest DX11 Patch, Ultra Quality Texture pack, and much more.
Just Cause 2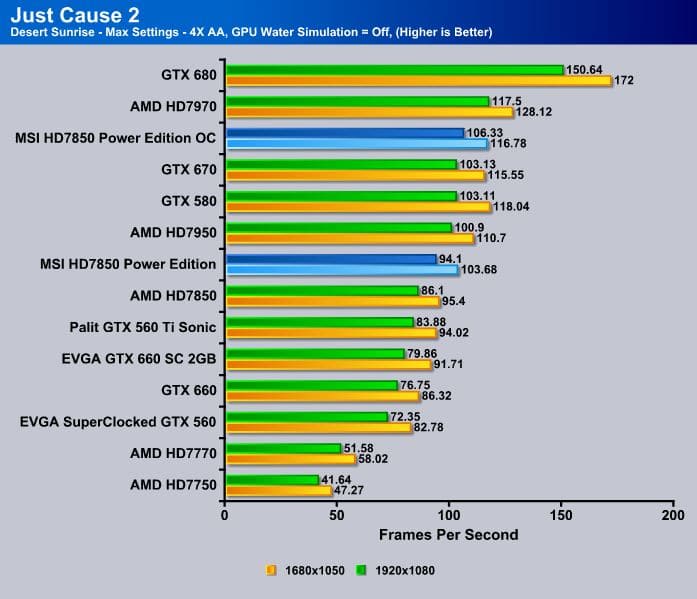 The MSI R7850 Power Edition has really surprised us in Just Cause 2. We were not expecting too much performance from the card considering most of the games showed lower performance on the R7850 Power Edition than the GeForce GTX 660. In Just Cause 2, a overclocked MSI R7850 Power Edition card got us better results than a $400 GTX 670 from Nvidia. So it looks like if you're in a market for a graphics card, and you like specific types of games, the R7850 might be an excellent choice for you, especially if you're playing games like Just Cause 2 and Metro 2033.
Lost Planet 2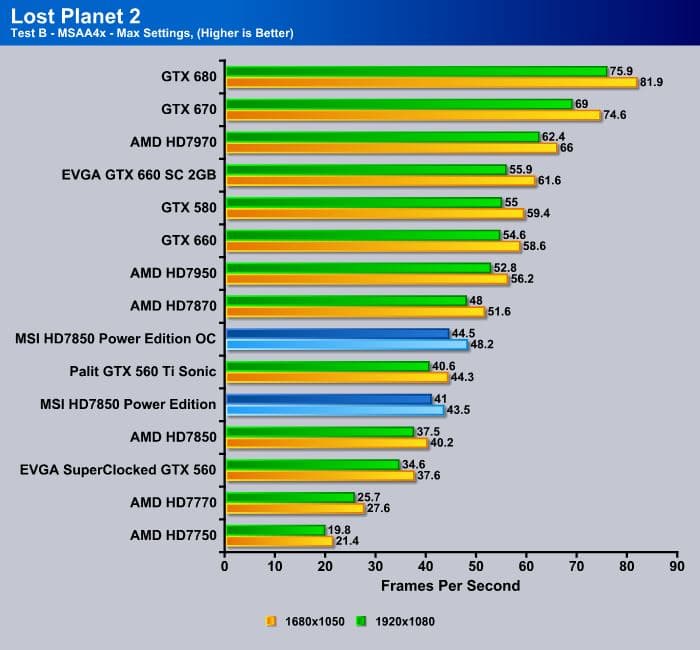 The MSI R7850 Power Edition is on the total opposite of the benchmark performance spectrum when it comes to checking out the performance in Lost Planet 2. If you're planning on playing Lost Planet 2, it is definitelly a better choice to go with an AMD card, as the Nvidia cards will just blow the R7850 out of the water in performance comparison.
Dirt 3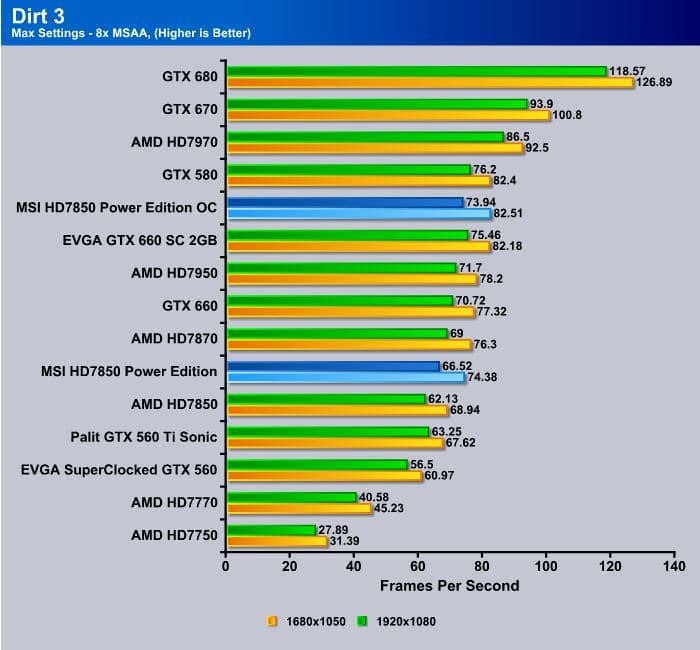 Finally, our final gaming benchmark is Dirt 3, which is yet another AMD video card favoring benchmark. The MSI HD7850 POwer Edition fell slightly short of the performance of a GTX 660, but with some overclocking, we were able to get a slightly higher performance from the EVGA GTX 660 SC 2GB graphics card. Awesome what a $199 card can do, especially when it's designed with overclocking in mind.
Other Stability Tests
TEMPERATURES

To measure the temperature of the video card, we used EVGA's Precision X and ran the Metro 2033 benchmark in a loop to find the Load temperatures for the video cards. The highest temperature was recorded. After looping for 10 minutes, Metro 2033 was turned off and we let the computer sit at the desktop for another 10 minutes before we measured the idle temperatures.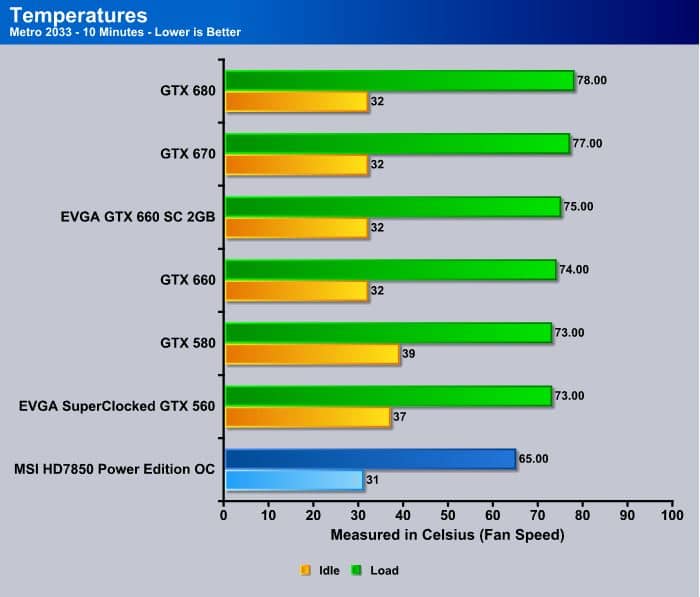 When we reviewed the EVGA GTX 660 SC last week, while the card had a lot of potential in games for the price, the card really lacked in actual cooling potential. The cooler on the card was somewhat mediocre, and a better aftermarket cooler would definitely bring the temperatures lower, elongating the lifetime of the graphics card. This is what we see on MSI's R7850 Power Edition video card, which comes equipped with better PWM components and of course a better cooling solution. We were able to get a very low 65C at full load, and 31C at idle temperatures. Both of these numbers are the lowest from all the cards that we have tested before the MSI R7850 Power Edition, so we are definitely not disappointed with the performance of the cooling on this card.
POWER CONSUMPTION

To get our power consumption numbers, we plugged in our Kill A Watt power measurement device and took the Idle reading at the desktop during our temperature readings. We left it at the desktop for about 15 minutes and took the idle reading. Then we ran Metro 2033 for a few minutes minutes and recorded the highest power usage.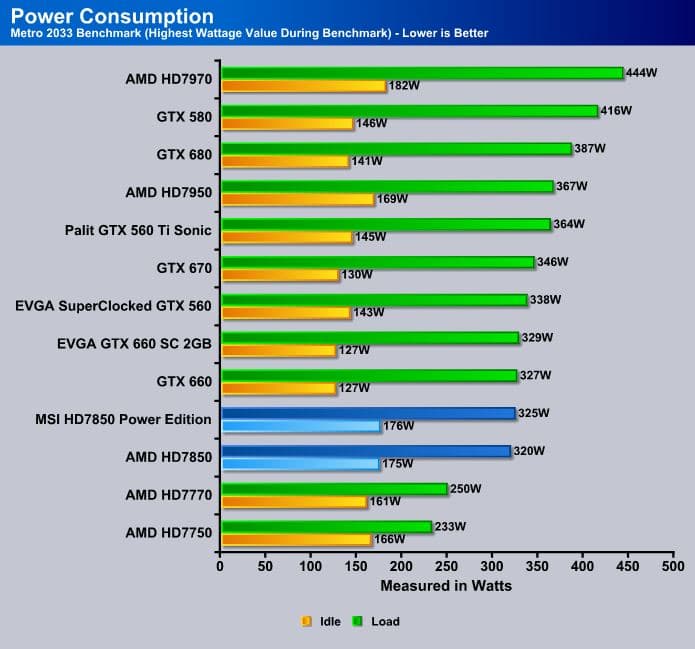 Interestingly, while we thought the MSI R7850 Power Edition graphics card might have higher power consumption at full load, it managed to perform lower than the Nvidia GTX 660. Though lets keep in mind that in most Nvidia optimized games, we did see a much lower performance from the MSI R7850 Power Edition. However, the idle power consumption seems to be slightly on the higher side, and we're not quite sure why this happend while other AMD cards we have tested had a lower idle power consumption.
Overclocking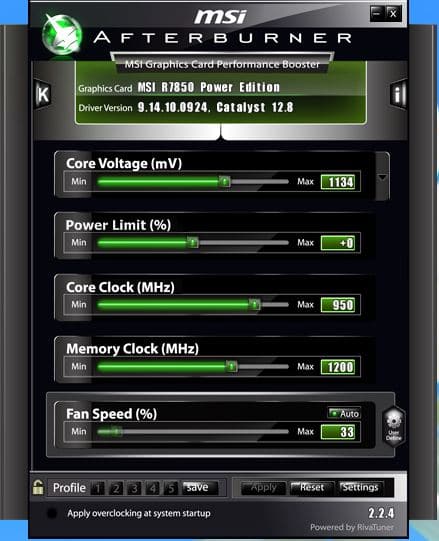 The MSI R7850 Power Edition is designed for overclclocking. At first, MSI Afterburner will launch with only the Power Limit, Core Clock, Memory Clock and Fan Speed options. You can go ahead and go into the Settings tab and enable various voltage regulation. A restart will be needed, but after a reload, the overclocking utility will have additional voltage settings. First obvious setting will be the Core Voltage setting for the GPU, which can be changed by 1 mV increments. A button with a down-right arrow can be found right be the Core Voltage settings. Lets take a look what that allows us to do: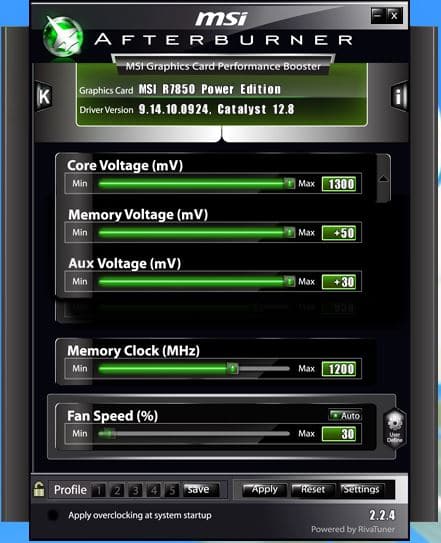 When the button was pressed, MSI Afterburner gives us three more options for adjusting voltage settings on the MSI R7850 Power Edition graphics card: Memory Voltage, and Aux Voltage. The Core Voltage can be raised all the way up to 1300 mV maximum without any special mods to the card or to the BIOS itself. The Memory Voltage can be raised by up to 50 mV, and the Aux Voltage is flexible by 30 mV extra.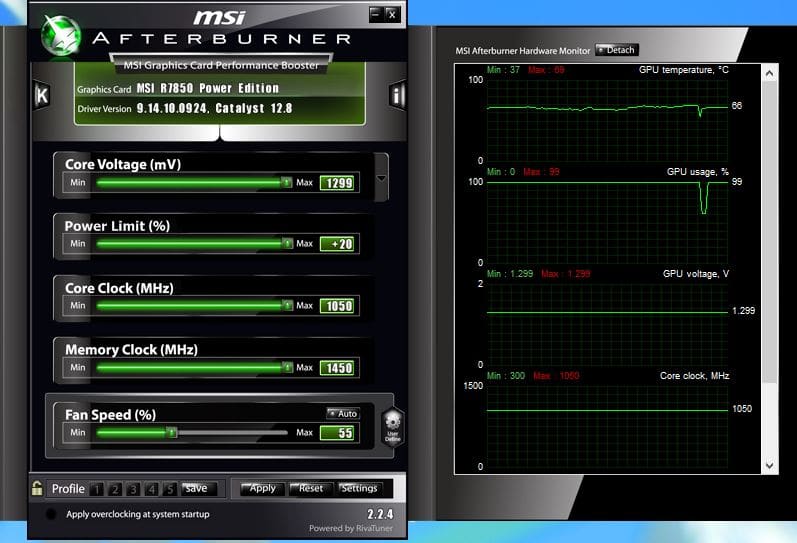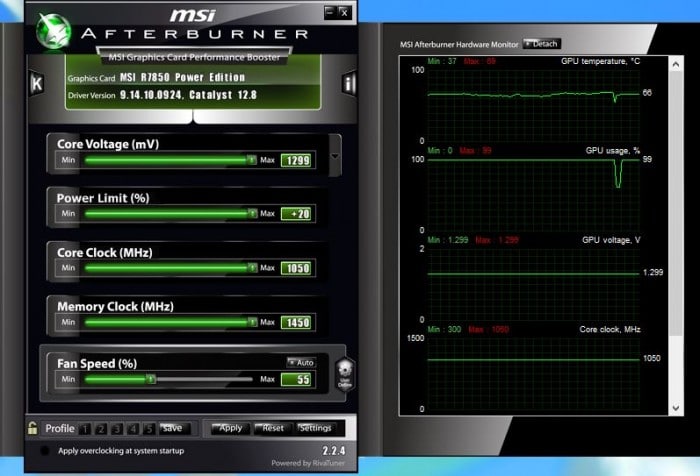 This card was so simple to overclock, that we just pulled all the possible overclocking settings to their maximum settings, and the card was 100% stable even at full overclocking potential. Though we believe the card can be further overclocked with a updated BIOS, however we were unable to get the card recognized by MSI's LiveUpdate utility, therefore we were unable to flash our card to a different BIOS version. We ran Unigine Heaven 3.0 in the background to check for stability, and the benchmark finished without any crashes. The settings seen in the above picture were the settings used in our R7850 Power Edition OC results.
Conclusion
So were we expecting exceptional performance from the MSI R7850 Power Edition 2GB video card we have just tested? No, not necessary, but we were proven wrong after a bit of overclocking. The Military Class III VRM design, and Twin Frozr cooler implementation really shows its potential especially when we see that temperatures still stay under 70C on maximum voltage and performance settings. In some cases the MSI R7850 Power Edition graphics card was able to compete with the EVGA GTX 660 SC 2GB video card, which costs roughly $229. The MSI R7850 Power Edition currently goes for $199 which really makes it a great bargain, especially for those AMD fan boys/girls out there. We would like to add that we really liked the Dust Remover technology on this card, and all cards should have this option, however, we were somewhat disappointed that MSI only gave one DVI option on this specific video card. It would have been nice to see Dual DVI port support, because most of the monitors that are used currently use DVI as their main connection. This puts users with multi-monitor configurations into additional expenses for display port adapters, unless the provided DVI to VGA or Mini-DP to DP adapters are useful.
OUR VERDICT: MSI R7850 Power Edition 2GB Video Card
| | |
| --- | --- |
| Performance | 8 |
| Value | 8.5 |
| Quality | 10 |
| Features | 9 |
| Innovation | 8.5 |

We are using a new addition to our scoring system to provide additional feedback beyond a flat score. Please note that the final score isn't an aggregate average of the new rating system.

Pros
Cons

Great performance for the money spent.
100% stable overclock even with maximum allowed Core Clock, and Memory Frequency.
Lowest Power Consumption within the cards we've tested.
Excellent Cooler design, providing quiet and very efficient cooling.
Military Class III components, and Dust Removing Technology
Summary: The MSI R7850 Power Edition 2GB Video card has completely blown us away in almost all aspects, including a powerful and quiet cooler design, excellent Military Class III components, and flawless and 100% stable overclocking even at maximum overclocked settings. The card also did not fall too far behind Nvidia's latest GTX 660 graphics card, which makes the R7850 Power Edition an excellent card for the price. We are giving MSI's R7850 Power Edition 2GB video card a 9 out of 10 overall score, and Bjorn3D's Golden Bear Award.