ICY DOCK offers a compact portable USB 3.0 HDD adaptor called the EZ Dock. Let's take a look at it.
Introduction
With the introduction of the USB 3.0 standard high speed data transfer became possible. The logical place to apply this is external storage. There is another storage related problem to look at however, that of loose Hard Disk Drives. Drives removed from older systems, spares, whatever the case may be. It would not be cost effective to use a drive enclosure for every one of these. So what to do? Use a USB 3.0 drive adaptor. There are many on the market but few have the ability to connect 2.5″ and 3.5″ SATA, and IDE drives. Even fewer can access both IDE and SATA at the same time. Icy Dock makes one that does.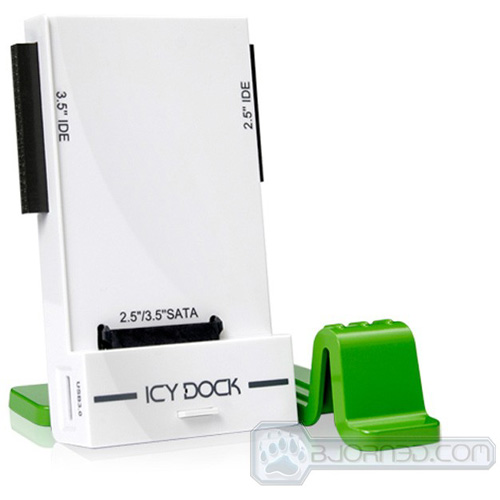 The ICY DOCK EZ Dock is a USB 3.0 desktop HDD/SSD adaptor that has connections for any SATA drive and 2.5 as well as 3.5 inch IDE drives. How well it works is what we will be ascertaining today.
The EZ Dock is available from at least 78 different online retailers with prices ranging from $49 to $85 USD (including shipping).
Features & Specifications
Features
Note: For most of the IDE (ATA) hard drive, the drive jumper settings should be configured to "Master" mode. If the docking fails to detect the IDE hard drive in Master mode, please try different jumper settings, i.e. Slave, CS.
* Perfect hard drive adapter with docking station functionality in USB 3.0 speeds.
* USB bus power for 2.5" drives.
* Low profile power adapter for 3.5" drives.
* Able to run 2.5″/3.5″ IDE & SATA hard drive Simultaneously.
* Detachable docking platform to use while on the go.
* Great for DIY users and IT Professionals.
* Compatible with both 2.5" & 3.5" SATA hard drives and supports hot swap.
* Compatible with both 2.5" & 3.5" IDE hard drives.
* Supports USB 3.0 connection for maximum performance.
* Plug & Play USB 3.0 with backwards capabilities to USB 2.0 for quick connection for
   any computer system.
* User friendly screw-less and tool-less design just plug in the hard drive and play.
* Easy access On/off button allows hard drive life expendability and energy conservation.
* Exposed working HDD stands in the air vertically for fast heat radiation.
* Durable metal stand is detachable for portable use.
* Designed for PC & Mac systems.
Note: The device supports USB 2.0 speed when connected with USB 2.0 ports. To achieve accurate USB 3.0 transfer speed, the host end must be connected to a USB 3.0 port. Transfer speed may also vary depending on hard drive speed.
Specifications
ICY DOCK MB881U3-1SA EZ-DOCK 2.5" & 3.5" SATA & IDE USB 3.0 Hard Drive Adapter with Docking Stand
| | |
| --- | --- |
| Model Number : | MB881U3-1SA |
Drive Fit :

2.5″ / 3.5″ SATA 1.5 / 3 / 6 Gbps hard drive or SSD
 

2.5″ / 3.5″ IDE hard drive
| | |
| --- | --- |
| Connection Interface : | SuperSpeed USB 3.0 |
| | |
| --- | --- |
| Transfer Rate : | Up to 5 Gbps (depending on hard drive speed) |
| | |
| --- | --- |
| Structure : | Plastic & metal |
| | |
| --- | --- |
| LED Indication : | Device Power & Drive Activity |
| | |
| --- | --- |
| LED Display Color : | Power: Amber; Drive Activity: Amber flashing |
| | |
| --- | --- |
| Power ON / Off : | Power Button |
| | |
| --- | --- |
| Dimension (L x W x H) : | 112 x 92 x 125mm |
Pictures & Impressions
The front of the package shows the product and tells consumers this unit is USB 3.0 and shows what drives it supports. The back shows the specs. Each side of the box shows that side of the unit, while the top simply displays the ICY DOCK logo and the bottom is blank.
The EZ Dock comes with a power transformer for external power, a USB 3.0 cable, a Molex cable to transfer power to the 3.5 inch HDDs, and the user manual. there is also a small silica gel packet to protect the unit from humidity during shipping.
The exterior of the EZ Dock is very simple. We find an SATA connection at the front just above the power button and LED. A 3.5 inch IDE connection on the left side, along with a type USB 3.0 B connection. On the right side are the 2.5 inch IDE and power connections. The stand is easy to remove and replace, and locks in place with a plastic spring clip arrangement. It needs to be removed to use the adaptor with IDE drives.
With simple, effective connections for multiple drive types, the EZ Dock can meet all your storage access needs. Connecting the SATA drives is as easy as slipping them into place and powering up the unit. The 2.5 inch IDE is just as simple. The 3.5 inch IDE requires one extra step, the connection of the Molex power cable.
Testing & Methodology
Test System
Case
Cooler Master HAF 932 Advanced

Processor

AMD Phenom II X4 9500 (Agena)

Motherboard

Asus M3N-HT Deluxe (bios 3401)
 

Memory

4 GB Patriot 8500EL series PC2-6400

Drive(s)

Maxtor 7H500F0, WDC WD 1600BEVT

Graphics

Gigabyte GTX 560 OC

Power Supply

XFX 750W POWER SUPPLY BLACK EDITION

Operating System
Windows 7 Ultimate 64bit
CPU cooler
Evercool Transformer 3
Case fans
Total 7 (excluding PSU fans), Two 230mm, One 140mm, Four 120mm
USB 3.0 Adaptor
SilverStone EC03
HDD used for testing
Western Digital WD WD5000AAKX SATA III (6Gb/s) 500GB, 3.5 inch
Software Testing Suite
HD Tune
ATTO
CrystalDiskMark
 Superfetch, Prefetch, and Indexing were disabled so as not to interfere with the tests. Any background applications and/or processes that could interfere with testing were similarly disabled. For all our tests we will compare the Icy Dock EZ Dock on USB 2.0, USB3.0 @2.5 Gb/s, USB 3.0 @5Gb/s and the onboard SATA II interfaces. Crystal Disk Mark was run 3 times per unit and then averaged for the posted results. Both HDTune and ATTO gave far more consistent results so screen shots were used.
Testing of  the Icy Dock EZ Dock was done using a Western Digital  SATA III (6Gb/s) 500GB, 3.5 inch HDD that has the following specifications;
| | |
| --- | --- |
| Performance Specifications |   |
| Rotational Speed | 7,200 RPM (nominal) |
| Buffer Size | 16 MB |
| Load/unload Cycles | 300,000 minimum |
Transfer Rates
Transfer Rate (Buffer To Disk)
126 MB/s (Max)
| | |
| --- | --- |
| Physical Specifications |   |
| Formatted Capacity | 500,107 MB |
| Capacity | 500 GB |
| Interface | SATA 6 Gb/s |
| User Sectors Per Drive | 976,773,16 |
Testing of the IDE functions was omitted due to lack of a suitable IDE Drive. The one used in the images doesn't function ad was used for demonstration purposes.
HD Tune
HD Tune was set to accurate, with a 1MB Block size for all testing. For most results Higher is better with the exception of access time where lower is better. We have never seen the CPU usage go any higher than shown.
The ICY DOCK EZ Dock plugged into the USB 2.0 port.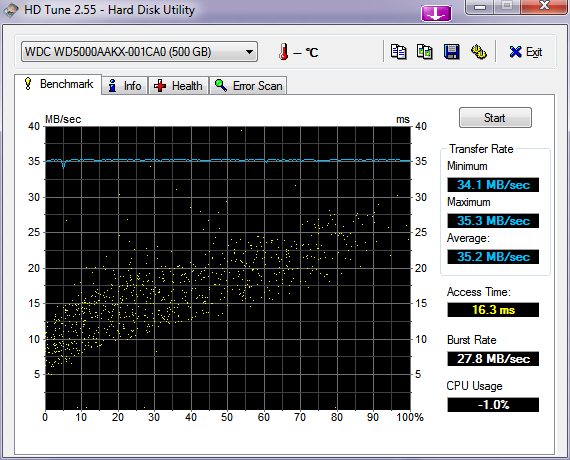 Again we see the limitations of the USB 2.0 standard. No matter how fast the adaptor is it cannot outrun the bus it is connected to.
The ICY DOCK  EZ Dock plugged into the USB 3.0 port @ 2.5Gb/s.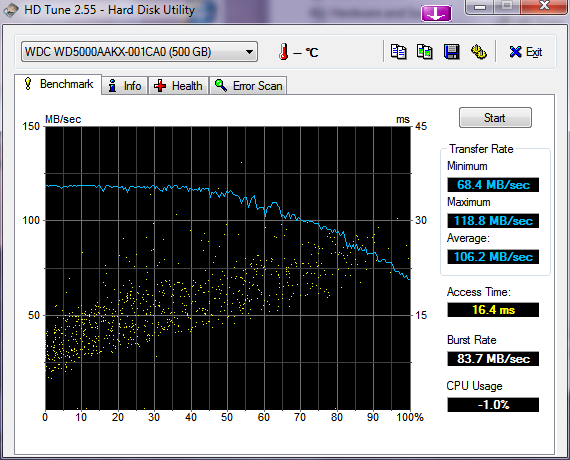 Here we see the advantage of the USB 3.0 interface. Even at 2.5 Gb/s the minimum has doubled, the maximum and average more than tripled or better, and the burst rate followed suit.
The ICY DOCK  EZ Dock plugged into the USB 3.0 port @ 5Gb/s.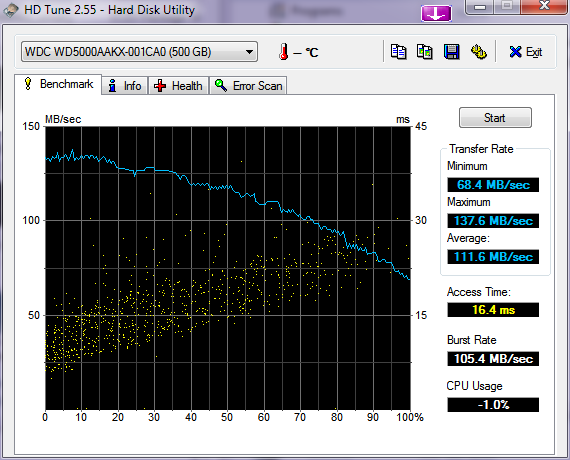 With the USB 3.0 intreface hitting 5Gb/s we see that the minimum hasn't moved, while the maximum and average both increased noticeably along with the burst rate. The maximum exceeded the published max for this HDD. The access time seems to hang right about the same throughout the testing.
The WD HDD on the test system SATA II bus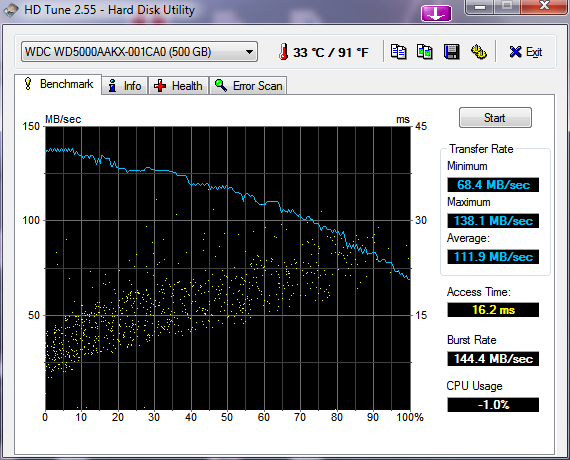 With results very similar to the ones using the EZ dock on the USB 3.0 at 5Gb/s it would seem that using this adaptor will feel like using a drive internally. The only real difference we see is the burst rate.
ATTO
Our final round of tests with ATTO which shows it settings in the screen shots.
The ICY DOCK EZ DOCK plugged into the USB 2.0 port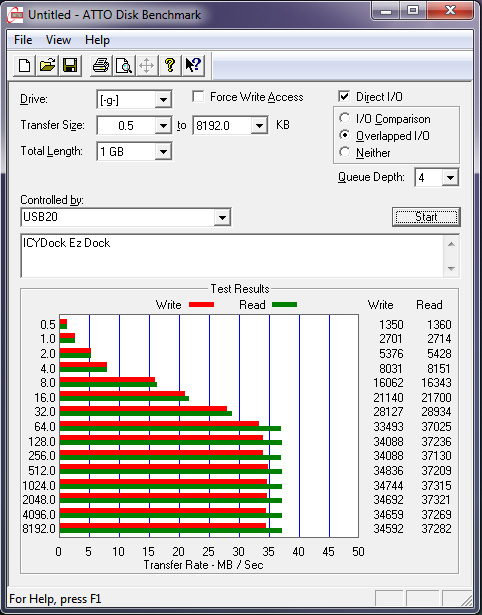 On USB 2.0 the adaptor is slowed by the interface. This will be the case with any USB 3.0 device plugged into a USB 2.0 port.
The ICY DOCK EZ DOCK plugged into the USB 3.0 port @ 2.5Gb/s.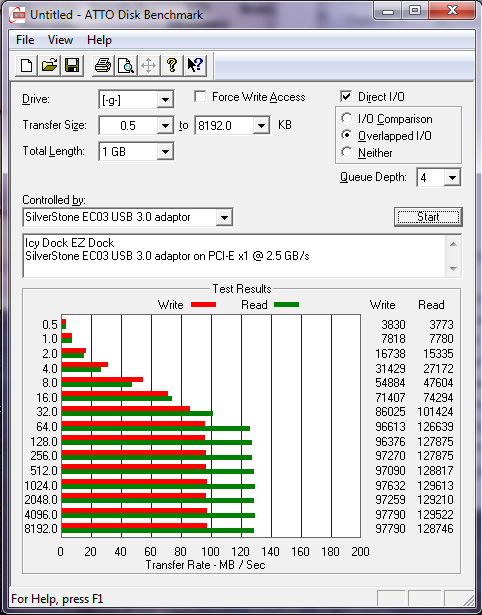 Plugging the EZ DOCK into the USB 3.0 bus gave it an increase in performance worth talking about. The read and write speeds have jumped by about three times or more.
The ICY DOCK EZ DOCK plugged into the USB 3.0 port @ 5Gb/s.
At 5Gb/s we see an even more dynamic increase over the USB 2.0 standard. This is about all than can be expected out of the WD drive used in these tests as can be seen in the final screen shot of the same hard drive on the motherboards SATA bus.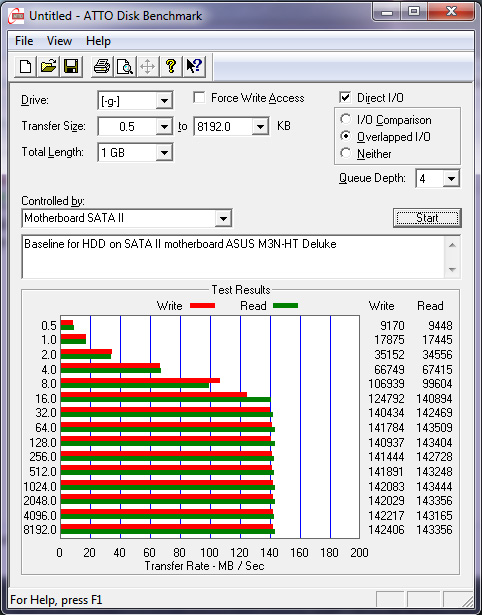 While the SATA II interface shows a minor increase over the ICY DOCK Dock Station, we don't believe that this difference would be noticed in day to day operations by the end user.
CrystalDiskMark
All test runs used the following settings; 1000 MB test size  (x5) # of test runs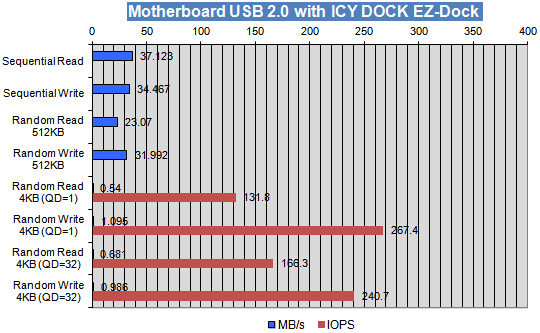 The ICY Dock website itself warns consumers that "The device supports USB 2.0 speed when connected with USB 2.0 ports."  And "To achieve accurate USB 3.0 transfer speed, the host end must be connected to a USB 3.0 port."  When connected via a USB 2.0 port we see the kind of results one expects from a USB 2.0 device.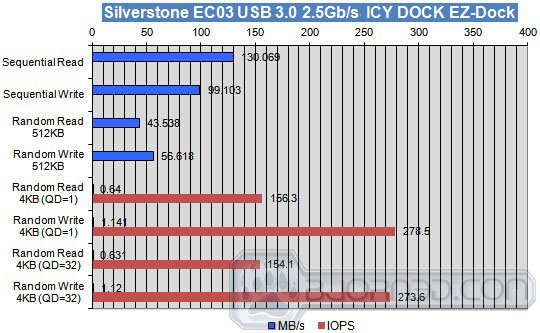 Moving to USB 3.0 bus at 2.5 Gb/s we can see a nice boost to sequential read at 3.5 times, and write at 2.7 times the USB 2.0. The random read and write speeds almost double. And we see an increase in the In/Out operations Per Second (IOPS)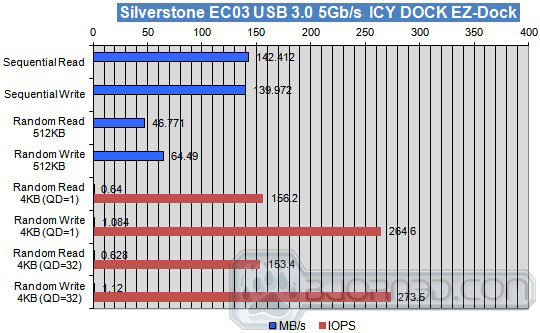 On the USB 3.0 bus at 5Gb/s the sequential read and write speeds move to roughly 3.8x the USB2.0 speeds, and the random read hits just over of double that of the 2.0 interface, while the random write is just slightly under double. The IOPS remain about the same on both interfaces.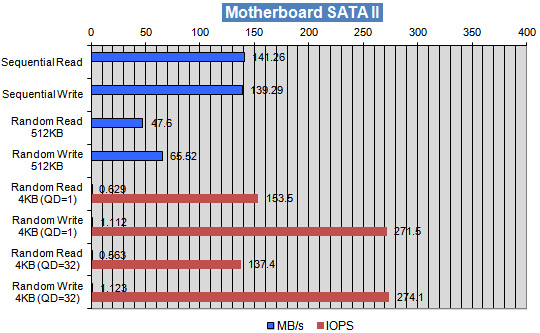 The performance of the same HDD installed on the SATA II bus of the test system shows us that the Icy Dock EZ DOCK allowed this drive to perform similarly to when it was on the SATA bus.
Conclusion
When working with loose drives it's always a pain having to mount them in enclosures or find two adaptors to transfer data from one drive type to another, or worse yet, shut down the system to install them. Using the ICY DOCK EZ Dock consumers will be able to do high speed data transfers from one drive type to another (limited by the speed of the drives), and swap drives on the fly. Using this device, one can access drives at speeds similar to having them mounted in the system. This desktop adaptor is portable, reliable, easy to use, and has a small foot print.
As shown by the test results this adaptor is capable of drive performance that far out reaches any USB 2.0 device. It would be a good addition to any toolset for those who work with PC's (it's also MAC compatible), or have need to swap storage in and out (artists, musicians, designers, etc.) With it's ability to not only handle IDE and SATA drives, but transfer data between them, this product covers all the bases when it comes to loose disk management. It's simple good looks will keep it from being an eyesore no matter where it is placed..
There was one thing we were disappointed by: the lack of a usable port on the device. This creates a dead end on the USB 3.0 bus. It should also be noted that two days after testing was completed this dock was knocked off the desk (quite by accident), and no longer functions. Place it somewhere safe at all times.
OUR VERDICT: ICY DOCK EZ DOCK
| | |
| --- | --- |
| Performance | 10 |
| Value | 9.5 |
| Quality | 9.5 |
| Features | 9 |
| Innovation | 10 |

We are using a new addition to our scoring system to provide additional feedback beyond a flat score. Please note that the final score isn't an aggregate average of the new rating system.

Pros
Cons

3TB capable
Connections for multiple drive types
Multiple concurrent drive capability.
Portable
External power source
Ease of use

Lack of a usable USB 3.0 port in the adaptor
 

 
Summary: The ICY DOCK EZ Dock is a fast, easy to use USB 3.0 HDD/SSD adaptor. It is well designed, and well suited to its purpose. Being able to handle multiple drive types and use them at high speeds makes this a must have for those needing an external disk management resource. We give it the the Bjorn3D Seal of Approval.