Here we have the smallest of the ROG X79 boards: the Rampage IV Gene. Let's see if great things really do come in small packages.
Introduction – ASUS rampage iv Gene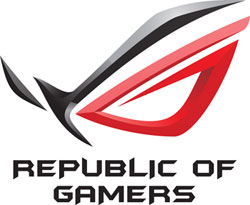 The ROG clan has been hard at work pumping out X79 boards. Those familiar with the ROG naming scheme recognize that the Rampage Gene boards are micro-ATX form-factor products of the ROG brand, and the Rampage IV Gene is no different. ASUS offers a whole host of boards, and it is nice to see 3 different level boards for the enthusiasts user offered via the ROG brand. This board is strictly targeted at high-end gamers who want small-footprint systems.
Despite the smaller size, ASUS did not skimp on features. At first glance, it appears that they carried over most of the important features from the Rampage IV Formula, and sized them onto a micro-ATX PCB. If this board can perform up to levels of the Rampage IV Formula/Extreme, it would be an amazing value.
This board does carry the same 3 year warranty as the other ROG boards, but more significantly, it also includes the APS or premium RMA service.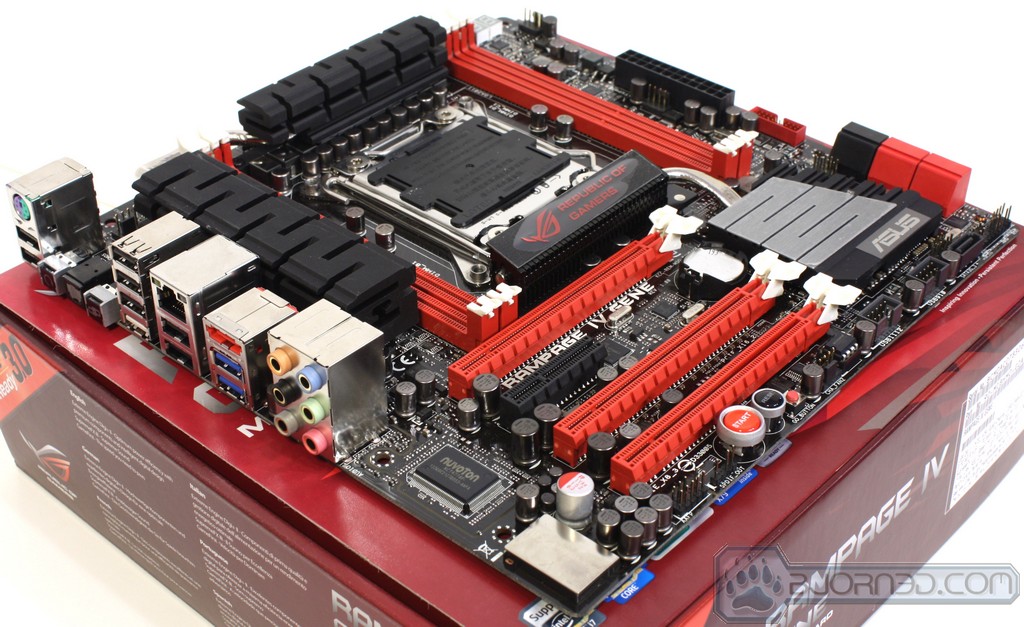 Today we will look at the performance and features of the Rampage IV Gene and see if what it offers is worth the $289.99 price tag.
The Choice of Champions
The Republic of Gamers consists only the best of the best. We offer the best hardware engineering, the fastest performance, the most innovating ideas, and we welcome the best gamers to join in.

In the Republic of Gamers, mercy rules are only for the weak, and bragging rights means everything. We believe in making statements and we excel in competitions. If your character matches our trait, then join the elite club, make your presence felt, in the Republic of Gamers.
CPU & Chipset Features
LGA2011 Intel® Core™ i7
This motherboard supports the latest Intel® Sandy Bridge-E processors in the LGA2011 package, with memory and PCI Express controllers integrated to support 4-channel (8 DIMM) DDR3 memory and 16 PCI Express 3.0 lanes. This provides great graphics performance. Intel® Sandy Bridge-E processors are among the most powerful and energy efficient CPUs in the world.
Intel® X79 Chipset
The Intel® X79 Express Chipset is the latest single-chipset design that supports the new socket 2011 Intel® Core™ i7 Extreme Edition processors. It improves performance by utilizing serial point-to-point links, allowing for increased bandwidth and stability. Additionally, the X79 comes with 2 SATA 6Gb/s and 4 SATA 3Gb/s ports for faster data retrieval, doubling the bandwidth of current bus systems.
PCIe 3.0 Ready
PCIe 3.0 Ready
PCI Express® 3.0 (PCIe 3.0) is the latest PCI Express bus standard with improved encoding schemes that provide twice the performance of current PCIe 2.0. Total bandwidth for a x16 link reaches a maximum of 32GB/s, double the 16GB/s of PCIe 2.0 (in x16 mode). As such, PCIe 3.0 provides users unprecedented data speeds, combined with the convenience and seamless transition offered by complete backward compatibility with PCIe 1.0 and PCIe 2.0 devices. PCIe 3.0 will become a must-have feature for users who wish to improve and optimize graphic performance, as well as have the latest technology available to them. 

* Actual PCIe speed depends on installed CPU type.
Multi-GPU Technology
SLI/CrossFire On-Demand
Why choose when you can have both?
SLI or CrossFireX? Fret no longer because with the ROG Rampage IV GENE, you'll be able to run both multi-GPU setups. The board features SLI/CrossFire on Demand technology, supporting up to Quad-GPU SLI or Quad-GPU CrossFireX configuration. Whichever path you take, you can be assured of jaw-dropping graphics at a level previously unseen.
ROG Exclusive Features
ROG Connect
Plug and Overclock – Tweak it the hardcore way!
Monitor the status of your desktop PC and tweak its parameters in real-time via a notebook—just like a race car engineer—with ROG Connect. ROG Connect links your main system to a notebook through a USB cable, allowing you to view real-time POST code and hardware status readouts on your notebook, as well as make on-the-fly parameter adjustments at a purely hardware level.
Mem TweakIt
Dynamic timing adjustments, DRAM efficiency gauge
When changing DRAM settings in BIOS, it always takes time for the system to reboot. Worry no more! With Mem TweakIt, you can do DRAM tuning in real-time, view your DRAM efficiency score, and upload and share your ranking online.
Extreme Engine Digi+ II
Optimum power efficiency with premium components and intelligent digital design
The Extreme Engine Digi+ II has been upgraded and equipped with the finest Japan-made 10K Black metallic capacitors, while the digital VRM design allows you to achieve ultimate performance with adjustable CPU and memory power management frequencies. Precise adjustments create greater efficiency, stability, five times longer lifespan than solid capacitors* and performance for total system control. (*At operating temperature of 105°C)
GameFirst
The speed you need to pwn
Low Internet latency allows you to frag more, and get fragged less. That's why ROG has introduced GameFirst, a feature that manages the flow of traffic according to your needs so that you can still listen to online music, download and upload files, and engage in Internet chats without sacrificing the low ping times you need to pwn your opponents.
USB BIOS Flashback
Refresh the BIOS can never be that easy
USB BIOS Flashback must be the most convenient way to flash BIOS ever! It allows overclockers to try their BIOS with the simplist way one can imagine. No need to enter the BIOS or the operating system, just plug the thumb drive into the ROG Connect port & push the ROG Connect button for 2 seconds, BIOS would be automatically flashed under standby power. It's no doubt that USB BIOS Flashback gives overclockers the ultimate convenience!
CPU Level Up
A Simple click for instant upgrade
Ever wish that you could have a more expansive CPU? Upgrade your CPU at no additional cost with ROG's CPU Level Up! Simply pick the processor you wanted to OC to, and the motherboard will do the rest! See the new CPU speed and enjoy that performance instantly. Overclocking is never as easy as this.
Sound with Clarity
SupremeFX III™
Supreme Sound
The SupremeFX III™ onboard audio solution is an 8-channel HD audio equipped with a carefully selected 1500uF capacitor which provides clean, ripple-free audio power and – perfect for enveloping gaming environments. With a metallic EMI cover and special layout design on the PCB, advanced SupremeFX Shielding™ technology isolates analog audio signals from digital sources for exceptional clarity and high fidelity, while a gold-plated jack ensures rich notes reach your ears with minimal distortion. In real world testing, a signal-to-noise ratio (SNR) of 110dB was achieved, yielding almost lossless audio.

A bounty of industry standards are supported, including EAX® 5.0 Advanced HD, Creative® ALchemy and THX® TruStudio™ PRO, so the same great audio experiences found in live performances, films and recording studios are reproduced faithfully right on the PC. When bundled with the Sound Blaster® X-Fi MB2 suite, the SupremeFX III™ is the perfect choice to provide an exceptional gaming experience with realistic sound effects.
Rich Software Bundled
Kaspersky® Anti-Virus
The best protection from viruses and spyware Kaspersky® Anti-Virus Personal offers premium antivirus protection for individual users and home offices. It is based on advanced antivirus technologies. The product incorporates the Kaspersky® Anti-Virus engine, which is renowned for malicious program detection rates that are among the industry's highest.
ROG CPU-Z
Whole new design of CPU-Z
ROG CPU-Z is a customized ROG version authorized by CPUID. It has the same functionality and credibility as the original version, with a unique design. Use the whole new look of ROG CPU-Z to truly report your CPU related information and your uniqueness.
Other Features
Intel Gigabit LAN
Experience the fast network connectivity!

The LAN solution from Intel has been long known to have a better throughput, lower CPU utilization as well as better stability. With the Intel Gigabit LAN solution onboard, the ultimate network experience can therefore be delivered to its users like never before.
SATA 6Gb/s Support
Experience the future of storage!
Supporting next-generation Serial ATA (SATA) storage interface, this motherboard delivers up to 6.0Gb/s data transfer rates. Additionally, get enhanced scalability, faster data retrieval, double the bandwidth of current bus systems.
USB 3.0 Support
10 (Front + Rear) true USB 3.0 support!
Experience ultra-fast data transfers at 4.8Gbps with USB 3.0—the latest connectivity standard. Built to connect easily with next generation components and peripherals, USB 3.0 transfers data 10X faster and is also backward compatible with USB 2.0 components.
Specifications
CPU
Intel® Socket 2011 for 2nd Generation Core™ i7 Processors 
Supports Intel® Turbo Boost Technology 2 
* Refer to www.asus.com for CPU support list
Chipset
Intel® X79
Memory
4 x DIMM, Max. 32GB, DDR3 2400(O.C.)/2133(O.C.)/1866/1600/1333/1066 MHz Non-ECC, Un-buffered Memory
Quad Channel Memory Architecture
Supports Intel® Extreme Memory Profile (XMP)
* Hyper DIMM support is subject to the physical characteristics of individual CPUs. 
* Refer to www.asus.com or user manual for the Memory QVL (Qualified Vendors Lists).
Multi-GPU Support
Supports NVIDIA® SLI™ Technology
Supports AMD CrossFireX™ Technology
Expansion Slots
2 x PCIe 3.0/2.0 x16 (dual x16, red) 
1 x PCIe 3.0/2.0 x16 (x8 mode, red) 
1 x PCIe 2.0 x4
Storage
Intel® X79 chipset : 
2 x SATA 6Gb/s port(s), red
3 x SATA 3Gb/s port(s), black
1 x eSATA 3Gb/s port(s), red
Support Raid 0, 1, 5, 10
ASMedia® ASM1061 controller : *1
2 x SATA 6Gb/s port(s), red
LAN
Intel®, 1 x Gigabit LAN Controller(s)
Audio
SupremeFX III built-in 8-Channel High Definition Audio CODEC 
– Output Signal-to-Noise Ratio (A-Weighted): 110 dB
– Output THD+N at 1kHz: 95 dB
– Supports : Jack-detection, Multi-streaming, Front Panel Jack-retasking
Audio Feature :
– SupremeFX Shielding™ Technology
– 1500 uF Audio Power Capacitor
– Gold-plated jacks
– X-Fi® Xtreme Fidelity™ 
– EAX® Advanced™ HD 5.0 
– THX® TruStudio PRO™
– Creative ALchemy 
– Blu-ray audio layer Content Protection 
– Optical S/PDIF out port(s) at back panel
USB Ports
ASMedia® USB 3.0 controller : 
4 x USB 3.0 port(s) (2 at back panel, blue, 2 at mid-board)
Intel® X79 chipset : 
12 x USB 2.0 port(s) (8 at back panel, black+white, 4 at mid-board)
Overclocking Features
ROG Connect 
Extreme Engine Digi+ II :
– 8 -phase CPU power design
– 3 -phase VCCSA power design
– 2 + 2 phase DRAM power design
Mem TweakIt
ProbeIt
UEFI BIOS features :
– ROG BIOS Print
– GPU.DIMM Post
GameFirst
iROG
Extreme Tweaker
Loadline Calibration
USB BIOS Flashback
Overclocking Protection :
– COP EX (Component Overheat Protection – EX)
– ASUS C.P.R.(CPU Parameter Recall)
Special Features
ASUS TurboV EVO :
– CPU Level Up
ASUS EPU :
– EPU 
ASUS Exclusive Features :
– MemOK!
– Onboard Button : Power/Reset/Clr CMOS (at back IO)
ASUS Quiet Thermal Solution :
– ASUS Fan Xpert 
ASUS EZ DIY :
– ASUS Q-Shield
– ASUS O.C. Profile
– ASUS CrashFree BIOS 3 
– ASUS EZ Flash 2 
– ASUS MyLogo 2 
ASUS Q-Design :
– ASUS Q-LED (CPU, DRAM, VGA, Boot Device LED)
– ASUS Q-Slot
– ASUS Q-DIMM 
– ASUS Q-Connector
Back I/O Ports
1 x PS/2 keyboard/mouse combo port(s)
1 x eSATA 3Gb/s
1 x LAN (RJ45) port(s)
2 x USB 3.0 
8 x USB 2.0 (one port can be switched to ROG Connect)
1 x Optical S/PDIF out
6 x Audio jack(s)
1 x Clear CMOS button(s)
1 x ROG Connect On/ Off switch(es)
Internal I/O Ports
1 x USB 3.0 connector(s) support(s) additional 2 USB 3.0 port(s) 
2 x USB 2.0 connector(s) support(s) additional 4 USB 2.0 port(s)
4 x SATA 6Gb/s connector(s)
3 x SATA 3Gb/s connector(s)
2 x CPU Fan connector(s) 
3 x Chassis Fan connector(s) 
1 x S/PDIF out header(s)
1 x 24-pin EATX Power connector(s)
1 x 8-pin ATX 12V Power connector(s)
1 x Front panel audio connector(s) (AAFP)
1 x System panel(s) 
11 x ProbeIt Measurement Points
1 x Power-on button(s)
1 x Reset button(s)
1 x Go Button(s)
Accessories
User's manual
I/O Shield
2 x SATA 3Gb/s cable(s)
4 x SATA 6Gb/s cable(s)
1 x SLI bridge(s)
1 x Q-connector(s) (2 in 1) 
1 x ROG Connect cable(s)
1 x ROG theme label(s)
1 x 12 in 1 ROG Cable Label(s)
1 x ROG Door Hanger(s)
BIOS
64Mb Flash ROM, UEFI AMI BIOS, PnP, DMI2.0, WfM2.0, SM BIOS 2.5, ACPI2.0a Multi-Language BIOS
Manageability
WfM2.0, DMI2.0, WOL by PME, WOR by PME, PXE
Support Disc
Support DVD:
– Drivers and applications
* ASUS AI Suite II
* ROG CPU-Z
* ROG GameFirst Utility
* Sound Blaster X-Fi MB2 Utility
* ROG Mem TweakIt Utility
* ASUS AI Charger+
* WinZip
* ASUS USB 3.0 Boost
* ASUS Webstorage
* DAEMON Tools Pro Standard
* Kaspersky® Anti-Virus 1-year license
Form Factor
uATX Form Factor 
9.6 inch x 9.6 inch ( 24.4 cm x 24.4 cm )
Note
*1: These SATA ports are for data hard drivers only. ATAPI device is not supported.
APS (ASUS Premium Service)
ASUS Previously offered the APS service on ROG boards, but starting with the X79 series they have extended the service to cover much more of their X79 models in the standard channel line. This is nice to see as the APS service allows an advanced replacement or a board to be shipped to the user which in turn means less down time for the end user. More on this service can be seen on the ASUS website HERE
ASUS GameFirst
ASUS offers the GameFirst feature for its higher end gaming boards. GameFirst is designed to prioritize packets so that downloads or online music streaming should never get in the way of a epic online battle. This is a cool feature and it has been seen offered on many high end aftermarket gaming LAN cards and we definitely like to see it in some form offered on an integrated level.
BIOS Flashback
ASUS offers the BIOS Flashback utility which is actually a multi-facet tool and has many capabilities which some may not be aware of. We have had many times where a motherboard did not support a CPU and had to frantically search for a supported CPU just to flash the BIOS (ex. Gulftown CPU support on X58). ASUS has eliminated the worry of these kinds of issues by allowing the BIOS flashback procedure which does not require a CPU or memory to flash the BIOS. All that is needed in order to flash the BIOS is to have the desired firmware ROM file on a USB thumb drive and insert that into the ROG connect USB port.
Depressing the ROG Connect button for 5 seconds will start a flashing LED which indicates the firmware is being updated and once the update is complete the flashing will stop. It really is that easy and ensures that no matter the condition, the firmware can be flashed even if the newest CPU is not supported without the previously mentioned hunt for a compatible CPU.
This may seem like an odd feature but many may buy the newest and greatest CPU on the market while the board could have been shipped with the older firmware which in most cases would leave the user stuck without an option.  As for our usage we have found this useful in quite a few experiences where running an LN2 cooled system in unstable conditions led to BIOS corruption.
USB 3.0 Boost
Turbo USB is a new feature we have seen from ASUS. It allows for a speed increase from older USB 2.0 thumb drives or storage devices when the Turbo mode is enabled on that device through the ASUS AI Suite II software.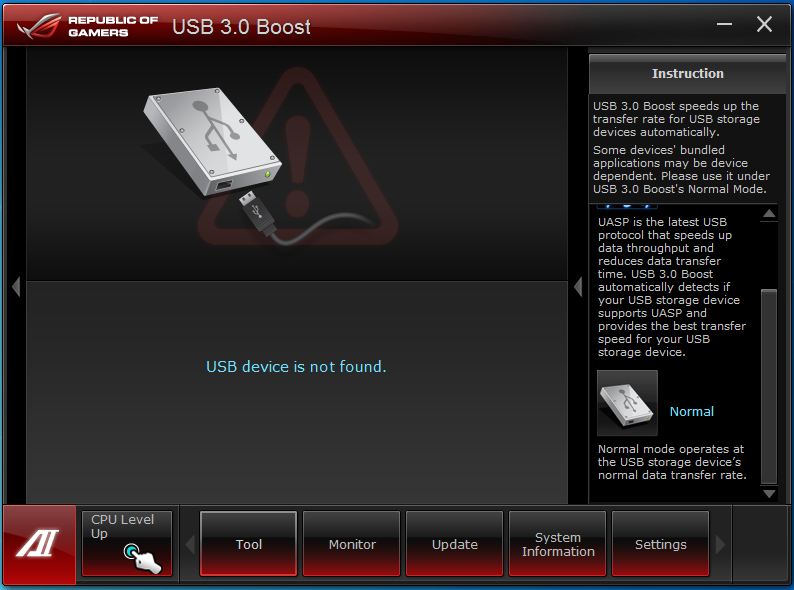 Here we see the USB 3.0 boost screen in the AI Suite II utility, which is where USB devices can be interface adjusted. Enabling the turbo will help many models.
For more information please see the ASUS USB 3.0 Boost landing page here
Supreme FX III
Supreme FX III audio is designed with the ultimate in high end audio and gaming experience possible. We have seen many higher end audio solutions offered recently and many have come with their own way of trying to shield the audio circuits from as much interference as possible. ASUS has chosen a very extreme way of doing so by actually isolating the audio circuit completely via see through PCB material that separates the audio circuitry to its own island on the PCB, allowing for the best shielding they could pull off. This is not a cheap solution, as it requires custom PCB work, and ASUS even put enough thought into the design to add a little bling. This not only shows off the technology but adds definite points for the cool factor for anyone using a windowed case.
GPU/DIMM POST
GPU/DIMM POST is one of those features whose benefit usually will be seen in the most stressful times like when something is not working. We actually wound up using this feature without intention, when a 32GB memory kit we were testing only showed up as 24GB. As we entered the BIOS after several attempts to fix the problem, we checked the GPU/DIMM POST and found that 2 modules were reading as "abnormal". Powering the system off and resetting those DIMMs remedied the issue, but seeing that info directly in the firmware can save a lot of time when diagnosing errant behavior or instability; this kind of information being readily available is an invaluable asset to users. Additionally, the GPU POST option allows us to see the installed GPU's in each slot, so that when benching LN2 or even on a liquid cooled gaming rig, the GPU POST screen can be checked to ensure identification of all installed cards is accomplished. See the BIOS Section on page 12 for more info.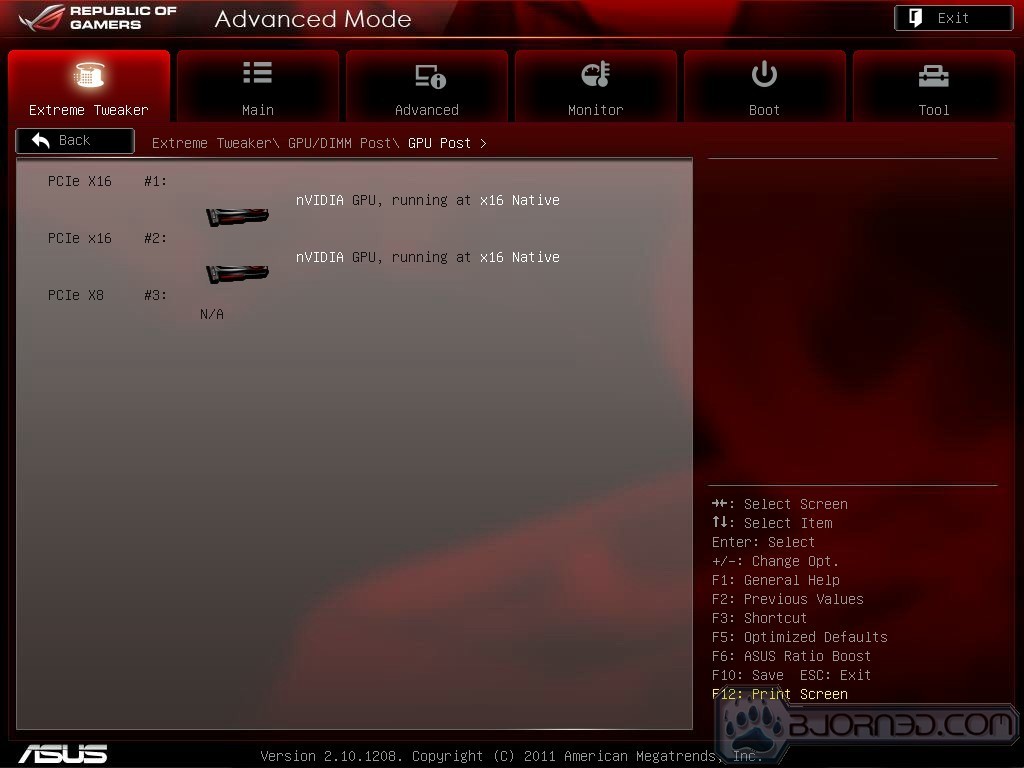 Overview of the Rampage IV Gene
Click Image For a Larger One
The packaging consists of the small, standard ROG red box which contains the standard fare of information for a motherboard's packaging. The box highlights some of the nicer features of the board such as the Supreme FX audio which is separated via some custom PCB work from the rest of the components. It also shows the DIGI+ II, which is ASUS' name for their digital PWM control solution. It is a newer generation, so it should offer higher efficiency and better overclocks. Other items we see covered are the GameFirst technology which is ASUS' take on a packet prioritization, which should help keep online games running smoothly regardless of network usage by background processes.
Click Image For a Larger One
Here we take a look in the box to see the first thing in view is the board covered by a semi-rigid clear plastic which when removed the board can be removed completely. However the board is in a cardboard tray so it can be lifted out completely as it will need to be removed anyway to get to the goodies underneath. The goodies or accessories included are:
I/O Shield
SATA cables
2 Way SLI Bridge
User Manuals
USB cable for ROG connect
Easy connect front panel connectors
Swag (ROG Sticker & Door hanger)
For a mATX board this thing has everything we need to get it up and running, along with a few extras.
 Click Image For a Larger One
So there are the accessories laid out just to show what our money gets us with the Rampage IV Gene board.  Next up we take a look at the general layout of the board and get a feel for component layout and overall impressions of the board design.
Click Image For a Larger One
Here after taking a once over, we see that being mATX there are some challenges for component placement. This shows its head a bit in location of some of the components. First off we will cover what we see as possible issues with the layout. The power/reset switches are below the slots which means in a dual card configuration they could easily be rendered useless. Next, GPU spacing is stacked, as the cards will be right on top of each other which will cause higher GPU temps. Lastly we have 4 DIMM slots as opposed to 8, which means there is a limit to the RAM capacity for this model. Normally this would be a huge turnoff for us, but considering that this is a mATX board and that PCB space is at a premium, the placement has to be in this fashion. The same holds true for the decreased number of DIMM slots as the cooling needed for the PWM cuts directly into where the other DIMM modules would be located. The power/reset switches could have been placed near the LCD POST display, though they would have been slightly uncomfortable to reach.
After the once over we are once again very impressed at the ability to fit so much on such a small parcel of PCB real estate, not to mention the custom PCB work for the audio solution. We have to give credit to the engineering team on a job well done.
A Closer Look at the rampage IV Gene
Click Image For a Larger One
Now we get a close look at key areas to see what we are dealing with on the Rampage IV Gene. First up we have mentioned previously the Supreme FX III and the island nature of the custom PCB work. This is backlit via LED's as the PCB is somewhat transparent and creates a really cool effect when lit. The backlit portion of PCB runs from the Audio rear panel box on the IO all the way down to the front panel header at the lower edge of the PCB.
Moving to the storage ports we see a total of 3 black SATA ports which run at a maximum of SATA II (3Gbps) spec whereas the 4 red SATA ports operate at up to SATA III (6Gbps) spec. Two of these ports are fed by the PCH while the other two are fed by the Asmedia ASM1061 controller. One thing to note here is that the ROG boards do not have the SSD caching feature found on some other more mainstream models found in the ASUS lineup. This was a conscious decision by ASUS as they feel that the crowd purchasing ROG products more likely have an SSD dedicated as the boot drive, and would rather have a faster standalone add on controller rather than one which supports caching. 
Click Image For a Larger One
Here moving to the lower edge of the board we find the solitary single SATA II (3Gbps) port. The reason this one is alone is that the other SATA port that it would normally be paired with is routed to the rear I/O for eSATA usage. Next up we see the intermediate heatsink which extends the cooling fin array for the PCH up above the GPU slots to help keep it just that much cooler via a connected heatpipe.
Moving around a bit toward the 24 pin ATX power connector, we find the front panel USB 3.0 header, which is rather well placed to make for an easy connection and easy cable routing. Lastly we see the lower control button interface which, as mentioned previously, can be hidden in a dual GPU setup.
Click Image For a Larger One
Here we take a look at the socket area, which is very cleanly laid out with nothing that would be an issue for mounting. The board uses a single 8 pin CPU power connector but does include a blockoff for 4 of the 8 pins preinstalled. These 6 core chips in the LGA 2011 platform can pull some power so we would recommend avoiding a 4 pin for powering the CPU. When we pulled off the heatsink we find excellent surface contact which should ensure all of the power bits stay nice and cool during gaming sessions.
Software Overview

ASUS has some very similar software as it is same updated software we have seen with the P67/Z68 series. It offers a very in depth control and management interface to help better work with the motherboard.

When opening the AI Suite II utility we see the main toolbar which is very similar to what we have seen before but with a slightly different button design for the CPU Level up utility.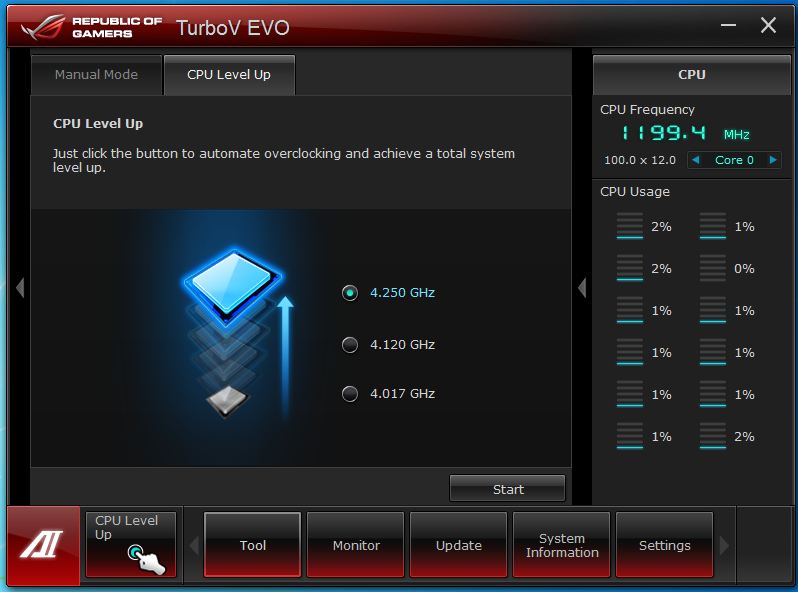 The CPU Level Up utility is a one-click overclocking solution to push the CPU frequency up to an impresive 4.25GHz. This is all through software without even the need for entering the BIOS. However, our goals are beyond the already impressive 4.25GHz preset.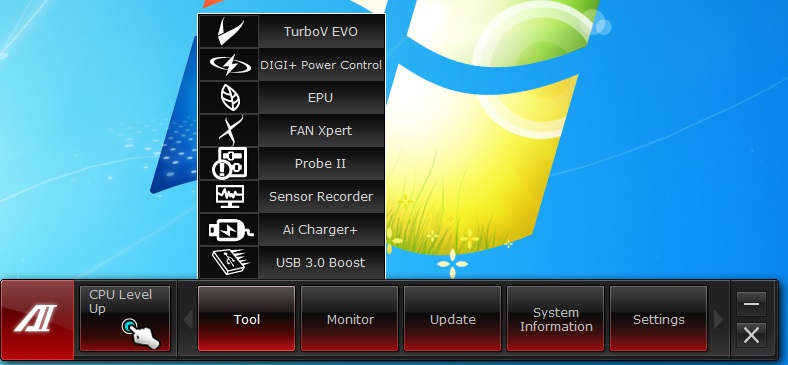 Here we see the tools menu opened with all of the features shown to see what kind of options are available through the AI Suite II utility.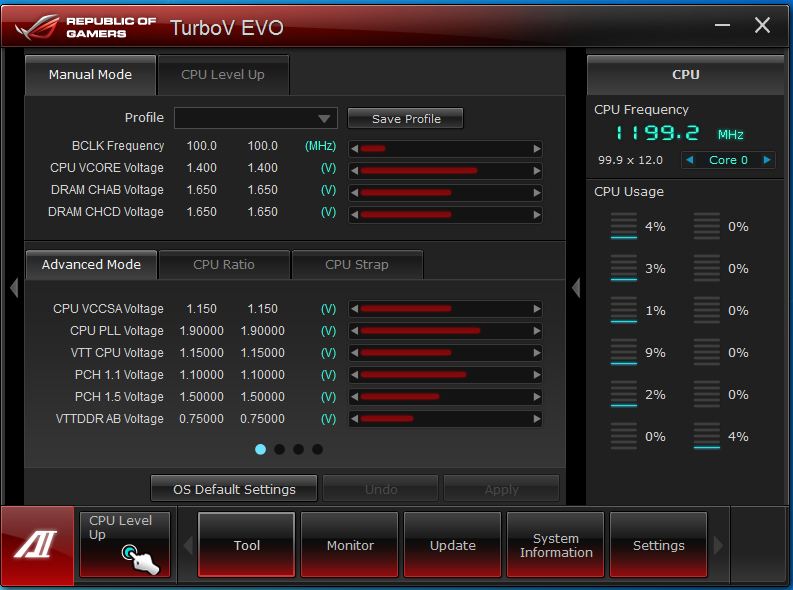 The TurboV EVO section is the polar opposite of the CPU Level Up, as it allows manual configuration of an overclock which will easily exceed the CPU Level Up presets. All of the important settings from voltages to frequencies can be adjusted here.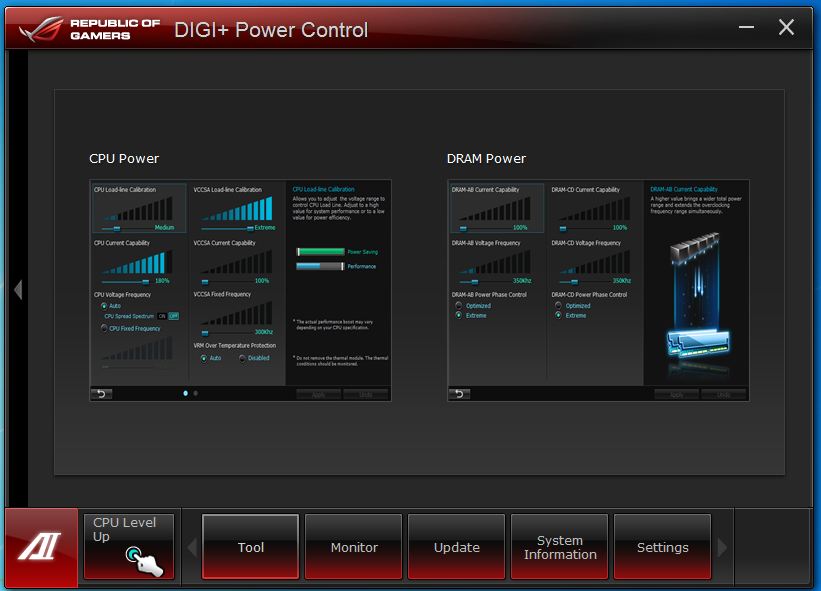 The DIGI+ Power Control Center has separate sections for both DRAM and CPU power sections. DIGI+ has to do with ASUS' implementation of its industry leading digital power controls, which have been proven for excellent efficiency and accuracy which leads to better overclocking potential.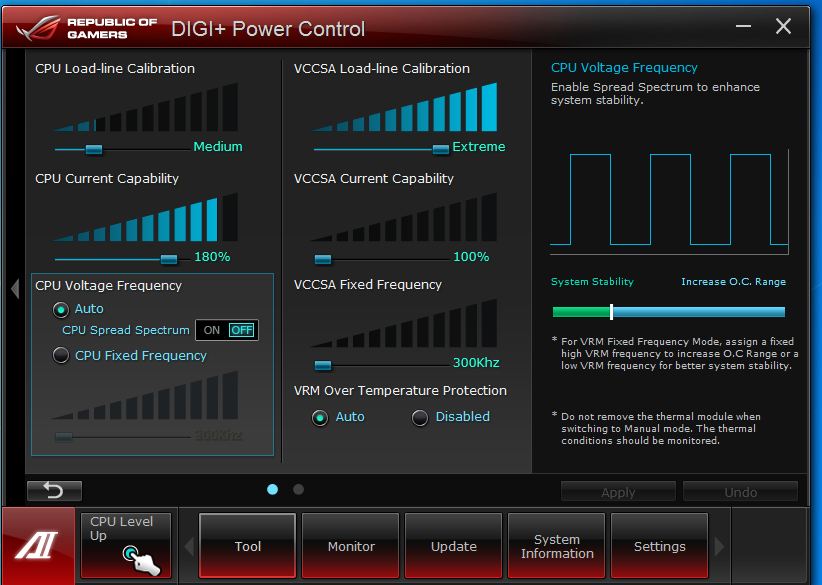 Here is what we see when entering the CPU power controls and the PWM frequency and loading as well. All of this translates into either very good overall efficiency or extreme power loads which can unlock amazing power potential.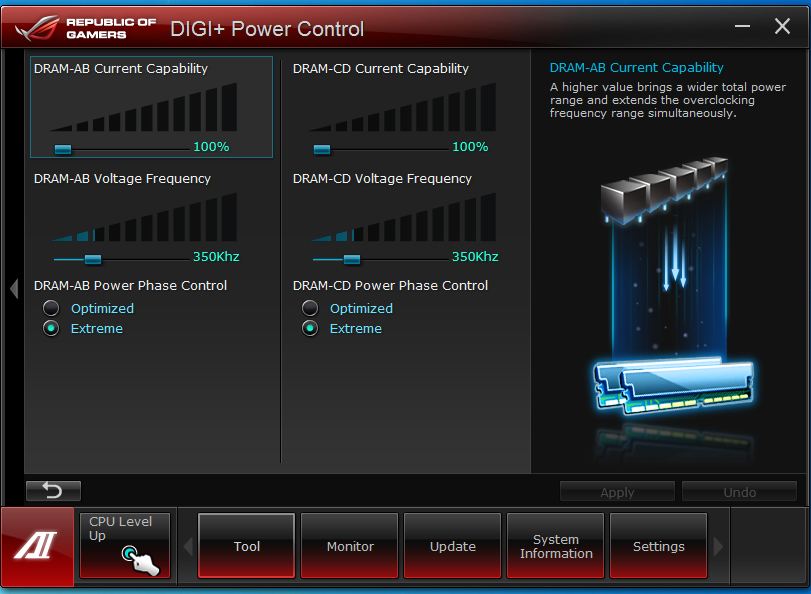 The DIGI+ screen for DRAM is very much the same as the CPU but with optimizations and controls based on the tuning of the DRAM modules. This just like the CPU settings that can optimize either power efficiency or extreme power delivery for pushing the overclocks.
The EPU allows for tuning to best suit users' needs, along with a graph showing how the current settings correlate to convenience, energy savings, reliability and performance. This allows for the user to better tune their system to meet their specific needs while still allowing the best possible efficiency balance.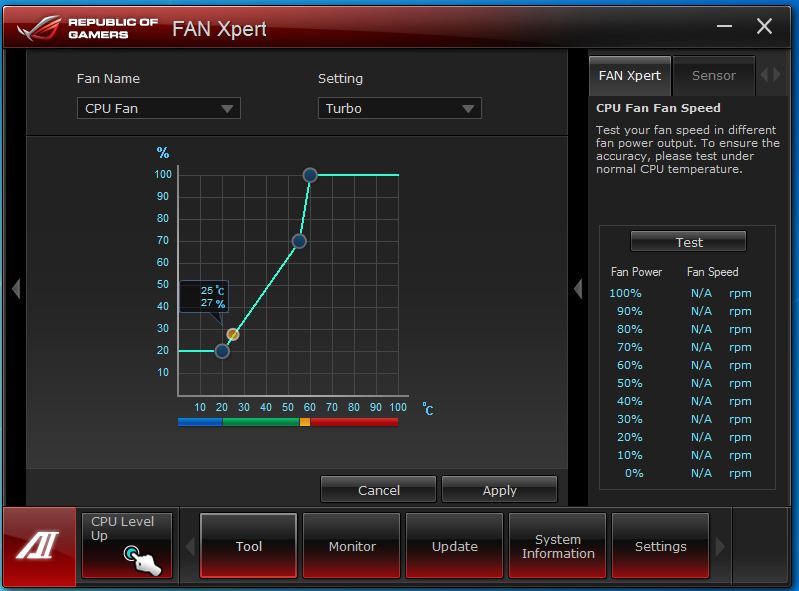 The Fan Xpert tool allows custom fan profiling so that each fan will ramp up according to the temperature it reads and allows for a great balance of noise and thermal performance.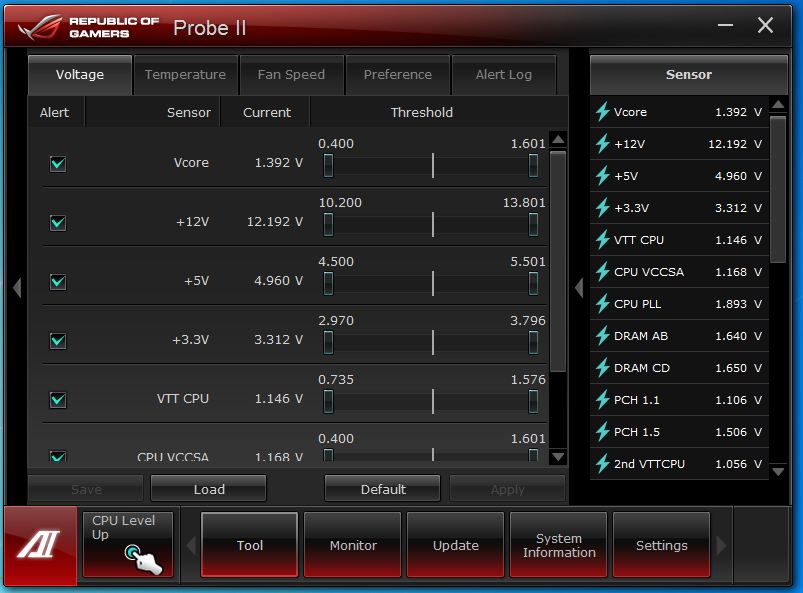 The Probe II software pane has a whole slew of voltages, temperatures and other system parameters which can be monitored in real time to give us an idea of the health of our system and other monitoring info. Warning thresholds can be set to allow warnings if a voltage beyond this threshold is reached.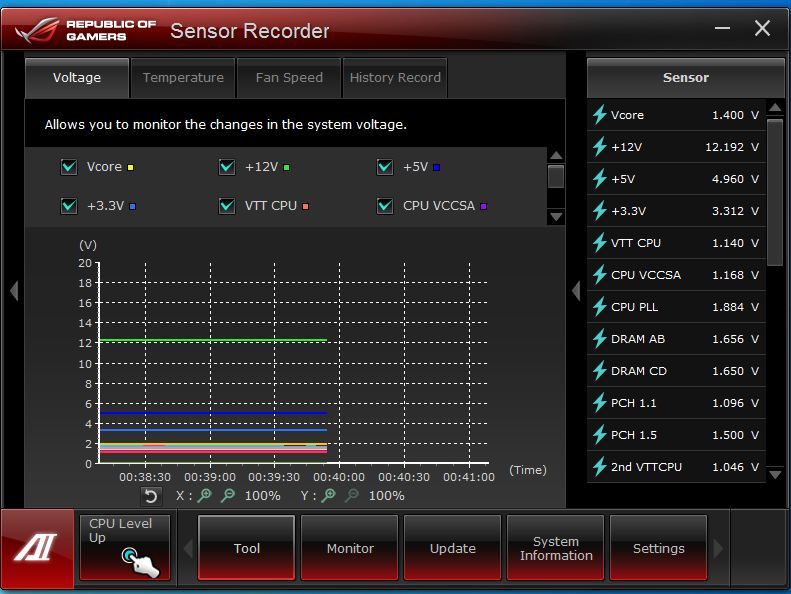 The Sensor Recorder software is great for monitoring activity under load, and allows users to see any instabilities in voltages or temperatures to better diagnose stability issues or thermal concerns under load. This allows for better fine tuning and finding the optimal frequency for our 24/7 rig.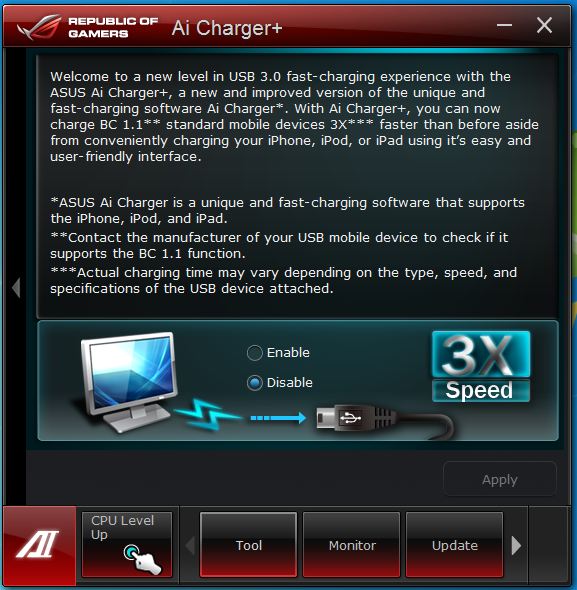 The ASUS AI Charger+ is great in a world where many devices charge via a USB port. It allows charging via the USB 3.0 port at up to 3x faster than other motherboards will offer. This can be a great utility for those who regularly charge their phone, MP3 player, or other USB charged device.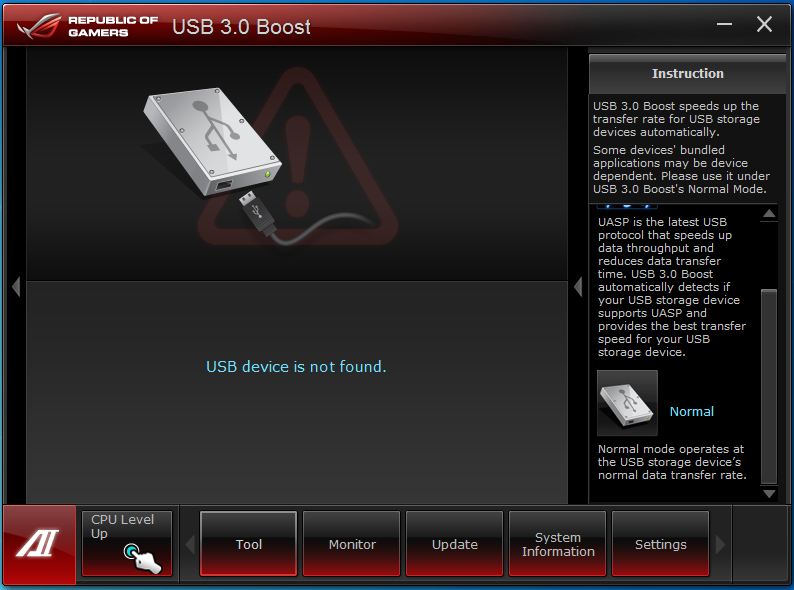 Last is the USB 3.0 boost which was covered briefly before as it allows a speed boost to many USB 2.0 storage devices and even some supported USB 3.0 storage devices by changing the communication protocol being used.
A full list of supported protocols and presently supported devices can be found here.
ROG Connect
ASUS includes the ROG Connect utility with all their ROG boards. This allows connection of a remote computer via USB (with an included USB cable), which allows not only remote monitoring, but remote control of ROG boards from the separate connected system.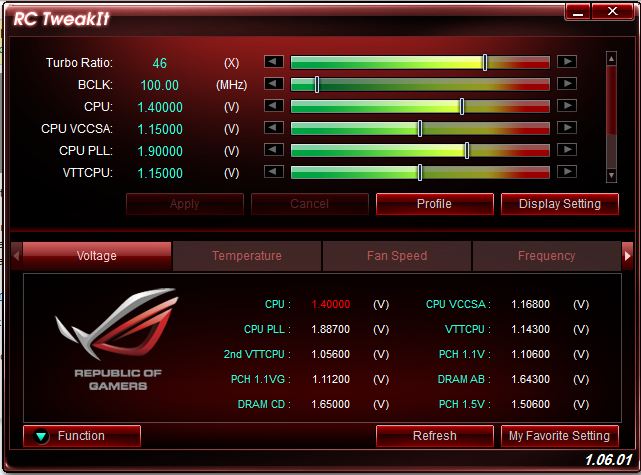 Here we have the main screen. This is RC TweakIt, which allows adjustment of all of the main voltages along with monitoring of voltages, temperatures, frequencies, and fan speeds on the remote system. This is our home screen and all menus we see from here will be accessed via this main screen to start.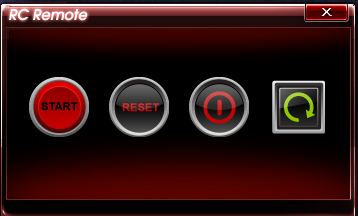 Here we have the RC Remote which allows a few key functions such as:
Power on
System reset
Power Off
Clear CMOS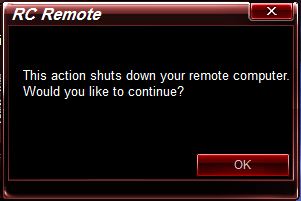 This kind of message will be displayed to ensure no unintended operations or shutdowns occur because of an accidental click.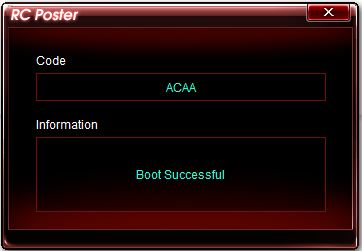 During POST, with a system connected, we see this display which tells us which point in the POST process we are at presently. This will help greatly when overclocking, in the event we suddenly run into a POST issue.
Here we have the RC diagram tool which allows remote monitoring of many sensors for fan speed, voltage/amperage, or temps to ensure our system is running well. We were very interested in the amperage of the CPU, which gives us a very good indication of the low power cycles were able to achieve during idle or even light web surfing activity too.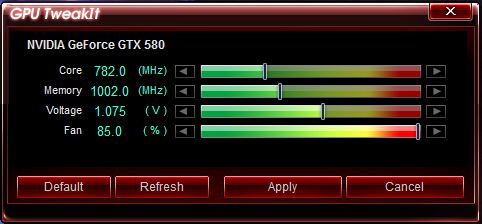 Here we see the GPU TweakIt option, which allows remote control of our ASUS GTX 580 Matrix Platinum. This program allows frequency, voltage, and fan speed changes. This could be helpful while benchmarking.
BIOS Overview
Extreme Tweaker
Here we see the heart and soul of the ASUS BIOS in the Extreme Tweaker section. This is where the magic happens and all of the performance is unlocked. There is not a lot new here. For anyone who saw our Rampage IV Extreme review, this BIOS is very familiar with only minor omissions such as the GPU hotwire voltage sections and the like, which are removed since the options are not included on this model. Most of the performance options are either equal to the Extreme board or very close.
The Memory setup screen once again is very similar to what we have come to expect on ASUS boards and ROG products in particular, which happens to be an obscene amount of settings. Even the most skilled overclocker would be hard pressed to use them all. All joking aside, as we look at all of the pages scrolling just of memory settings we quickly notice that without a doubt the memory can be tweaked in pretty much every way possible, which is quite impressive for a mATX board like the Gene.
Here we have the voltage setting options and the CPU performance settings. The CPU performance settings screen is very simple, with a ratio setting and options like power saving which will likely be cranked out to get the maximum overclock potential. Moving to the DIGI+ power control settings, this is where we can fine tune or the control center of sorts for the power circuits on the board. All of the tweaking to the PWM or CPU power controls which will directly affect overclocking happen in here.
Here we see the GPU/DIMM post screens which once again are familiar from the Extreme board, but with a few less of each. We notice that of course the DIMM post screen shows 4 DIMMs as opposed to the 8 we have on the larger Extreme, and the PCI-E slots show less as well due to the inherent omission of slots necessary for fitment.
Click Image To Enlarge
Here we see the Memory Tweaker's Paradise. This has many fine tuning settings to maximize the performance of the memory to ensure top performance, however this menu will likely be used predominantly by overclockers and benchmarkers as the gains by these settings are usually marginal at best and are seen more with benchmark programs and very little in everyday or gaming usage. Nevertheless, it is cool to see this included on a mATX board just because it is a mATX board and more geared toward high end gaming and not the extreme tweaking crowd.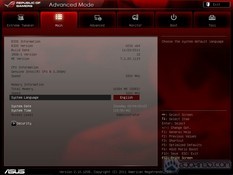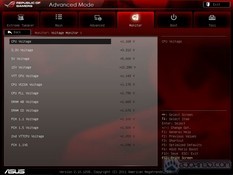 Click Image To Enlarge
Here we have a brief runthrough of the other basic screens as they are very familiar board setup options we did not spend too much time in here.
Testing & Methodology
We've expanded our testing suite considerably since the X79 chipset release, and will continue to use the same methods for most of the motherboards and CPU's we test. In the interests of thoroughness and accurate results, we run each test at least three times, and some tests more than that. We average the total of all the tests from each benchmark then report the average here.
The OS we use is Windows 7 Pro 64bit with all patches and updates applied. We also use the latest drivers available for the motherboard and any devices attached to the computer. We do not disable background tasks or tweak the OS or system in any way. We turn off drive indexing and daily defragging. We also turn off Prefetch and Superfetch. This is not an attempt to produce bigger benchmark numbers. Drive indexing and defragging can interfere with testing and produce confusing numbers. If a test were to be run while a drive was being indexed or defragged, and then the same test was later run when these processes were off, the two results would be contradictory and erroneous. As we cannot control when defragging and indexing occur precisely enough to guarantee that they won't interfere with testing, we opt to disable the features entirely.
Prefetch tries to predict what users will load the next time they boot the machine by caching the relevant files and storing them for later use. We want to learn how the program runs without any of the files being cached, and we disable it so that each test run we do not have to clear pre-fetch to get accurate numbers. Lastly we disable Superfetch. Superfetch loads often-used programs into the memory. It is one of the reasons that Windows occupies so much memory. Vista fills the memory in an attempt to predict what users will load. Having one test run with files cached, and another test run with the files un-cached would result in inaccurate numbers. Again, since we can't control its timings so precisely, it we turn it off. Because these four features can potentially interfere with benchmarking, and and are out of our control, we disable them. We do not disable anything else.
Test Rig
Test Rig
Case
Thermaltake Level 10 GT
CPU

Intel Core i7-3960X

Motherboard
ASUS Rampage IV Gene
Ram
16GB Gskill RipJaws Z 4x4GB (9-11-10-27)
CPU Cooler

Swiftech H20-220 Edge

Hard Drive
Western Digital Velociraptor 300GB
SSD

Intel 510 series SATA III 120GB

Optical
ASUS BD-ROM
GPU

SLI 2x GTX 580

Case Fans

Front (intake): 200 x 200 x 20 mm ColorShift Fan x 1 (600~800RPM, 13~15dBA)

Rear (exhaust): 140 x 140 x 25 mm Turbo Fan (1000PRM, 16 dBA)

Top (exhaust): 200 x 200 x 30 mm ColorShift Fan (600~800RPM, 13~15dBA)

Side (intake): 200 x 200 x 30 ColorShift Fan (600~800RPM), 13~15dBA)

Additional Cards

N/A
PSU

Thermaltake Toughpower Grand 1200W

Mouse
Thermaltake esports Black gaming mouse
Keyboard
Thermaltake Meka G1 mechanical gaming keyboard
Test Suite
We will use the following applications to test the performance of the Motherboard. Benchmarks
Benchmarks
PCMark 7
Unigine Heaven 2.5
Cinebench R10
Cinebench R11.5
3DMark 11
3DMark Vantage
Wprime
SuperPi
Metro 2033
Lost Planet 2
SiSoft Sandra 2011b
HDTune Pro
X264HD
TrueCrypt 7.1
Overclocking

We have now become familiar with the X79 platform, and while it has similar BCLK limitations to what we have seen on the P67/Z68 counterparts, Intel enabled dividers to allow quite a step up in BCLK without affecting the other base frequencies and causing failure. This helps with a lot more adjustability in terms of not just multiplier. For our testing we have the i7 3960X which does have a fully unlocked multiplier and this chip is known to do 5.1+ GHz rather easily on the Rampage IV Extreme motherboard. However, being a mATX we knew it would be a long shot to expect that kind of performance and we were spot on as it could not hold stability at the same settings we have had the Rampage IV Extreme at multiple times with the same RAM and CPU.
Now bear in mind this is a mATX board, so the fact that we pulled off close to 4.8GHz fully stable is damn impressive and we applaud that. With supplemental cooling or possibly going subzero it seems like it could do much more but lets face it, that is not the target market for this board. This thing is designed from the ground up to get gamers in the game and keep them there at the extreme performance levels they expect from an ROG board. 
Important note: Overclocking can cause component failure.  Please exercise caution when attempting any level of overclock on system components.
Temperatures

The temperatures were recorded with Realtemp while running Wprime 1024 right before the end of the 5th run. The results were recorded carefully. After the results were recorded, we waited for 30 minutes before taking Idle temperature measurements. The results were as follows:
| | |
| --- | --- |
| CPU Temperatures | Temperature (Idle/Load) |
| Rampage IV Gene OC (4.6GHz) | 33C/60C |
| Rampage IV Gene | 32C/57C |
| Chipset Temperatures | Temperature (Idle/Load) |
| Rampage IV Gene OC (4.6GHz) | 38C/50C |
| Rampage IV Gene | 35C/44C |
Power Consumption

The power consumption was tested while running Wprime 1024 for a few minutes at stock settings. The results were recorded carefully with a Kill-A-Watt power consumption measuring tool at the wall. After the results were recorded, we waited for yet another few minutes minutes before taking Idle power consumption measurements.
| | |
| --- | --- |
| Configuration | Power Consumption (Idle/Load) |
| Rampage IV Gene OC (4.6GHz) | 204W/433W |
| Rampage IV Gene | 157W/343W |
The power consumption is not with GPU usage. This is with CPU/system loading but nothing graphically intensive in order to provide the most accurate results by not ramping up the GPU, which will pull significantly more power.
Wprime
Wprime is a processor heavy multithreaded benchmark at which it crunches numbers of a specific data set and gives the end user an output time which can then be used as a gauge to compare system performance.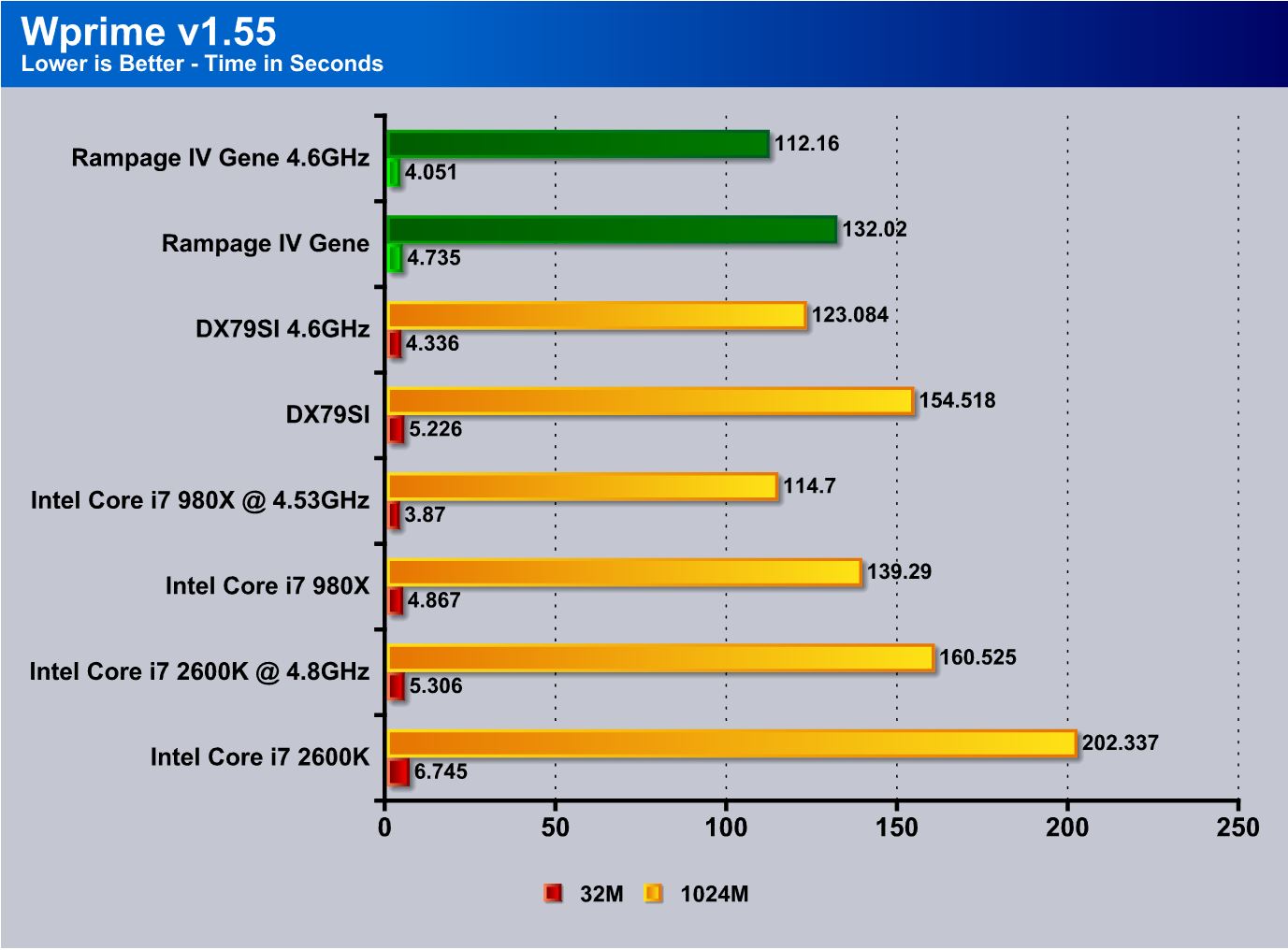 Very similar to the other boards we have tested to date, the X79 does not fail to perform and blasts through the multithreaded benchmark with ease.
Superpi
SuperPi is a single threaded benchmark which measures efficiency and is heavily influenced by architectural changes as much as it is by clockspeeds.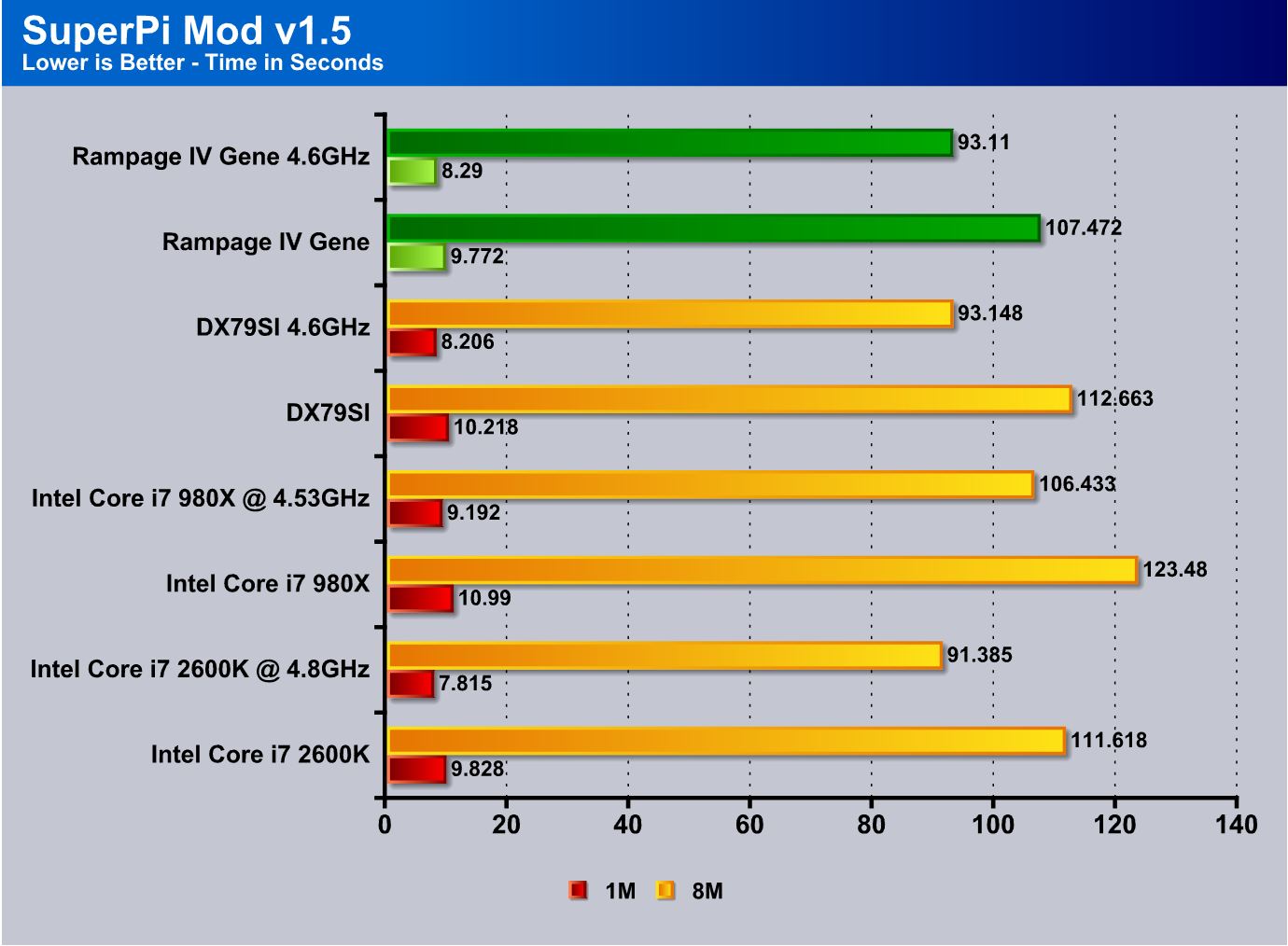 SuperPi is a much older benchmark, and some may argue its obsolescence, but with some newer processors scoring poorly in this test, it is always good to include it. The Rampage IV Gene scores right in line with the Extreme board in the efficiency department, which is an awesome sign even if it can't hit the same max clockspeeds.
Cinebench R10 and R11.5
"CINEBENCH is a real-world test suite that assesses your computer's performance capabilities. MAXON CINEBENCH is based on MAXON's award-winning animation software, CINEMA 4D, which is used extensively by studios and production houses worldwide for 3D content creation. MAXON software has been used in blockbuster movies such as Spider-Man, Star Wars, The Chronicles of Narnia and many more. MAXON CINEBENCH runs several tests on your computer to measure the performance of the main processor and the graphics card under real world circumstances. The benchmark application makes use of up to 16 CPUs or CPU cores and is available for Windows (32-bit and 64-Bit) and Macintosh (PPC and Intel-based). The resulting values among different operating systems are 100% comparable and therefore very useful with regard to purchasing decision-making. It can also be used as a marketing tool for hardware vendors or simply to compare hardware among colleagues or friends."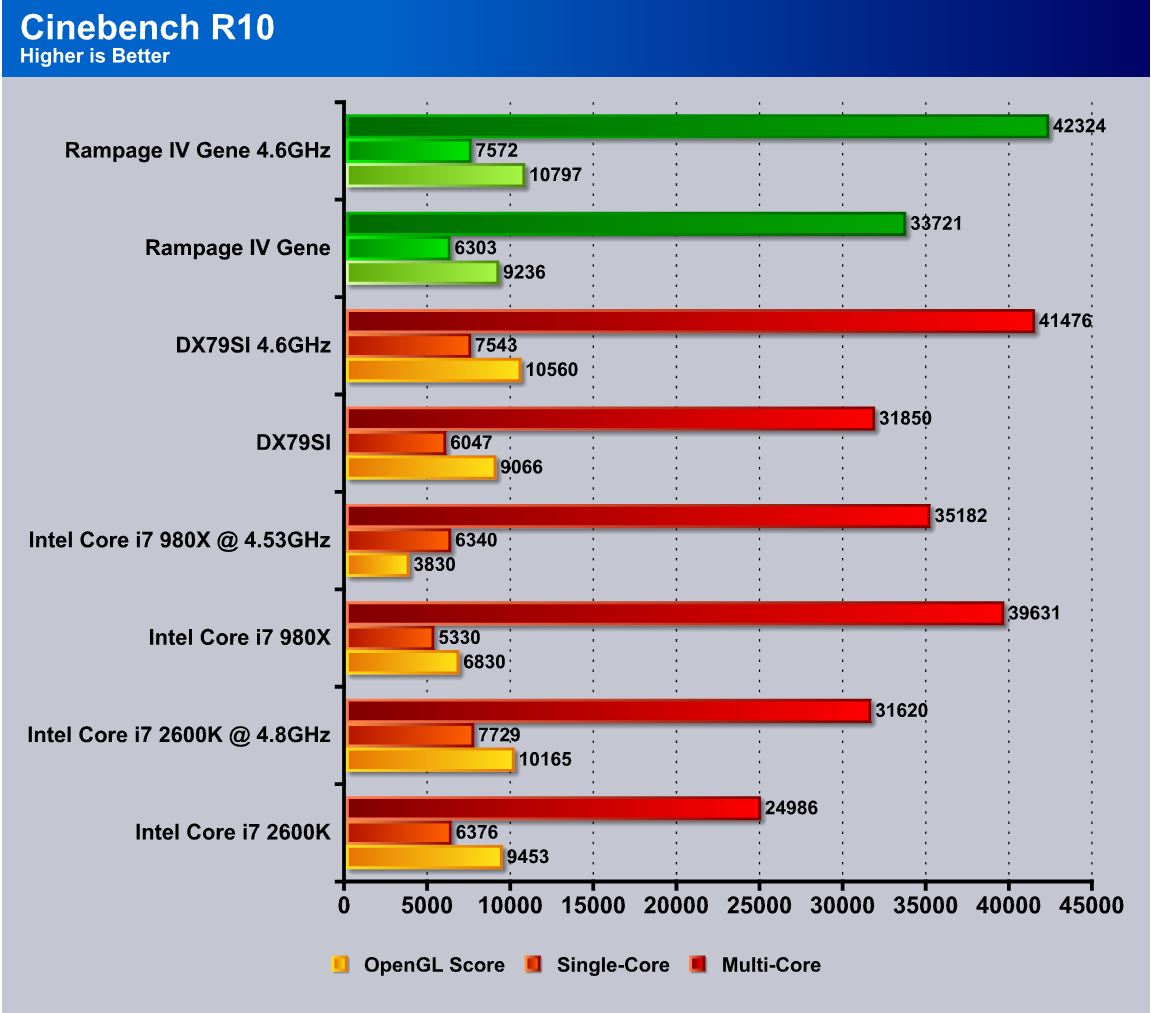 Being a 3D modeling based program we see that the X79 platform is no slouch and performs excellently. The Gene board is slightly trailing the Extreme variant here but the difference is quite small and even within the margin for error and it easily matches or beats the Intel offering at both stock and overclocked.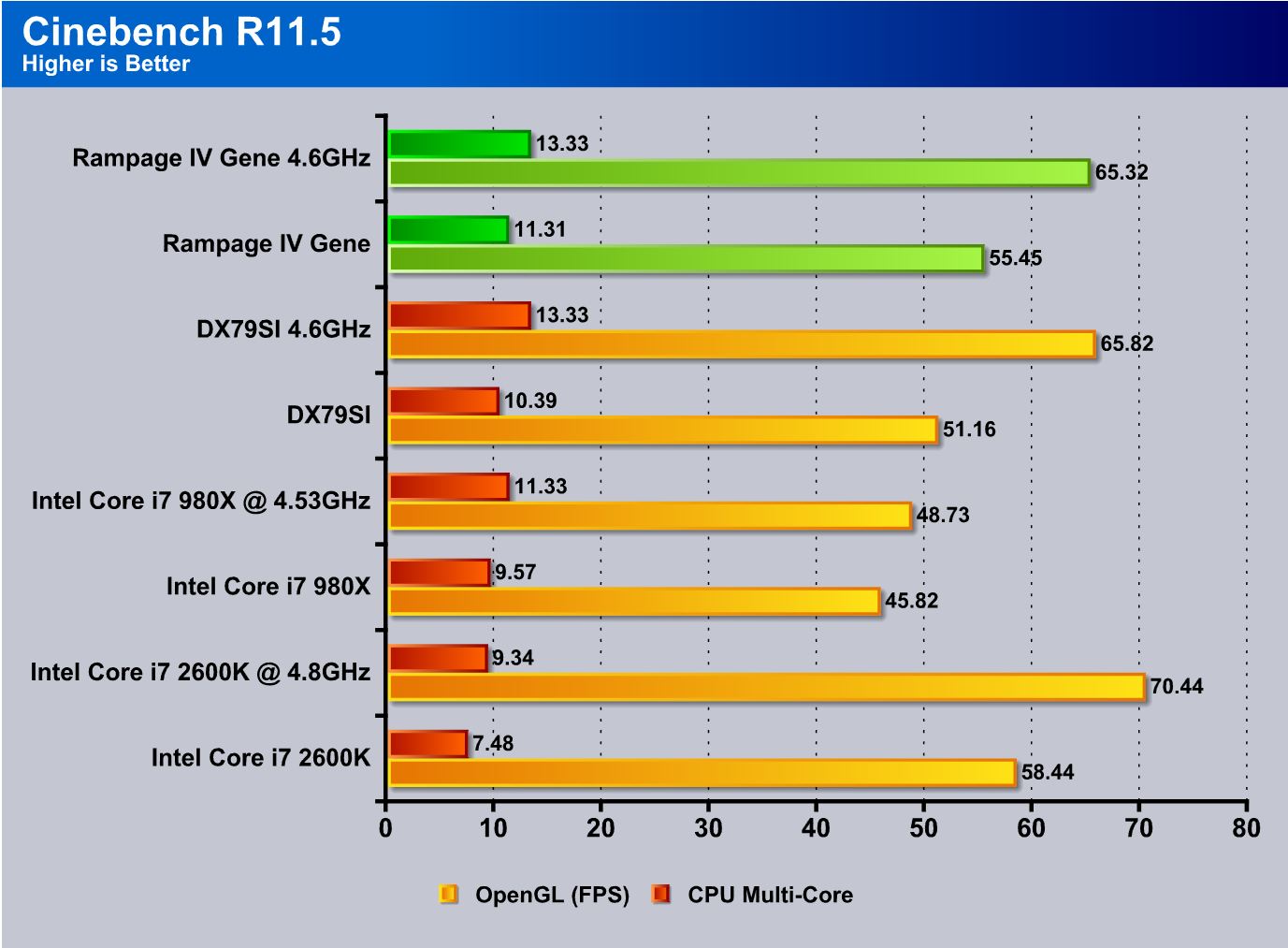 Cinebench R11.5 is a newer version of the MAXON benchmark and once again the X79 platform just flat out stomps it again. 
SiSoft sandra 2011
"SiSoftware Sandra (the System Analyzer, Diagnostic and Reporting Assistant) is an information & diagnostic utility. It should provide most of the information (including undocumented) you need to know about your hardware, software and other devices whether hardware or software. It works along the lines of other Windows utilities, however it tries to go beyond them and show you more of what's really going on. Giving the user the ability to draw comparisons at both a high and low-level. You can get information about the CPU, chipset, video adapter, ports, printers, sound card, memory, network, Windows internals, AGP, PCI, PCI-X, PCIe (PCI Express), database, USB, USB2, 1394/Firewire, etc."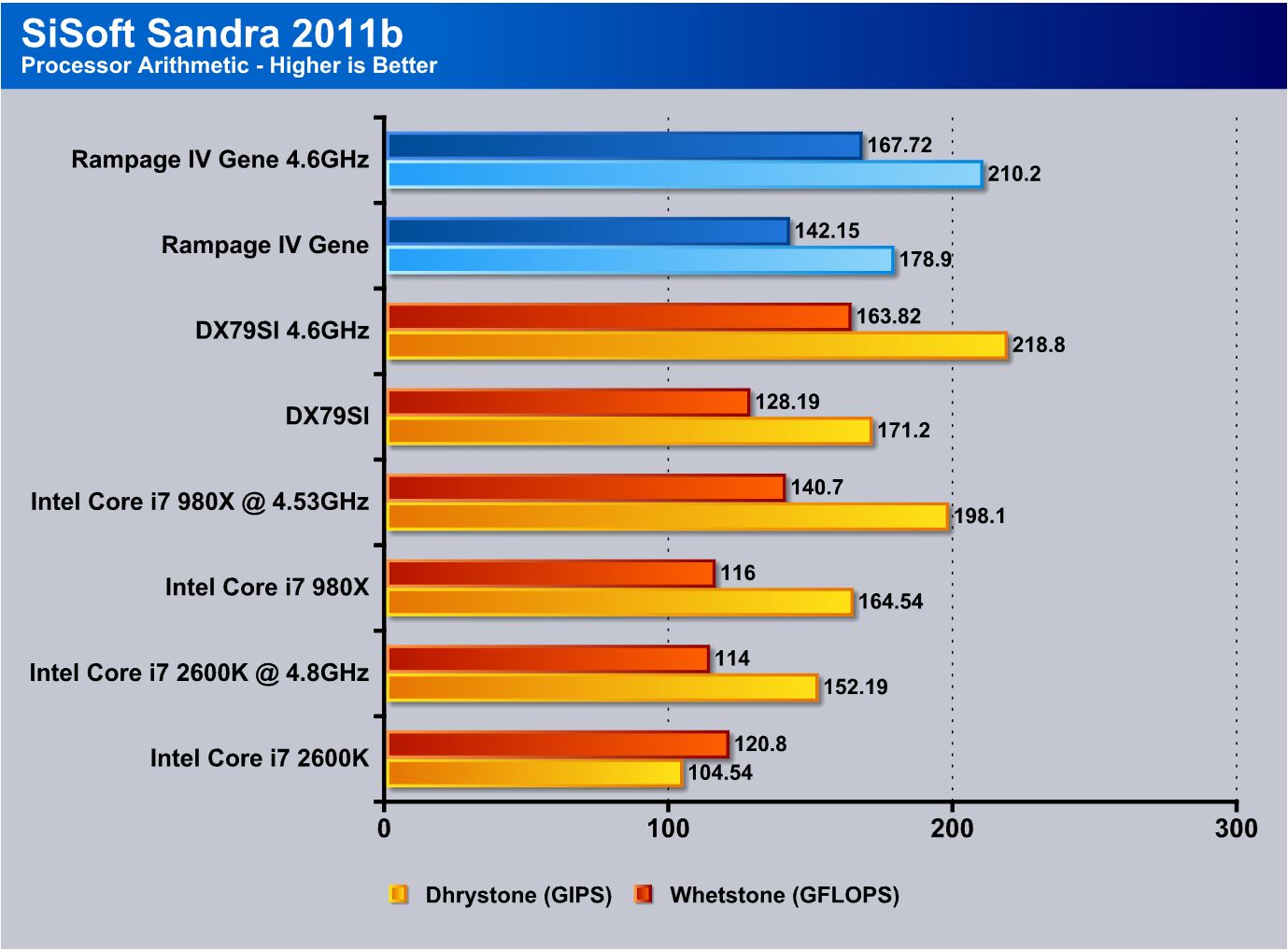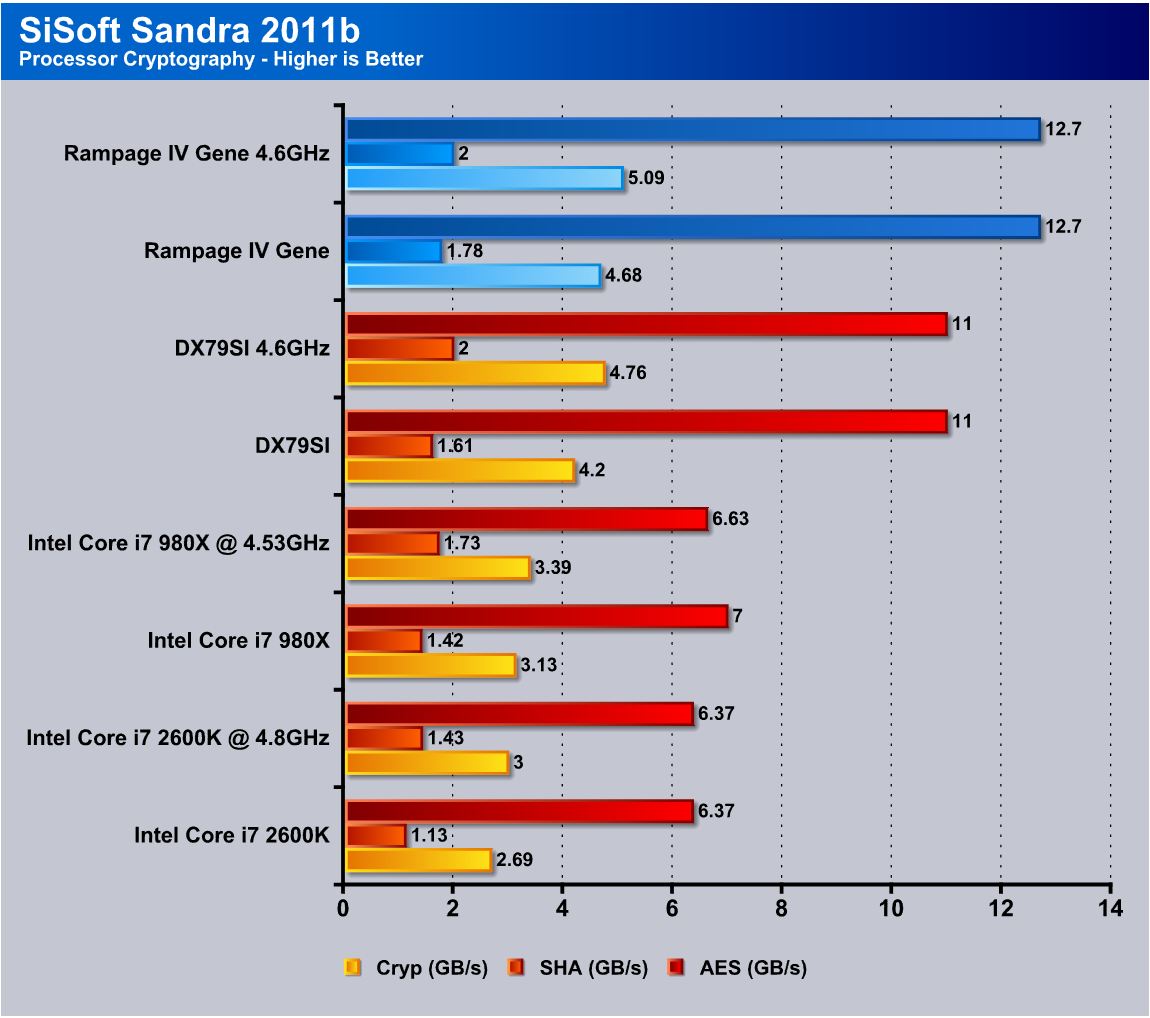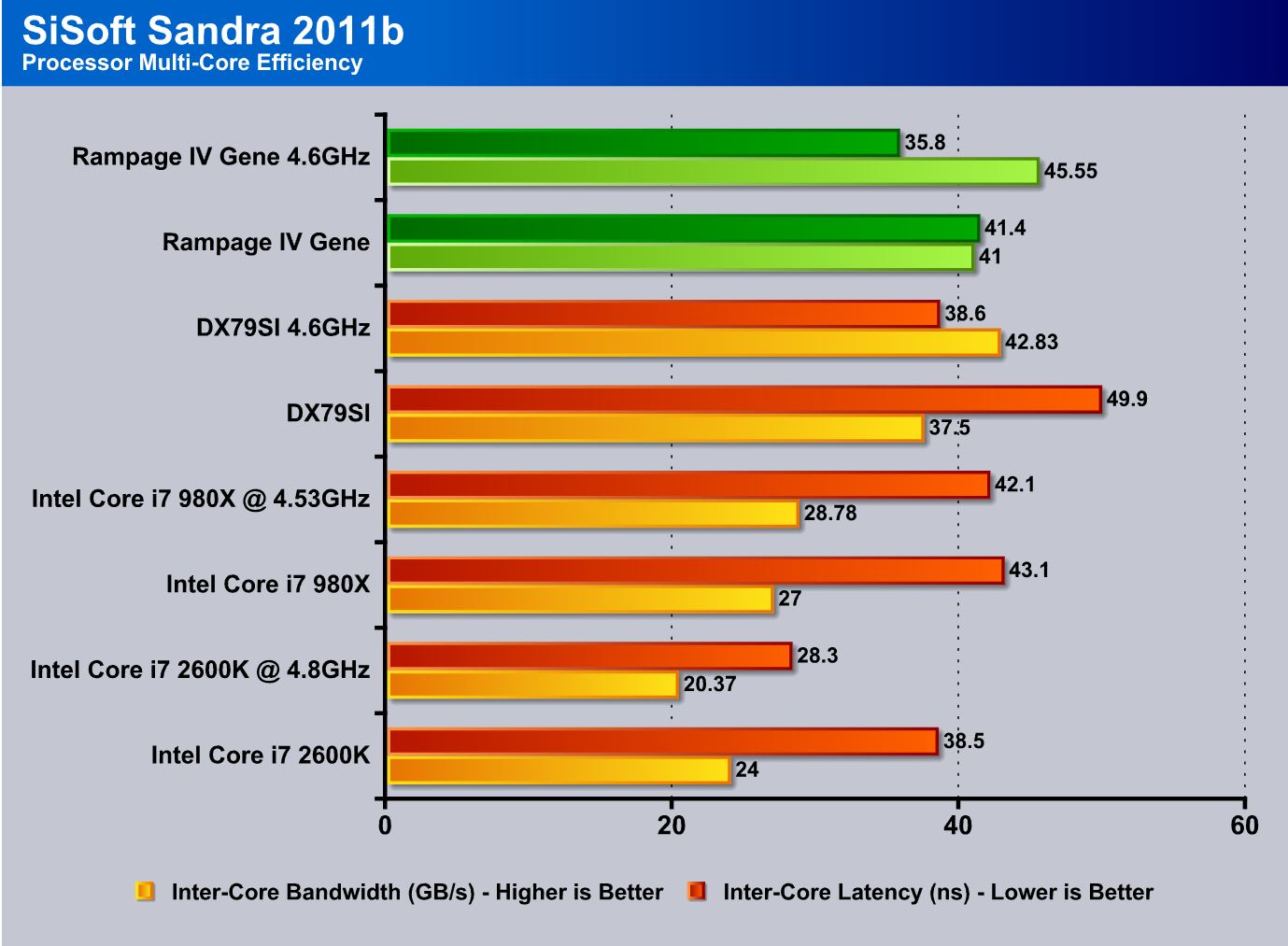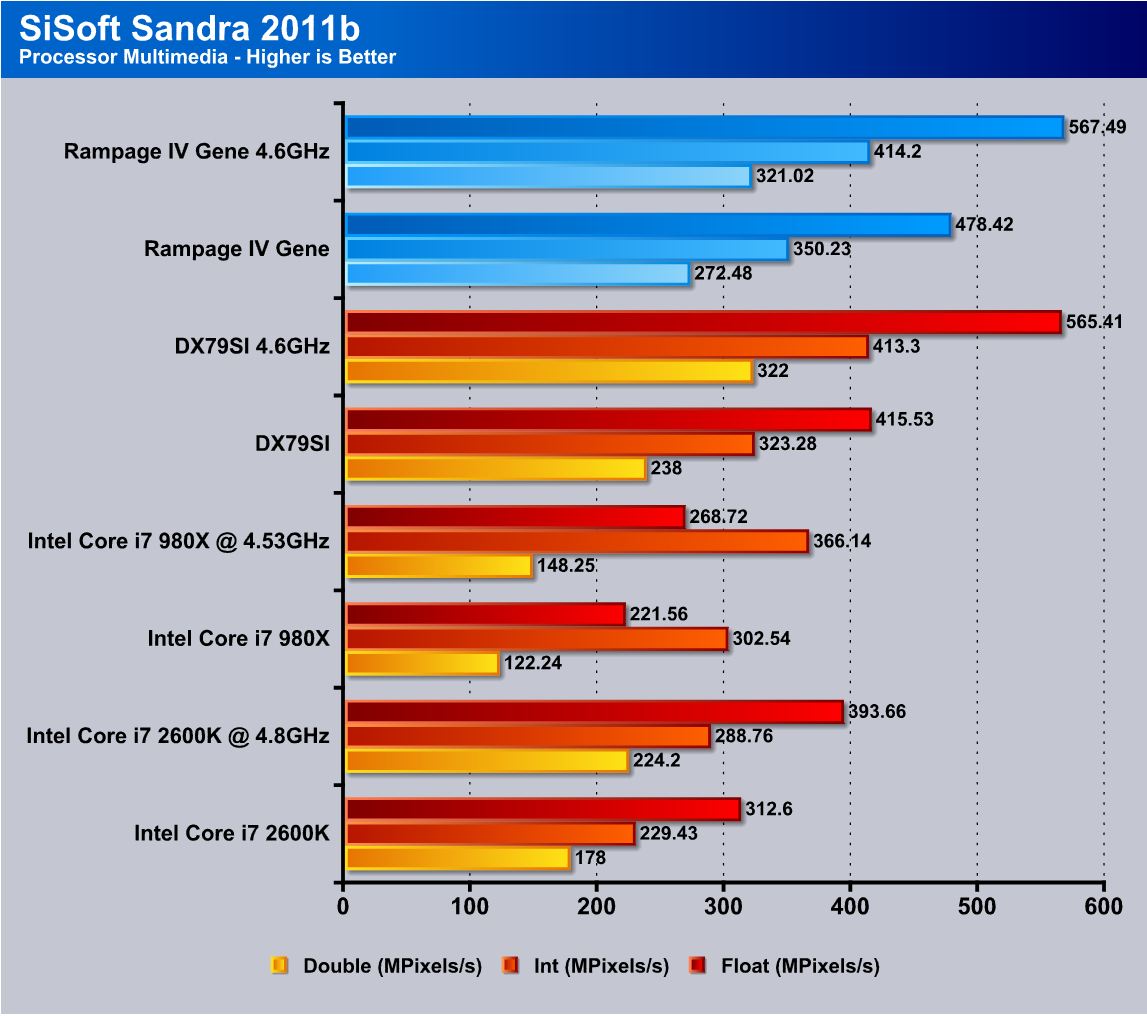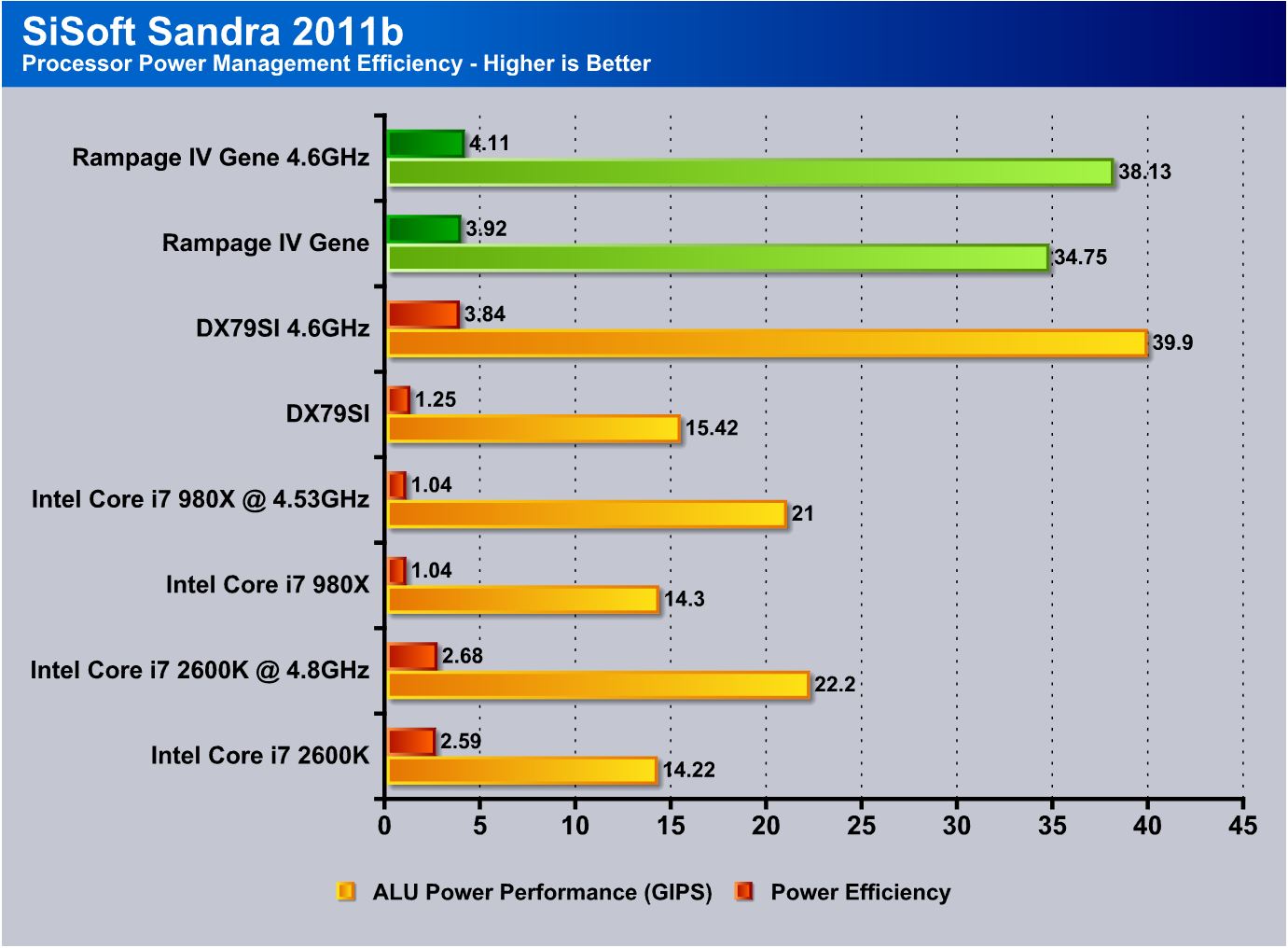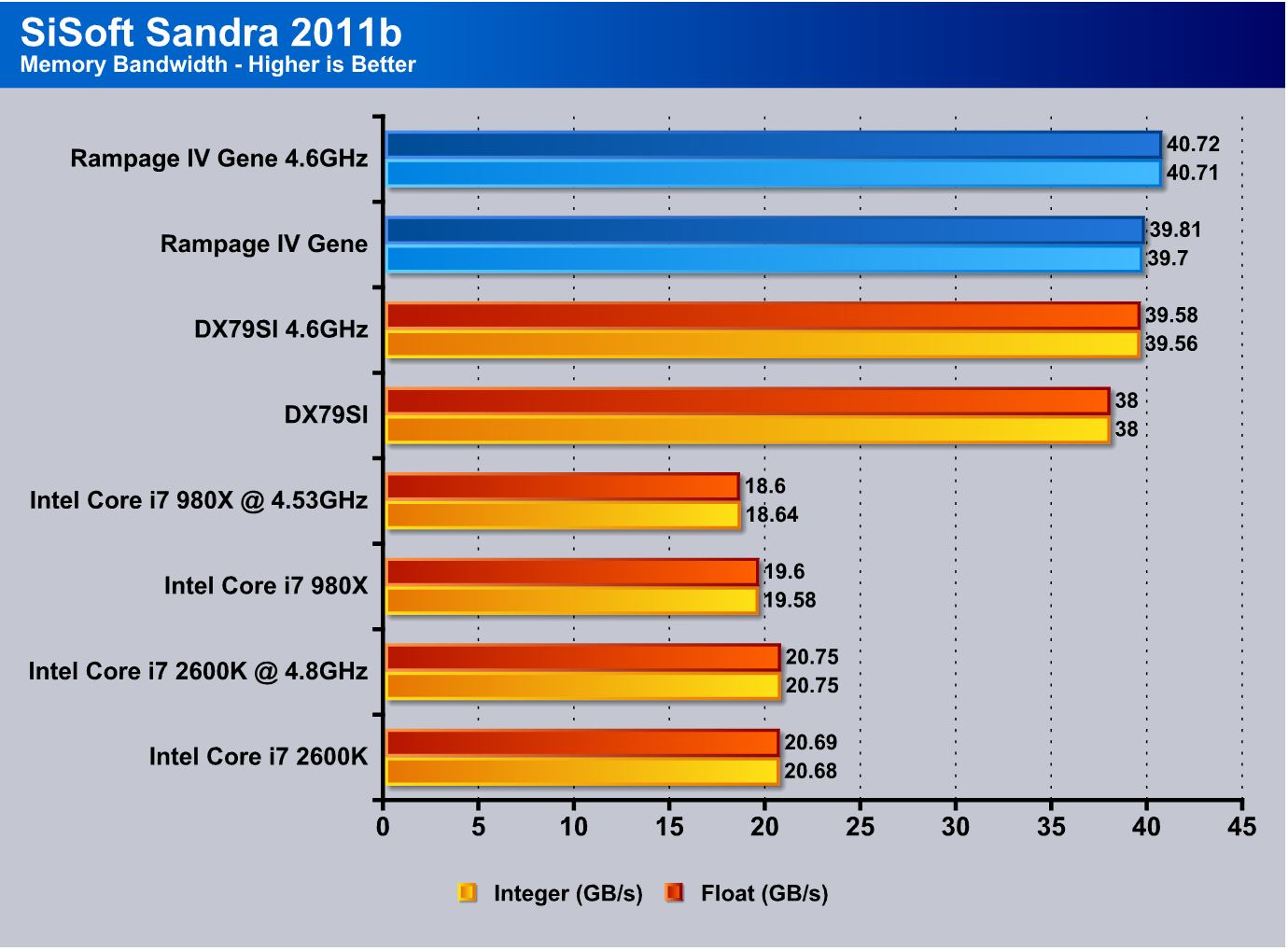 Sisoft Sandra as a synthetic benchmark, representing multiple facets of regular usage and with these tests we get an idea of how a piece of hardware could work in regular usage. Here we see again that the Gene board inches ahead in some tests and even jumps quite a bit ahead in others.
PCmark 7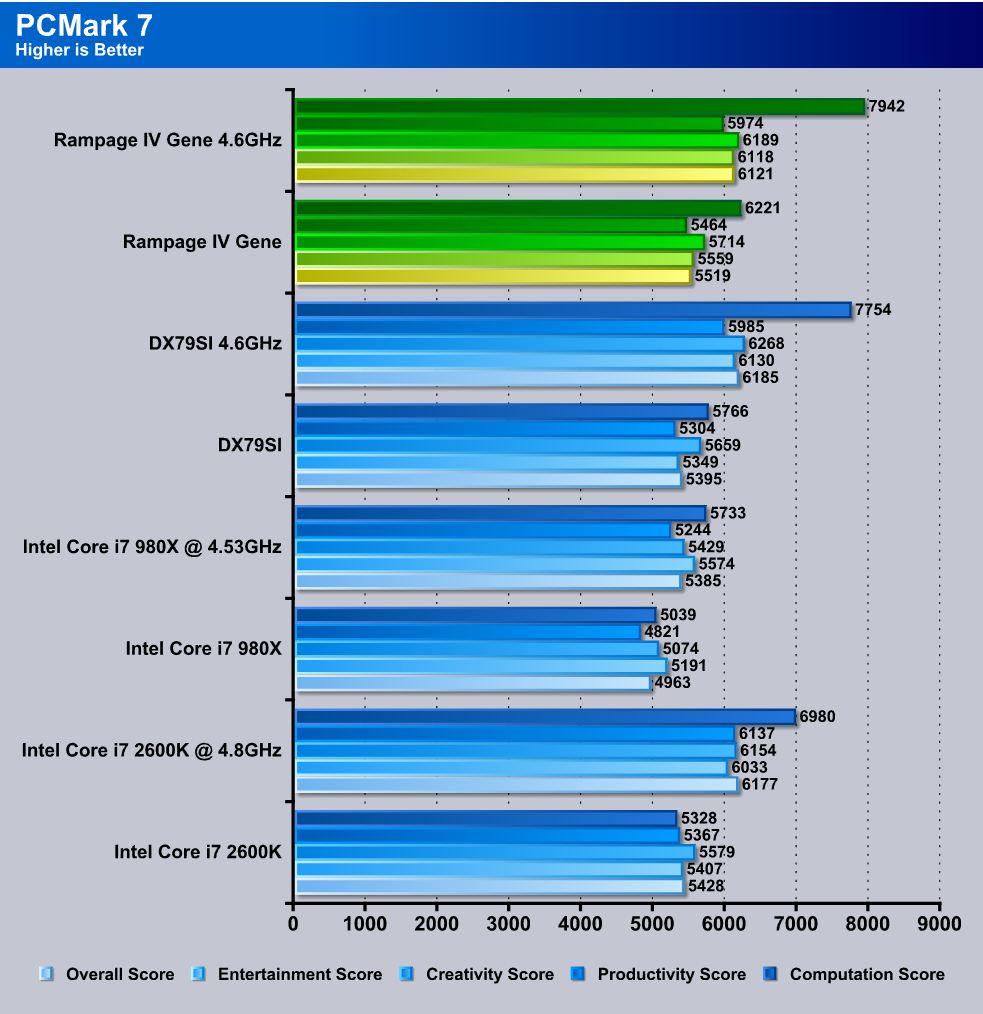 When looking at the PCMark 7 benchmark this is a complete system benchmark testing multiple facets of what a computer does every day. When reviewing each score we see that the performance as we have seen in many benchmarks is very impressive. However being a multifaceted benchmark, there are some areas we notice where there is similar performance or very little improvement. This is most likely because the bottleneck in those tests is likely in different areas not affected by clockspeeds of the system.
X264HD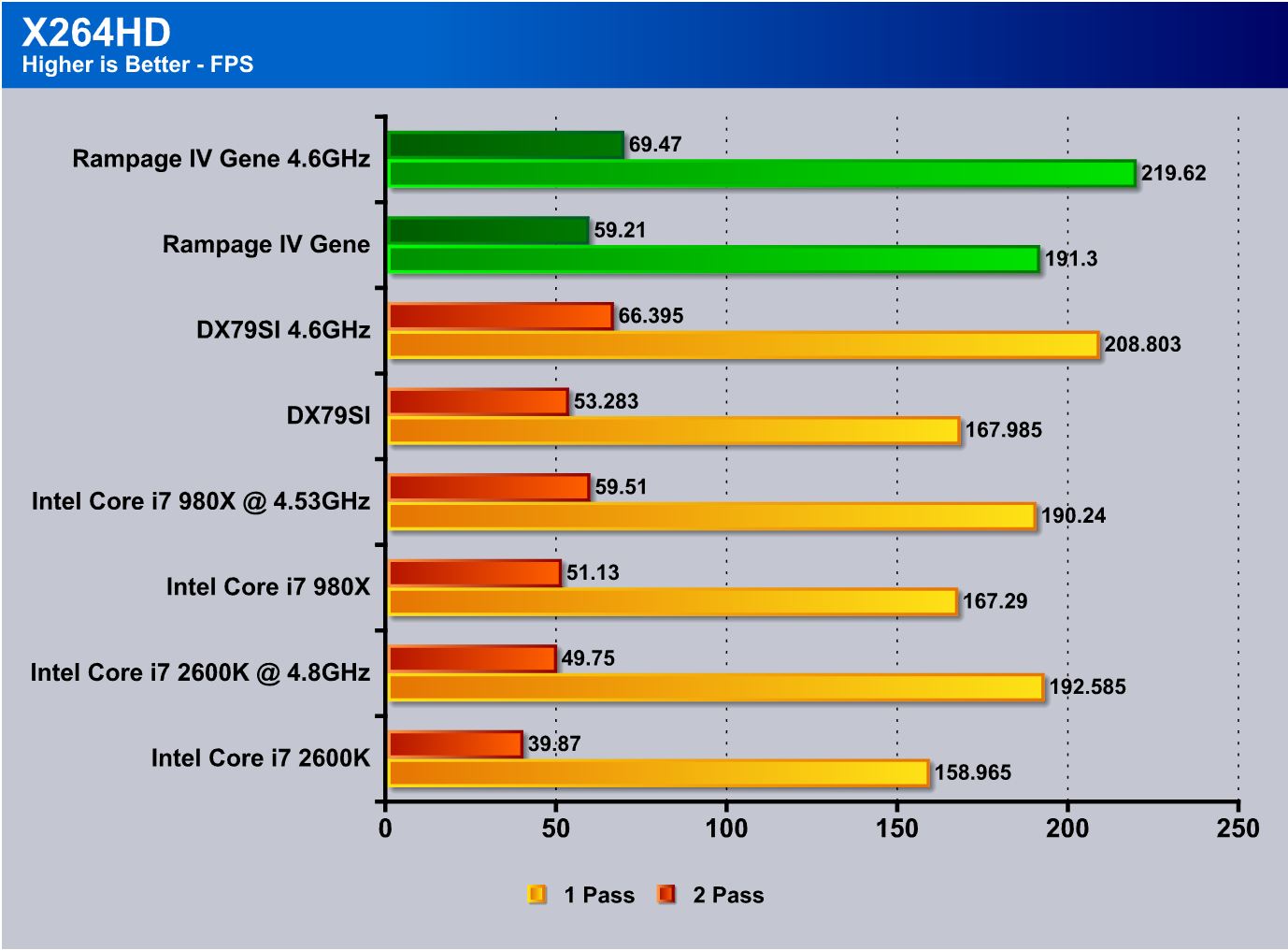 The X264HD benchmark tests the encoding capabilities of the CPU to encode a short HD video clip. The i7 3960X paired with the Rampage IV Gene blasts well ahead of the Intel X79 offering and other platforms tested.
Truecrypt 7.1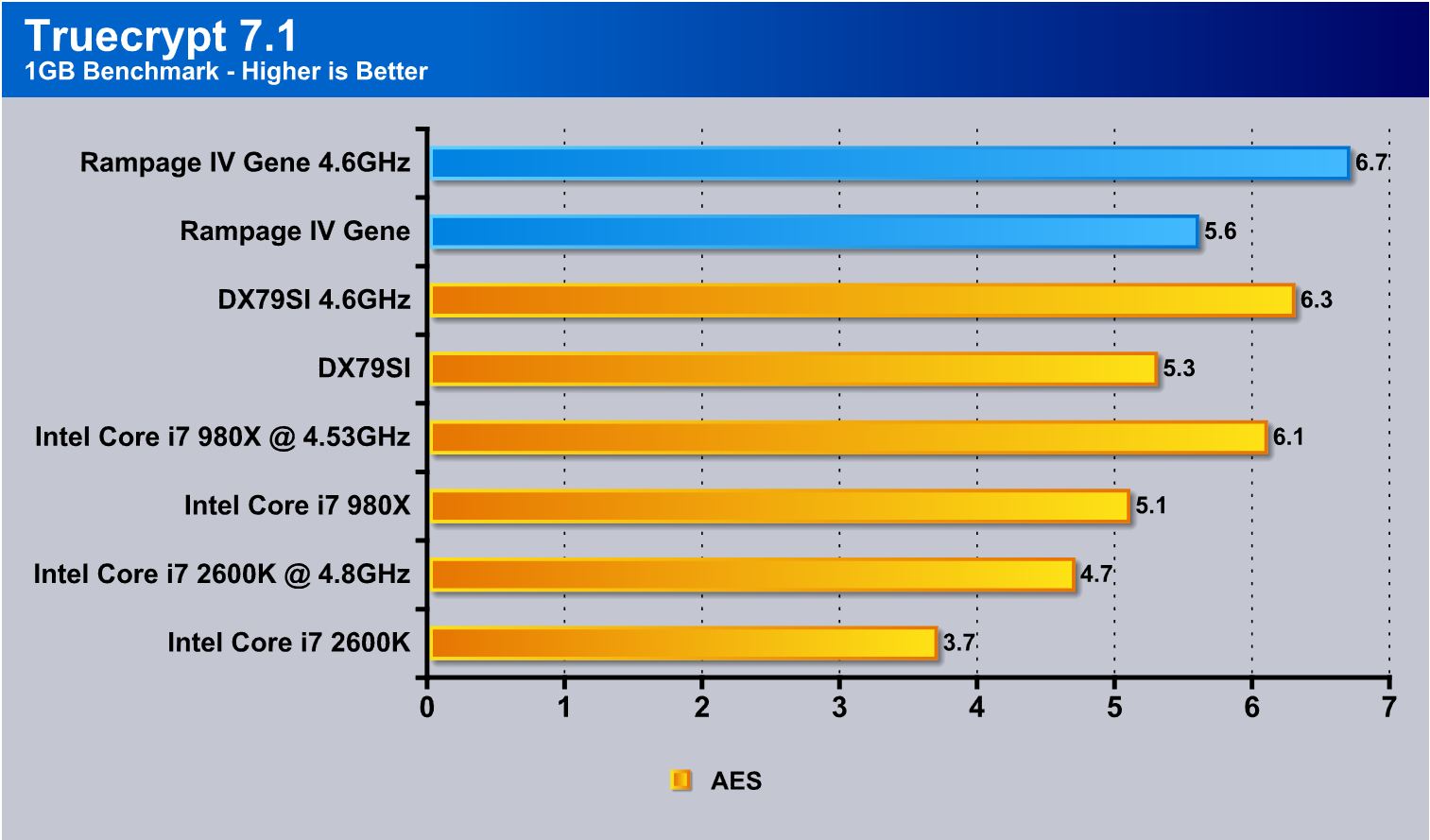 The Truecrypt benchmark shows similar to the Sandra 2011 encryption tests that the 3960X pulls ahead of the pack when punching through encryption tasks. The Gene board similar to the extreme outperforms the competition once again both at stock and overclock so the efficiency definitely has not been lost with the platform shrink.
HDTune pro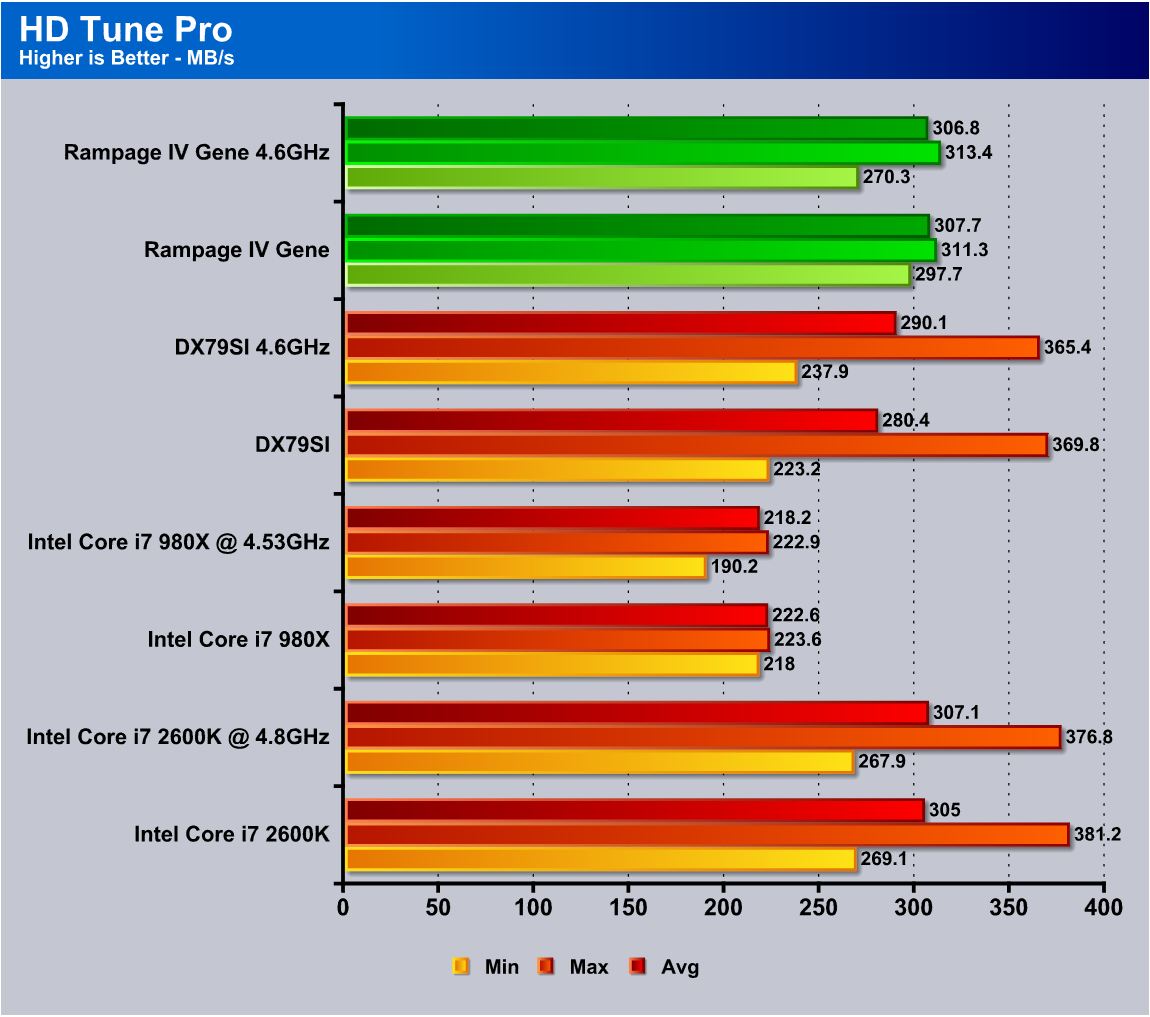 The HDTune tests were unfortunately a little skewed as the SSD used to test on the Intel board was not available at the time of testing for the Rampage IV Extreme but regardless the performance is stellar, and once we get a replacement SSD for these tests we will update with the better results.
3DMARK VANTAGE

For complete information on 3DMark Vantage Please follow this Link:
www.futuremark.com/benchmarks/3dmarkvantage/features/
The newest video benchmark from the gang at Futuremark. This utility is still a synthetic benchmark, but one that more closely reflects real world gaming performance. While it is not a perfect replacement for actual game benchmarks, it has its uses. We tested our cards at the 'Performance' setting.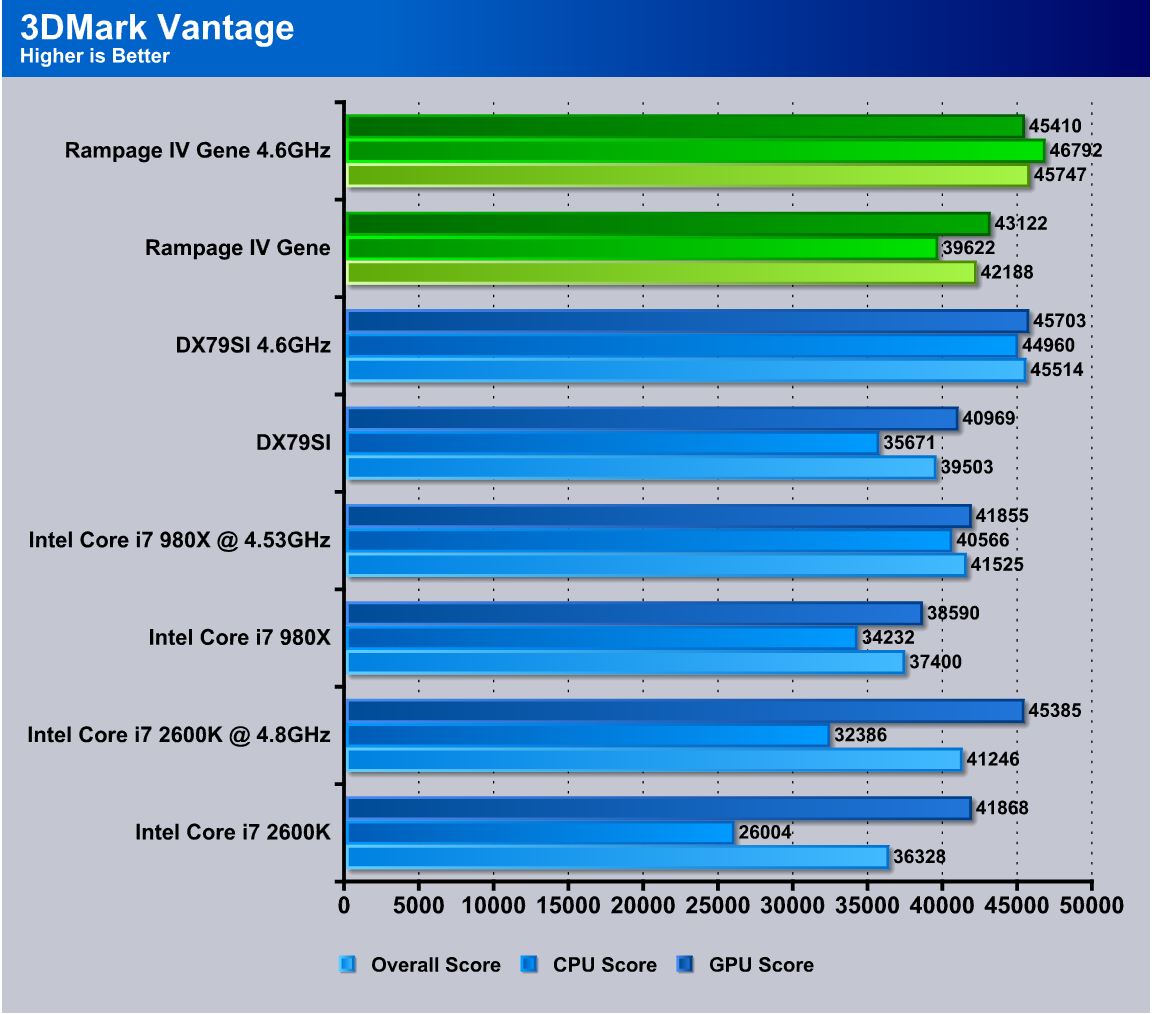 3DMARK 11

3DMark 11 is the newest in futuremark's suite of benchmarking utilities.  Its a fully capable DirectX11 benchmark which also stresses and analyzes the system performance as a whole to simulate a heavy rendering environment such as a high end game or other app the end user may run.  This benchmark was run with Performance settings 5 times and all runs were averaged for the result below.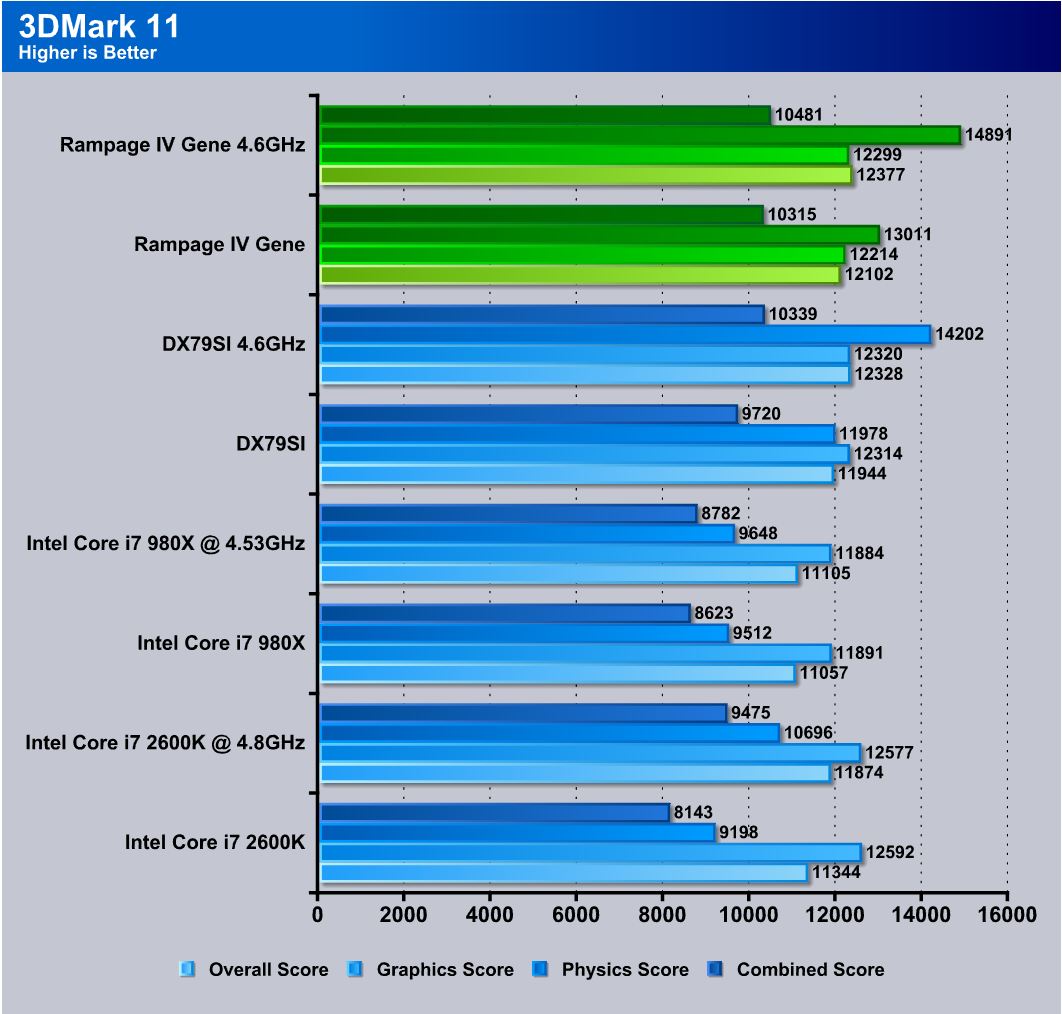 3DMark Vantage and 3DMark 11 both show an increase in the CPU performance, but the graphics scores are fairly similar. The graphics card seems to be the bottleneck here.
Unigine Heaven 2.5

Unigine Heaven is a benchmark program based on Unigine Corp's latest engine, Unigine. The engine features DirectX 11, Hardware tessellation, DirectCompute, and Shader Model 5.0. All of these new technologies combined with the ability to run each card through the same exact test means this benchmark should be in our arsenal for a long time.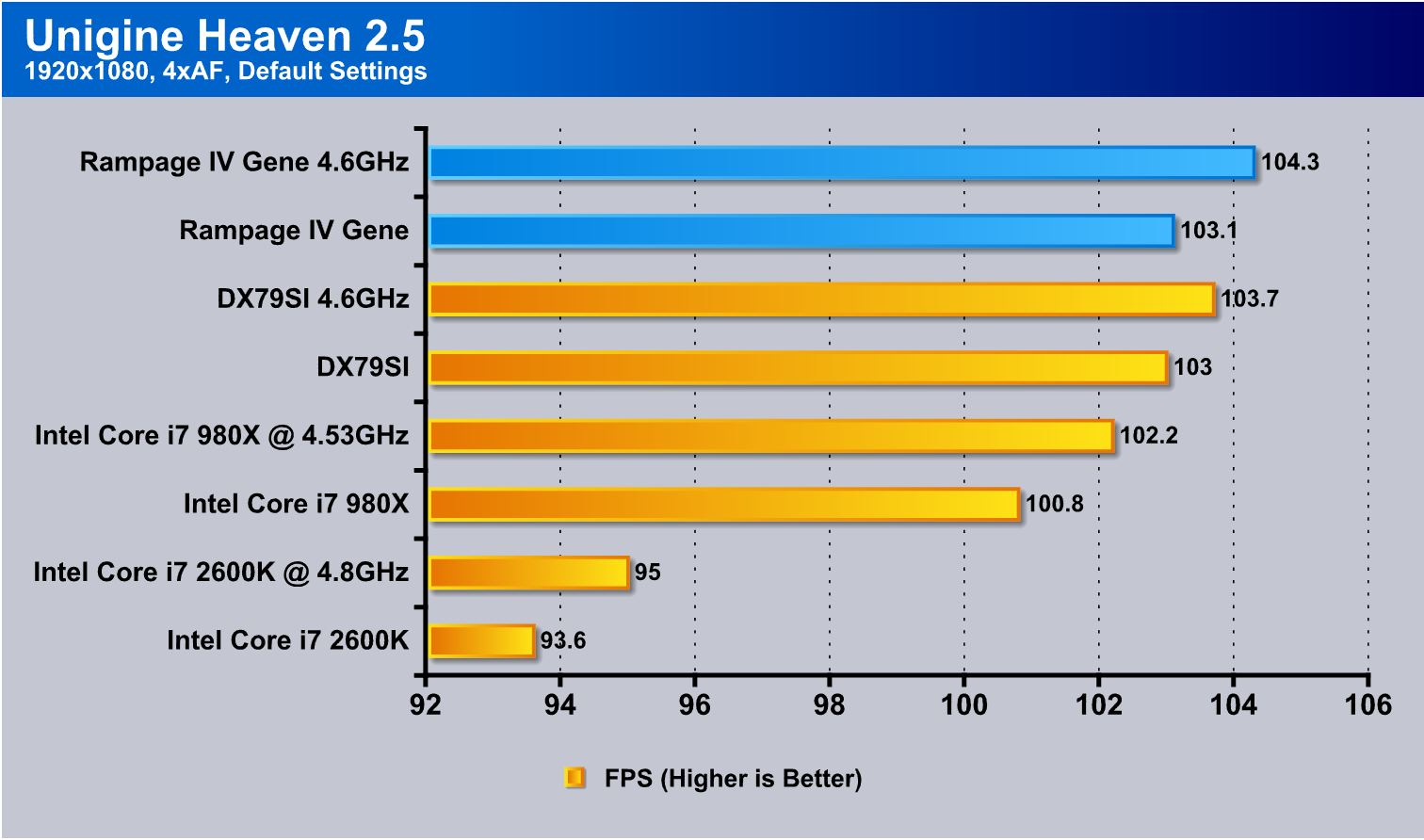 Unigine Heaven 2.5 definitely can see the increase in performance as performance scales with frequency increases. Even at stock the Gene board outperforms the DX79SI, although by a small margin, so this thing is ready for some serious 3D rendering.
Metro 2033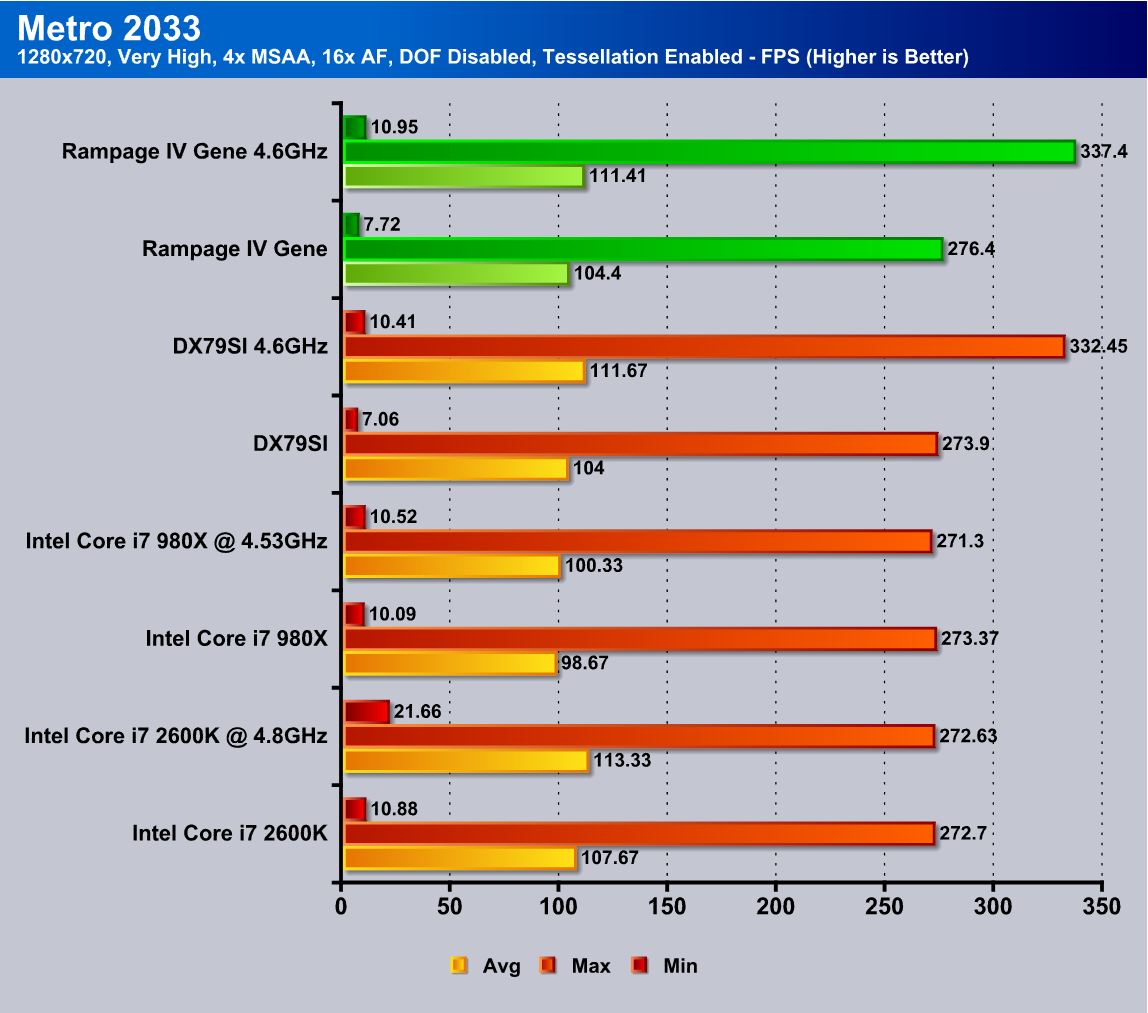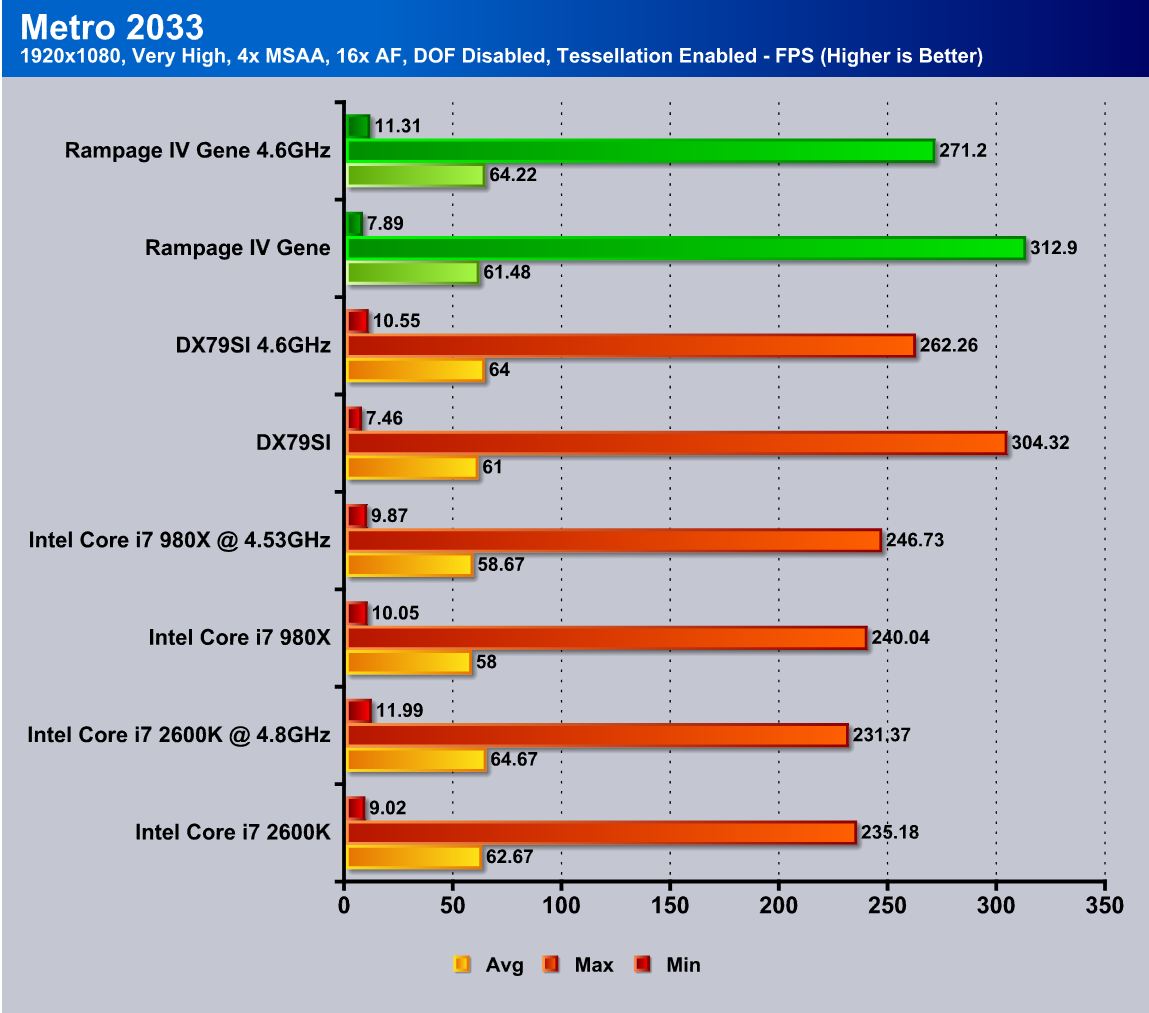 Metro 2033 is a very demanding game for graphics. We were very surprised to see this game rely more on clock frequency than overall core efficiency but the Sandy Bridge and Sandy Bridge-E models have similar efficiency, so the 2600K at a higher clock speed is going to do a little better at gaming than the 3960X in terms of relative performance. However, as more games become multi-threaded this type of result will be less prevalent.
Lost Planet 2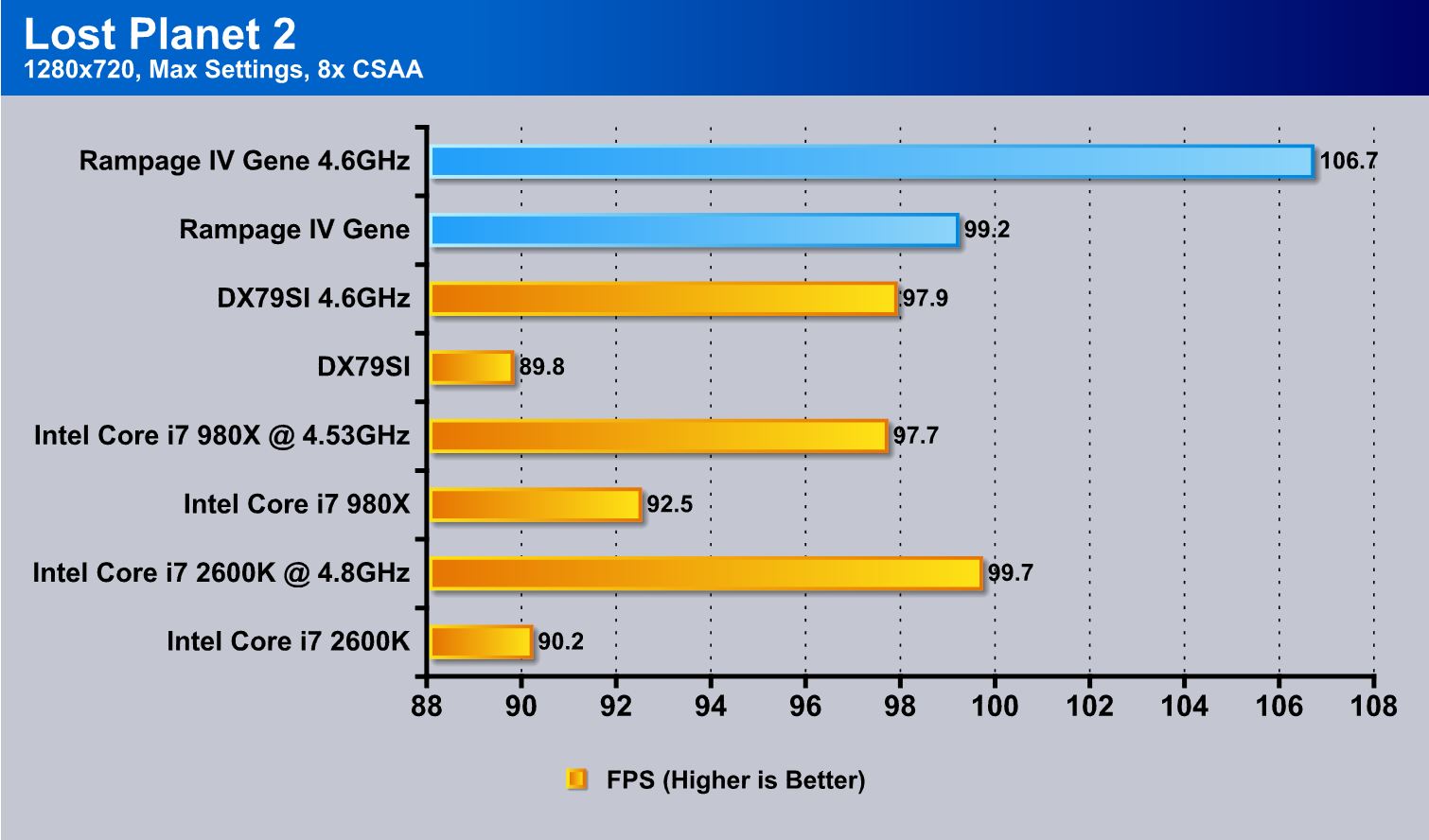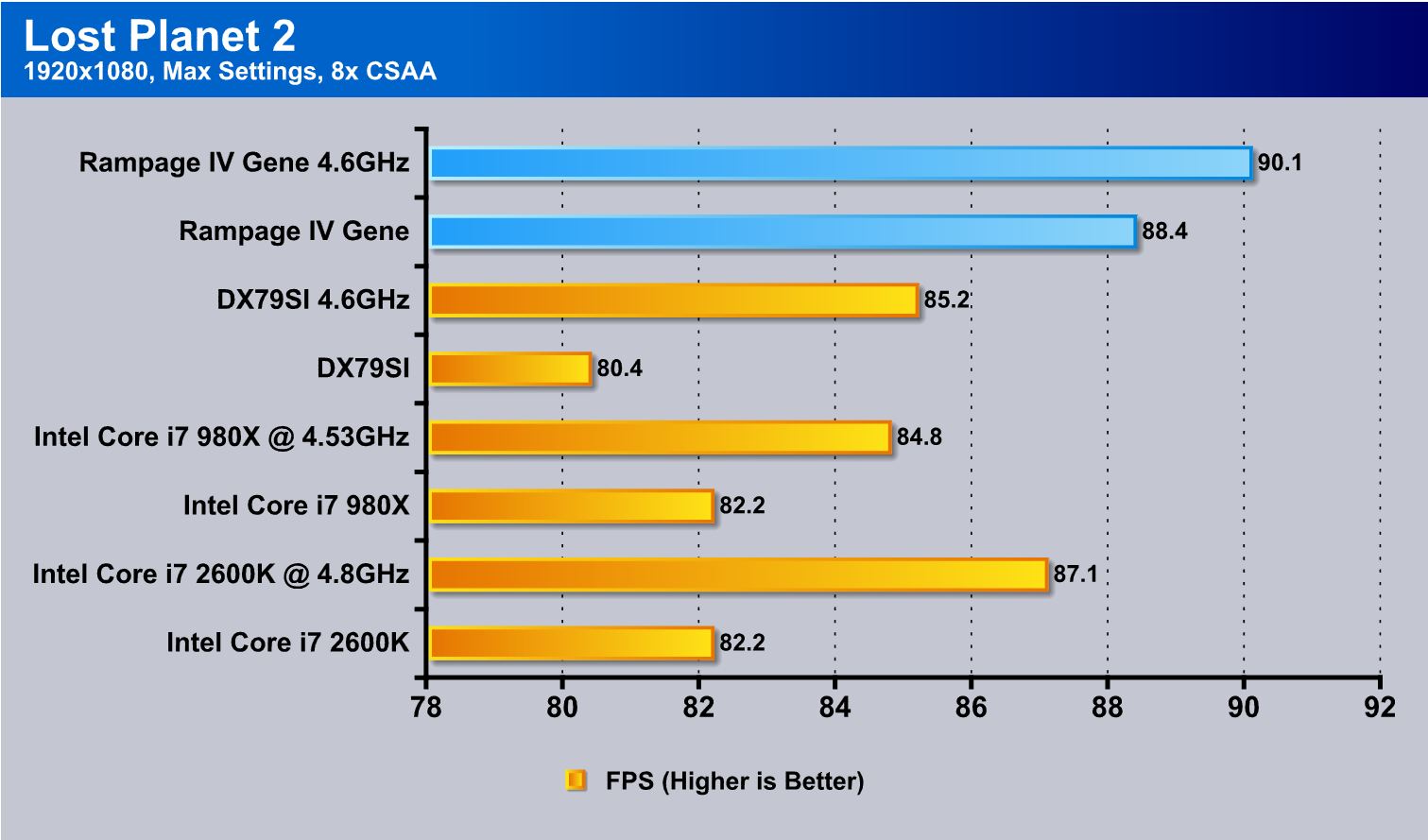 Lost Planet 2 shows a similar picture of the current situation: many games just are not threaded heavily enough to see advantages of the added cores that the Sandy Bridge-E chips have available. However, since there are far more PCI-E lanes available in the Sandy Bridge-E, it would stand to reason that anyone running a multi-card configuration may consider this for their monster gaming rig.
CONCLUSION
We were expecting decent performance from the Rampage IV Gene as it is a ROG board, but we never expected the performance it delivered. Granted it does not overclock as high as the Extreme board, but to anyone who understands the sheer power delivered by the Extreme board would not be surprised by this. Also, the Extreme board is much larger compared to the mATX Gene. This board has the efficiency to blast through the most demanding games, along with video encoding or any other task we could come up with for it. While this board is a little pricey for a mATX offering we believe that as a ROG board with the excellent performance we observed, it is justified.
For anyone looking for a new LAN gaming system or even a beast 24/7 desktop that will not exceed dual GPU's, this is hard to beat as the performance is amazing. The only issue that needs to be kept in mind is that if this will be used in a bench top configuration, users should keep a spare set of switches handy as dual GPU's will likely cover the onboard switches entirely. All of this considered we do have to compare this to other mATX offerings on the market presently and we feel that with its overclocking ability and feature set it is a hard to beat combo for any LAN or smaller form factor performance gaming build.
OUR VERDICT: ASUS Rampage IV Extreme
| | |
| --- | --- |
| Performance | 9.5 |
| Value | 9 |
| Quality | 9 |
| Features | 9 |
| Innovation | 10 |

We are using a new addition to our scoring system to provide additional feedback beyond a flat score. Please note that the final score isn't an aggregate average of the new rating system.

Pros
Cons

Excellent overclocking

ROG Connect

2-way SLI compatible

Full UEFI BIOS

BIOS flashback function

Don't need CPU for BIOS flash

Many USB 3.0 ports

Overclocker/Enthusiasts support

Intel NIC

Highly efficient DIGI+ II power system

GPU/DIMM Post

Power/Reset button placement
Summary: The ASUS Rampage IV Gene performs close to its big brother in a much smaller form factor, and this alone makes it an excellent choice. For this, it earns the Bjorn3D Golden Bear Award.