Kingston shows off their latest red Hyper Limited Edition memory modules, next concept T1 modules, a 64GB system running a high demanding composition, and latest Ultrabook Flash Drives.
Kingston @ CES 2012 and Their Latest Products
Kingston HyperX Limited Edition Red Memory Modules
While there is not much to change in terms of memory manufacturing and the memory technology we use at the moment in our everyday systems, Kingston is striving to provide plenty of different design options to their users when it comes to DRAM or any other sort of flash memory people buy. This year at CES 2012, Kingston showed off their next Limited Edition HyperX DRAM modules. These will be running at the same specifications as previous low-end and mid-range Kingston HyperX memory modules, but instead of wearing black, gray or blue colors, they will be colored red.
Click Image For a Larger One
This is a great option for those using motherboards that have a red and black design. The HyperX Limited Edition Red memory modules will come in two varieties in both capacity and speed. Speed wise, the memory will be available in 1333MHz or 1600MHz, in kits of 4GB or 8GB. These specific memory kits should be available for ordering through major retailer stores for the same price as previous HyperX memory kits.
Kingston's next concept T1 Modules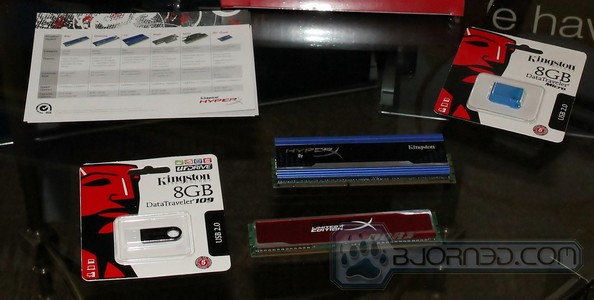 Click Image For a Larger One
Kingston was very excited about their T1 Modules. The blue memory sitting on the table is the newest revision of the T1 modules. It's a much smaller heatsink design as the previous T1 models, however it is also thicker. This way Kingston is able to get the same amount of heat dissipation with the much shorter heatsink over their older T1 model memory modules. Even though its a thicker design, there should not be any clearance issues installing them right next to each other on a motherboard. Additionally, this shorter heatsink design will come handy on X79 and other high-end chipsets where users will most likely using large heatsinks with less clearance for memory.
High-Capacity and High-Performance Show Systems
Click Image For a Larger One
Here at this testbench, Kingston was showing off a system running 64GB of memory on a single X79 chipset motherboard. Unfortunately these are not 2400MHz kits, as according to Kingston, it is extremely difficult for any manufacturer to get those working to specs making them more a marketing product rather than a fully functional product. Either way, the kit running in this system is a 1333MHz 64GB (8x8GB) kit. The other system not pictured in this article was running  at 2400MHz with a capacity of 16GB (4x4GB). Let's check out what they were crunching.
Click Image For a Larger One
If we take a look at the first monitor screen, we can see Adobe After Effects running with a composition that goes just a little over 1 min. Those familiar with After Effects know that compositions can be previewed (rendered) within the application. This gets cached right into the RAM and After Effects uses this to get fast access to the footage being composed. With 1 minute of video previewed in After Effects, the system was using a total of 50.3GB of memory. This means that users can work on even more complex scenes and still have enough memory to preview their footage.
The second monitor was running the 2400MHz memory and showed off a pretty interesting process in Photoshop. The folks over at Kingston took several pictures of a cricket at different depths and then used Photoshop to quickly put together a single picture of the cricket fully in focus. With fast memory, the process takes less time since some of these calculations could take several minutes depending on the resolution of the images.
The Wi-Drive and other Ultrabook Flash Drives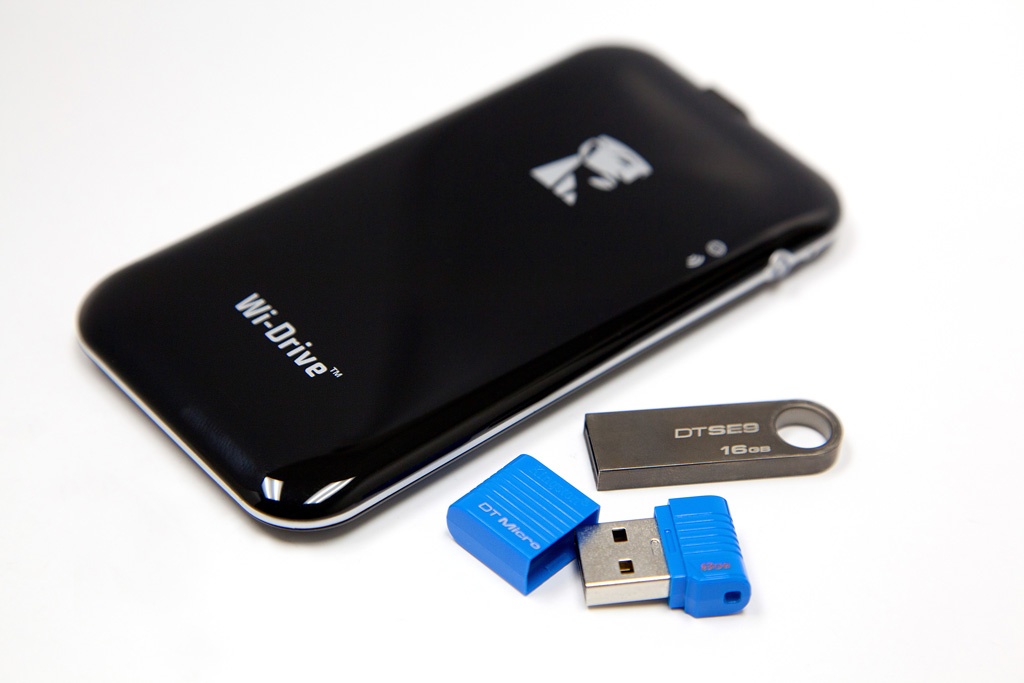 Click Image For a Larger One
Finally, Kingston had two more very interesting products to show us. Since Ultrabooks are becoming a popular pick for people looking for very slim systems, Kingston came out with two products, the DT Micro and the DTSE9. The DT Micro comes in 8GB and 16GB models, but will most likely be slower than the DTSE9 due to its size. The size of the DT Micro is about the size of a mouse mini bluetooth dongle. The DTSE9 on the other hand is designed for people looking to put their flash drives on a keychain. No moving parts and no caps needed. The retail price for them are set at a slightly higher price due to their small design, but they should still be very affordable for the amount of storage capacity they offer. Kingston expects the 16GB models to be somewhere around 20-30 dollars.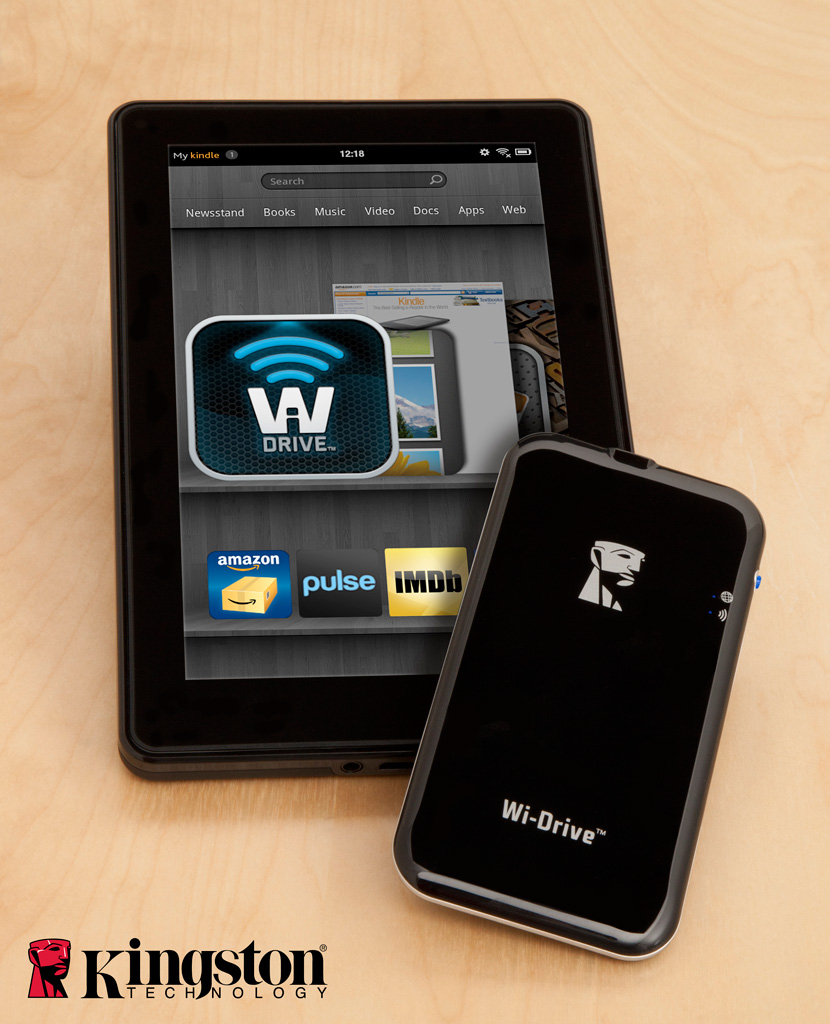 Most of us are familiar with the Kingston Wi-Drive by now. First shown at CES 2011, Its an external storage device for Apple and Android devices. As far as we know, only certain Android devices are compatible with the Wi-Drive, and the applications are still in BETA, so they are not 100% stable or functional, however the Apple version of the Wi-Drive application should work without any problems. The Wi-Drive application can be found at the Apple store for free of charge. Kingston currently only carries 16GB and 32GB models, however they are expecting to have a 64GB model sometime in February or March this year. The Wi-Drive connects to a Wireless router or can also be used as a bridge device and users can get  access to additional files through Wi-Fi even if their current storage on their device is already full. One great feature of the Wi-Drive is the multiple user functionality, where up to 3 people can enjoy watching a movie on three different devices at the same time. There is also nothing to worry about when using Wi-Fi connections, as the Wi-Drive is fully compatible with all the current Wi-Fi protections, including WEP, WPA, WPA2, PSK2, etc., though Kingston does not recommend using their mixed mode wireless protection as they noticed some stability problems with their application. Other devices like the Kindle Portrait are also compatible with the Wi-Drive.
Let us know what you think about current products Kingston offers, and if you'll be using any of the following products in your next system or along with your other devices!