Gamers rejoice: the G1.Killer line now has Sandy Bridge support. Keep reading to find out more, and stay tuned for our upcoming full review of the G1.Sniper 2!
Unboxing
GIGABYTE has a new motherboard in the G1.Killer series. The G1.Sniper 2 is the successor to the G1.Sniper board, and is designed for gamers like every other board of the G1 line. However, the G1.Sniper 2 comes even more loaded, featuring 32nm Sandy Bridge support. Gamers can finally enjoy the full power of the Sandy Bridge architecture with loaded features of the G1.Killer line of boards. Keep reading to see what this board's got, and be sure to read our upcoming full review of this board.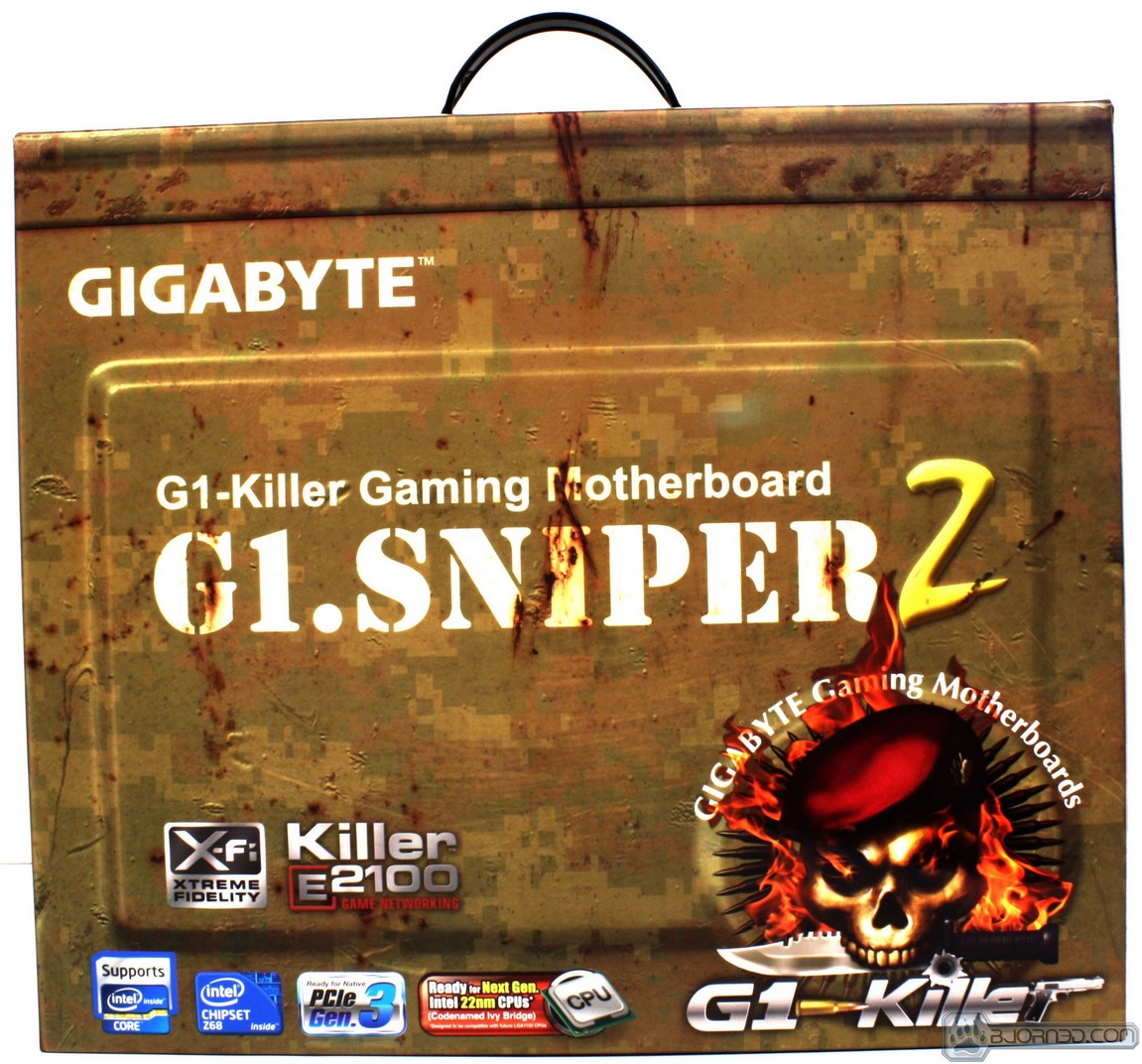 The front of the box is mostly art with only a few small logos displaying features such as the 22nm CPU support, PCI-E Gen 3 support, X-Fi and Killer 2100, along with the 2nd Generation Core series processors logo and the Intel chipset logo.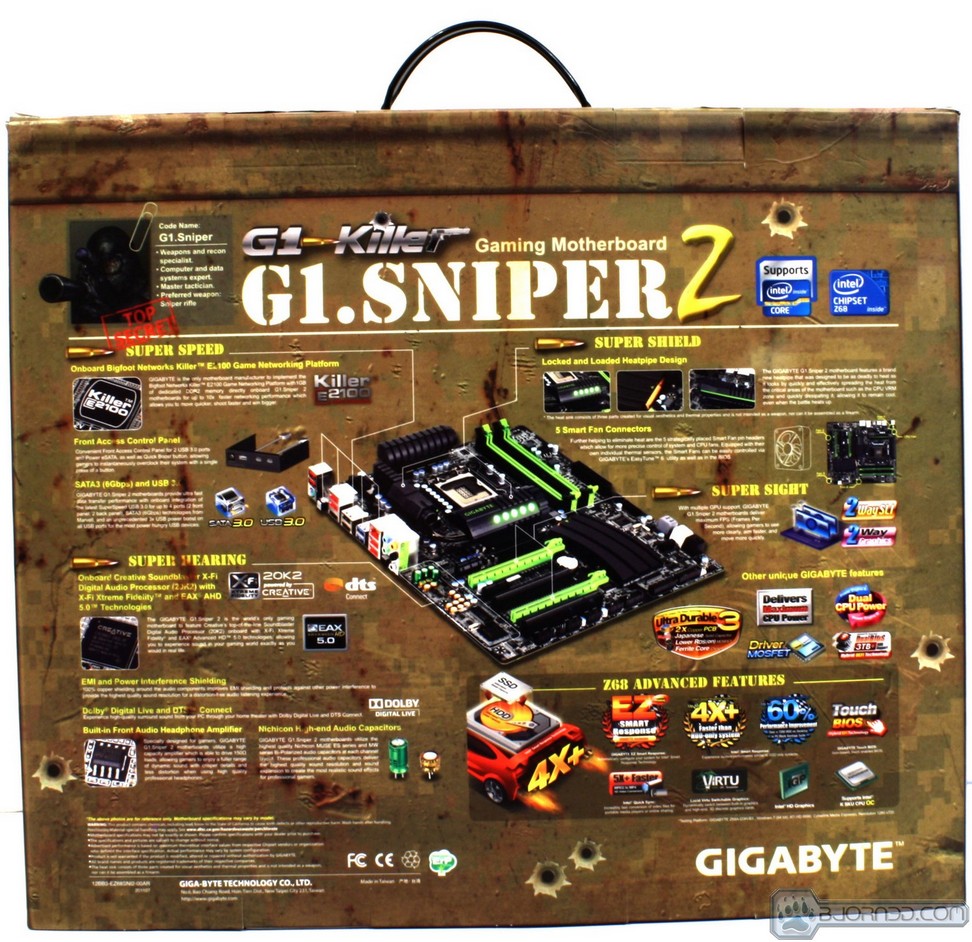 The rear of the box is covered in specs and features to ensure that before the user purchases this board they know every feature of the product they're buying.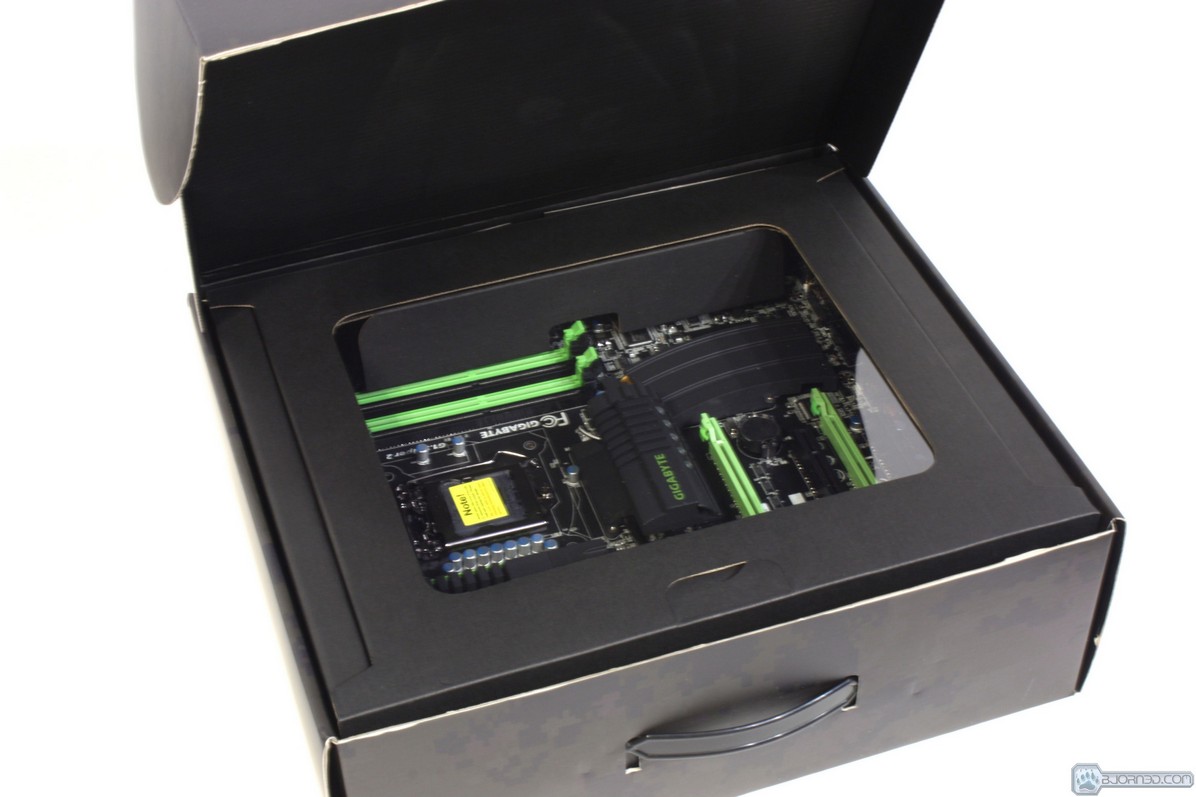 As we open the inner box we get a glimpse at the board and the unique heatsinks of the G1 line of boards.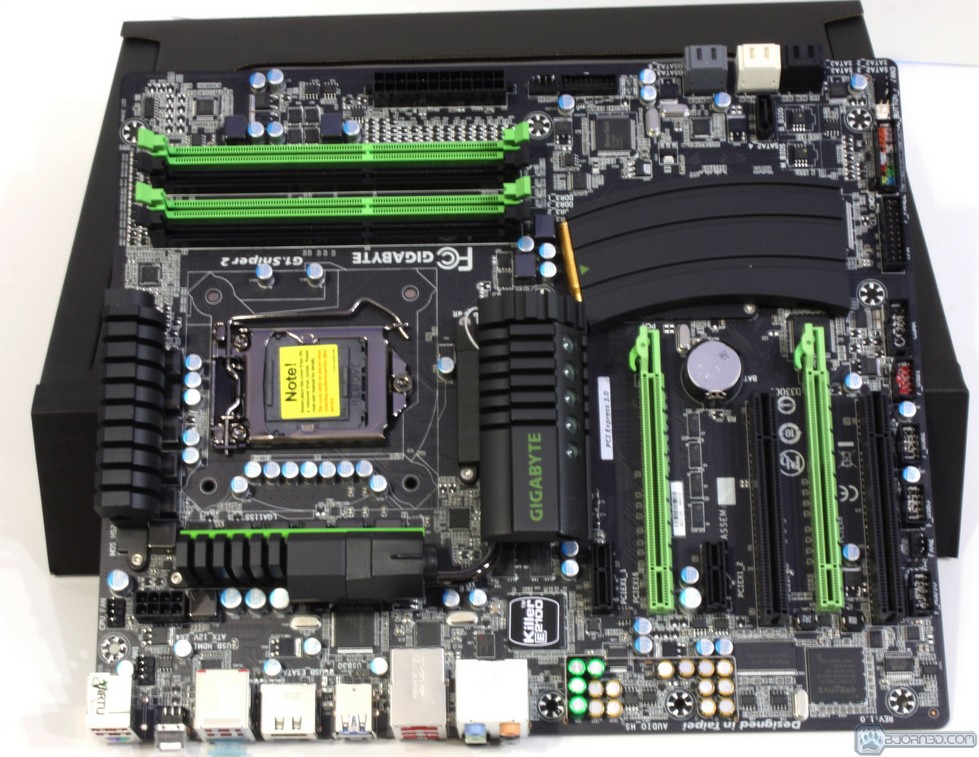 Here we can see a good view of what we will be working with when we really dig in on the full review.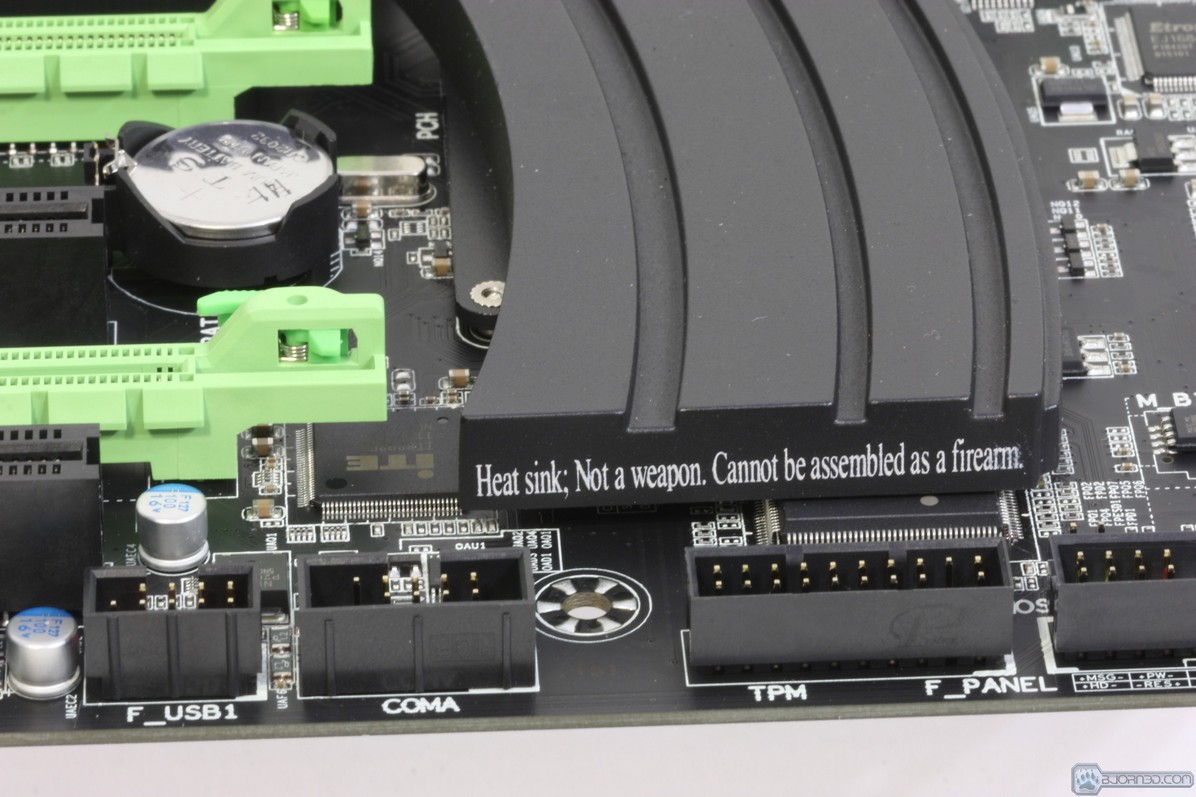 No this is not a joke, it is actually printed on the heatsink. In the full review, we'll test how well these heatsinks dissipate heat compared to conventional heatsinks which have more surface area.
A Sneak peek at the GIGABYTE g1.sniper 2
The G1.Sniper 2 is a Z68-based motherboard from GIGABYTE capable of running all the present LGA1155 CPU's. Beyond that, this board is ready to support the 22nm process based Ivy Bridge CPU's once they are released. Another major selling point is the PCI-E 3.0 support, though this is more intended for future compatibility, as there are no PCI-E 3.0 devices yet, and Sandy Bridge's 32nm process only supports PCI-E 2.0 devices. Following its G1.Killer lineage, this board also follows a similar feature set by featuring a integrated Bigfoot Killer 2100 Gaming NIC and a Creative 20K2 integrated high end audio chipset. This board supports 2-way SLI and CrossFireX, as it has dual x16 slots. this is only scratching the surface of the newest G1.killer offering, but in our upcoming full review, we will dive much deeper into each function and feature to see if it is beneficial in real world use, and also examine how it will service the gamer. For now, let's take a quick peek at some key features and see what we can find out in this quick overview of the coming GIGABYTE G1.Sniper 2 motherboard.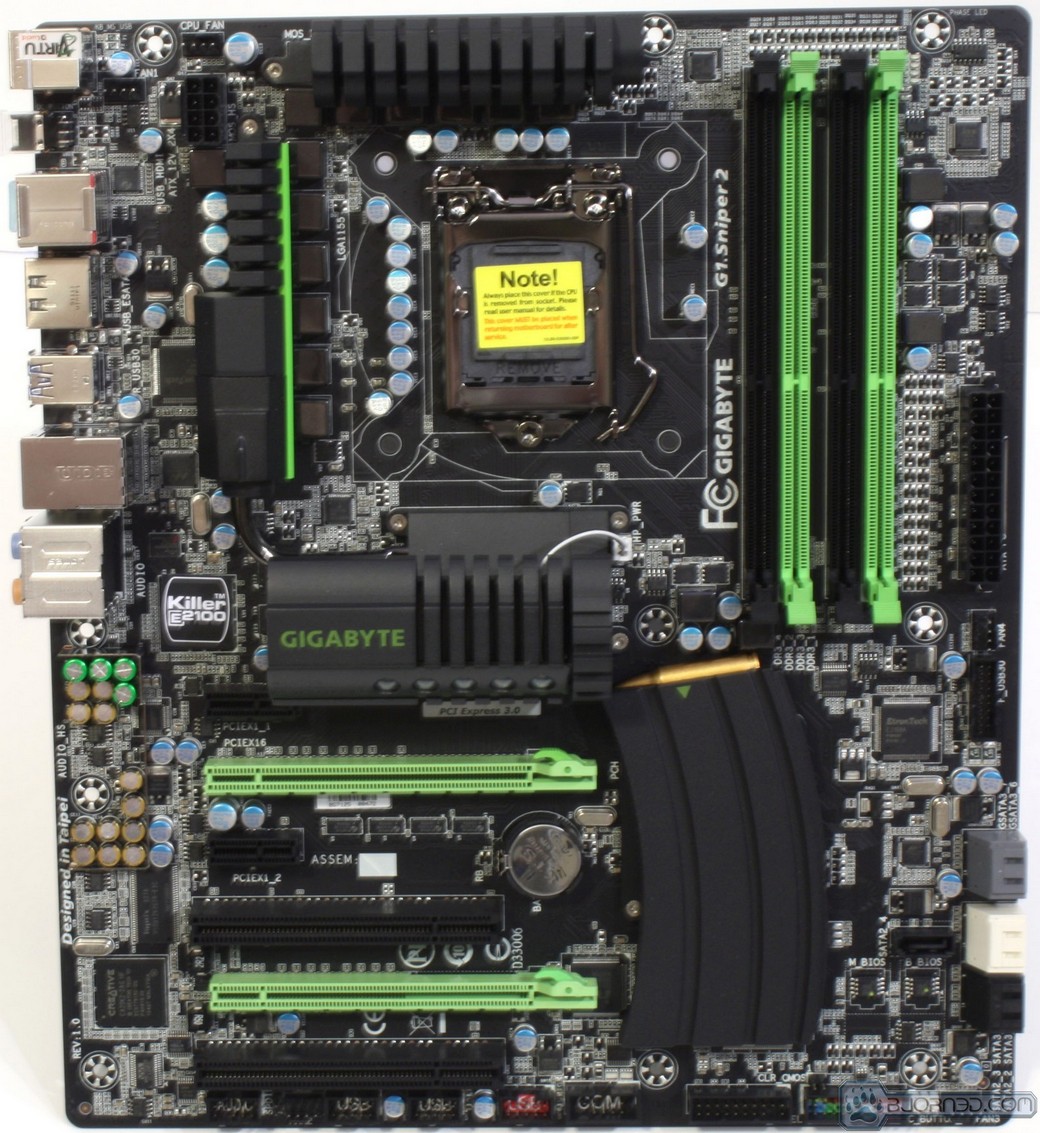 Here we get a good look at the general layout of the board. If it looks familiar we are not surprised as this board is in good company as the layout very closely mirrors other models in the G1 Killer series. The weapon-like heatsinks and the general component layout all are mirrored here, as is the color scheme.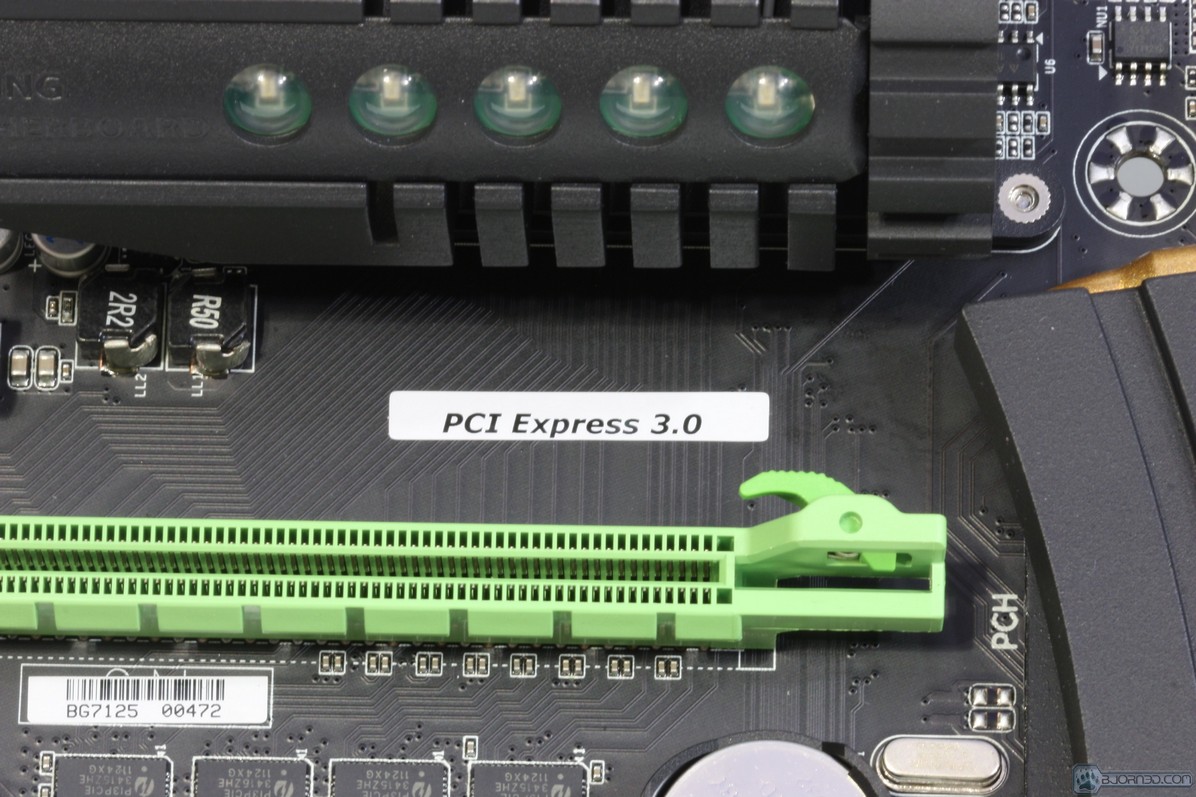 In preparation for future cards, PCI-E 3.0 support is already here. Of course, the controller will only run at PCI-E 2.0 speeds until 22nm CPU's become available. The new Ivy Bridge line will support the PCI-E 3.0 lanes and all the increased bandwidth that comes with them. Additionally, once the PCI-E 3.0 controllers become available, graphics cards manufacturers will start making cards to fill PCI-E 3.0 slots.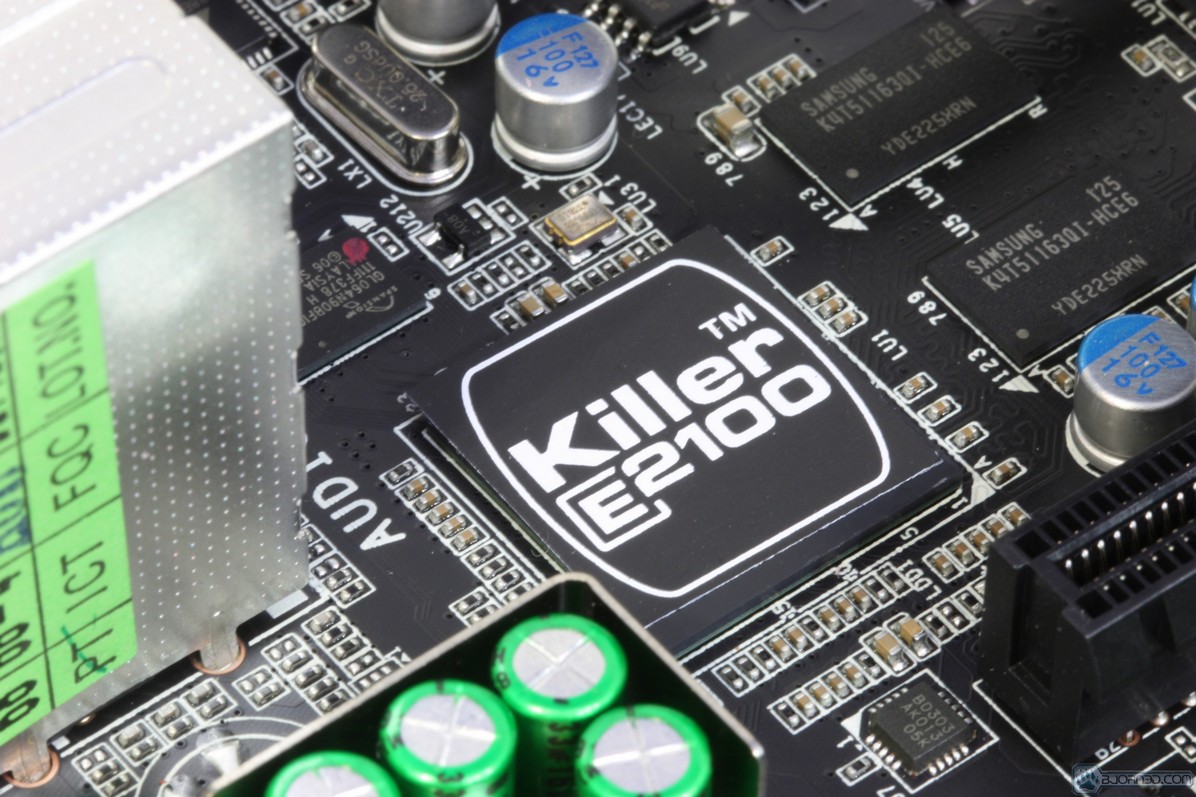 Here we see the Killer 2100 chipset, which is geared towards gamers by bypassing the standard Windows network stack, and taking network processing load off the CPU to free up processing power. Looking closely, we also can see the shielding for the audio components included on the board.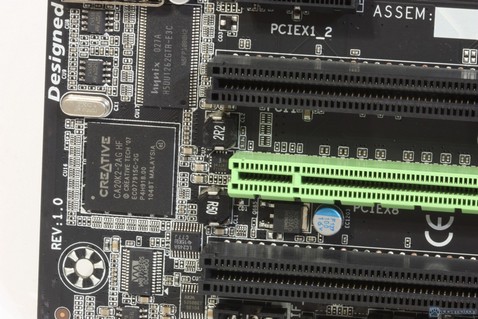 Here we see the Creative 20K2 chipset, which means that the onboard audio is designed for the gaming crowd, with EAX Advanced HD 5.0 and Creative X-Fi technology. The G1.Sniper 2's onboard audio should deliver sound at a level that surpasses any other motherboard line's quality.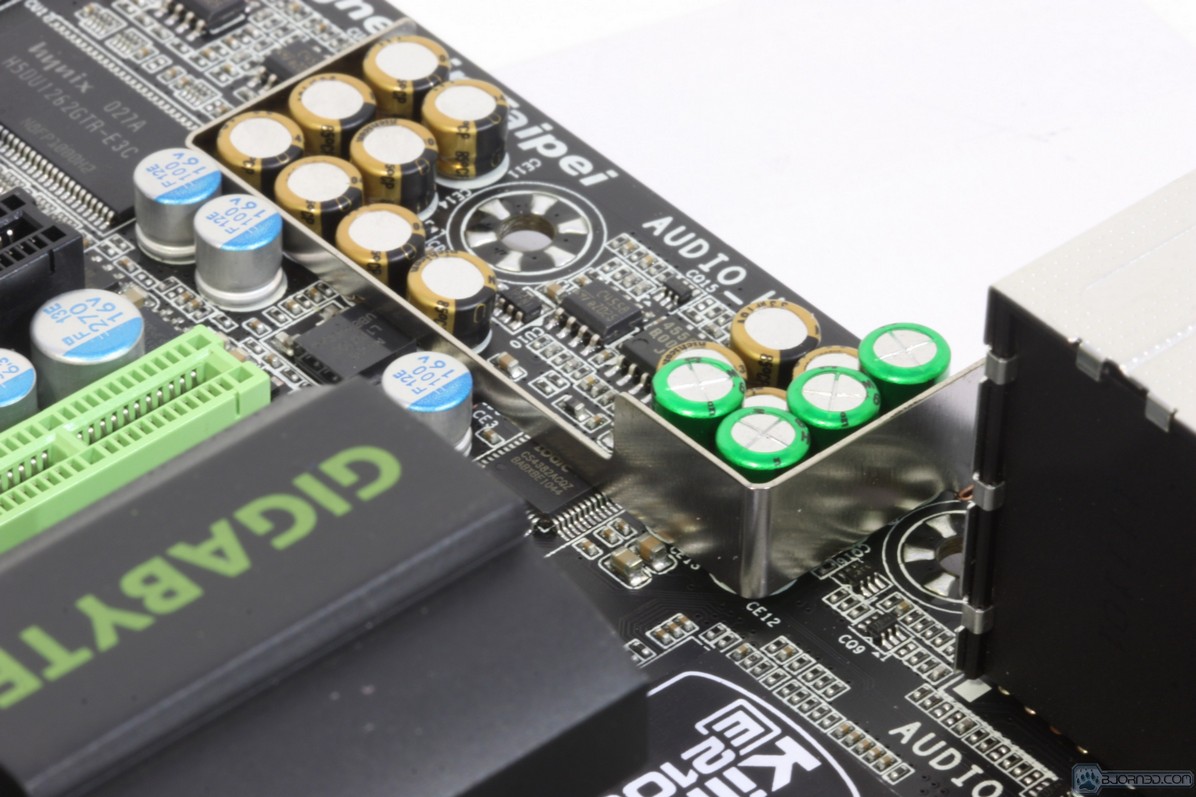 When examining the audio components fed by the Creative IC we were surprised as to the quality of components. GIGABYTE used high quality Muse capacitors and high end amplifiers, all wrapped with a full metal shield to ensure that extra noise or interference would not find its way into the speakers.

Here we see the I/O panel which handles all of our connectivity requirements. One point of interest we noted was the O.C. button on the back panel, which is set up to give a quick boost or overclock with just the press of a button. We're not quite sure how it works, or how much it overclocks, but it is something we will look at in the full review.
Here's a look at all of the accessories that come in the package:
Poster
Two sheets of stickers
Front panel extention bay with eSATA, USB3.0, and quick OC button
I/O shield
SLI bridge
Two SATA cables
Manuals and guides
final thoughts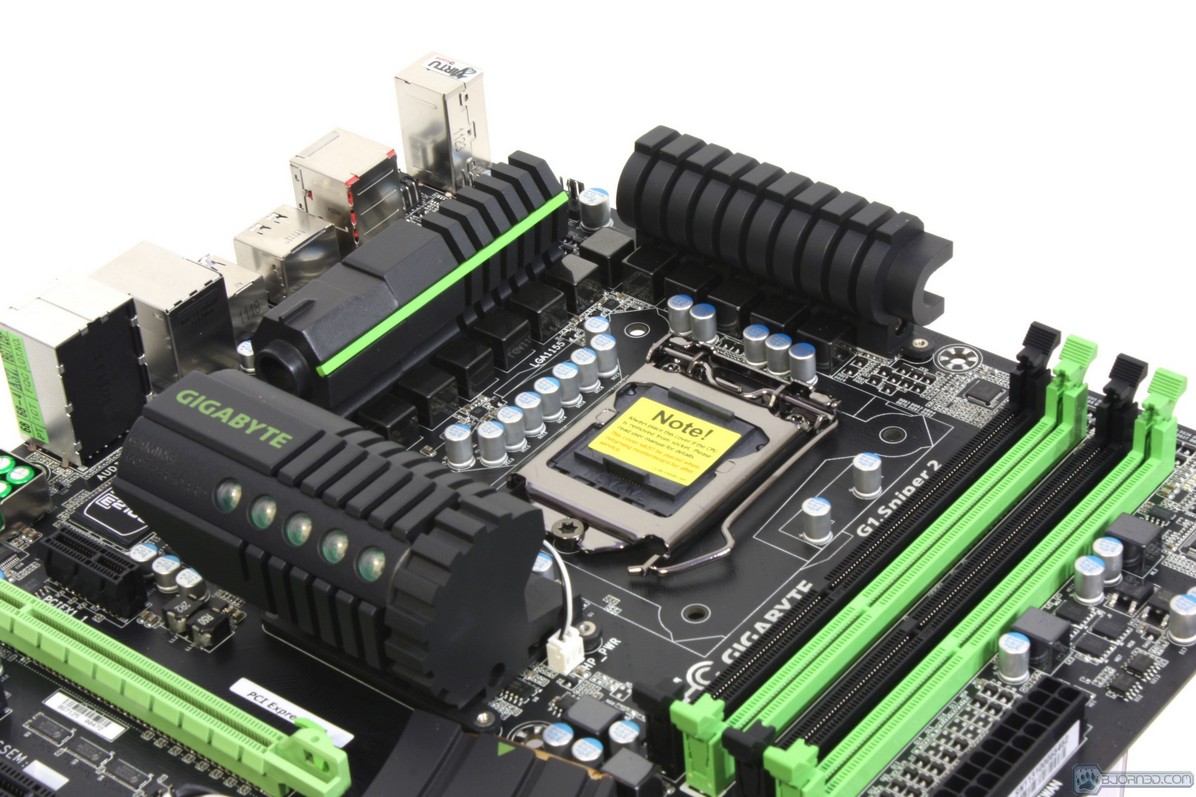 While the G1 brand carries a lot of great feature,s we see a lot more than just the standard fare on this board. With all of the standard Z68 features and the inclusion of 22nm and PCI-E Gen 3 support, this board is a great choice for any gamer who wants to be prepared for these releases. The G1.Sniper 2 has much to offer, and its price tag and the soon-to-be released PCI-E Gen 3 GPU's will let us know whether this is worth the investment. Despite its plethora of features, we do feel that there were some very important ones left out. In the end, GIGABYTE presents a good offering to gamers, though there were some significant improvements possible. We'll go more in depth and provide a bottom-line analysis in our full review, so stay tuned!