The Compro IP70 is a network camera that offers a lot of features including dual video streams, LED's for night-vision and professional software for easier surveillance.
INTRODUCTION
Ever wondered what happens in the house when no one's there? Maybe you need to keep an eye on that babysitter, or need proof that your spouse indeed is eating up all that candy that they swear they never touched. A networked camera can record everything that happens in the house, and also allow users to monitor it from outside the home. The Compro IP70 is such a camera. With the ability to stream two streams, IR LED's, motion detection, and two-way audio, it has everything necessary for home surveillance without breaking the bank. But is it any good? Read on to find out.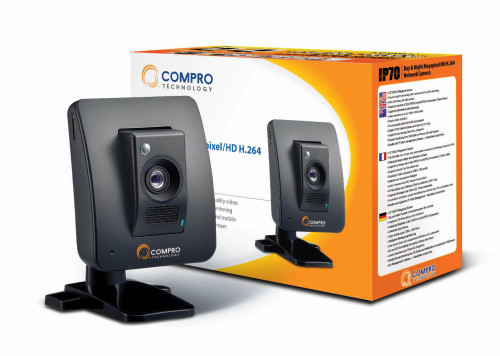 HARDWARE
The specifications of the IP70 are pretty impressive. While the camera does not have a motor it comes with a bunch of other nice features.
1/3″ CMOS Megapixel sensor Day and night functionality with mechanical IR cut filter switching
Built-in IR lamp with light sensor
Supports real-time H.264, MPEG-4 and MJPEG compression (Triple Codec)
Supports dual streams simultaneously
Support 10x digital zoom
Video resolution is up to 1280 x 1024 pixels
Image frame rate is up to 30 frames under 640×480 or 15 frames under 1280 x 1024
Smart motion detection
Two way audio with built-in MIC and speaker
Support UPnP (universal plug and play)
Support 10/100 802.3/Ethernet 802.11b/g/n WLAN on applicable model (Optional W155 wireless adaptor)
Digital I/O for External Sensor and Alarm (2 In/1 Out)
Support real-time MJPEG video mode mobile connection in iPhone, iPad, Android, BlackBerry, Windows Mobile and PDAs. And support 3GPP mobile phone monitoring.
Bundle with powerful 32-channel IP video management software — ComproView
Support Active Bandwidth Management to get better video quality
Network Bandwidth Detection to help users better define appropriate video bit-rate for applications.
Hotmail and Gmail SSL webmail notification support
Support event based video recording to local (MicroSD/SDHC)
Support live video watch in FireFox, Safari, Google Chrome web browsers. (with VLC Plug-in installed)
Camera profile import and export, it's easy to install multiple cameras
As the specifications show, this is not a cheap budget camera merely aimed at homes, but a camera that also is targeted at the small business market.
While it does support wireless networks, users will still need to buy a separate Compro WLAN stick to get wireless support.
A CLOSER LOOK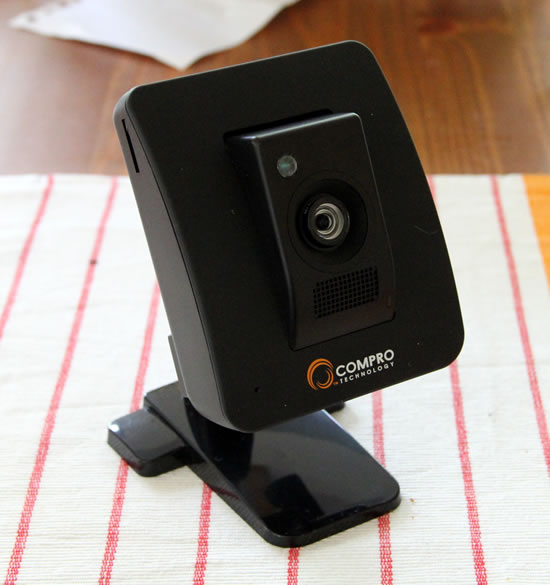 The camera is pretty big and is made of plastic. However, it isn't flimsy or of low quality. The reason the camera is so big is because the 6 IR LED's is sitting on the big rim that surrounds the camera.
As we turn the camera around we find the following connectors:
USB-connector for Compro WLAN adapter
Sound in/out
1x 10/100 RJ-45 LAN
I/O-ports (2 in/ 1 out)
Power
On the side of the camera we also find a SD-card slot.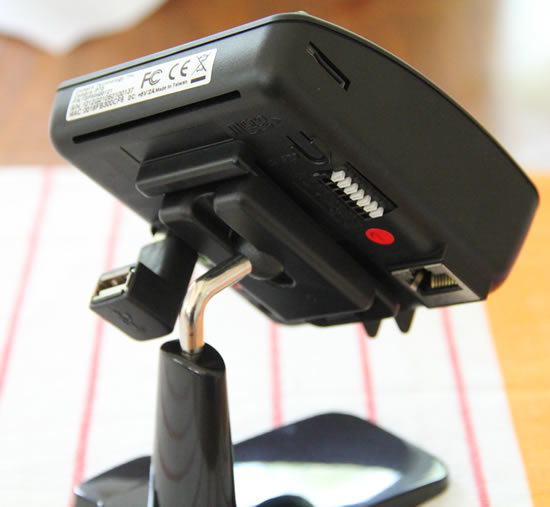 The camera has a very flexible mount that allows us to move the camera around to get the perfect angle. At the back of the camera support we can remove a small plate that can be screwed onto another surface, which then can be used to mount the camera on the surface/wall.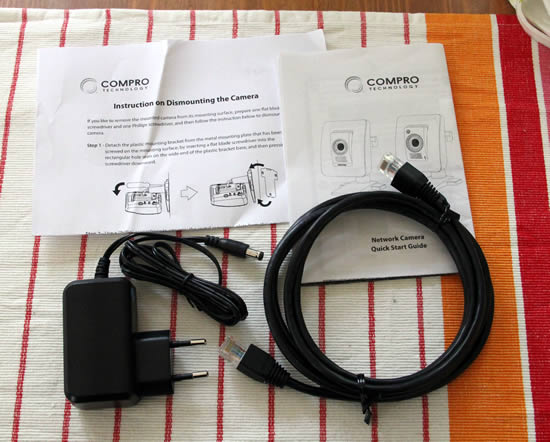 Compro bundles a network cable and some screws with the camera. The cable is really short so anyone planning on keeping the camera away from a network cable connection will need a longer cable.
Software: Setup and Web Interface
The Compro IP70 has nice hardware. However, that doesn't matter much if it doesn't also have good software to match. Luckily, it turns out that Compro has included a lot of nice software that will help controlling the camera.
Before we go into the extra software, let's look at what is inside the camera.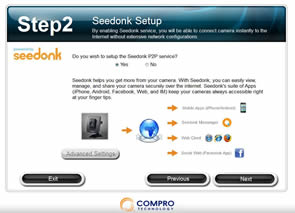 To setup the camera users can use the iWizard program that is available for Windows. It should be possible to set the camera up over the network as it can be accessed via IP number, but for Windows users, it is easier to just go through the software.
During setup, users get to name the camera, as well as set up some initial items, including installing the Seedonk utility, which we will talk about a bit later. Compro also supports the free iddns.net DDNS service and allows users to set that up during the setup it is possible to easily access the camera from the net. 
After the camera is set up, users can access it using the IP number. The interface is similar to what we see on a router and there is a lot of stuff we can set up in here.
For example, we can set up a second stream. This is useful if we want to have a compressed stream for mobile users. We can also set up the access to different servers so we have a mail server which sends out warning mails and a file server to store all the images on.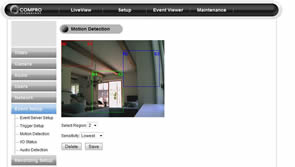 Other features include setting up events which are triggered by different conditions. For example, we can set a trigger for the camera to take a photo if a sound is heard or if something moves in a specific marked area.
Even if users don't plan to use an external software to control the camera, there is still plenty of functionality present directly in the camera software.
A little word of warning–though the ability to update the firmware is present in the interface, it seems to encounter errors while doing so. We updated to the latest version and then let it sit for a few hours while it looked it was working. As a flash should take no more than 30 minutes, we closed the browser and tried to access the camera again. At that time we just got an error message saying it was missing files. Regardless of how we rebooted or tried to reset the camera, nothing seemed to help, and we had to accept we had killed the camera. However, a few days later, we decided to try again and could suddenly access the camera (we also noticed that it had been updated). We do not know why it acted up that way but it is a bit scary that a firmware upgrade can go cause the camera to crash.
SOFTWARE: SEEDONK AND COMPROVIEW
Seedonk
Seedonk is a software that looks like MSN, but instead of friends, manages cameras in the list. The software does work with other cameras but Compro has chosen to integrate it into the setup.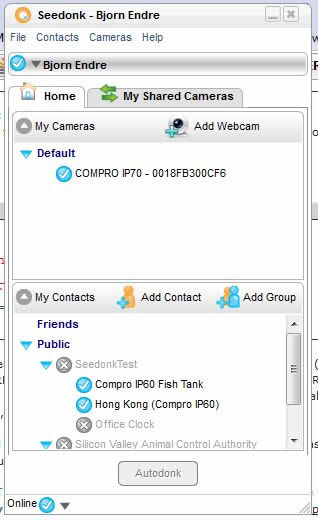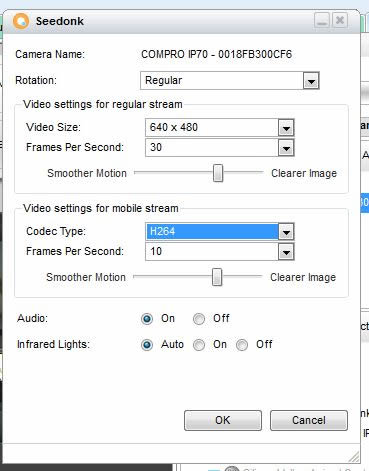 In addition to the PC client software, it is also available on iPhone and Android. The software can use both networked cameras and cameras that are integrated or hooked up to the PC via USB. For USB cameras it can turn it on when the program first starts, and turn it off when signing out.
It is pretty cool to be able to sit across the country and quickly see what the camera home is filming on a  phone. 
Seedonk actually isn't the only way to quickly see what the camera is filming. The camera is streaming the footage and users can use any browser (some need a VLC plugin) to access the stream. 
Comproview
While it is nice to quickly be able to check the camera via Seedonk or a browser, if we want to use the camera in a bit more professional setting (for example together with other cameras) we need something different. Luckily Compro has thought of this too, and includes the software Comproview (for Windows). It has some very nice features:
Multiple channel management (up to 32 channels)
Scheduled and event driven management
Recording search and playback
Group cameras for easy controls
Schedule and manual backup to hard disk or disc burning
Smart detection
– Advanced motion detection
– Scene change detection
– Video loss detection
– Missing object detection
– Suspicious object detection
– Audio detection
– Face detection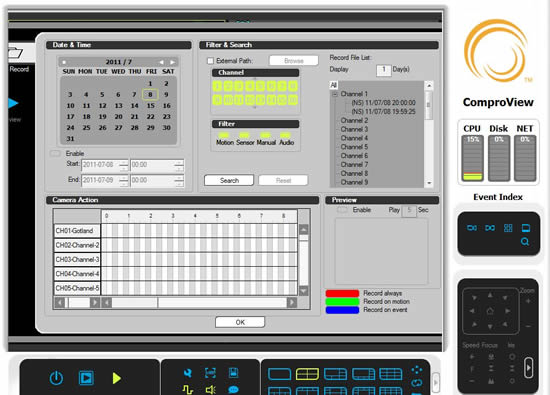 We haven't been able to test all the features but the software certainly has a lot of cool stuff in it. We've tried to set up some events and get it to start filming when something moves in a certain area and it has worked well. 
PERFORMANCE
The camera cannot compare with the best webcams, but does its job well enough for a security camera. Users can either film in 30 fps (which will limit the resolution to 640×480) or 15 fps (which allows a resolution up to 1280×1024), and considering the use of the camera we would choose the 15 fps/1280×1024. 
One feature we really like is the IR LED's that allow us to use the camera in the middle of the night. It actually work surprisingly well. 
We've recorded a small video just showing off the difference between day and night recording.
Conclusion
The Compro IP70 is a very competent high quality camera. It has some nice features, and we really like the ability to have two streams set up so users can have a high quality stream for computers on a good pipe while a phone can receive a more compressed version. We also love the IR LED's inside the camera as they really do work well and make it possible to use the camera in night time too. 
Just as important as the hardware is the software, and Compro certainly has managed to include some nice things there. The built-in web interface itself offers a lot of functionality, but it is Comproview that should be most useful for users plan on using the camera in a more professional way. Seedonk is also nice as it makes it easier to access the camera from on iPhone or Android device.
At $169, the Compro IP70 might not be the cheapest camera, but it offers enough features to make it worth the money. Add another $25 and users get the WLAN adapter, though we think this should have been included from the start.
OUR VERDICT: Compro IP70 Network Camera
| | |
| --- | --- |
| Performance | 8 |
| Value | 8 |
| Quality | 8 |
| Features | 8 |
| Innovation | 7 |

We are using a new addition to our scoring system to provide additional feedback beyond a flat score. Please note that the final score isn't an aggregate average of the new rating system.

Pros
Cons

Ability to send out two different streams 

IR-LED lights for night surveillance

Good software

Decent image quality

 

No WLAN adapter included

Very short network cable included

A bit confusing software that needs better manual

Firmware update can crash camera

 
Summary: The Compro IP70 Network Camera is a good quality camera with some nice features and good software that works well both for home surveillance and for a small business that needs to keep an eye on things without breaking the budget. For its performance and features, it earns the Bjorn3D Silver Bear Award.