The AMD A3850 APU is a capable APU for the mainstream user. It has a lot of potential as part of an HTPC. We've compared it to an Intel Sandy Bridge Core i3-2100T/H67 combo to see who can make the best HTPC.
INTRODUCTION
NOTE: Please read our main article on AMD's Llano for a detailed technical analysis of the APU.
In addition to being a capable mainstream APU, the Llano and the new Lynx platform have the potential to be a perfect match for a more capable HTPC system. In this article we are taking a look at the HTPC capabilities of the A3850 and a Gigabyte A75 motherboard, and contrasting it to a comparable Intel system with a Core i3-2100T and an ASRock H67 motherboard.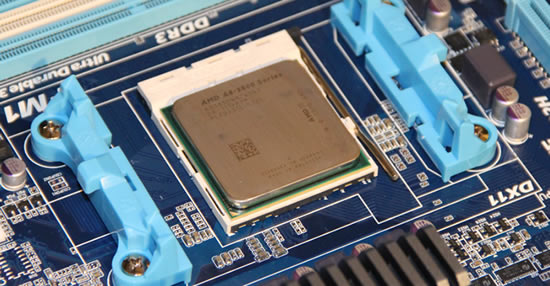 What do we Want From an HTPC?
An HTPC system has different requirements than a gaming system:
Low Power
We want a system that (in most cases) does not need a lot of power. The reason is that any power that the system draws from the mains must be cooled away. If the system needs low power it means we might be able to cool it passively or with a less noisy fan.
Able to bitstream HD-sound
A proper HTPC should be able to bitstream Dolby True HD and DTS HD-MA from a Blu-Ray movie to a receiver.
Proper 23.976 fps support
Even though most users won't necessarily realize that the judder in the movie every 40 seconds is due to the video card outputting 24 Hz instead of 23.976 Hz, an HTPC should be able to deliver as close to this as possible.
Able to transcode media
In many cases a system with an AMD Zacate APU like the E350N or a system with a Intel Atom and Nvidia ION works well in an HTPC, since they are low-power, but still can hardware accelerate most video playback. However, in some cases users want something more powerful, for example to transcode media on the same machine. This is where the A3850 or the Core i3-2100T comes in. 
HTPC PERFORMANCE
In this article we are comparing 3 systems:
System 1: Llano
This system has a A3850 APU on a Gigabyte Llano motherboard, 4 GB DDR3 memory and a Western Digital Black 1 TB drive with Windows Home Premium 7. A external Asus Blu-Ray drive handles the Blu-Ray movies.
System 2: Intel Core i3-2100T
This system combines a low-power Intel Core i3-2100T CPU with a Asrock H67 mini-ITX motherboard, 4 GB DDR3-memory and a Western Digital Black 1 TB drive with Windows Home Premium 7. A external Asus Blu-Ray drive handles the Blu-Ray movies.
System 3: Intel Core i5-2520M (only included in a few tests)
Just before the deadline of this article we got a ASRock CoreHT system in our lab. This little mini-ITX system has a Intel Core i5-2520M mobile CPU and a motherboard with Mobile Intel® HM65 Express chipset. It comes with 4 GB DDR3, 500 GB HDD and a Blu-Ray drive.
We also have a few results from a AMD E350-N system for comparison.
Let us go through each of our requirements so see how well our systems fare.
Low Power
Ideally we would like to put a small micro PSU in the systems but in this case we had to settle with a Cougar A 450W PSU.
For those interested how much power the A3850 needs when fully loaded, check our main article. Here we will test power consumption when doing what we expect most people will do with a HTPC: watching a movie (in our case, a Blu-Ray movie).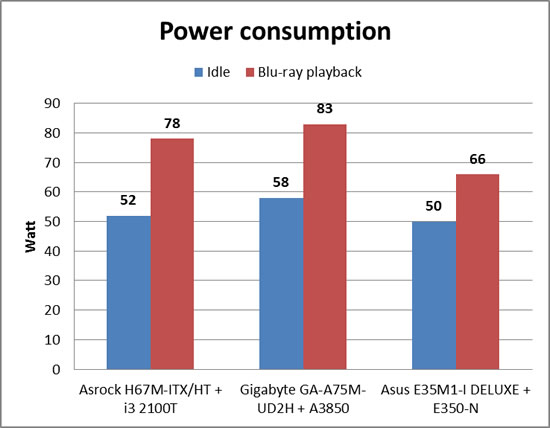 The Lynx system (A3850 + Gigabyte A75 motherboard) performs well and matches the Core i3-2100T system. The first Fusion APU, the E350N, manages even lower power consumption, but that is a 19W TDP chip and it's CPU is weak compared to the A3850, so it is like comparing an Intel Atom to a Core i series CPU.
Able to Bitstream HD Sound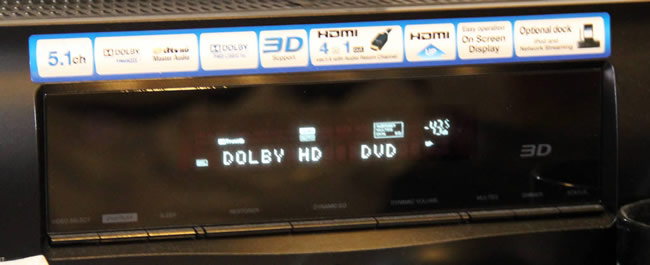 Gone are the days when consumers had to buy a dedicated sound card to get bitstreaming of Dolby True HD and DTS HD-MA. We tested a variety of Blu-Ray movies in both Power DVD 10 and 11 and in Arcsoft TotalMedia Theather 5 and the A3850 had no problems handing over the decoding of the sound to our Denon AVR-1611 receiver.
Proper 23.976 fps support
One of the biggest failings with the Clarksdale-based Core i series CPU's was that they could not use a resolution of 23.976 Hz, which is necessary to view Blu-Ray properly as most of modern movies currently are released with that refresh rate. Instead, the CPU's output a 24 Hz. When we watch a movie filmed in 23.976 fps (23.976 Hz) at 24 Hz, it means that every 40 seconds, an extra frame must be inserted to sync the audio, meaning we get a slight judder in the image, mostly visible if the image is panning at that point.
Unfortunately, the new Sandy Bridge CPU's still have that error. The way around it is to turn off UAC (yes, it is weird), which then allows the CPU to use 23.976 Hz instead which means we will only see stutter every 5 minutes or so.
For a long time, AMD has had much better support for 23.976 fps, and that continues with the Llano APU. While not hitting 23.976fps exactly, it comes close at 23.978fps (measured by MPC-HC) and that means stutter only once every 8 minutes.
As long as UAC is turned off, the Intel Sandy Bridge CPU's do a decent job in handling 23.976 fps material. AMD still has the upper hand though, with almost perfect 23.976 support without having to turn off something as important as UAC.
Note: It is very possible these issues will not be noticed by users. Some may even prefer to set the resolution to 60 Hz and use a so called 3:2 pulldown to get the 23.976 fps video content to play even if it introduces judder when panning.
HTPC Performance CONTINUED
Ability to Transcode Media
So far the A3850 isn't much better than a cheaper and more power efficient Zacate E350-N APU, but that changes when we look at transcoding. Why would a user want to transcode anything on a HTPC? Well, let's say we have a HTPC that also serves as the media library. For those who rip or download movies onto the HTPC, but still want to view them on a mobile device like a tablet or smartphone, it is necessary to transcode video to a less demanding format than 1080p. This is where transcoding ability comes into play. With competent software like Cyberlink MediaEspresso or ArcSoft MediaConverter7, both of which support hardware accelerated encoding and decoding), users can quickly convert files to the format needed. MediaConverter 7 even supports drop-folders so users can set up that it automatically can convert a file that is dropped in a folder.
We took a 10 minute clip from the movie How to Train a Dragon (474 MB mkv – 1080p), and converted with the iPad 2 profile in MediaEspresso.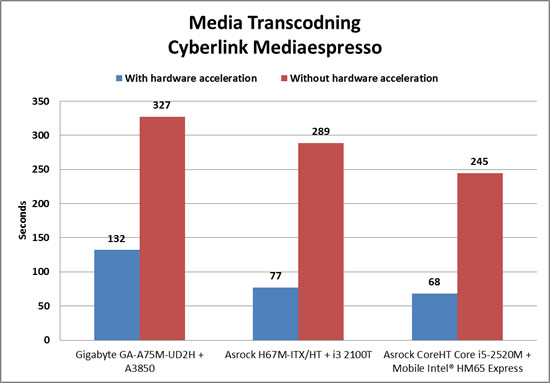 As expected the AMD A3850 cannot keep up with the Intel Core i3-2100T and the Mobile Intel Core i5-2520M. The Intel CPU's are using Intel QuickSync, while the A3850 is using AMD Stream to accelerate encoding and decoding. The A3850 still gives us a big benefit over software where the CPU handles all the encoding and decoding.
Next we took the same clip which already had been converted once to a 720p mp4 file and converted it in Arcsoft MediaConverter 7 with the iPad profile.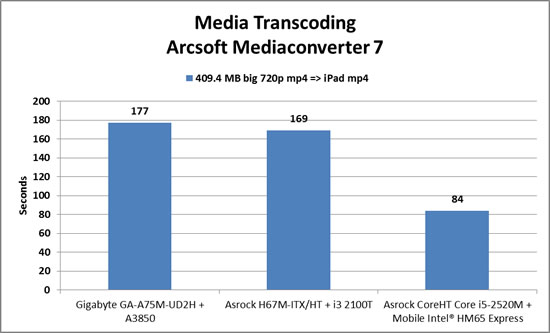 This time the difference between the Core i3-2100T and the A3850 is much smaller.
Other Features
Both the AMD Lynx and the Intel Sandy Bridge platform come with HDMI-1.4a connectors and support Blu-Ray 3D.
A new feature is introduced is called "Steady Video". Steady Video is based on AMD's APP Technology where an advanced algorithm is applied behind the scenes to smooth out shaky video. The workload is distributed among the dedicated hardware decode, CPU, and GPU, and can be applied to internet video clips based on Flash 10.2, i.e. YouTube.
However, watching Blu-Ray movies is not the only function of an HTPC, and thus it is important to get hardware acceleration for other types of files. Both A3850 and Sandy bridge support DXVA2, Direct X Video Acceleration. We installed the latest version of MPC-HC and played up a few mkv clips. Surprisingly the Core i3-2100T system kicked in DXVA2 automatically, while whereas the A3850 did not. We know it is possible to get DXVA2 working on AMD chips but it would have been nice to have it work right away like on our Intel system. 
CONCLUSION
It is no surprise that the Lynx platform is a good choice for a capable HTPC. With great HTPC features like bitstreaming of HD-sound, good 23.976 fps-support, and nice transcoding performance, it easily can compete with a Sandy Bridge system using the Core i3-2100T. 
Don't forget to read our main Llano article to see how well the Lynx platform compares to Intel Sandy Bridge when it comes to games. Here are a few quotes to whet your appetite: "Gaming – Best IGP available", "Llano's HD 6550D graphics is about … times faster than the HD3000 (Core i5 2500K), and is about … times more powerful than the HD 2000 (Core i3 2100)."