Does the latest CPU water block from Koolance compete with the EK HF water block? Keep reading to find out!
introduction
Cooling is one of the most important things to take into consideration when building a computer. However, for an average user, this might not be a simple task, because there are many different options available on the market. Water and air cooling are the most commonly used cooling solutions, but water, for the most part, being the better performer. Depending on the type of fan used, water loops can offer users: a silent/quiet cooling solution, cooler operating temperatures, and an easily expandable cooling capacity. Though, because water performs better, it also comes with a higher price tag.
Water cooling systems, or loops, consist of a few parts: pump, radiator(s), tubing, fittings, and water blocks. These are the bare necessities of a water cooling loop and they all have different levels of performance and price points, making it simple for PC builders to upgrade various parts to add more cooling capacity.
The water block is one of the key components to a water cooling system. They are blocks that mount to the components like the processor, graphics card, motherboard, hard drives, and even ram. The blocks have two or more female fitting spots barbs; one for an inlet and the other an outlet. The water flows through special fins throughout the inside of the water block, which help dissipate heat from the components. These blocks are made of various metals like copper and nickel. The tops of the block, however, are made out of a few different materials to provide builders with options to customize their builds. The top materials available on various blocks on the market today include acetal, nickel, copper, plexi, POM, silver, stainless steel, brass, delrin, and sometimes even gold.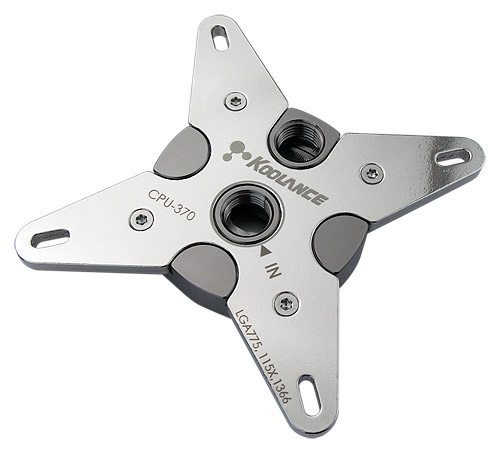 Koolance, one of the top companies in the water cooling industry has recently introduced the successor to it's CPU-360 water block with the new CPU-370 CPU water block. The CPU-370 water block looks very much like the CPU-360 but we all know that looks aren't everything. The CPU-370 water block comes with a price tag right around $85 which is similar to the other high end CPU blocks. Today we will be testing the capabilities of the CPU-370 in comparison with an EK HF with an Acetal top and a $70 price tag. Keep reading to find out how well Koolance's new CPU-370 will perform compared to the competitors.
Features
Now shipping with an improved 1.5mm-wide slit midplate. Following in the popular CPU-360 style, the CPU-370 contains improvements to the internal core, unlocking performance beyond all previous Koolance blocks. An advanced microfin cold plate (0.25mm fins, 0.30mm channels), o-ring sealed impingement plate, and an optimized flow path minimize coolant restriction.
The CPU-370 contains a copper cold plate with brass top. As with all Koolance products, nickel plating is added to improve corrosion resistance. Two universal steel mounting brackets are included for mainstream Intel and AMD processors. The CPU-370 has standard G 1/4 BSP threading for any Koolance nozzle diameter. Nozzle sockets are placed far apart to allow for extra wide compression fittings. Please select the desired nozzle type for this base model (it does not include nozzles).
The CPU-370 supports most boards using the following processors:
AMD socket AM2, AM2+, AM3
AMD socket F/1207 (with separate BKT-CP021K)
AMD socket G34 (with separate BLT-CPAMDG34)
Intel socket LGA 1155/1156
Intel socket LGA 1366 (may require BLT-CPASZD12 if motherboard back plate is fixed)
Intel socket LGA 775
Specifications
Model

CPU-370

Materials

Copper Cold Plate

Brass Top

Nickel-Plating

Stainless Steel Jet Plate

Tubing Size, ID

Depends on the Fittings the user gets

Product Dimensions

WxHxD w/ Intel Bracket

4.9″ x 4.9″ x 0.6″ (12.5cm x 12.5cm x 1.6cm)

Product Weight w/ Bracket

14.5 oz (411g)
The Koolance CPU-370's cold plate is made with pure copper while the EK Supreme HF is made of nickel-plated electrolytic copper.
Now let's move on to the pictures portion of the review!
Pictures 
Click Image to Enlarge
The Koolance CPU-370 water block comes in a small black box and includes everything need to mount it. One thing that isn't in the box is fittings, but that's not too big of a deal. It is important for the buyer to know that they will have to buy their won fittings depending on the tubing they will be using. The CPU-370 is shipped with the Intel mounting bracket on the top with an AMD mounting top plate included in the box.
Click Image to Enlarge
When removed from the packaging, we get a good look at the 370. The block is somewhat heavy for it's size due to the materials used to make it. The bottom side is very smooth and flat, as we can see on the picture above.
We decided to go ahead and put the AMD plate on to show you what it would look like. Not too shabby!
Click Image to Enlarge
Next up we're going to take a look at the internals of the CPU-370. In order to get a look at the inside, we had to remove only four screws. The inside of the block was made with fine detail and we can't wait to put it to use.
installation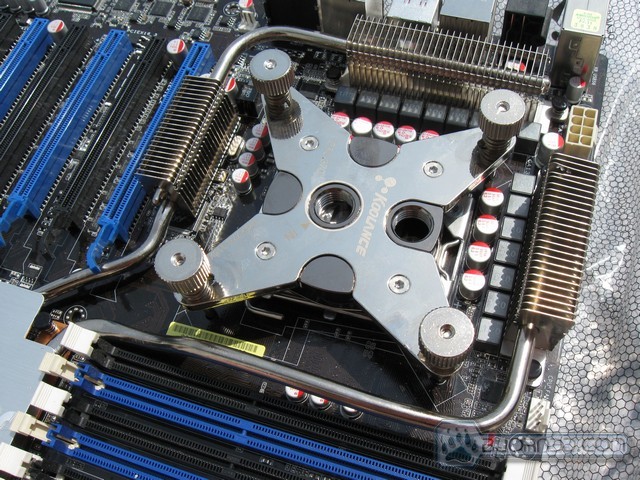 Click Image to Enlarge
Installing the CPU-370 water block was a pretty simple task. The only thing we did not like about the process was screwing the studs into the back mounting plate. They wouldn't go on by hand and required pliers to get them on. Besides this little problem we had, there were no additional problems.
Now let's move on to the testing!
tested components
Test Setup

Case
Open air, desk
CPU

Intel Core i7 920 @ 3.8GHz

Motherboard
ASUS P6T7 WS SuperComputer

Ram

Corsair Vengeance 1600MHz 12GB

CPU Blocks

Koolance CPU-370

EK-Supreme HF Nickel + Acetal

Other Loop Components

2x Swiftech QP MCR320 Radiators

Laing D5 Variable Speed Pump

Bitspower G1/4 1/2″ Inner Diameter Barbs

1/2″ Inner Diameter Tubing, 3/4″ Outer Diameter

Hard Drives

1TB Seagate 7200.12

2TB Seagate 5400RPM

Optical
Super WriteMaster DVD-Burner
GPU


MSI GTX550 Ti Cyclone II OC

Additional Cards

N/A
PSU

Cooler Master SilentPro Gold 1200W

Mouse
Cooler Master Storm Sentinel
Keyboard
Logitech G15
Test methodology
Today we will be testing the Koolance CPU-370 and the EK-Supreme HF Nickel + Acetal to see whether or not the Koolance block has what it takes to continue being a competitor in the high end CPU block market.
To ensure the most accurate and precise results we chose to mount each block two separate times to guarantee our test results weren't flawed in any way.
Temperature readings were taken with Core Temp version 0.99.8.
We have several tests lined up today to push these two blocks to their limits. The first, and most vital test we will be doing is running IntelBurnTest v2.51. This program makes use of Intel Linpack, a software library that performs numerical linear algebra on computers and puts a ton of stress on the processor. That stress then causes the processor to heat up and allow us to monitor and judge how efficient the blocks are at dissipating heat. With the settings shown in the screenshot below, we ran IBT three times and took an average of our readings to ensure accurate results.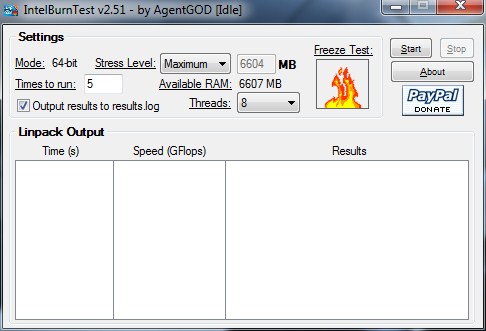 Just like every other cooler on the market, CPU water blocks perform differently under different loads, which is why we are doing a number of diverse tests.
The second test we have lined up for these two high-end CPU water blocks is 3DMark11, Futuremarks latest addition to the popular graphics benchmark tool. In our testing with 3DMark11, we chose to run the benchmark from the basic tab. The "Full 3DMark 11 Experience" run along with the "Extreme(X)" preset settings load out. Just like our IBT testing, the benchmark was run three times to ensure accurate testing results.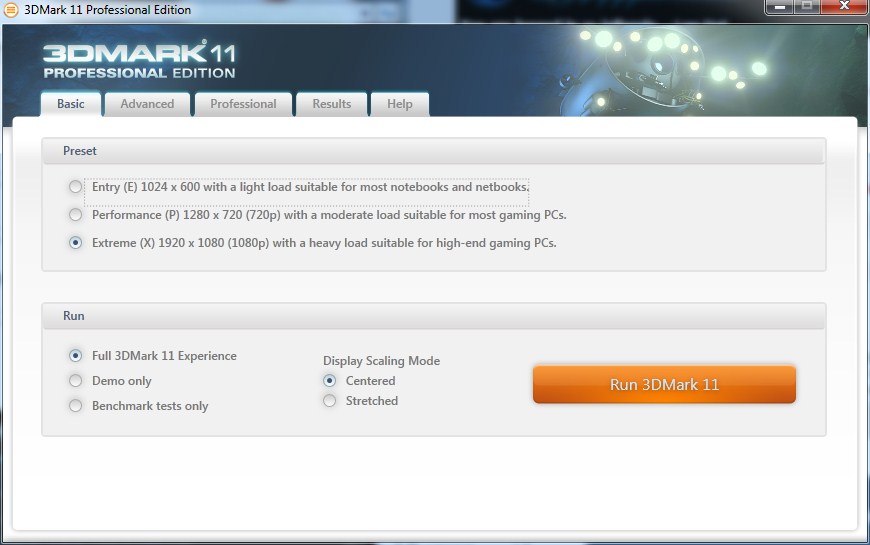 For our third test we decided to use an older, but still effective, CPU benchmarking program that stresses the processor by calculating square roots with Newton's Method. wPrime Benchmark v2.04 is a multi-threaded application that allows you to choose how many threads you want to test. Since we're going for higher temperatures with these tests we set the thread count to 8 and did three 1024M runs and recorded the average just like the previous two tests.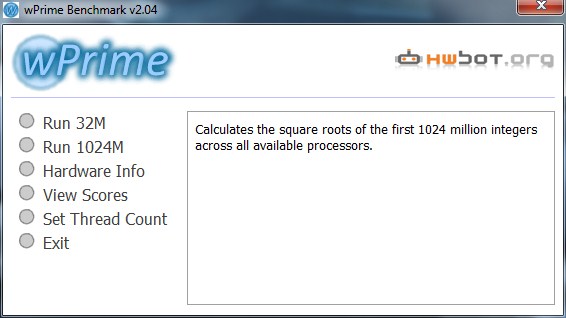 So, how well does this new Koolance CPU-370 water block perform? Let's move on to the test results page to find out!
Test results
The ambient temperature of the room we do our testing was kept at a consistent 23.3° Celsius for the duration of our testing.
Idle Temperatures
The idle temperatures were recorded after letting Windows sit for 15 minutes with only the basic services running. These results are an average of 4 core temperatures.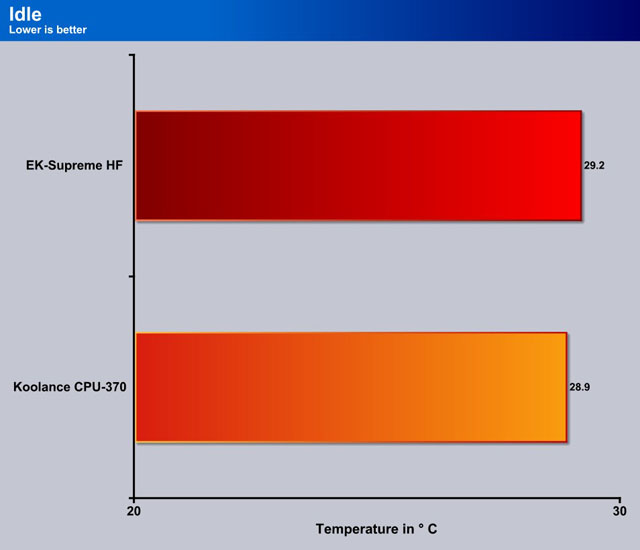 Our idle temperature test results show the Koolance CPU-370 having a slight advantage over the EK-Supreme HF. The Koolance block came out ahead by less than 2% in this test. Now let's move on to some serious stress testing and see how well the Koolance block performs under load!
The results of the next three tests are based off the core with the highest temperature.
IntelBurnTest

In our stress testing with IntelBurnTest we found out the Koolance CPU-370 was able to cool our i7 920 more efficiently than the EK block. The 370 came out slightly in front with a 4.2% lead in this test.
3DMark11
3DMark is a benchmarking application that focuses mainly on video cards, however it can also be used for CPU benching purposes. Like the previous two tests, the Koolance block was the better performer with a 1.3% advantage over the EK offering.
wPrime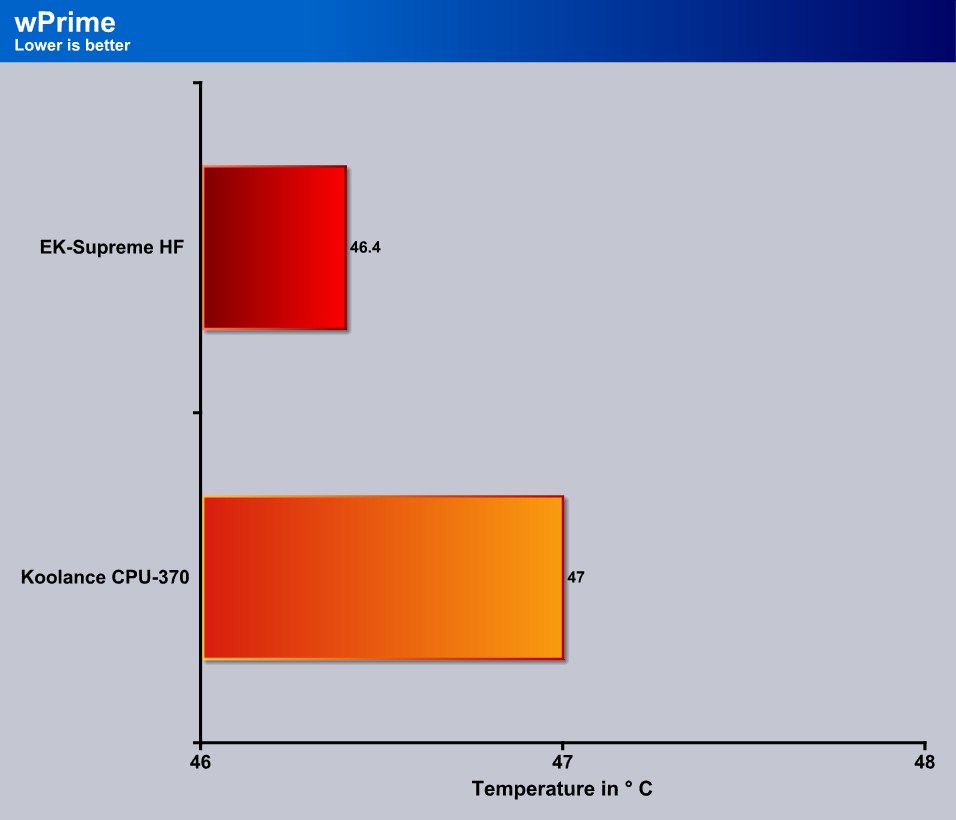 wPrime might not put the heaviest load on processors, but we wanted get an idea of how well each block was able to remove heat at different temperature levels. This time around, the Koolance CPU-370 fell behind by 0.6°, or 1.2%.
Keep reading to see our final thoughts on the Koolance CPU-370 water block!
Conclusion
The Koolance CPU-370 water block is the latest offering from Koolance. This block was released as an upgrade to their, top performing, CPU-360 block which was released in 2010. As far as looks go, Koolance seems to have kept the same design as the old block, which in my opinion looks fantastic.
Koolance did a great job including everything need to get the block setup and all the parts were high quality. The block itself is somewhat heavy for it's size and it's design was very thought out. The mounting system is one of the few downsides to this block. We could see it causing problems for first time loop builders.
Performance wise, the CPU-370 water block did very well. In fact, it performed slightly better, overall, than the EK-Supreme HF we had to test it against. However, the two blocks were within 2° C in most of the tests, but in the world of extreme overclocking, 2° can be the difference between a world record and a paper weight.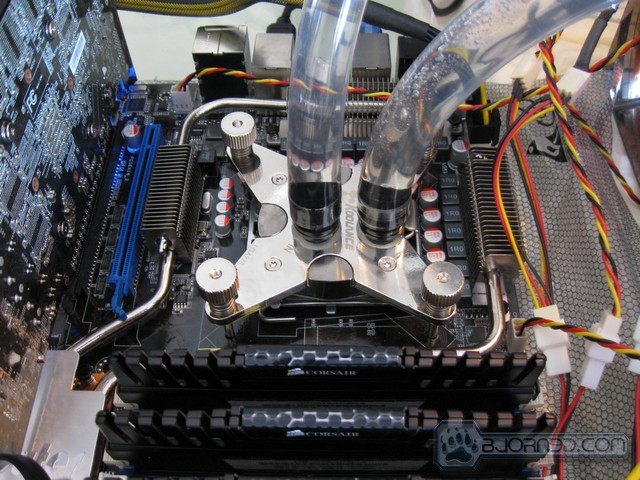 OUR VERDICT:
| | |
| --- | --- |
| Performance | 10 |
| Value | 7 |
| Quality | 9 |
| Features | 9 |
| Innovation | 9 |

We are using a new addition to our scoring system to provide additional feedback beyond a flat score. Please note that the final score isn't an aggregate average of the new rating system.

Pros
Cons

Cooling ability

Build quality

Can fit compression fittings

Looks great

Fits most platforms

Mounting system

$85 price tag

No fittings included
Summary: The Koolance CPU-370 water block delivers outstanding performance and looks good in the act and for that we give it a rating of 9/10 and gets the Bjorn3D Golden Bear Award!