XFX brings a new mousepad to the gaming market. The WarPAD is designed to eliminate many common issues faced by gamers. Read on to find out more.
Introduction – XFX Warpad
XFX has been widely known in the past for their graphics card offerings. In front of us today we have the newly introduced XFX WarPAD gaming surface. This is not just a mousepad but a surface which the company claims will eliminate some of the issues hardcore gamers face during extended gaming sessions. This is a sign that XFX, like many other manufacturers, is moving into new territory.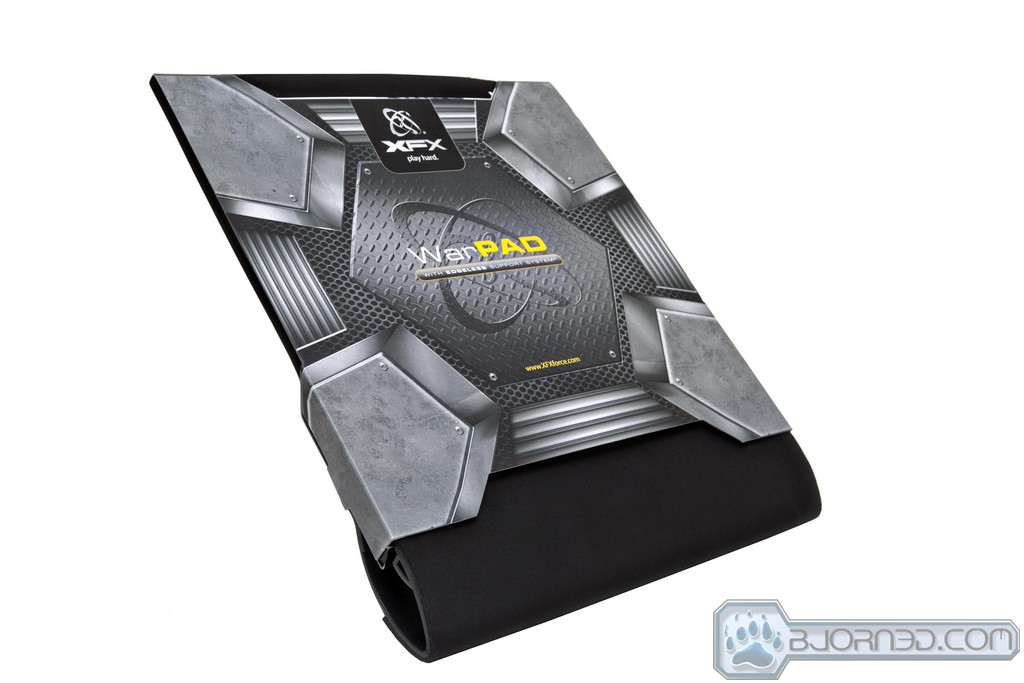 Key specs and features
ESS Edgeless Support system: The XFX Edgeless support system is designed so that the mousepad has a small rise or support over the edge of the table or desk to keen from having wrist contact with the sharp edge of most surfaces.
Clamp on Design: The WarPAD gaming surface clamps onto a table or desk of up to 2″ thickness to allow the user to be in the most intense gaming battles and the mouse pad stays where you put it.
Specifications
Dimensions
16.97in x 13.98in x 1.86in
Weight
34.2oz
Warranty
1 Year
In the following pages we will investigate what exactly makes the WarPAD special and worth its $49.99 pricetag.
Pictures & Impressions
Click Image For a Larger One
Here we can see the packaging that displays the WarPAD and its feature set.  As we can see from the picture the mousepad is a standard spongy cloth mouse surface with a plastic clamping assembly. The clamping area is very stiff and requires some strength to fit over a 2″ surface. This is not necessarily a bad thing as it allows the WarPAD to be mounted very firmly and securely.
Click Image For a Larger One
Here we can see installed the Edgeless Support System and mounting system in effect. This will be tested to our best extent in some intense long gaming sessions to see if we run into any issues.
Click Image For a Larger One
Above is another use that we have seen at some LAN events. The larger mousepads can be used to wrap up an expensive gaming keyboard to protect it during travel. The clamping system should be able to clamp to pretty much any keyboard to allow snug wrapping of the gaming surface around the keyboard.
Testing & Methodology
Testing a gaming surface is a bit different than we what would do for other hardware such as a graphics card or motherboard. There are no benchmark tests we can run that will tell us how well the surface performs its all in the feel of the person using it and their experience with other gaming surfaces they have used. For testing we will test many first person shooter titles and some others that have a lot of moving and action to get some fast paced activity on the gaming surface to see how it stands up to our abuse.
Test Rig
Test Rig
Case
Thermaltake Level 10 GT
CPU

Intel Core i7 2600K

Motherboard

Gigabyte Z68X-UD3H-B3

Ram
4GB Kingston 1600MHz CL 7 (7-7-7-24)
CPU Cooler

Thermaltake Frio OCK

Hard Drive
Western Digital Velociraptor 300GB
SSD

Intel 20GB SLC Larson Creek SSD

Intel 510 series SATA III/6G 120GB

Optical
ASUS BD-Rom
GPU

Nvidia GeForce GTX 580

Case Fans

Front (intake): 200 x 200 x 20 mm ColorShift Fan x 1 (600~800RPM, 13~15dBA)

Rear (exhaust): 140 x 140 x 25 mm Turbo Fan (1000PRM, 16 dBA)

Top (exhaust): 200 x 200 x 30 mm ColorShift Fan (600~800RPM, 13~15dBA)

Side (intake): 200 x 200 x 30 ColorShift Fan (600~800RPM), 13~15dBA)

Additional Cards

N/A
PSU

Thermaltake Toughpower Grand 1200W

Mouse
Thermaltake esports Black gaming mouse
Keyboard
Thermaltake esports Challenger Pro gaming keyboard
Test Suite
We will use the following Games to see how it compares to other gaming surfaces we have used. Benchmarks
Benchmarks
Call of Duty: Modern Warfare 2
Call of Duty: Black Ops
Mafia II
Crysis 2
Crysis
Crysis Warhead
Just Cause 2
On the gaming tests, we did not run into any issues at all, and noticed that as the mounting system doubled as a wrist rest, it was quite comfortable but unobtrusive. The mounting mechanism is very stiff and can be very hard to pull open to get it mounted onto the table surface. Other than that, the mouse pad did not move no matter how long we played or how hard, and wrist fatigue was a markedly less during longer testing bouts. The other nice addition is the fact that when wrapping the keyboard as many gamers do, the WarPAD mounting clamp can be clamped to the keyboard so that wrapping and protection is even more secure.
CONCLUSION
The XFX WarPAD is an interesting concept as it mounts to the table or desk and does not require tools or complicating mounting mechanisms for it to work. It just works, which is one of the biggest qualities we like about it. The mounting clamp area is very strong and can be very difficult to open wide enough to clamp it on to the desk. The Value aspect is pretty hard to justify as most gaming mousepads run in the realm of $25.00 – $40.00 but all in all the performance of this unit cannot be denied and the feature set may seem simple but it is all usable with no unnecessary accessories. For those in the market for a high end gaming surface that can travel and stand up to a beating, the XFX WarPAD may be just the right one.
OUR VERDICT: XFX WarPAD Gaming Surface
| | |
| --- | --- |
| Performance | 10 |
| Value | 7 |
| Quality | 9 |
| Features | 9 |
| Innovation | 9 |

We are using a new addition to our scoring system to provide additional feedback beyond a flat score. Please note that the final score isn't an aggregate average of the new rating system.

Pros
Cons

Stays put once installed

Can be used to protect keyboard

Edgeless Support System protects wrist wel

Price is difficult to justify

Mounting system is stiff and may be difficult to install
Summary: The XFX WarPAD performs well and it just works. Its cost is a little hard to justify unless a stationary mousepad is absolutely crucial, but with the performance and features considered, it earns the Bjorn3D Silver Bear Award.