Day 2 at CES2011 we visited PowerColor to get a view on some of their upcoming products including a passively cooled HD6850 and a water cooled HD6970.
PowerColor @ CES 2011
Day 2 of CES 2011 — We had the opportunity to visit PowerColor at their tower suite in the Wynn hotel and get a look at some of their current and upcoming products. Among the products we were shown was the first passively cooled HD6850 card and a water-cooled HD6970. We also got a small nugget of information regarding the HD6990. 
PowerColor is an AMD partner, and so far, they have stuck with AMD both for dedicated graphics and CPU/motherboards.
GRAPHICS CARDS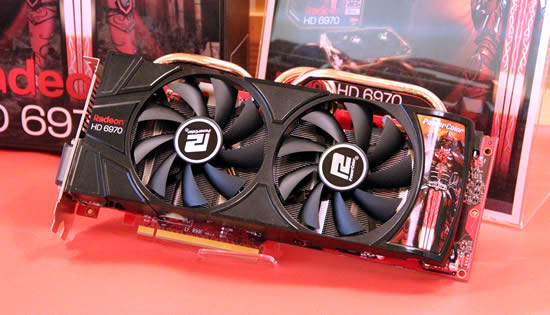 This is PowerColor's version of the regular HD6970 card. As we can see, it uses PowerColor's own twin-fan cooler rather than the reference cooler.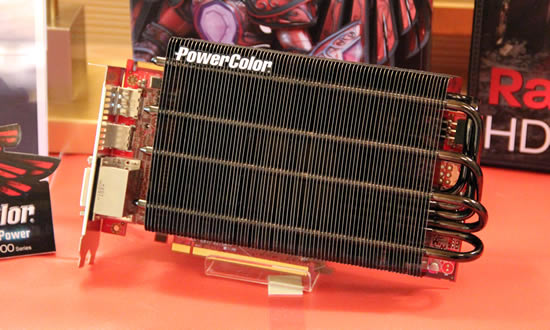 This is a prototype of a passively cooled HD6850, the first according to PowerColor. The card we were shown was huge (it is a dual-slot design), but PowerColor said there was still some work left on it before it would be ready for release. They hope to have it out before March this year.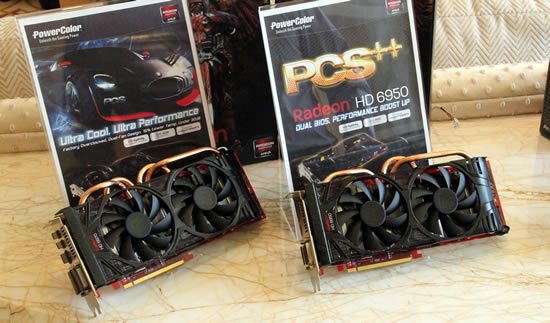 As expected, PowerColor is also coming out with PCS+ branded HD6970 and HD6950 cards. These cards should be factory overclocked products with a special cooler. The boards we were shown were still prototypes, but we should see them out in retail in 3-4 weeks.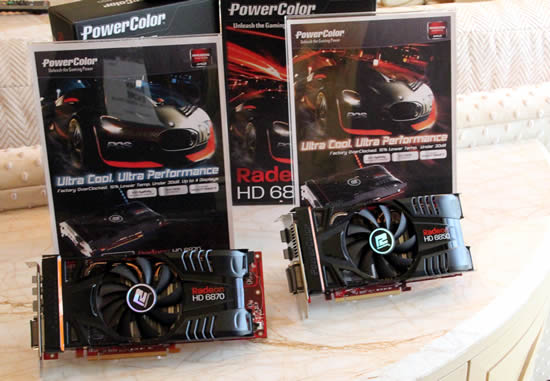 We were also shown the PCS+ HD6850 and HD6870, cards that already are out (read our review of the PCS+ HD6870). These cards are also factory overclocked with a special cooler.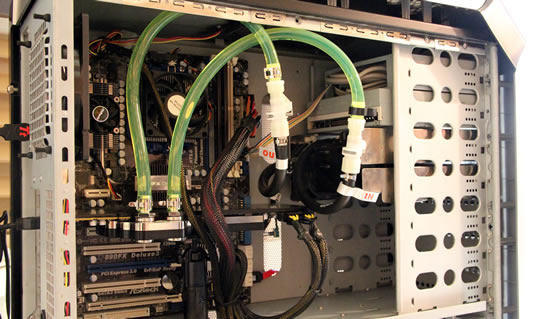 Last among the graphics cards was the LCS HD6970, a factory overclocked water cooled HD6970. As far as we know, this is the only water cooled HD6970 on the market right now.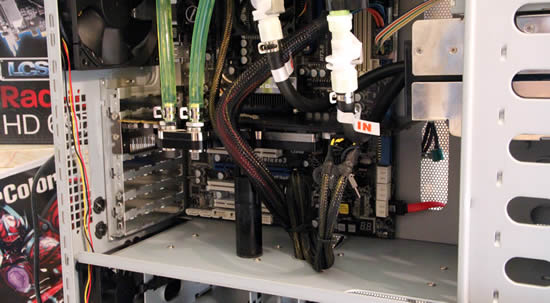 The board we were shown was the only working prototype, but PowerColor expects to have more boards within the next 4 weeks. We did not get a release date, though, which should mean it will be later this year.
So what about the HD6990? We chatted a bit with the PowerColor representative and got into the subject of AMD HD6990. The card, which will be the new dual-GPU card replacing the HD5970, was briefly mentioned at the launch of the HD6870/HD6850, but has since disappeared from the radar. We were interested in seeing if PowerColor would reveal any information about it. It seems that the card at this moment is not a priority for AMD, and that PowerColor is looking at building their own dual-GPU card instead of waiting for a reference design from AMD. So it seems we could see a dual-GPU card sooner from PowerColor than from AMD. Only time will tell.
OTHER PRODUCTS
In addition to the graphics cards we also were shown a couple of other products.

PowerColor is also a large manufacturer of power supplies. We were shown two new PSUs at 600W and 1000W. The 600W PSU comes with an 80 Plus certification, which is a bit low these days, while the 1000W PSU comes with an 80 Plus Bronze efficiency certification.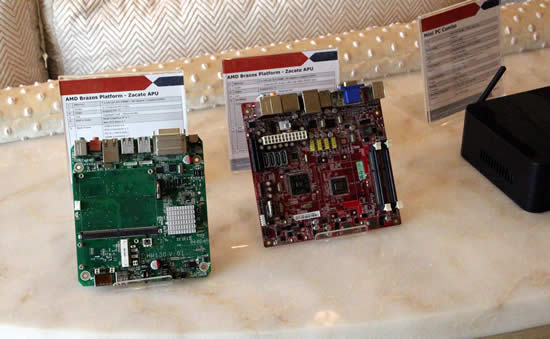 Last but not least, we got a glimpse of the new mini-ITX motherboards using the AMD Brazos platform with the Zacate APU. We can't wait to get our hands on one of these motherboards to get a feel for how it would perform in an HTPC system.